It's always fun to look back at the last year when starting a new one. So when my friend Jenny from Refresh Living asked if I wanted to join in a Favs & Flops from 2016 blog hop I was in. A handful of bloggers are sharing their top 5 posts from 2016 and their 5 personal favorite posts that didn't get the page views we thought they would. So sit back and enjoy the favs & flops from 2016 and see if your favorites made the list…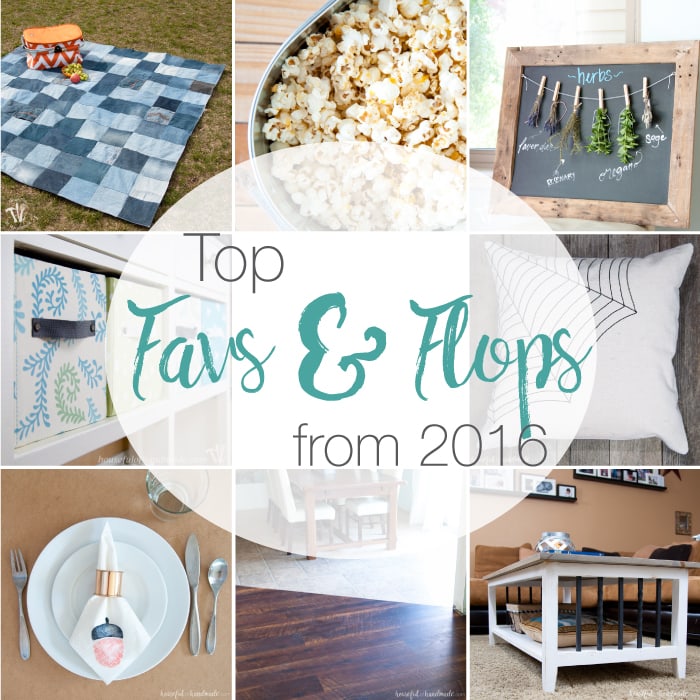 Fan Favorites
To determine the fan favorites for the year, I pulled the 5 posts that were published in 2016 and received the most page views. Some of these were no surprise at all, but a couple shocked me. So with no further ado, here are the top 5 favs from 2016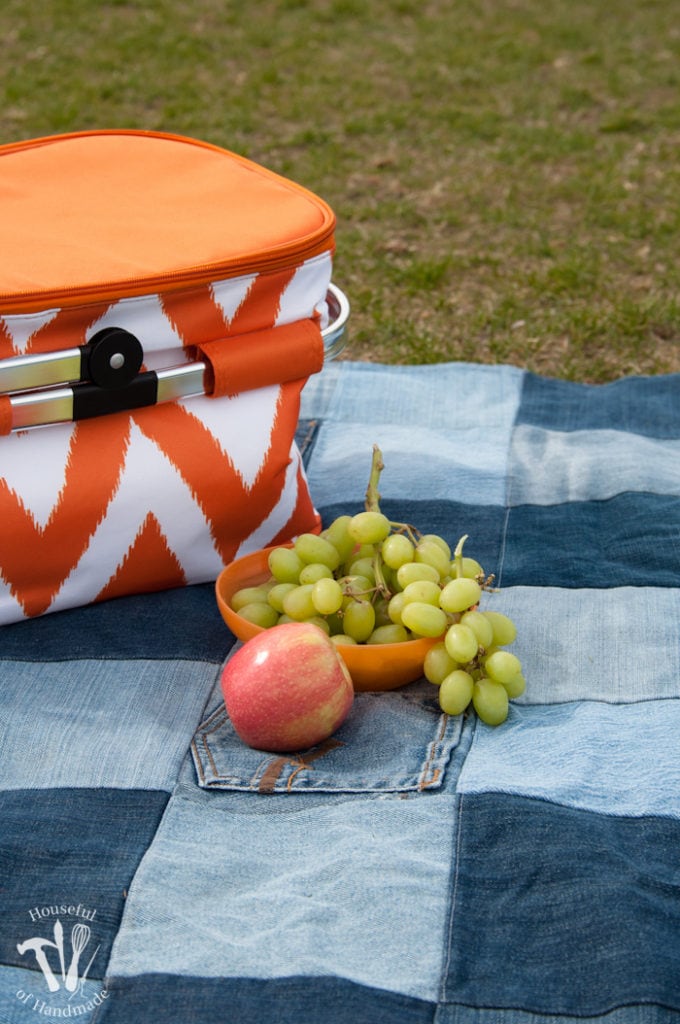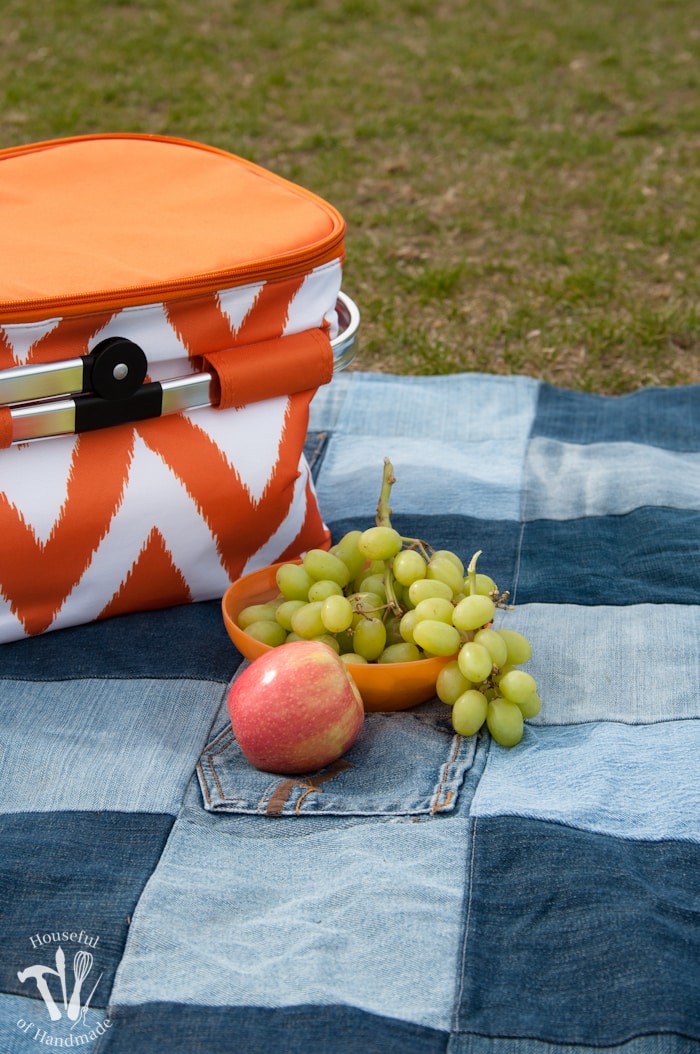 1- Easy Water-Resistant Upcycled Jeans Picnic Blanket
It makes me happy that one of the DIYs that I use the most is the top post for the year! I seriously love this picnic blanket and we use it so much. From indoor picnics in front of the TV in the winter to camping trips in the summer. So instead of throwing out or donating those jeans that you don't want when you are decluttering this January, save them up and make yourself an awesome water-resistant picnic blanket that will last forever!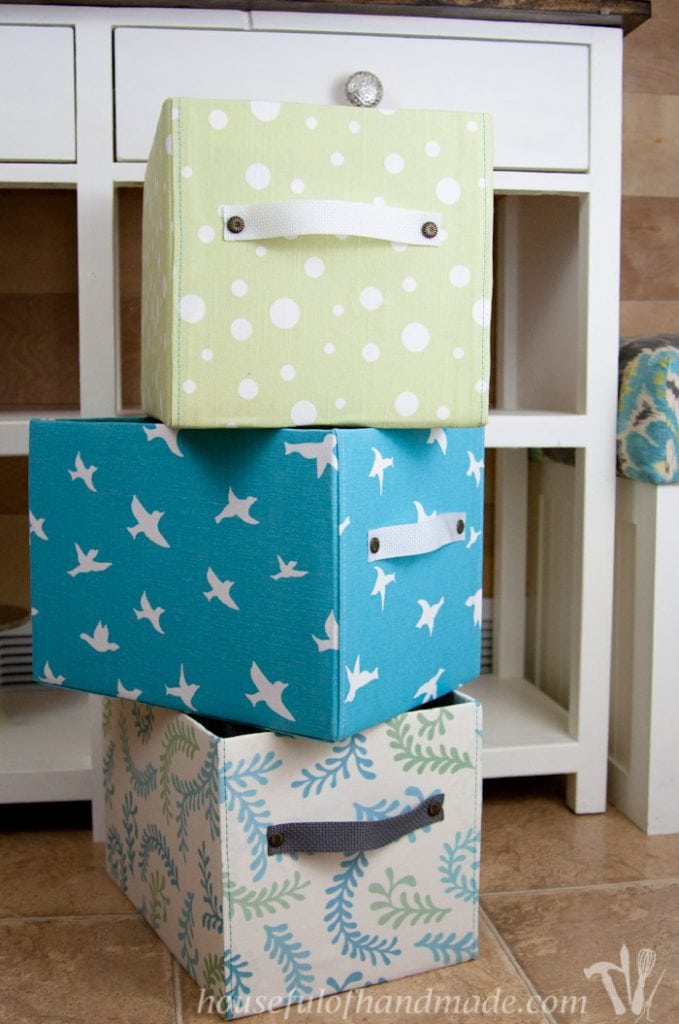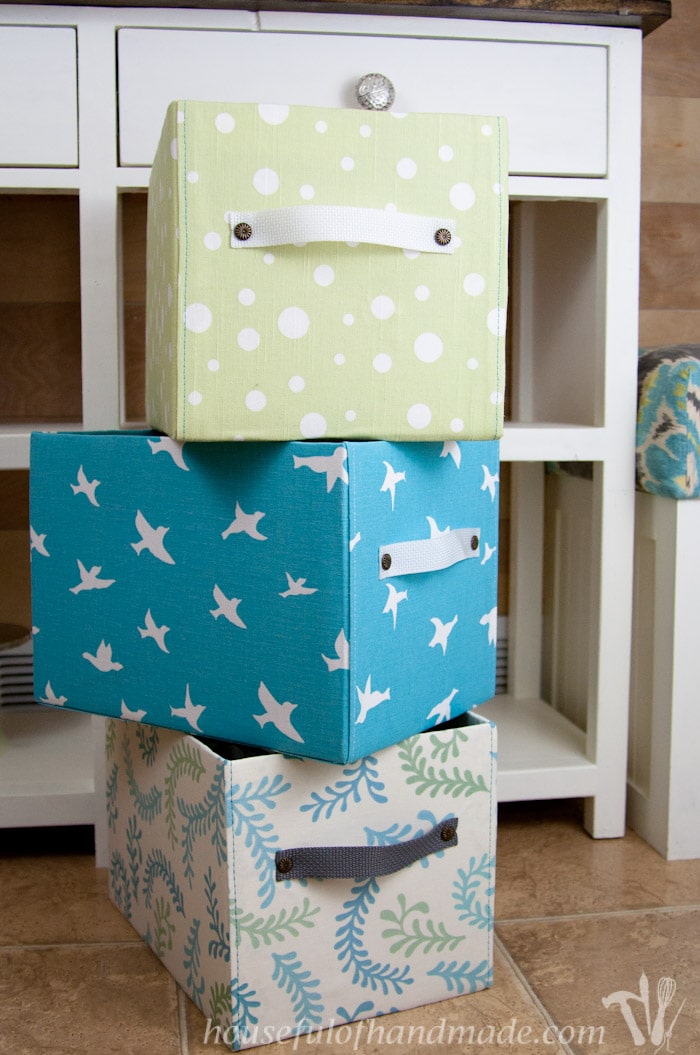 2- Easy DIY Fabric Storage Boxes
Everyone loves an easy and inexpensive way to organize the home. Apparently I need to share some more of my organizing DIYs because this was by far one of the top posts for the year. These storage boxes have now been in use for almost a full year, and I'm happy to report they look as good as they did right after they were made. If you are getting organize in the new year, you will love these easy DIY fabric storage boxes.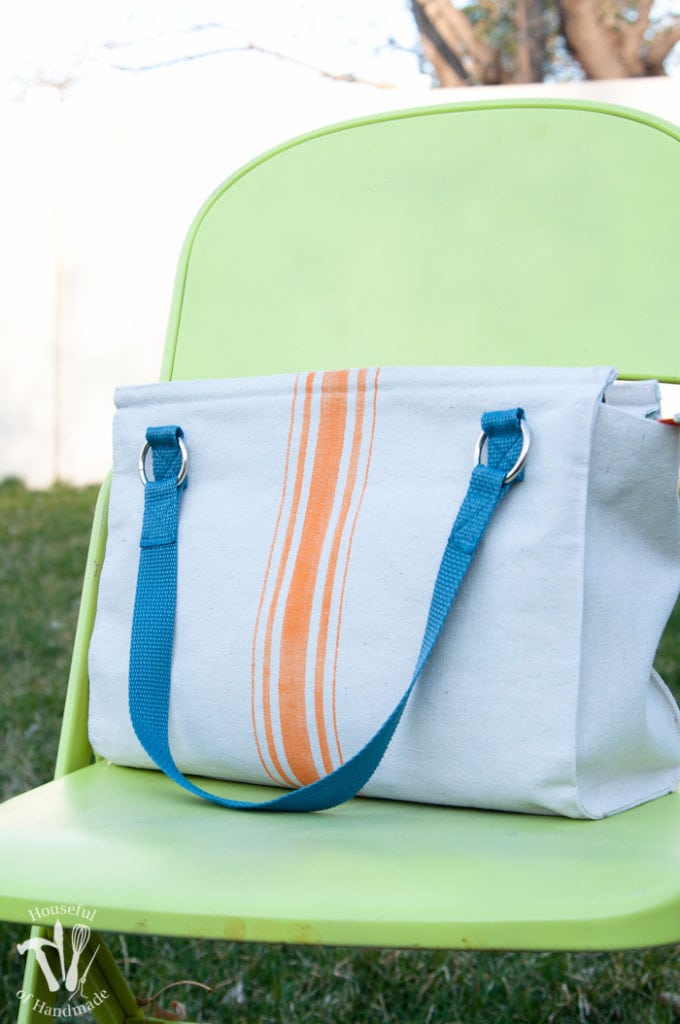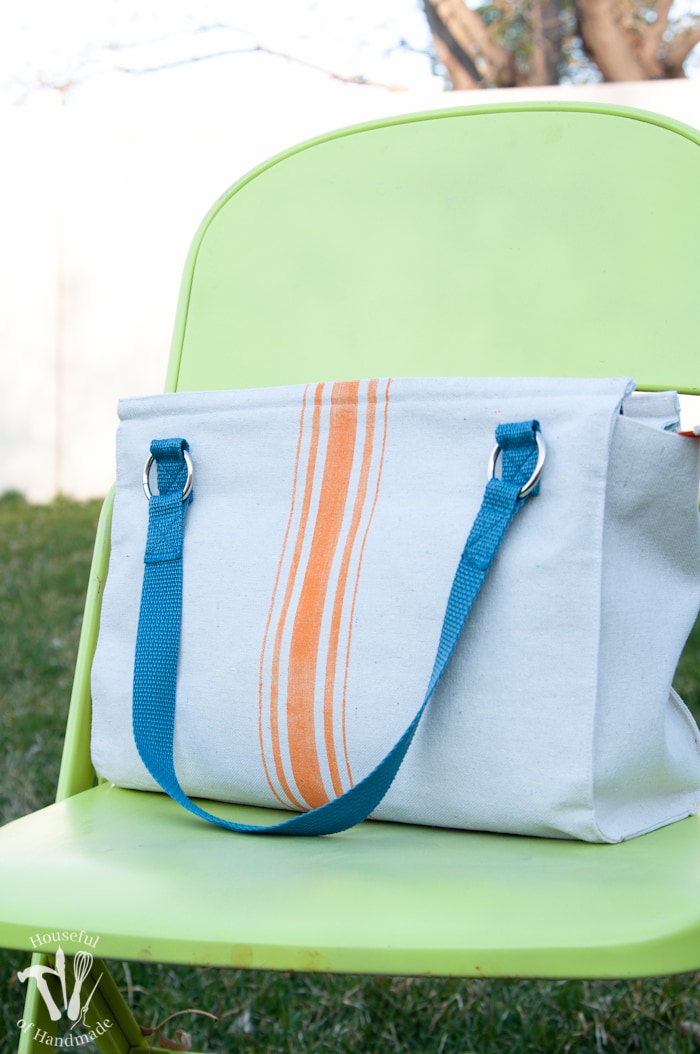 3- Free Printable Purse Pattern Tutorial
I know purses are not the not the normal kind of post I share, but using left over drop cloth and a few of the pattern making skills I learned back in college, proved to be a big hit. This purse is such a fun bag with lots of pockets for all the stuff we women tend to carry around.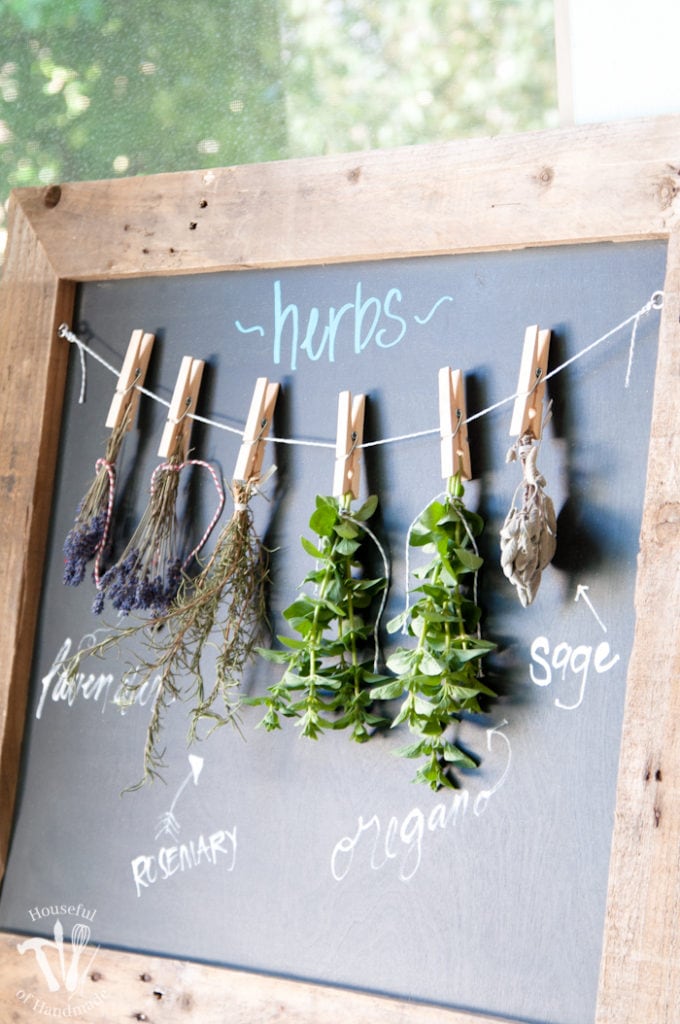 4- DIY Rustic Chalkboard Herb Drying Rack
I'm really happy this one made the list because it is one of my favorites too. I had the idea for this chalkboard herb drying rack for way too long so when I was finally able to make it happen, and it turned out so beautiful, I was so excited to share it. And thankfully you loved it too 🙂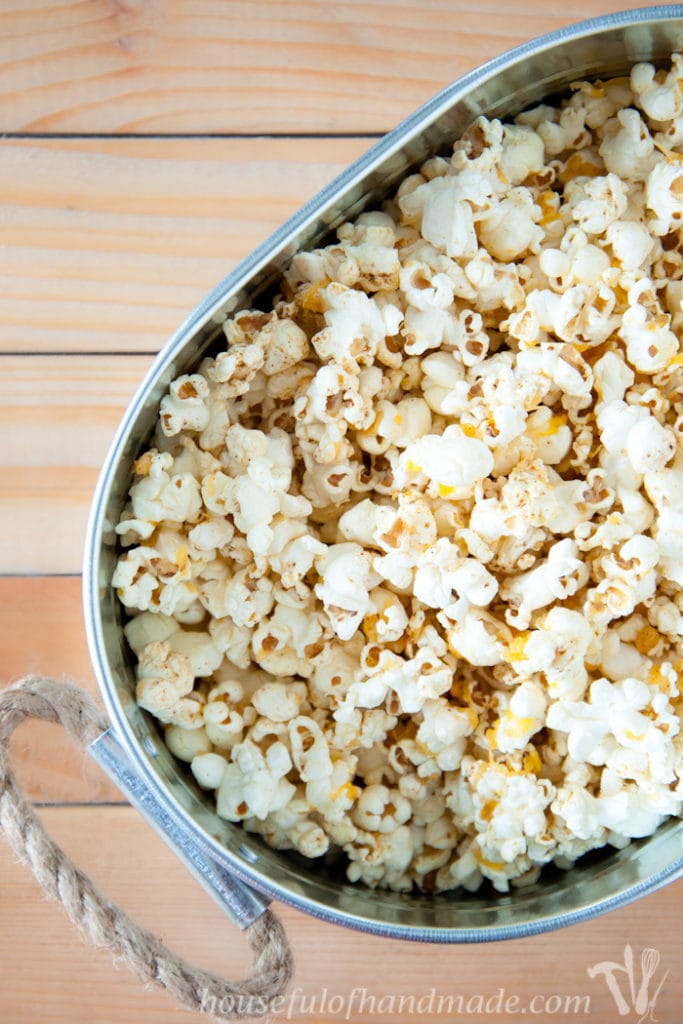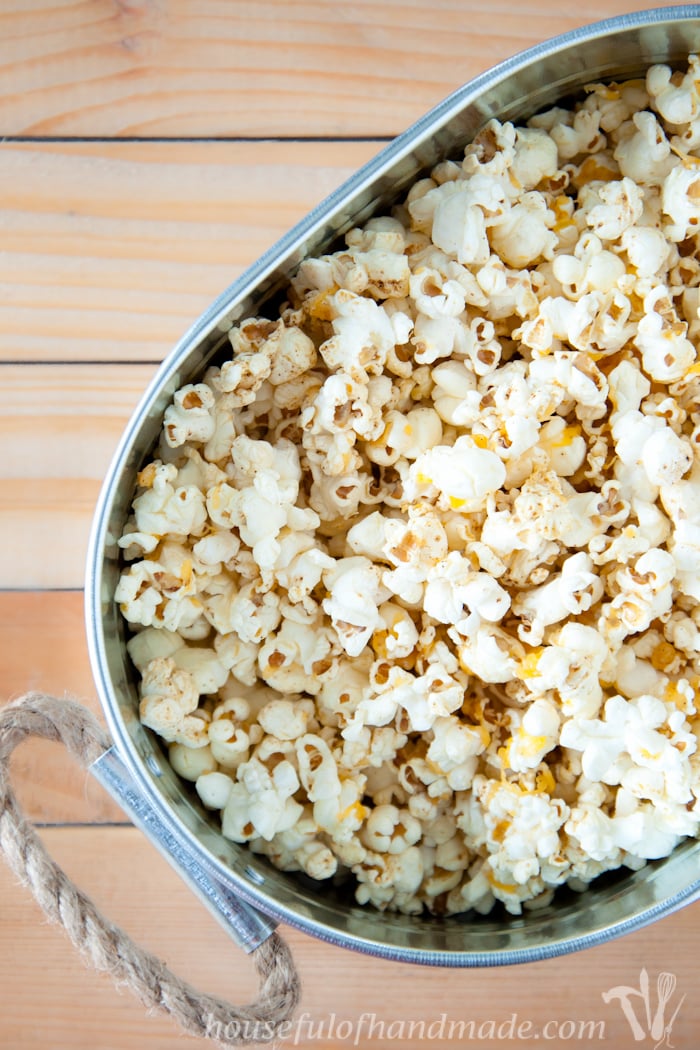 5- Sharp Cheddar Cheese Popcorn made with Real Cheese
This one was a big surprise for me. You may have noticed how much our family loves popcorn and last February I shared 14 days of popcorn with a new popcorn recipe everyday for 14 days. One of those days was this sharp cheddar cheese popcorn. I tried many different ways to make a real cheese popcorn and almost gave up before this recipe was born. If you love cheese popcorn, this is a must try!
Flops (aka, my favorites that you may have missed)
I hate to call these posts flops, but for some reason they didn't resonate with you as much as the other posts. But these posts were some I put a lot of work into and I love. So maybe you will find something new that you didn't see last year that you will love too!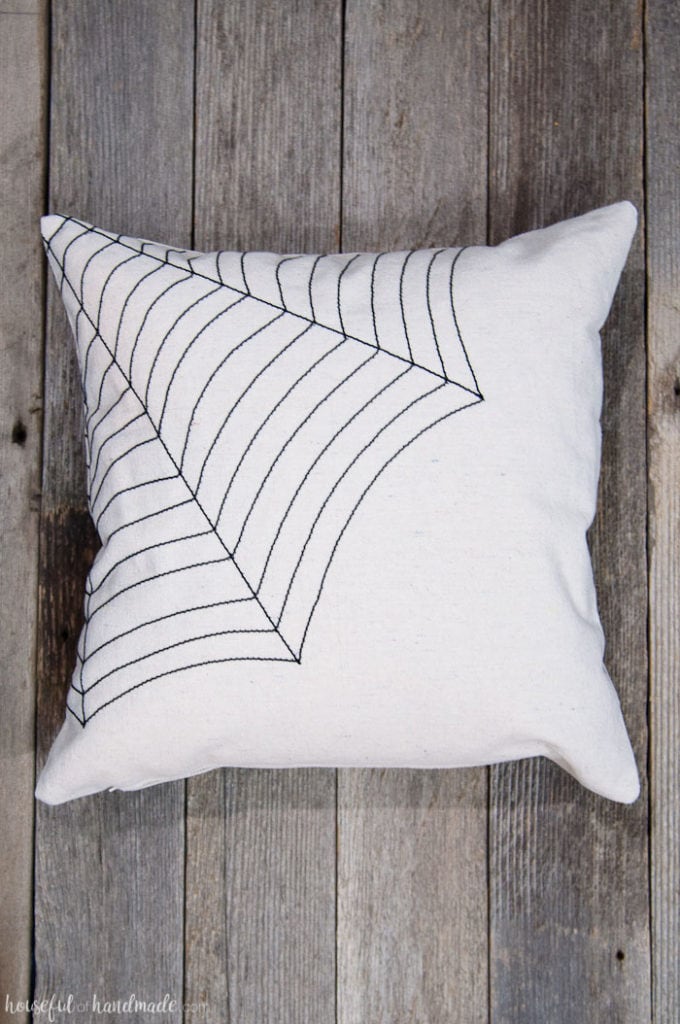 5- Easy DIY Farmhouse Style Spiderweb Throw Pillow
This one was one of my favorites and my daughters favorites. She seriously carried it around all October and got mad at me when I put it away after Halloween. I love the way the spiderweb is textured on the pillow for a high end look. If you need a simple and classy pillow for Halloween next year, check this one out for sure.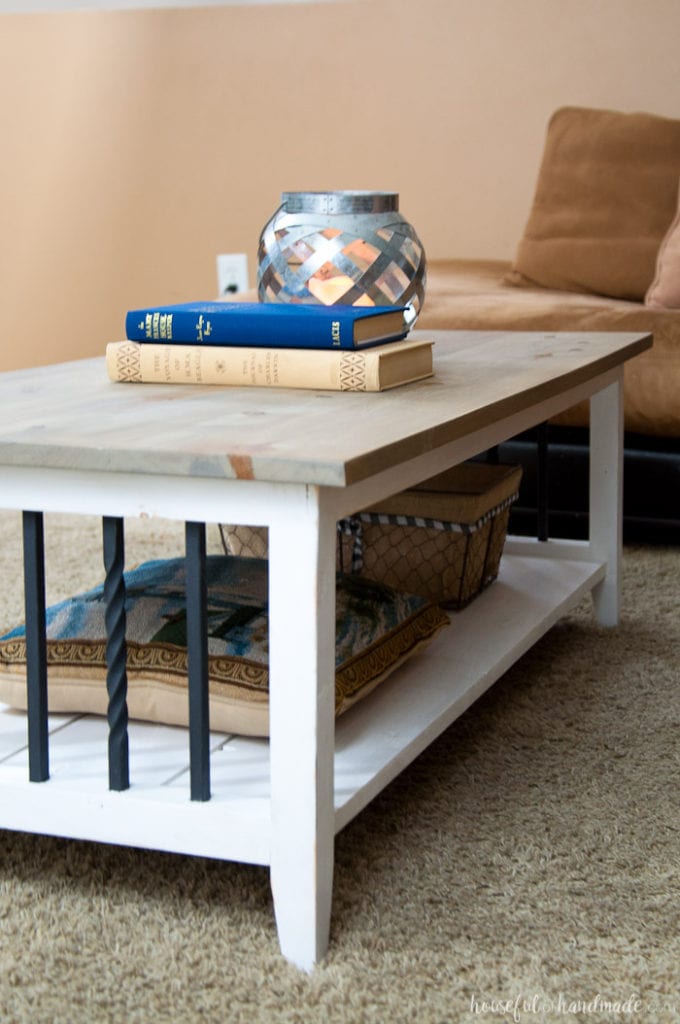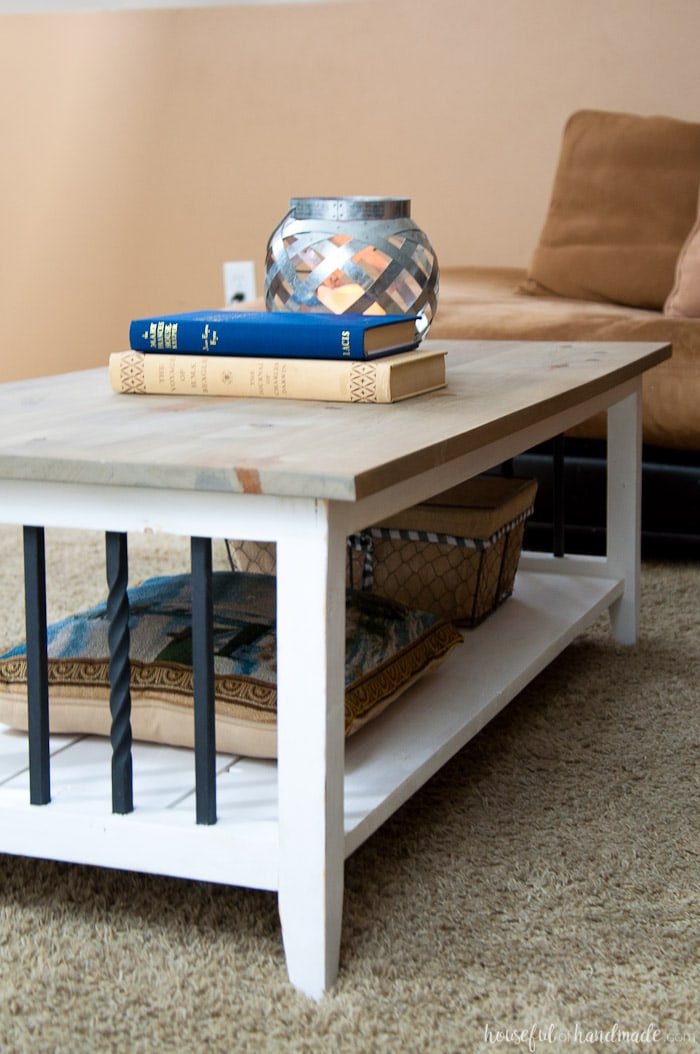 4- Farmhouse Coffee Table Build Plans
I absolutely love my new coffee table! Maybe it's because I was living with a too large one for too long, or because it finally feels like a sophisticated adult piece of furniture, but I am slightly obsessed with it. It is going to be the starting point for the living room redo someday (hopefully in 2017). And bonus, it only cost me $40 to make.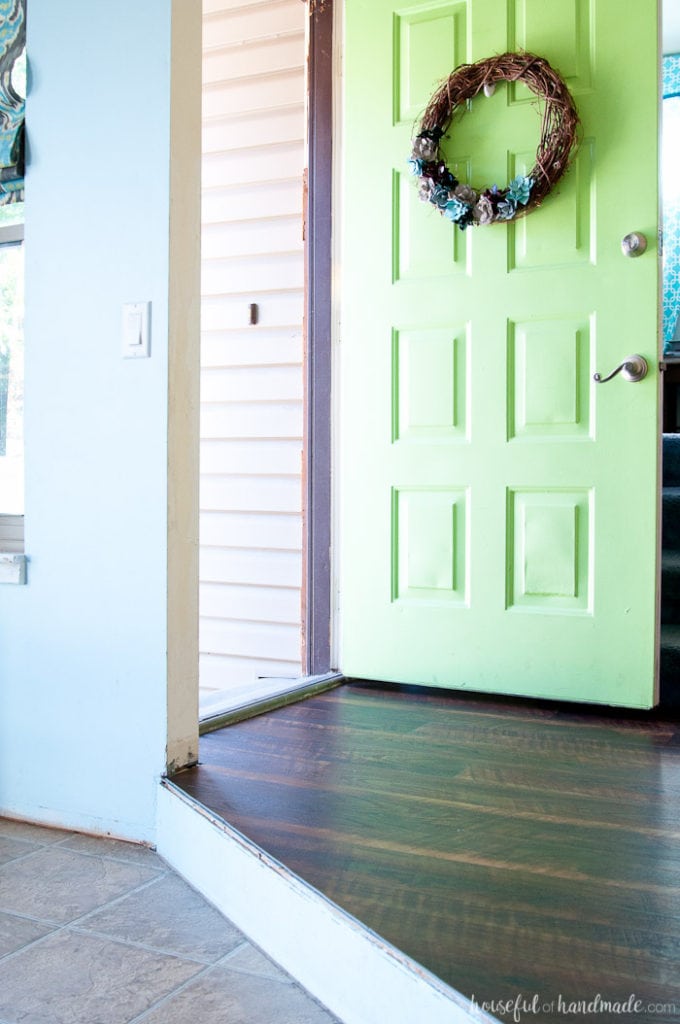 3- How to Install Laminate Flooring
This is another one of those home projects that just makes me smile whenever I see it. I love my new vinyl laminate flooring. It has made such a huge impact in our entry way. Now the first thing you see when you come to my home is not a room under construction. It was also really easy to install. I did the entire entryway in one afternoon by myself.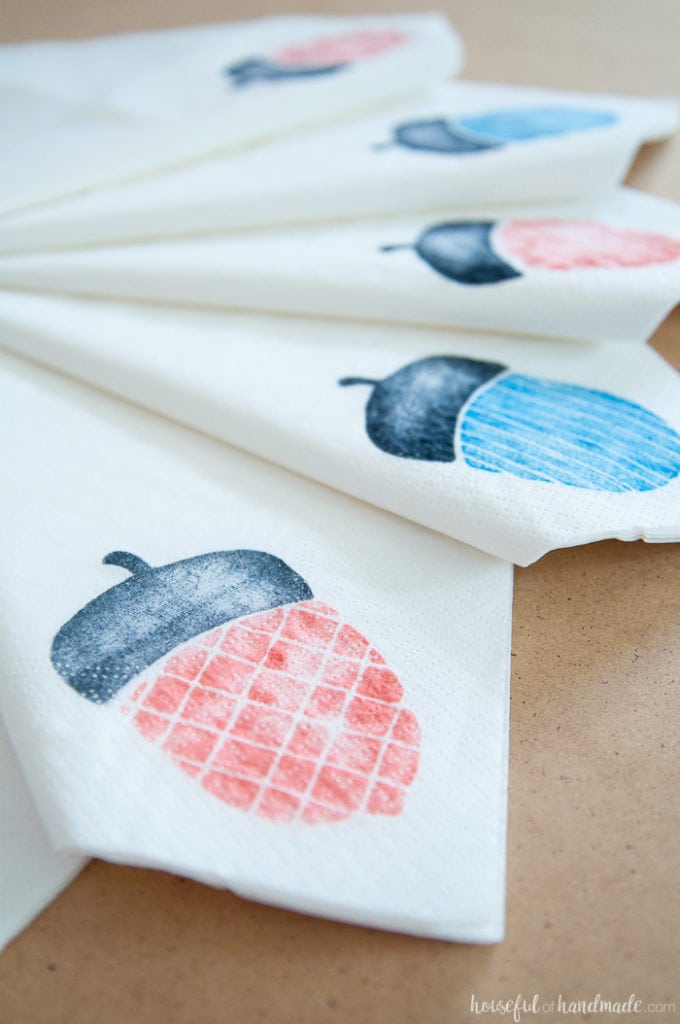 2- Homemade Decorative Napkins
When I had the idea for these napkins I may have felt like a genius. I know that is silly to say, but I was thinking on all the ways you could easily make custom napkins: weddings, bridal or baby showers, holiday parties, birthdays, and more. I know I will be using this technique to make all kinds of custom napkins in the future.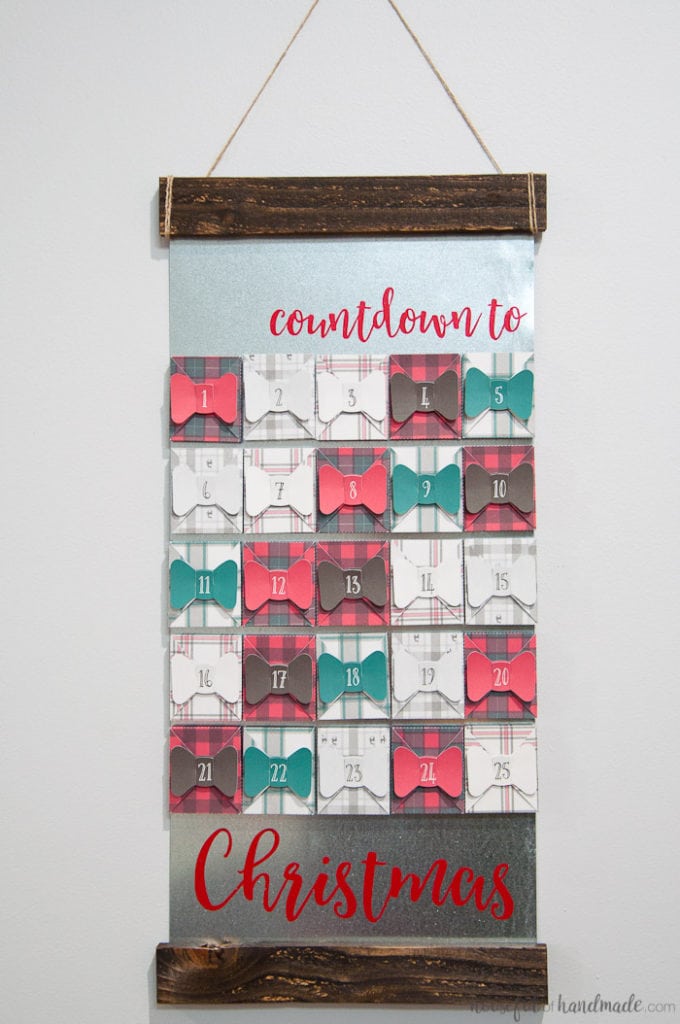 1- Farmhouse Plaid Christmas Advent Calendar

This was probably one of the projects that took the most time to figure out and I was most excited to share. Christmas posts usually never get the page views that the rest of the posts do when you do the end of the year evaluation because they have only been published for a month or so. So maybe this is not a flop because it was just published after Thanksgiving, but this one was probably my favorite Christmas post of 2016.
---
I had a lot of fun looking back on the year and am excited to see what you love from this year's posts. If you enjoyed seeing these favs & flops, make sure to check out the lists from these other awesome bloggers. I know I found some new ideas that I missed this year.
And as always, I love to hear your thoughts and ideas. I would love to know what you want to see in 2017. You can comment below or contact me here.
Here's to a wonderful new year!