When I finally managed to snag my very own space for all my creativity, I knew the one thing I really wanted was a rolling work table. Having a big table to work on all my DIYs seemed like heaven to me. No more need to take over the dining room table! But with my $100 budget for this room, I had to get creative. I happened to have a few cheap melamine bookcases laying around that I didn't want anymore. From them I created the perfect crafting table. I can't tell you how much I love my new upcycled bookcase rolling work table!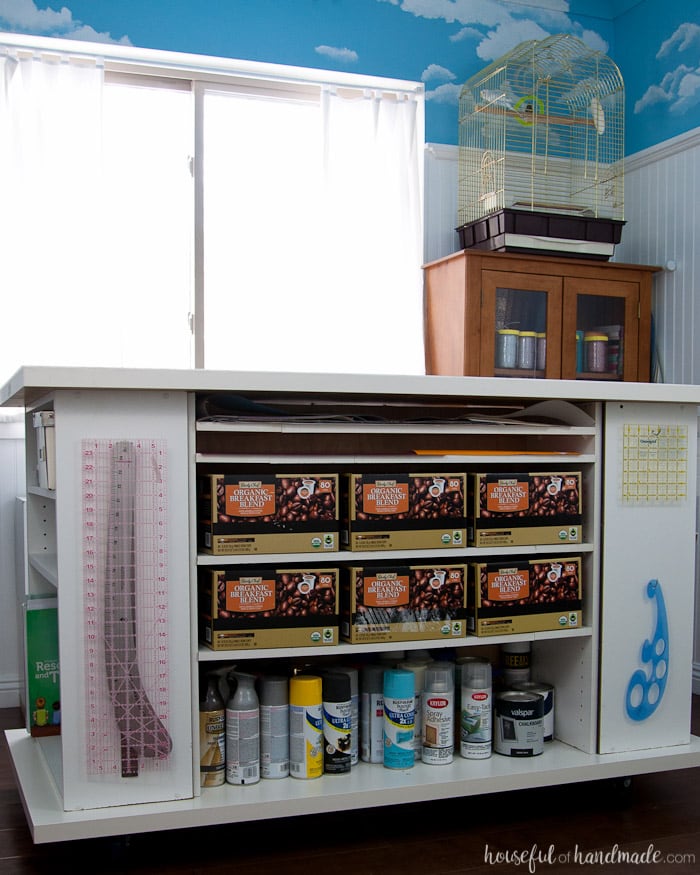 Since I made this upcycled bookcase rolling work table for the $100 room challenge makeover, I had to keep a close eye on my budget. I love the creativity this challenge is forcing me into. Luckily, we just did a huge rearranging in our entire house and it uncovered a lot of things that I didn't want anymore, like a couple tables from Ikea we used for my kids art table and my old craft table, as well as 2 short bookcases and 1 tall bookcase. Instead of tossing or donating them, I decided to upcycle them into my dream craft table.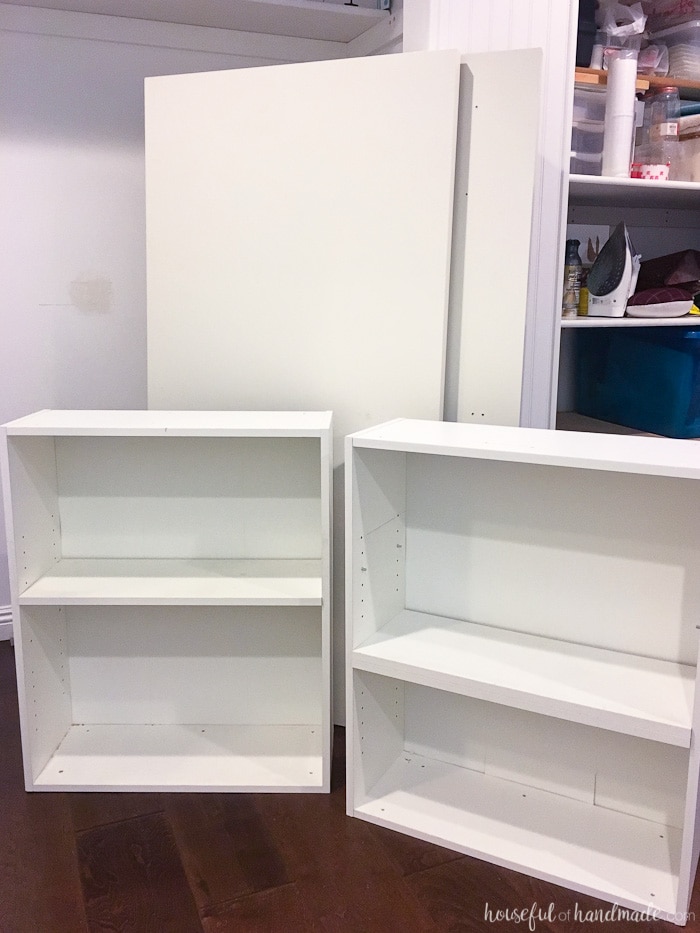 There were 3 major needs in my new craft table:
Lots and lots of storage.
Tall enough for me to comfortably stand at.
Has wheels so I can access it from all sides, but push it out of the way when not in use.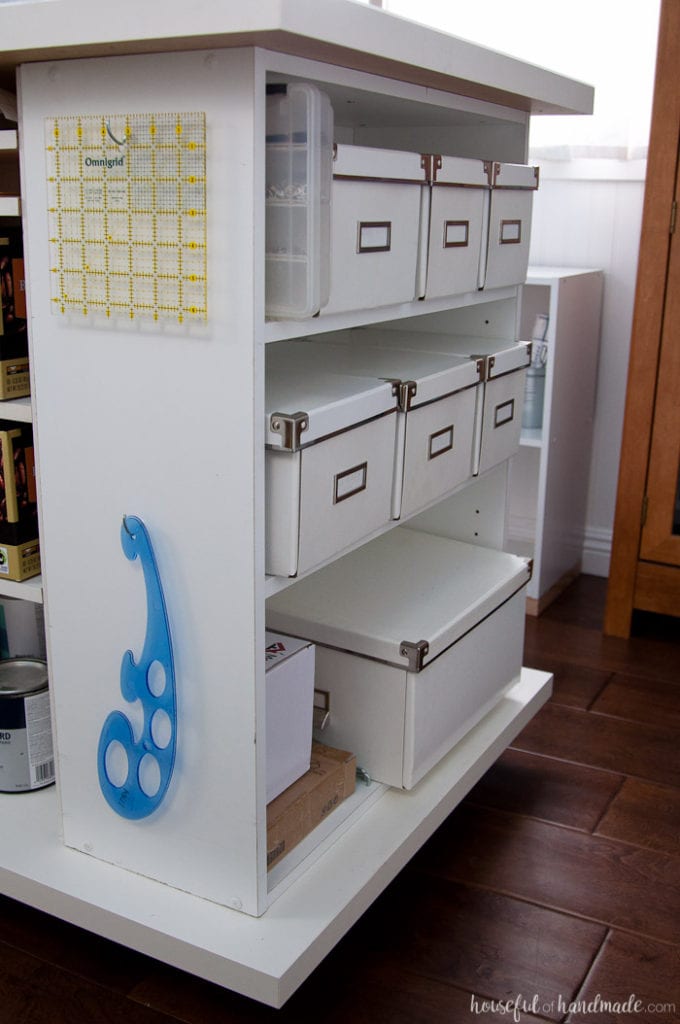 And I have to do it all for practically nothing because I am quickly spending my $100. The bookcases were the perfect answer to my needs. Now my table has so much storage I am not sure I will be able to fill it all. Okay, that's a lie, I may be a bit of craft hoarder and I'm drowning in all kinds of crazy crafting things (not to mention the hoards of fabric). But at least it will all be organized now.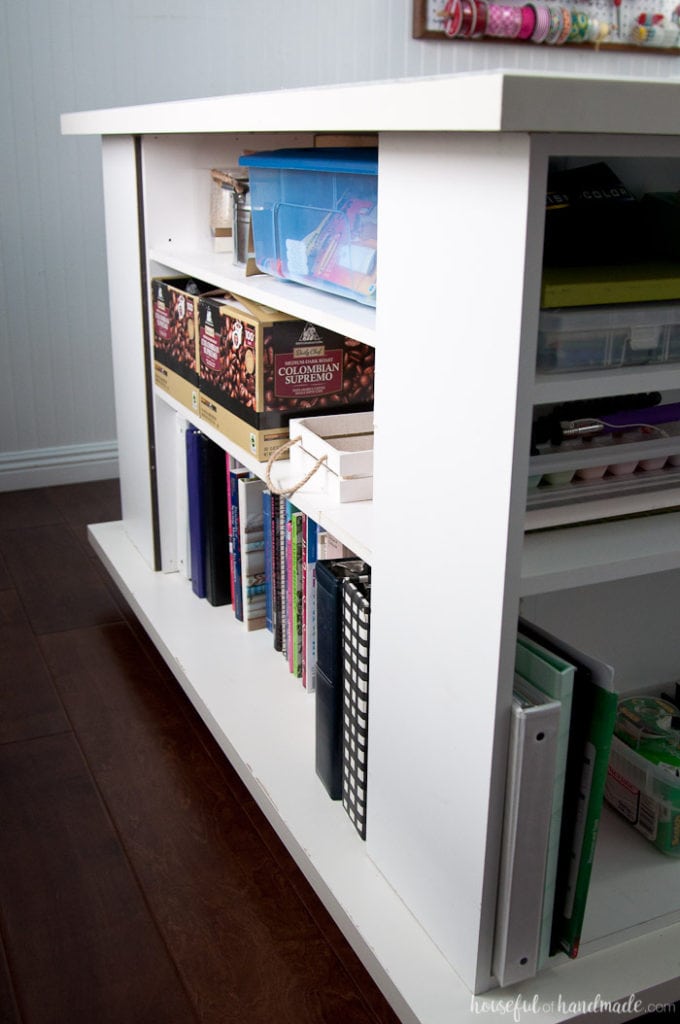 With just a little bit of woodworking, and a piece of 1/4″ plywood underlayment left over from my entryway makeover I really need to share with you, I was able to make this table for $0. Yep, you read that right. I spent absolutely nothing on this entire work table because I used things that I had but no longer wanted. I am shocking myself with how I am able to create something from the junk filling the corners of my house (and seriously, these bookcases were just piled in the back corner of the basement hallway).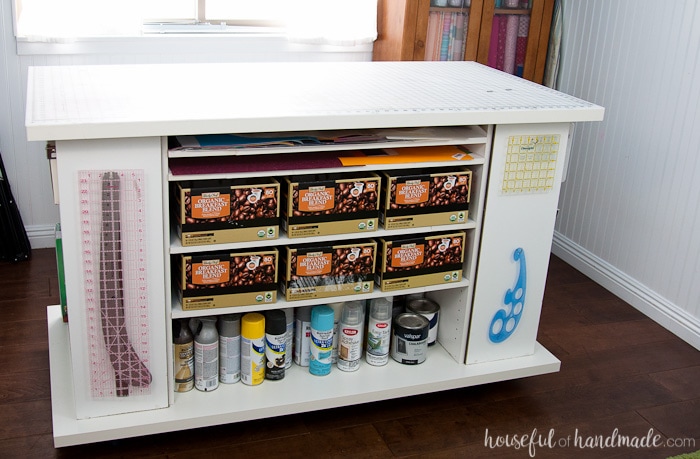 So if you are ready to see how I transformed these 3 bookcases and 2 Ikea tabletops into the best upcycled bookcase rolling work table ever, click the arrow below for the tutorial.

If you want to see the other creative solutions I'm using to redo my new office & craft room for only $100, you can follow along here. So far, here is the breakdown of what I have spent:
And there is a lot more to come. There are going to be so many budget friendly ideas for this space, sign up for my weekly newsletter so you don't miss out on anything!
[mc4wp_form id="4975″]