Decorate for Easter with these easy last minute Easter crafts.
Remembering to decorate for Easter has always been a struggle for me. Maybe it's because the date of Easter changes, but it always tends to sneak up on me.
If Easter snuck up on you too, don't worry… there's still time to decorate and celebrate with these easy Easter Crafts. You'll be ready for the bunny in no time!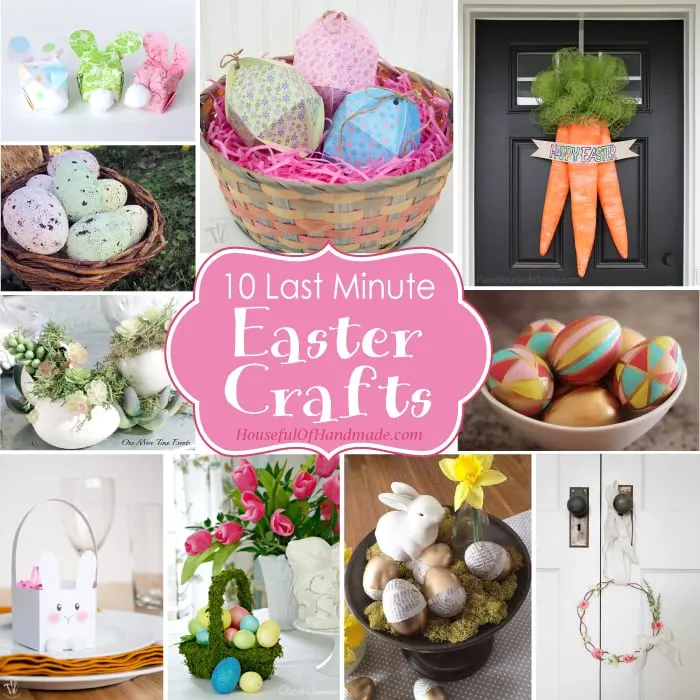 Quick & Easy Easter Crafts
Don't forget to decorate your home for Easter. These quick and easy Easter crafts will add lots of Easter style to your home, help you quickly decorate your Easter table, or make the perfect containers to share an Easter treat!
This cute printable bunny face is not only perfect for Easter decor, but you can use it to decorate for the entire spring season or in a nursery! Any way you want to use it, that sweet face will make you excited to celebrate everything Easter.
Photo Credit: paintyourselfasmile.com
Decorating your door for the holiday is the easiest way to add some Easter spirit. And this carrot door hanger is perfect easy Easter craft.
Photo Credit: www.makingitinthemountains.com
This simple floral wreath is perfect for hanging anywhere you need a little nod to Easter. Hang it on the back of chairs for Easter dinner, on your kitchen cabinets, on any door in your house. The possibilities for Easter decor are endless!
Whether you want to perfect little basket to share an Easter treat or add a little treat to your Easter tablescape, these printable bunny Easter baskets are perfect. And you will love how easy they are to make!
Photo Credit: www.grecodesigncompany.com
One of the best parts of decorating for Easter is you can just sprinkle beautifully decorated eggs all over the house! And these eggs are the best of paint dipped and upcycled newspaper to make the perfect, but quick, Easter decorations.
Photo Credit: www.weknowstuff.us.com
These easy speckled Easter eggs are made from inexpesive plastic egss. But they look way more expensive! And what is more Easter than some speckled eggs?
What's Easter without candy filled eggs? These colorful printable egg shaped boxes are perfect for filling your Easter basket with the best treats or toys.
Photo Credit: sparklelivingblog.com
Here is another beautiful decorated Easter egg option. Why only make 1 kind of eggs to decorate with? These Kaleidoscope eggs are so bright and fun and would also be beautiful on an Easter place setting.
Photo Credit: www.3littlegreenwoods.com
Don't settle for a boring woven basket this Easter. Instead make this amazing moss covered one. It is the perfect decoration to add some added green to welcome spring.
These giant Easter eggs are perfect for giving larger gifts or treats this Easter. You can add them to an Easter basket or use them as their own basket. The kids will love unzipping their eggs to find treats from the Easter bunny!
Photo Credit: raisingwhasians.com
How adorable are these orgami Easter crafts with a big bushy tail? These would be so cute to use as place settings for your guests on your Easter table. Or just let the kids have fun and make some in every color!
Now you are all set to decorate your home and table this Easter. These quick crafts will surely save the day!