Summer is in full swing here. Lots of camping, parties and BBQs. I hope you are enjoying lots of the same.
That is probably my absolute favorite thing about summer, even more than the pool (but make it a pool & BBQ party and I am in heaven). I love every excuse to gather with friends and enjoy a meal in the warm evening.
If you have a party coming up, you have the check out this easy 10 minute DIY dish decoration hack to make your dishes more festive! I partnered with Spellbinders to share this easy Summer entertaining idea.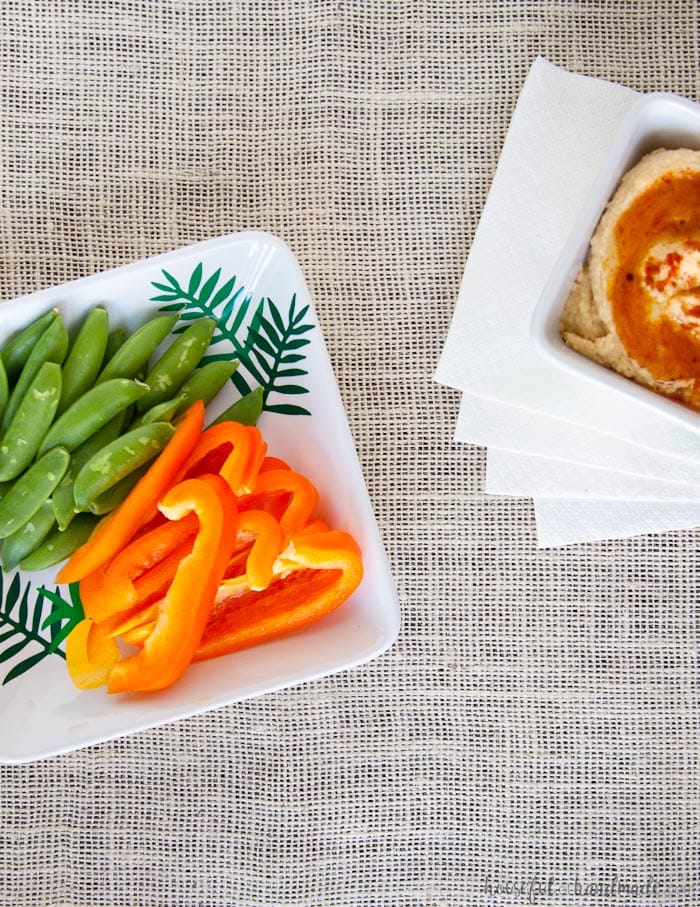 There is just something about festive dishes that makes parties more fun. I hope I'm not the only one that thinks this. And I swear the kids eat more vegetables when they are served on a fun decorative tray.
But I do not have room in my kitchen for lots of decorative dishes and trays. If I did, you better believe I would have some for every holiday and season, and a few for in between.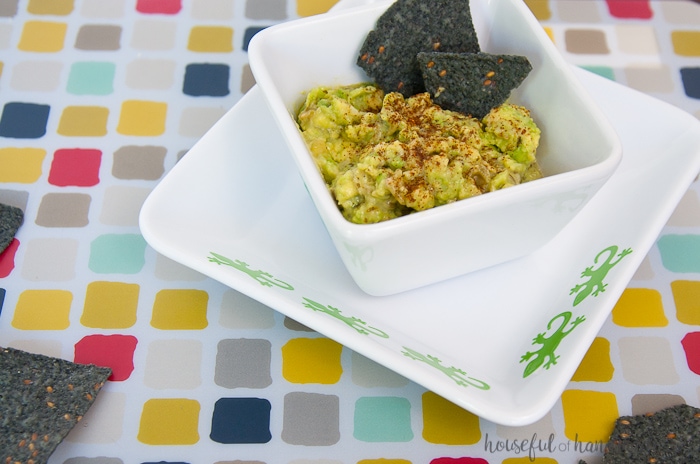 Instead I decided to find a way to make dish decorations that could be switched out for the occasion. Seriously, how much better is it to stock your cabinets with plain white dishes, then decorate them up for whatever theme you want before filling them with your favorite treat?
Even better if it only takes 10 minutes to make? Well this 10 minute DIY dish decoration hack will have you ready to party in no time.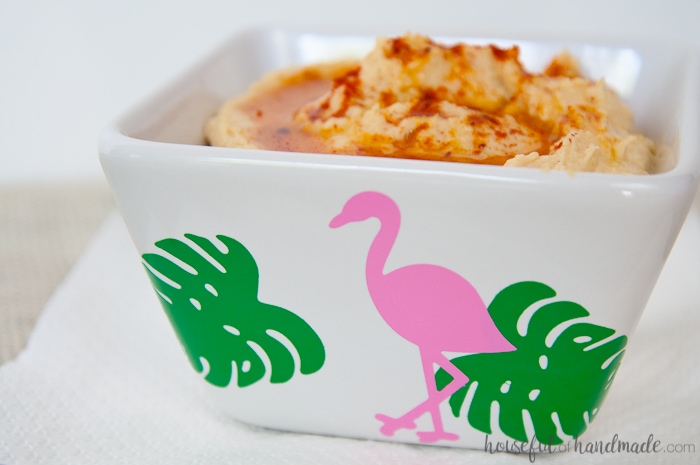 To make this hack even faster, I reached for my Spellbinders Platinum 6 die cut machine. I am not a card-maker, but I love all the different ways I am able to use the die cutter.
From art to storage, decor to organization, I have used my Platinum 6 for so many fun things. And it is super quick to pull it out for a 10 minute craft.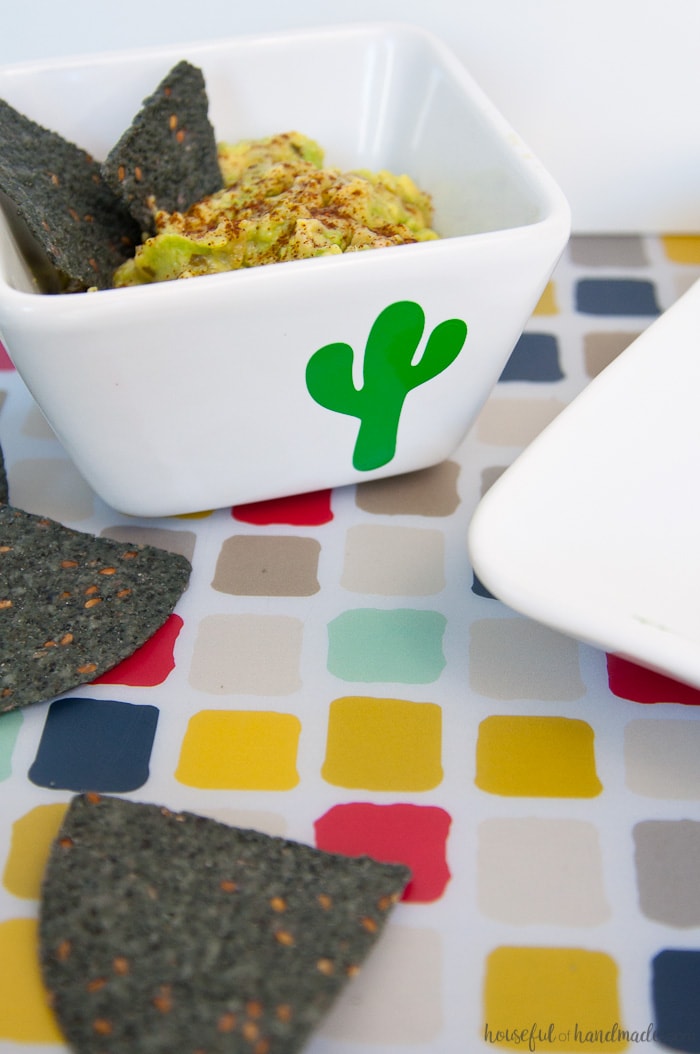 Using some etched dies that made me think of summer, I was able to quickly cut out vinyl to decorate my plain white serving dishes.
I used tropical flamingos to decorate a bowl and plate for hummus with vegetables.
Then I couldn't pass up a chance to add a cactus and southwest decor to another bowl and plate for some delicious guacamole. They are so fun and festive! Perfect for a summer BBQ.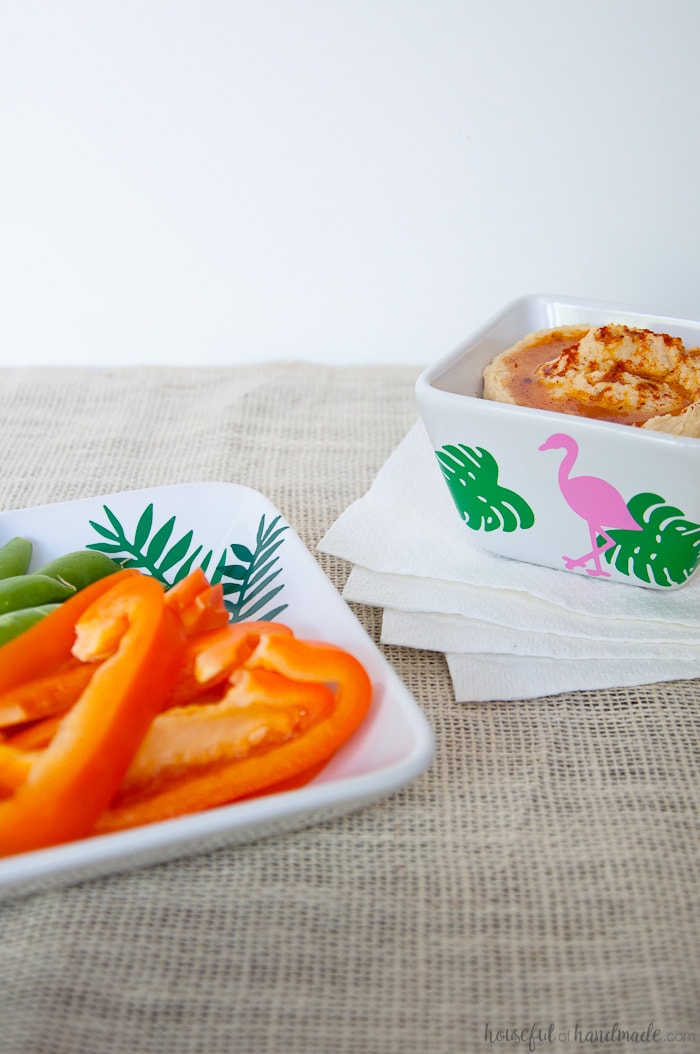 But this awesome DIY dish decoration hack will work for any season or event! There are so so so many etched dies to choose from. Think balloons for birthdays, snowflakes for winter, animals for baby showers, and everything in between. I can't wait to decorate every dish around!
How to Make DIY Dish Decoration
Supplies:
The hardest part of the whole project is picking out what dies to use. There are so many etched dies to choose from. Since I am using mine for summer BBQs, I chose fun summery dies.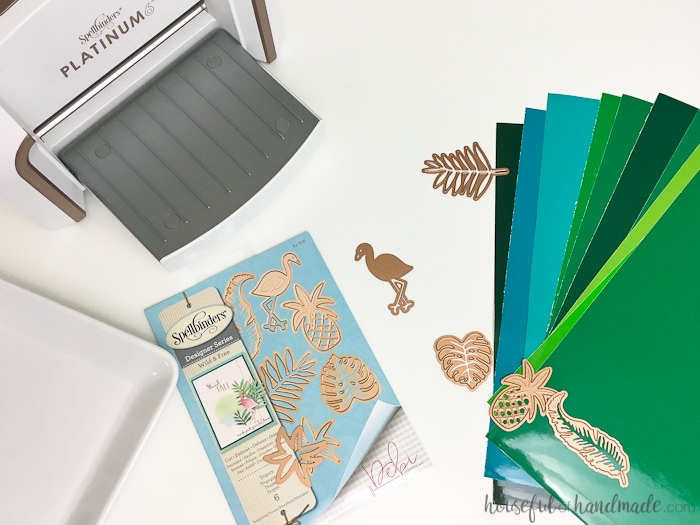 Cut a piece of vinyl big enough for the die. Create your cutting sandwich by placing the platform, then a cutting plate, your vinyl (facing up), the die, and then top if off with a second cutting plate.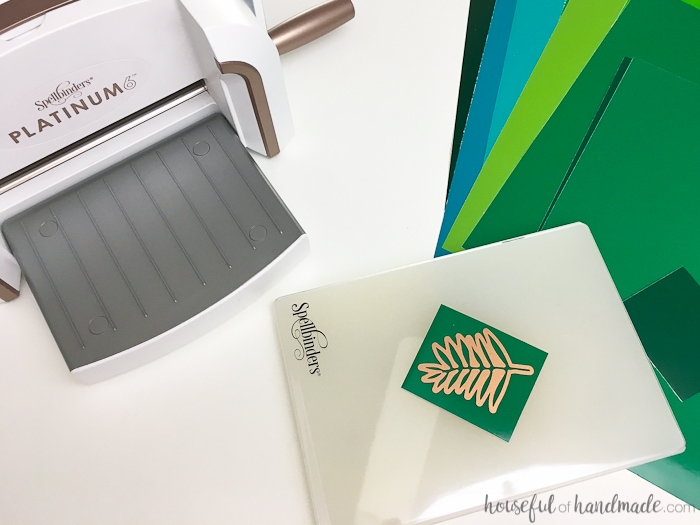 Run it through the die cut machine. You may notice the vinyl is embossed slightly. If you do not want the embossing to show up, you can easily press it out, or press lightly to keep it intact.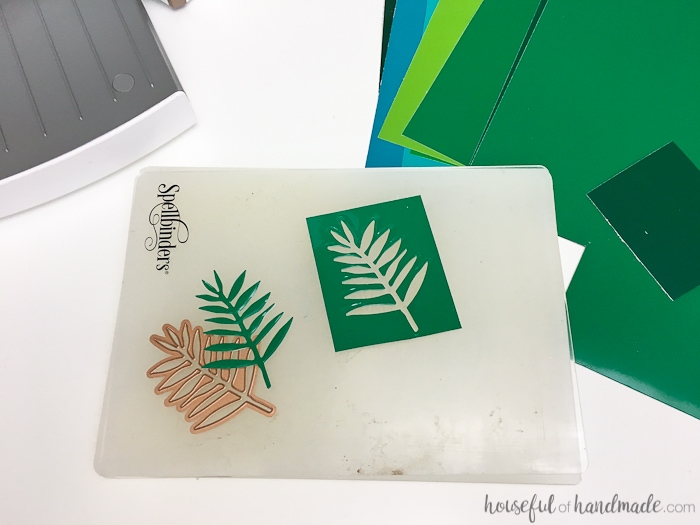 Grab a scrap piece of transfer tape. I used the same piece over and over and over, and on some of the simpler designs (not the flamingo or palm leaves) I didn't use any. Place the cut vinyl design on the back of the transfer tape and cover it back up with the backing. Rub it with the vinyl scraper to secure it.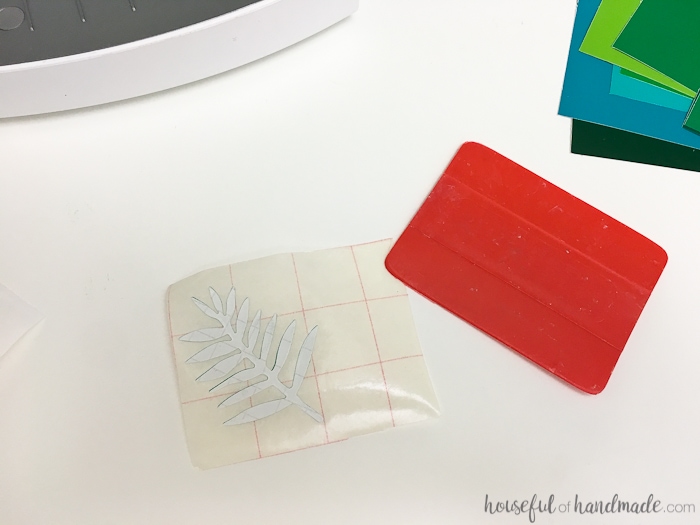 Remover the transfer tape back and then the vinyl backing.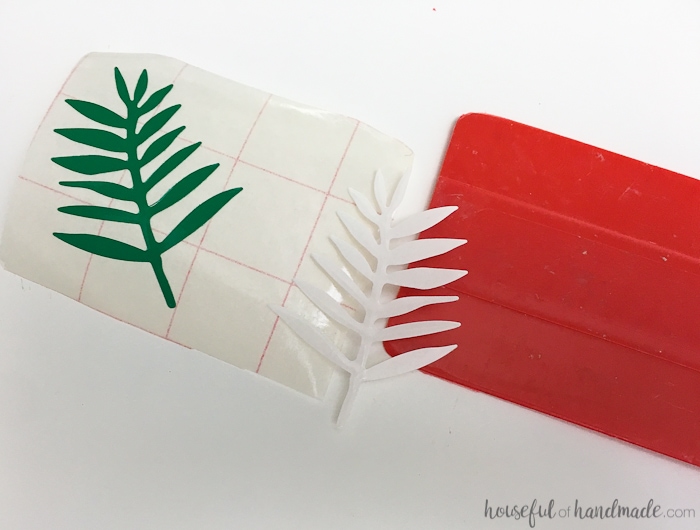 Clean the area of the dish with a cotton ball and rubbing alcohol to make sure there is no greasy residue. Place the vinyl design on your plain dish and rub with your finger. Remove the transfer tape and see the vinyl stuck to your dish.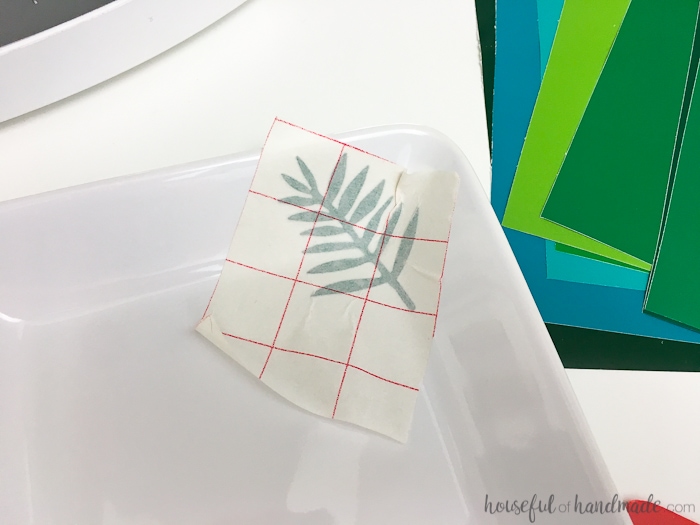 Repeat as many times as you want until you get the design you want. I layer the palms for more details.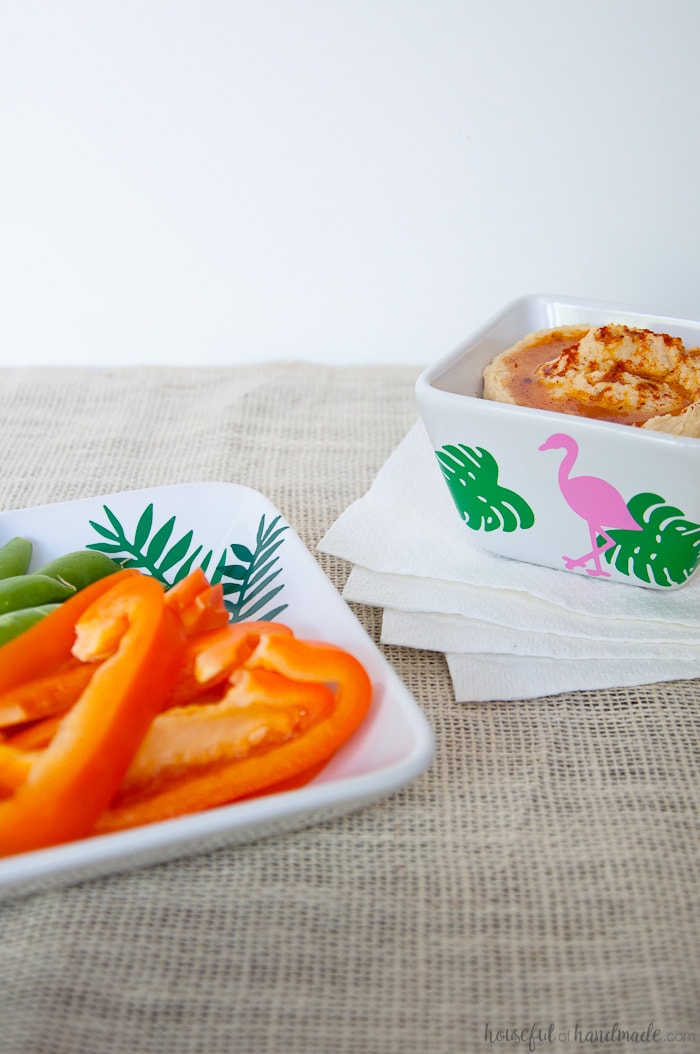 And for the southwest plate, I love the trail of geckos around the bottom. Makes me want to eat tacos!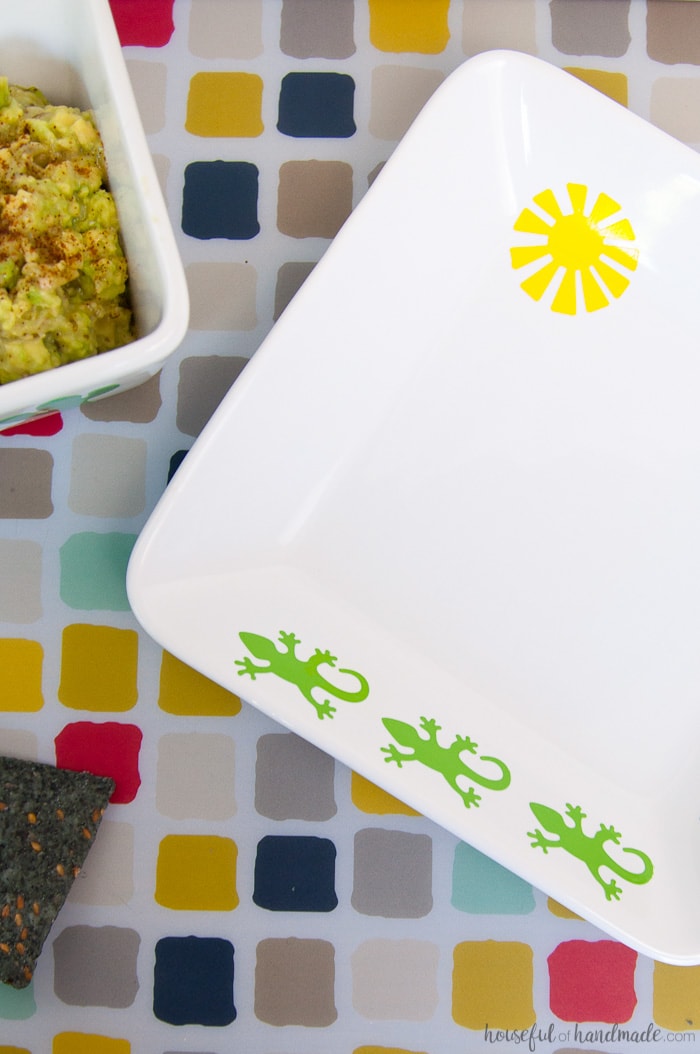 Now just fill your dishes up with your favorite foods and go show off you DIY dish decoration. You will definitely have the best dishes ever! And when the party is over, pull off the vinyl and get ready to decorate them another day.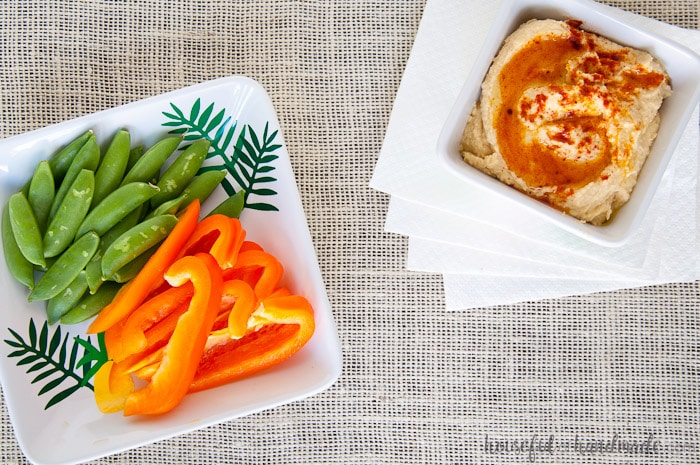 Such a fun and easy hack for the crazy days of summer. Now there is plenty of time for some friends and fun!

Thank you to Spellbinders for sponsoring this post. I only recommend products that I use and love and all opinions are 100% my own. Click here to read my full disclosure policy.