Yes, I am trying to start the New Year off with a little bit of healthier eating. If I do better at working out and happen to loose a few pounds I won't be upset either. But I know that if I am eating healthy, everything else is just easier. I thought I would share these delicious and healthy recipes from 2015 that I will be using to jump start my healthy eating in 2016.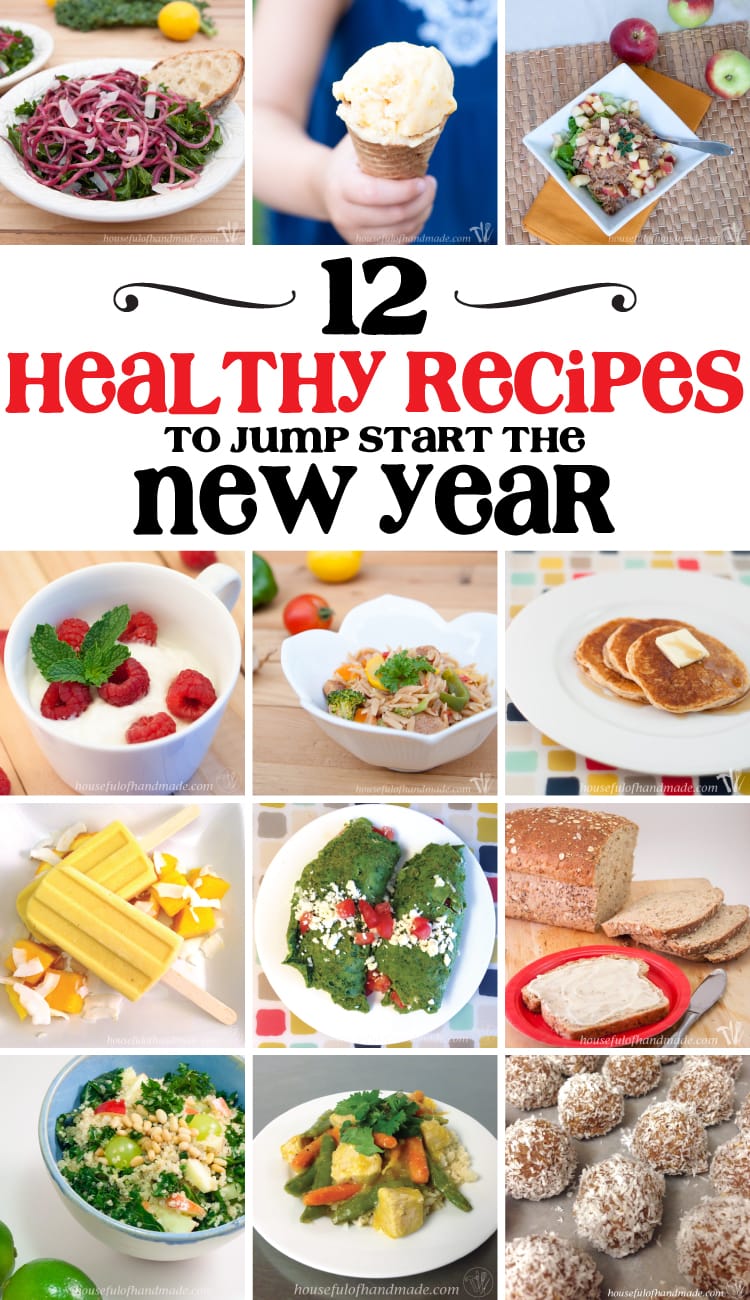 I never really feel like I am eating badly, I eat a home cooked meal everyday for breakfast, lunch and dinner and we only eat out a couple times a month. However, I love to bake so much! Baking makes me calm. The smell of baked goods gives me a lift in my step. Baking makes my house warmer in the winter. But I also love to eat all the baked goods, and I baked a lot in the last few months so it is time to refocus and try to reduce my sugar intake.
My secret to eating healthy is to serve at least 2 servings of vegetables with each meal. Breakfast is harder because I am usually cooking for just me. The hubby leaves earlier than I am coherent enough for food and the kids would rather eat a bowl of cereal with him then wait for me to cook something delicious. Silly kids! I try to do a green smoothie a few times a week to help add some vegetables to my morning routine, but if not I make sure to have whole grains and healthy protein then eat lots of veggies for lunch and dinner.
My favorite breakfast is avocado toast on the most delicious homemade Whole Grain Seed Bread.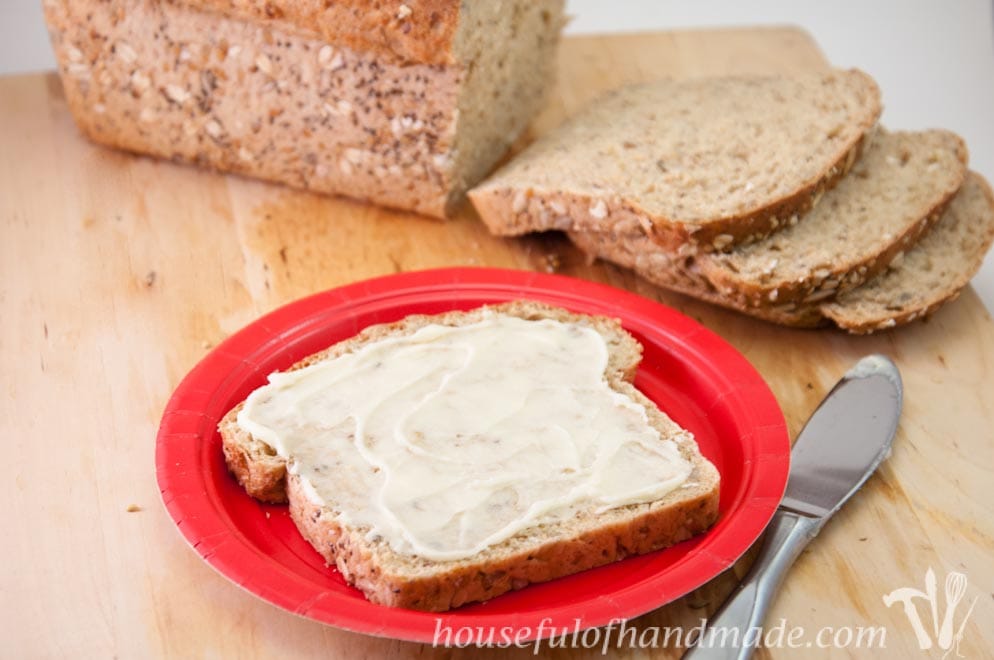 Soft & Delicious Whole Grain Seed Bread
If you have a little more time for breakfast, you need to try out these delicious recipes to start your day off on the right track.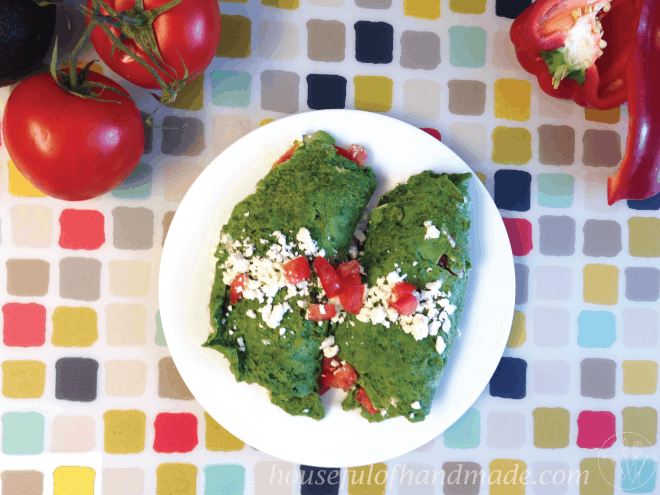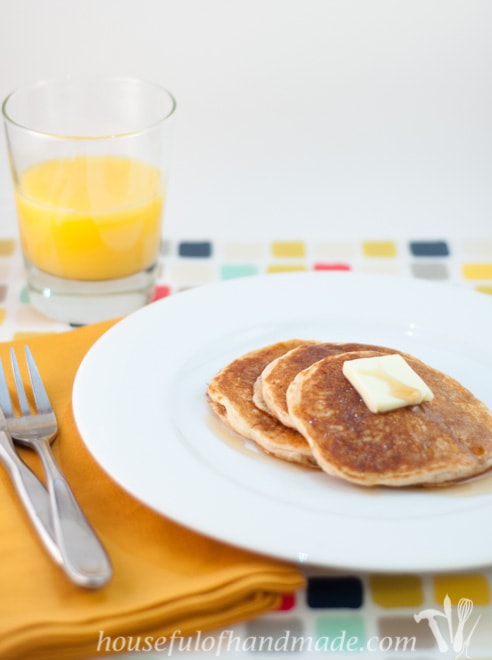 For lunch I usually eat leftovers from the night before. I am a lover of left overs, especially if the meal was amazing, then I actually look forward to eating lunch. If there are no left overs, I turn to salads. A salad that I can make a big bowl and eat when needed is even better. That is why kale is my go to for salads (and it grows like crazy so I usually have more than we can consume).
Check out our favorite healthy salad recipes from 2015 below.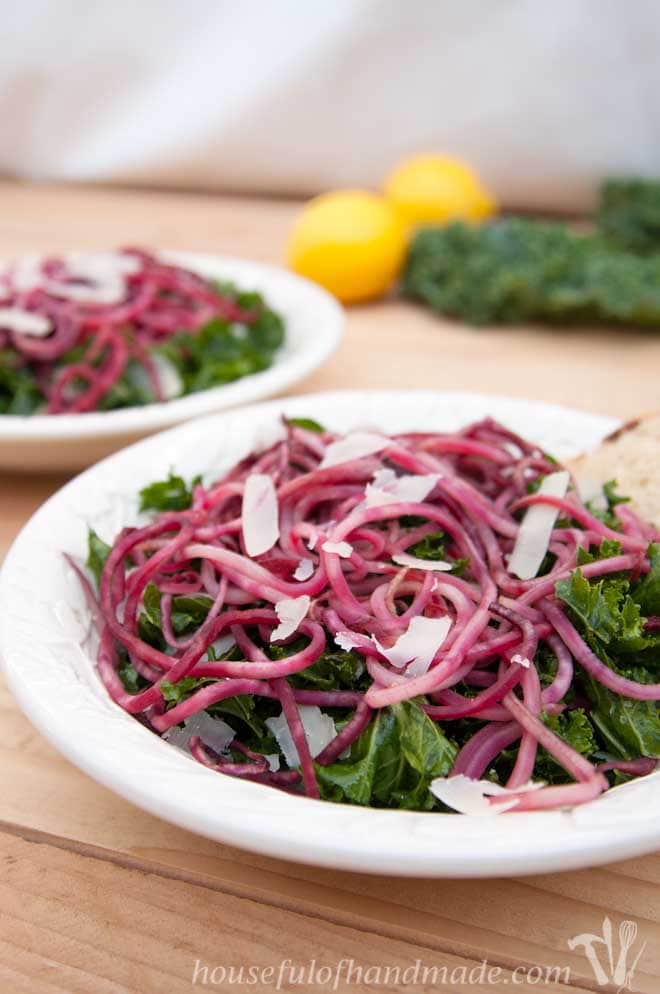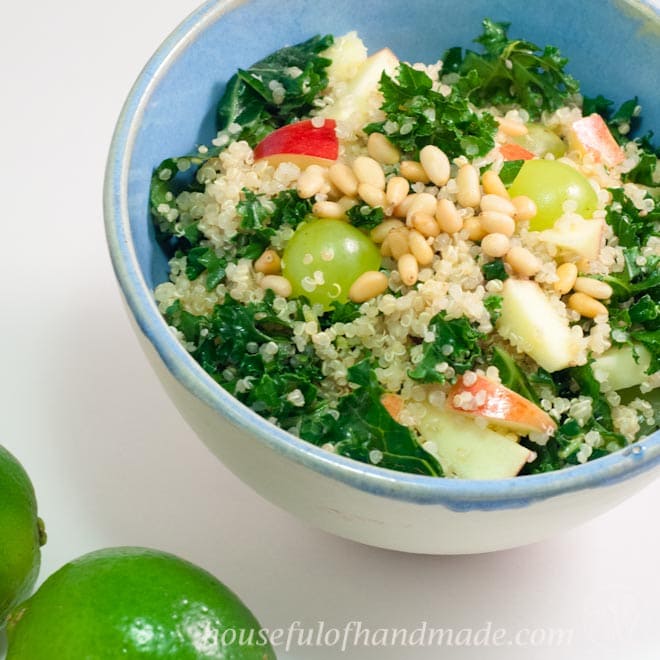 Quinoa Kale Salad with Honey Lime Vinaigrette
Dinner time is usually where I spend a little more time cooking, but not too much unless it's a special occasion. I try to serve a hot veggie (which usually means lots of vegetables in the main dish) and a cold veggie (big green salad or veggie tray). I trick my kids into eating their vegetables by putting them in the main dish. They tend to eat them really well that way, well, they eat well about 60% of the time so I am pretty sure they are healthy!
Here are some of the easiest ways to add extra vegetables into our dinner routine.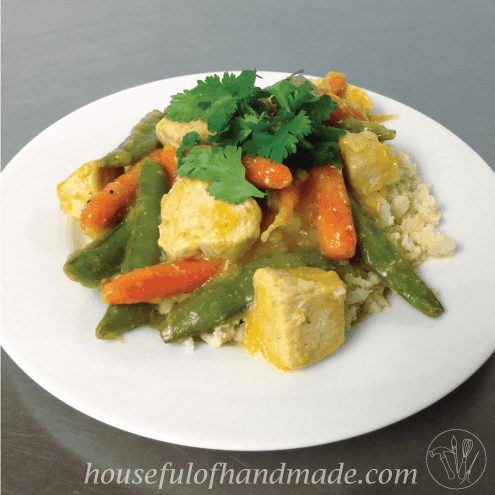 20 Minute Healthy Orange Chicken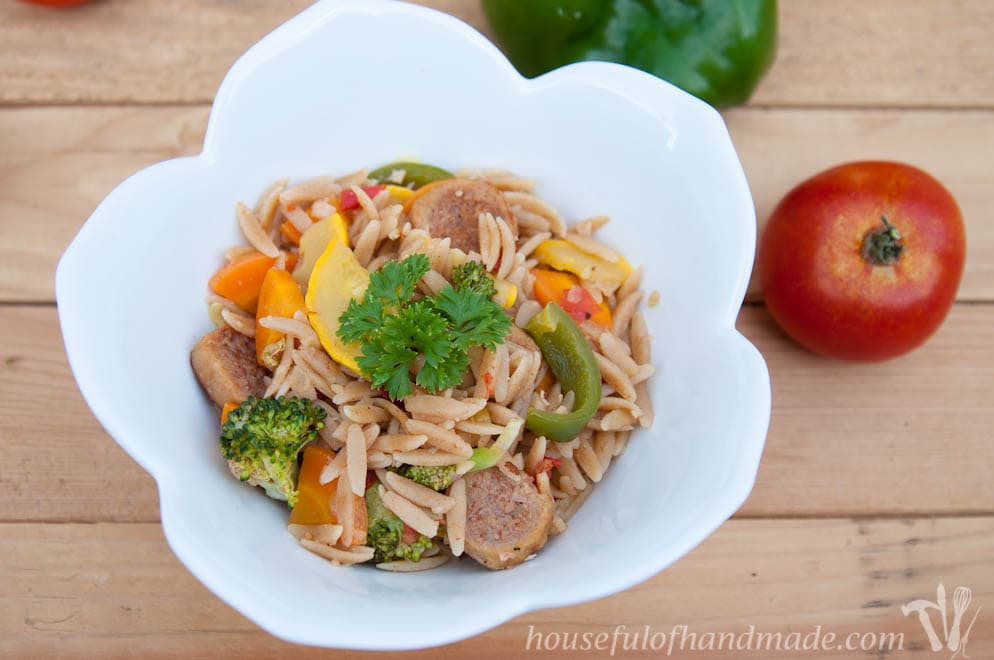 20 Minute Sausage & Garden Vegetable Orzo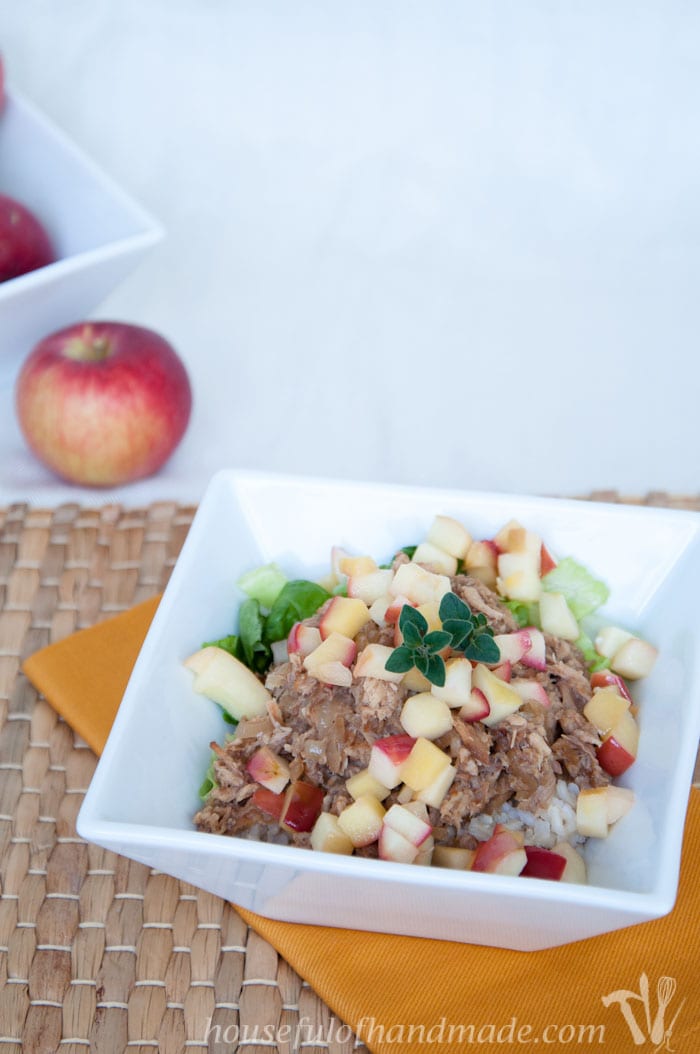 Slow Cooker Pork & Apples Rice Bowls
Eating healthy at our house means we go through lots of non-fat Greek yogurt. We use it in our green smoothies as well as in many dishes and in our baking. It adds a lot of good protein without the fat. But with how much we use, it can get expensive, until I learned how easy it was to make it ourselves for only $1 per 32 oz container!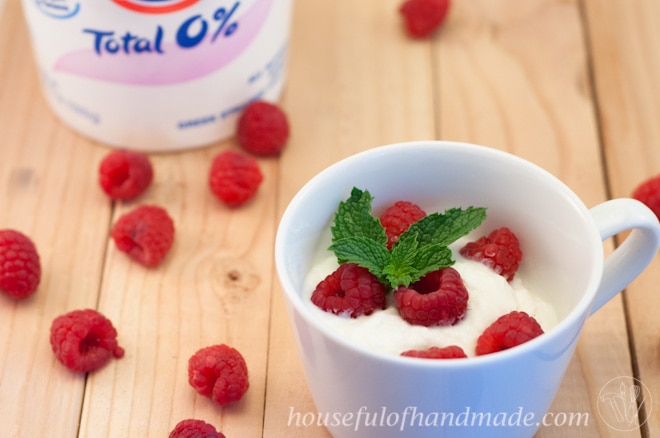 Being healthy doesn't mean you have to give up snacks and dessert. Just make healthier decisions. Tonight instead of caramel popcorn (which we love sooooo much), I made a bowl of kettle corn with just a hint of sugar. It was delicious and curbed my appetite for caramel popcorn.
For more delicious but healthy deserts and snacks check out these posts: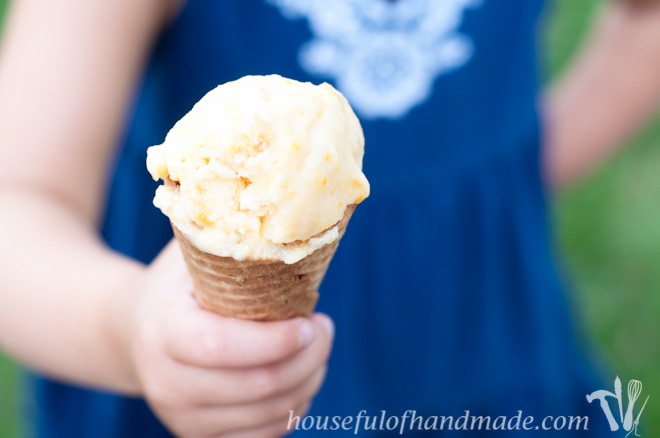 Super Simple Peach Frozen Yogurt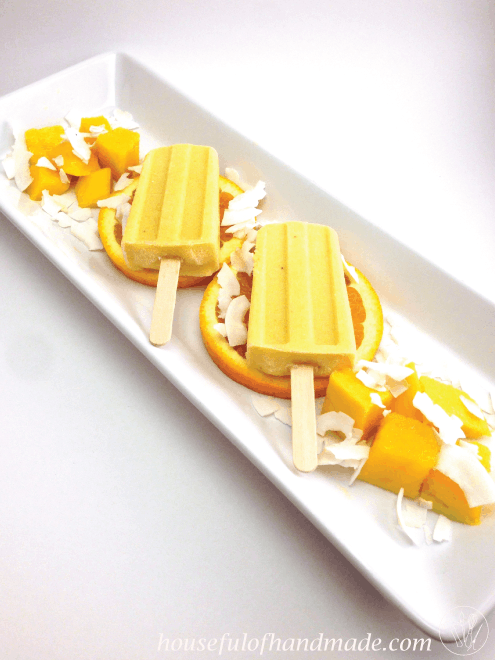 Tropical Smoothie Yogurt Popsicles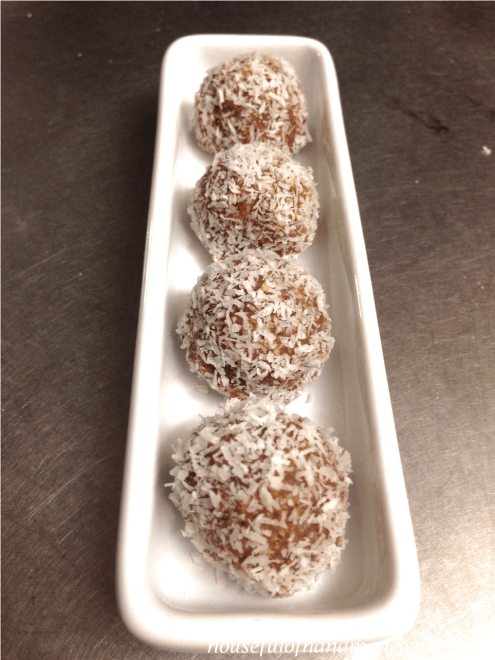 Simple Peanut Energy Bites
If you are trying to eat a little healthier in the New Year, good luck. Find some amazing recipes and make lots so you can eat leftovers on those days you don't have time (or energy). Then just take it one day at a time, and give yourself a break every now and then 🙂
Happy New Year to you!