I hate spending too much money on holiday decorations. You only get to use them for a few weeks, so I like to get creative and keep it cheap! Today I am sharing this beautiful $3 rustic Valentine's Day heart wreath along with some other fun Valentine's Day crafts on a budget in this fun Valentine's Day blog hop.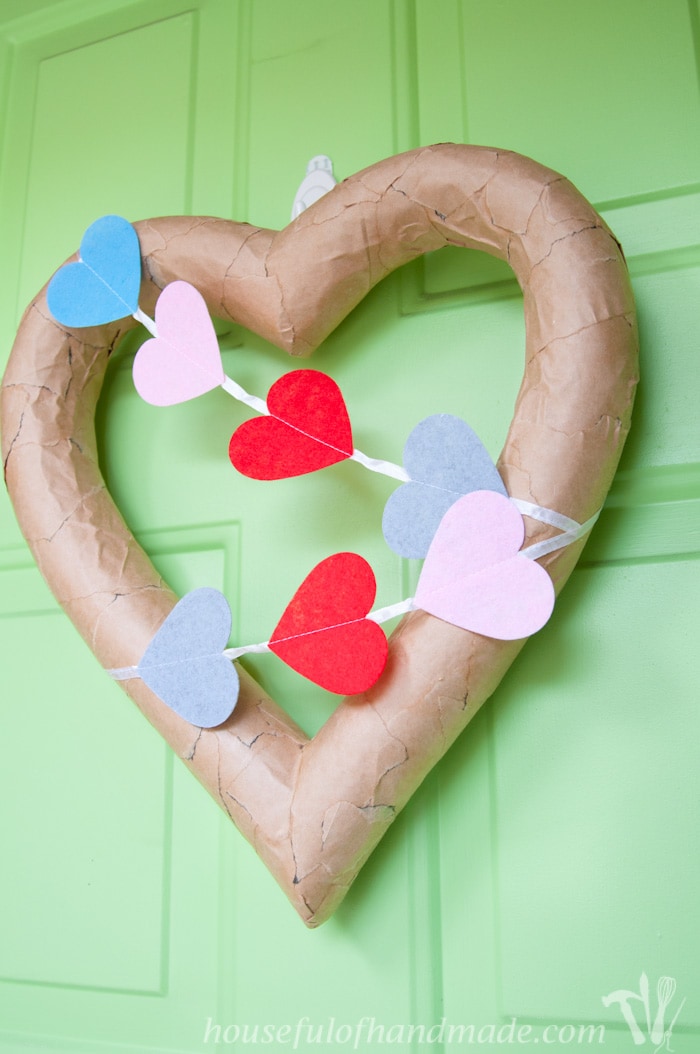 Thank you for joining me for the Valentine's Day Blog Hop! I've joined up with 13 other talented bloggers to share Valentine's Day crafts on a budget. Each blogger was given a budget of no more than $10 and challenged to create a Valentine's Day craft using items from the dollar store or dollar section of their local stores. If you have budget Valentine's Day crafts to share, please add it to the link-up at the bottom of this post so it can be seen on all of our blogs!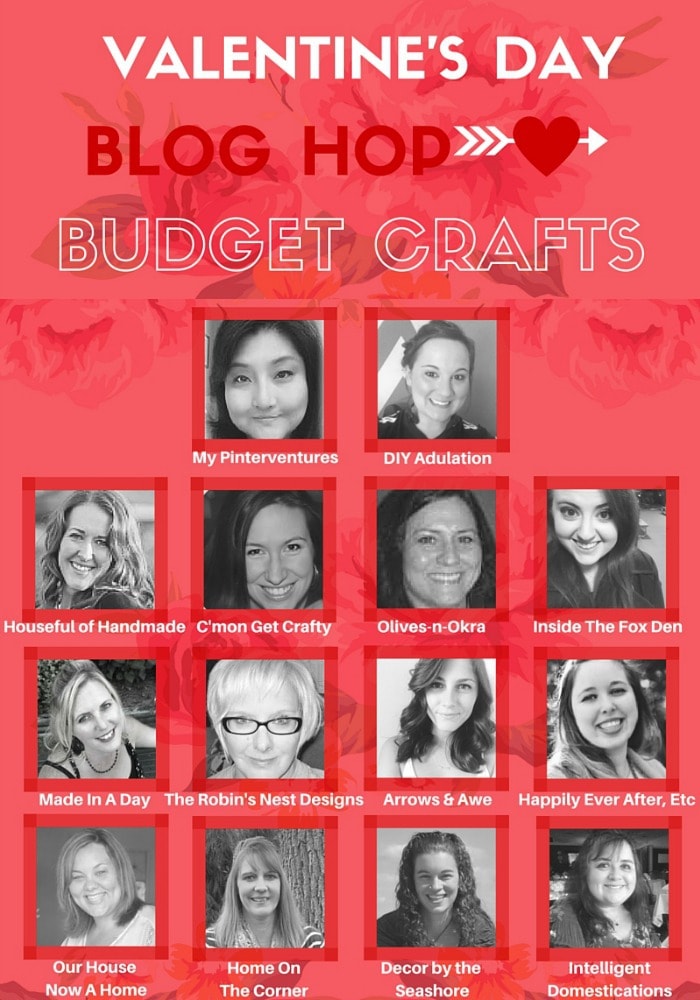 ---
You can make this rustic Valentine's day heart wreath for only $3 and a couple items from around the house. Seriously! Doesn't it look like it cost so much more? I just love how it turned out!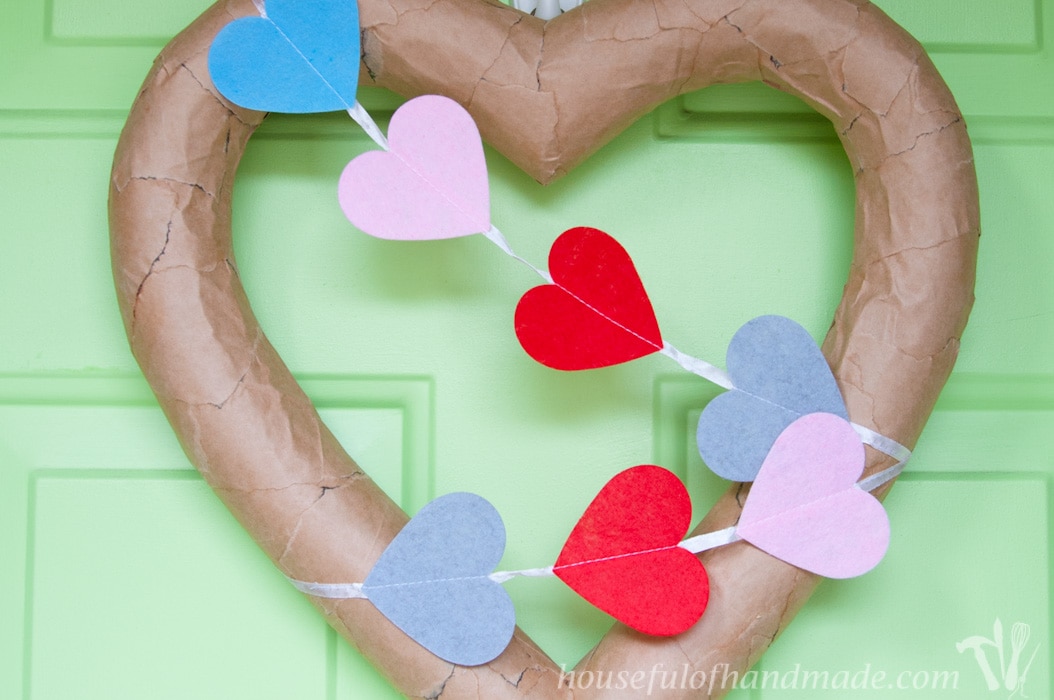 Valentine's Day is all about red and pink, hearts and love. I have nothing again red and pink, but I don't like to decorate with too much of it. I prefer neutrals and a little sprinkling of color. This wreath is perfect for that. I have the neutral brown heart shaped wreath with a little pizzaz from the colorful heart banner. And it looks just amazing on my green door doesn't it 🙂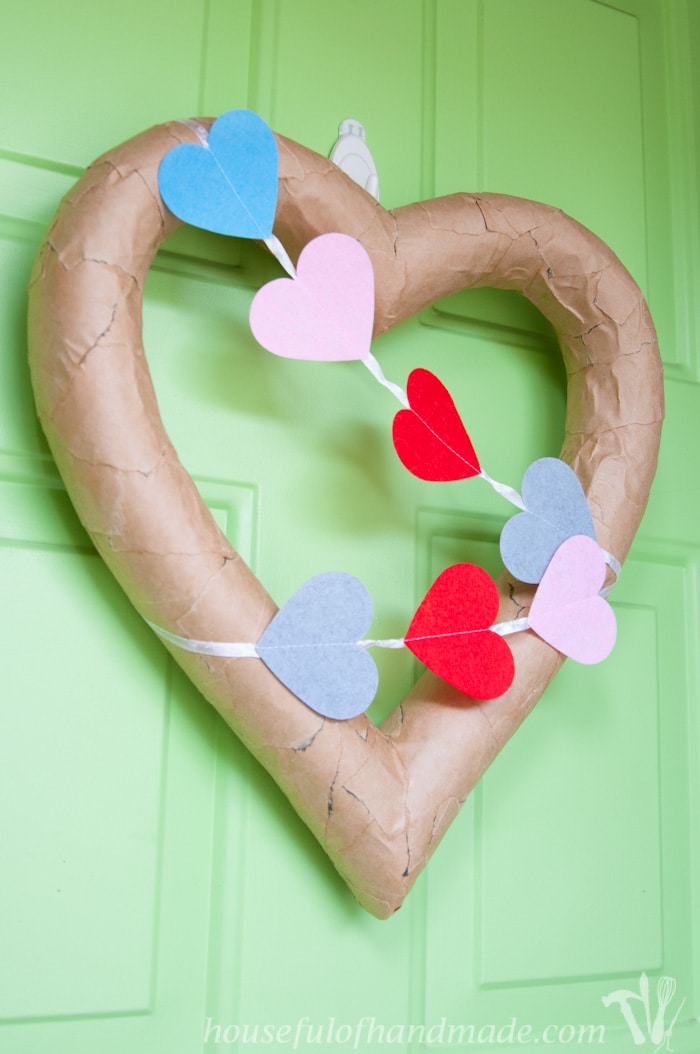 Have I convinced you to make your own wreath yet? It is super easy so let's do it!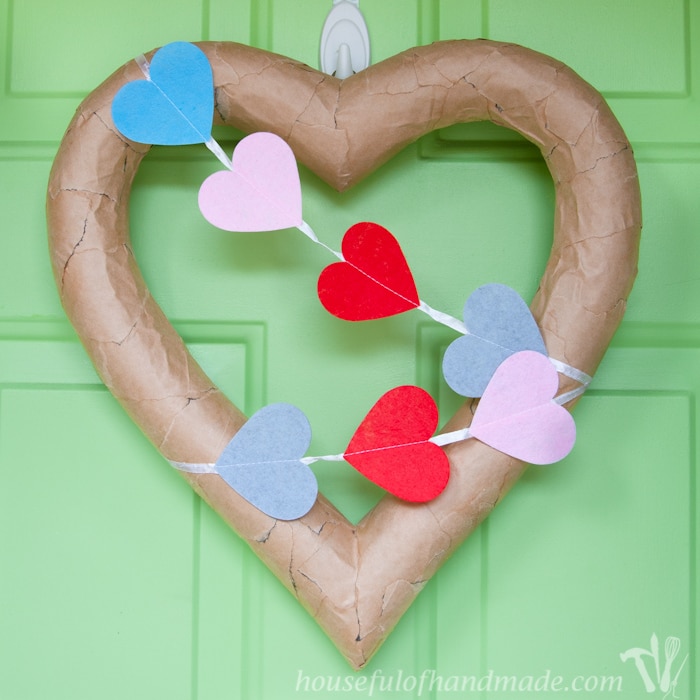 You'll need a to pick up a pool noodle (from the dollar store), Modge Podge (I found a small container at the dollar store) and a heart banner (from the Target Dollar Spot). From around the house you will need a wire hanger, a brown paper bag, packing tape and a little hot glue. That's all!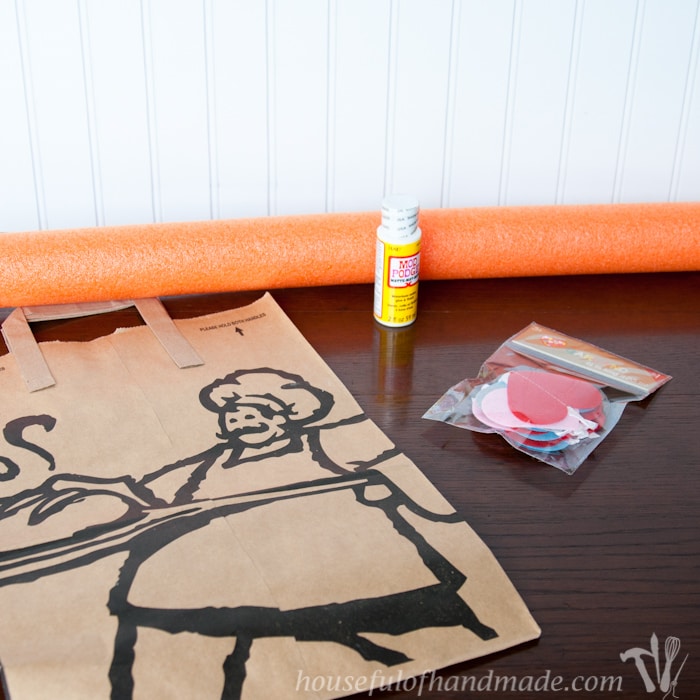 Start by cutting the pool noodle so you can shape it into a heart. You need to cut it in half on an angle. I made mine into a deep angle for the bottom of the heart.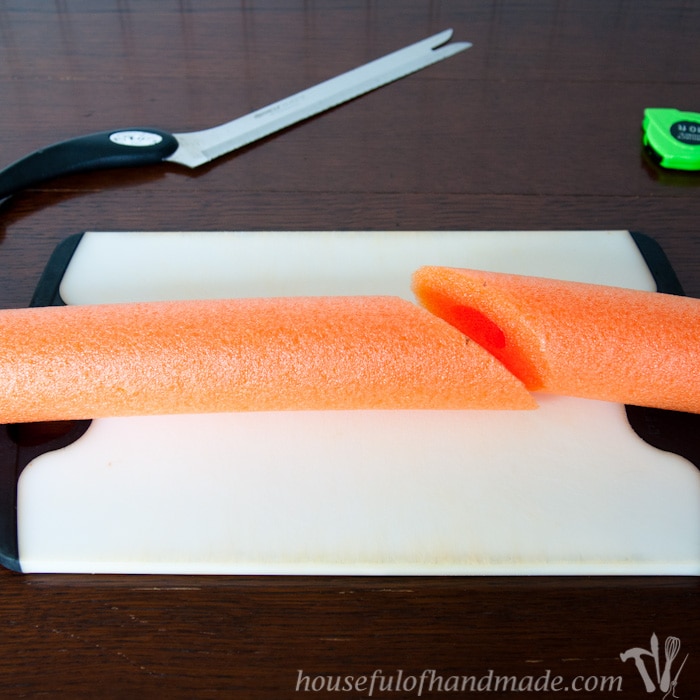 Then cut the tops at an angle also, but make this one much shallower. The angles will need to be in the same direction.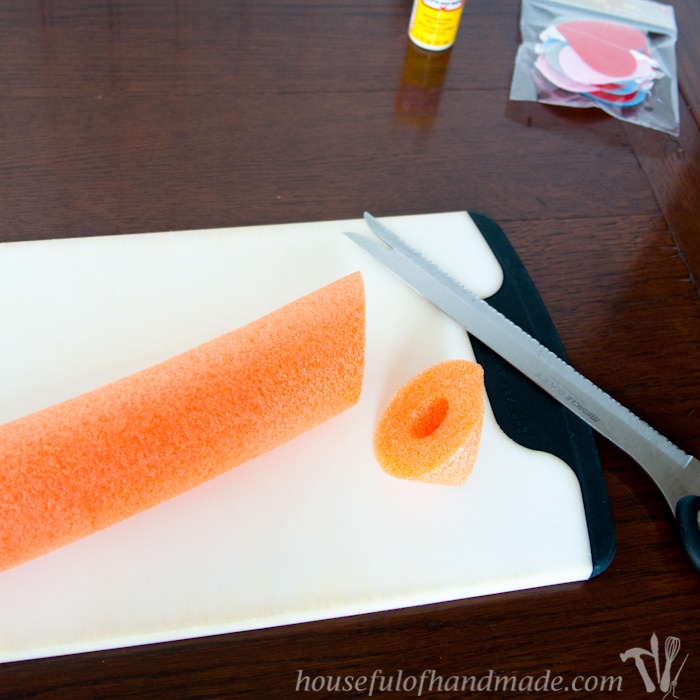 Now take the wire hanger and cut the bottom bar in the center. Shape the top so the hook is a loop to hang the wreath and the hanger starts to look like a heart.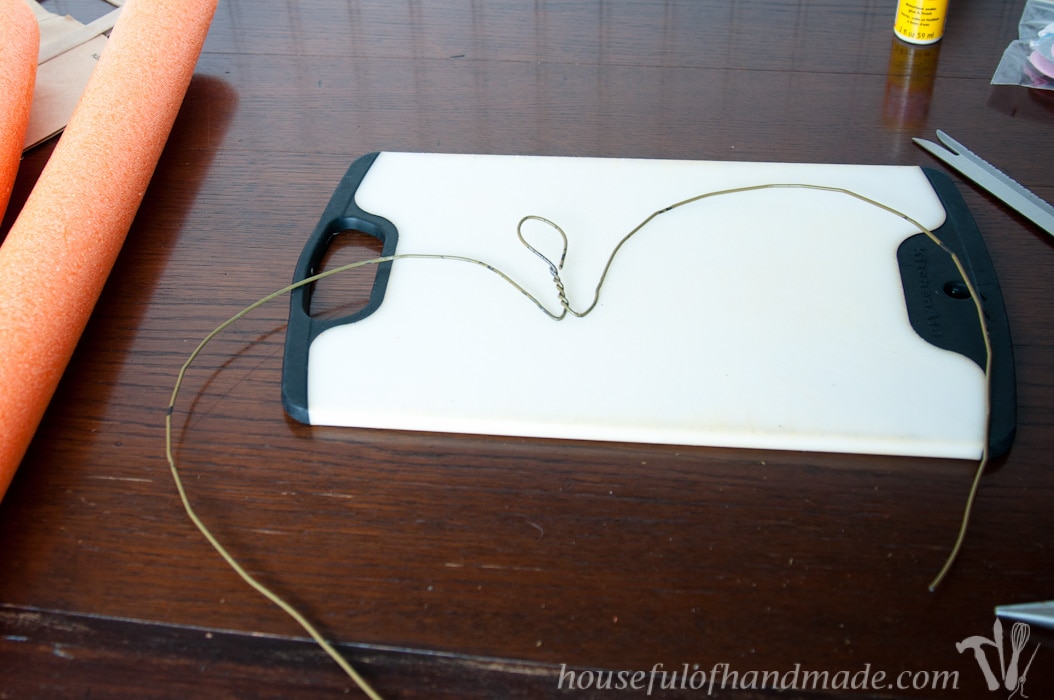 Then you will feed the pool noodle onto the hanger, just push it into the hole in the center of the pool noodle. The side cut with the shallower angle will get fed onto hanger first so it touches the loop at the top of the hanger.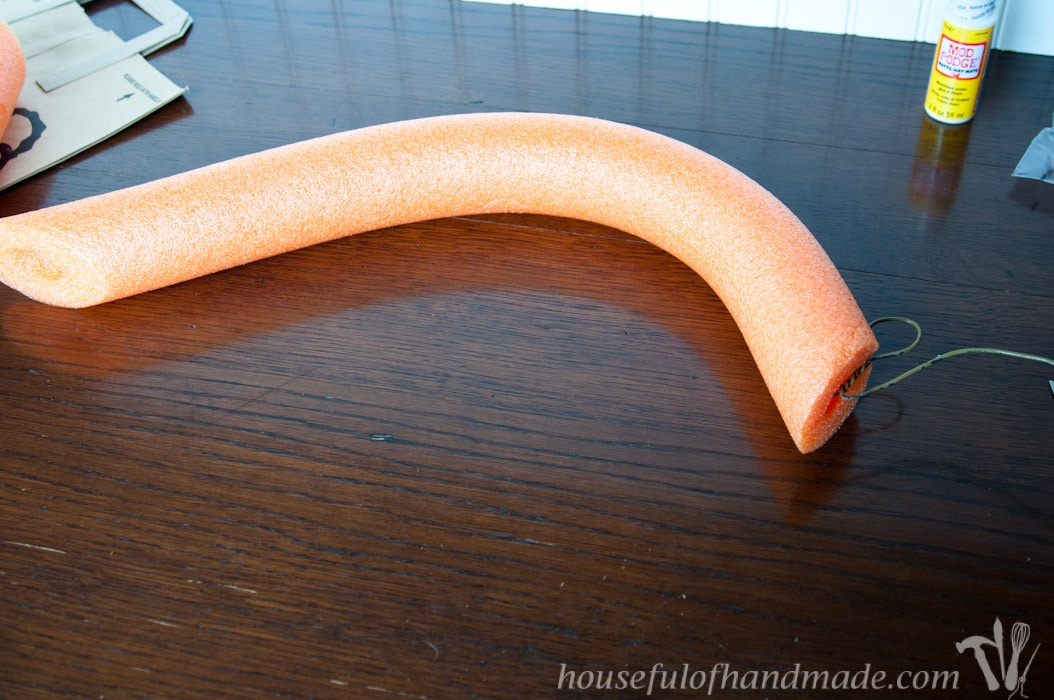 Then do the same to the other side so the angles line up in the center. Hey, thats starting to look like a heart.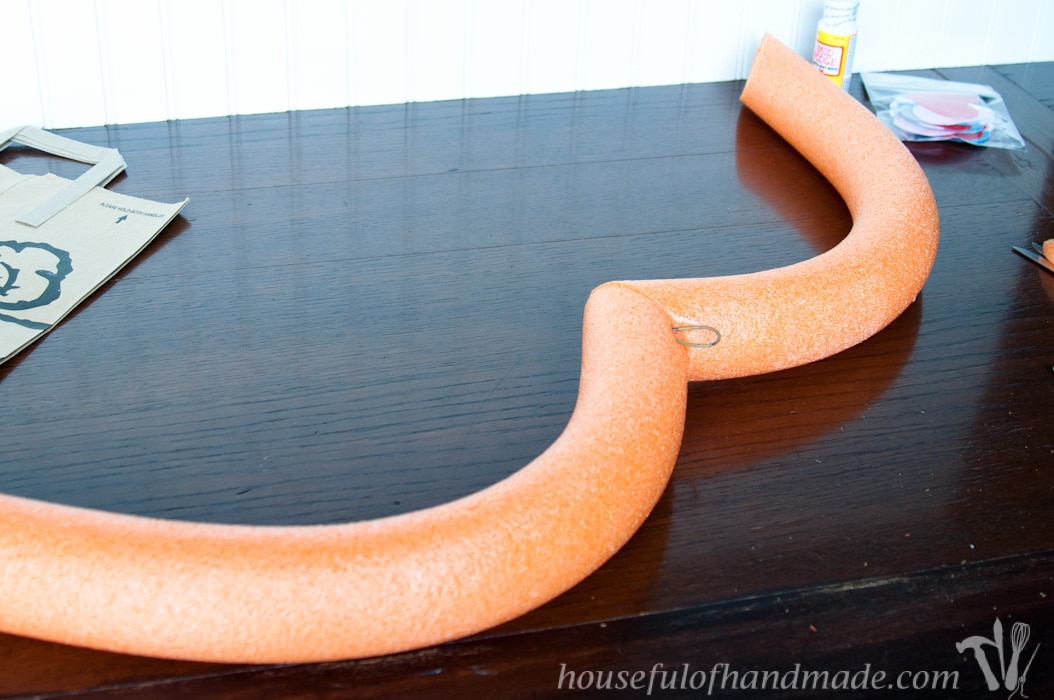 To attach the pool noodle at the top and bottom I tried to use hot glue, it doesn't work. The glue just melts the pool noodle and so there is not a flat surface to glue together. So plan B was packing tape, and it works perfectly! Tape the top together with a few strips of packing tape.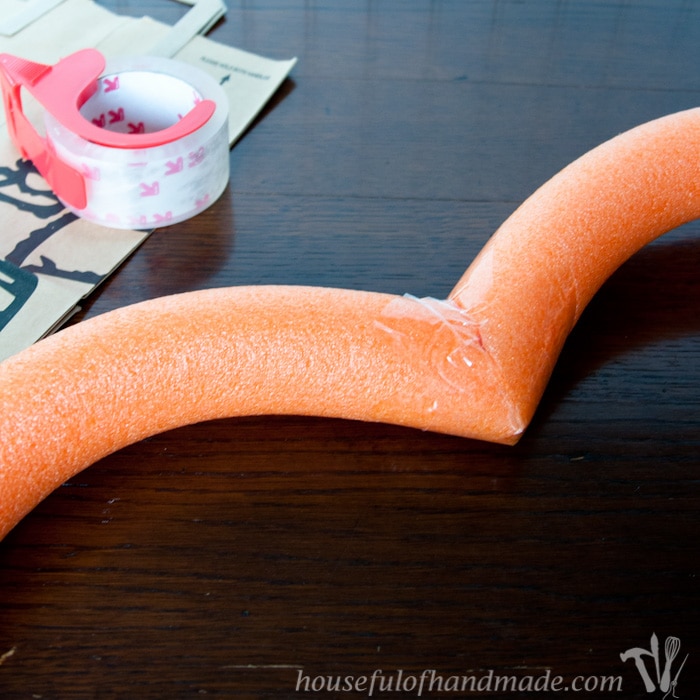 Then pull the bottom together and do the same thing. If you need too, mold the hanger inside the pool noodle to make the heart shape even and beautiful.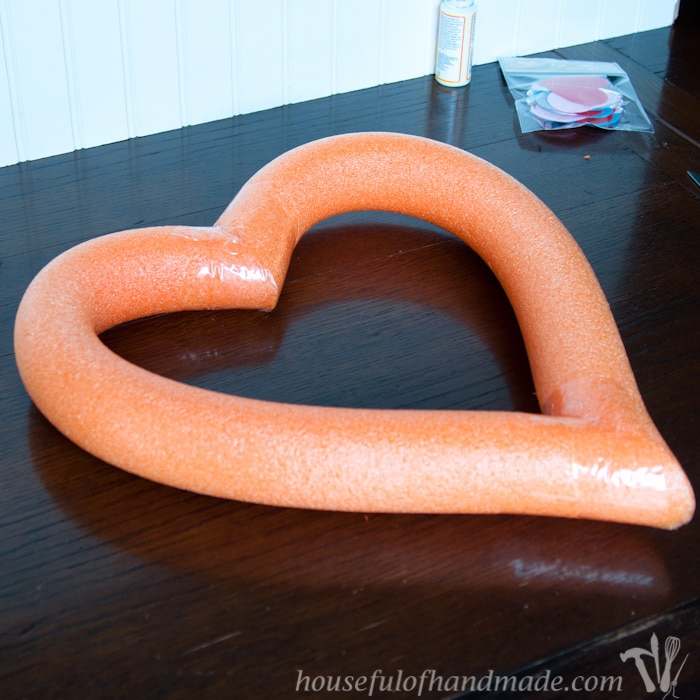 Now it is time to cover up that ugly orange! Rip a paper bag into a bunch of pieces. Various sizes and shapes. You'll want to rip it so you have pretty, soft edges.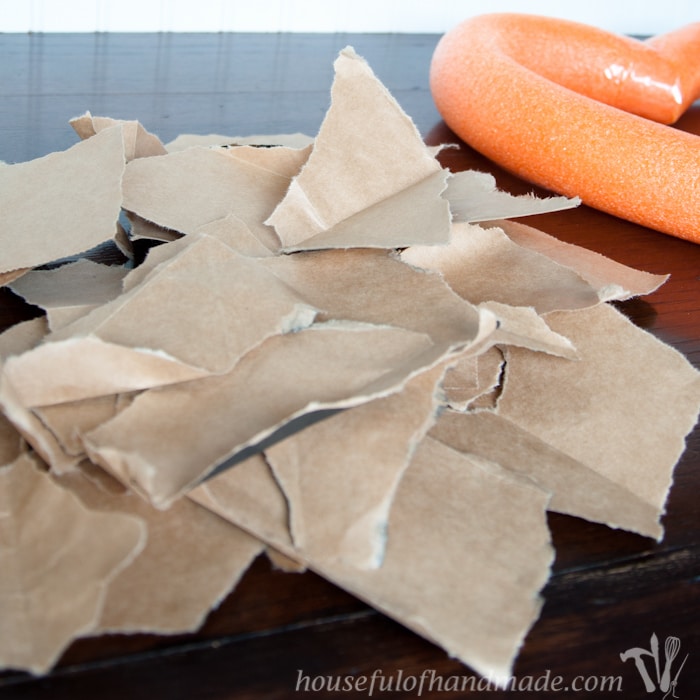 Then apply a thick coat of Modge Podge to the outside a piece of bag (the side with the words/picture on it).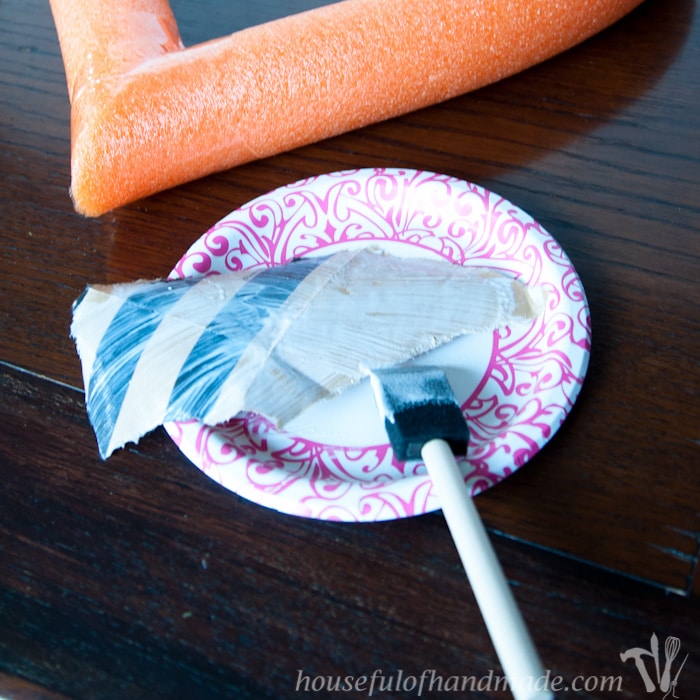 Place the paper on the wreath and wrap it around it so the inside is now the outside. You have to hold it a bit until it starts to hold itself to the pool noodle and not slide around.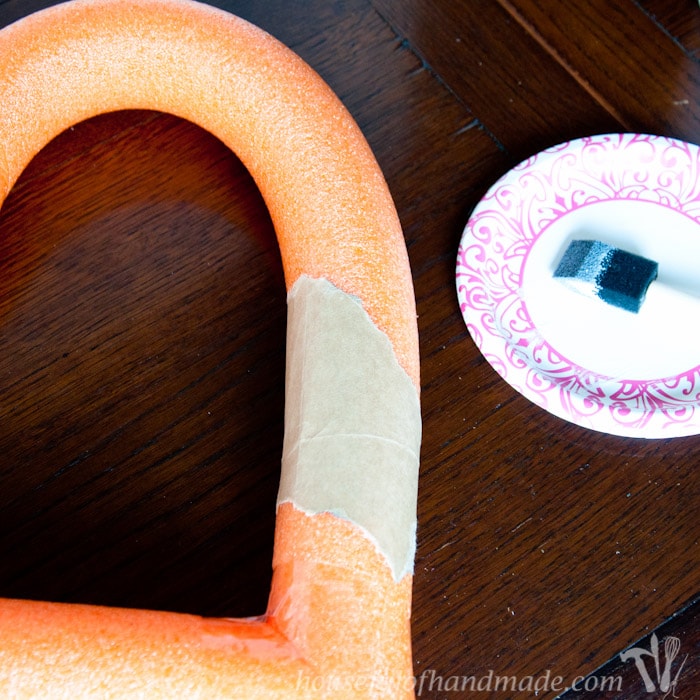 Keep doing this over and over. Use smaller pieces to cover curved sections of the wreath. Keep layering it and wrapping it around to cover up all evidence of the ugly pool noodle underneath.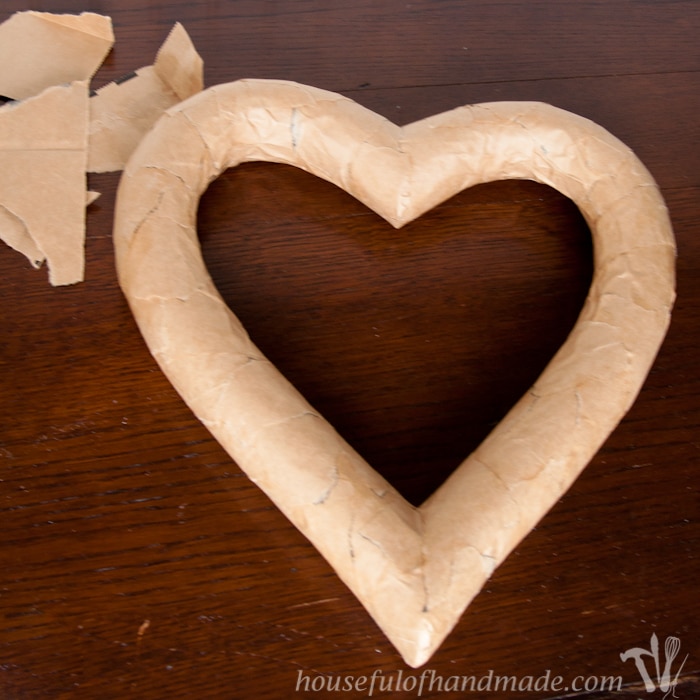 You will have a nice little hook hiding on the backside of the wreath and a pretty rustic heart form. Now all you need to do is add a little extra love with your heart banner. I used a bit of hot glue to secure the ribbon on either end of the banner.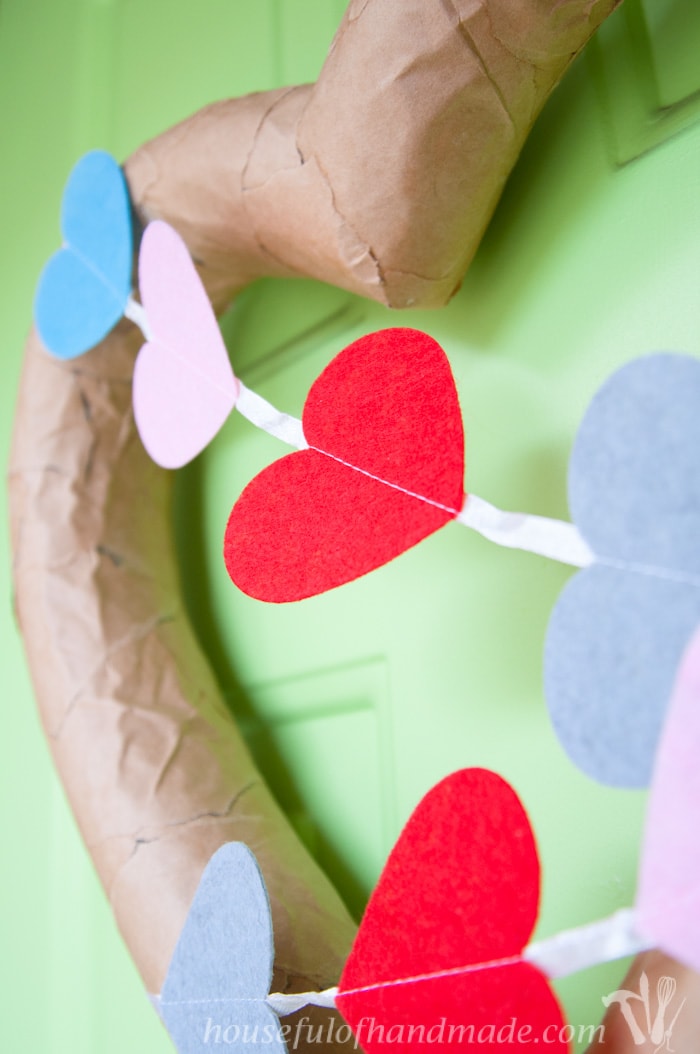 Then I hung it on my green door and admired my handy work! It's amazing what you can do with a little creativity and $3 🙂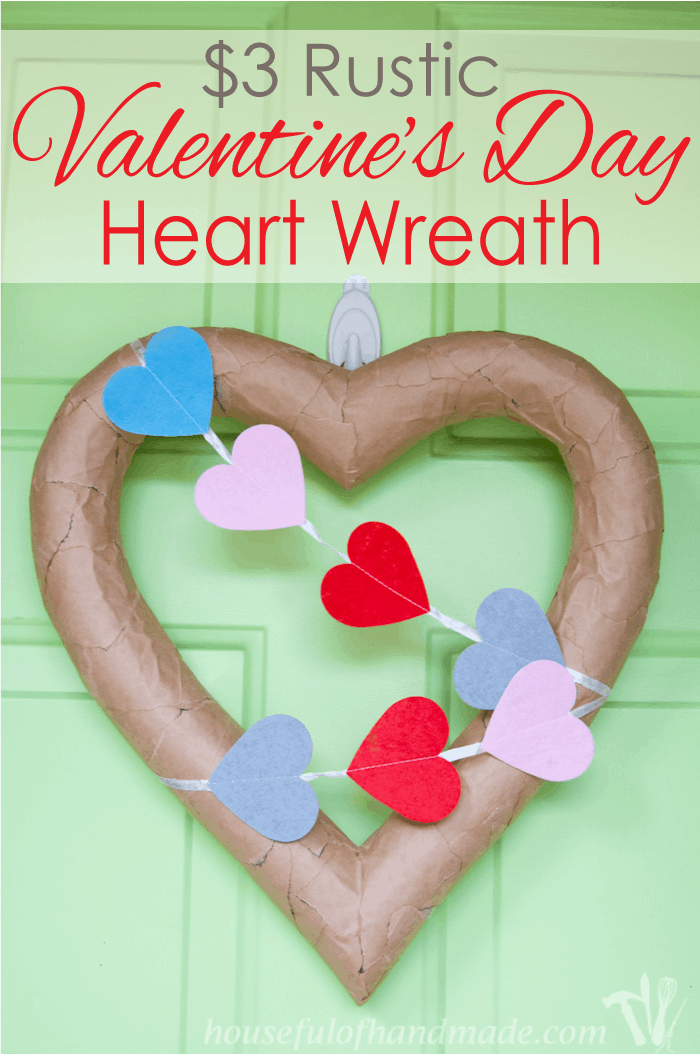 ---
Looking for more budget friendly Valentine's Day crafts?
Visit the rest of the blogs in our hop to see their creative Valentine's Day crafts ~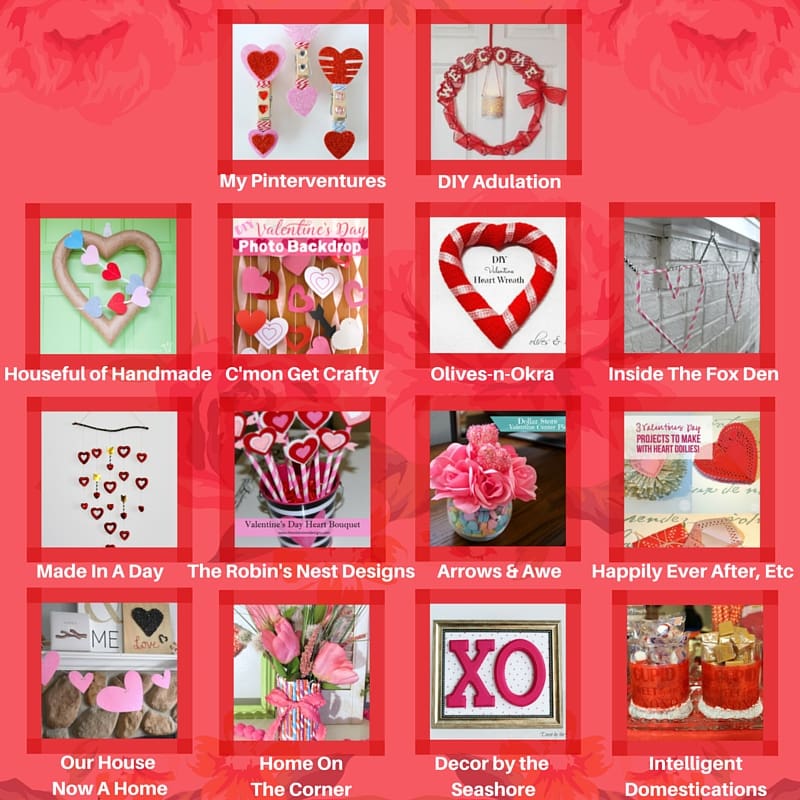 My Pinterventures || DIY Adulation
Houseful of Handmade || C'mon Get Crafty || Olives-n-Okra || Inside The Fox Den
Made In A Day || The Robin's Nest Designs || Arrows & Awe || Happily Ever After, Etc.
Our House Now A Home || The Home On The Corner || Decor by the Seashore || Intelligent Domestications
---
Now we want you to share your $10 or less Valentine's Day crafts! We'd love to get even more great ideas. Link-up below and be seen on all 14 blogs!