I may be jumping around the house, decorating a bit here, remodeling a bit there, but that's just how I work. One day I get inspired by something in the bedroom so I'm excited to do it. The next I'm solving a storage problem in the bathroom. Sometimes I really wish I could just focus on one room and get it done top to bottom before getting distracted and moving on. It'll probably never happen, my brain is just to creative for that.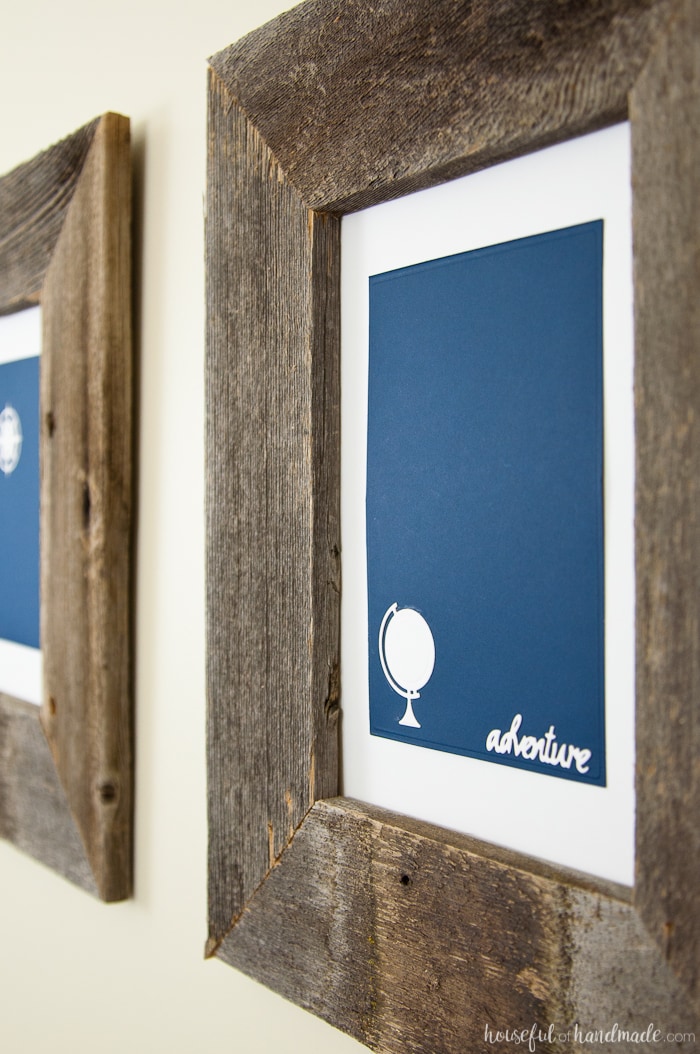 Today I am doing a little project for my son's room. We moved him downstairs to his own room about a year and a half ago. We got him all settled and organized in there, even managed to do a little bit of decorating. Then he decided he was too scared to sleep in the basement alone. We tried all kinds of things to make him happy to have his big boy room (he was only 6) and nothing seemed to work. Then my sister decided to sell her place and move to Arizona. But if her place sold fast, she was going to need a place to stay for a few months before she was ready to make the move. Well, it sold in a week. So we moved my son back upstairs to share a room with his sister.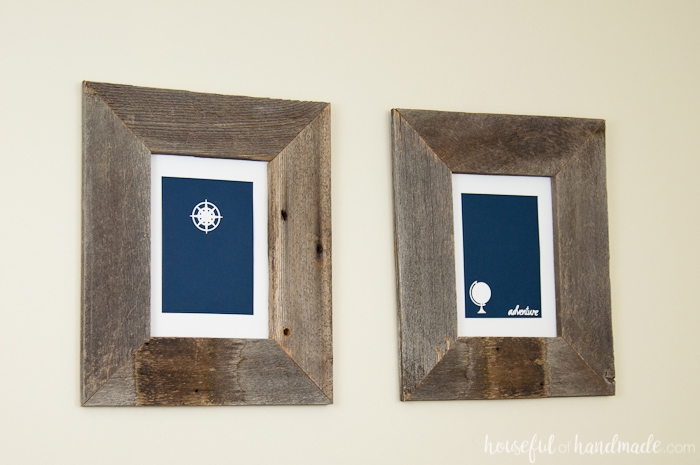 After my sister moved out, we were a little hesitant to move him back down. It was a lot of work getting his large dresser up and down the stairs and if he was going to be too scared to sleep down there, what was the point. So we waited a few months, then a few more, then just recently, he asked to move back downstairs!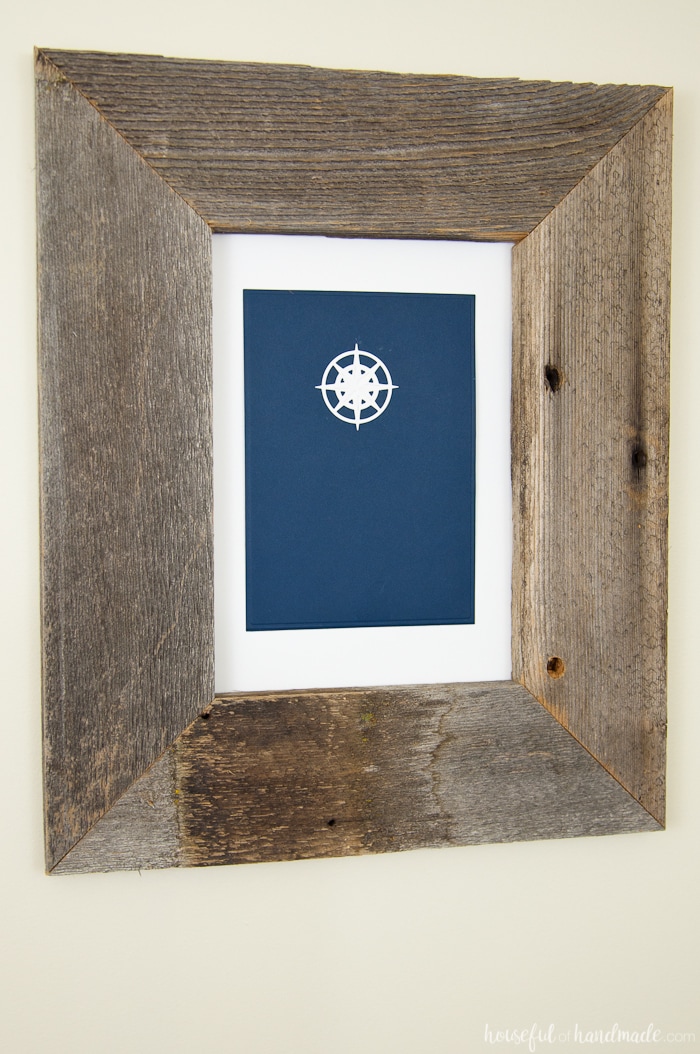 Since my husband was really not excited to move the dresser just to end up moving it back again, we did a trial run. His full size bed was still in the basement bedroom because it just wouldn't fit in the upstairs room with his sisters bed. After sleeping in the basement for a week without any issues, we decided it was time to really move him down again. I guess he just needed some more time sharing a room with his extremely messy sister to realize how awesome it was to have his own room, even if it was in the scary basement.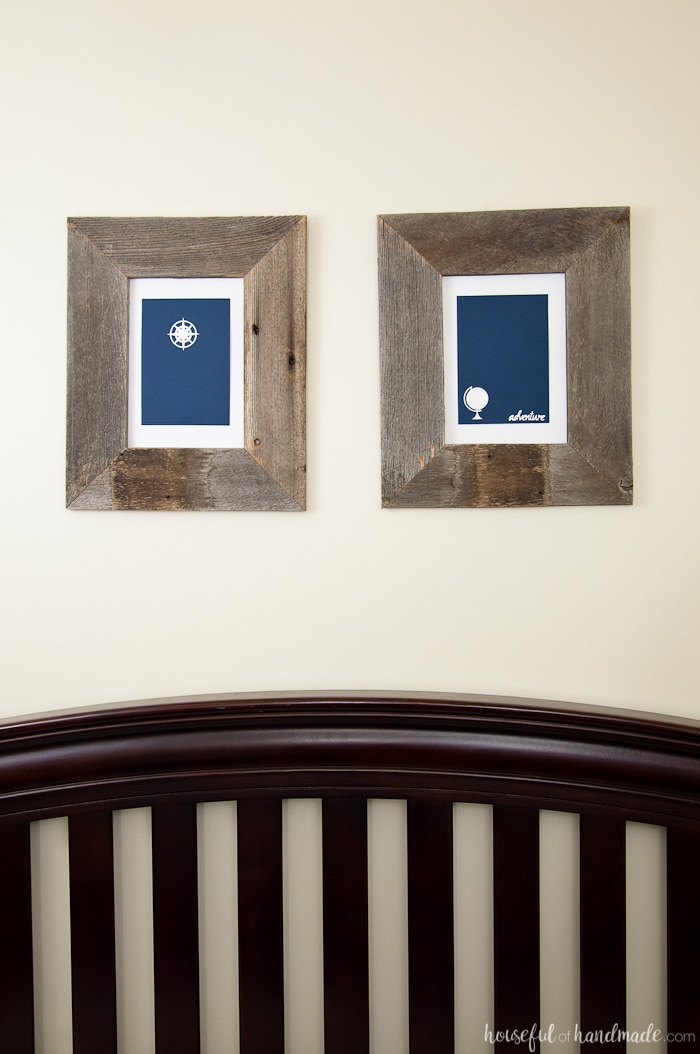 But now that he has been back in the basement for a month, and I'm finally got everything reorganized in his room, I decided it was time to actually decorate a bit for him. Just cause he's a boy, doesn't mean he can't appreciate a good looking room (when it's clean enough to actually go inside it).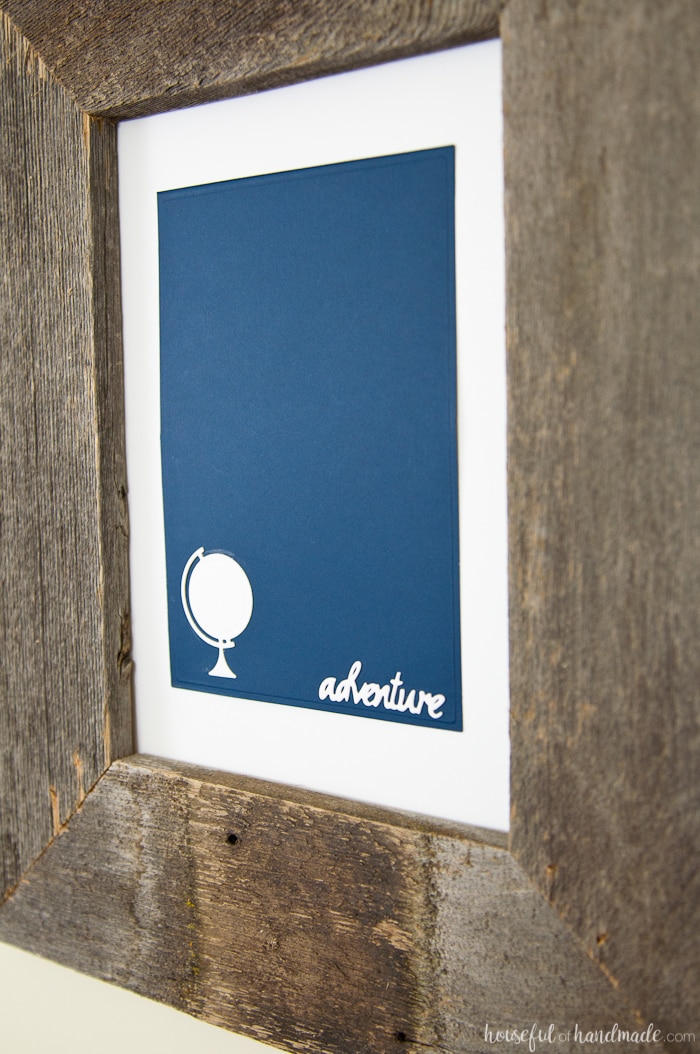 This month I was given the opportunity to try out Spellbinders new Platinum 6 machine. It is coming out August 23rd (but you can preorder right now). I have never been a die cut machine girl, I don't make cards (and that is all I thought they were used for). But when I met the people at Spellbinders and they showed me how their new machines can cut more than just paper and can emboss too, I was excited to try it out.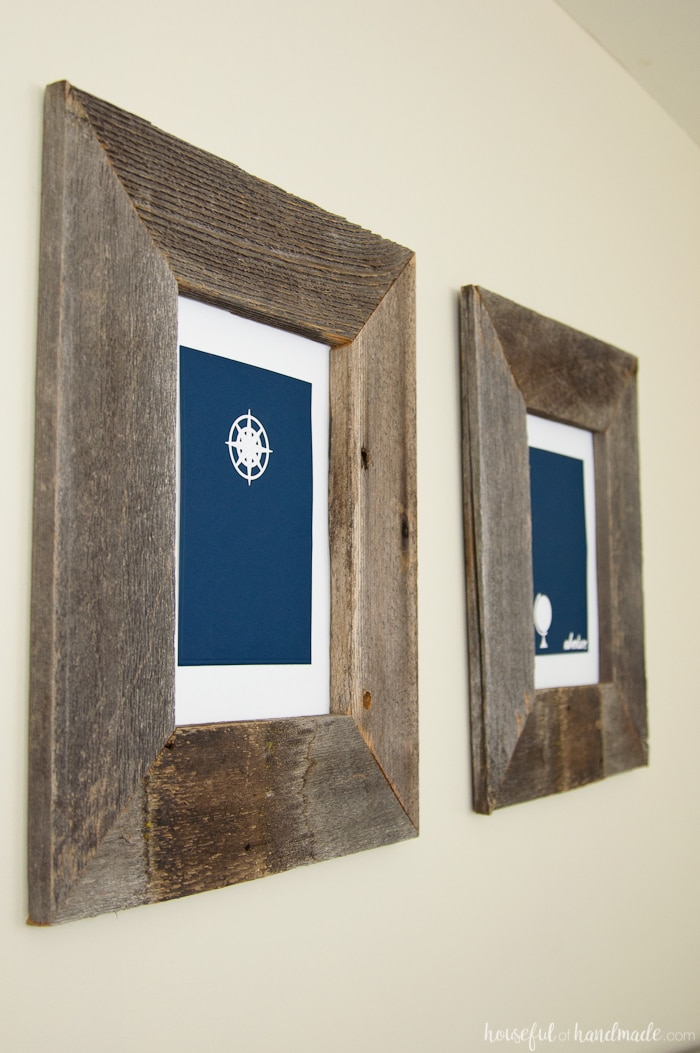 When I got my new machine and dies I was instantly in love with the Going Places die set. This is a wafer thin die and will cut and emboss the paper. I put it to the test with my thickest cardstock, some 110lb cardstock I had accidentally bought and is too thick for my printer, and it cut through it like butter. Then when you run it through again with the embossing plates, the die also embosses the cut out shape for a really cool 3D effect. I knew I wanted to use the Going Places die for my first project.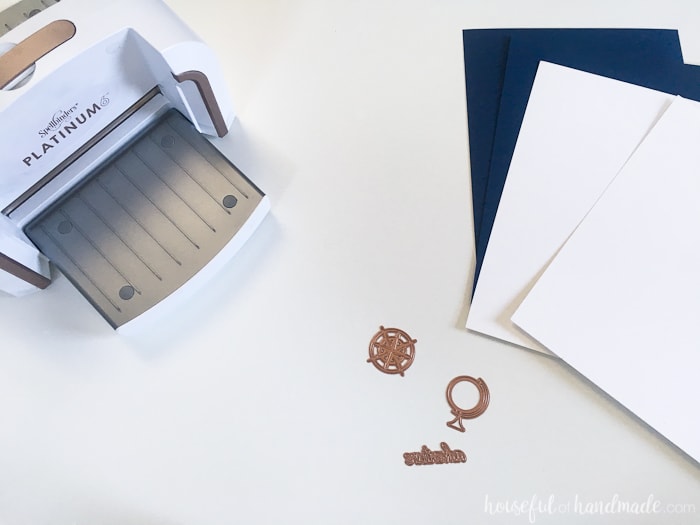 And what better place to use the compass and globe dies than for artwork for my son's bedroom! Every little boy is going places and needs a little adventure. So I decided to start off with a simple adventure wall art decor project.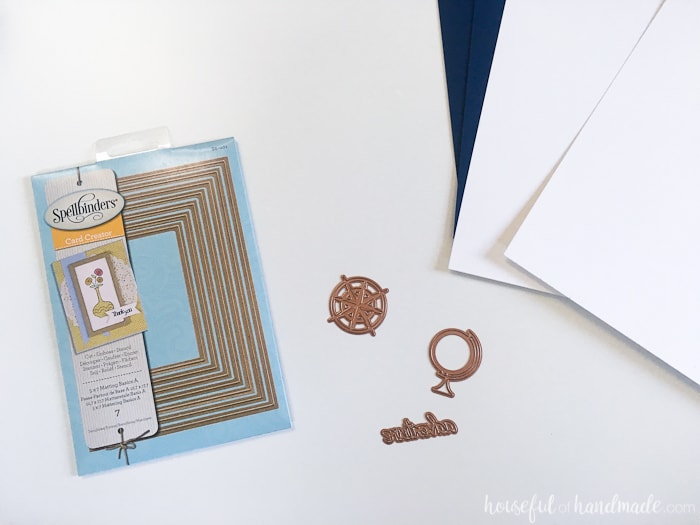 I started by making me a couple of these 20 minute picture frames with some reclaimed wood I had on hand, but I didn't bother notching out a spot in the back for all the picture frame parts. So it actually only took about 15 minutes to make 2 picture frames, which is a good thing cause it was 103 degrees out there today! If you don't want to make picture frames, you can buy some or repurpose some you already have. My picture frames have a 7″x 9″ opening.
Then it was time to cut out the pieces for the adventure wall art. I started with some navy blue cardstock. I cut one sheet of cardstock in half. I used the largest die in the 5×7 Card Creator Matting Basics A die cut pack and taped it to the top of the half sheet of cardstock with a small piece of washi tape. I only bother taping the die to the paper if I also want to emboss it and I prefer using washi tape because it is easier to remove than regular tape. I assembled my cutting sandwich for the wafer thin dies (platform, cutting plate, cardstock, die, cutting plate) and ran it through the machine.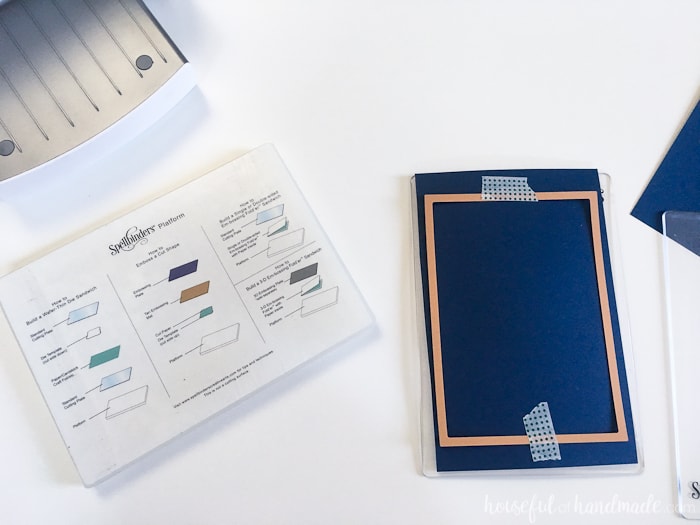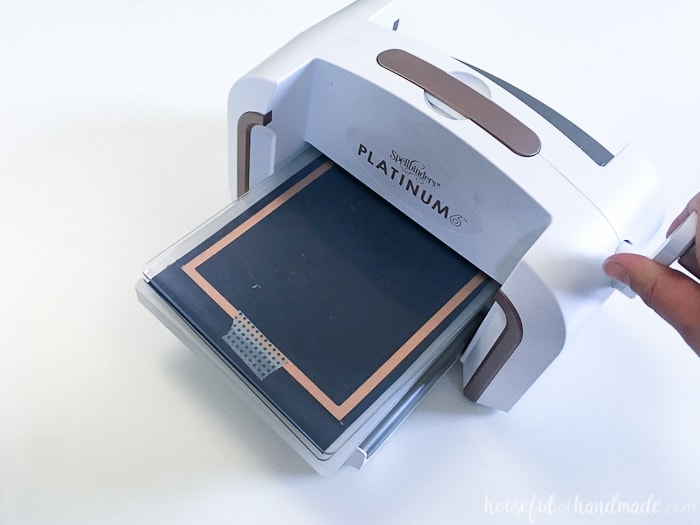 After I cut the paper I carefully reassemble the sandwich for embossing the wafer thin dies (platform, die, cardstock, emoting mat, embossing plate) and ran it through the machine again. Don't worry if you can't remember how to do this or loose your owner's manual because there is a cheat sheet on the back of the cutting platform (best idea ever!).
Here you can see how it embosses the outer edge of the 5×7 piece of paper so nicely. It's a little hard to capture the embossing detail in the photo, but it really look super professional. I repeated so I had 2 beautifully embossed 5×7 pieces of paper.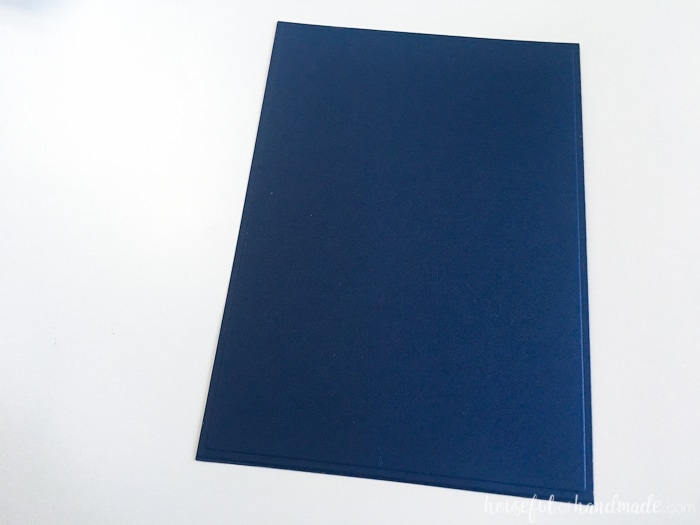 Next it was time for the Going Places die. I wanted to use the compass, globe and word Adventure for my son's wall. So I carefully taped these to the back of a piece of white cardstock with a piece of washi tape then repeated the steps above to cut and emboss them.
To assemble the artwork all I needed was a glue stick. I added a little bit of glue to the back of the die cut shapes and glued them onto the 5×7 navy pieces where I wanted them.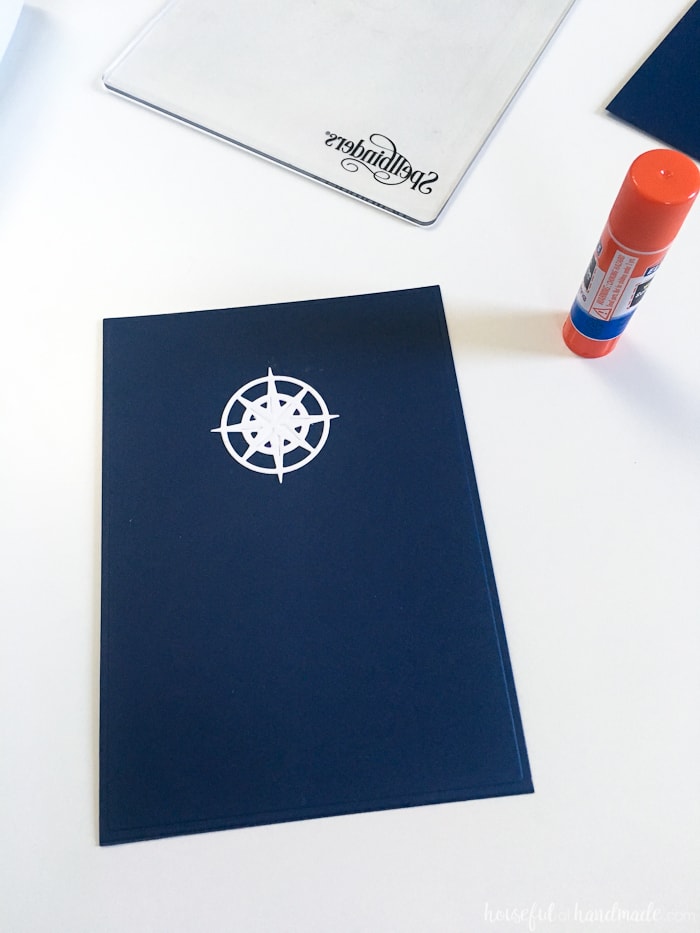 I stapled a piece of the heavy white cardstock to the back of my picture frames (or you can cut them and insert them into store bought frames). Then I used a few glue dots to attach the 5×7 navy papers to the center of the frames and viola! All done.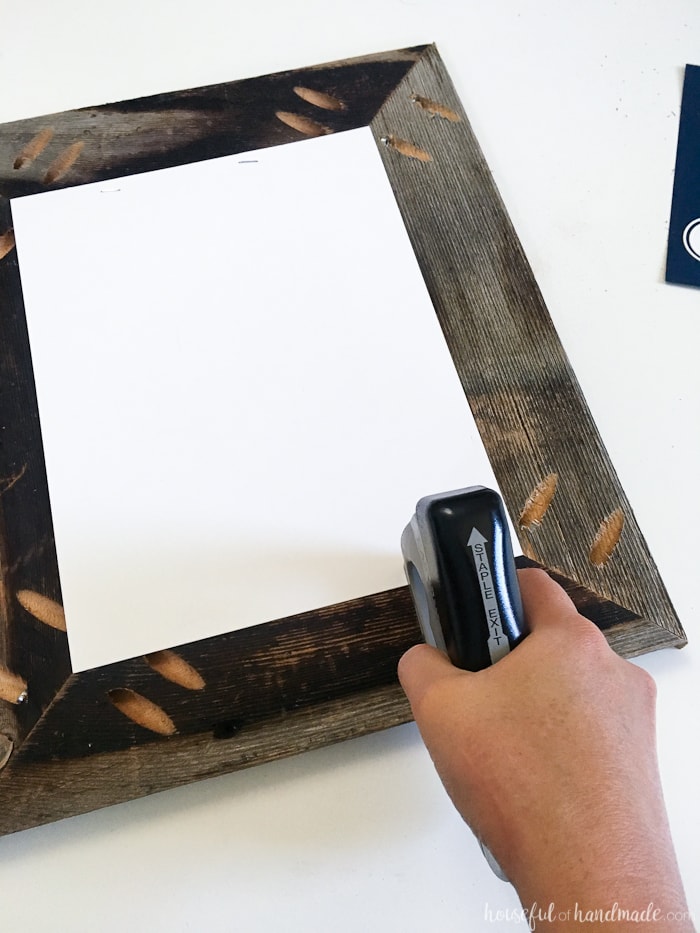 I hung them on his wall and he is pretty excited about his fancy new room with art that he gets to sleep under. They are the perfect art for a boy's room. The compass and globe match the solar system hanging from his ceiling very nicely.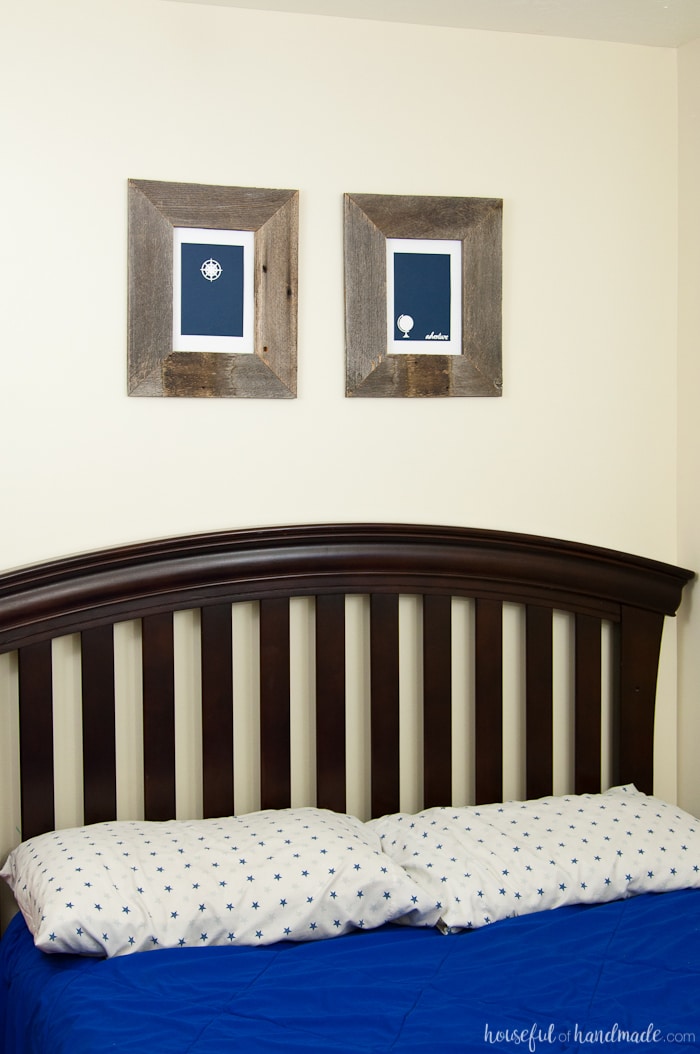 Now my daughter is trying to get her hands on my new die cutting machine, she wants me to make her adorable little envelopes all day so she can send letters to everyone she has ever met. And I have started cutting some more unusual materials with the steel rule dies (stay tuned for some metal projects). I think we are having too much fun with the new Platinum 6 machine.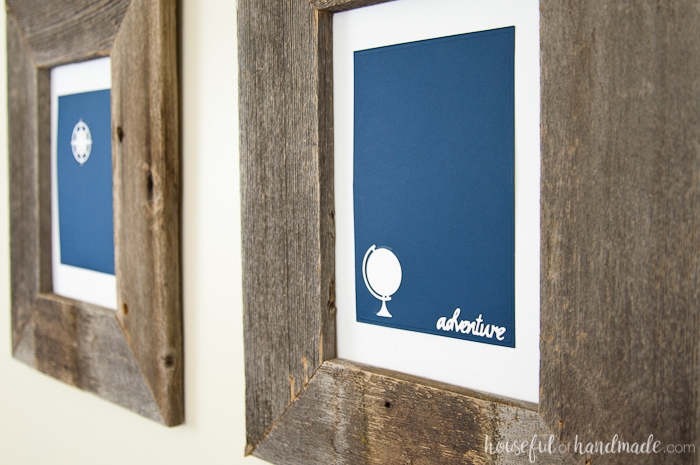 I received free product from Spellbinders in exchange for this post. All opinions are my own.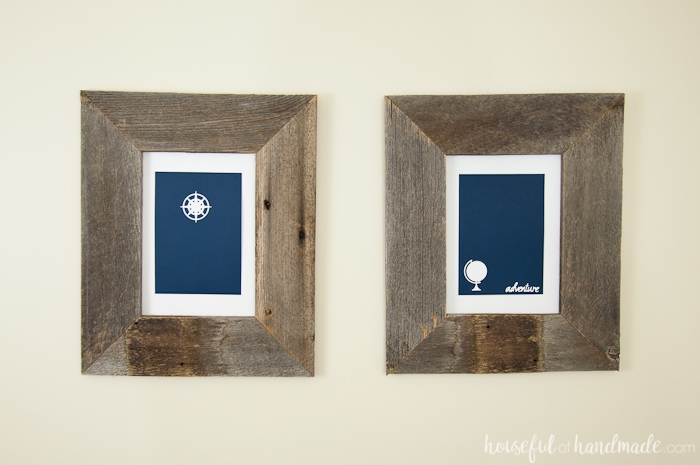 Now it's time to go make some decor for another room… or maybe, just maybe, I'll try to finish one!

I'm linking up to some of my favorite Link Parties.