As soon as I started the pumpkin madness of fall, my son has been begging me to make a pumpkin pie. Who doesn't love a creamy pumpkin pie? This week I caved and finally made the boy what he has been asking for. But I can't just make a regular pumpkin pie, I have to make it something extra special. Since I love the way the pumpkin and apple butter works together to create the perfect flavors of fall, I decided to put them together in this Apple Butter Pumpkin Pie with Crumb Topping. And it did not disappoint!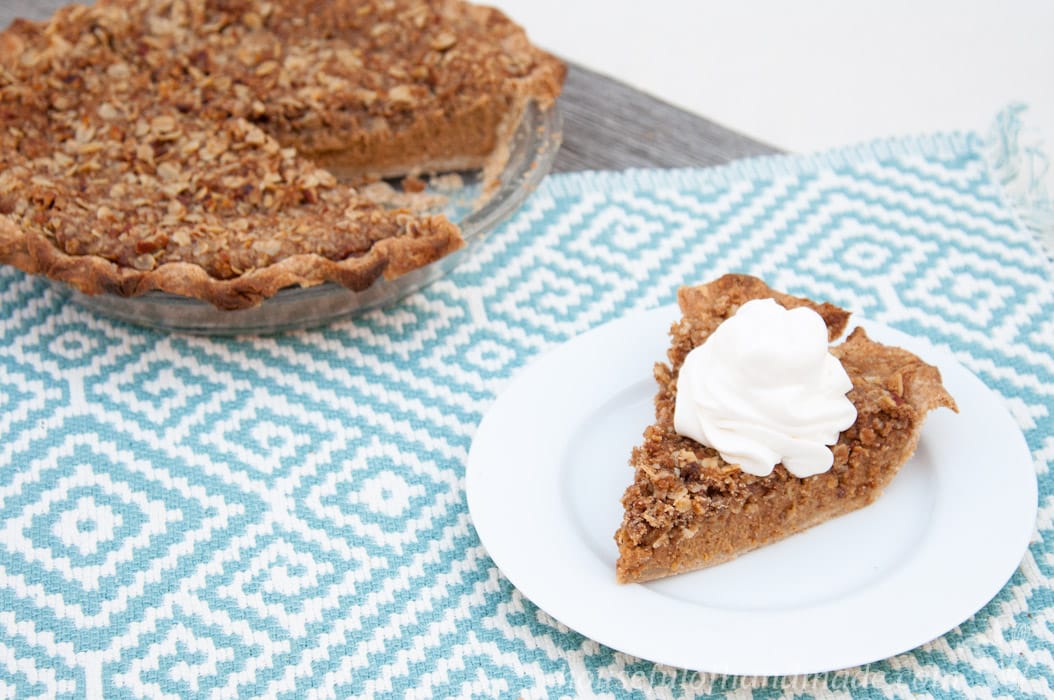 I love that my kids are so excited to try out my new recipes. I couldn't ask for better critics. I'm pretty sure my son is a restaurant critic in the making, he loves to evaluate the food as he eats it and then give me feedback. We can usually expect comments like, "I love the creamy texture of the pie and the crust is flaky and delicious" or "I can really taste the flavors of the apple butter in this". Then he will sometimes proceed to tell me how to explain it on "my blog" as he refers to it! I just laugh at my helpful little food critic, blog aficionado, 1st grader.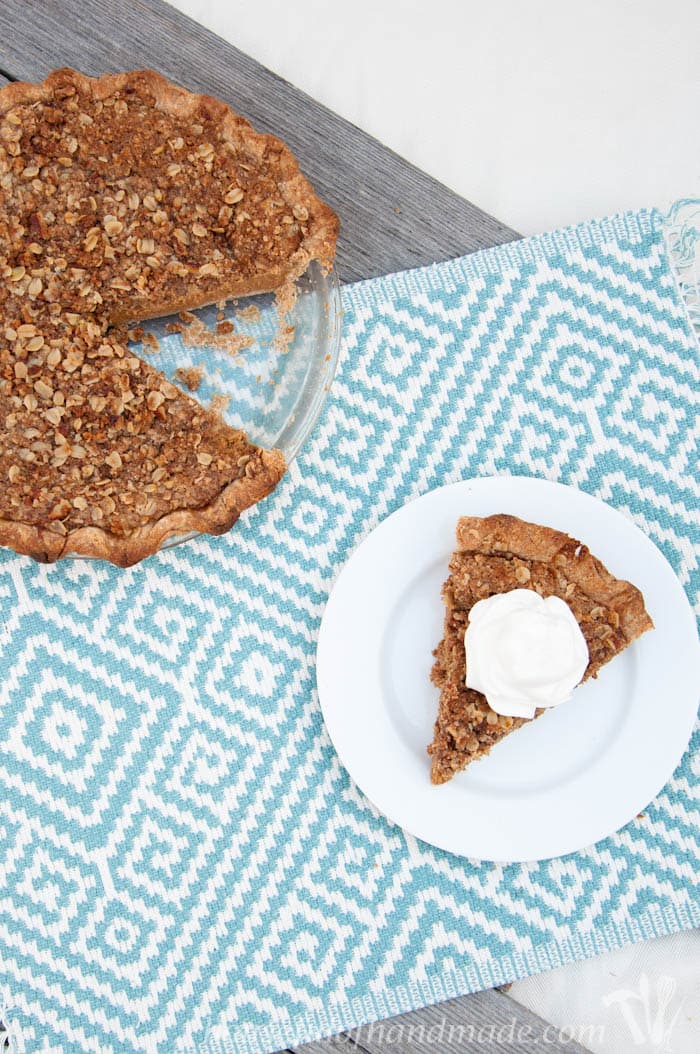 The addition of apple butter in the pumpkin pie creates a really rich flavor. The pumpkin still shines through, but the creamy, caramely apple flavor is there to help intensify it beautifully. There is just something amazing about the combination of two of falls most loved flavors.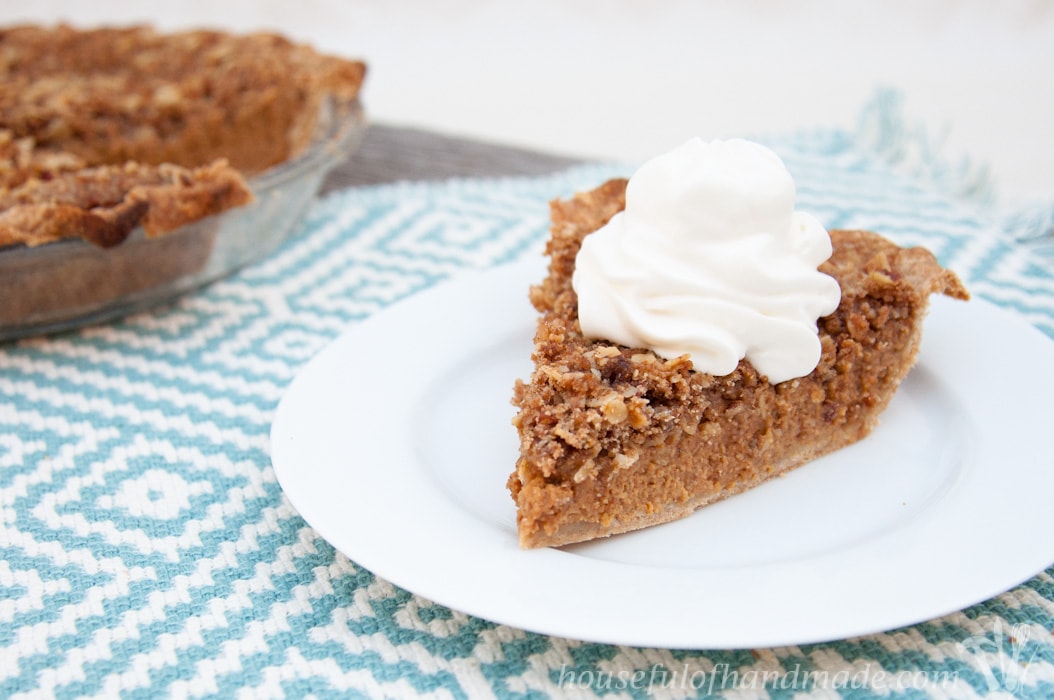 Then I decided to dress it up even more. As you may have noticed, I am a big fan of crumb toppings, especially in the fall. I love how, while baking, the crumb topping creates a warm sugary crust on the top of the pie and it also makes it just look pretty! And we all know that pretty things taste better 🙂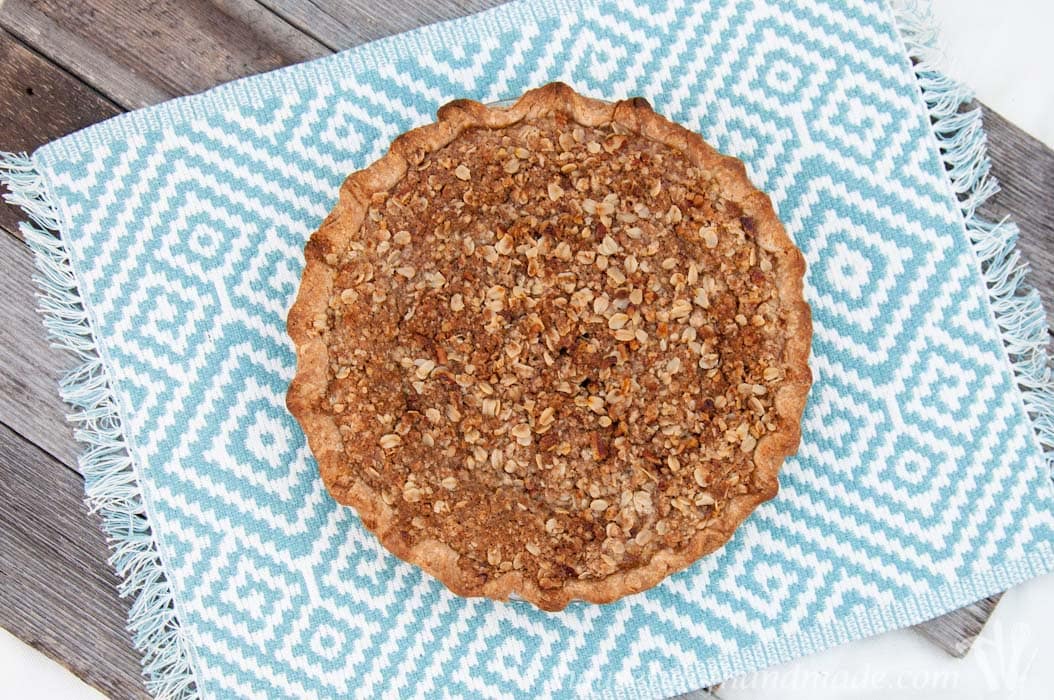 So now that you know this Apple Butter Pumpkin Pie with Crumb Topping has received 5 stars from the most revered food critic of the west, you should definitely give it a try! It's still a simple pumpkin pie, but with a fancy twist to make your Thanksgiving guests say, "Wow"!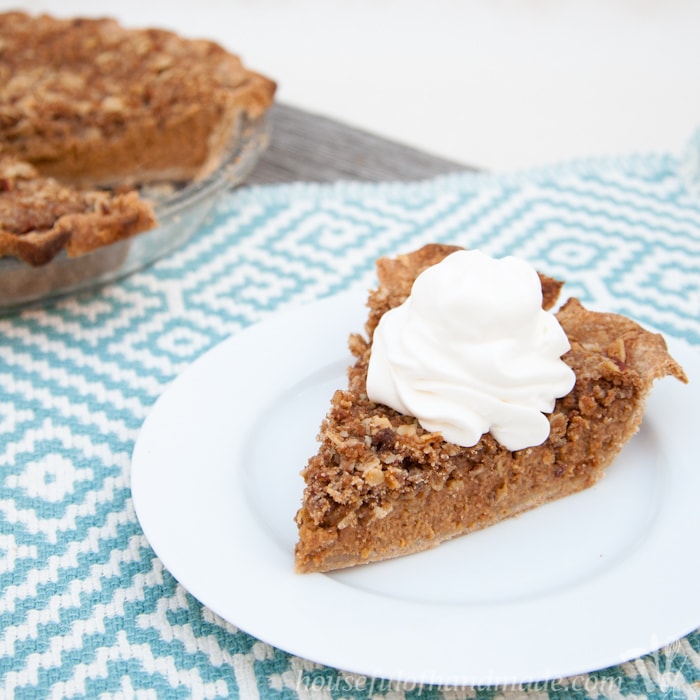 If you want to really make this pie special, make sure to put it in a homemade pie crust. I know they can be scary, but I have shared all my tips and tricks with you here so you can make the best homemade pie crust ever, super tender and flaky, and really easy once you know what you need to look out for. And I show you how to do it with whole wheat flour. The slight nuttiness of the whole wheat pie crust really adds to the intense fall flavors of the pie. Go ahead and give it a try!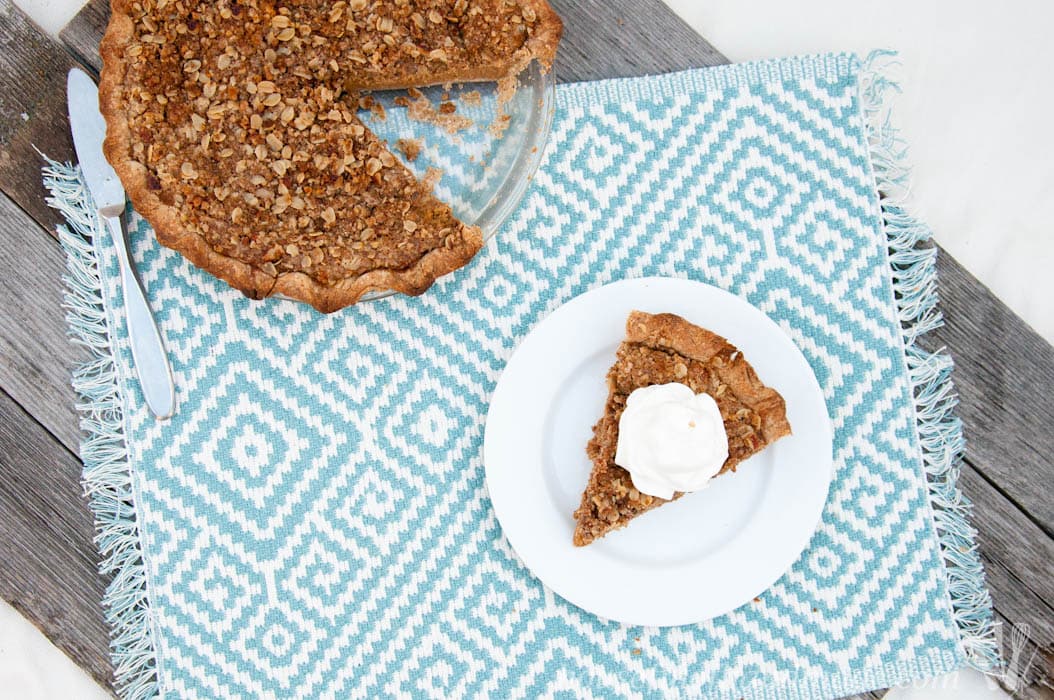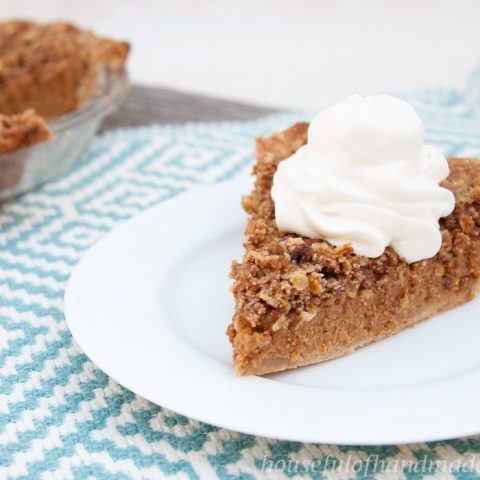 Apple Butter Pumpkin Pie with Crumb Topping
Yield: 1 pie

Prep Time: 10 minutes

Cook Time: 1 hour

Total Time: 1 hour 10 minutes

For a new twist on the classic pumpkin pie, this Apple Butter Pumpkin Pie with Crumb Topping is perfect for your Thanksgiving table, or anytime.
Ingredients
1 cup pumpkin puree (not pumpkin pie filling)
3/4 cup apple butter
1/2 cup packed brown sugar
1 1/2 tsp pumpkin pie spice
1 tsp vanilla extract
3 eggs, lightly beaten
3/4 cup cream or evaporated milk
1 9-inch pie crust (unbaked)
For Crumb Topping
1/4 cup flour
1/4 cup packed brown sugar
1/4 cup cold butter
1/4 cup old fashioned rolled oats
1/4 cup chopped pecans
1/2 tsp ground cinnamon
Instructions
Preheat oven to 425 degrees F.
In a large bowl, combine pumpkin puree, apple butter, brown sugar, pumpkin pie spice and vanilla extract. Mix until well combined.
Add the eggs cream and mix together thoroughly.
Pour into unbaked pie crust.
For Crumb Topping
In a small bowl, mix together flour and brown sugar. Cut butter into flour/sugar until crumbly (use a pastry blender or mini food processor).
Add oats, pecans and cinnamon and stir.
Sprinkle crumb topping over the pie filling.
Place pie in oven and bake for 15 minutes. Turn heat down to 350 and bake for an additional 40-50 minutes until the center is set and a toothpick inserted in the center comes out clean. If the edges of the crust start getting too dark, cover with foil to stop browning.
Let pie cool before cutting.
Enjoy!
Now let's all go and eat some pie 🙂