I cannot believe I am already decorating for summer! Since it snowed last week, I was having a hard time thinking all things sunshine, but after a couple days, I was able to pack up the snow gear and start thinking flip flops. And it's a good thing I was able to start thinking summer because it's time for another season of Decorate Your Mantel. Come check out my Beach House Inspired Summer Mantel Decor and stay for lots of other beautiful summer mantel inspiration.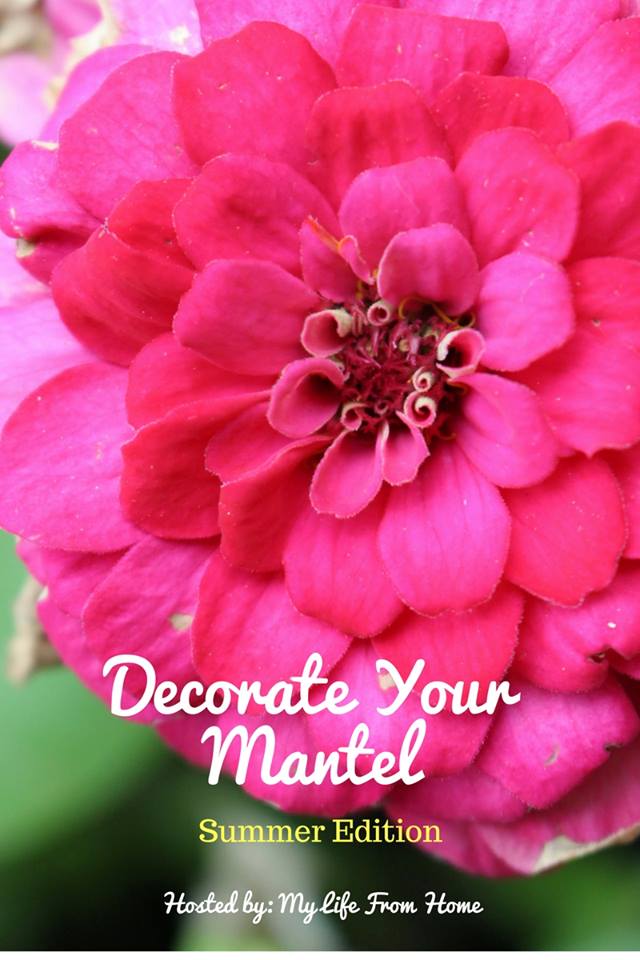 Decorating my mantel this month was probably the best it has been in a long time. Why? Because the room has finally been remodeled! This is your first sneak peek of the new living room space. Last week we gave it a new coat of paint, finished off the railings, installed new baseboards, and finally got new carpet installed. Then my sweet husband even let me buy a new sofa. I am in heaven.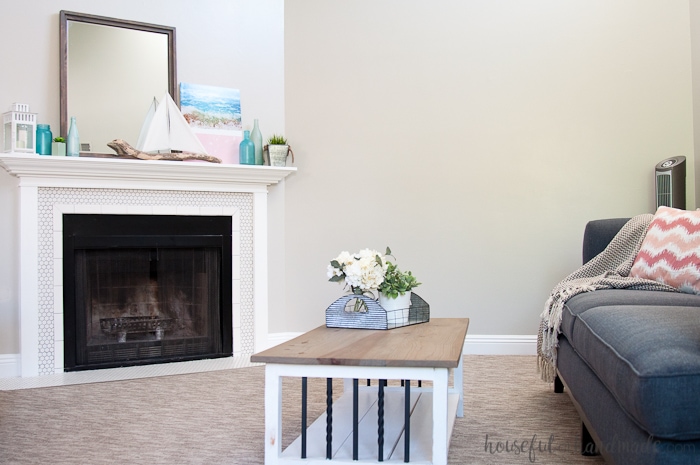 Now this is my favorite room in the house, so I was super excited to decorate the summer mantel and show it off. For the first time I can photograph our beautiful fireplace without trying to figure out how to not show the blue carpet.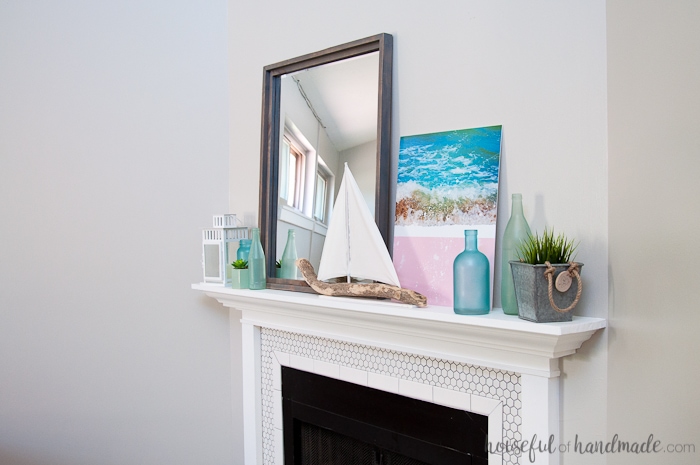 Since I am redoing the entire room, I decided I wanted to update the colors for the space. I am adding in splashes of navy, soft blue and blush to the space. These new colors made me think of the perfect soft beach house. And you all know I love going beach for my summer mantel decor. So I grabbed the driftwood sailboat I made last year and got to decorating.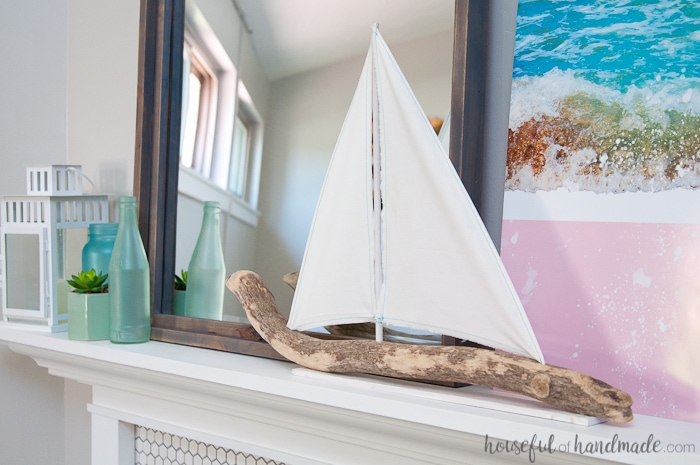 As much as I loved my super simple spring mantel, with the symmetrically hung pictures, I wanted to go for a more asymmetrical layered look this season. Something about summer makes me want more relaxed and less planned out decor. You know, like I have been placing things there as I find them on the beach (even though it is way too far away for a quick visit). I guess I just wanted to capture that relaxed feel of the season.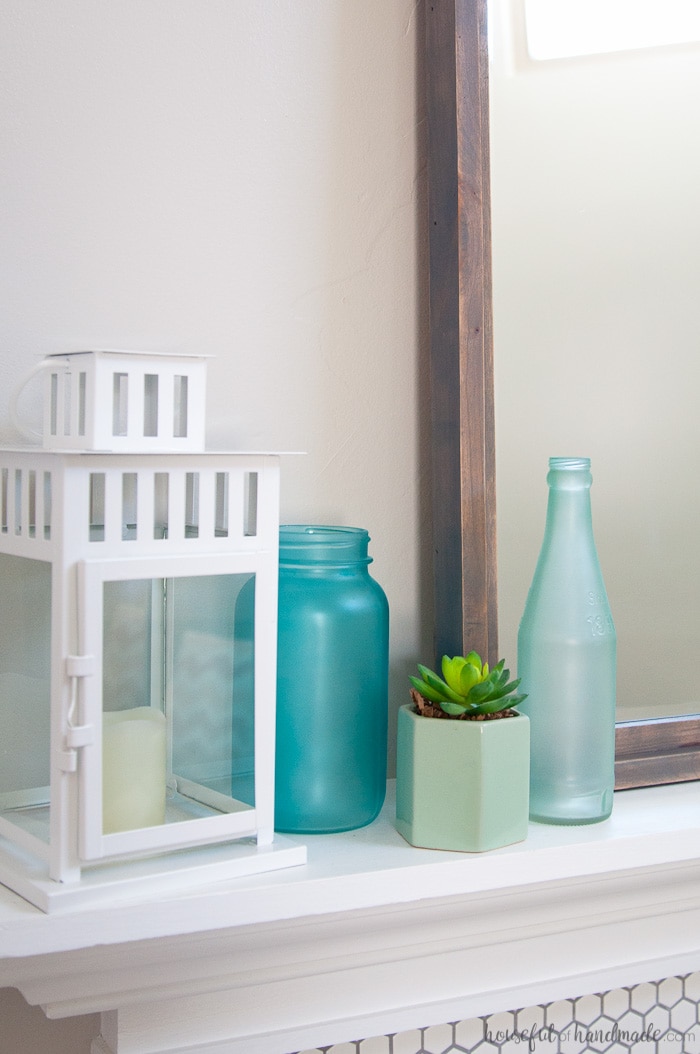 So I started with this gray rectangular mirror I made. But I leaned it on it's side. I also offset it for a little asymmetry. Then I layered the driftwood sailboat in front of it. Now for some beach finds!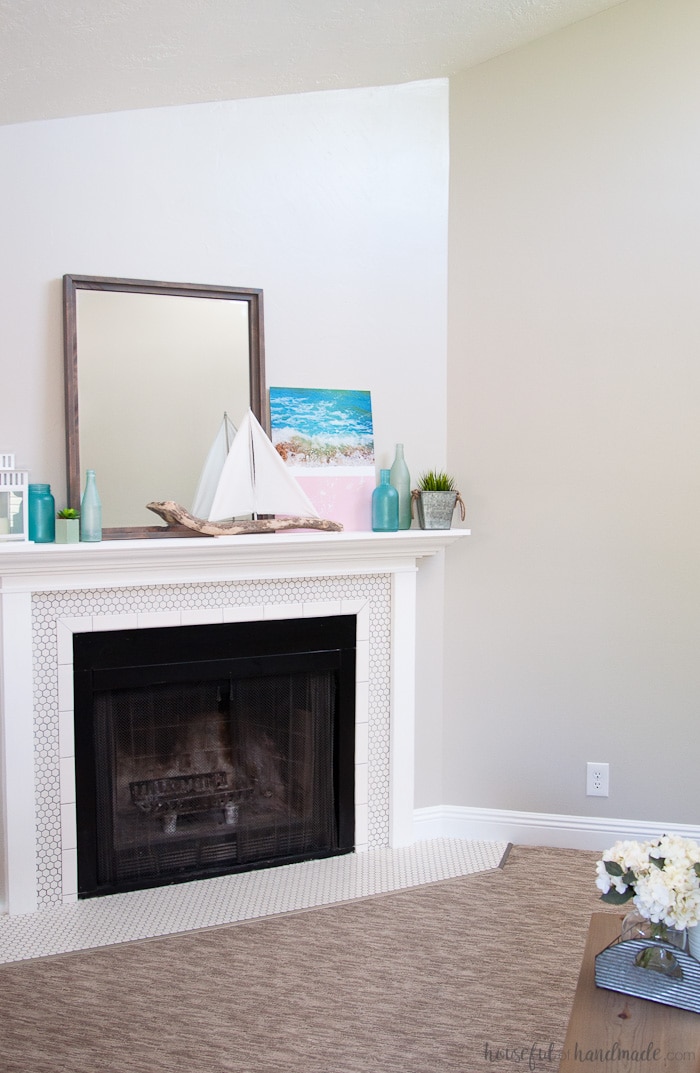 I found this art on Etsy and it was perfect for the look and colors of my summer mantel decor. And since it was a digital download, I could print it immediately at my local photo printing studio. In less than 1 hour it was ready for me. I used spray glue to mount the 16×20 print on a piece of foam board and added it next to the mirror.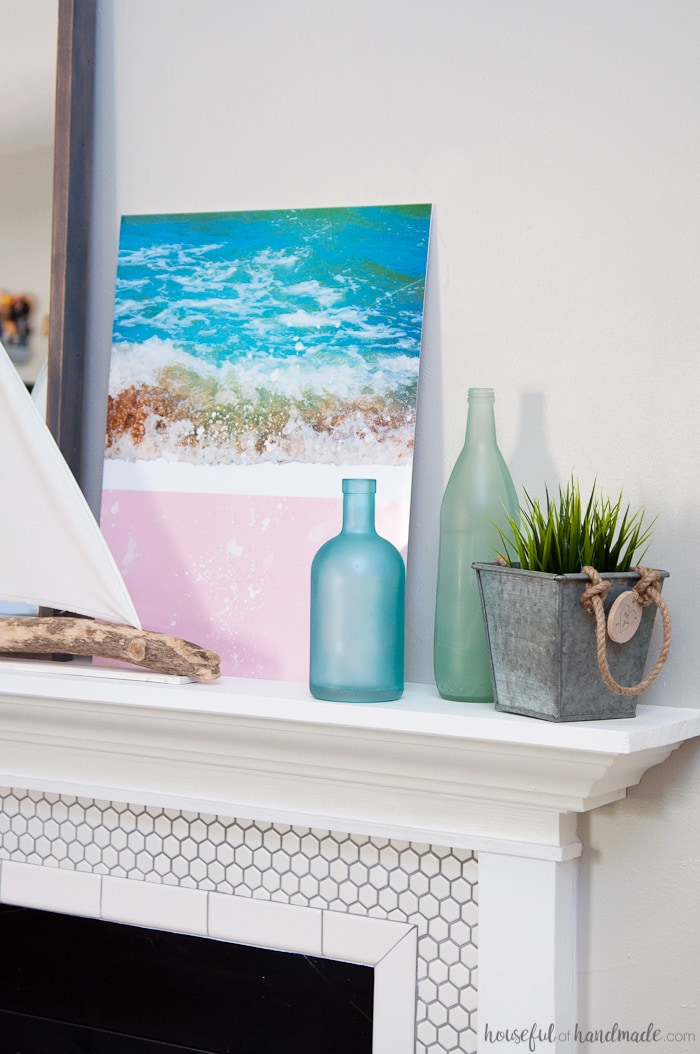 Then I raided my pantry for clear glass jars. Using Krylon sea glass spray paint, I turned the jars from trash to sea glass in mere minutes! Seriously, I am now addicted to this sea glass paint. I need to get my hands on some of the rose colored sea glass paint and add some more "beach finds" to my relaxed summer mantel.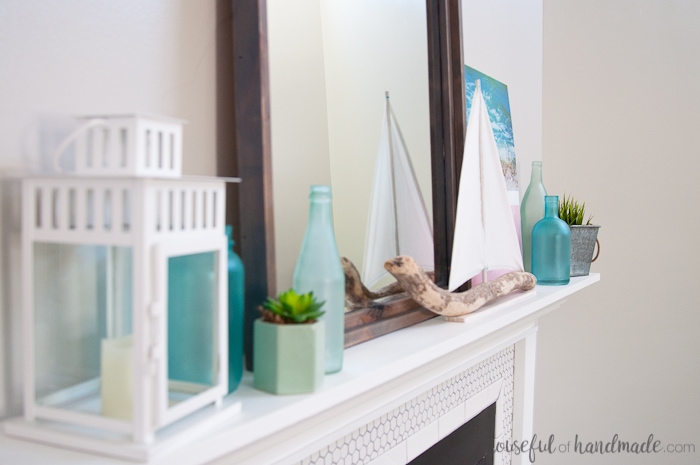 To finish things off, I added some faux grass from Ikea in a metal bucket and a white lantern I got at Ikea too. I have plans to make a nautical, light-house inspired, wood lantern. However, I didn't get it done in time. But I am still planning on making it and sharing it soon so stay tuned!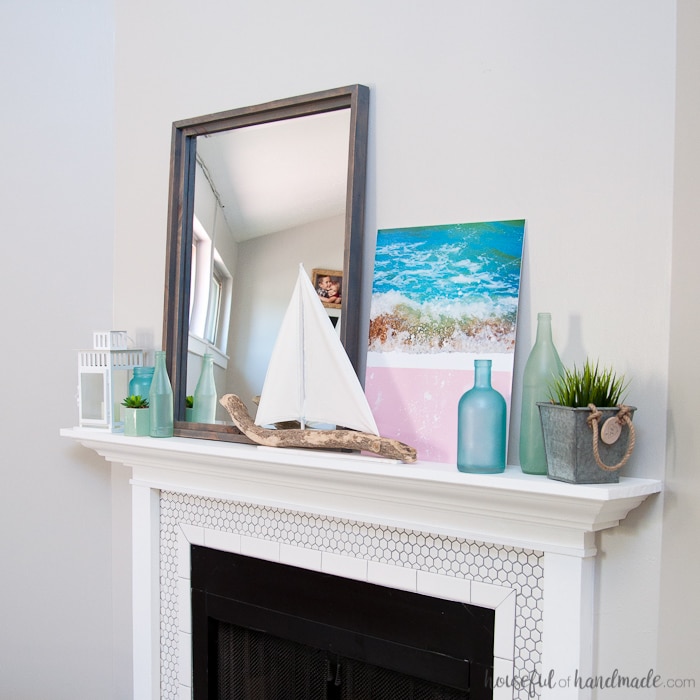 And the mantel is all done! It was so fun and easy to put together my "found" objects. Now if only we had a beach in our backyard it would be the perfect beach house summer mantel decor. Hey, even without a beach, I am more ready for the fun of summer with my sweet summer mantel!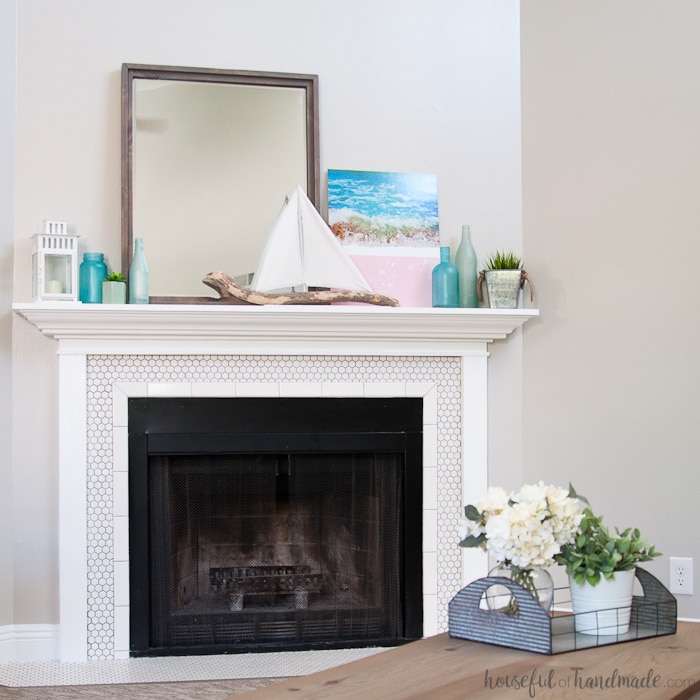 And don't forget to check out these other amazing summer mantels! There is so much beautiful inspiration for the perfect summer mantel decor.
Here's to a wonderful summer!