This week has been a bit different for me with my baby recovering from her surgery. I have enjoyed spending time cuddling my baby as she healed. We have watched a lot of Aladdin, Doc McStuffins, and Frozen.
One of the things I have had less time to do is cook. We have had a little cooler weather so I made soup and decided to make a quick loaf of artisan bread to heat the house up a bit. But dinner's have been a little crazier than normal.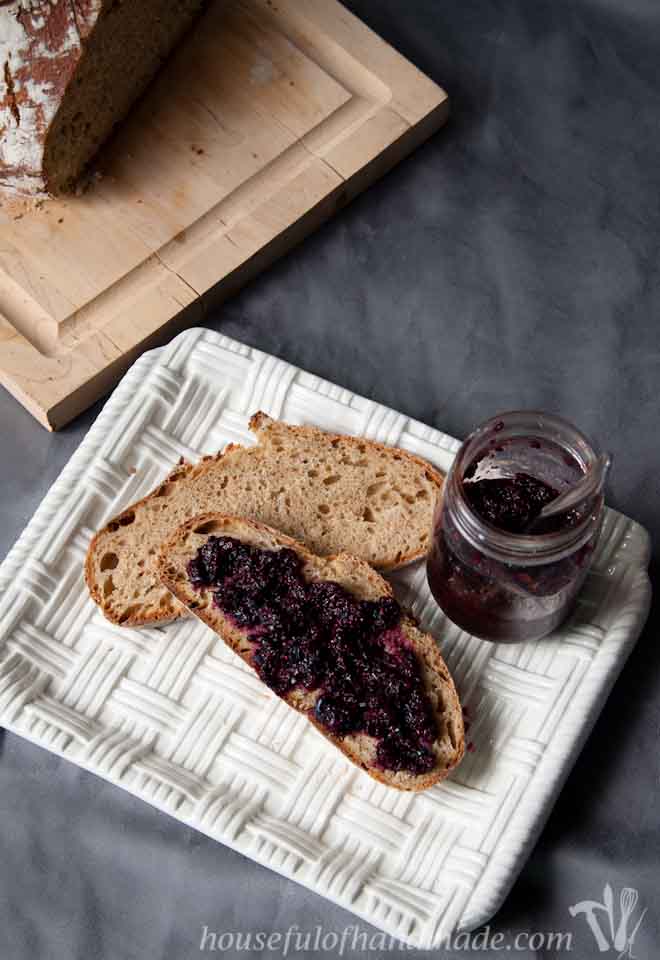 I am usually not good at meal planning. I buy a lot of fruits and vegetables based on what is on sale, what looks prettiest at the farmer's market, and what is not growing in my garden. See really planned out!
Then about 4 pm each night I get cranky, grab a cup of coffee and hit the Pinterest boards for inspiration. I usually manage to throw something together based on what veggies are closest to going bad on me. Now don't get me wrong, we eat pretty good. And I love cooking (usually). But I seem to work best under pressure so as long as the fridge is full I can get a great meal on the table.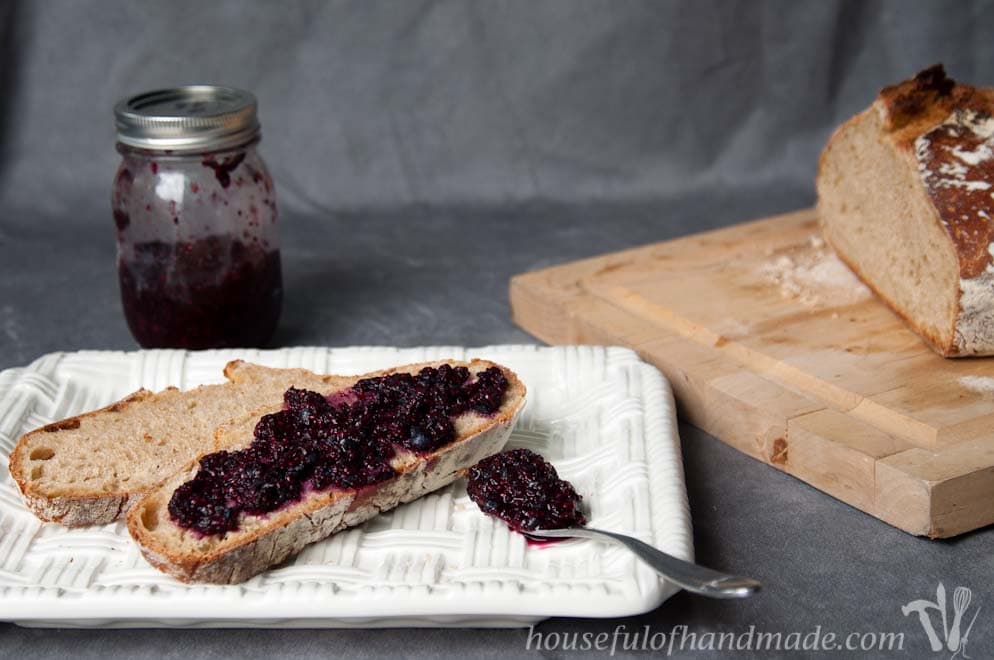 This week a few things escaped by perfect plan and I found some hidden blueberries in the back of my fridge that were getting really soft. They needed to find a purpose and quick! But my baby was real cranky and didn't want to let me do much. Again, inspiration hit me. I've always wanted to try out chia seed jam but hated to use perfectly good berries to do so.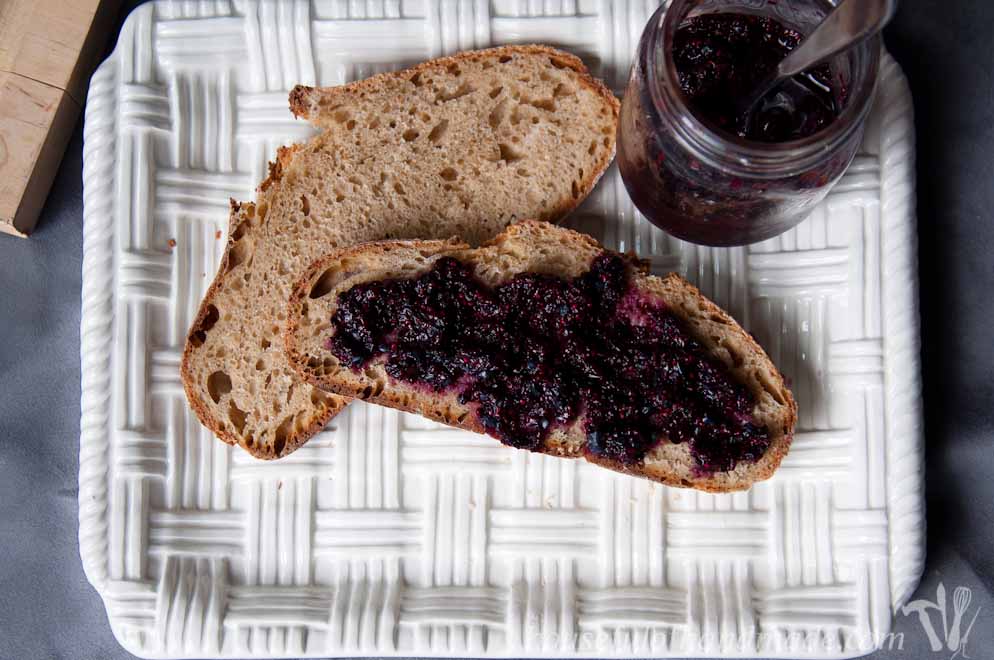 And the only thing I love better than blueberries is lemon and blueberries. Lemon and blueberries were a match made in heaven in my world! I love the sweet tanginess they create. Lemon blueberry muffins… amazing! Lemon blueberry pancakes… perfection! So why not lemon blueberry jam?
This jam is so easy to make it almost seems silly to take pictures of the process, but I tried to get a couple for you. Start by zesting 1 lemon and putting the zest in a jar. I love my microplane zester so much. I use it for zesting citrus all the time, but it is also awesome for finely grating garlic, ginger, etc. I use it every time I make salad dressings for this. It's an awesome tool and pretty inexpensive (I think I paid $7 for mine) so if you want to make lots of delicious stuff from scratch go get one 🙂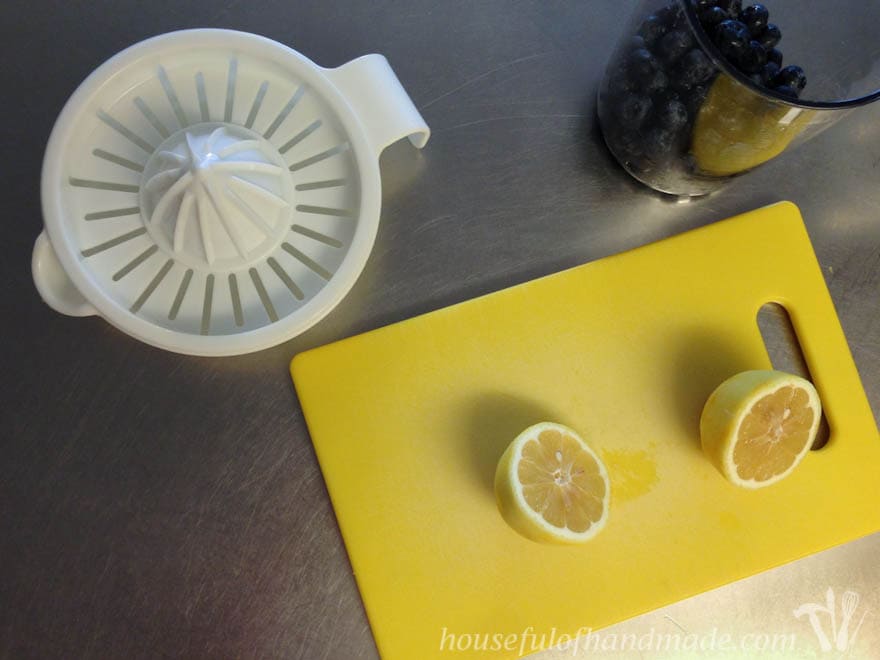 Enough zester love, onto the jam…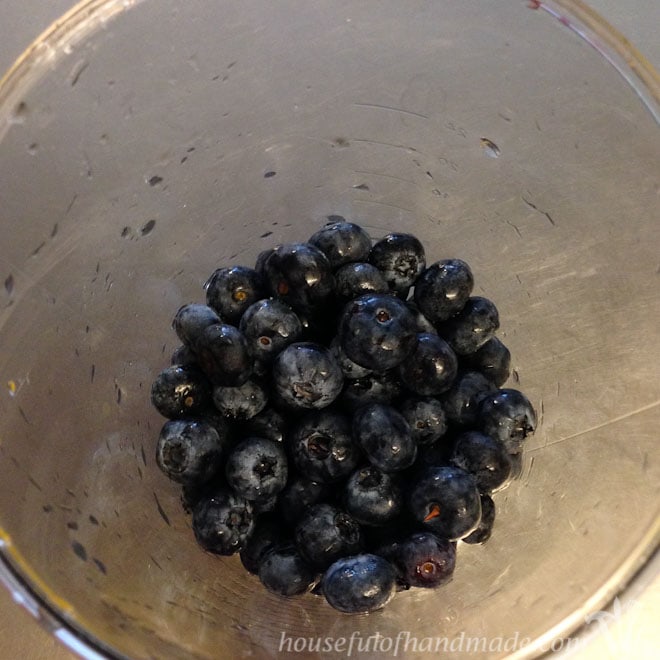 Juice your lemon and pour it over 1 cup blueberries. Smash up the berries to the consistency you want. I used my immersion blender and pulsed it in the berries and lemon juice a few times. I was left with some chunkiness to the jam, and it only took me about 5 seconds. (P.S. My immersion blender is another kitchen love, but that story will have to be told later).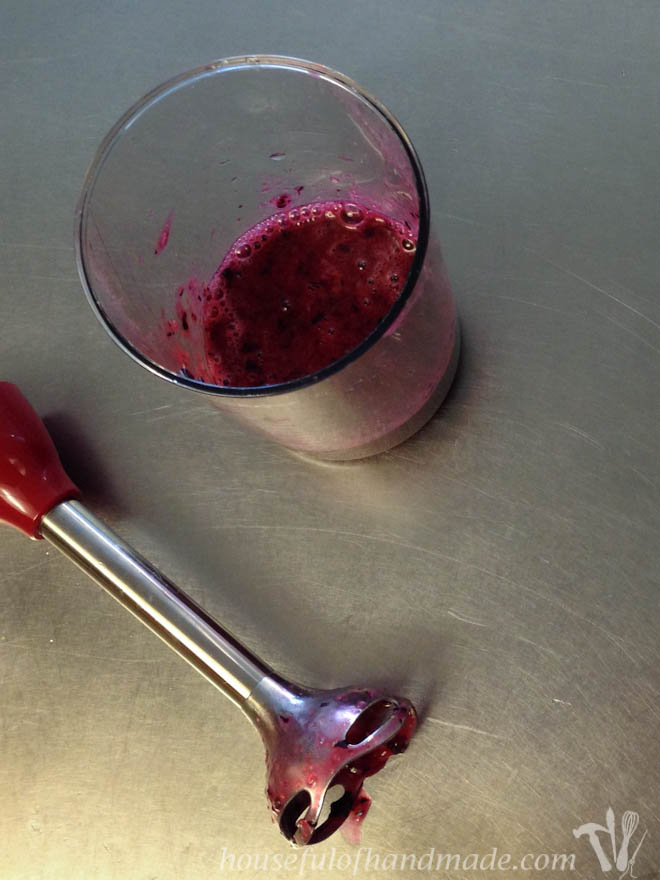 Put your smashed berries in your jar with the lemon zest, add 1 Tbsp chia seeds and a little sweetener if you want (I added 4 drops stevia extract which equals about 1 tsp sugar, you can use sugar or nothing). Stir it all together and put it in the fridge for 30ish minutes.
And that is it. Jam so easy anyone can make it.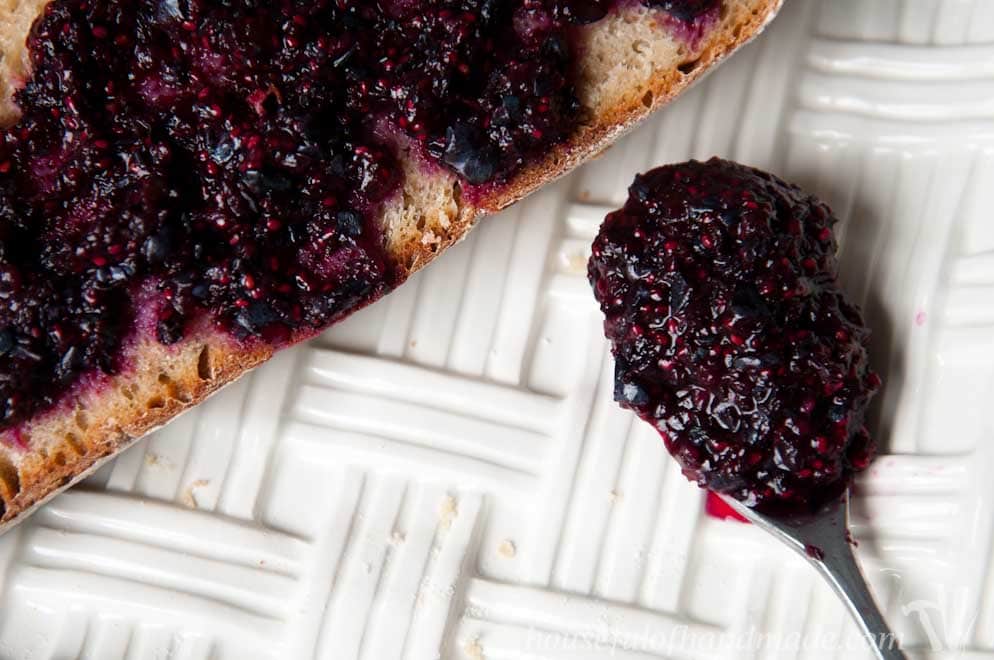 This stuff is really amazing. So delicious. The flavors of the fresh fruit really show through. And the little tang of the lemon is perfection. For breakfast we enjoyed my healthy everyday pancakes with jam and a little whipped cream. That's a summer breakfast I can get behind 🙂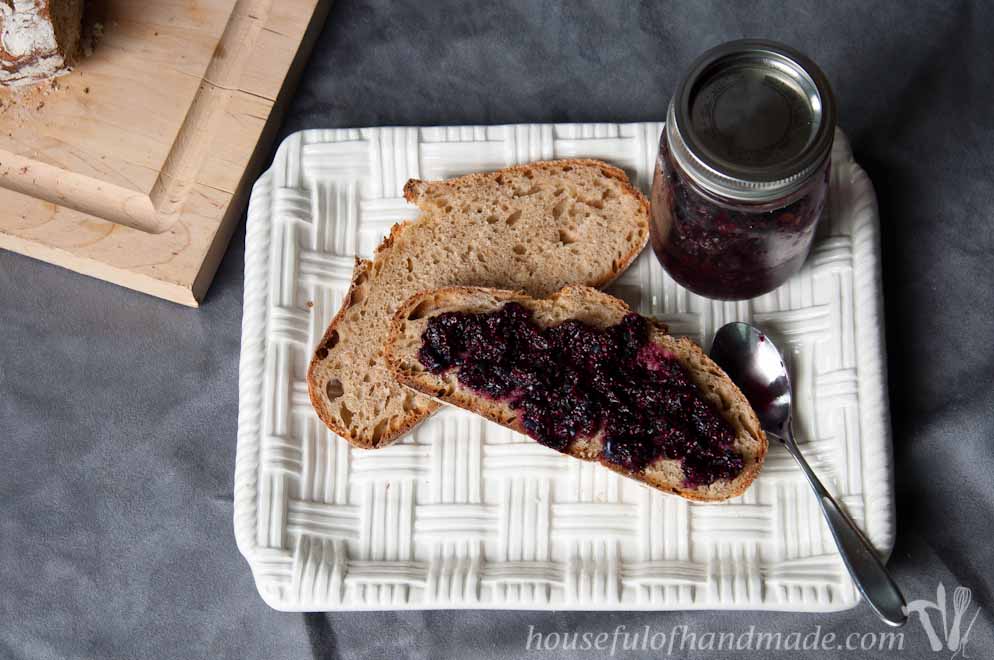 And for lunch, why not go European with some jam and artisan bread? That's what we did right after taking these pictures, then we ran off to pick fresh blackberries at my brother-in-law's house. Many more summer berry recipes are coming 🙂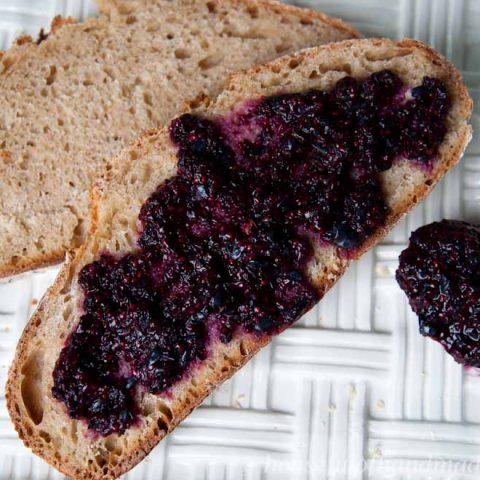 Blueberry Lemon Chia Seed Jam
Yield: 1 cup

Prep Time: 5 minutes

Additional Time: 30 minutes

Total Time: 35 minutes

Delicious fresh blueberries and lemons make the perfect summer jam. Super quick and easy to make and made good for you with chia seeds and no added sugar.
Ingredients
1 cup blueberries
1 lemon
1 Tbsp chia seeds
Stevia extract or other sweetener (to taste)
Instructions
Zest the lemon and add zest to a jar.
Juice the lemon. Pour juice over blueberries. Smash blueberries to desired texture.
Put juice/blueberry mixture in jar with zest. Add chia seeds and sweetener. Stir.
Refrigerate for 30-60 minutes until thick.
Enjoy!