I am a lover of coffee. I live for my morning cup, and nothing calms me in the crazy afternoon of getting kids from school and struggling through homework like a warm cup of joe! And nothing means fall more to me than a pumpkin latte. Oh man, the marriage of pumpkin and coffee is just heavenly.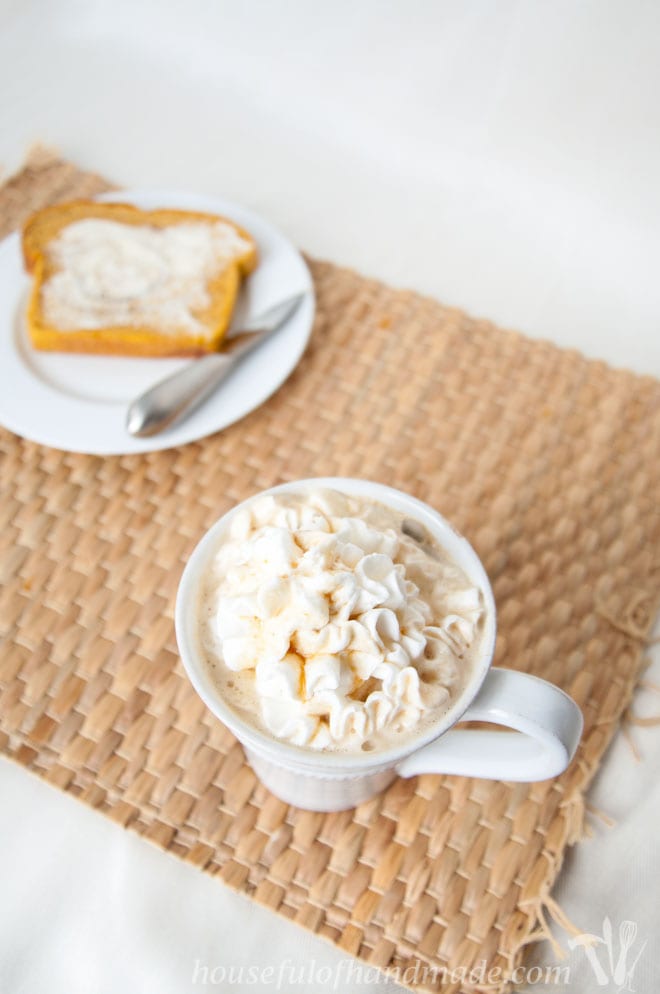 I prefer my coffee at home, for some reason, I feel like the coffee house can never do as good of a job as I can. Crazy, I know! But I am particular. So I have to find a way to make my pumpkin coffee at home.
I am not really a fan of store bought pumpkin coffee syrup, it's too sweet and full of flavorings instead of real pumpkin. But I dislike the texture and thickness of using real pumpkin in my coffee, it always ends put being sludge in the bottom of my mug.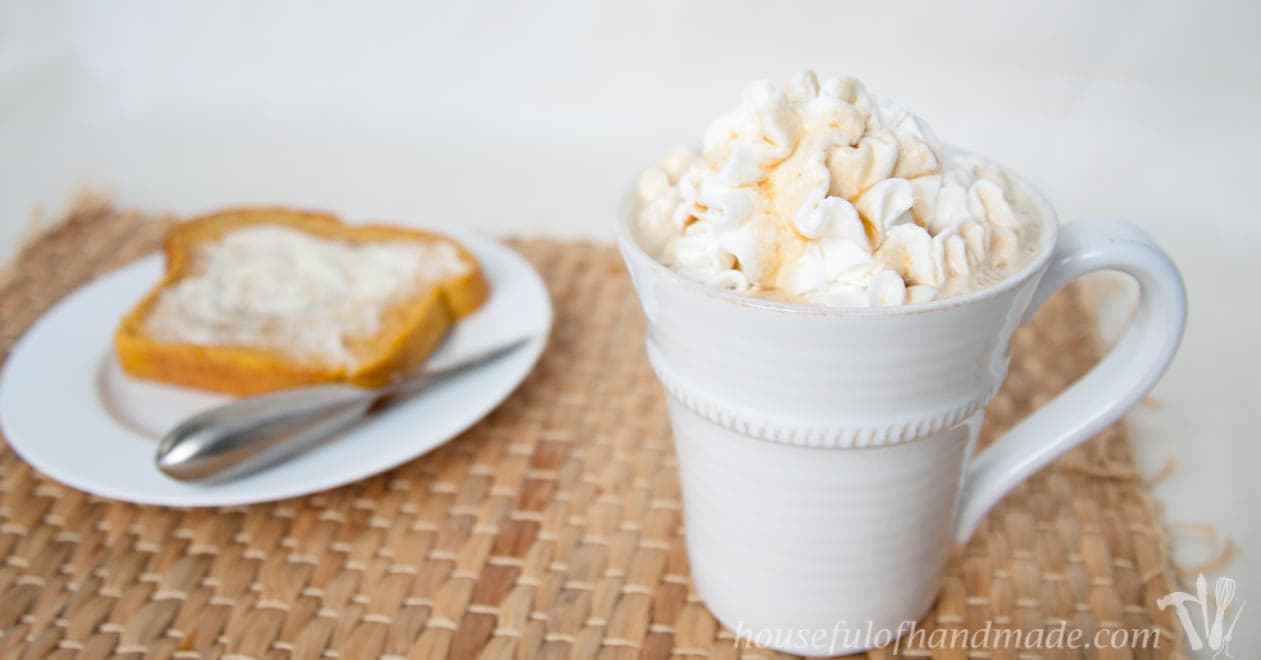 This year I had a "lightbulb" moment while failing at another recipe idea. Strain the pumpkin puree and just use the juice to make your drink syrup! Pumpkin is a very watery vegetable. There is a lot of juice in the puree.
You can strain a lot of juice out of a little bit of pumpkin and then the puree you have left is still quite most and can be used in another recipe. Perfect for a non-sludgy pumpkin coffee syrup.
And the only way to make this pumpkin coffee syrup even better… boil it with some brown sugar and vanilla for a hint of caramel too! Pumpkin and caramel together were are just perfection. Oh man, if I wasn't typing this up late in the evening I would be drinking a caramel pumpkin coffee right now 🙂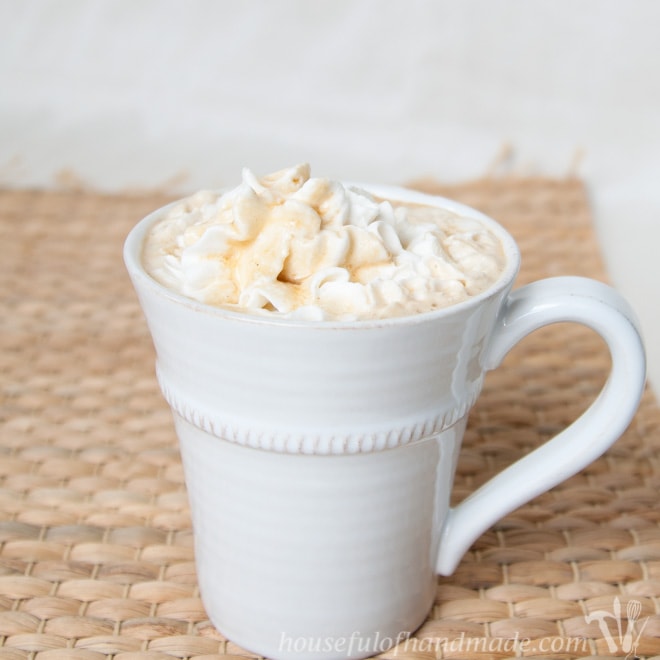 To make this caramel pumpkin coffee syrup, you need to start with straining your pumpkin puree. I find the easiest way to do this is to use a square (about 15″x15″) of washed muslin. The muslin is thick enough to keep the pumpkin pulp inside, but allow the juice to strain out.
I just spoon 2 cups of pumpkin puree into the center of the muslin, then pull all four corners together to create a little bag. I use some bakers twine to tie the bag closed at the top.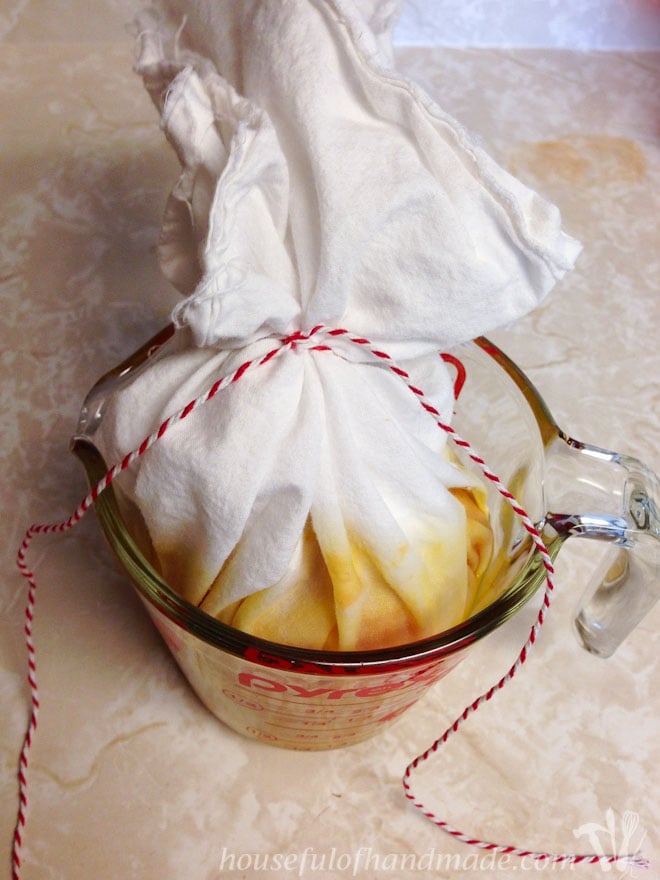 Then I use the twine to hang the bag from one of my upper cabinets.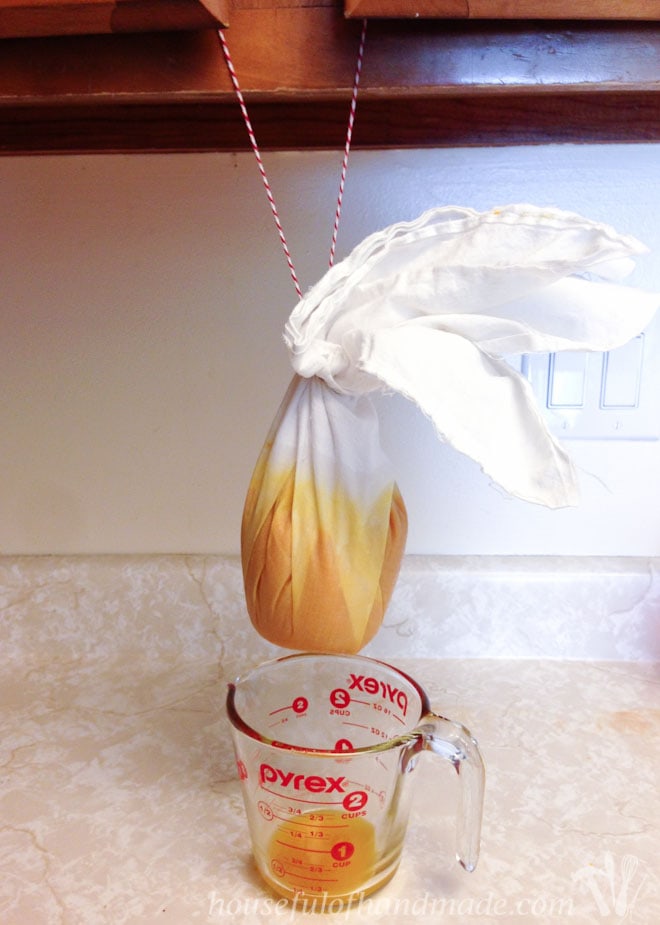 The pumpkin juice will start dripping from it. You can hang it for a while and just let it drip, but I am impatient and giving the bag a little squeeze starting at the top and moving down will squeeze the juice out quickly.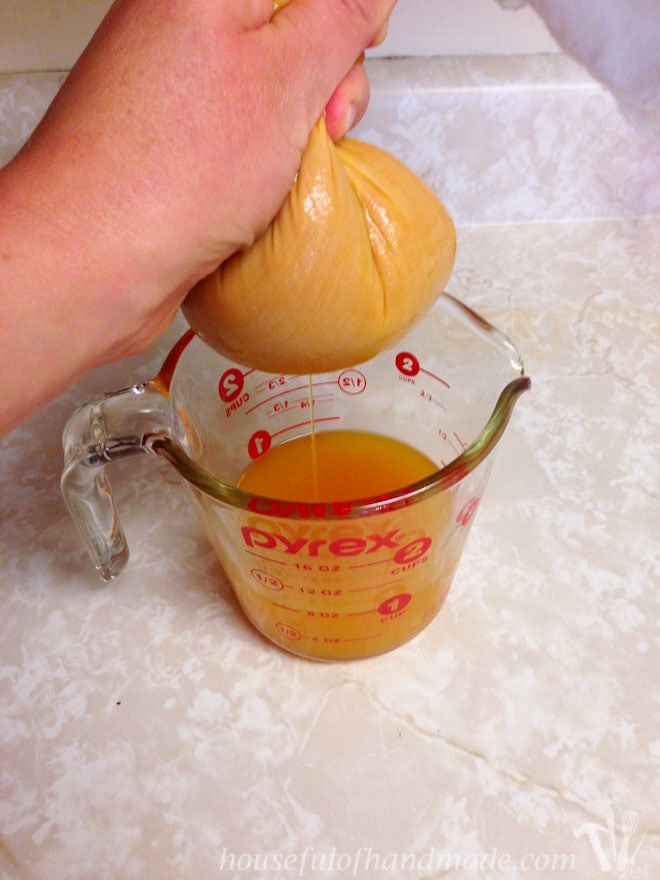 I strained out 1 cup of juice from the 2 cups of puree.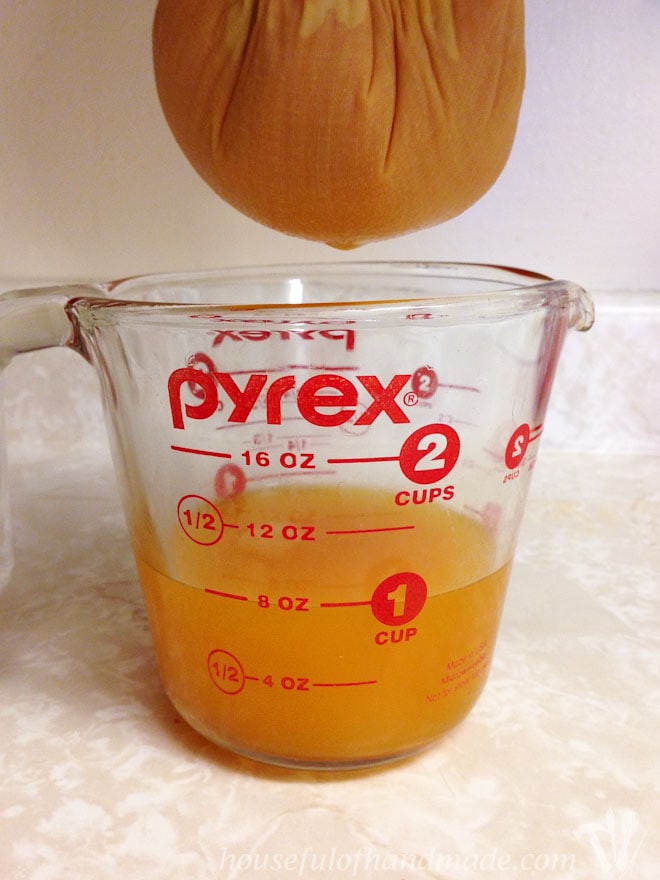 Put the pumpkin juice in a small saucepan and add in 1/3 cup brown sugar, 1/2 tsp pumpkin pie spice and 1 Tbsp vanilla bean paste. I love the vanilla bean paste. It is simpler and faster than scraping a vanilla bean, but if you prefer vanilla beans, just use 1 bean.
Bring to a boil and boil for 2 minutes to create a syrupy texture. Pour it into a glass container and store in the fridge.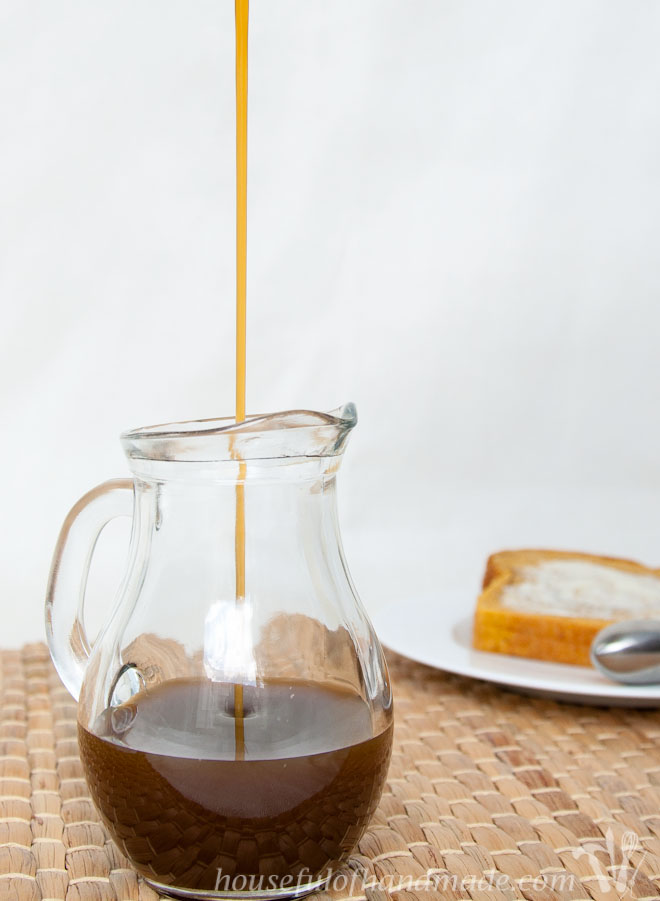 Use as much or as little syrup as you like in your coffee or cocoa. I like 1 Tbsp in a 10 oz cup of coffee, but I do like my coffee not very sweet and always request they use half the amount of syrup in my coffee at the coffee shop.
So if you like a little sweeter coffee, you should probably use 2 Tbsp. Then add in how much milk you like, I prefer just a splash of unsweetened almond milk, and of course, top with whipped cream (that is my weakness!).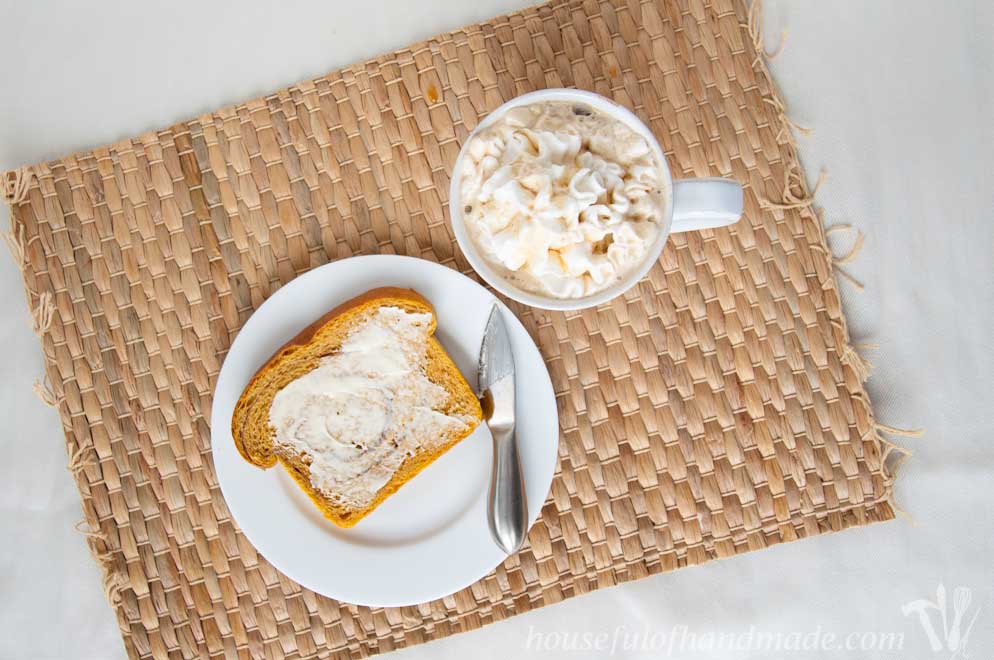 Enjoy your steaming cup of fall with a slice of the softest, fluffiest whole wheat pumpkin bread. The perfect afternoon snack!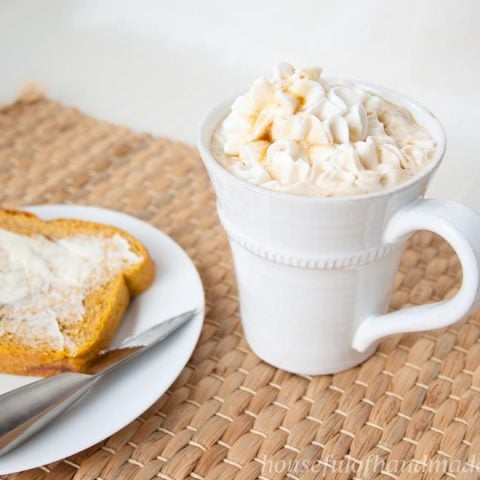 Caramel Pumpkin Coffee Syrup
Prep Time: 15 minutes

Cook Time: 5 minutes

Total Time: 20 minutes

Get your pumpkin fix in your coffee or cocoa with this delicious real food caramel pumpkin coffee syrup.
Ingredients
2 cups pumpkin puree
1/3 cup brown sugar
1/2 tsp pumpkin pie spice
1 Tbsp vanilla bean paste
Instructions
Place pumpkin puree in a large square of washed muslin and hang to strain liquid from puree. Squeeze muslin slightly to extract liquid. You will need 1 cup of pumpkin juice.
Place pumpkin juice into a small saucepan. Save pumpkin puree for another use.
Add brown sugar, pumpkin pie spice and vanilla bean paste to pumpkin juice. Whisk together.
Bring to a boil over medium high heat and boil for 2 minutes.
Transfer to a container and store in the fridge.
To use: add a tablespoon or 2 to your hot coffee or cocoa.
Enjoy!