Today all I wanted to do was play with my new nail gun I got for Mother's Day, but alas, I had errands to run and a house to clean. But we are close to having life back on our normal schedule and the house is resembling something people could actually live in. So before this last weekend becomes a distant memory for me, I need to share the rest of the party!

The party games are for the kids, but the food, that's for me! I love making treats and I love eating them too. I did keep it pretty simple to go with the Carnival birthday party theme: caramel popcorn, cotton candy, homemade lemonade, and of course, cupcakes!
For the cotton candy, I purchased cotton candy at the dollar store and separated them into treat bags. Then I printed out a cute topper for the treat bags and stapled them on top of the bags. I used some scrap 2x2s and 1x2s to build a simple stand and used some finish nails to hang the cotton candy on it.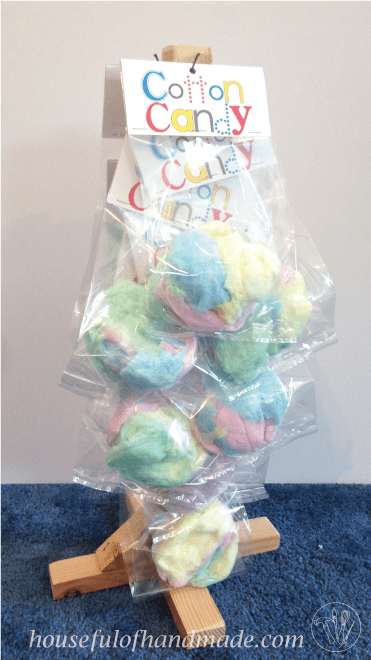 I asked my boy if he wanted buttered popcorn or caramel popcorn and of course, he chose caramel! We make caramel popcorn about 2 times a week at our house. Yeah, we might be a little addicted :). So this was a perfect excuse to make it again. And we needed adorable little cups to put them in so I pulled out my trusty Silhouette. I created a file to print and cut so that I could get 1 box per 8 1/2 x 11 sheet of paper and they ended up being the perfect size for little hands.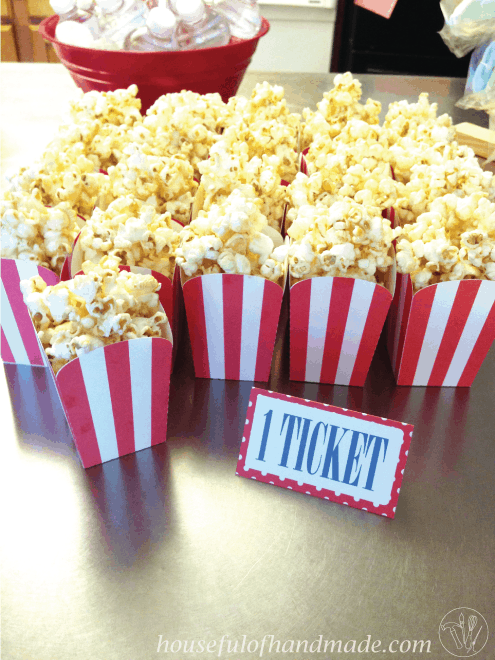 I found the cupcake stand and carnival themed cupcake liners at Oriental Trading and they were perfect! A little buttercream frosting on the funfetti cupcakes and the kids loved them.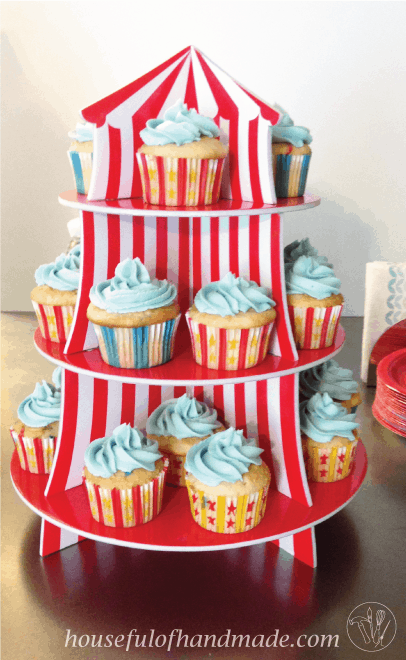 Then to finish it off, I made some lemonade to put it in my new Farmstand beverage dispenser. Now it looks like a carnival birthday party!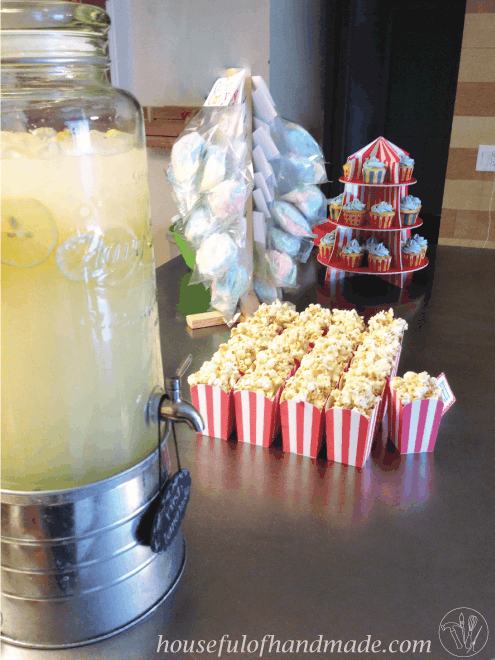 For decor we let the games and food provide most of it, but I did make a Carnival sign with arrows. My plan was to attach them to a 1×2 and stake it in the ground at the entrance to the backyard with balloons tied to the top! It would have been so cute, but the rain! Oh, the rain! So I taped them to my wall right inside the front door. The only problem with this is that arrows were not pointing to the right direction and the kids kept pointing this out to me. I guess they don't understand decor like I do 🙂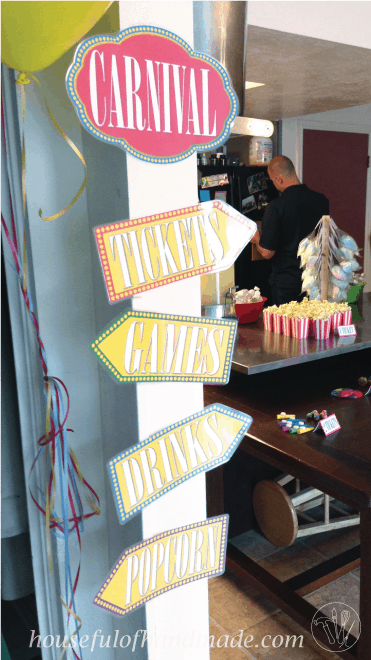 The party was a huge success! My daughter is already planning her birthday party to be a carnival party just like it. I had so much fun preparing for the party I thought I would share the printables for the cotton candy toppers, canival signs & arrows, popcorn cups cut file and PDF!
I am sharing the printables for the carnival birthday party food in my subscriber library. Click here to subscribe to my newsletter and gain access to all the freebies. If you already have your password, click here to download them.
I hope you enjoyed our party! I had too much fun putting it together and the kids has a blast at the "Carnival". Now I get to rest for a couple months before planning my little girls 4th birthday. I'm hoping I can convince her to pick another theme… movie night? tea party?? mermaid lagoon???