Last week my son turned 6! I know I am getting older, but I still feel like I'm barely 20-something and I am too young to have kids turning 6. But alas, time keeps moving and they keep getting bigger, which means I keep getting older! At least I still feel 22 on most days 🙂
So for his 6th birthday, we decided on a Carnival birthday party. And I had so much fun making it look like a Carnival at our house.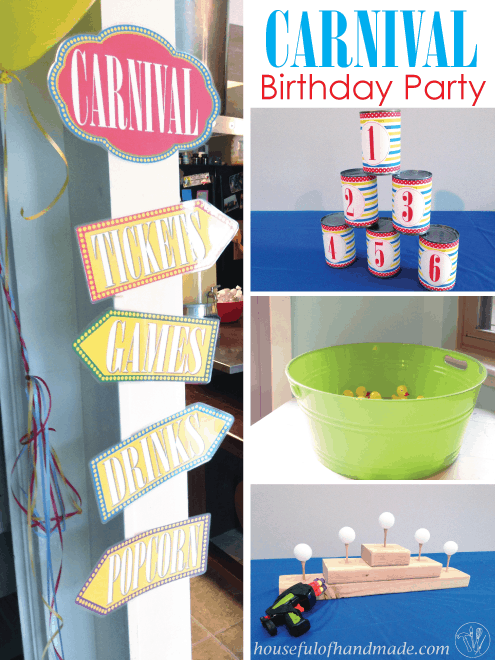 We were suppose to have the party outside, but Utah weather is never nice to me in early May and we had rain. Not just a little rain, but a solid 24 hours of steady rain. And all this after a week of on-and-off thunderstorms and torrential downpours! Even if it wasn't raining, the yard was so overgrown and WET from all the earlier rain! So we moved the party inside and made it work.
We made a plan to play 4 games, and the kids would earn tickets at each of the games. Then the kids could redeem their tickets for prizes and treats.
Originally we planned 4 games that could be played outside: Duck Match, Ping Pong Shot, Bean Bag Toss, and Balloon Pop. But when we had to move it inside, I really didn't want to hand a bunch of kids darts to throw at my walls so we eliminated that game and I did some face painting (which is always a hit with kids). Then instead of shooting ping pong balls with water guns, I grabbed one of my sons Nerf guns and we shot them with foam darts.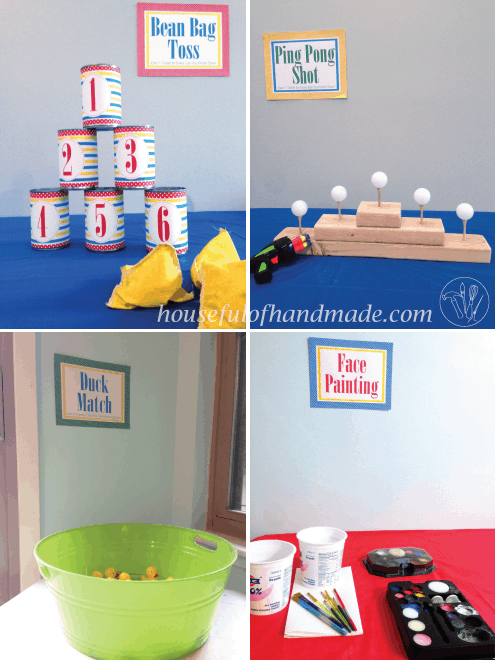 For the Bean Bag Toss, I saved 6 tin cans from my cooking the weeks before the party. To keep the sharp edges away, I hot glued the tops back on them after they were cleaned and dried. Then I made a little artwork in Illustrator to dress up the cans. I love the mix of polka dots and stripes. I used 3 bean bags that I already had on hand and it was ready to go! The kids got to earn 1 ticket for every can they knocked over.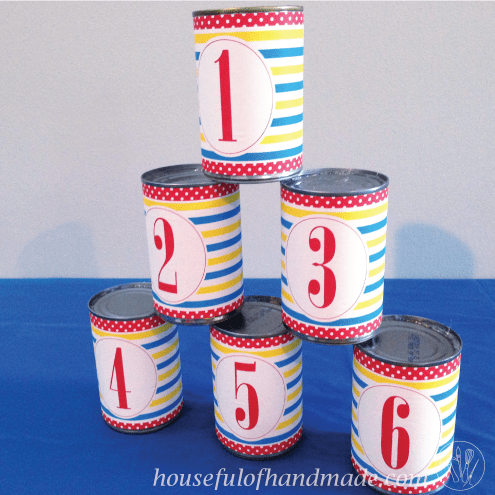 For the Ping Pong Shot, I made a simple pyramid with some scrap 2×4 and then used wood glue to attach 5 wooden golf tees. I put one tee on each level of the pyramid. I found a pack of 8 table tennis balls at the dollar store to balance on the golf tees. The kids tried to knock them down with the dart gun and earned 1 ticket for every ball they knocked over.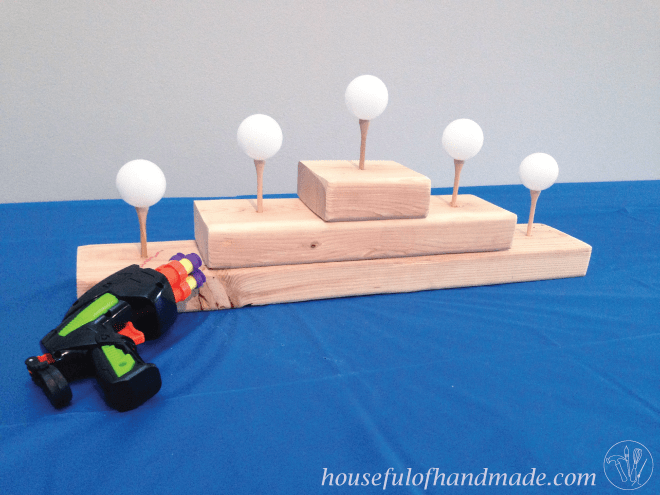 The Duck Match game was the easiest, I bought this set from Oriental Trading and floated them in a few inches of water in a large tub I bought a few years back at Walmart. The kids earned 3 tickets if they made a match.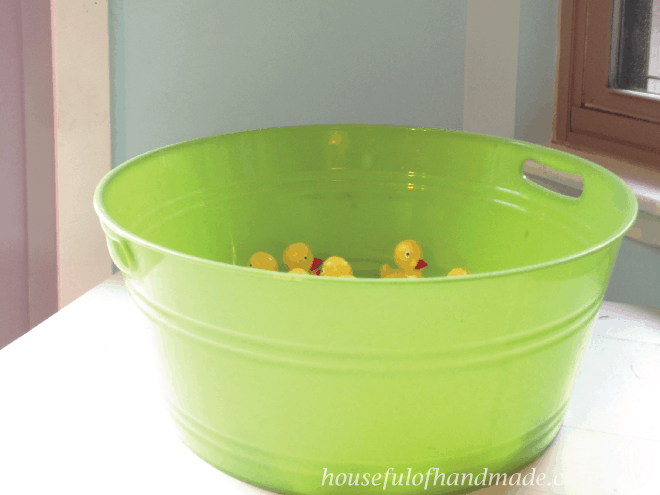 The face painting was the last minute addition. I have been doing face painting for fun for a while now, it's a fun way to use my art and make my kids happy. I love to paint their faces for Halloween, parties, or whenever they smile and ask nicely! So when we had to move inside, it made sense to add the face painting in place of the forth game. I use the Snazaroo face paints and really like them. They stay put after they are dry and wash off easily at the end of the day.
I made a sign for each game station that had the name of the game and how they would earn tickets. I also included a sign for the prize table. I want to share the designs I made with you in case you want to have a carnival birthday party, I even have a sign for the Balloon Pop games since that was the plan until the day before.
I am sharing the printable for the carnival birthday party games in my subscriber library. Click here to subscribe to my newsletter and gain access to all the freebies. If you already have your password, click here to download them.
The kids had a ton of fun going back and playing the games as many times as they wanted. The only rule we had, they had to wait in line! That was a hard enough rule for a bunch of excited kids to abide by. It was fun to see them so excited when they knocked something over and earned tickets!
Later this week I will be sharing the rest of our Carnival Birthday Party! We had a beautiful concessions table, prize table and some fun decor.