Welcome to my very first Christmas Home Tour! I am so excited to share our Christmas home with you. As much as I love to decorate for every holiday, Christmas is definitely my favorite. There is just something magical about a home all decked out for the holidays. The warmth of the twinkling lights makes the cold winter a bit more bearable. So I partnered with 6 other bloggers to bring you lots of Christmas decorating. If you are ready to see our home, grab a cup of coffee and enjoy!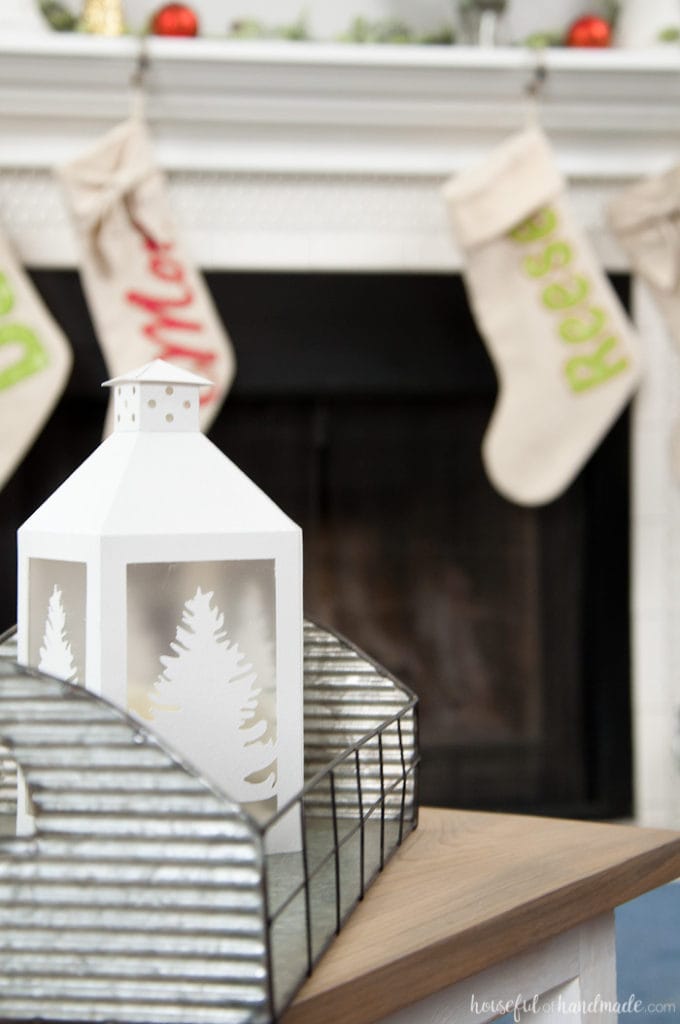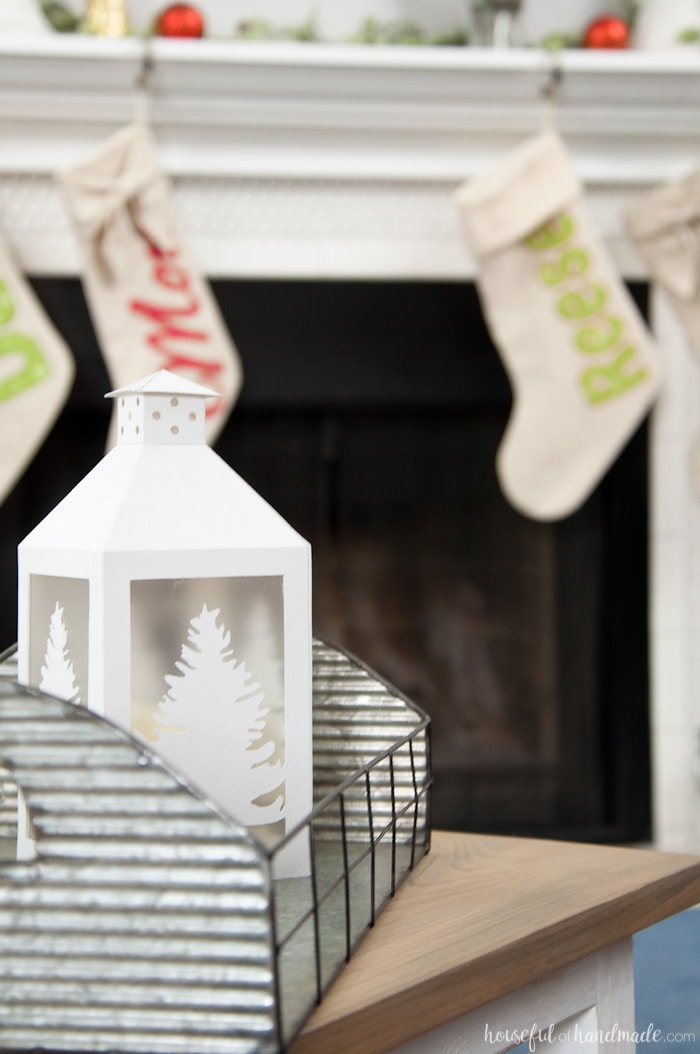 I always like to start my seasonal decor at the front door. Wreaths are the easiest way to add some Christmas cheer. This year, however, I decided to go a little untraditional and made this DIY vintage Christmas scroll instead of a wreath. Now it's time to come on in!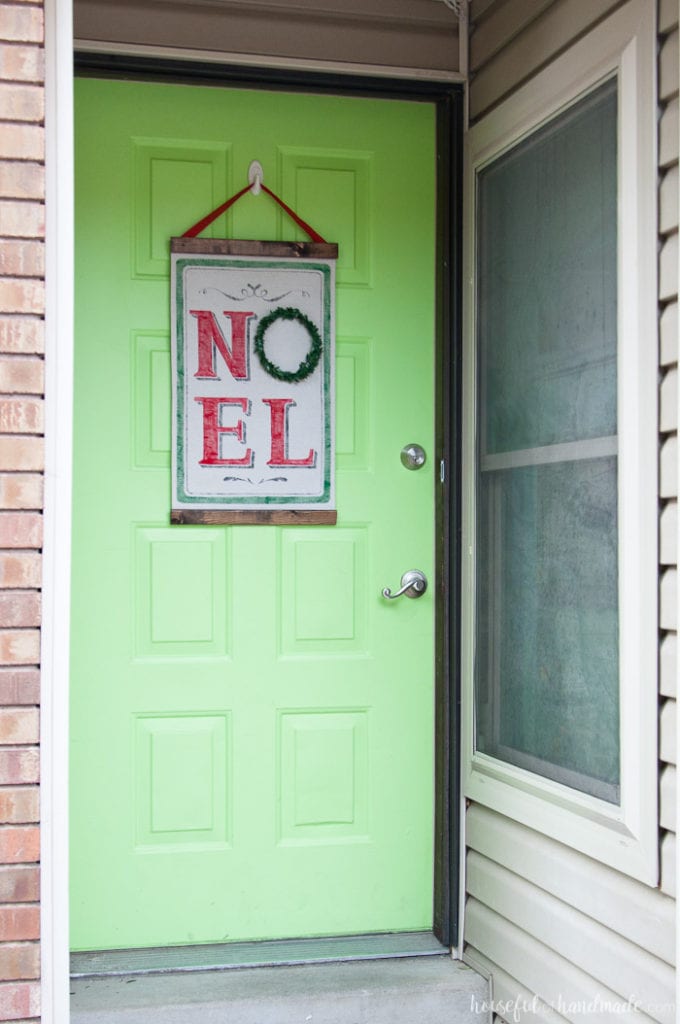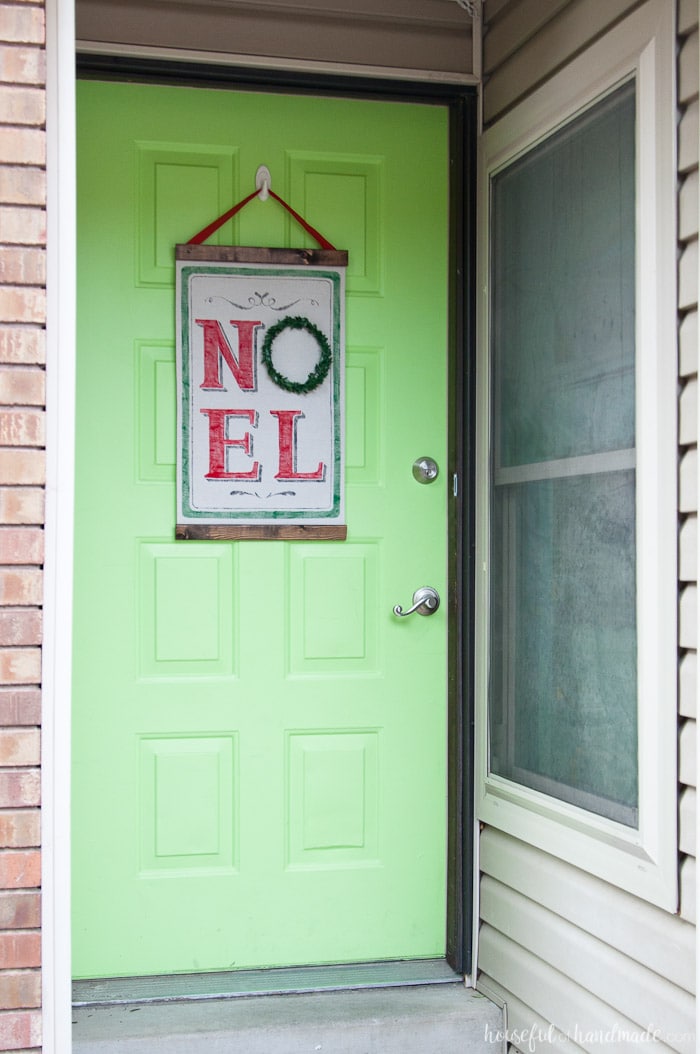 The next place I always decorate for the season is our mantle. After working hard this year to DIY our vintage inspired fireplace, of course I was excited to deck it out. I went with a traditional theme for our mantle this year, with the main theme being red. I am a sucker for a red Christmas.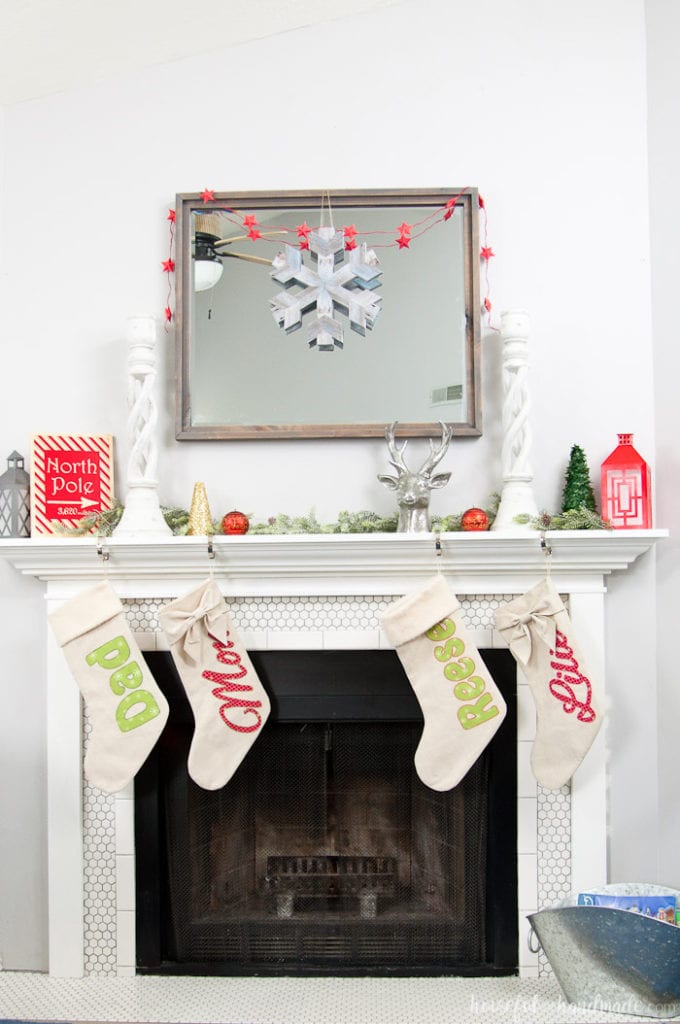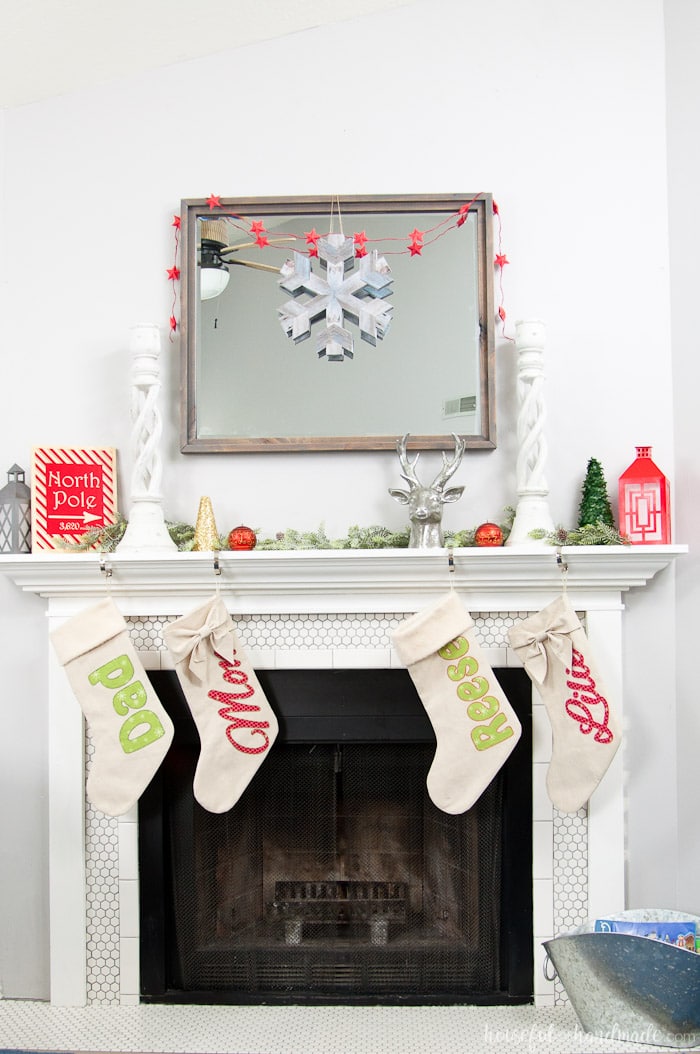 I kept things pretty simple this year because we have been a bit busy. But that doesn't mean I can't have the perfect Christmas home.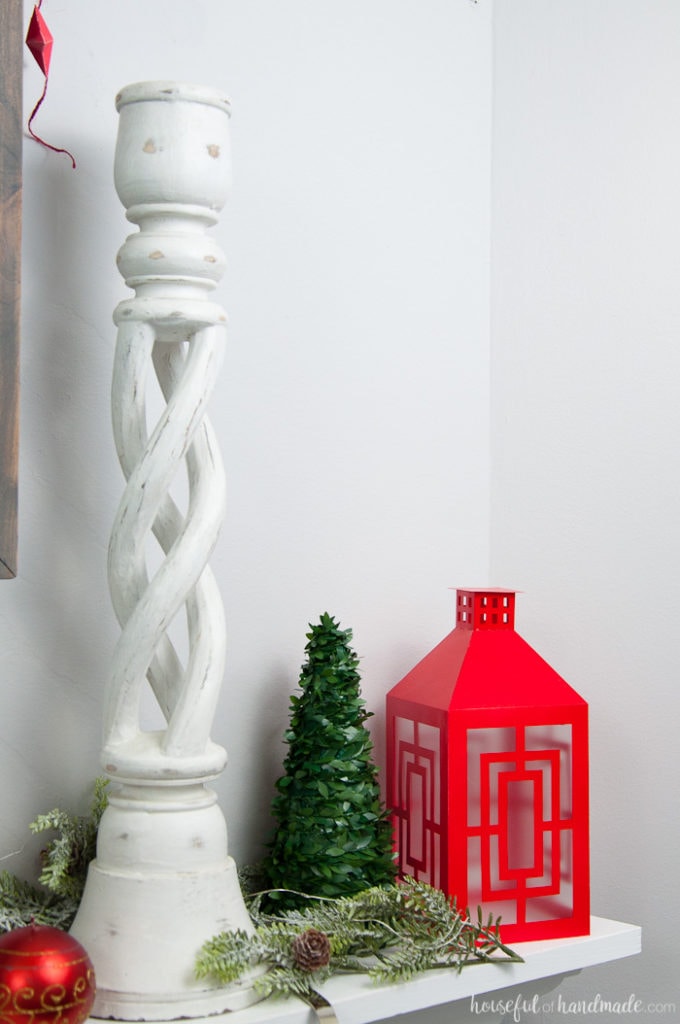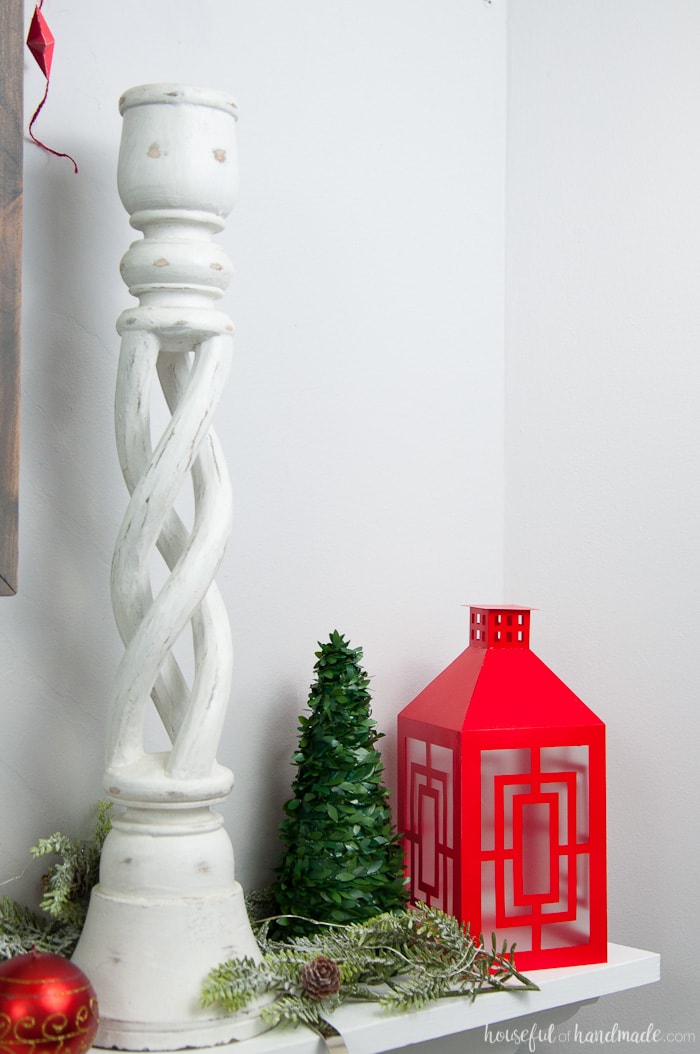 Is there anything better than Christmas trees? I just love the little trees as part of my decor. Maybe next year I will do an entire mantle of them. But this year, I mixed a few Christmas trees mixed with some Christmas lanterns and a couple tall candlesticks. Perfection!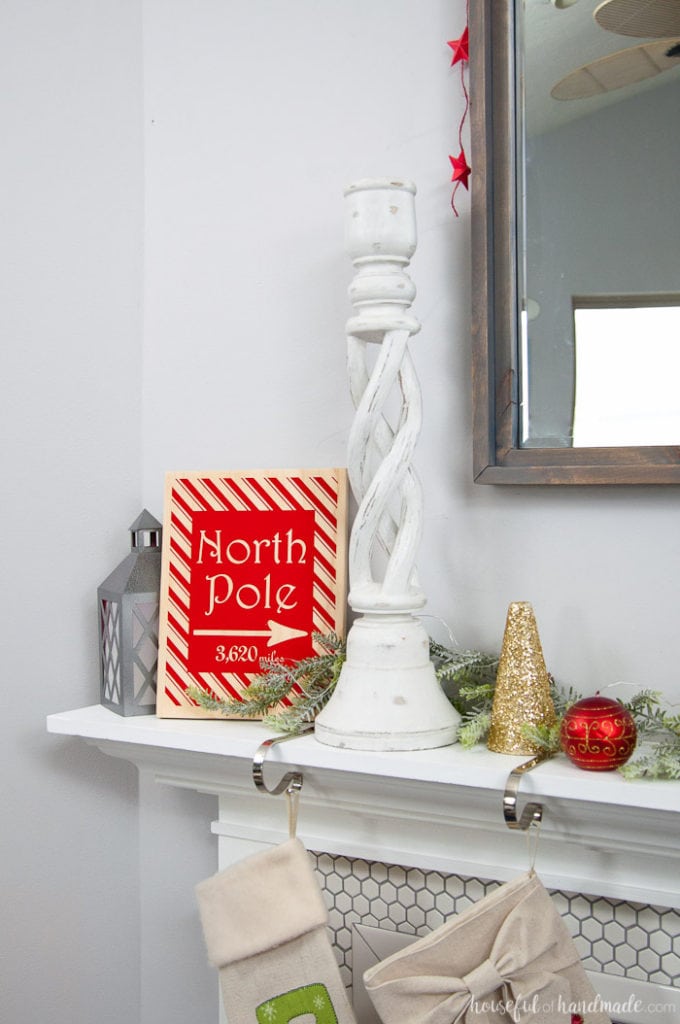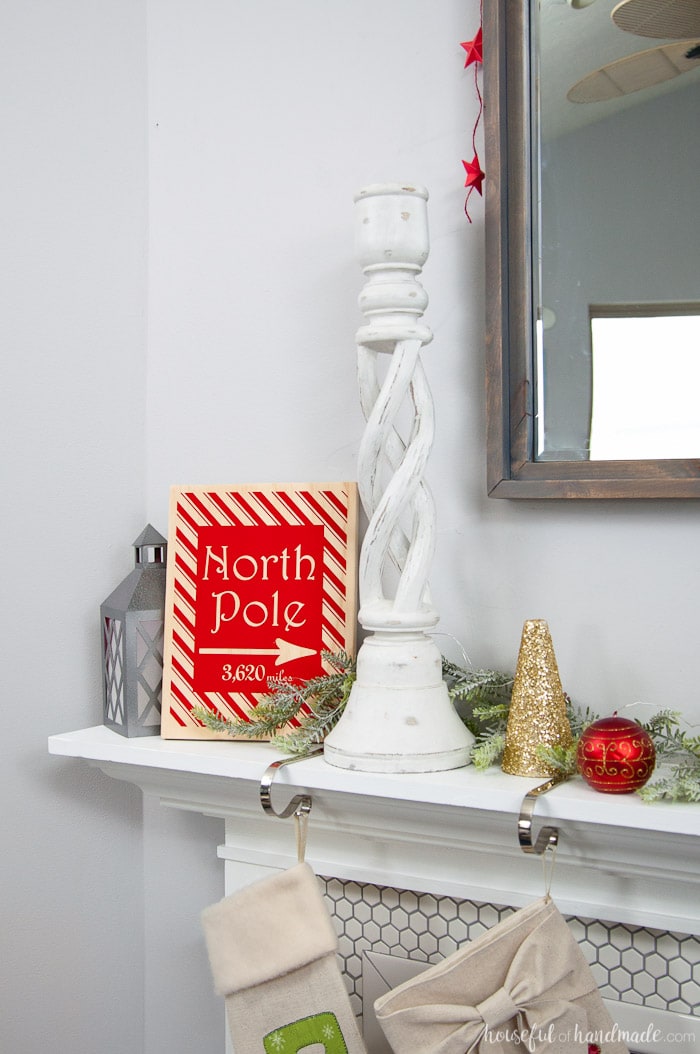 Next I added this faux wood snowflake, but then I realized I needed a little color up top. So a bit of red in this simple star garland was the perfect touch. I can't wait to share these projects with you soon. Yep, they are both DIYs 🙂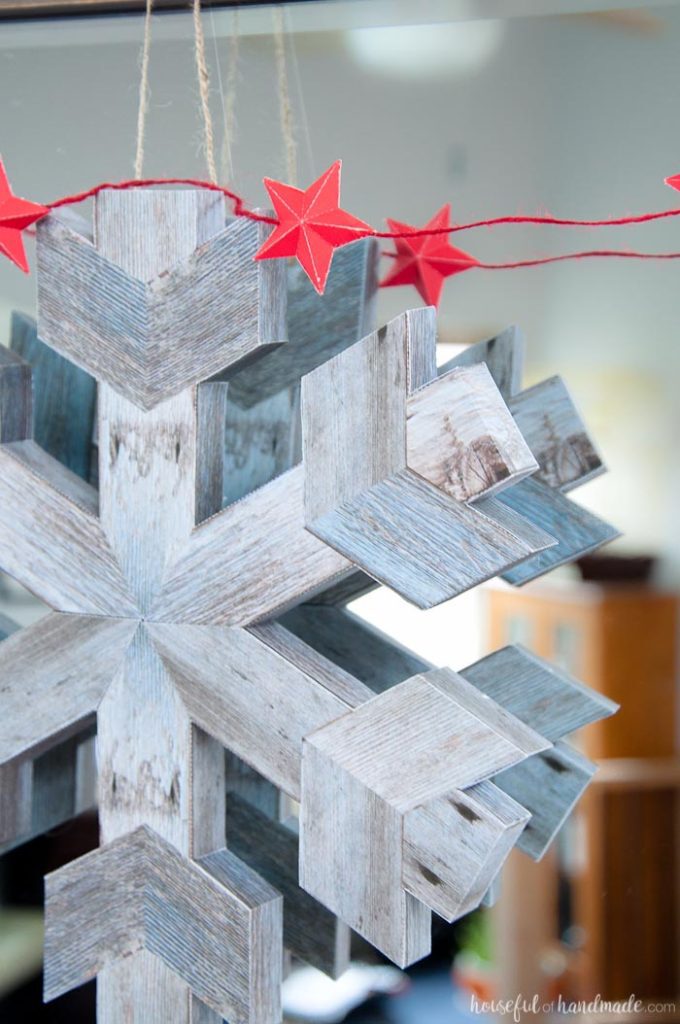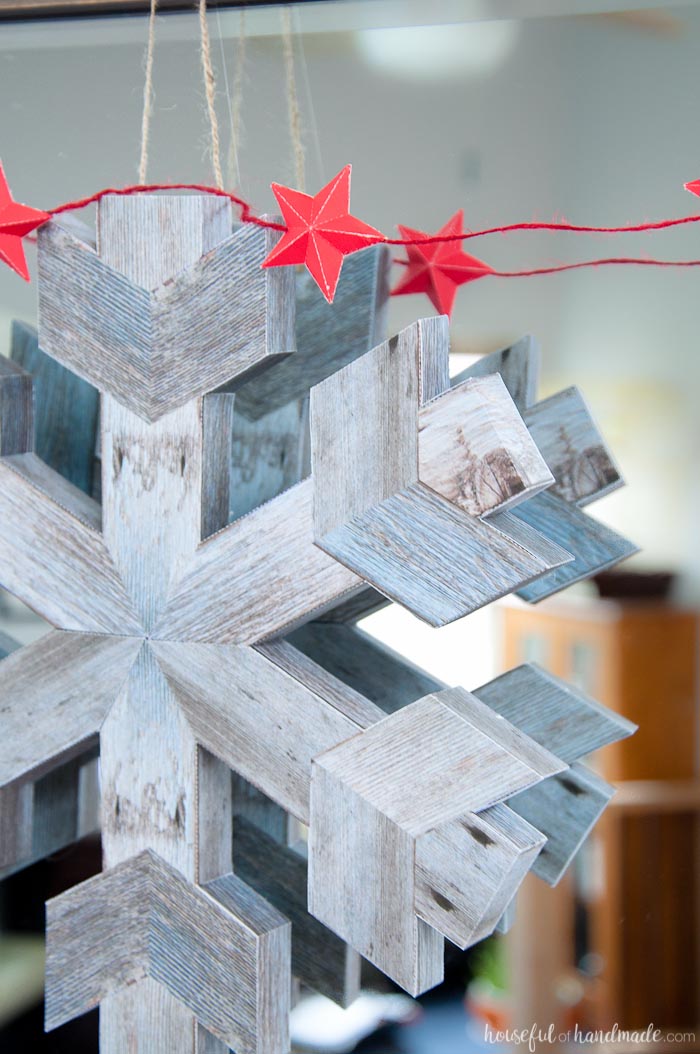 And lastly, we hung our stockings with care. Aren't our drop cloth Christmas stockings the cutest? These stocking have been used and loved for a few years now and look as beautiful as day 1. I love a sturdy (and cheap) material. There is still plenty of time to make some this year!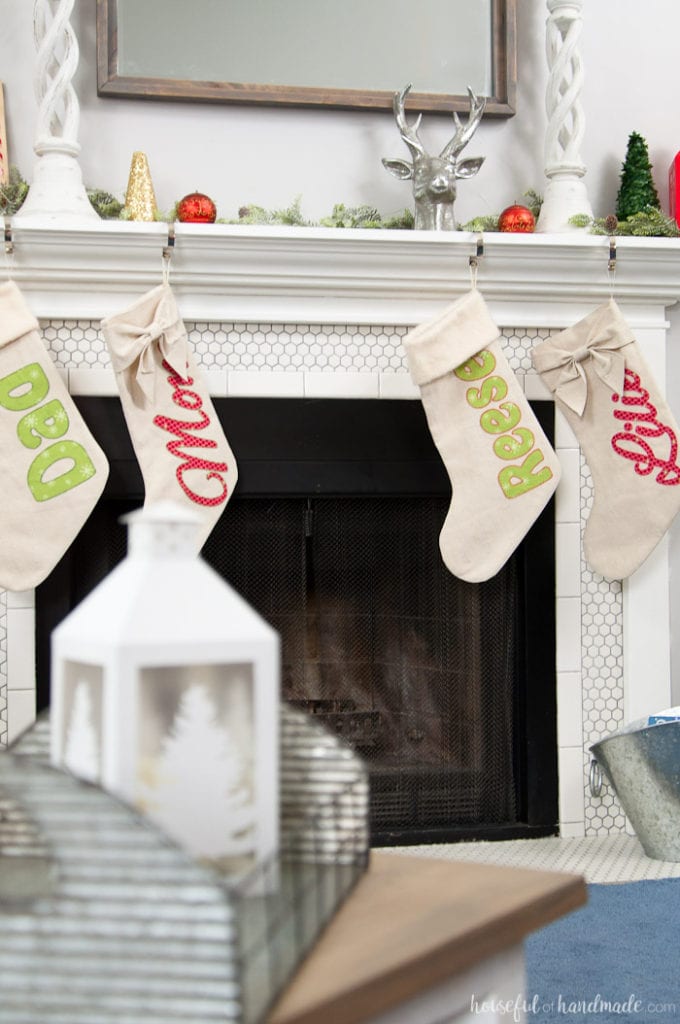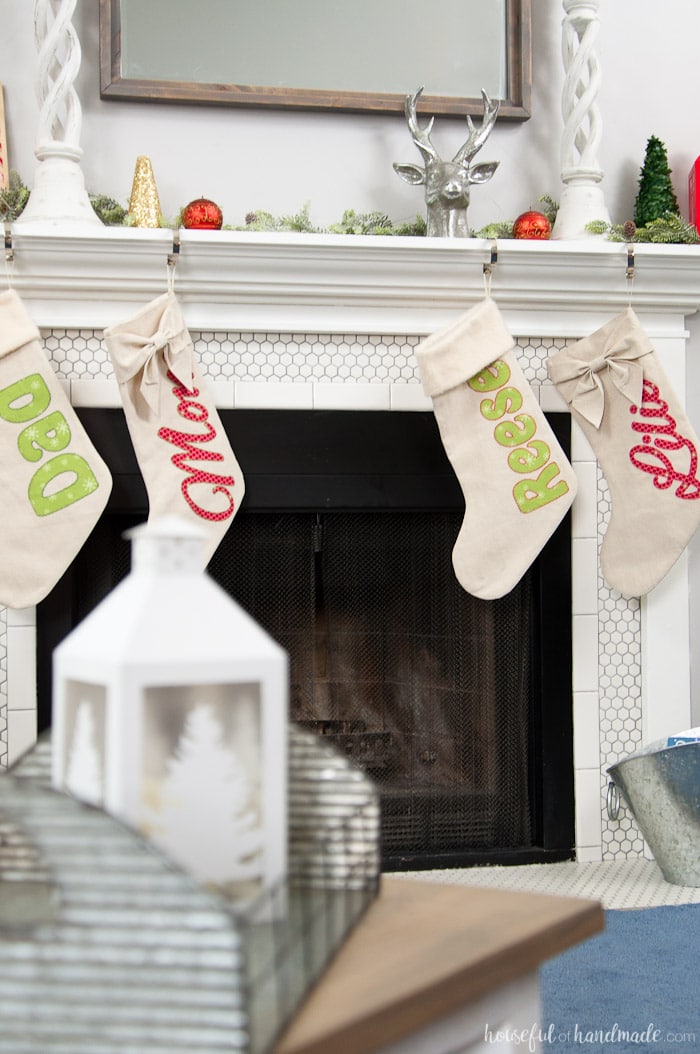 The final touch for the mantle, is our bucket of Christmas books. Our kids are obsessed with books, and I can never say no when they ask for them. We have accumulated a lot of Christmas books over the years. I pack them away every year when I pack away our Christmas decor. It makes the kids so excited to read them again. To keep them out of the bookshelf, I put them in this cute galvanized bucket.
Next up is the tree. I don't change up our Christmas ornaments each year, it is just too much work for me. Our tree almost has a theme to it… it's reds/cranberries and neutrals. As much as I want to have the perfect tree, I cannot say no to my kids when they want to decorate it and are so excited to add their ornaments from school. So I just let it be and we are enjoying our almost-perfect family tree.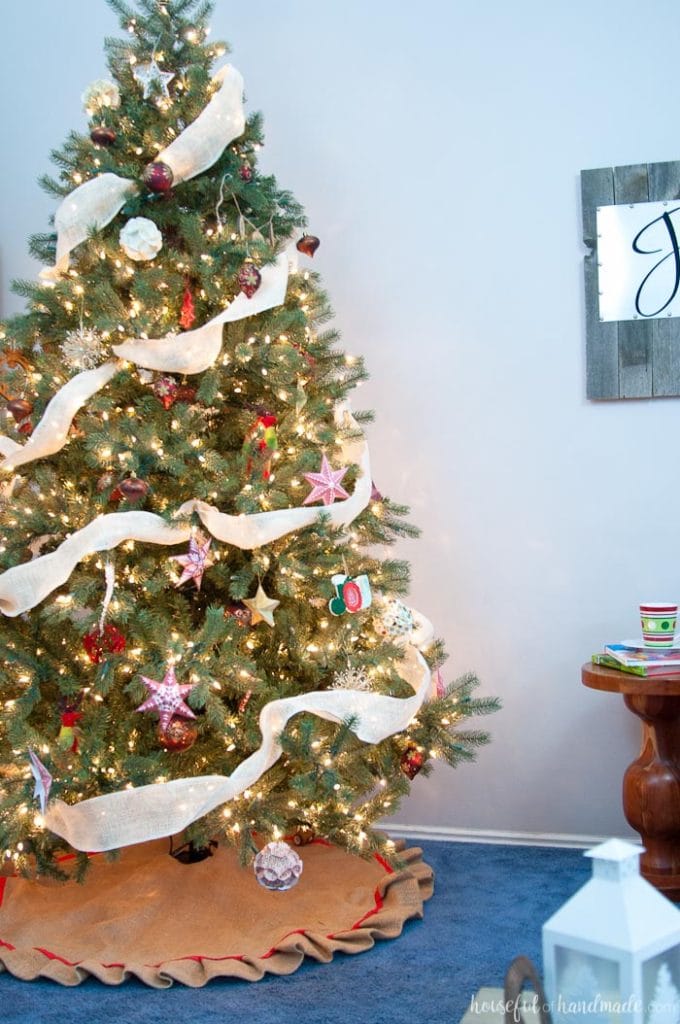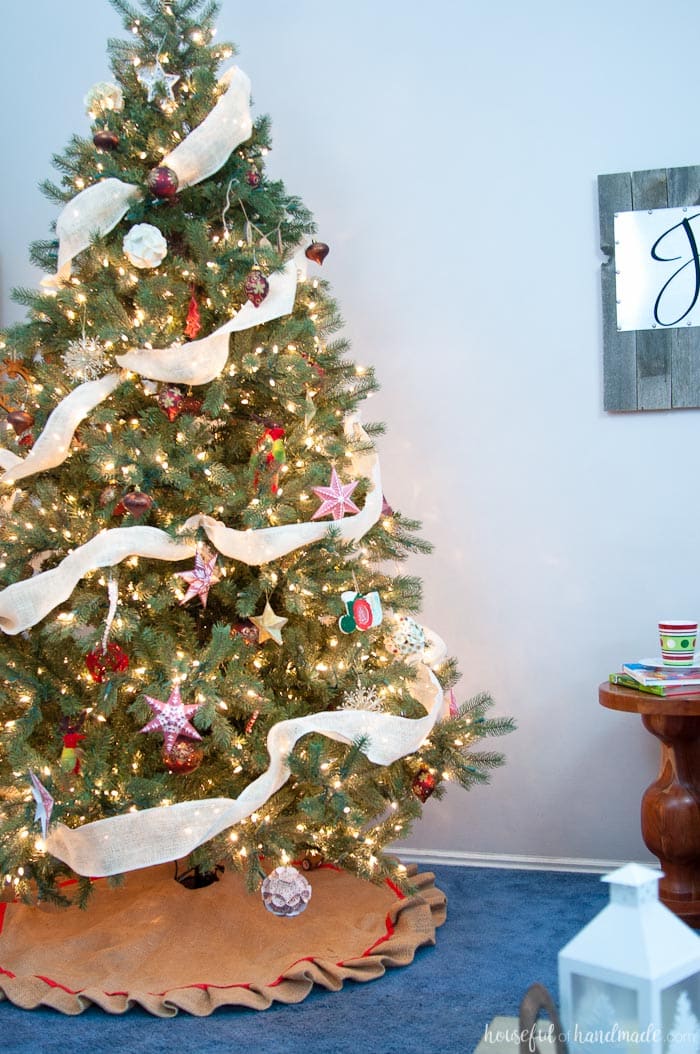 Now, since the mantle and the Christmas tree are both on one side of the living room, the side with my desk seemed a little sad. I don't know about you, but I like to limit the stuff on my desk so instead I added a little wreath to the Anthropologie knock-off mirror in my gallery wall. It makes me so happy to look at while I am working.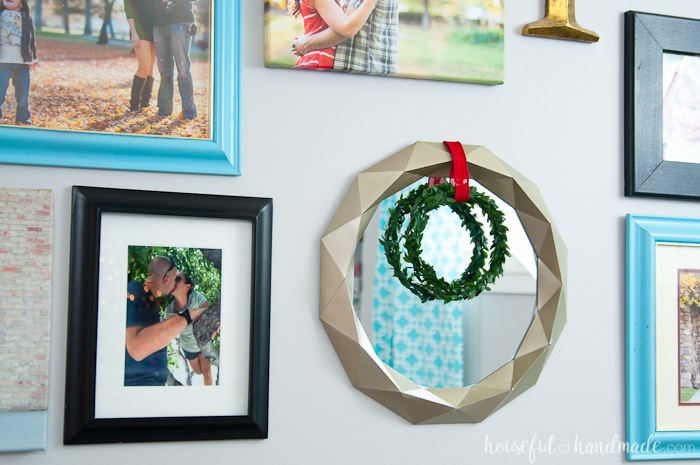 Time to move onto the dining room.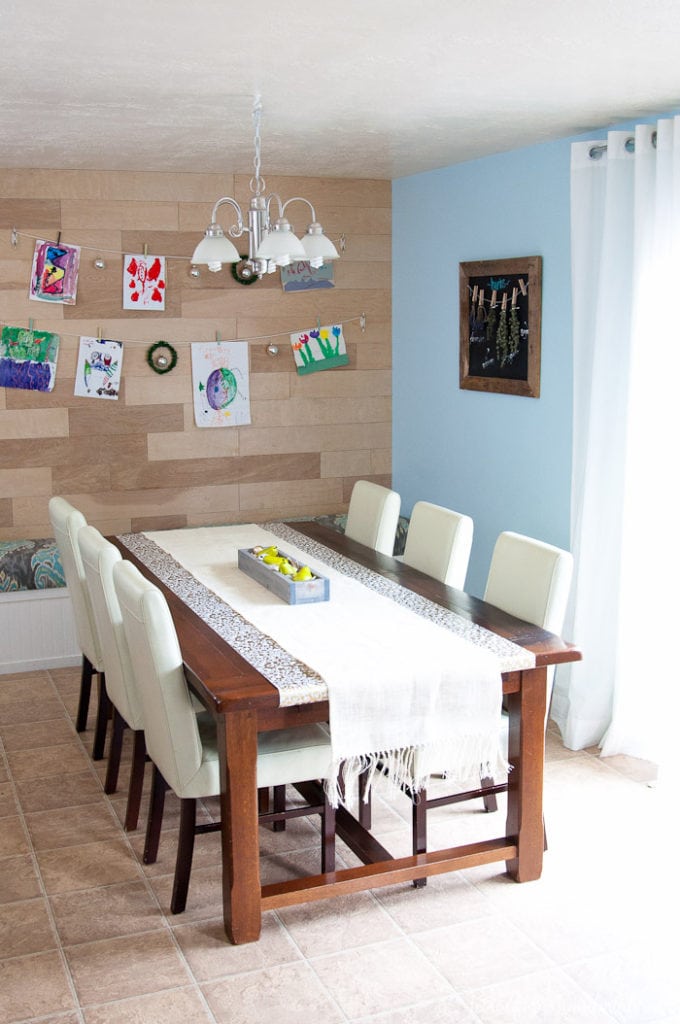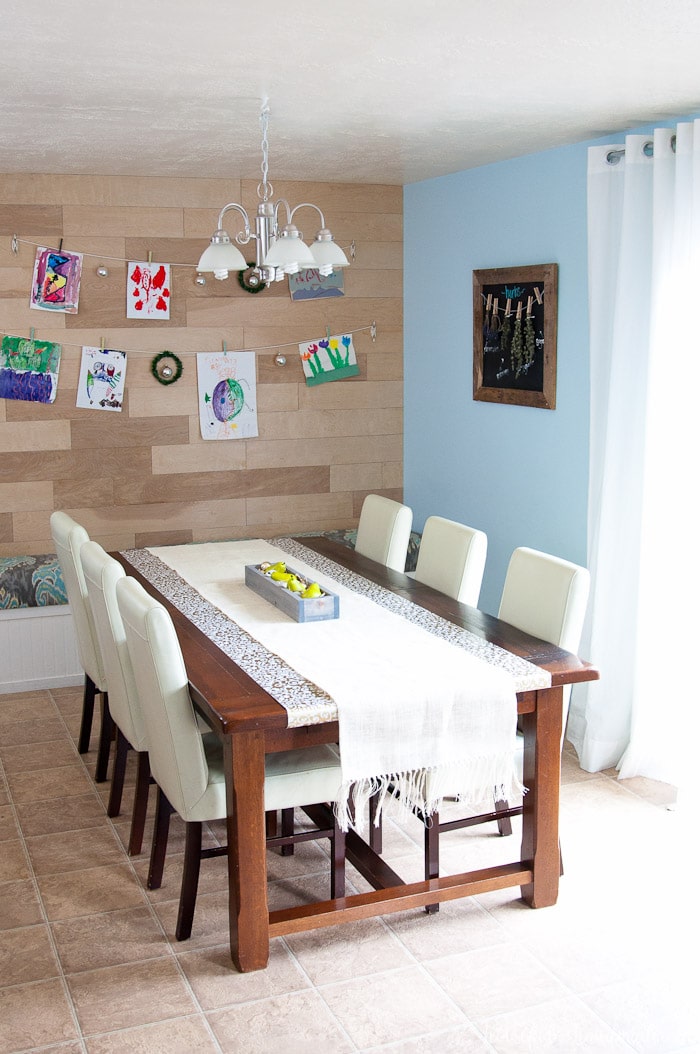 Our dining room is on the other side of the front entry from the living room so it is super visible to anyone coming to visit. This is also the room of our home that gets the most action. We spend a lot of time in this room, besides the regular breakfast, lunch, and dinner, we gather around the table to do homework, play games, make art, and just hang out.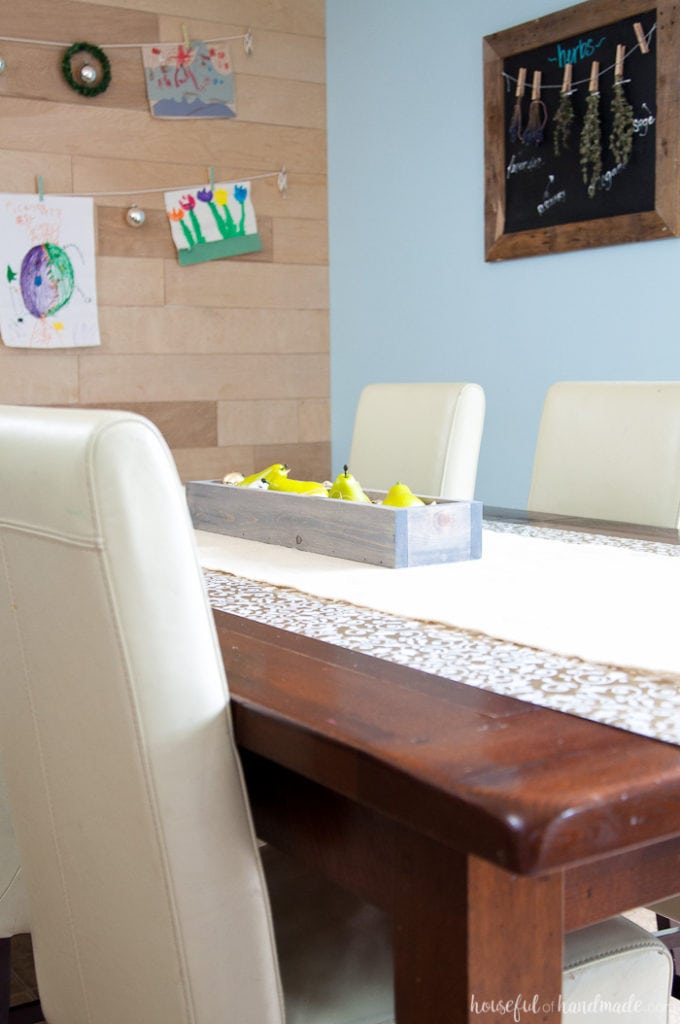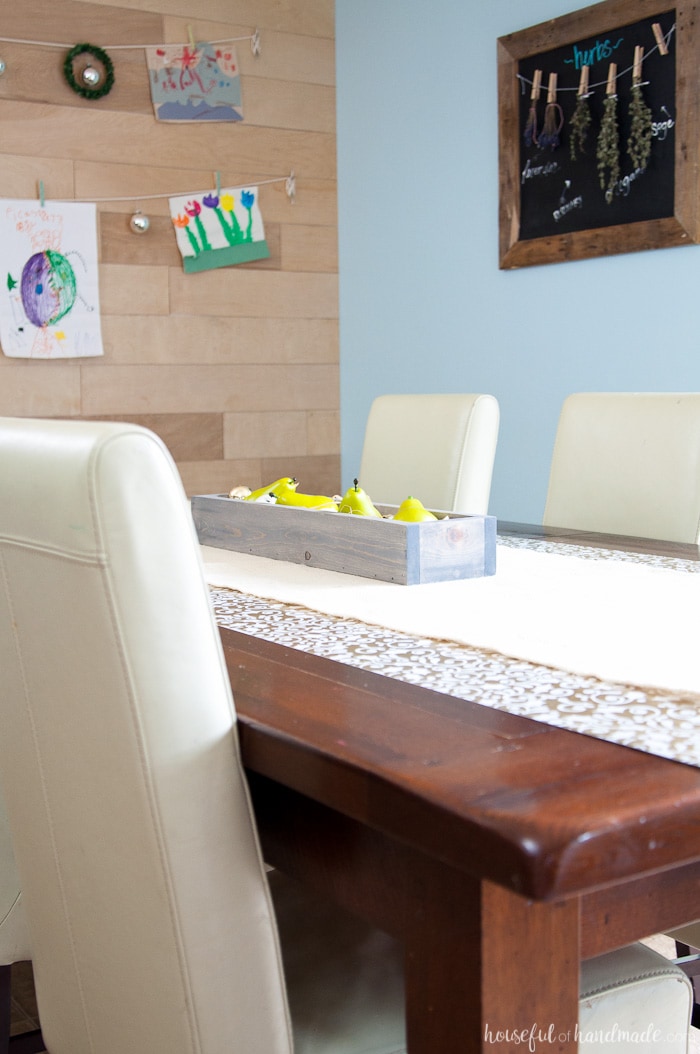 I kept the dining room simple too, mostly because I spent two days last weekend in the ER with my daughter. She is all better now, but that meant less time for decking our halls. My favorite trick for a big impact table runner, is to start with a roll of wrapping paper. I used a gold with white Christmas pattern this time, but for Thanksgiving I used a brown paper with some designs on it. I top it off with this white burlap table runner that I got from Farmhouse40 (and love so much) and it's almost done!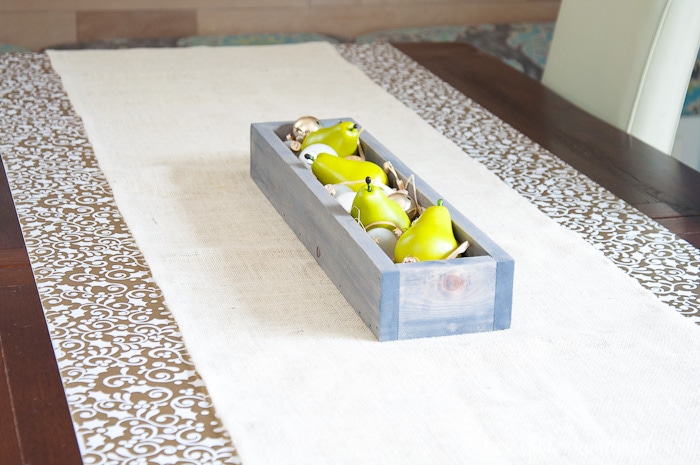 I finished off our simple tablescape with the trough box I made for our Halloween mantle, filled it with a little rattan, pears and Christmas ornaments. Now all we need to do is add a few candles and set the table!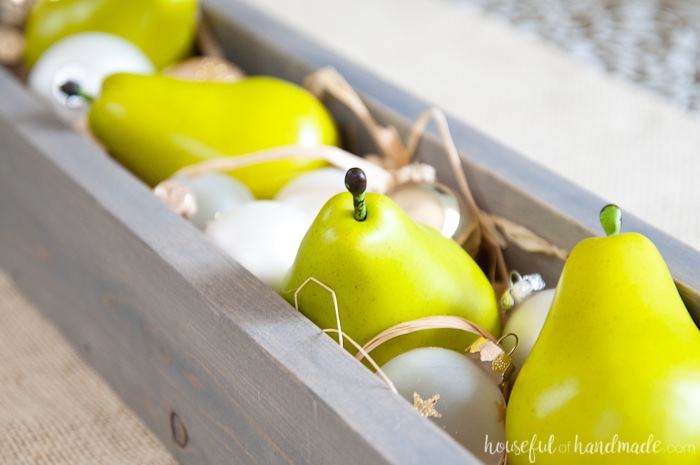 To add a little holiday cheer to our kids gallery wall, I hung a few ornaments and a couple more wreaths. The kids were super excited to have their artwork wall decorated. Doesn't it just look so sweet?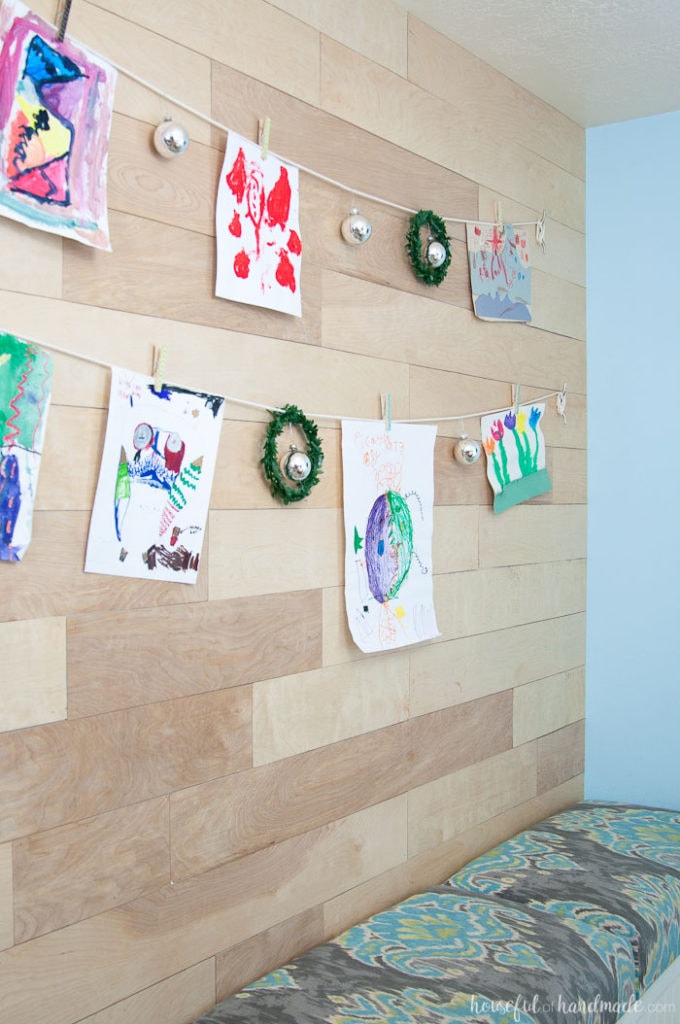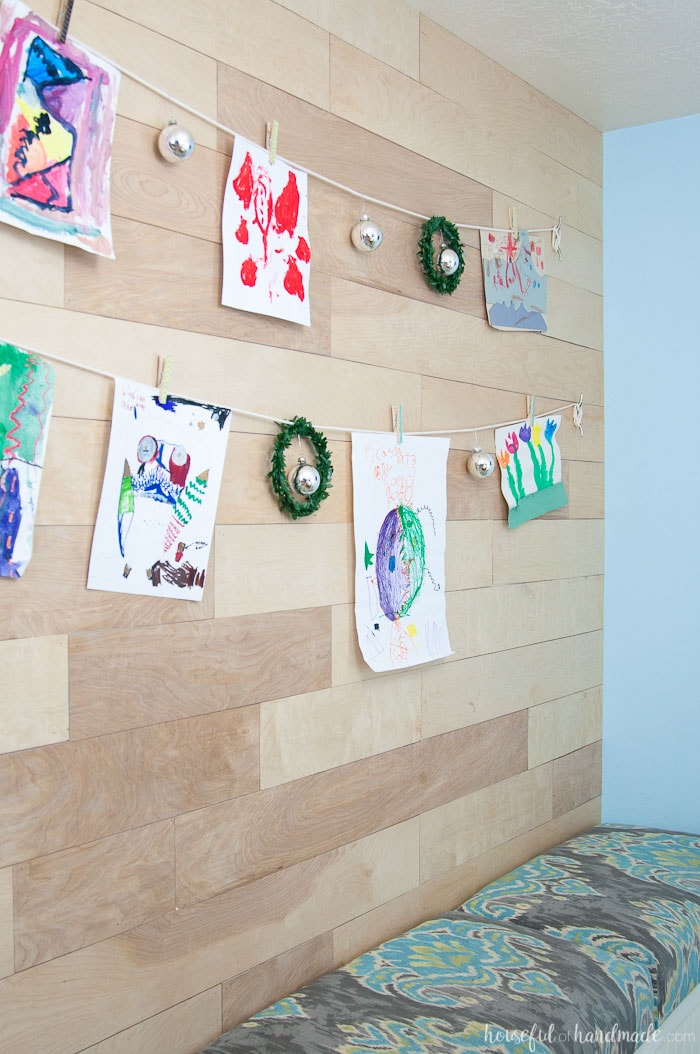 One of the other places I like to add a little holiday decor is our coffee station. This is definitely my favorite place in the house. What can I say… coffee is my happy place!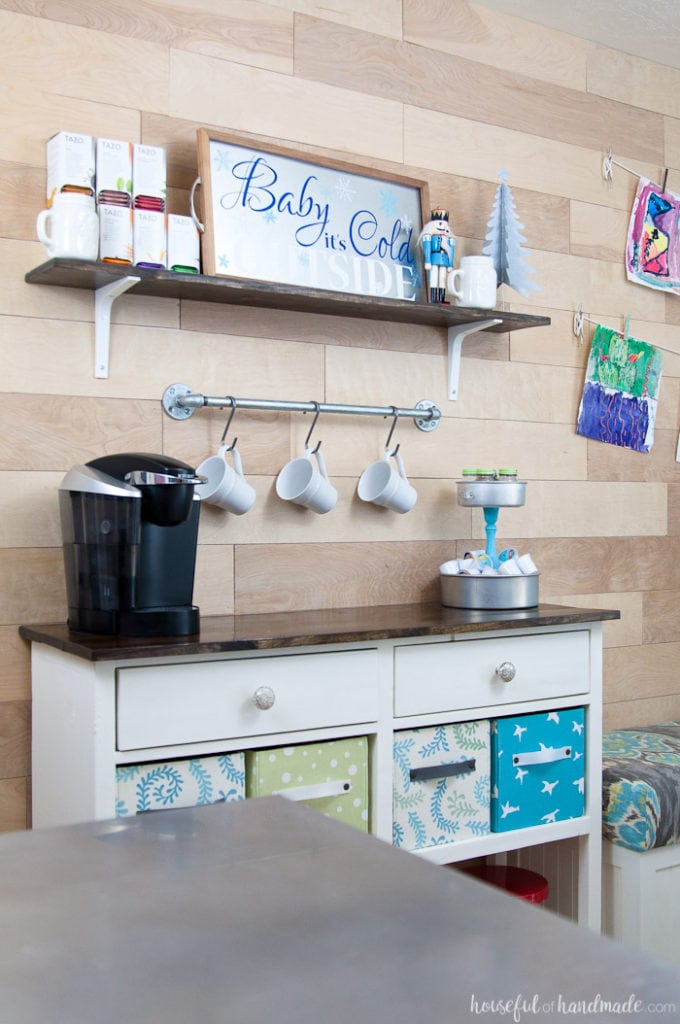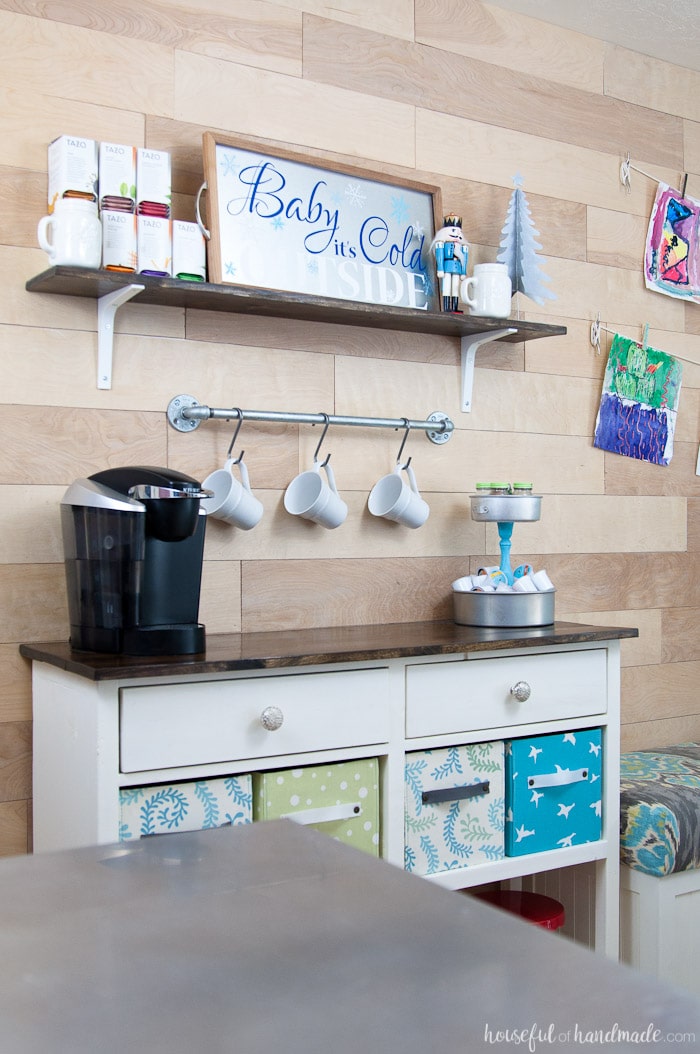 Since coffee is even better when it's cold outside, I turned this wood and steel tray into a Baby it's Cold Outside sign for the shelf. We inherited this nutcracker from my mom last year, and my kids love the nutcracker ever since they saw the ballet, so it had to find a place in our holiday decor. It works perfectly on the shelf too.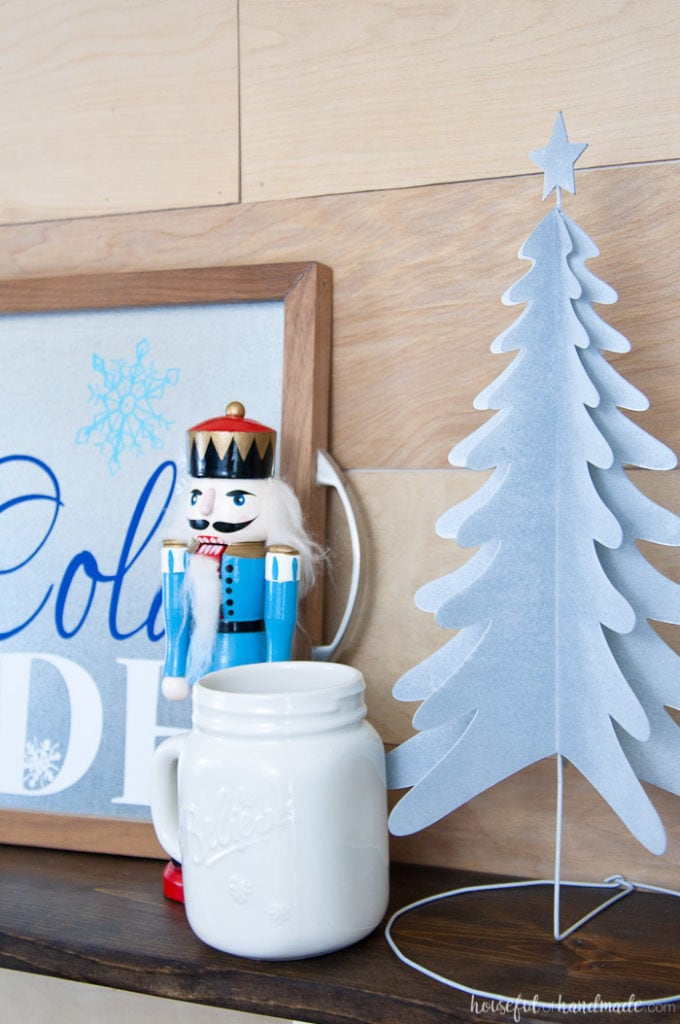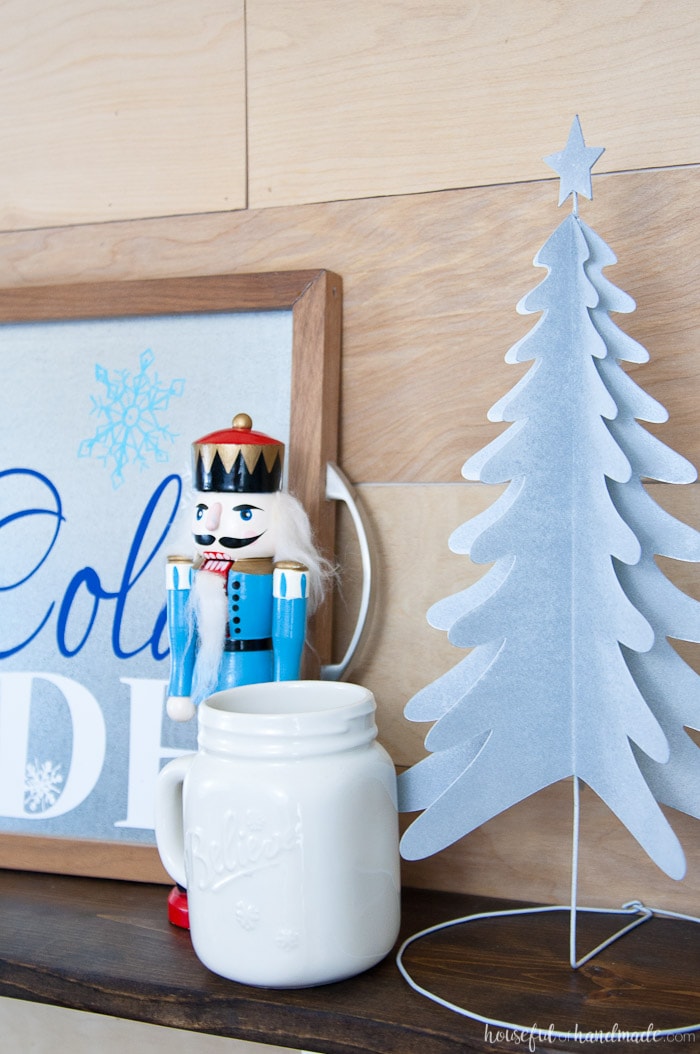 Now we are ready to survive the cold of winter. I am pretty sure we have enough coffee and tea for the next couple months.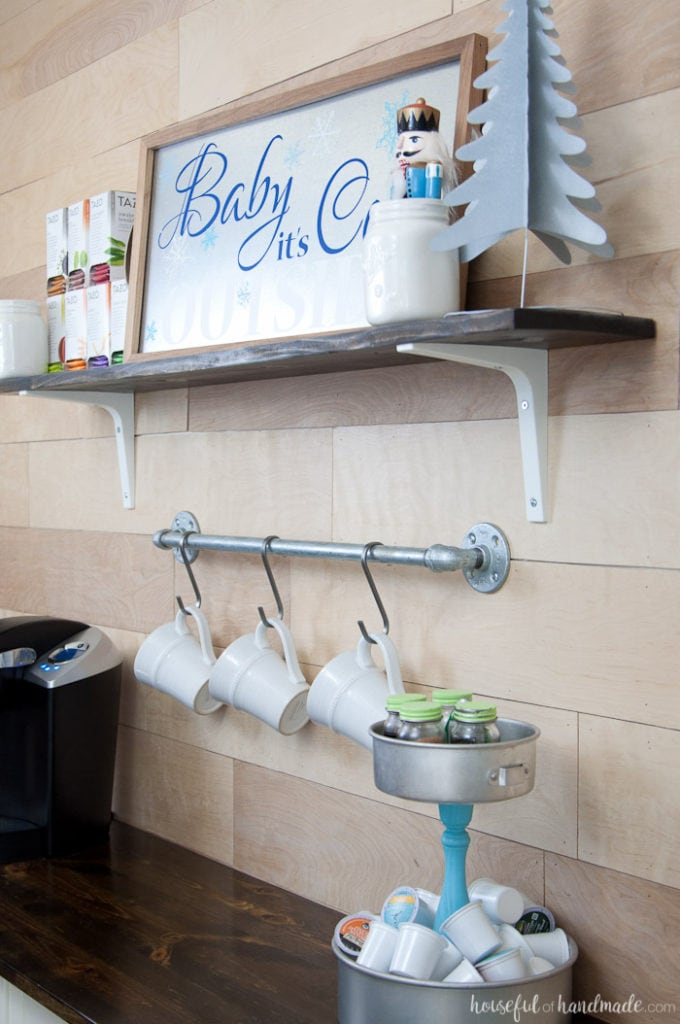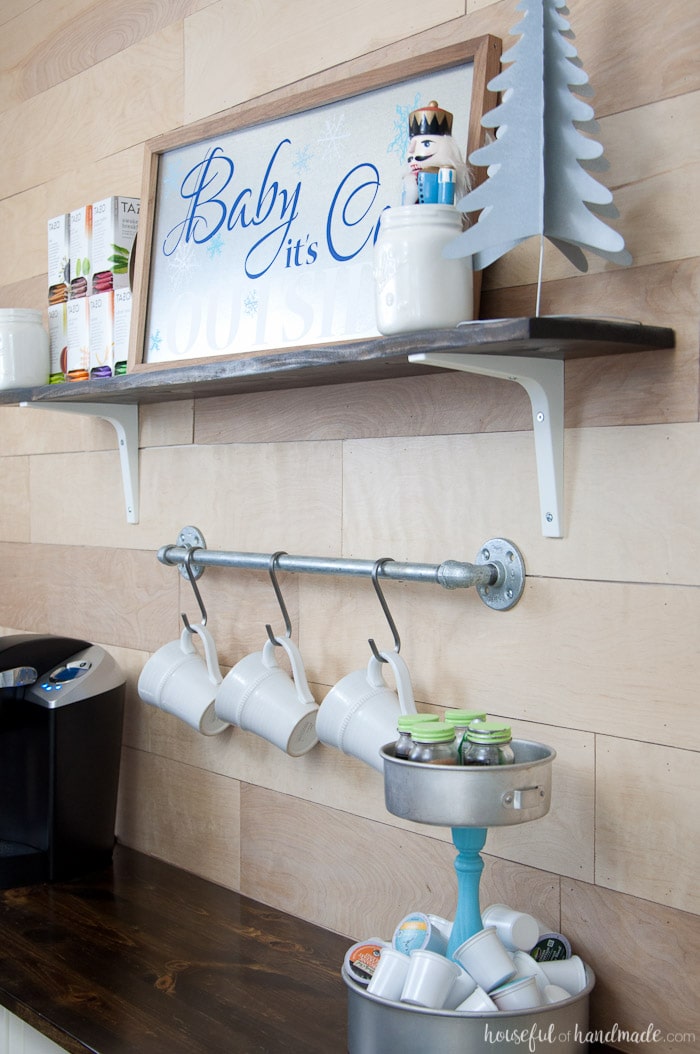 And since I was getting a little wreath happy, I decided to decorate our pot rack for Christmas too. Nothing is safe from a bit of greenery!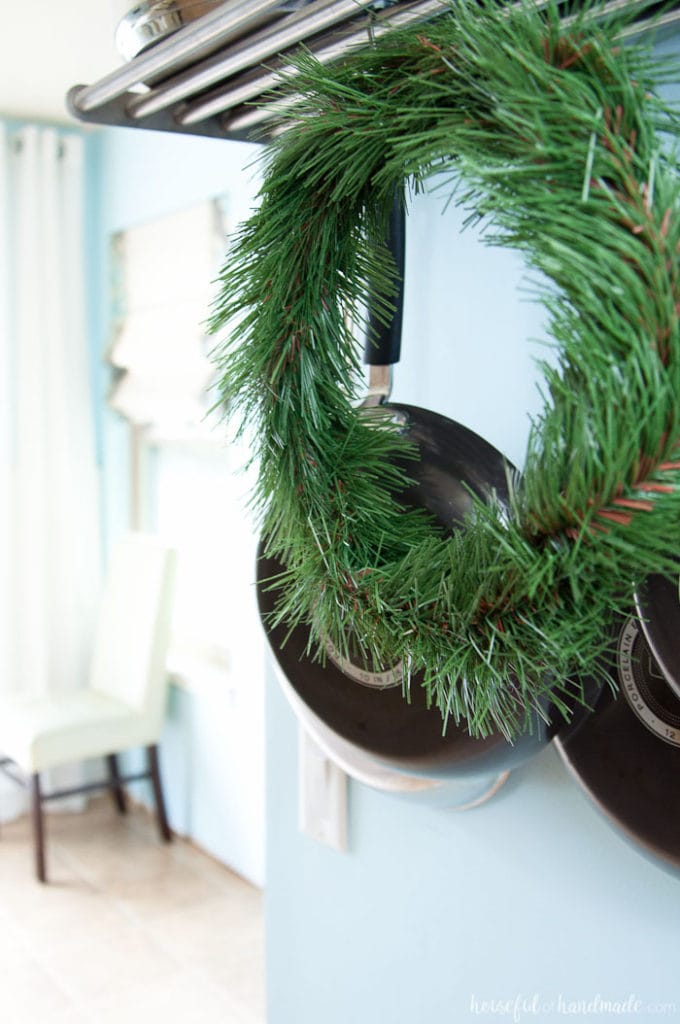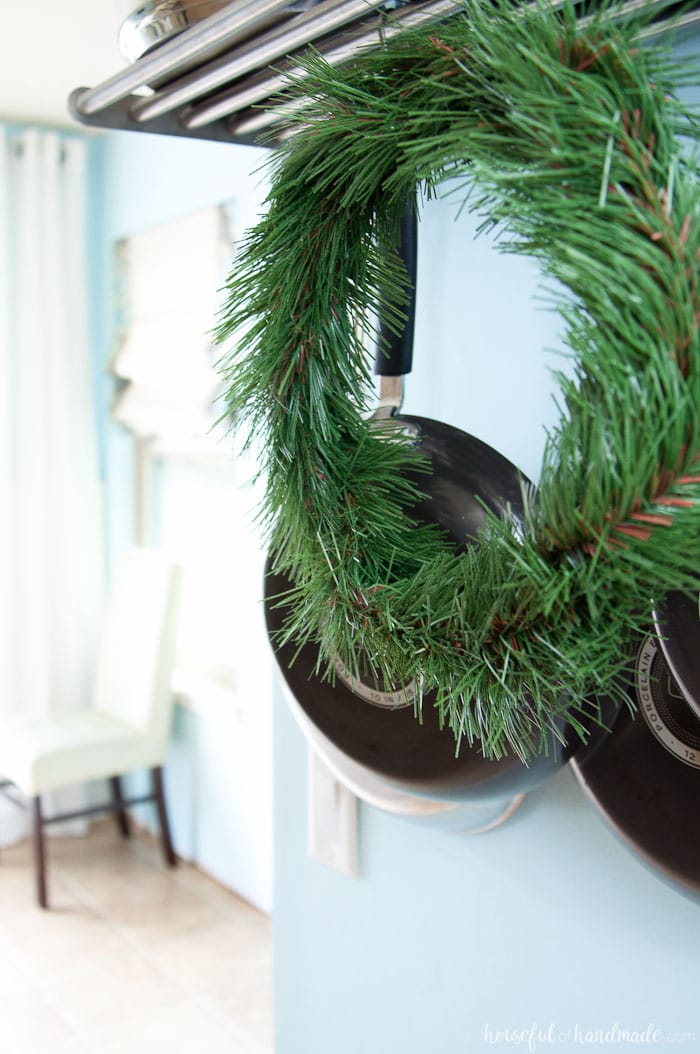 I hope you enjoyed your peek into our home. I had a lot of fun sharing out Christmas home tour with you. But the fun is not over, so refresh your cup of coffee and continue the fun with these other beautiful homes ready for Christmas. They are all sharing their Christmas home tour today too!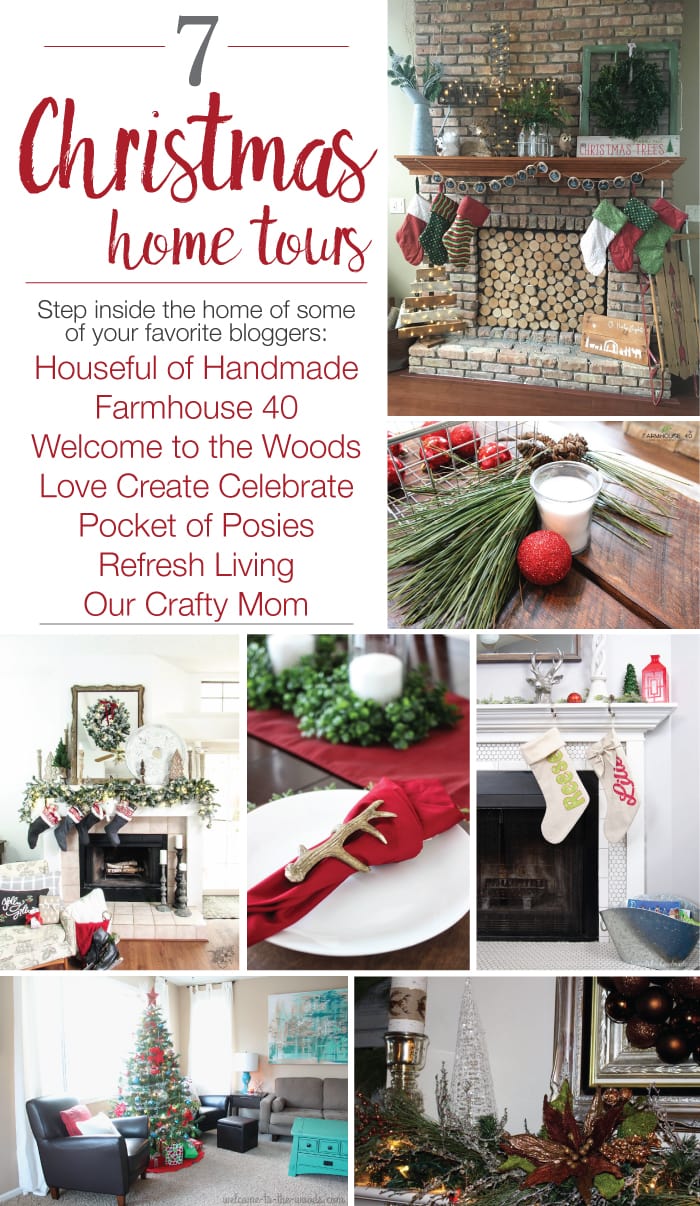 Houseful of Handmade || Farmhouse 40 || Welcome to the Woods || Love Create Celebrate
Pocket of Posies || Refresh Living || Our Crafty Mom