I am so excited to share our Classic Christmas home tour!
This year I joined some amazing bloggers for the Very Merry Christmas Home Tour hosted by Carrie from Lovely, Etc. Welcome everyone coming to visit from Jen at The Striped House. And when you are done checking out our Christmas tour, make sure to complete the hop by visiting the next person on the list.
This year for Christmas I wanted to decorate with classic Christmas decor. Red's and greens, lots of garland, and a little bit of whimsy. And it is so much fun to decorate your home with things that have lots of Christmas memories.
Part of the Christmas magic is filling your home with items that bring back memories of Christmas past. I love seeing the kids get excited about certain things, or even better, when they ask when we can put them out!
On the drive home from Thanksgiving dinner, my daughter asked "Can we put up the Letters to Santa mailbox tonight?" You better believe I pulled it out of storage and hung it up immediately. The kids smiles when they saw it hanging in the dining room the next morning was worth it.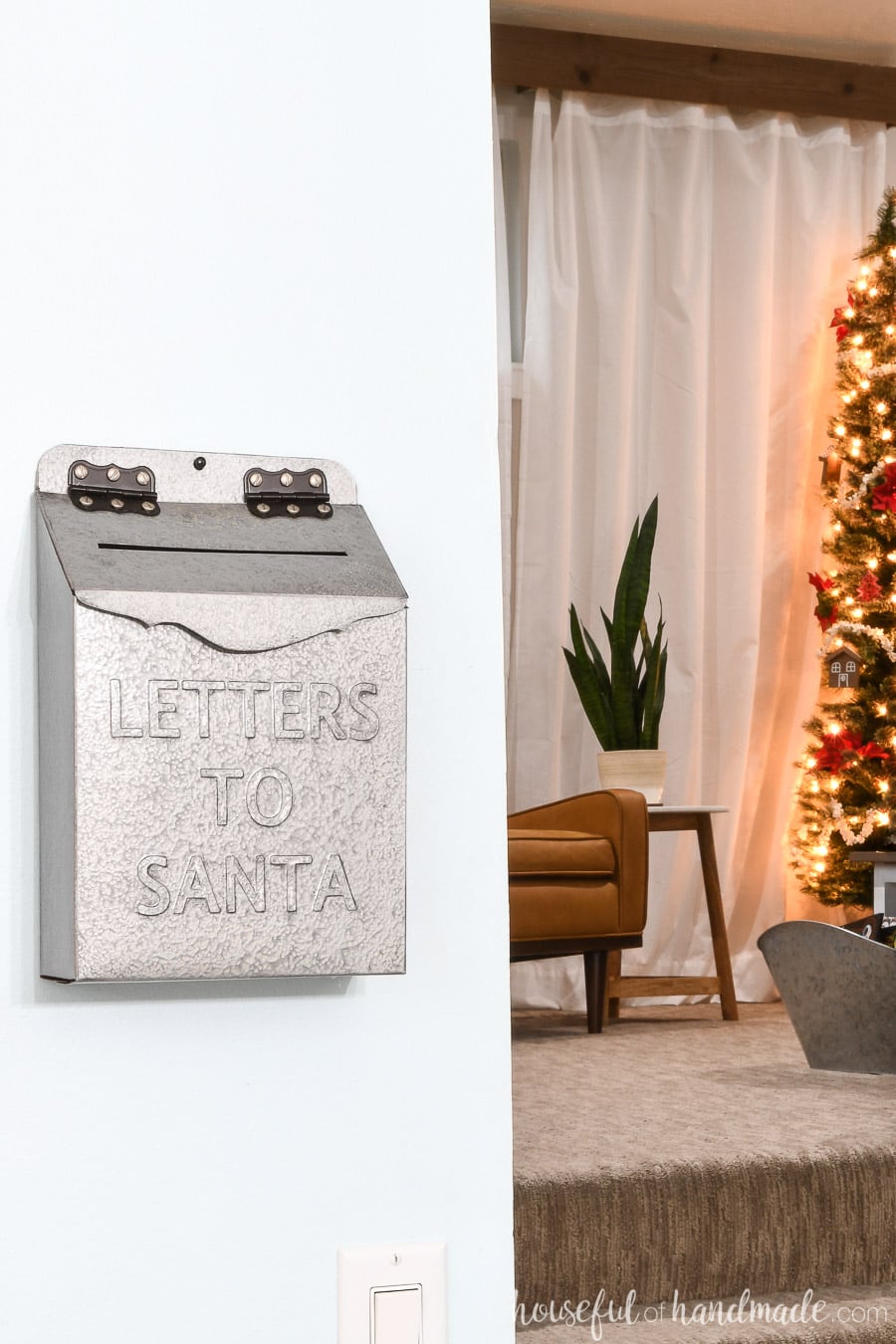 Decorating the Dining Room for Christmas
This year I was really excited to have a hutch to decorate for Christmas. It's always been on my wish list. I used our new dining room hutch to display some Christmas dishes. A collection of found items from the years is the perfect way to bring Christmas memories to the kitchen or dining room.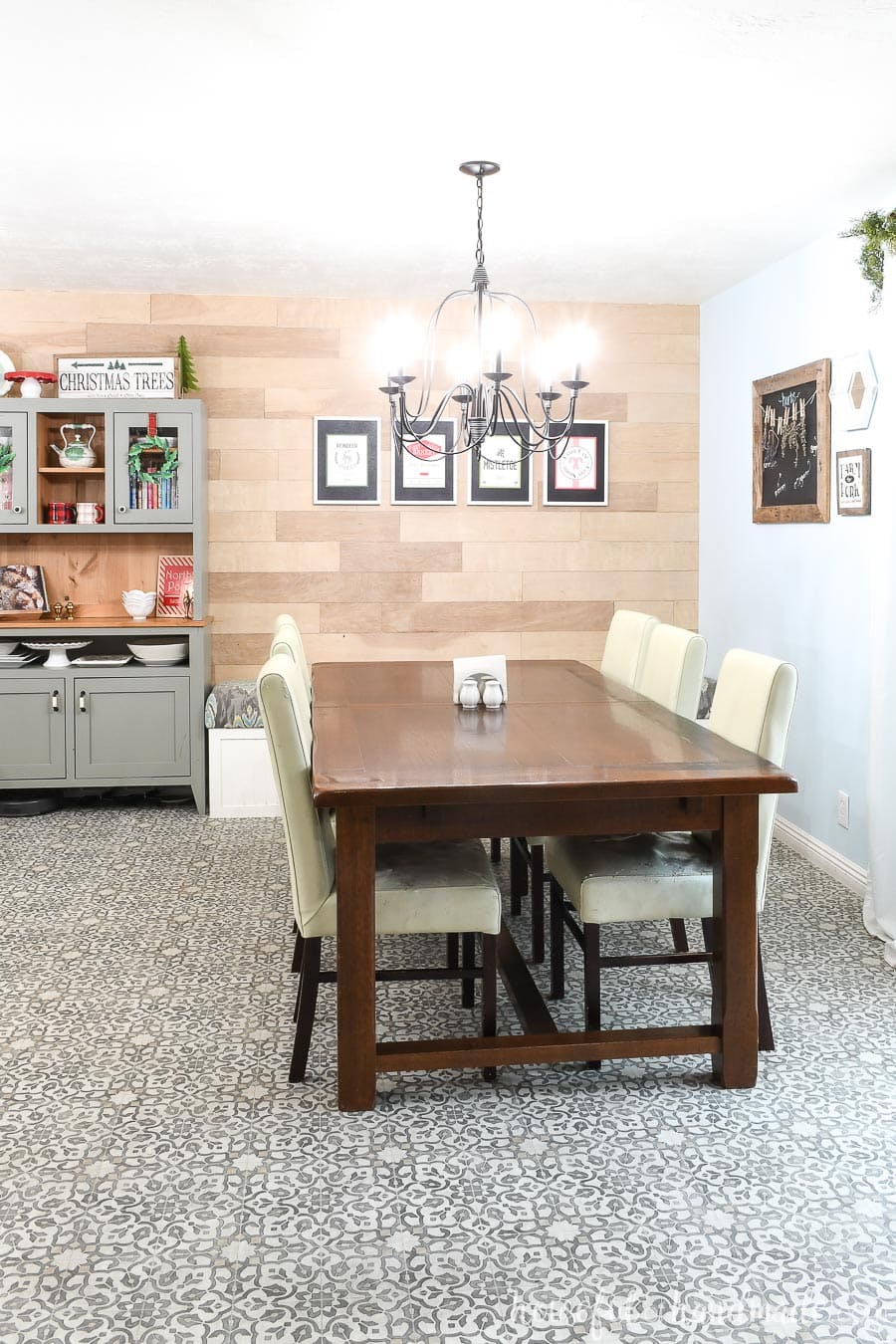 And then I hung our new paper holly wreaths on the cabinet doors. It looks exactly like Christmas. We are going to have so much fun using it for all our Christmas cooking!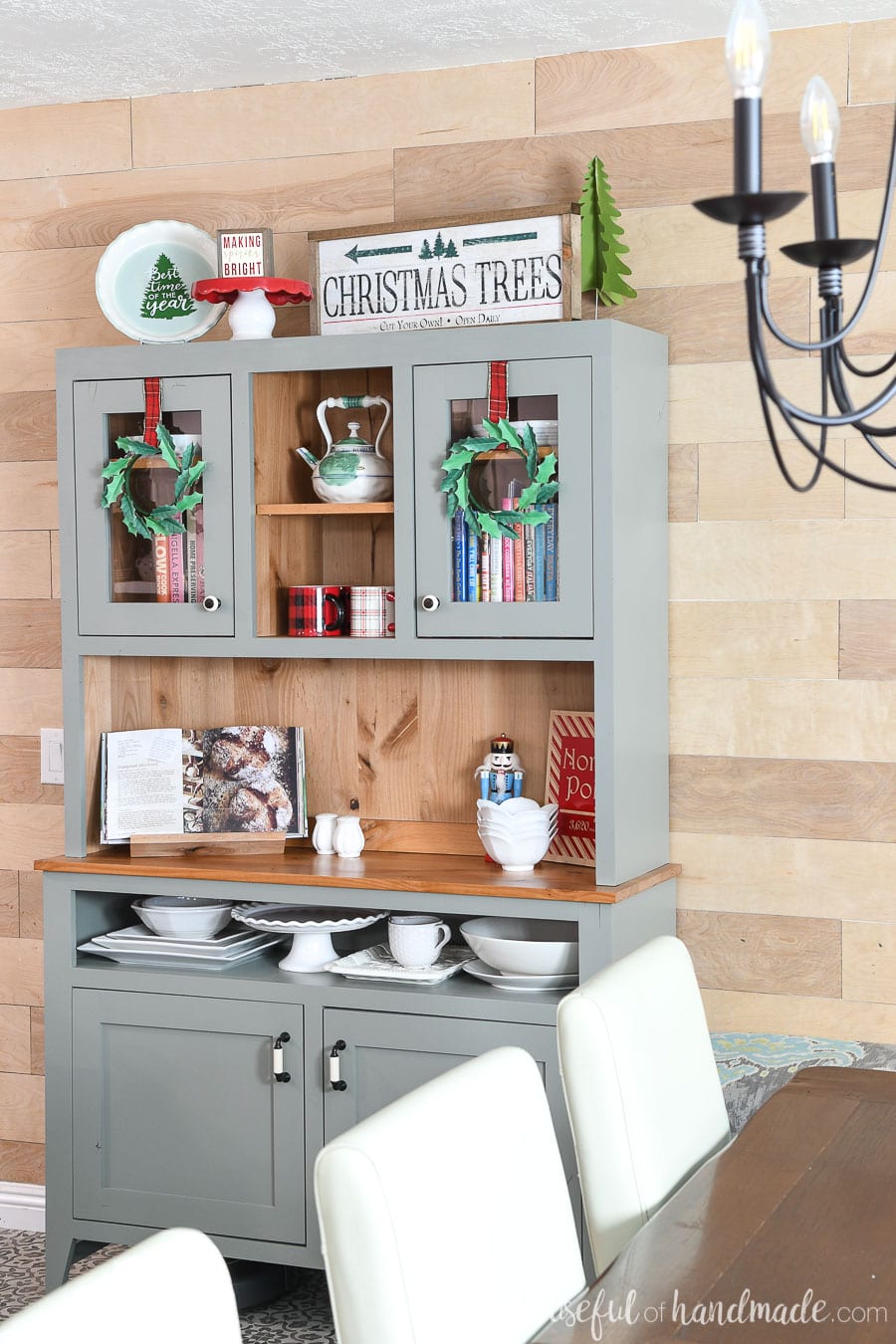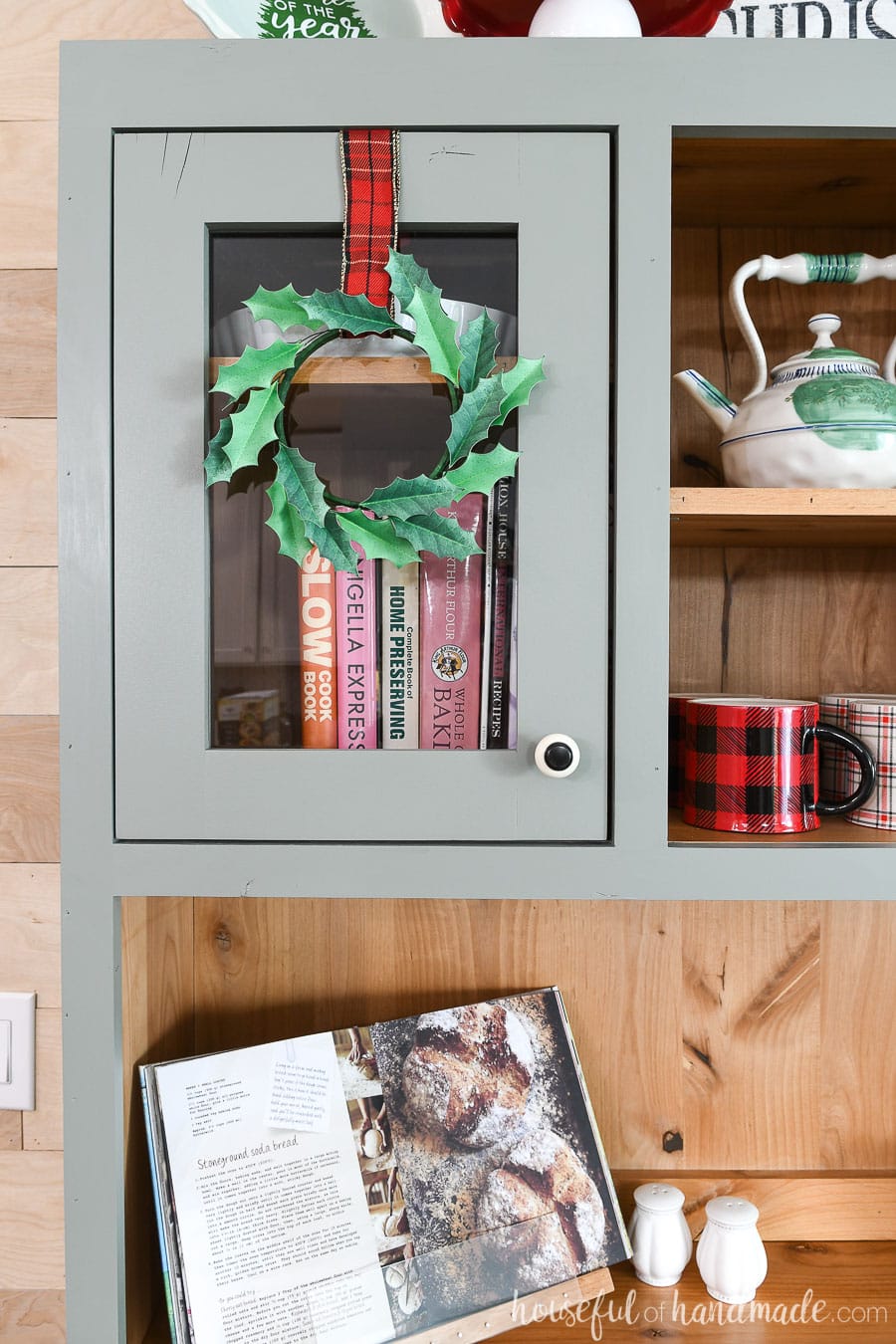 I also wanted to add some Christmas touches to our new blue & white two tone kitchen. I started with a few trees and a nutcracker from my childhood on the open shelves.
But sadly I ran out of time and that is all the Christmas decorations the kitchen has. I have plans to add wreaths to all the cabinet doors (I have always wanted to do that!). Hopefully I will get some time to add more Christmas to the kitchen and can do a mini tour of it next week.
Saving Space with Pencil Christmas Trees
This year for Christmas I decided I needed to add a few more Christmas trees to our Christmas decor. One tree is awesome, but 3 trees is even better! However, the decision to add more trees was actually for a good reason.
Our living room is very long and narrow, every year I have to completely rearrange furniture to squeeze a Christmas tree in there. And as much as I love having the Christmas decorations up, I would always want that tree down as soon as possible. The room was just too cramped.
But now they make pencil Christmas trees. These beauties are full height Christmas trees but way more narrow than even a narrow tree! I couldn't resist a 60% off sale and bought not one, but 2 (and for less than $100 total). I was able to fit the new Christmas tree in the living room and only needed to move the table and chair about a foot to the side.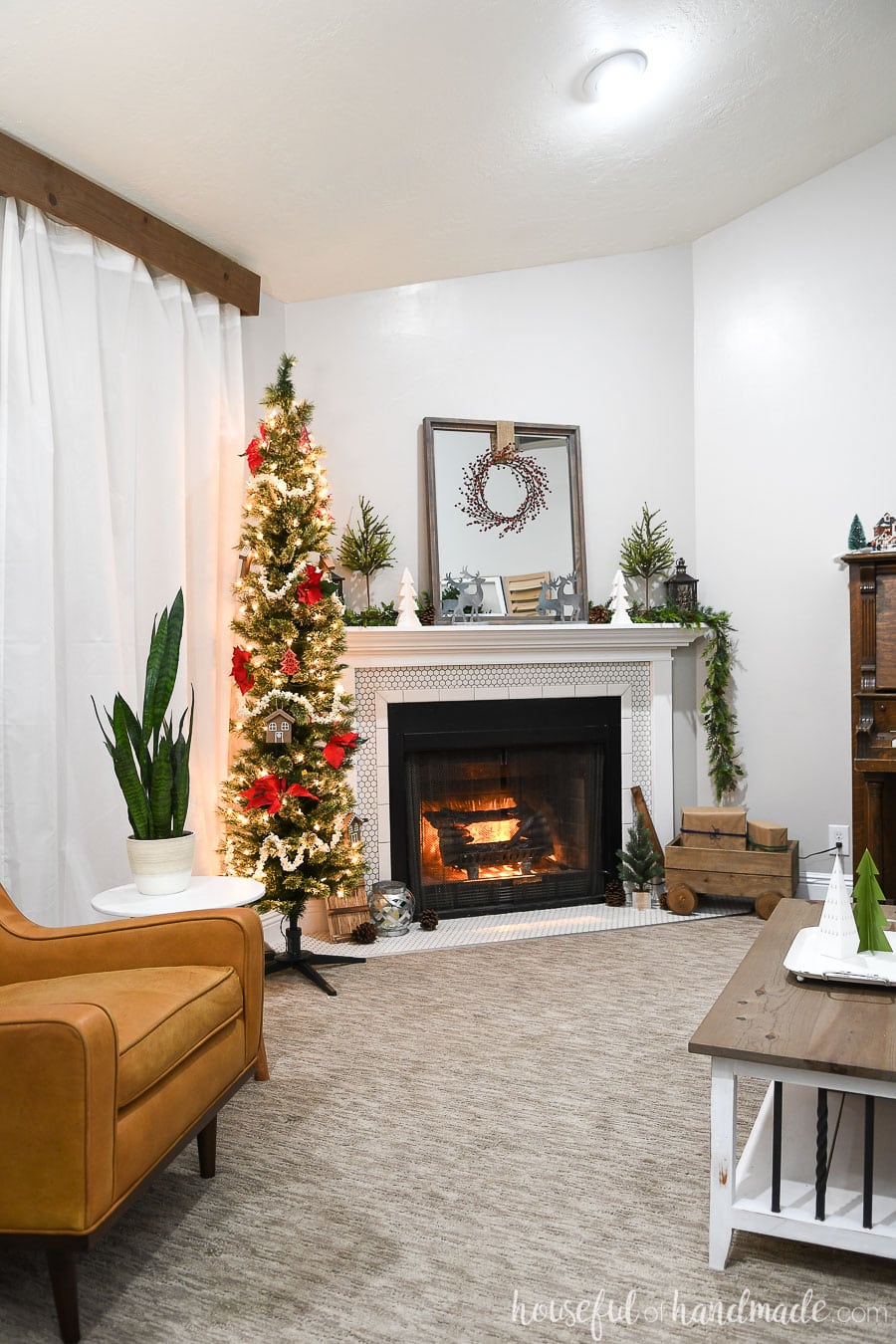 And the second pencil tree was perfect for adding some more magic of Christmas to the dining room! Who wouldn't want a Christmas tree in the dining room.
I was able to decorate this one with all my favorite fragile ornaments. Which made the tree mostly glass and silver. And I love it!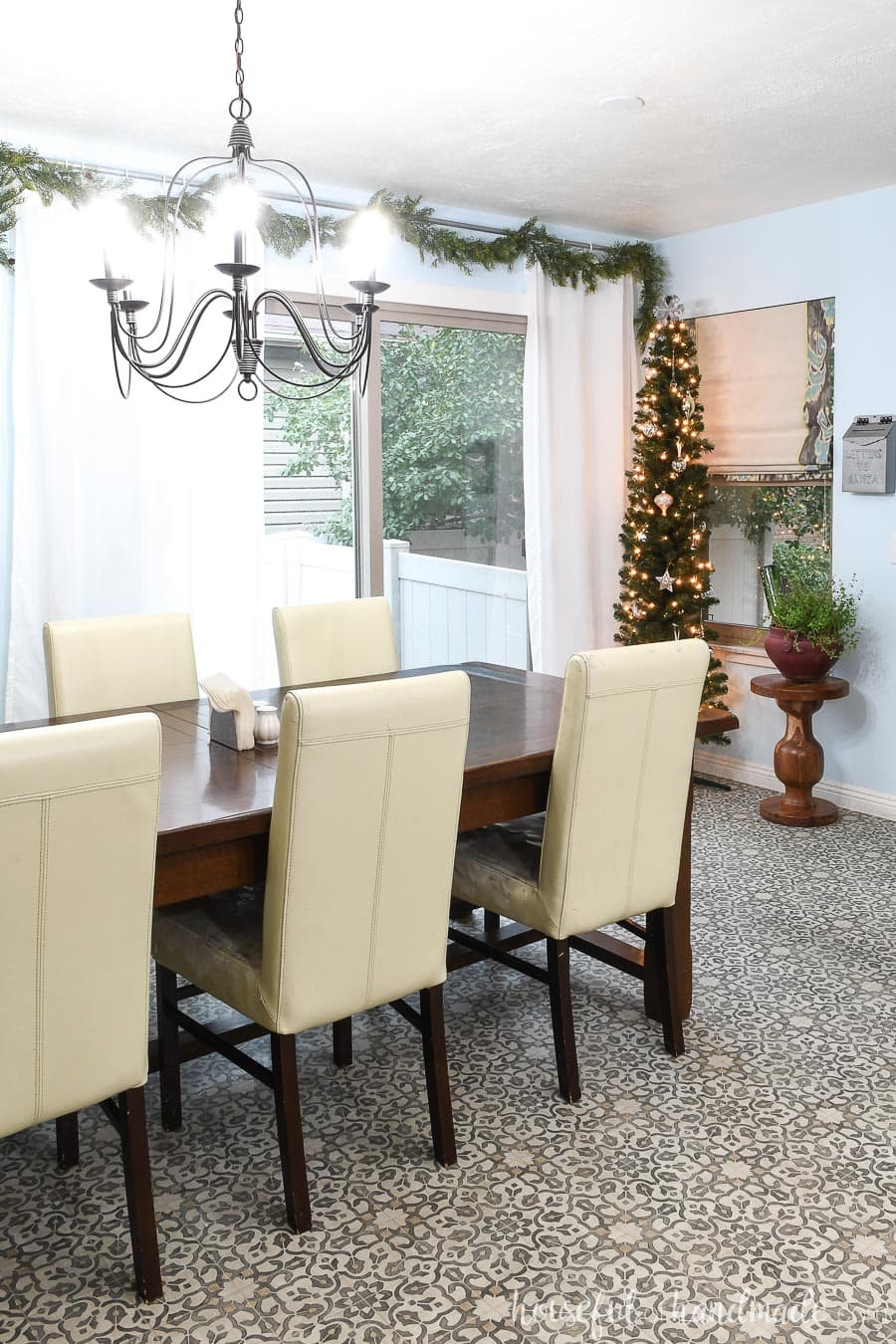 The last bits of Christmas in the dining room were the fun printable Christmas signs that I made. The simple art prints are perfect to fill in our 4 picture frames on our wood wall.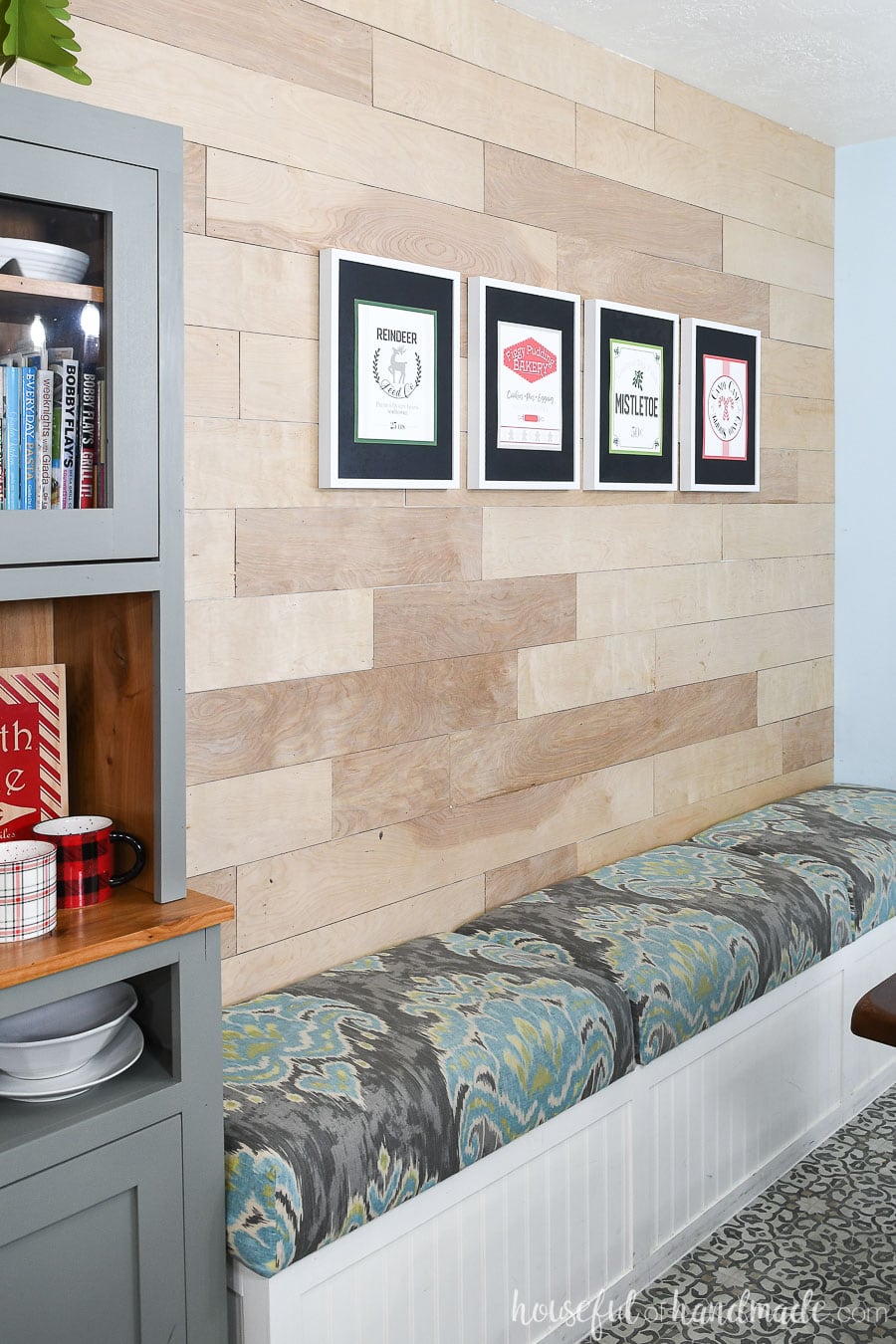 Decorating the Living Room for Christmas
The living room is always where I add the most Christmas decor… starting with the Christmas tree.
For our classic Christmas home tour, I wanted the tree in the living room to be decorated with a bit of an old-fashioned feel. I strung popcorn for a garland. Added poinsettia flowers (clipped from a $5 faux poinsettia plant) and made gingerbread house ornaments out of recycled grocery bags. How's that for decorating a Christmas tree on a budget!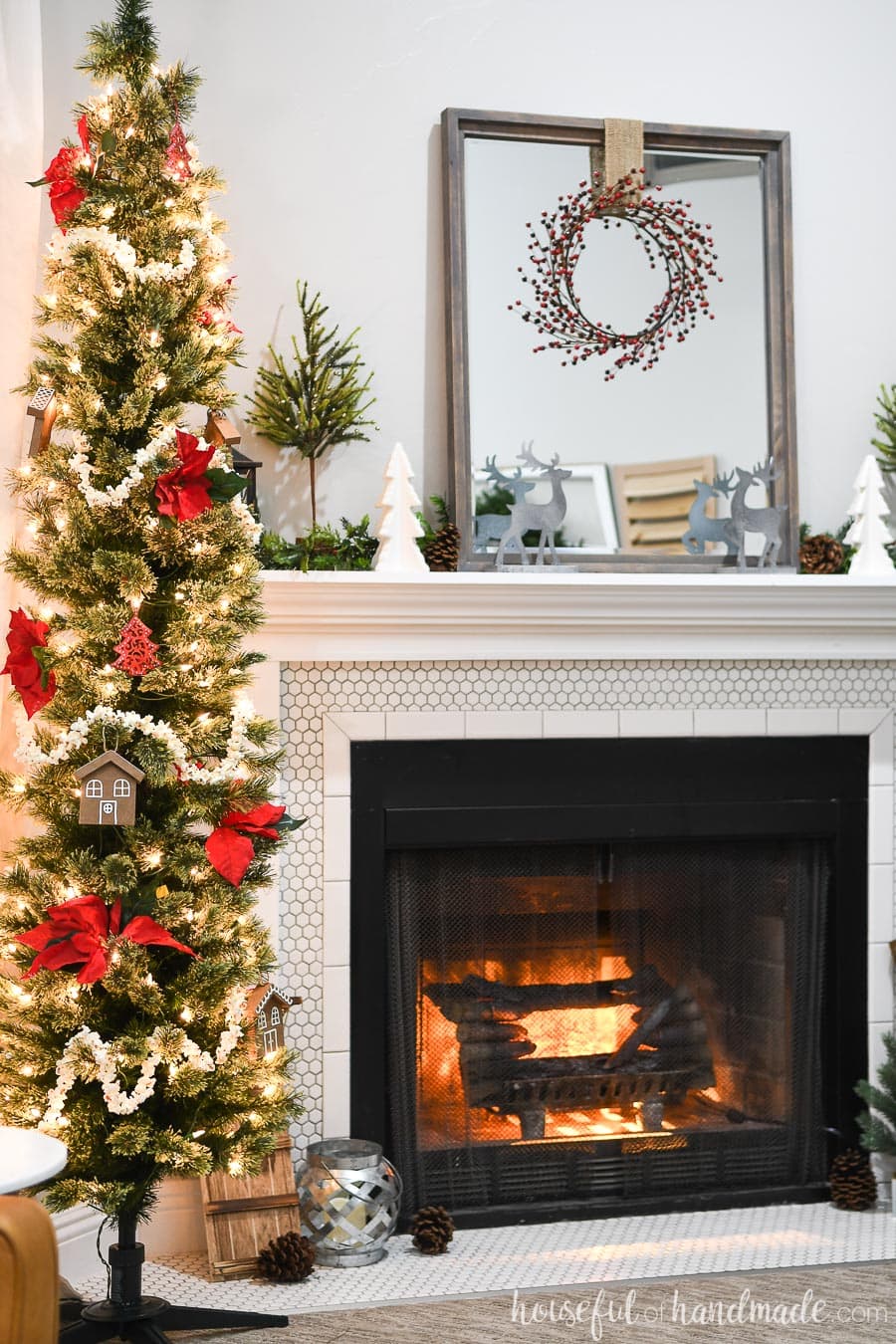 And our Christmas mantel was decorated with more classic touches. You can get all the details of the Classic Christmas mantel decor here.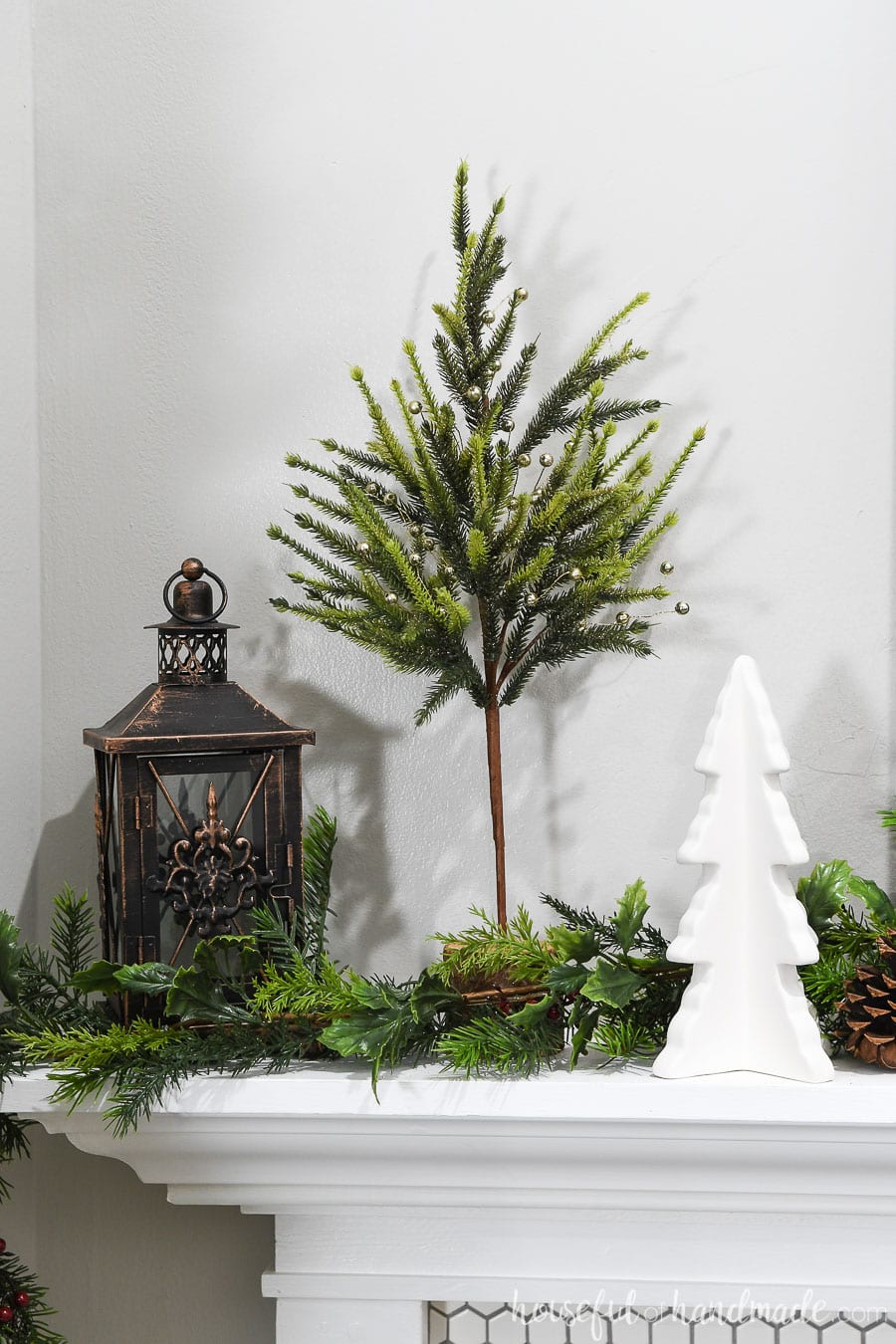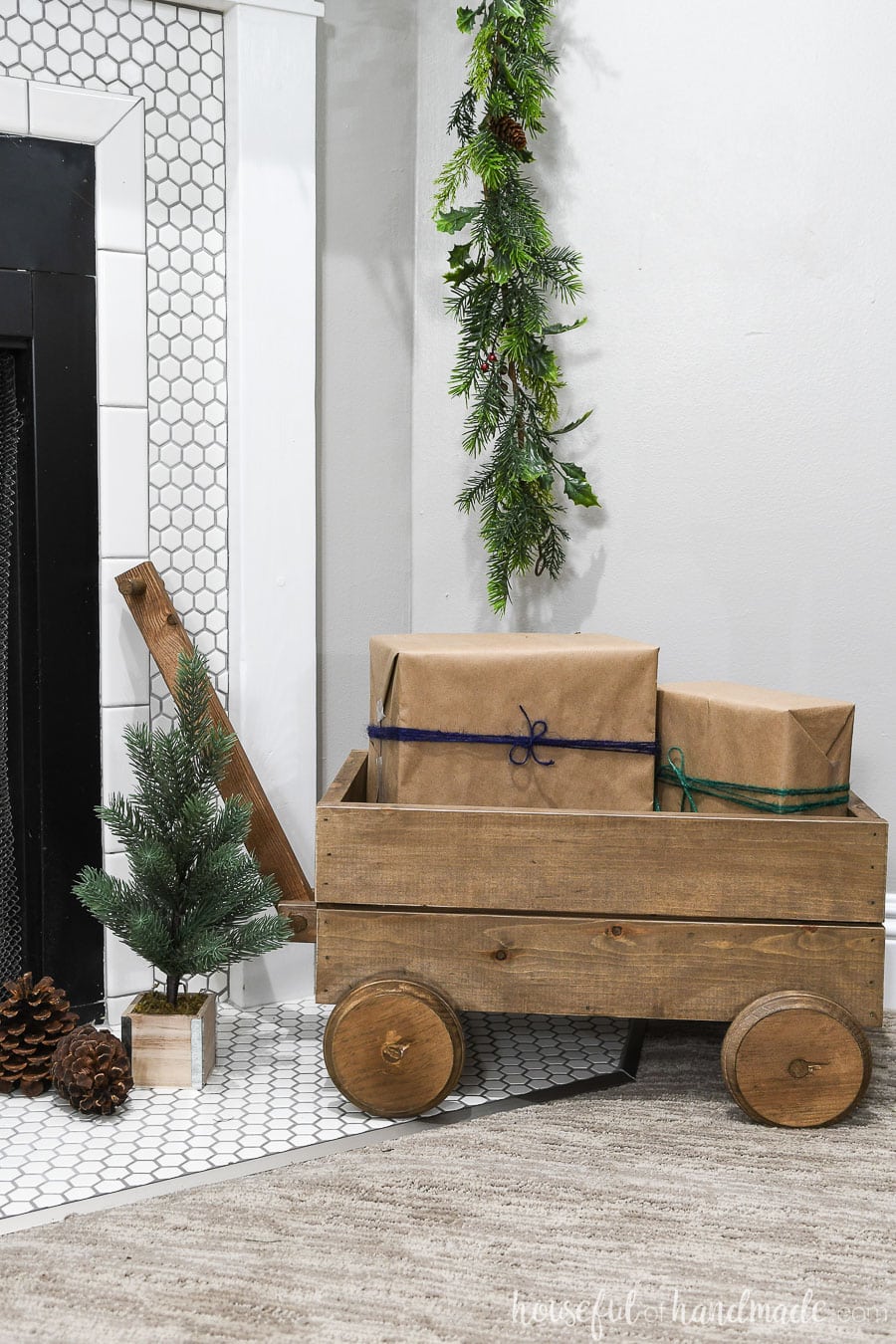 I love changing out the pillows on the sofa each season. It's such an easy way to add some seasonal decor. And if you just change out the pillow cover, it makes for very little to store!
This year I made these pillows from fabric I printed at SpoonFlower. Recognize the art??? Yep, that is the same Christmas village signs that are hanging in the dining room. I made the signs into 18×18 pillow forms with plaid or buffalo check backs. All 3 fit on 1 yd of fabric. Then I had it printed and sewed up the simple pillow covers. How cute are they?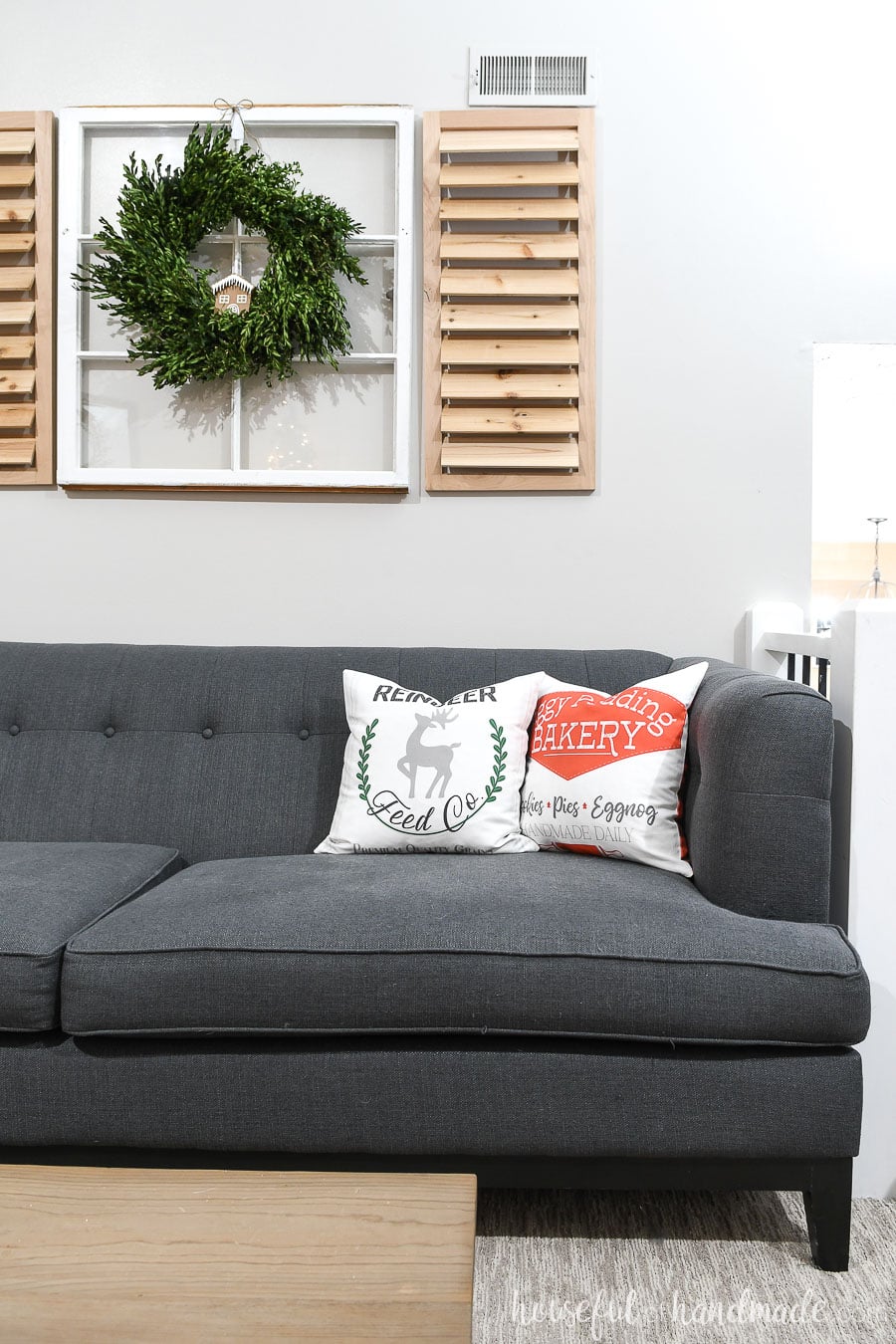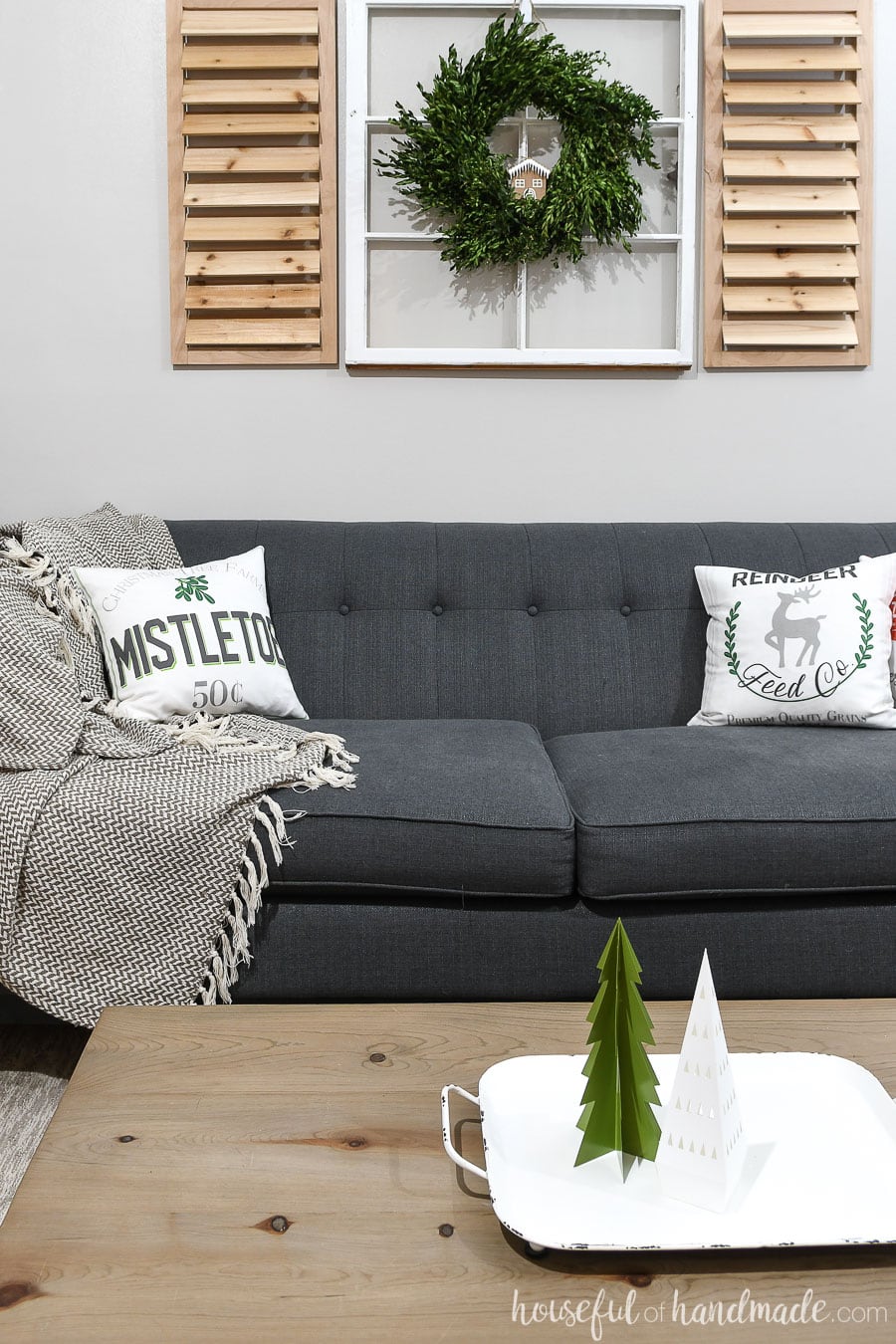 On the other side of the sofa is our piano. This year I decided the top of the piano was the perfect place to display our classic Christmas village. I always loved seeing the Christmas village at my grandparents house growing up and so when my kids asked for one, I couldn't resist.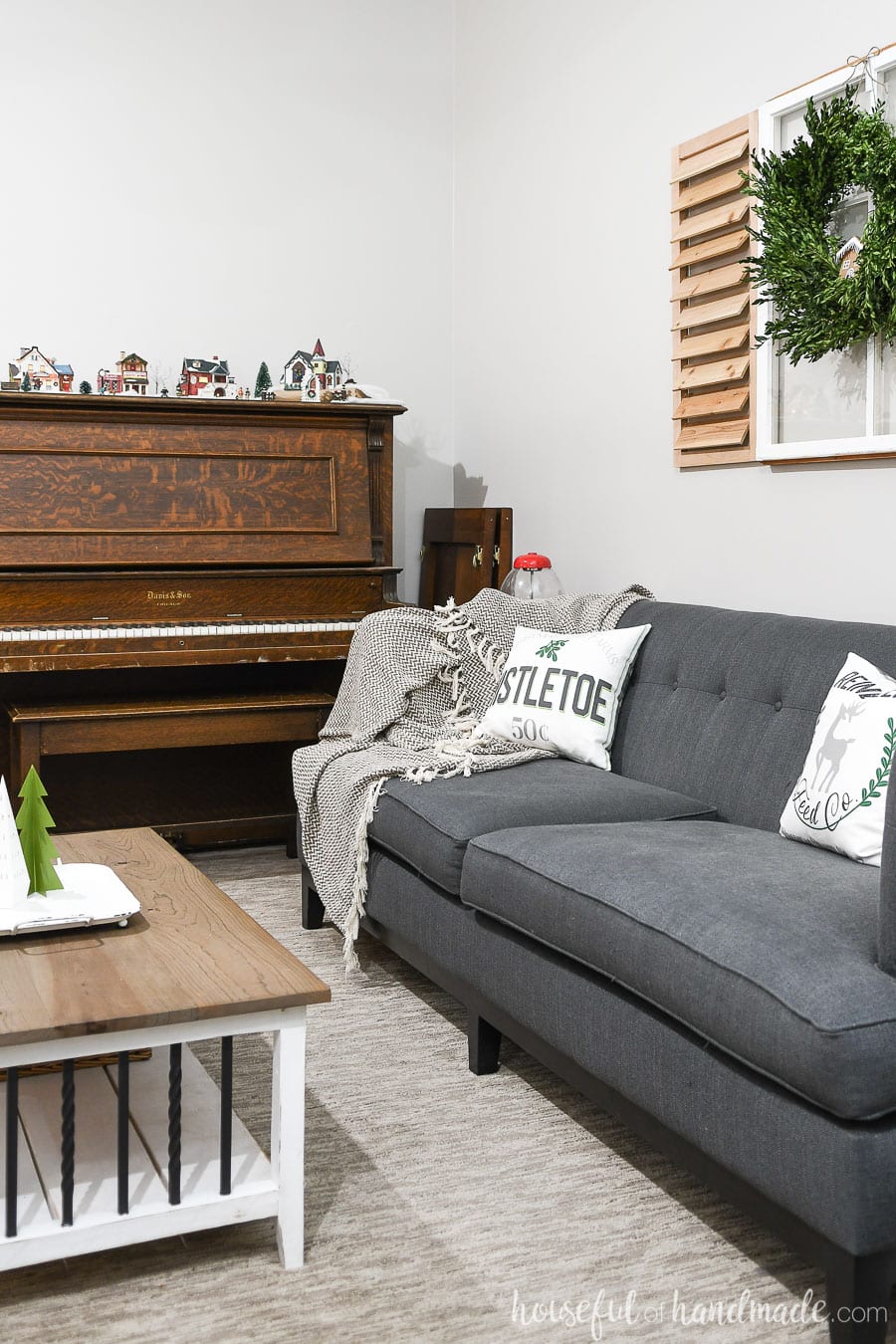 But these little villages are expensive! Instead of buying them full price, I stalked the thrift stores. One day I got really lucky, someone must have just cleaned out their attic and all 5 of these houses were there on a shelf. And even better, there was a 50% off seasonal decor sale going on. Then I added some inexpensive people and trees and the kids love playing with it every year.
Being on top of the piano will hopefully keep tiny visiting hands from breaking anything, but my kids can easily stand on the piano bench to play out their Christmas stories.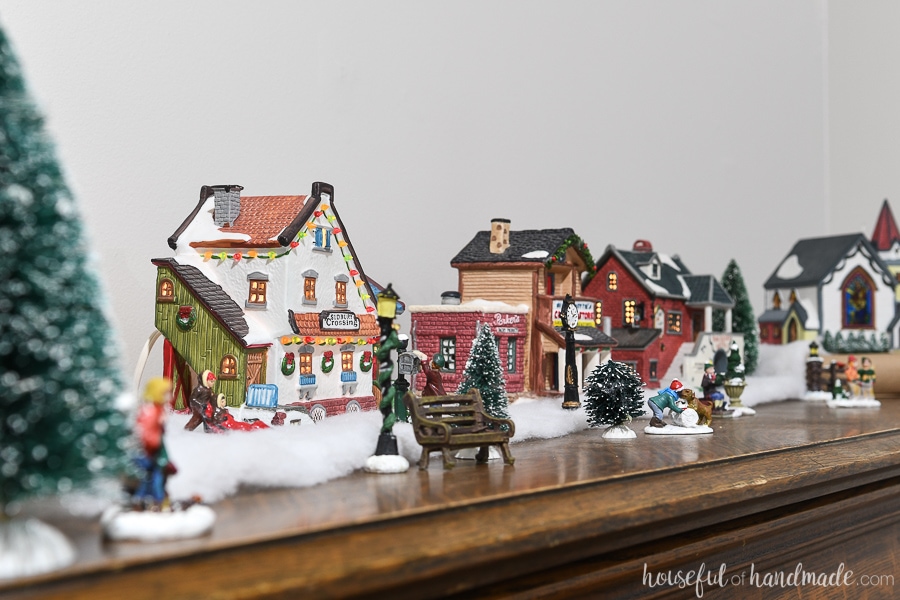 On the other side of the living room, I added a few Christmas touches with these easy paper Christmas trees. I love these paper trees and want to keep making more. You can never have too many… right?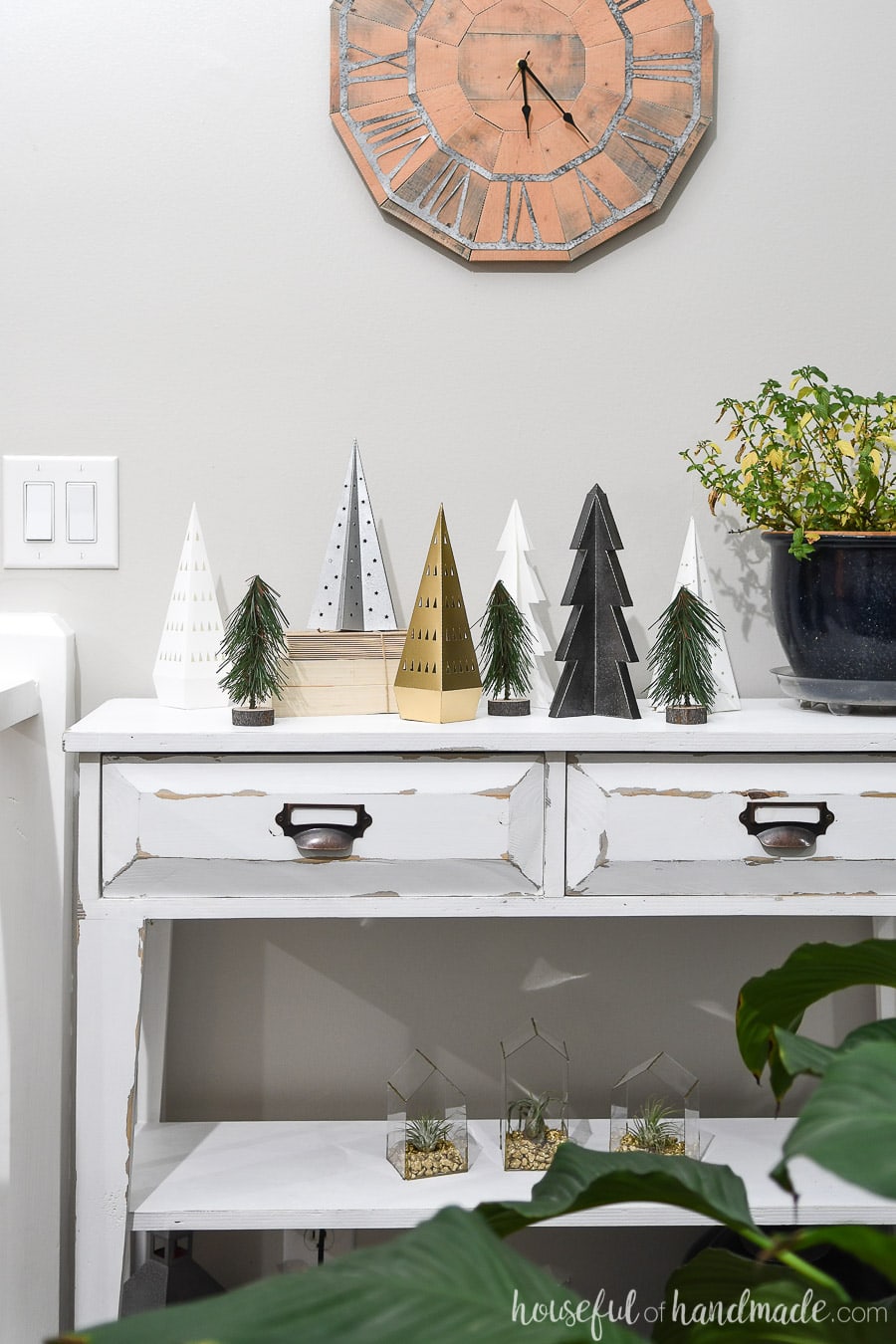 And now our house is feeling very cozy and Christmasy! I love the warm glow of the Christmas trees and the crackling of the fire.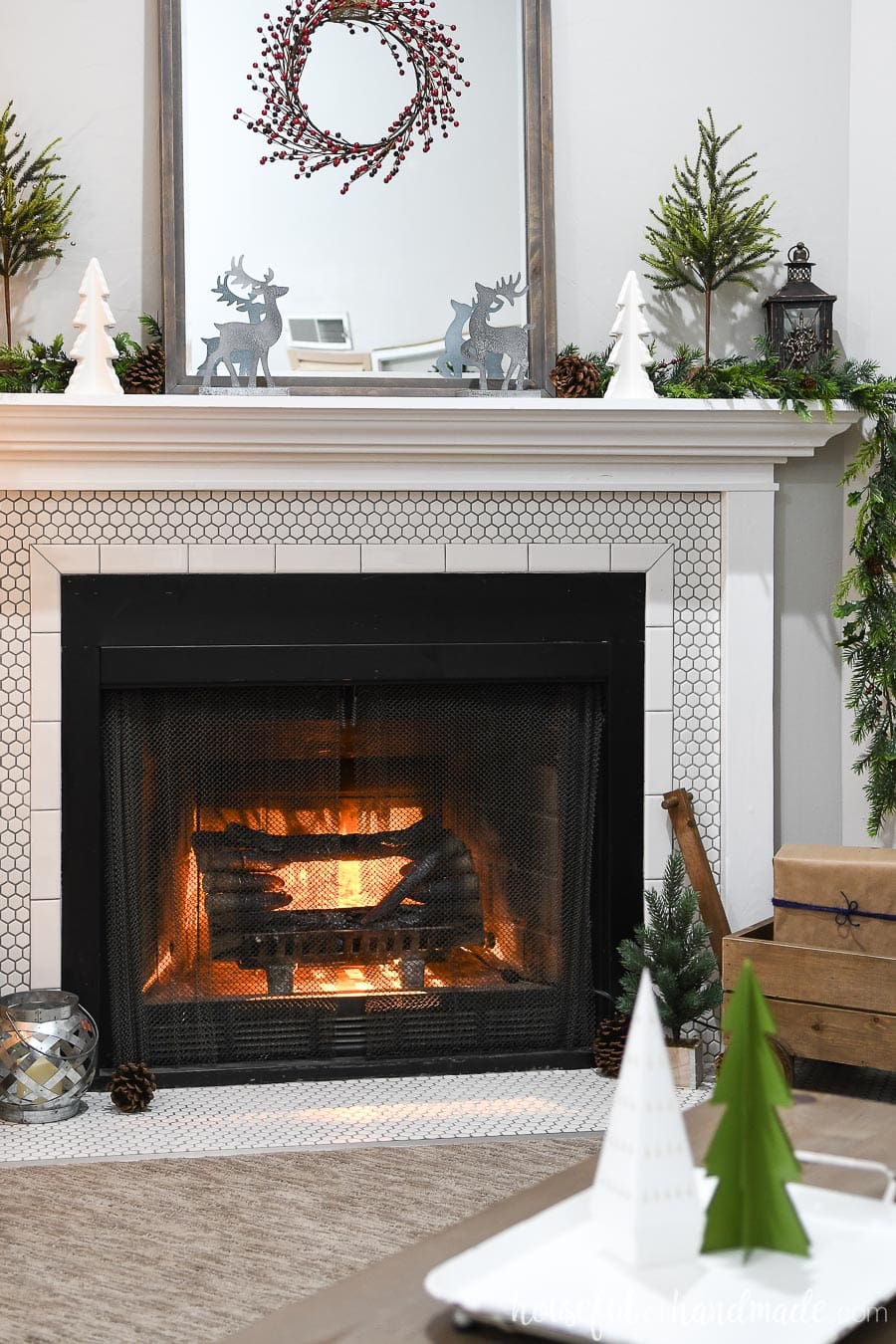 Makes me want to curl up with the kids and watch a fun Christmas movie. Our favorite is Prep and Landing. We can't wait to watch it while decorating the large Christmas tree in the family room this weekend.
Next on the Christmas tour hop is Beth at Avenue Laurel. You are going to lover her amazing Christmas home tour. Refresh that cup of cocoa and enjoy! This is better than any Hallmark Christmas movie!

All Things With Purpose * Lovely Etc. * Love and Renovations * Thrifty & Chic * Up to Date Interiors * Casa Watkins Living

Green With Decor * Boxy Colonial * Bigger Than The Three of Us * Our House Now a Home * The Navage Patch

Chatfield Court * Lehman Lane * Redhead Can Decorate * Designing Vibes * A Brick Home

House by Hoff * Create and Find * Making it in the Mountains * Twelve on Main * What Meegan Makes

Amber Tysl * The Striped House * Houseful of Handmade * Little House of Four * Avenue Laurel
Merry Christmas!