I have one more 4th of July decor project for you, then I promise I will be done with my July mantle and will start on some more nautical summer decor. I needed one more thing to make my mantle look finished.
I have lots of patriotic decor, but I wanted to add some personal things. I needed some pictures, therefore I needed something to display them. I happened to have a quarter of a bag of concrete left over from my umbrella stand taking up room in the garage so I decided it was time to use it up and I made these paint dipped concrete firework picture holders.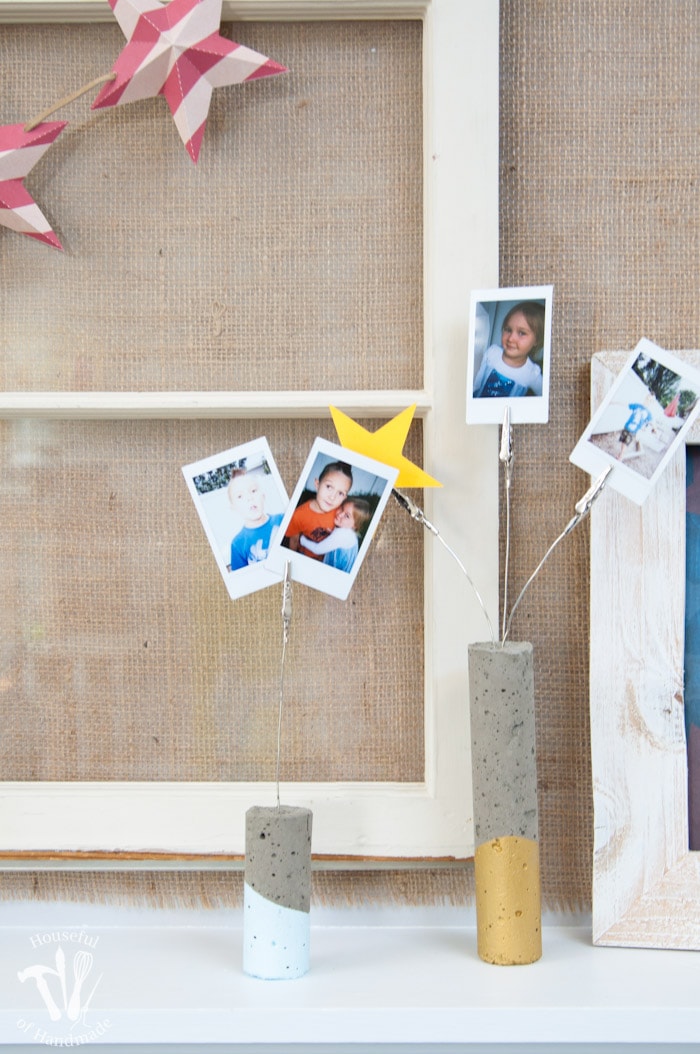 I am really bad at adding pictures to my decor. I am not sure why, but it is something that I have to consciously add in. And sadly, once I add them, I never change them out. We have lots of old pictures around our house (and not so many new ones).
I figured if I made some fun picture clips, it would help me to add in some current pictures on our July mantle and every year I put them out, I'll hopefully remember to add new pictures!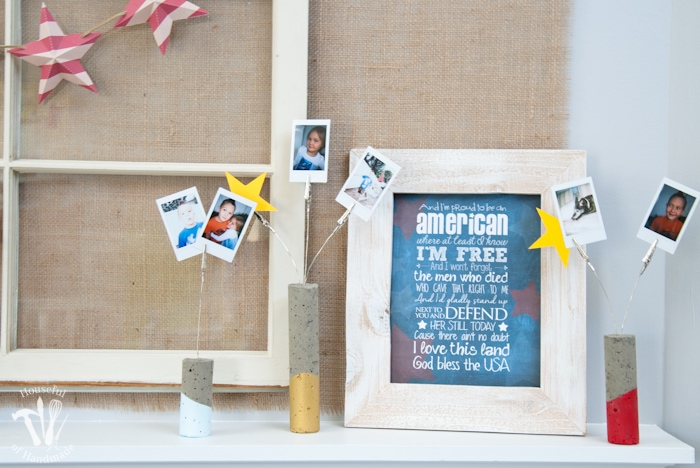 After making these 4th of July food place card clips with the alligator clips I found at the auto parts store, I knew I needed to make more things with them. They are so easy to use and so much fun! So what better way to use them again than to top some fireworks made out of concrete to hold pictures?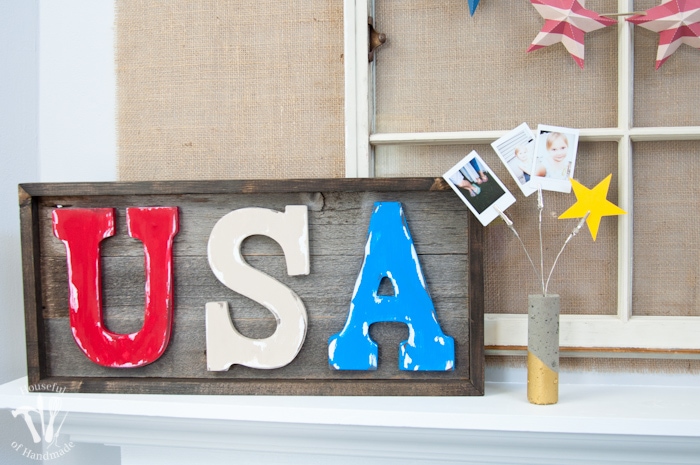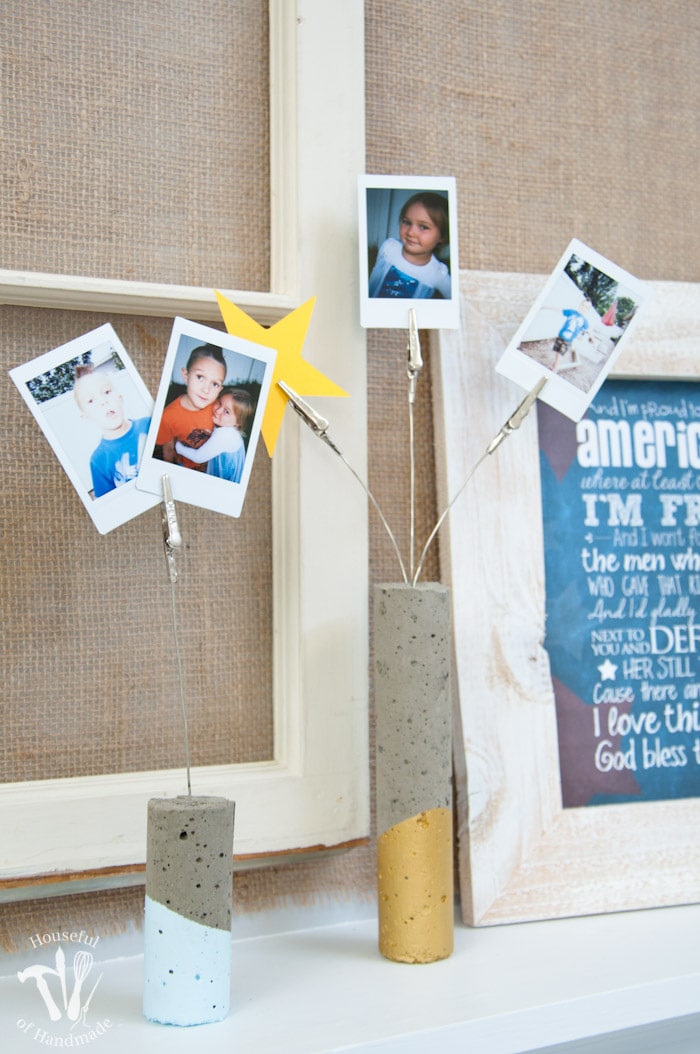 Making these cement firework picture holders was super easy, but super messy! I started by prepping the "forms" for my cement. The super fancy forms I used were a 1 1/2″ PVC pipe I cut into some 4″, 6″, and 8″ pieces. I bought a 2′ piece of the PVC pipe at the Home Depot for only a couple dollars.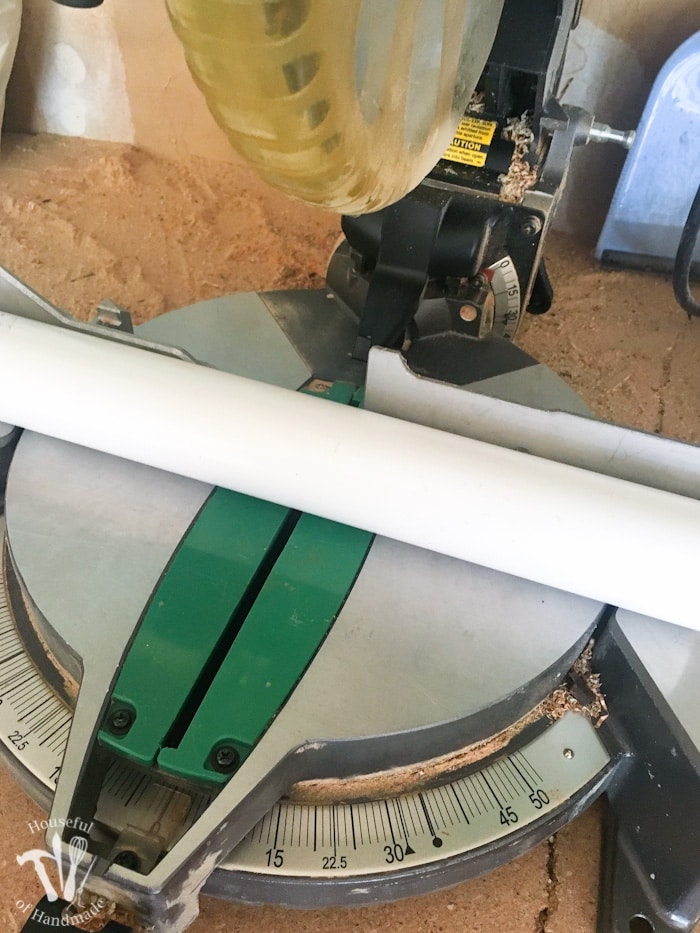 Then I used a board that I didn't really care about used some shims to give me a level working surface. I placed a piece of waxed paper on top of the board and then sprayed it with a little bit of cooking spray. To make sure the fireworks would come out of the PVC, I sprayed the insides of them with a heavy coat of cooking spray and set them on top of the waxed paper.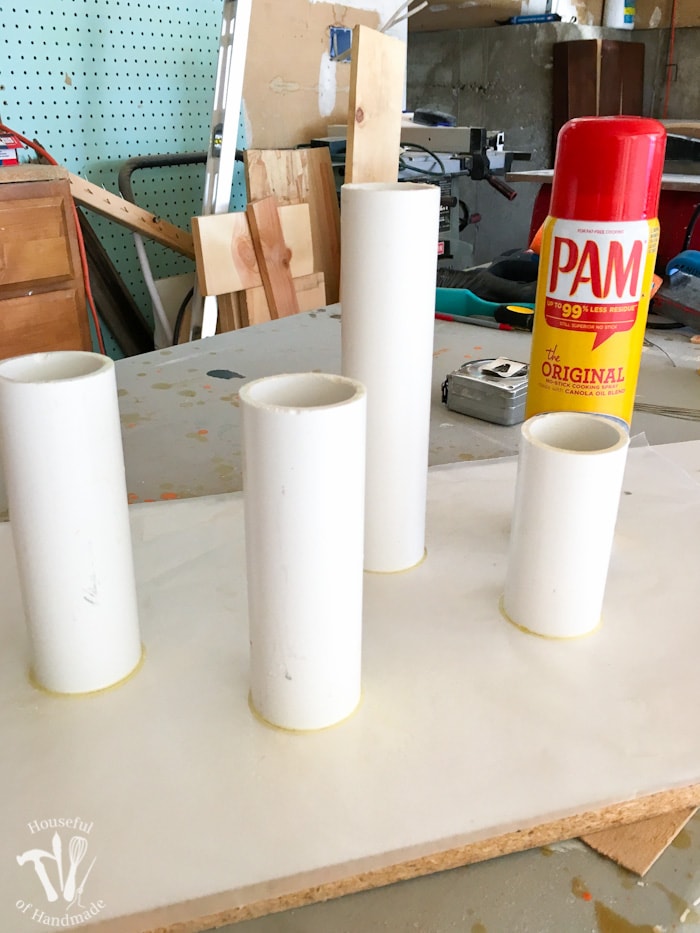 Now it was time for the concrete!
Did you know that concrete and cement are not the same thing? It's so common to use the terms interchangeably, but they are different. Cement is a part in the concrete, but there are also rocks, sand, and gravel.
Then the cement holds it all together. I used concrete for my fireworks, but it gives its lot of texture and some holes and such. Also, when I removed them from the PVC pipes there was a little bit of crumbling at the bottom.
If I did this again (or when I do another project like this), I will probably use just cement because in a smaller project, you just don't need the rocks, gravel and sand. But I am glad I finally got rid of the bag making a mess in my garage.
I mixed up a little bit of concrete in a bowl that I don't use in my kitchen. When mixing up the cement, always start by putting water in the bowl first then add the cement on top of it. Stir, add a little more, stir, repeat until you get the right consistency.
You want the mixed cement to be kinda like peanut butter. Mine was obviously chunky peanut butter because I used the cement that was full of rocks and such.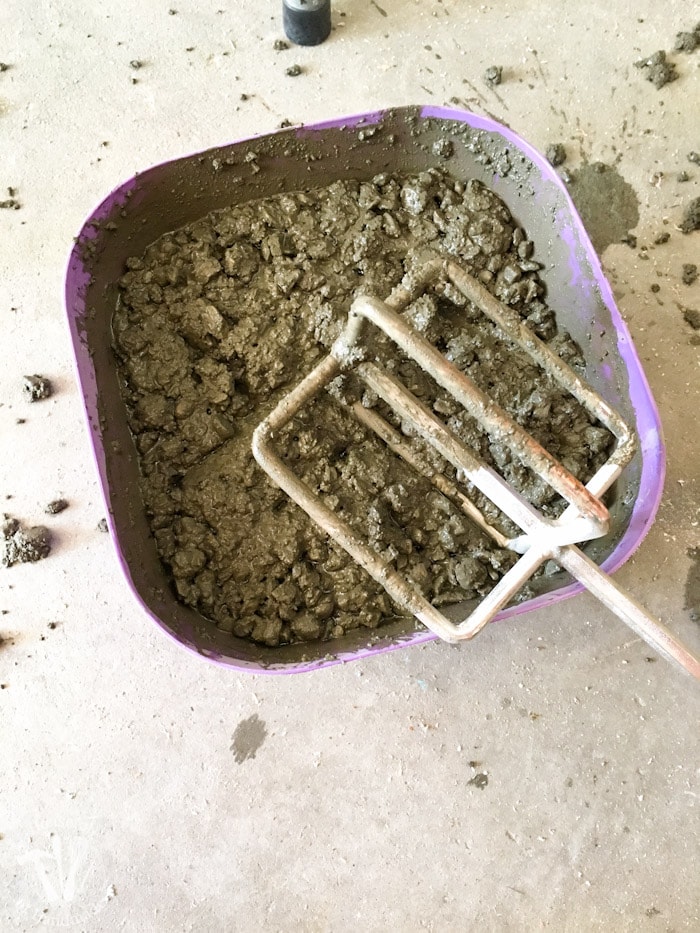 Then I carefully (but very messily) added the cement to the inside of my PVC forms. The opening is not that big, so it was really hard to get it inside without making a mess. I used a plastic cup that I could squeeze into a spout and it worked okay.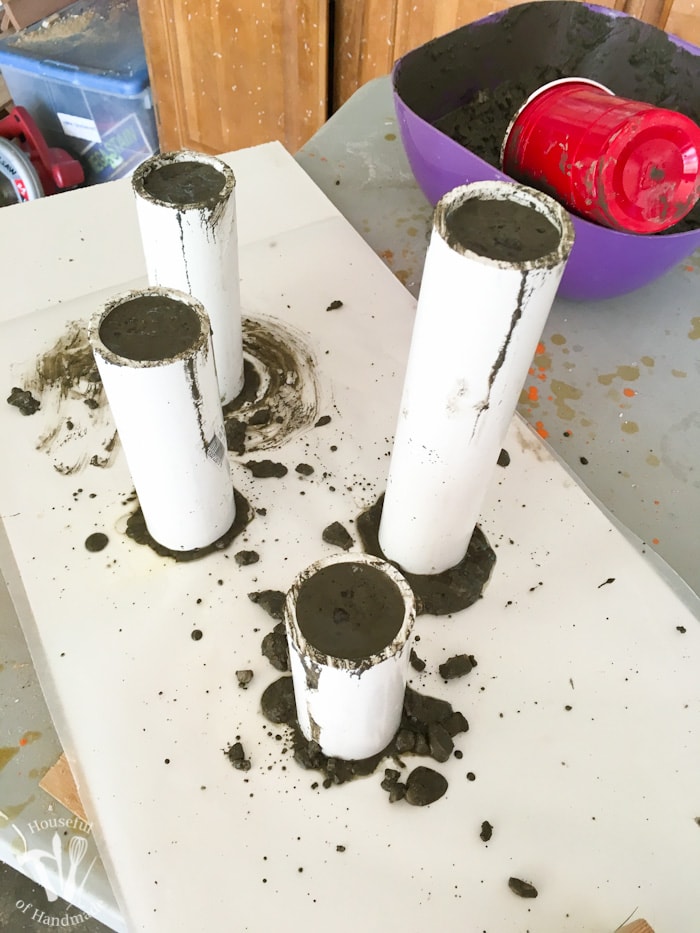 Once they were all full, I grabbed a piece of scrap 2×4 and tapped the top of the PVC to settle the concrete and remove air bubbles. Then I added more concrete and tapped again. I didn't fill them completely to the top, just close.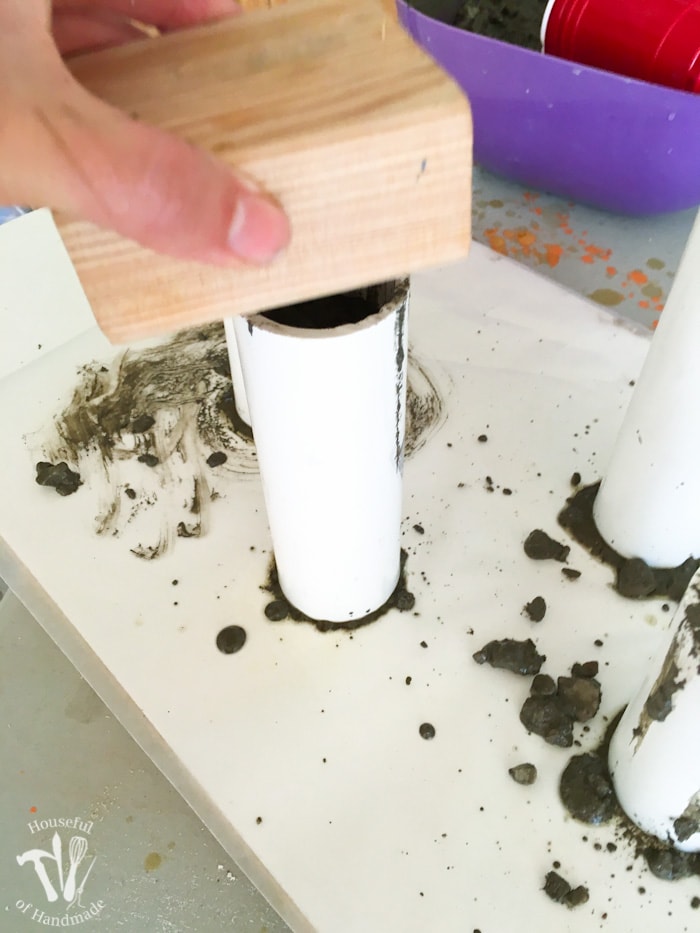 To make my concrete tubes into fireworks, they needed some sparkle coming out of the tops. The sparkle is where the pictures will be too. So I used some pieces of 16 gauge wire I got in the jewelry section at Michael's.
They were cut about 6″ long, nothing too precise though. Then I stuck them into the center top of the wet cement. I played with them a little until I liked where they were positioned, but they moved a bit when drying. Luckily the wire can be shaped so it didn't really matter.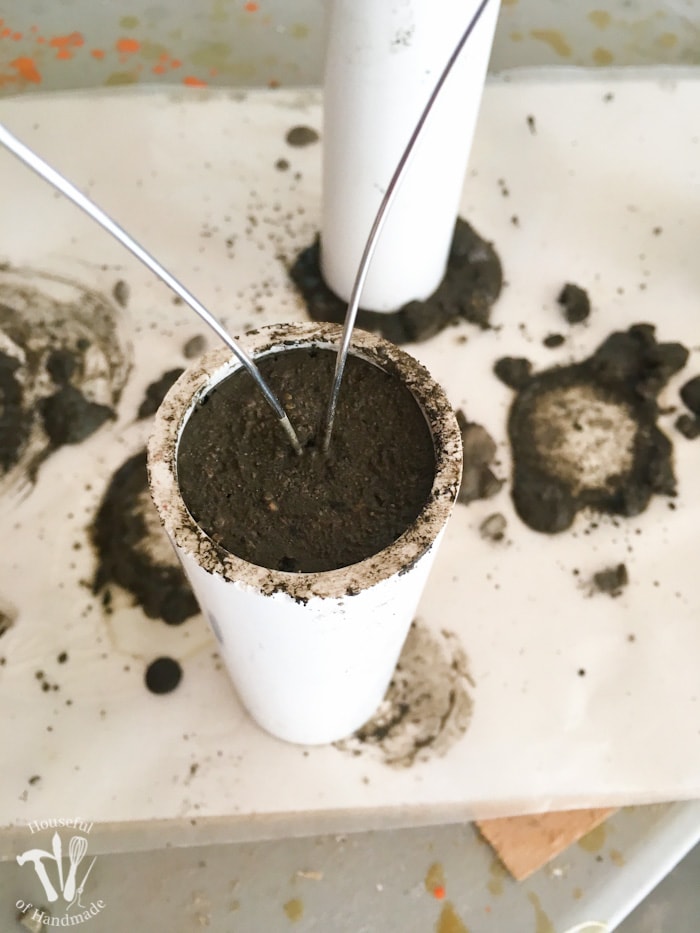 Once they were all dry (I let them sit a couple days cause I got busy and forgot about them), it was time to get the concrete fireworks out of the PVC. I was a little worried, but was able to press and slide them out with a little twisting and pulling. I found it easier to start at the top and push them through the bottom of the PVC.
Now it was time to make them pretty! I really wanted them to have the paint dipped look. I knew I could actually dip them into paint, but the cement was a little crumbly on the bottom and I didn't want to leave pieces in the cement, so I just took a paint brush and painted the bottoms to look paint dipped.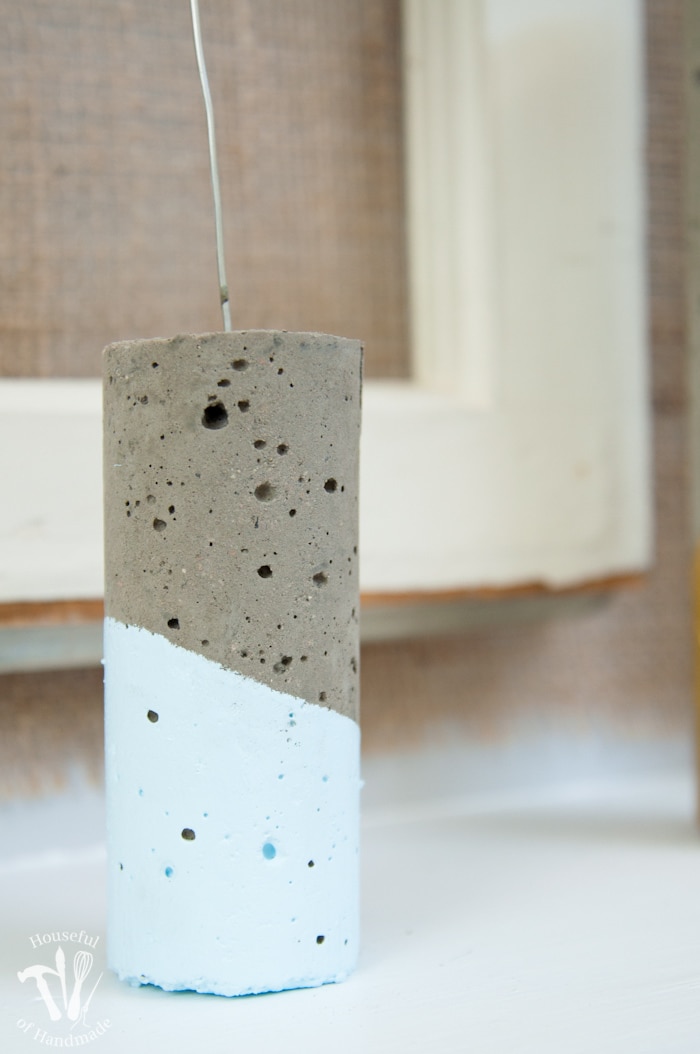 The last step was to add the alligator clips. They were really easy to add to the top of the wires. You can put the top of the wire into the channel on the bottom of the alligator clip, then squeeze the channel around it.
If it isn't tight enough to keep it from moving around, add a little Gorilla glue to the end of your wire and then stick it back in the alligator clip. When it drys, the Gorilla glue will expand and hold the wire nice and tight in the clip.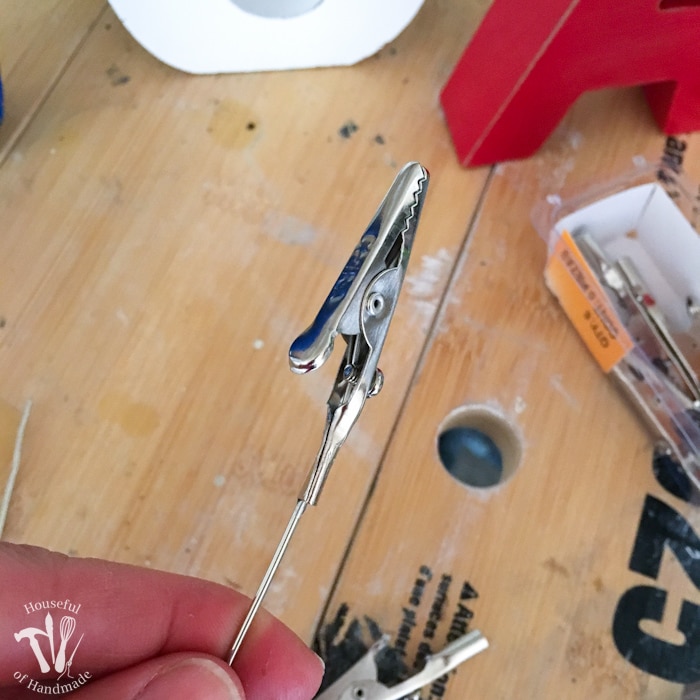 To fill our clips with fun pictures of our family, I grabbed our Instax Mini camera. I love the little instant pictures and so do the kids. They will pose for me when I grab out this camera and then they can't wait to see their picture. It's so nostalgic for me. Then we can fill up our concrete firework picture holders with all the fun things were are doing this summer.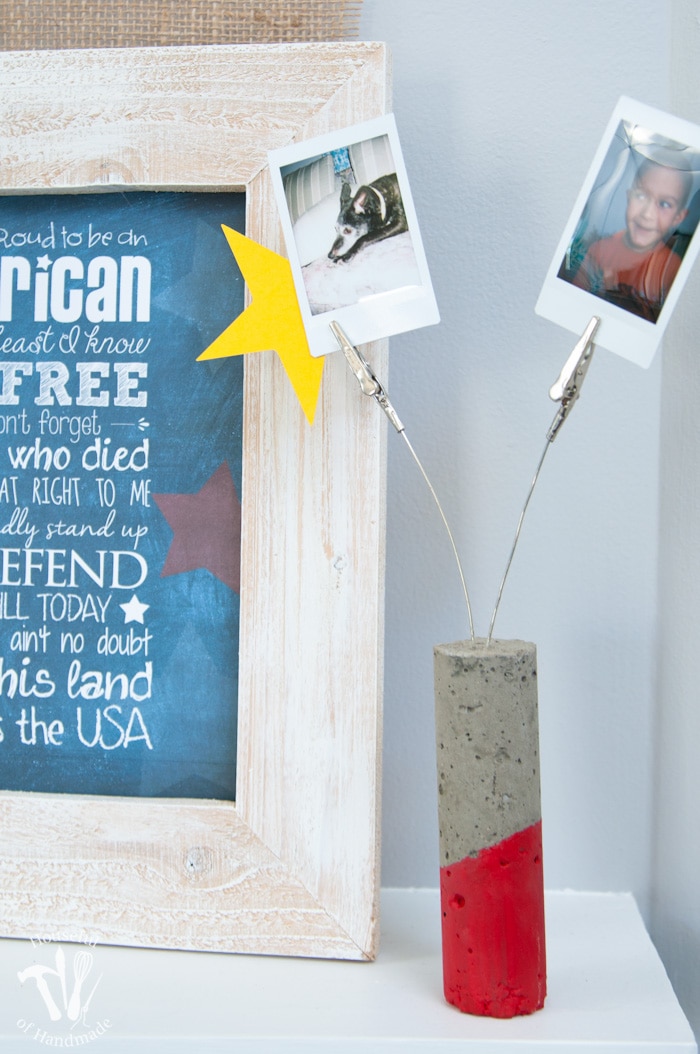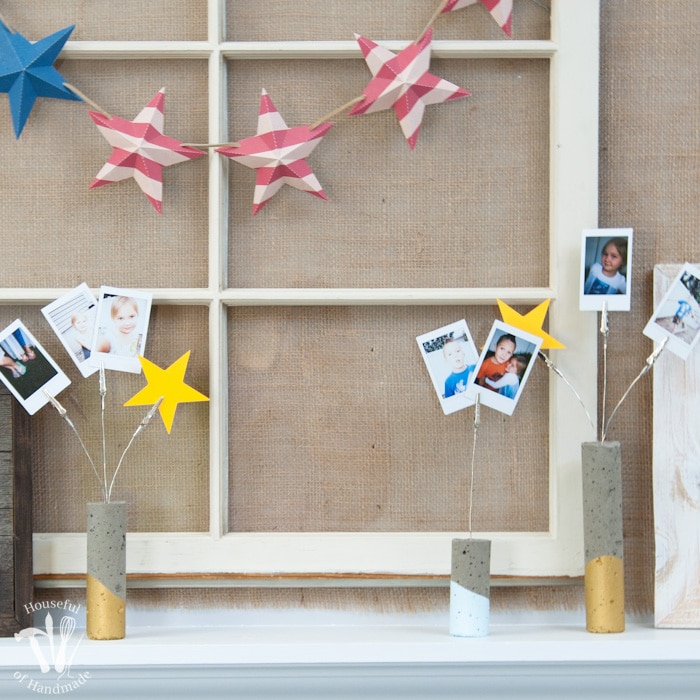 Now our July mantle is done and we are loving it! It's a fun mix of rustic and patriotic. Here are the links to all the other DIY projects that make up our mantle: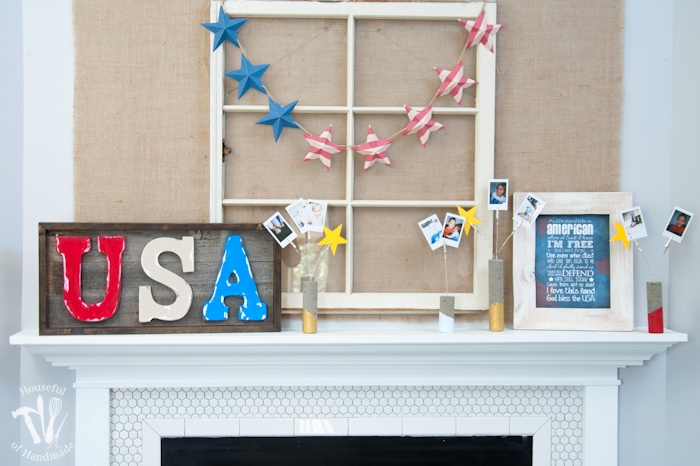 And here's a great sneak peek of the new fireplace tile! It still needs to be grouted. Hopefully that will happen today 🙂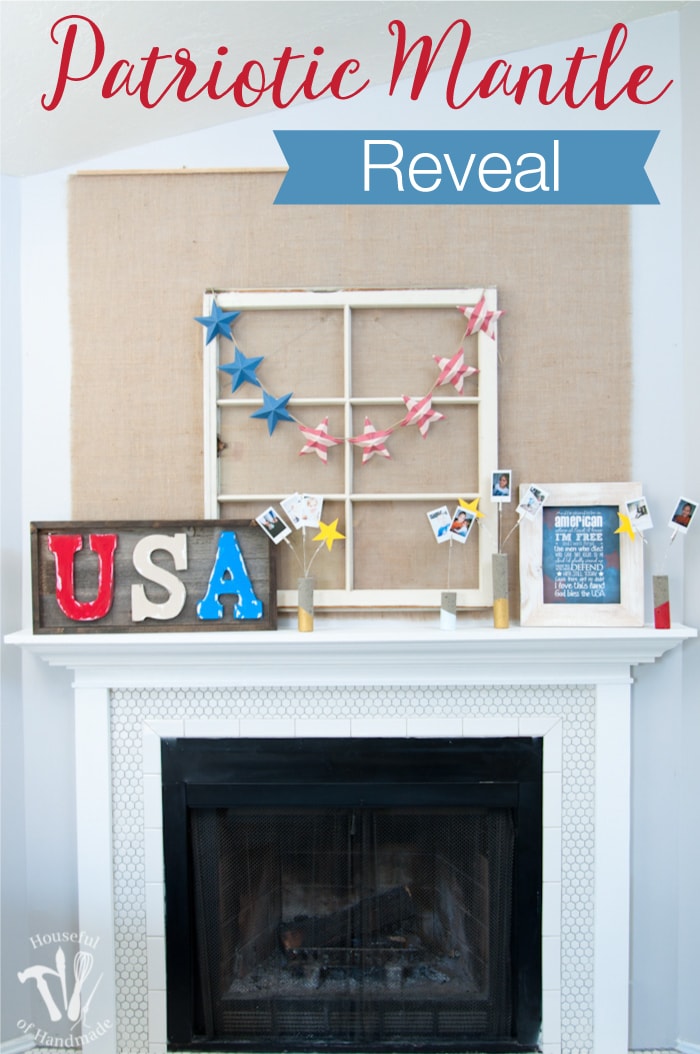 Now time to get that fireplace finished!