I couldn't be more excited to share this first (of probably many) Christmas post with you. I had so much fun making these DIY Chalkboard Sign Ornaments and they are so pretty on the tree.
Sadly, I made these for the 2016 Ornament Exchange & Blog Hop so I'm sending these ornaments off to a new home. I really hope Sherry from Olives & Okra loves these DIY chalkboard sign ornaments as much as I do. You better believe I am planning on making some more for my tree too!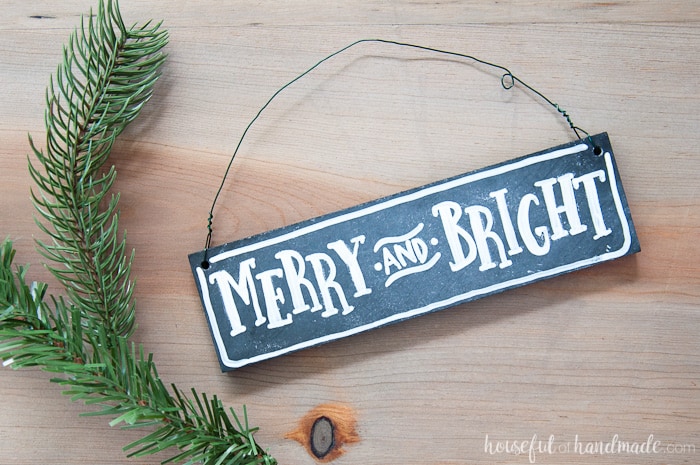 Welcome to the 2016 Ornament Exchange & Blog Hop! This year, there are 11 pairs of partners or 22 talented ladies participating in the exchange. The rules of the challenge were simple – create a handmade ornament for under $15 to exchange with a partner and create a tutorial to share on the blog hop!
When it came time to make my ornaments for the exchange, I will admit I had a hard time.
It has been so warm here (I am wearing shorts and a t-shirt while I write this) that I'm just not feeling much in the Christmas spirit. This morning on my Facebook memories, a picture of my kids decked out in their coats and snow gear knee deep in fresh snow came up.
Yep, this day 4 years ago we were shoveling a foot of snow off our cars and today I am putting up the Christmas tree hoping maybe it'll start looking a little like Christmas.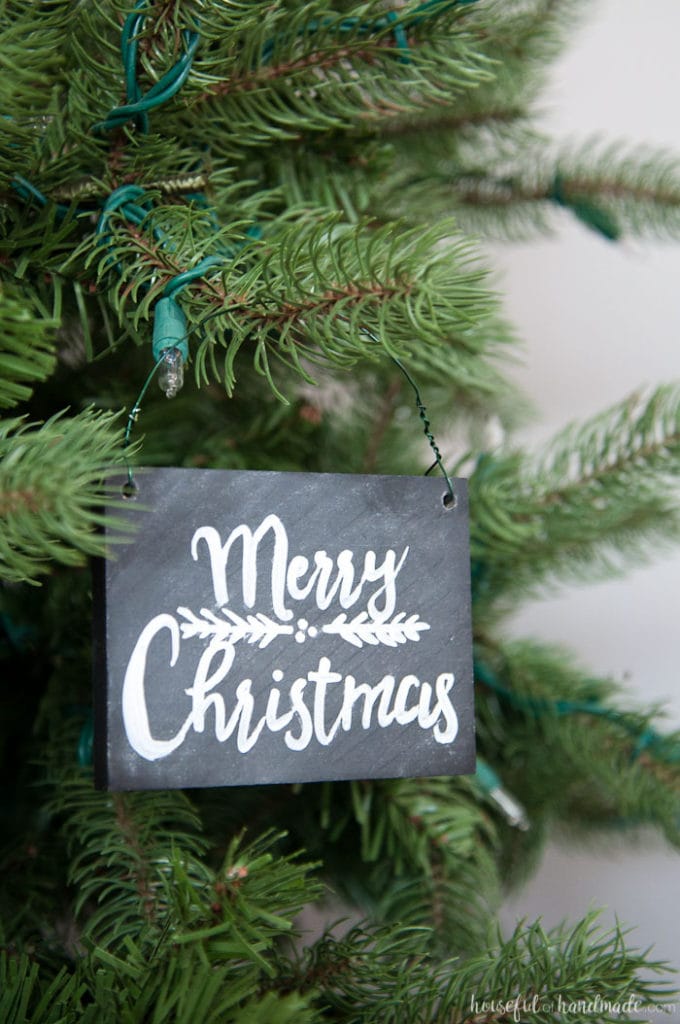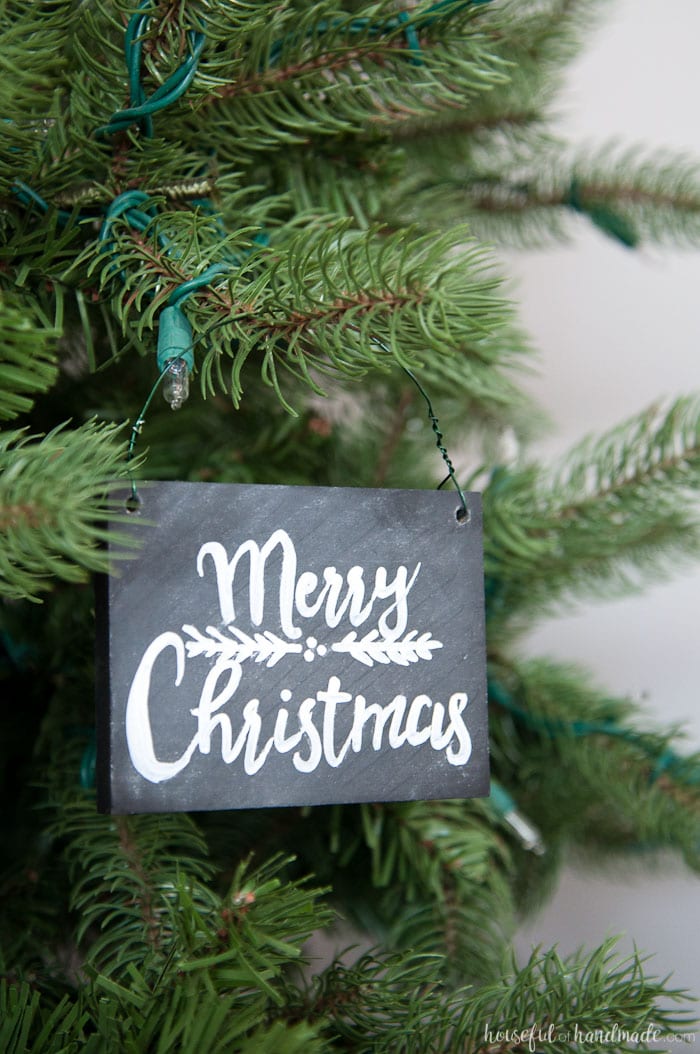 After I got over my "It doesn't feel like Christmas" problem, I realized that I could use the warm weather to my advantage.
I wouldn't have been able to go outside and spray paint these chalkboard plaques in the snow! And that's exactly what I did, I slipped on my flip flops and grabbed a can of chalkboard spray paint and the end result was just perfect.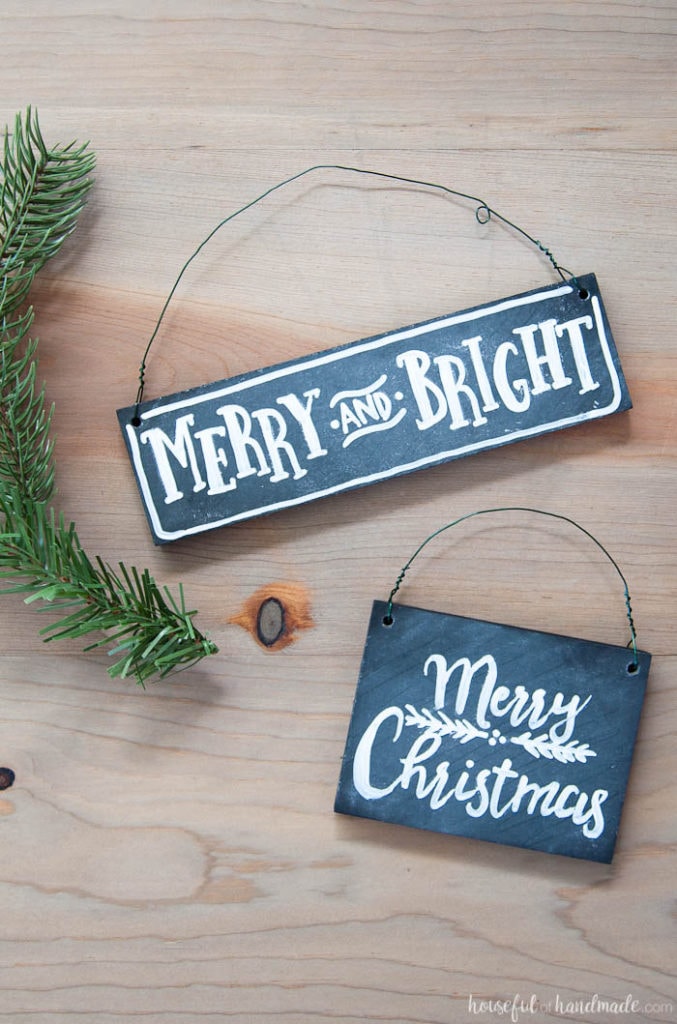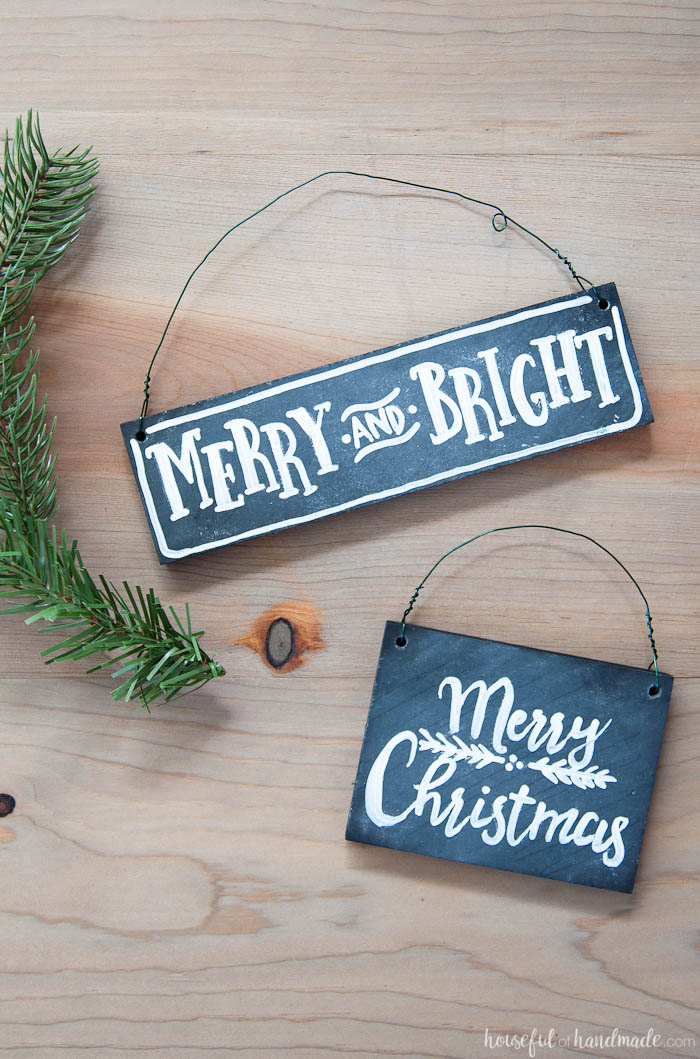 So even if it doesn't feel like Christmas where you are, maybe a few DIY Christmas ornaments will help you get in the spirit. It has definitely helped me out!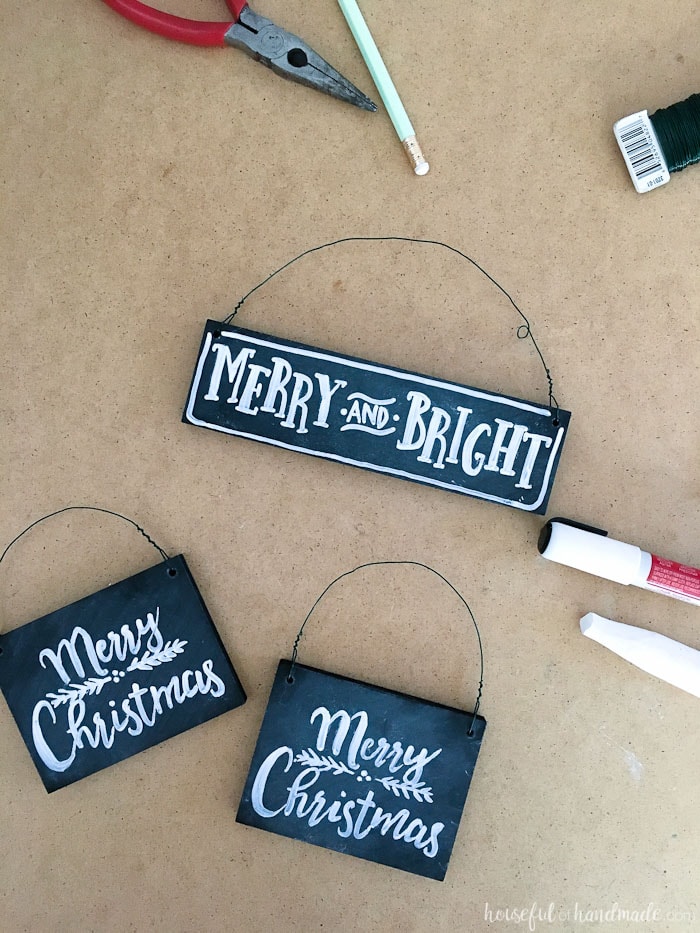 Read below to get the tutorial for these DIY Chalkboard Christmas ornaments (including the printable lettering template I used). Then make sure to check out some of the other fun homemade ornaments below!

---
How to Make DIY Chalkboard Sign Ornaments
Supplies:
Drill little holes in the top corners of your plaques. If you don't have a drill, you could glue the wire on the back of the plaques, but I like any excuse to use power tools. Then spray paint the plaques with chalkboard paint. Make sure to get both the top, bottom, and all the sides well.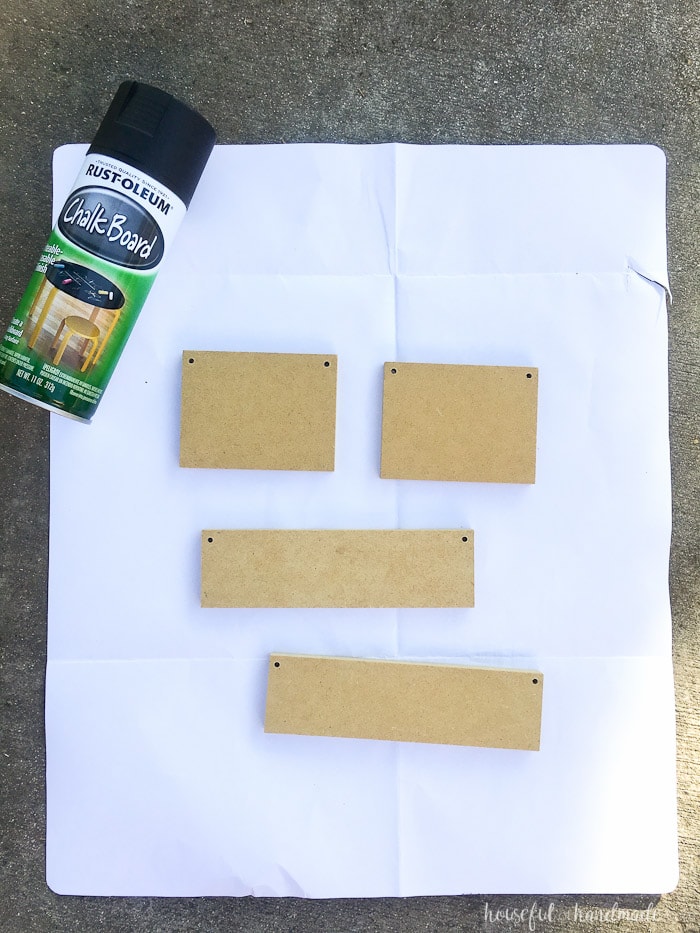 After the paint has dried, prime the chalkboard by rubbing a piece of chalk over the whole thing then erasing it off.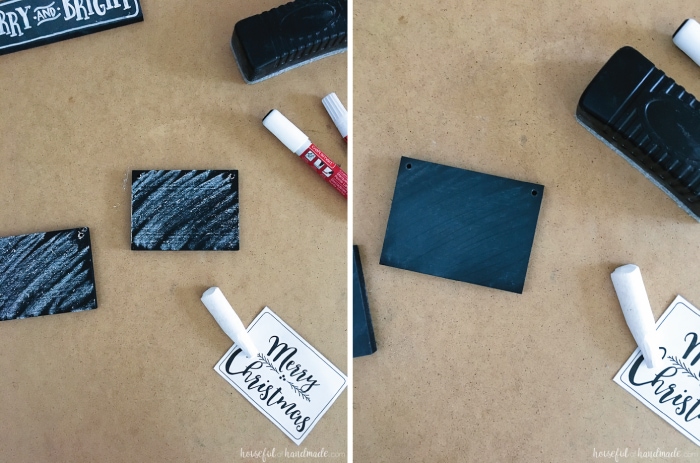 Print out the lettering template (or you can free hand your own sayings, but I am not good at free-hand lettering) and cut it out. Rub a piece of chalk all over the back of the template paper. Place the template paper on top of the primed plaque and trace the letters. A duller pencil is nice for this since it will give you a thicker line transferred onto the chalkboard ornament surface.
Once you have your cheat lines on the ornament, all you need to do is carefully fill them in with your chalkboard marker. If this is your first time using a chalkboard marker, take a minute to test it out on a piece of paper since they can have some quirks that you will need to get use to, and each brand is a little different.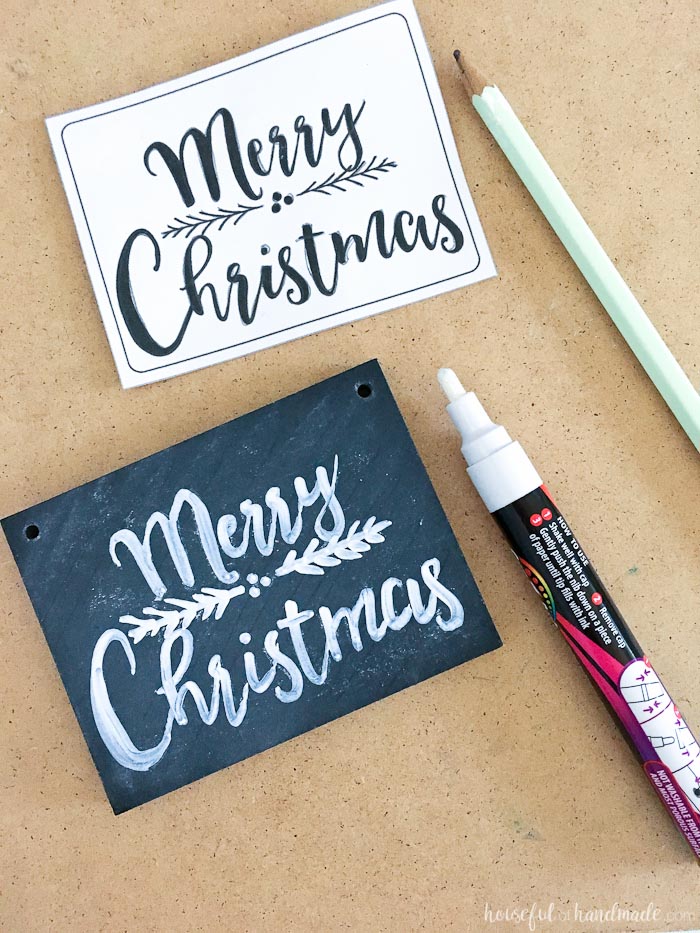 When you have finished hand-drawing the lettering on the chalkboard ornaments, It is time to add the wire that will hang them on the tree. Cut a piece of wire about twice as long as the ornament. Thread an inch through the hole and wrap it around the each other at the top of the ornament. Then repeat on the other side. This will give you a nice arch or wire to hang your ornaments.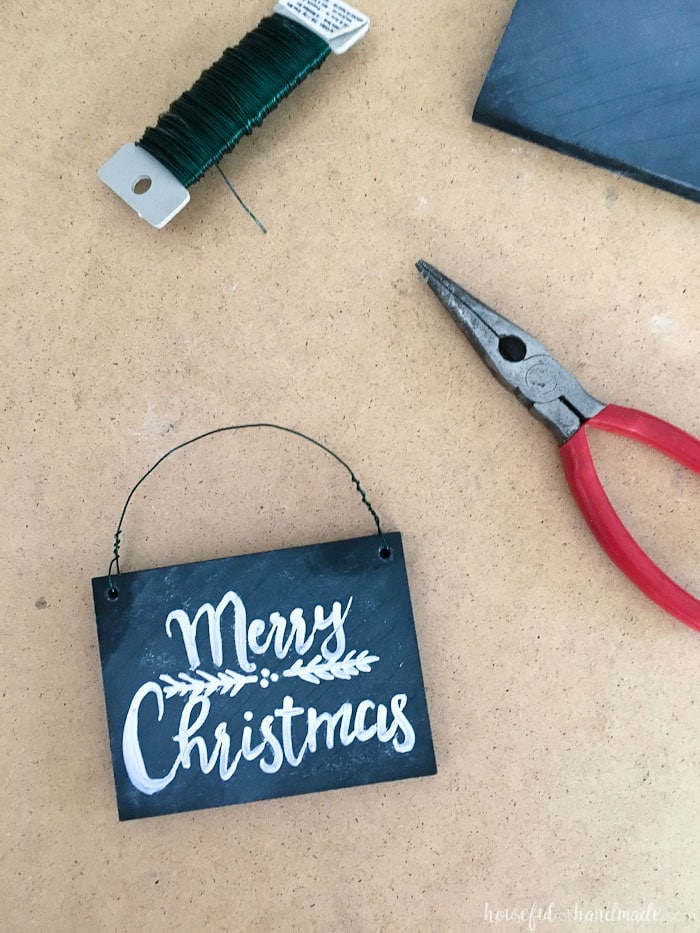 Now hang your DIY chalkboard sign ornaments on the tree and admire your handiwork! Or sadly package them up to send them to a new home. I am only sad because they turned out so great and I know they would look awesome on our tree this year. But there is still plenty of time to make more 🙂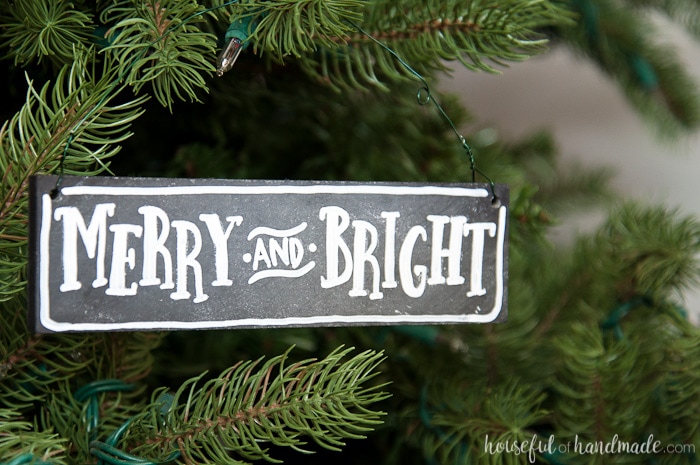 Hopefully all this Christmas fun will remind the weather that it is the middle of November because I am dreaming of a white Christmas!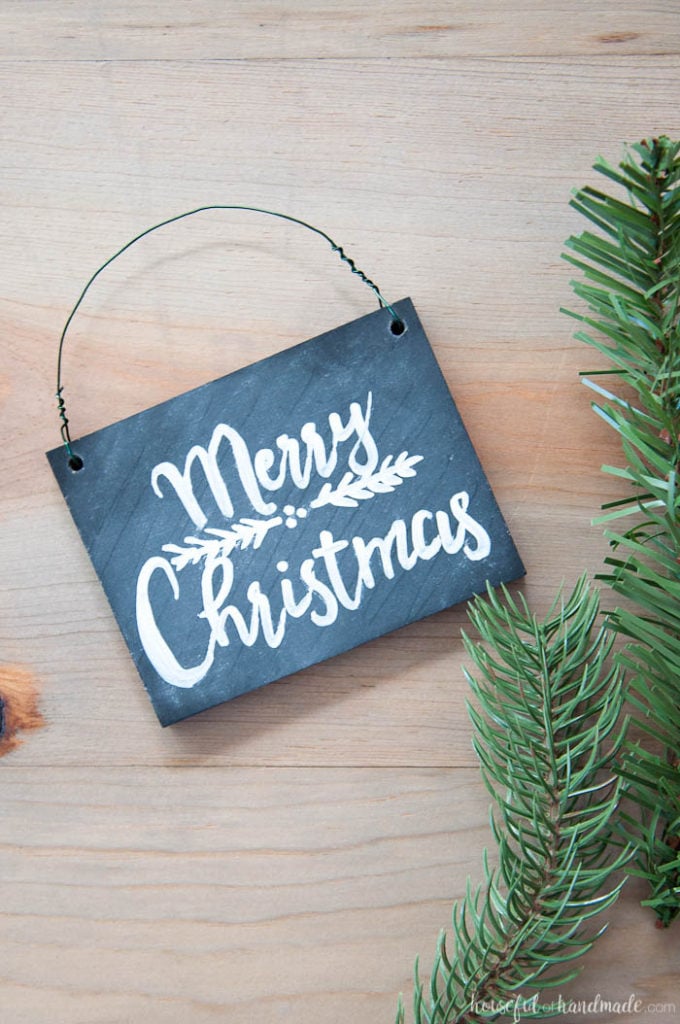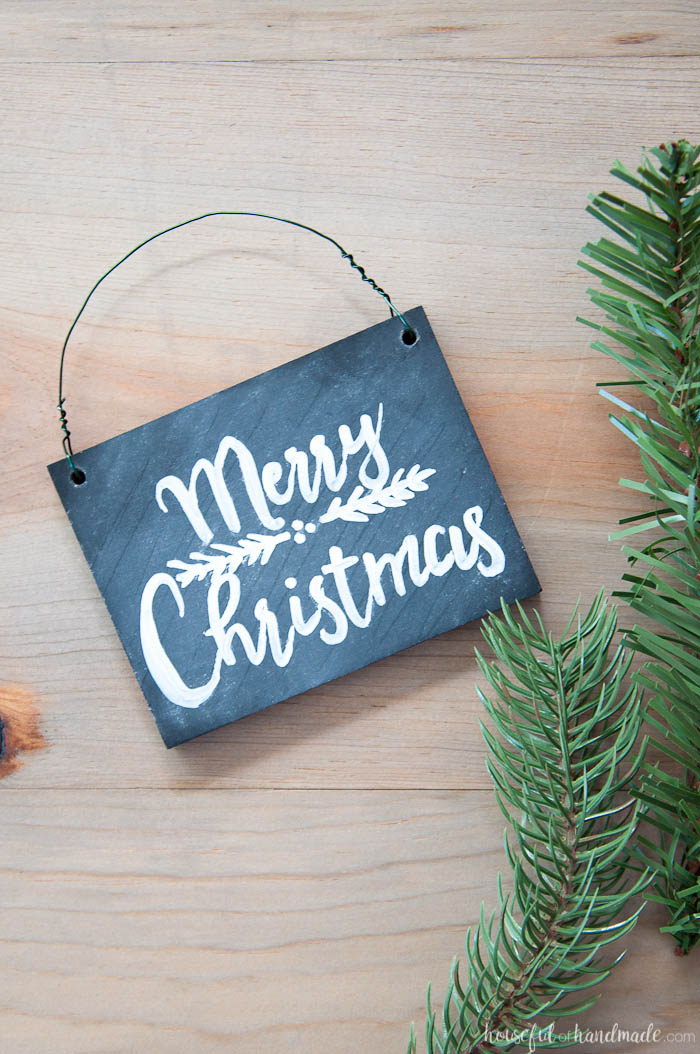 Also, I want you to meet these other amazing ladies who are participating in the ornament exchange this year. Make sure to stop by and say hello, you are going to love all the handmade ornaments they put together too!
Erlene ⋅ My Pinterventures || Kim · Made In A Day || Amanda · The Kolb Corner
Shirley · Intelligent Domesticatons || Michelle · Our Crafty Mom
Robin ·Redo It Yourself Inspirations || Sherry · Olives-n-Okra
Nicki · Sweet Parrish Place || Sherry · Savvy Apron || Megan · C'mon Get Crafty
Jelica · A Pretty Fix || Emily · Two Purple Couches || Christene · Keys to Inspiration
Kati · Houseful of Handmade || Beverly · Across the Blvd.
Jeanie · Create and Babble || Erin · Suburban Simplicity
Terri · Christmas Tree Lane || Maureen · Red Cottage Chronicles
Debra · Shoppe No. 5 || Donna · Two Chicks and A Mom || Pamela · Home On The Corner
FIND MORE HANDMADE ORNAMENT TUTORIALS BELOW AND SHARE YOURS TOO!