Do you have a plain old mirror laying around? Well if so, today's tutorial is perfect for you.
My sister gave me this plain beveled mirror when she was cleaning out her condo before moving. Since I am a sucker for hoarding anything I can DIY with, I happily added it to my stash… where is stayed for a year.
But not anymore, I partnered with Spellbinders to turn my old mirror into a beautiful DIY copper mirror that is happily displayed on my dresser for everyone to see.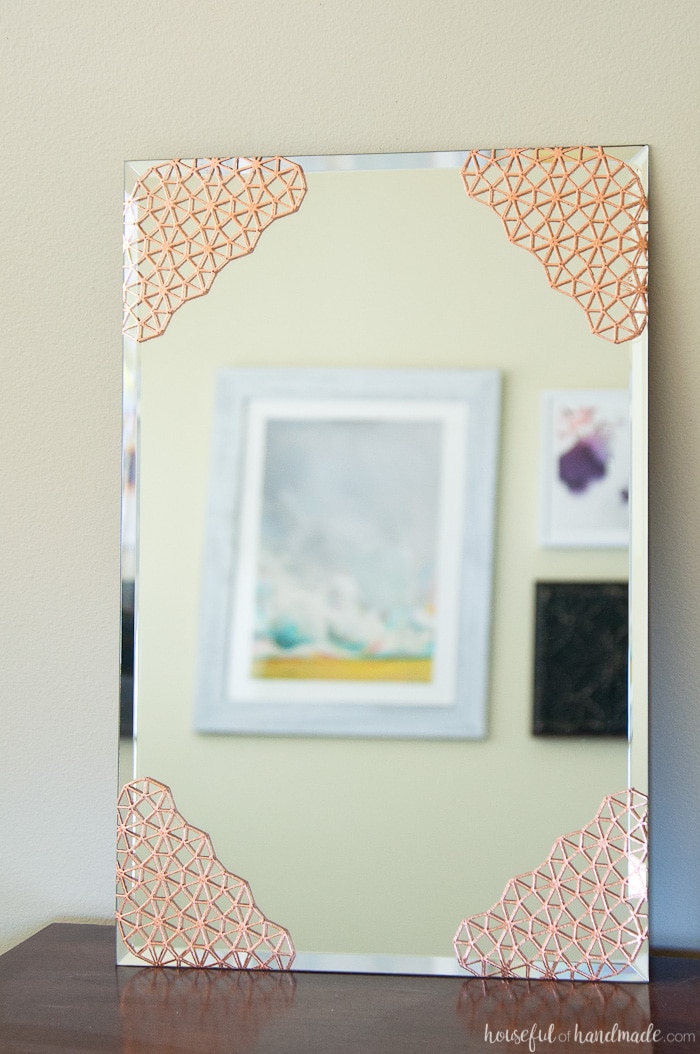 I have been seeing metal accented mirrors all over lately. I love the look of the metal with the mirrors. But I am too cheap to buy them.
So when I saw these new dies by Lena Lok from Spellbinders, I immediately knew they would be perfect for adding a metal accent to my hand-me-down mirror.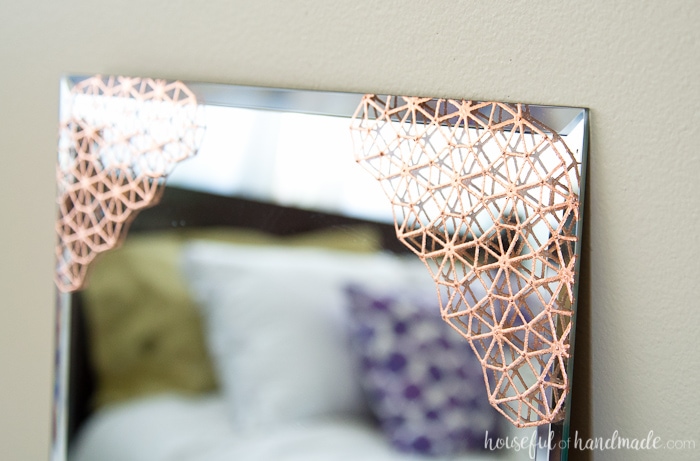 I decided I wanted to add copper to my mirror. Why copper? Because I am in love with copper, especially once it starts to patina.
So I set out to find a way to get that coppery goodness on my mirror. And I found it with real copper leaf sheets. Since they are made of real copper, they will also patina over time. Yeah!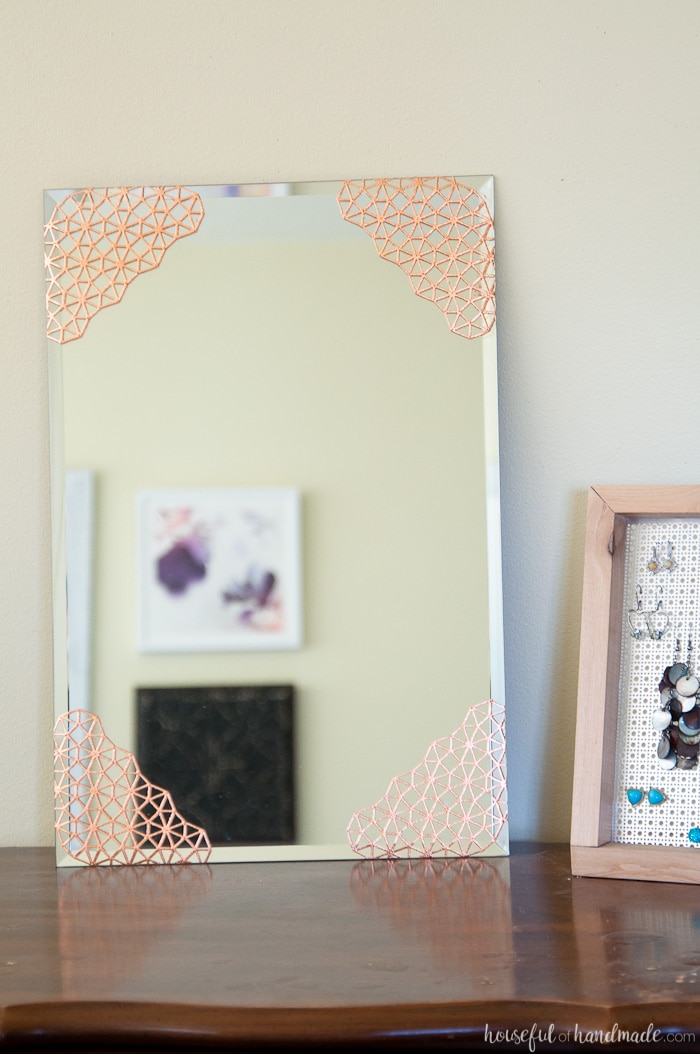 Now I had my design, my copper and my mirror. Time to get to work!
This project was so easy, but does take a little bit of time. The copper leaf is very thin and you have to move slowly to apply it and then to remove the excess.
It was actually really therapeutic to brush away the excess copper. Even my daughter got in on the action. I told her we can get her own mirror and add some copper to it so she can do again.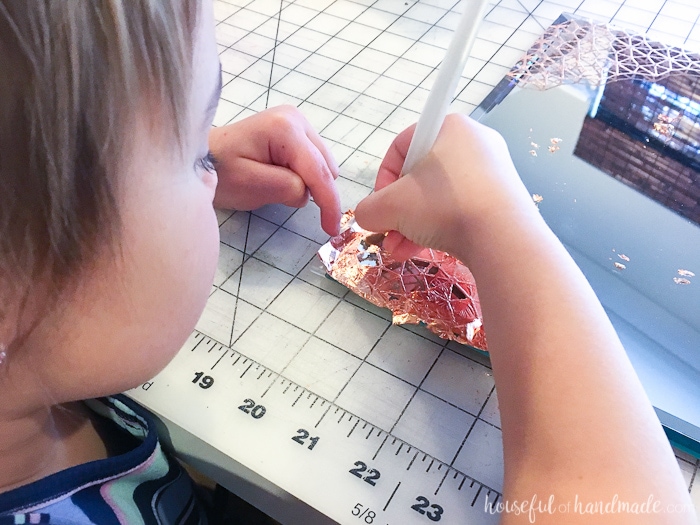 And I am loving my bling, bling DIY copper mirror. It's perfect on my dresser next to my DIY earring holder. It makes the perfect place for me to get my own bling, bling on. Maybe I will even start to wear earrings again because of it!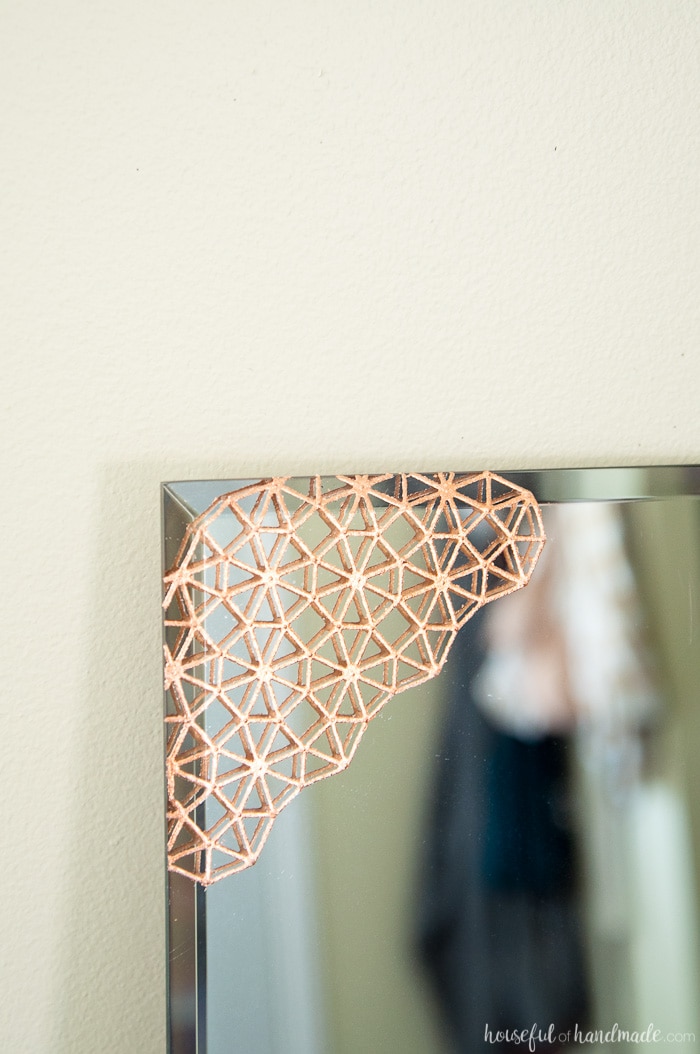 How to Make a DIY Copper Mirror
Supplies: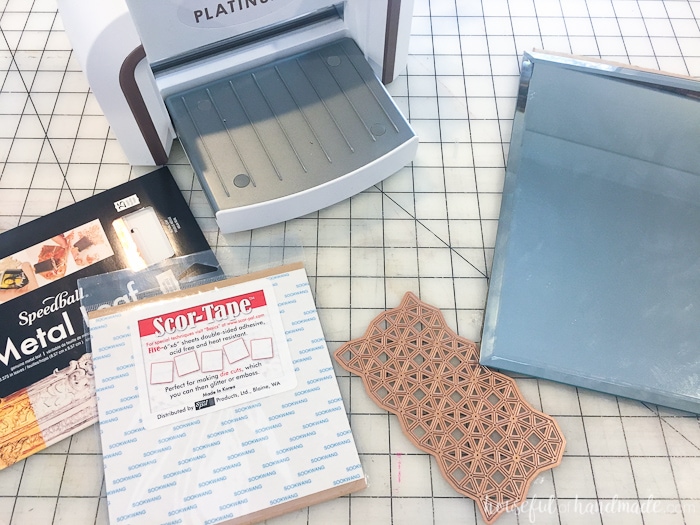 Start by deciding how you want your copper accents to be on your mirror. I cut a template with my die out of scrap paper so I could hold it up to my mirror to see where I wanted it.
Cut the die out of the double-sided adhesive sheet. Create your cutting sandwich by layering the cutting platform, the cutting plate, topped with the adhesive sheet, then the die facing the adhesive sheet, and topped off with the second cutting plate.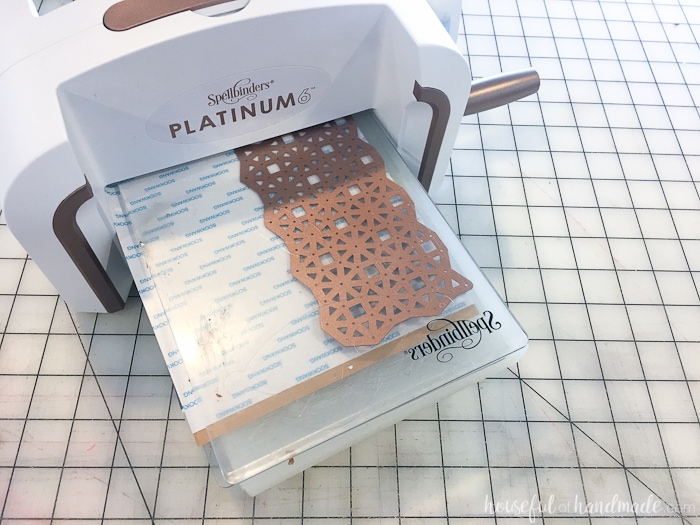 Run it through the machine. I ran it through forward and backward to get a clean cut through the adhesive. It did not cut through the backing of the adhesive sheet, but the adhesive was cut nicely.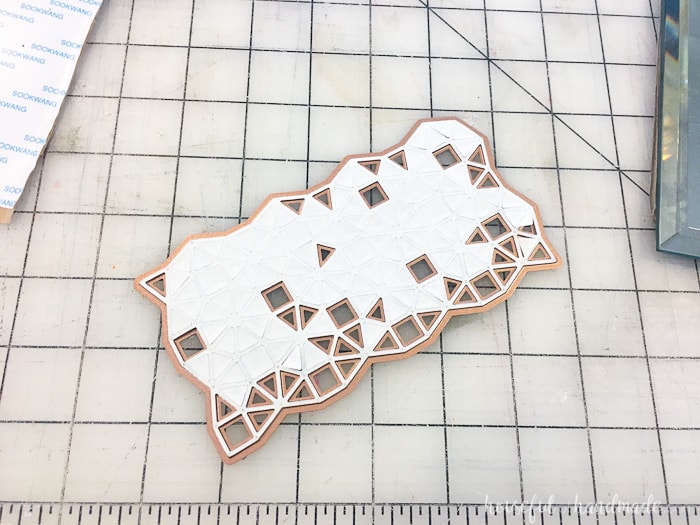 Weed out all the little pieces. The Tool 'n One is very handy for helping with this. Be careful the pieces you weed out don't stick to the exposed adhesive of the part you want.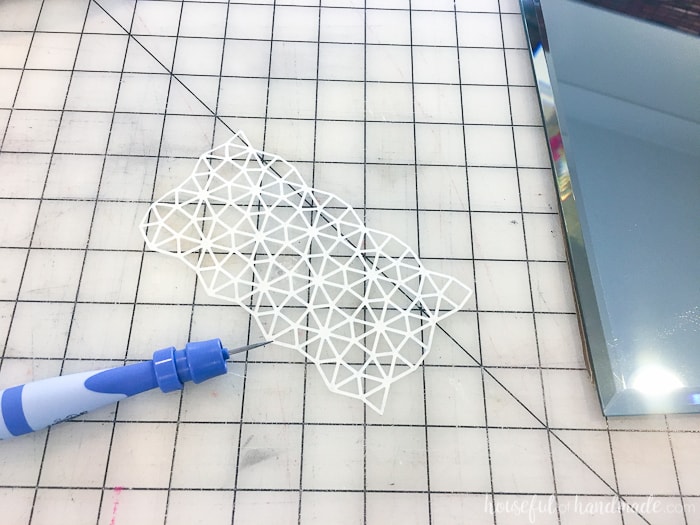 Clean the mirror (I used a microfiber cloth to do this without leaving a residue). Lay the cut adhesive on your mirror, sticky side down. Using a vinyl scraper or credit card, carefully rub over the surface to make sure it is stuck down everywhere.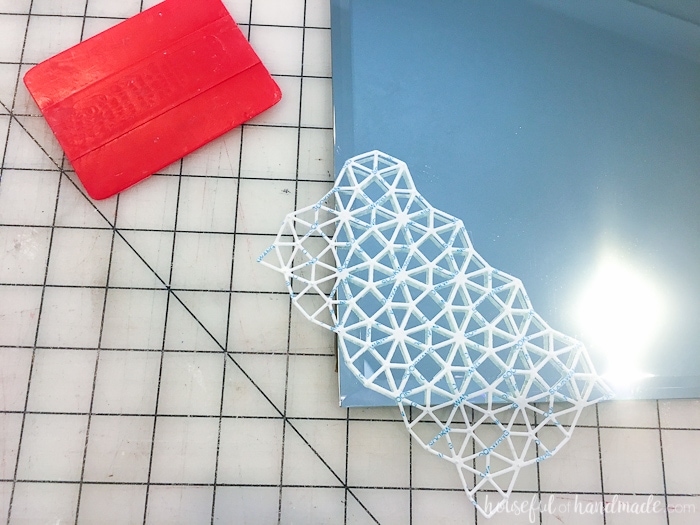 Cut away any excess adhesive and remove the backing.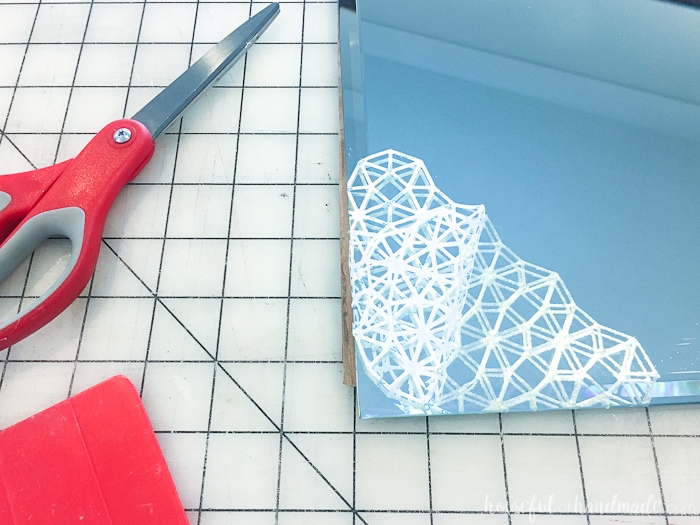 Carefully pick up a sheet of copper leaf. It is so thin that it will break super easily. The first sheet was broken more, I learned how to handle it lighter after that. Luckily there are 25 sheets in the pack so I could afford to make a couple mistakes. Lay the copper leaf over all the adhesive. If there are any parts not covered, grab a piece from around the design and place it over it. Press down carefully so it is stuck to the adhesive.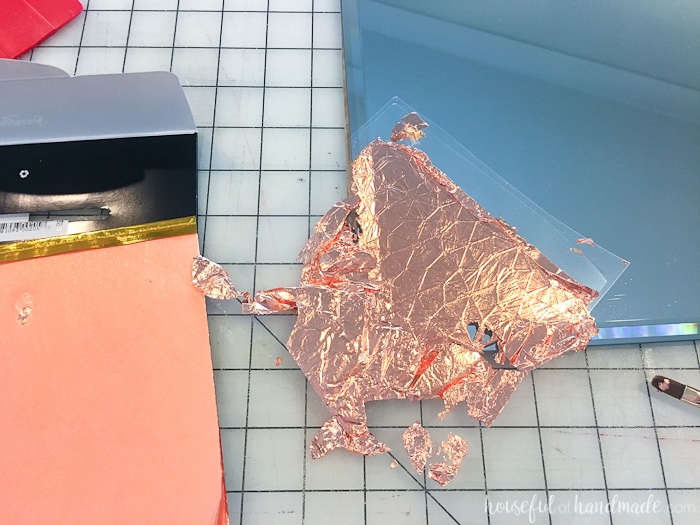 Now comes the fun part. Using your slightly firm paint brush, brush the copper leaf away from the areas you don't want it. It should come away easily, but it will remain stuck to the adhesive. Brush the paintbrush back and forth along the edges of the design to cleanly remove the copper leaf.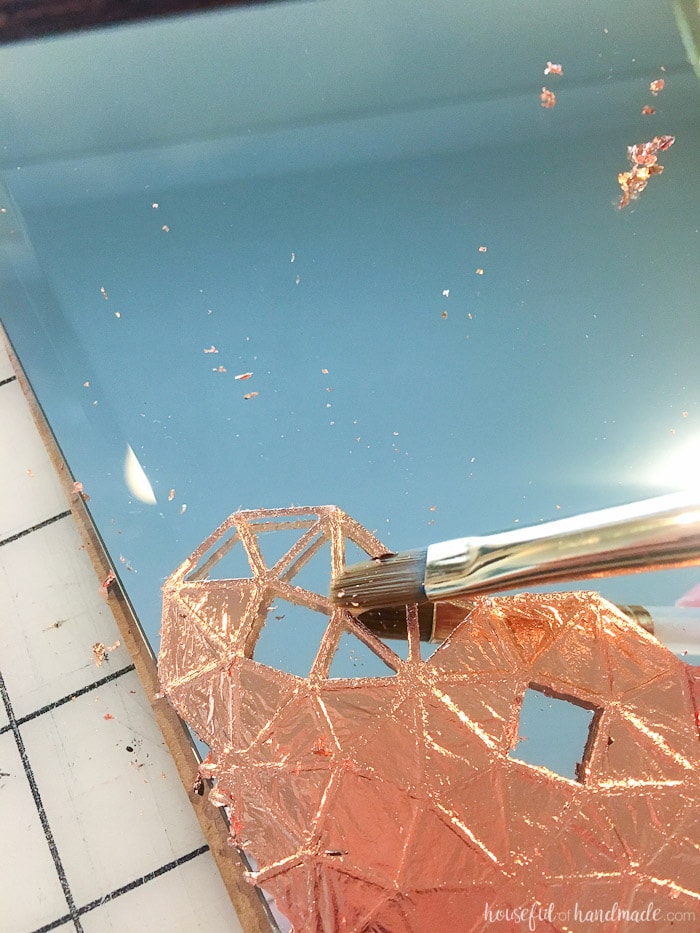 Continue to do this all around the entire design. Use a vacuum hose to easily clean up the flakes of gold leaf you are brushing away.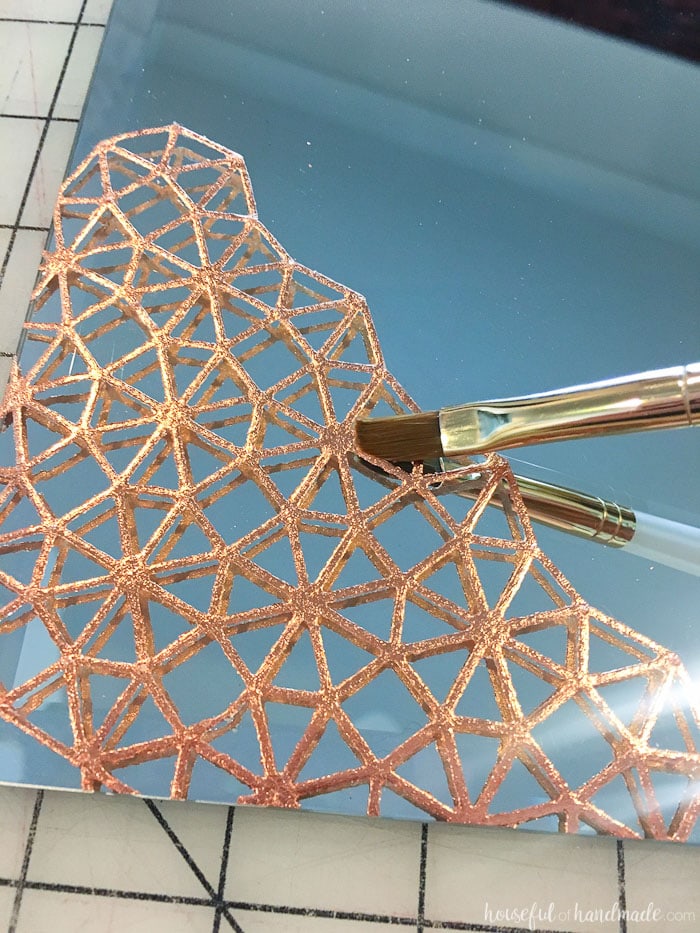 Now you can sit back and admire your beautiful work, unless you have 3 more corners to work on. But seriously, don't you just love the copper kaleidoscope on the mirror. It adds such a beautiful sparkle.
And of course, it is near impossible to photograph mirrors without getting an "unofficial" selfie. I thought it would be fun to share one, in case you wanted to see a little behind the scenes action.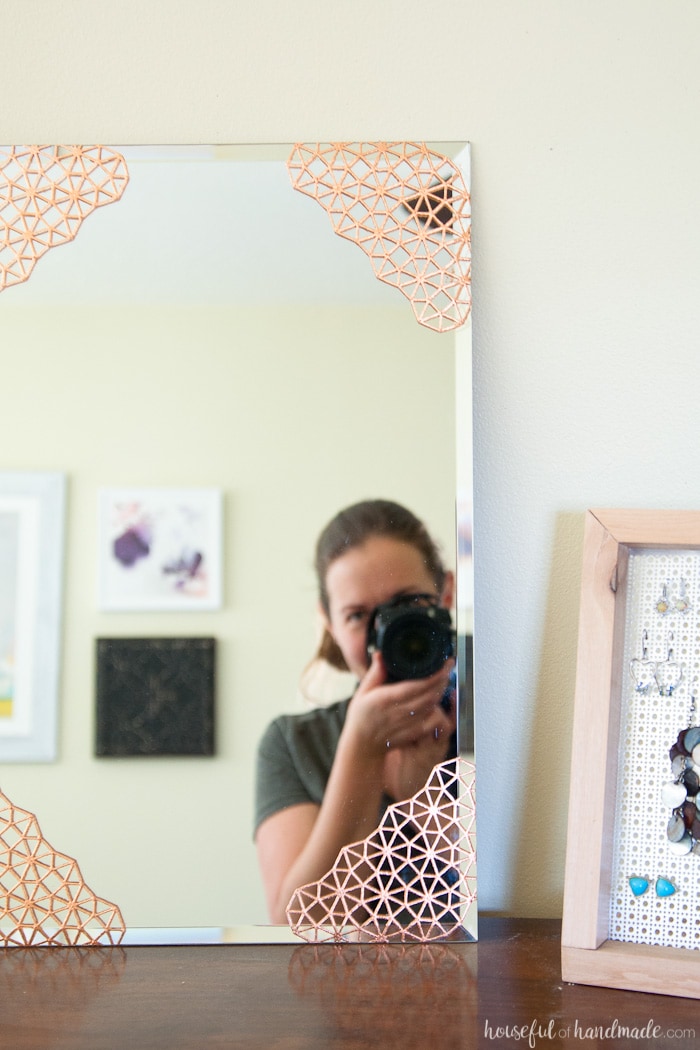 What a fun little day project!