I feel like this year winter is really holding on. I guess that is good because it took me a bit longer to get my winter mantle done than I wanted. So instead of getting spring fever, we are staying in and staying warm while enjoying this beautiful DIY neutral winter mantle. I call this a DIY mantle because almost all of the decor I used was DIYed. I can't wait to share all the details.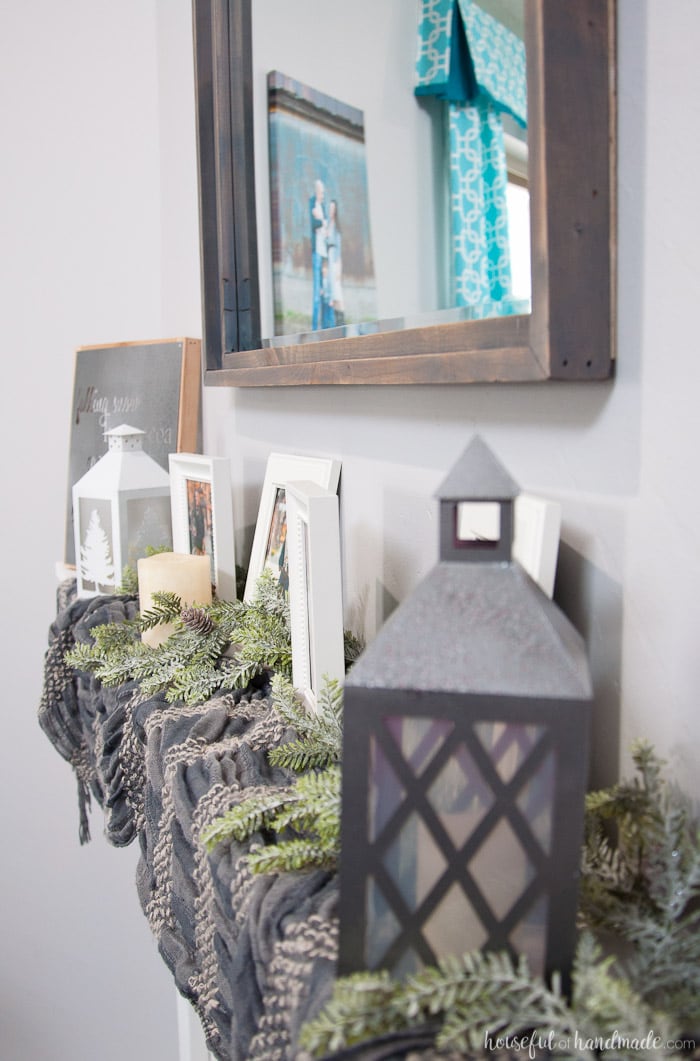 Technically the first DIY for this winter mantle was the actual mantle itself. I really do wish I had a before picture of what the space looked like when we moved in (think 70s style wood paneling and no mantle) but unfortunately all our pictures of the home when we first moved in were lost when our hard drive was ruined. I removed the paneling and then built a mantle a long time ago. Finally last year, I even finished the mantle by adding tile around the entire fireplace and new tile on the hearth.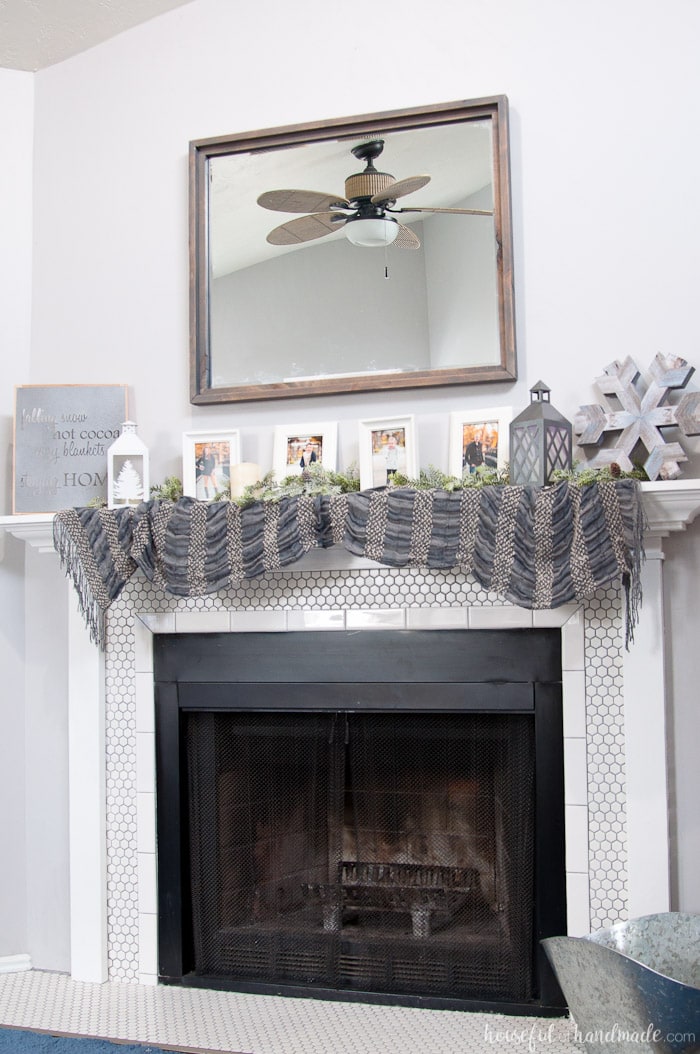 Now that we have the perfect farmhouse fireplace, I get so excited to decorate it every season. It is the first place to get decorations. Winter was no different. After I stripped it of all the red Christmas decor, I was left with some garland, a mirror, and couple decorative lanterns made from paper. That was a good start.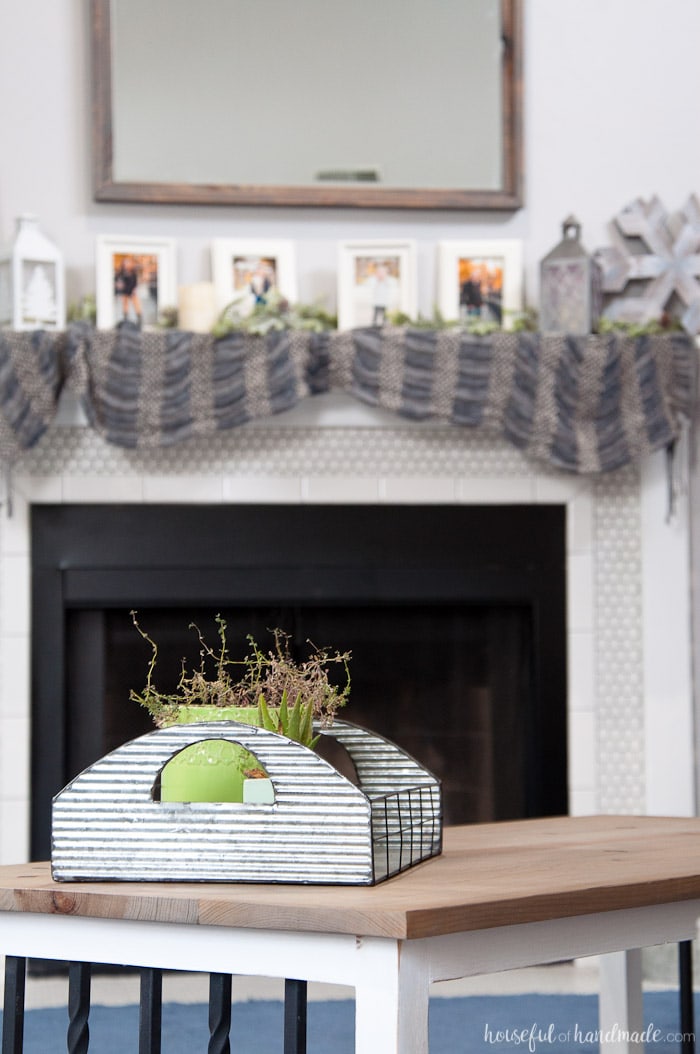 To add a little cozy warmth to the mantle, I went through my scarves and found the perfect cream and gray scarf with lots of texture. I draped it over the mantle. Thrift store scarves would be perfect for the mantle too. You can easily hide and rips, tears or imperfections.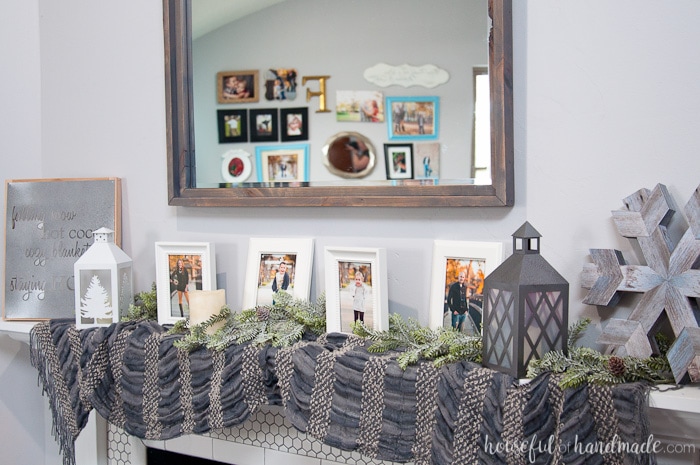 Next I added the garland back in. The garland I used for Christmas this year had a bit of flocking on it with little pinecones throughout. Perfect for winter too!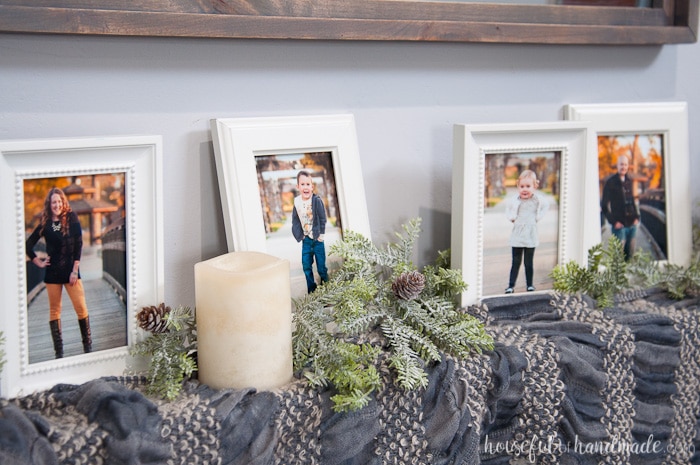 The next thing I added was actually not even planned. I had removed these 4 pictures, one of each member of our family, from a gallery wall to fit in a new decoration. I set them on a bookshelf and forgot about them. At the beginning of January, I was relocating the bookcase and discovered the frames again. I placed them on the mantle to give them a home while I went about the business of relocating everything else on the bookcase and there they have stayed. I realized I loved the personal touch of our family on the mantle, and we were all wearing warm clothing in the photos so even better for our winter mantle.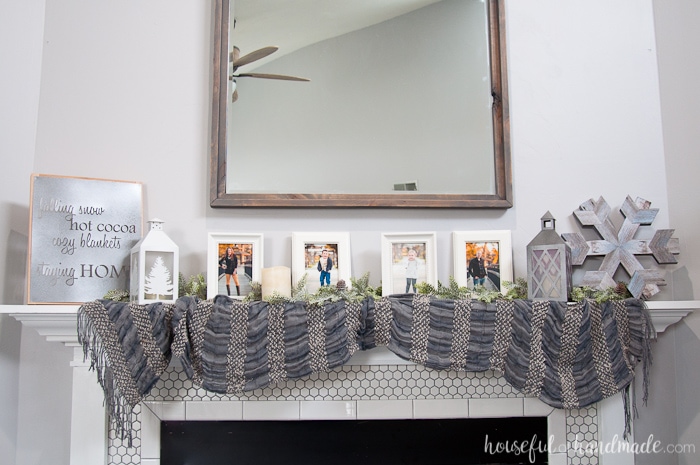 I made these paper decorative lanterns for Christmas, but the silver and white were perfect for winter too. I still cannot believe these were made out of paper. I want to make so many more of these for every season now!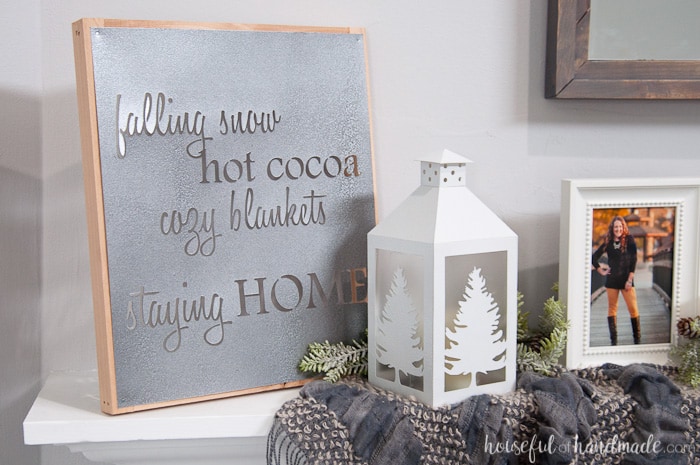 Another DIY that makes me smile whenever I see it is this faux metal farmhouse sign. Can you believe this one is also made out of paper? You'll have to check out the tutorial to see how easy it was to make it look just like metal. For our winter mantle, I made this cozy winter saying. It is the perfect saying for exactly how we are feeling about winter at our house right now. There has been lots of staying home!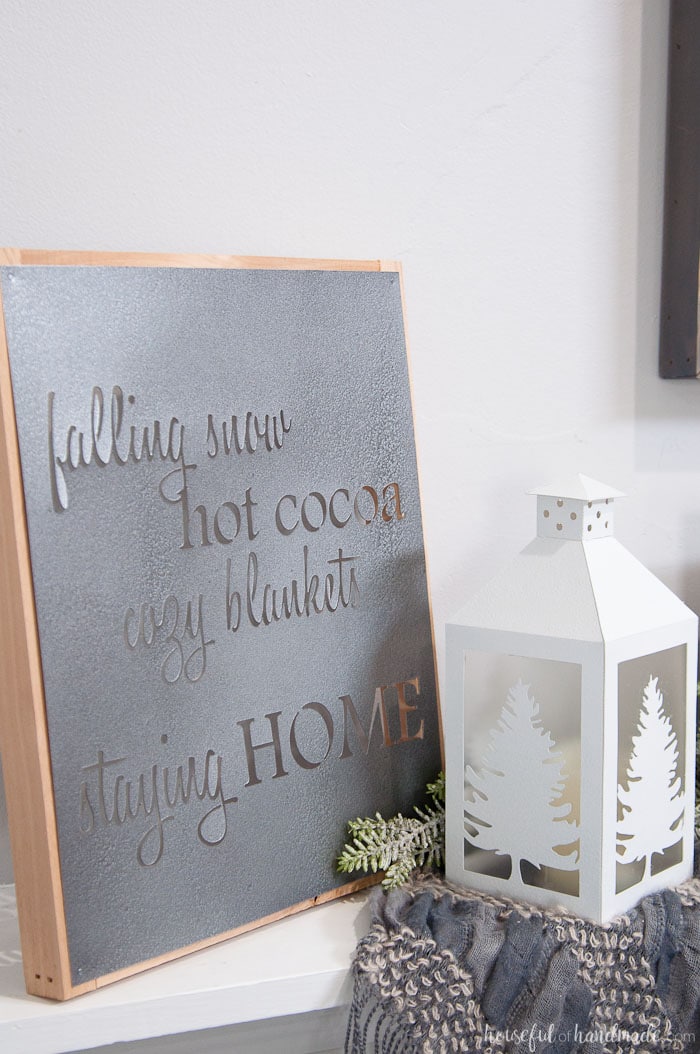 To balance out the other side of the mantle, I added another paper craft. This time it is faux wood. A large faux wooden snowflake! I have always wanted a wood snowflake for my Christmas and winter decor. I am not afraid of using power tools, but I'm really glad I put them away for this DIY. I love how lightweight it is. I can hang it anywhere with nothing more than a strip of tape.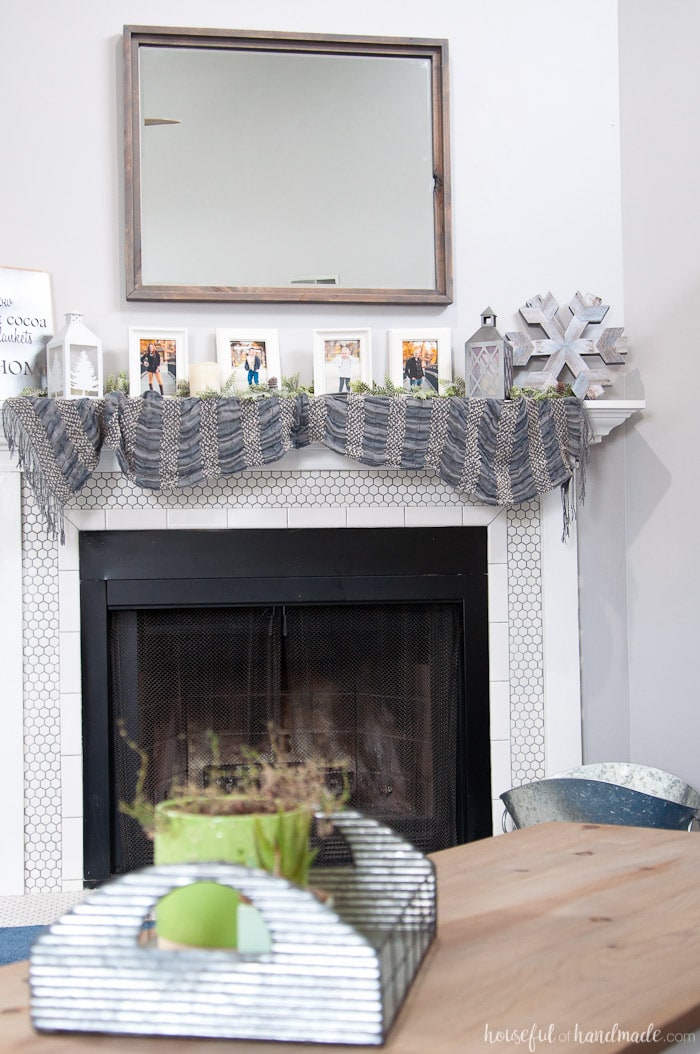 One last DIY is the icing on the cake for our cozy neutral winter mantle: the rustic decorative mirror. I made this mirror out of an inexpensive builder grade mirror and scrap wood. It was so easy to make, but I love how it looks hanging over our mantle. I can't wait to use it for many years to come.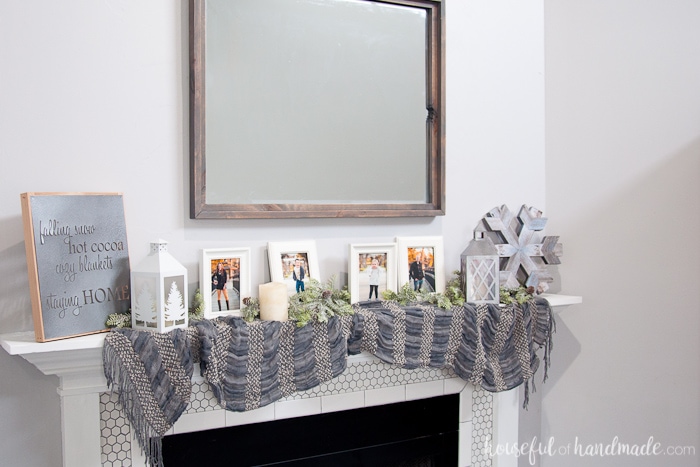 So there you have it, our DIY neutral winter mantle! It's finally done and I hope I can get a few weeks of our cozy decorations before spring comes and it's time to fill our home with pastels and petals.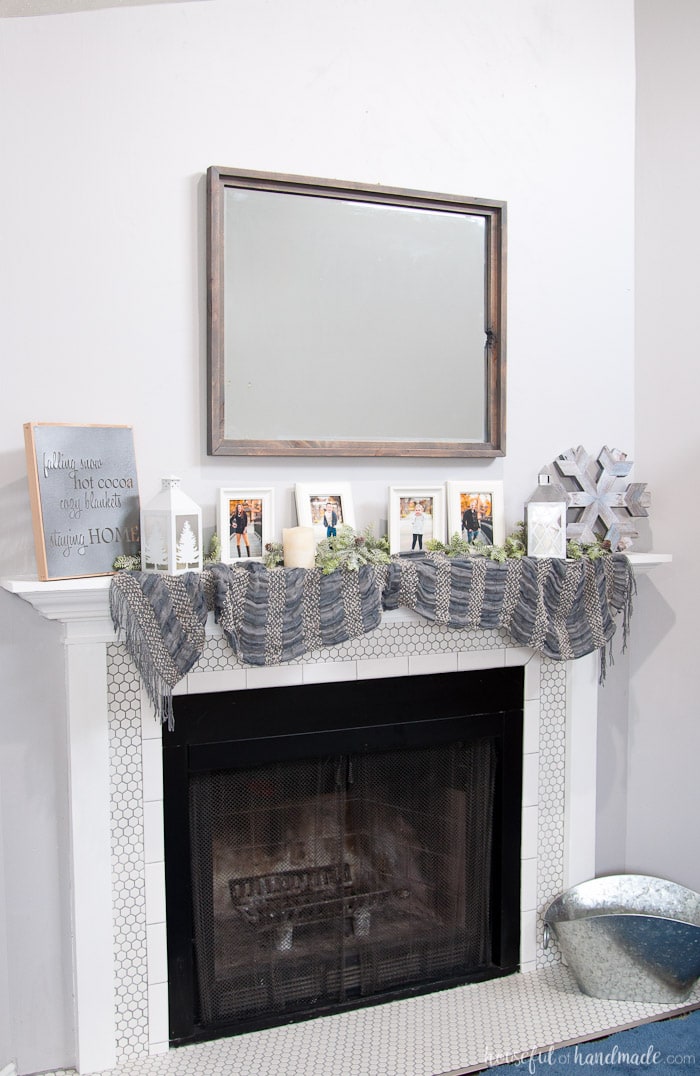 Thanks for taking a peek at our mantle!