Give the gift of fresh baked goodies with these easy cookie gift boxes.
These paper treat boxes are quick to make so you will be ready to deliver your homemade gifts in no time. Includes a free cut file and PDF template.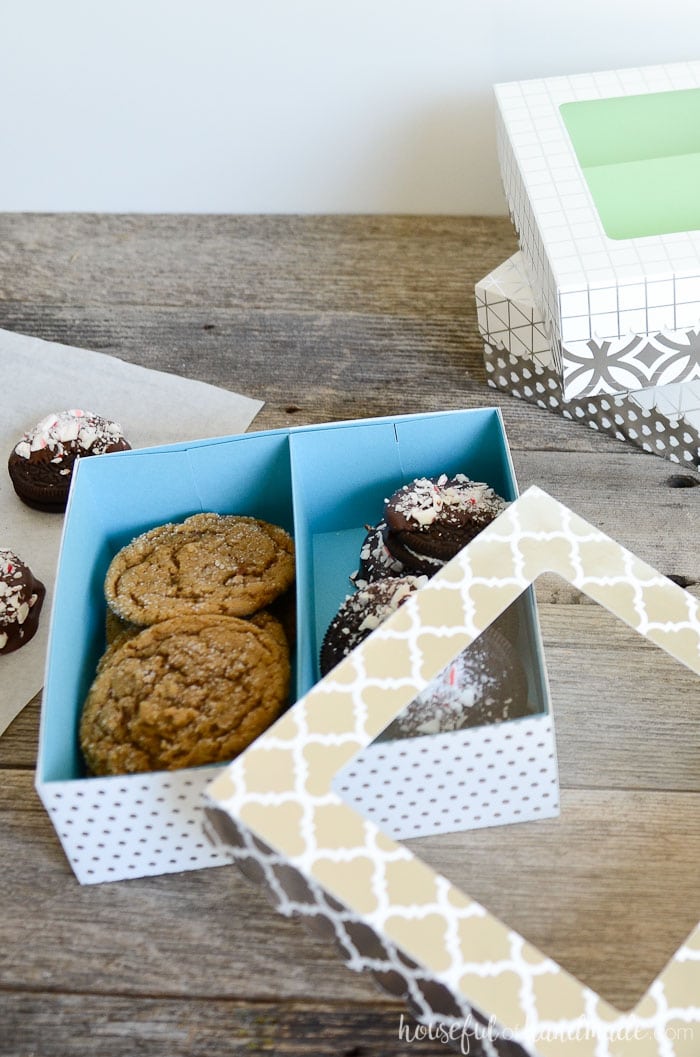 Make these easy cookie gift boxes to deliver all your Christmas treats in style. The lid is equipped with a cute window to show off your treats (just like a professional bakery box).
There are two sizes, one shallower for cookies and candies, and a deeper box that is perfect for gifting to large families or for treats like popcorn. You can put these cookie boxes together in just minutes with the free SVG file and PDF template.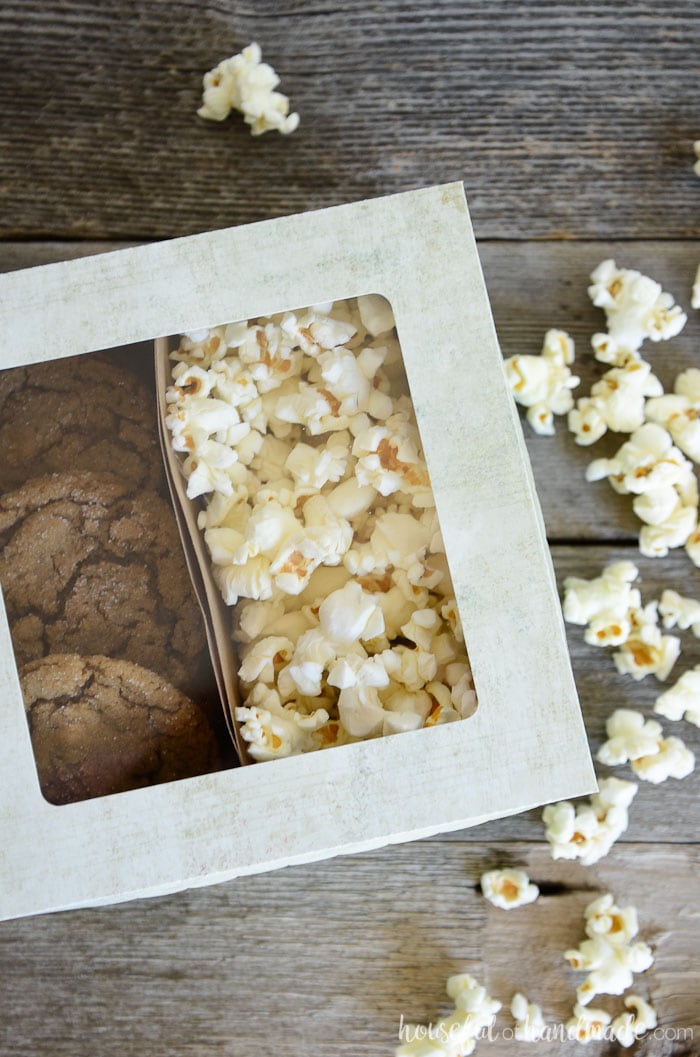 It was late in the afternoon the day before the last day of school. I had already purchased gift cards for the kids teachers to enjoy a delicious meal on their Christmas break, but the kids wanted to make their teachers a present.
So I told them we could make some cookies. Great idea mom! Until I realized I had no way to safely deliver the delicious handmade treats in the hands of my kids.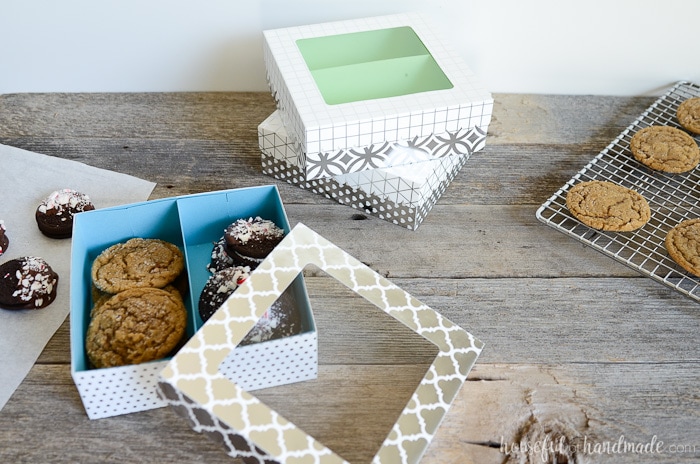 I knew a plate would be a disaster since my daughter can barely walk in a clear path with nothing in her hands without falling.
We could always put them in a plastic treat bag, but then I was certain my son would stuff it in his backpack (which is far from sanitary I am sure) and his poor teacher would end up with crumbs.
Instead, I decided we needed an adorable cookie gift box.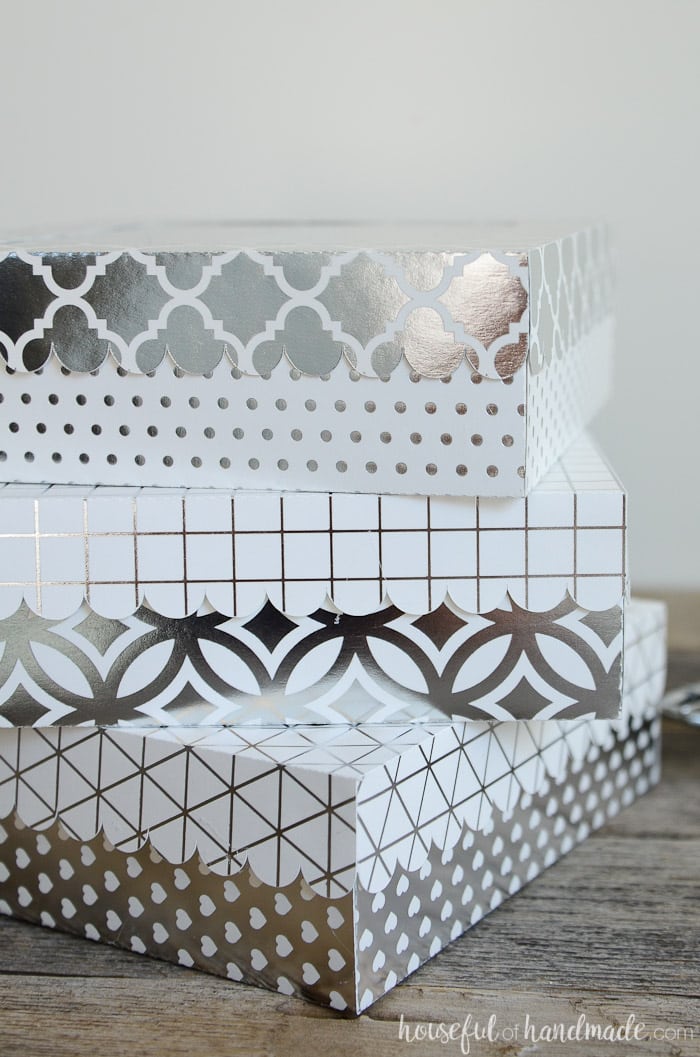 Since I was not about to brave the hoards of holiday shoppers, I turned to my trusty Silhouette Cameo and was able to whip up these beautiful paper treat boxes in no time!
Seriously, after designing the boxes, each box took about 5 minutes to cut and assemble. They are so easy and perfect for holding treats.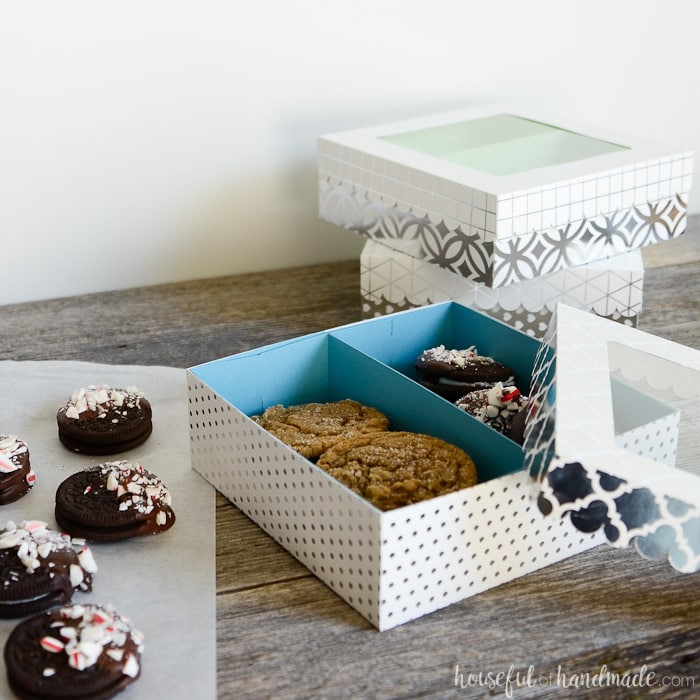 First I made the larger box. I didn't want a tiny box of cookies. Then we started filling it up and realized this large box holds a LOT of cookies.
It would be absolutely perfect for more voluminous treats like popcorn (which is my families favorite, just check out these 14 fun & easy popcorn recipes). It is also great for delivering treats to a large family where 8 or so cookies is just not enough.
But if you are looking for a box that holds enough treats for one or two people, this is just too big.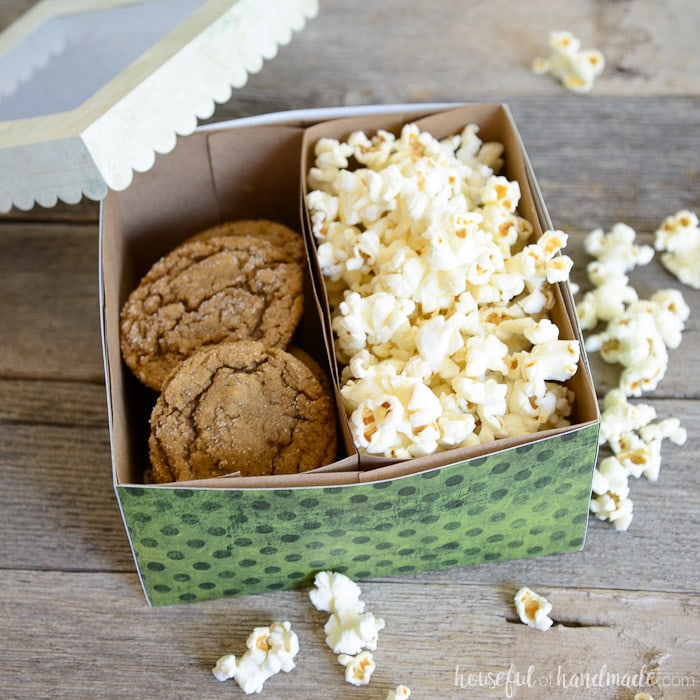 So I hurried and created a new design with shallower sides.
These turned out to be perfect for gifting cookies. Each compartment holds about 6-10 cookies depending on their size.
So the shallower cookie gift boxes hold just over a dozen delicious treats. But I still loaded up the goodies in the big treat boxes for my kids teachers! After a busy start to the school year, no one needs a treat more than them 😉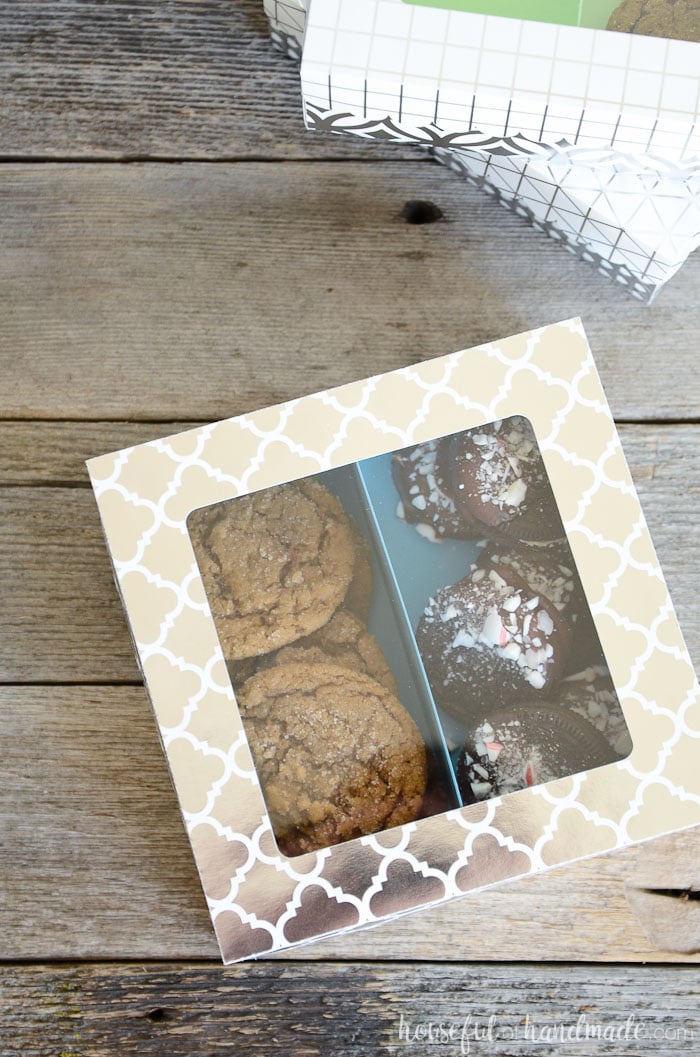 If you are looking for the perfect cookie gift boxes or paper treat boxes for any type of treat you are making this holiday season, read below for the tutorial. And don't forget to check out the rest of my paper craft tutorials.
How to Make Cookie Gift Boxes
Supplies:
Cookie box template
Cardstock
Hot glue gun and glue sticks
Cookies (or treats) to fill your boxes with!
Cut out all the pieces from the cardstock. Use textured or patterned cardstock for the outer box and plain colored cardstock or even brown wrapping paper for the inside boxes. I love buying the 12″ x 12″ patterned cardstock books when they are on sale. The silver and white papers were a book I bought at Michael's for only $5 and there are 30 paper inside. For the shallower inside boxes, you can cut those out of 8 1/2″ x 11″ paper. All other pieces will need a 12″ x 12″ paper or resize them with these tips.
Fold the outside box together by creasing along all the dotted lines, then glueing the tabs at the sides to create a box.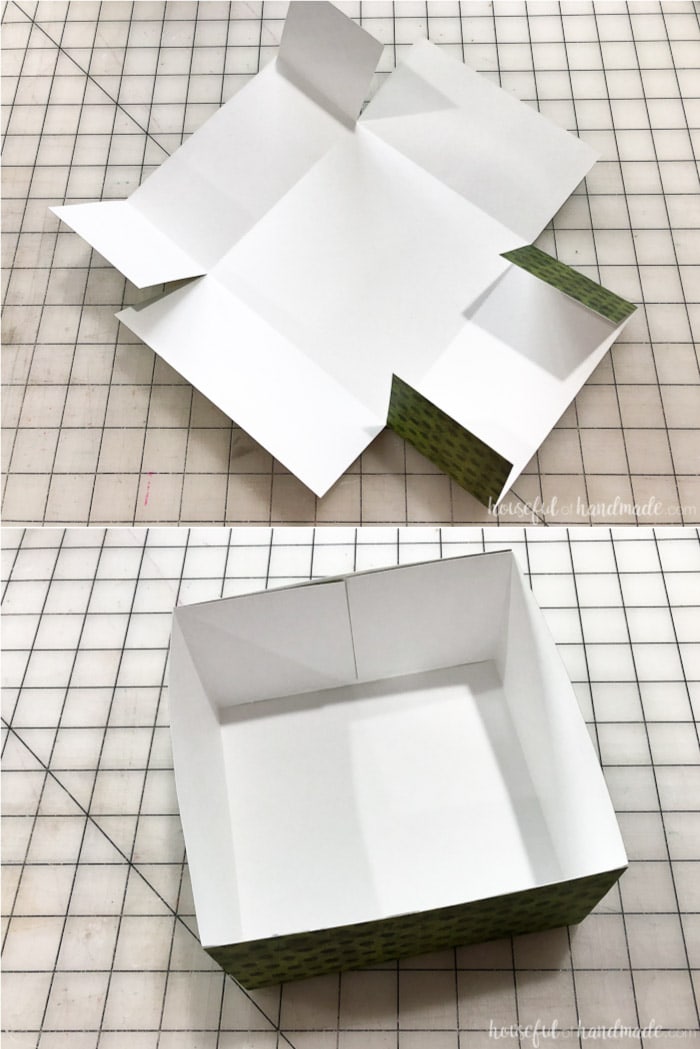 TIP: if your cutting mat is extra sticky, instead of pulling the paper off the mat which will make it curl up. Flip the mat over and pull the mat off the paper.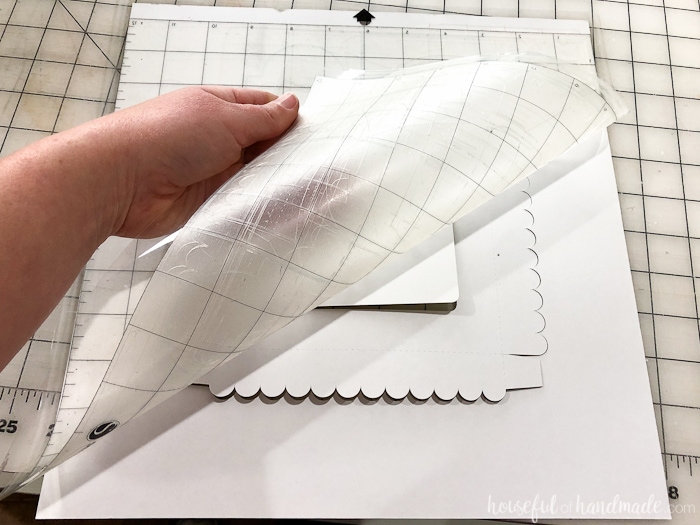 For the lid, crease along all the dotted lines then glue the thin plastic sheet to the back before glueing the tabs. I used leftover thin plastic sheets that I bought to make wall stencils for my home.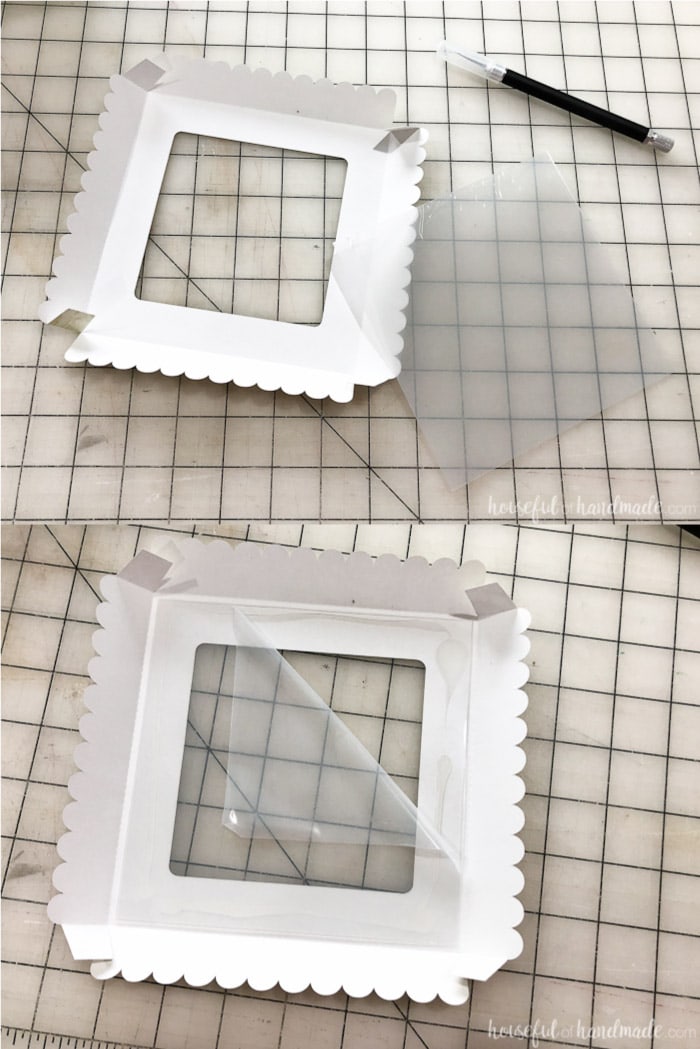 Fold along all the lines of the inner boxes, then slide together the latches on the ends to secure. Place them inside the outer box to create compartments for the cookies.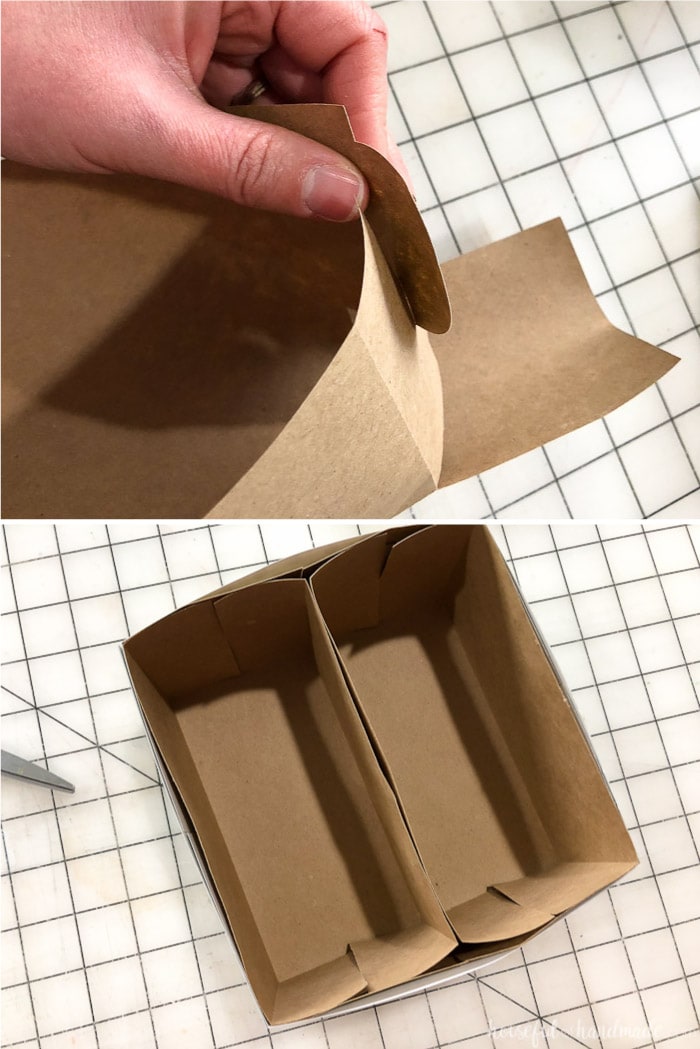 Now all that is left is to load up the cookie gift boxes with all your favorite holiday treats! If you want extra protection from kids carrying the boxes (so the lids don't fall off) you can secure them with a ribbon and bow. Then just watch everyone's face light up when they see all the delicious goodies.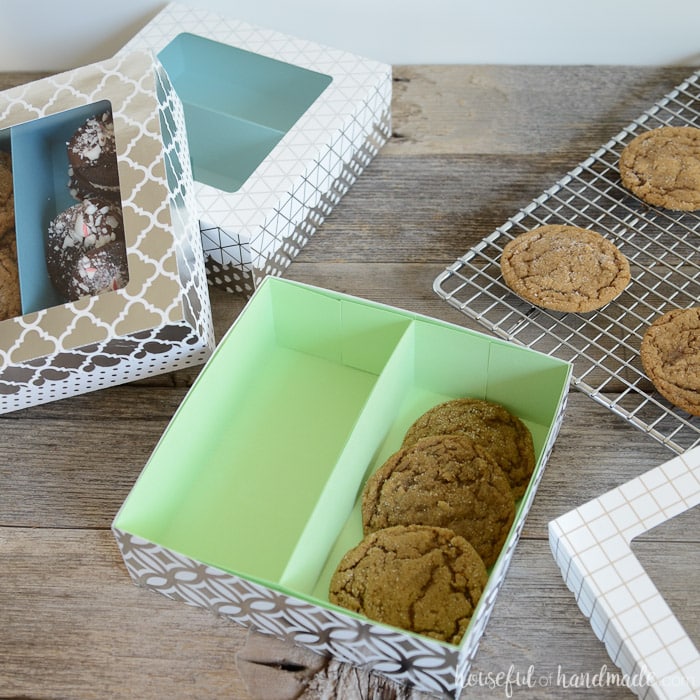 And for more cookie gifting ideas, check out these other Christmas Cookie boxes and fun printable cookie box.
And have a wonderful Christmas!