This post contains some affiliate links for your convenience. Clicking these links will help support this blog so I can keep creating things to share with you, but you will never pay more by using an affiliate link. Click here to read my full disclosure policy.
How to Make DIY Fabric Storage Boxes
---
Supplies:
Start by cutting out the fabric. For each box: cut one piece that is the length of the front, bottom, back plus 2-3″ by the width of the box front plus 1″; and cut two pieces that are the height of your box plus 2-3″ and the depth of your box plus 2-3″and two that are  For each box I cut 1 piece at 10 3/4″ x 34″ for the front/bottom/back and 2 pieces at 15″ x 11 1/2″ for the sides.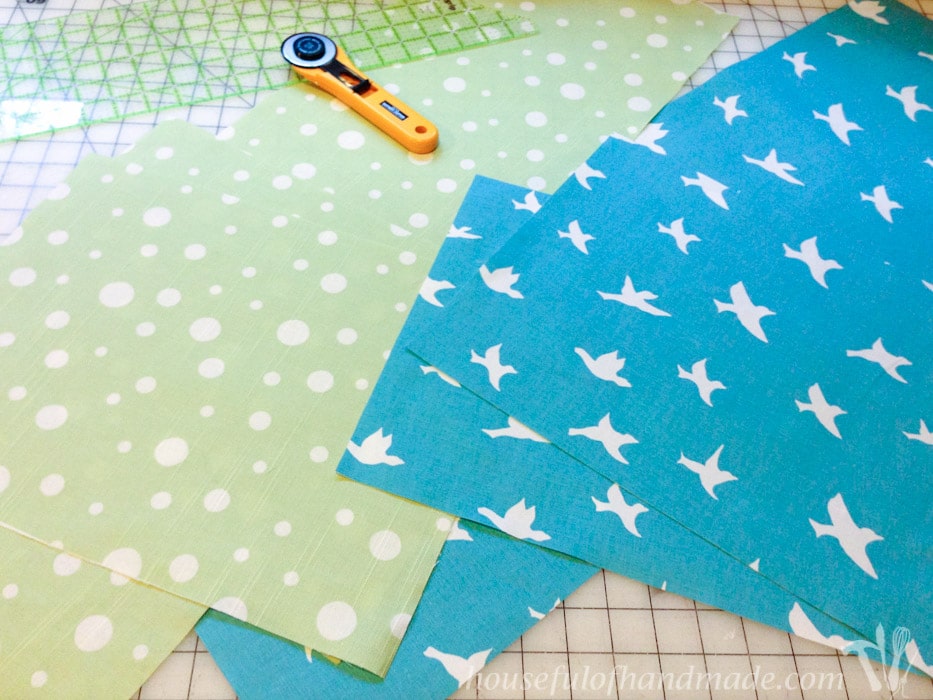 Fold over 1/2″ on each side of the front/bottom/back piece and press (this is where the seam gauge comes in really handy).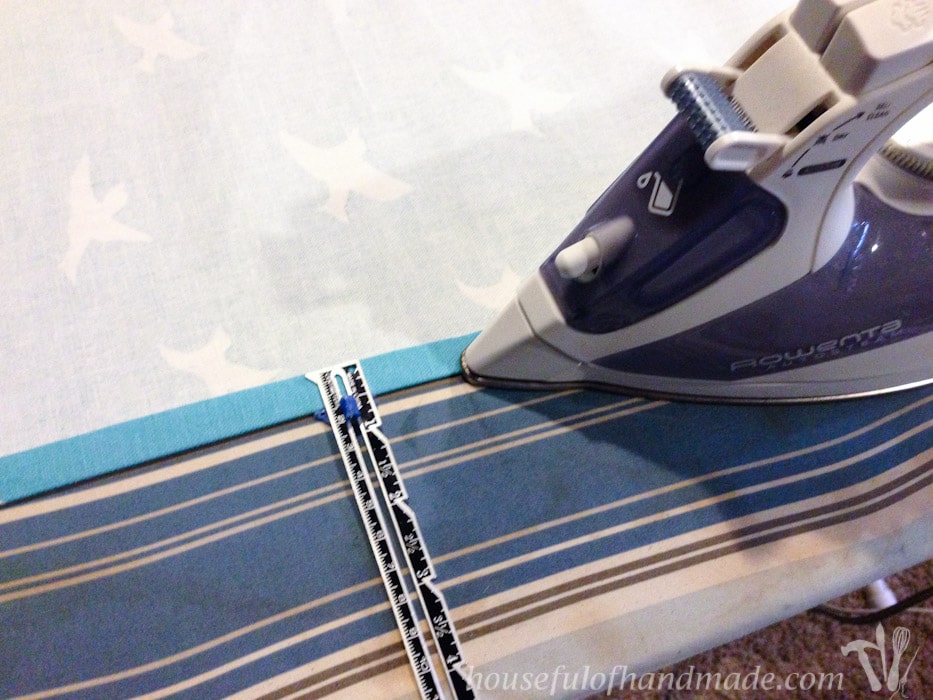 Stitched a line 1/4 inch from the edge with a contrasting color for some added detail. I used a stitch on my machine that does a duplicate stitch (forward three, back one, forward three, back one, etc.) so it looks like a thick line of stitching. If you don't have this stitch on your sewing machine you can always use a thicker thread to get a similar look.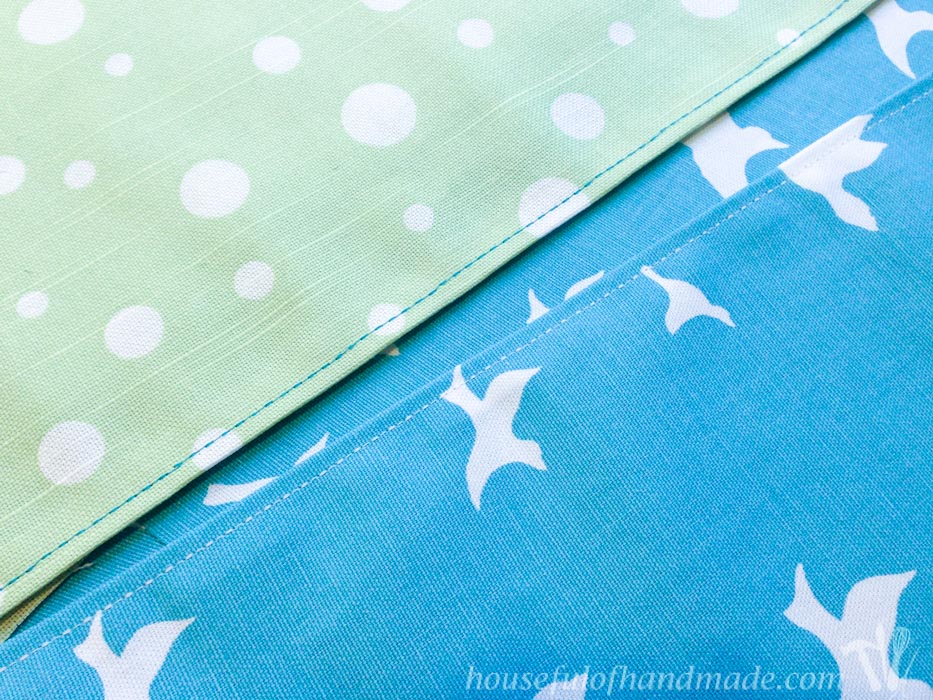 Now it's time to glue. Add spray glue to the side pieces of the fabric. Be careful not to get it on the front because it is permanent. Wrap the extra around the sides of the box and make sure they are glued down (use the fabric glue if you need extra glue, don't try to spray it again or you will get it all over). The corners on the bottom of the box will need to be cut to lay flat.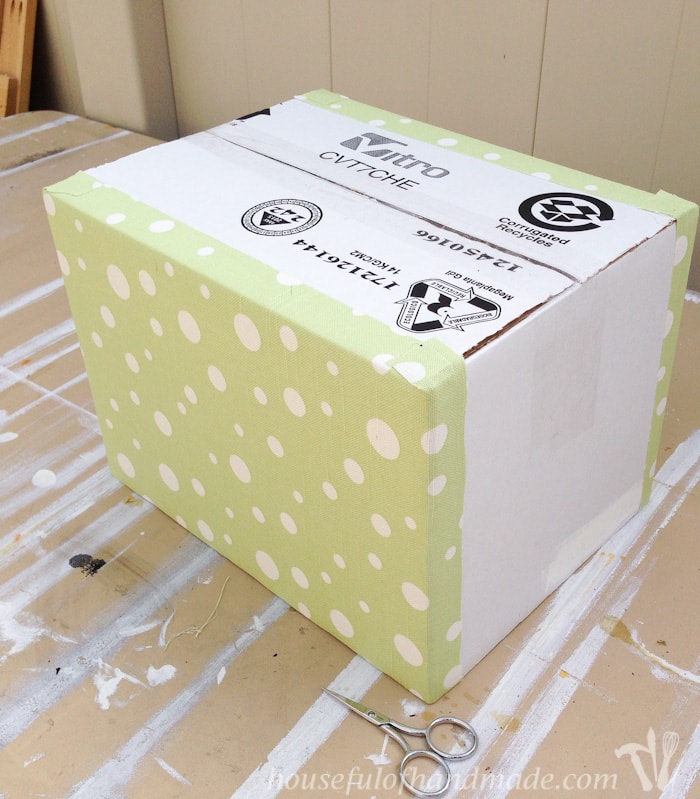 Spray glue the front/bottom/back piece and center it on the box. Smooth it over the whole thing and wrap the edge inside the box. Originally I did not use extra glue on the edges of the boxes like the original tutorial called for. But my sweet children quickly made it necessary to use a stronger glue on the edges. I wouldn't recommend skipping this step unless you don't have kids 🙂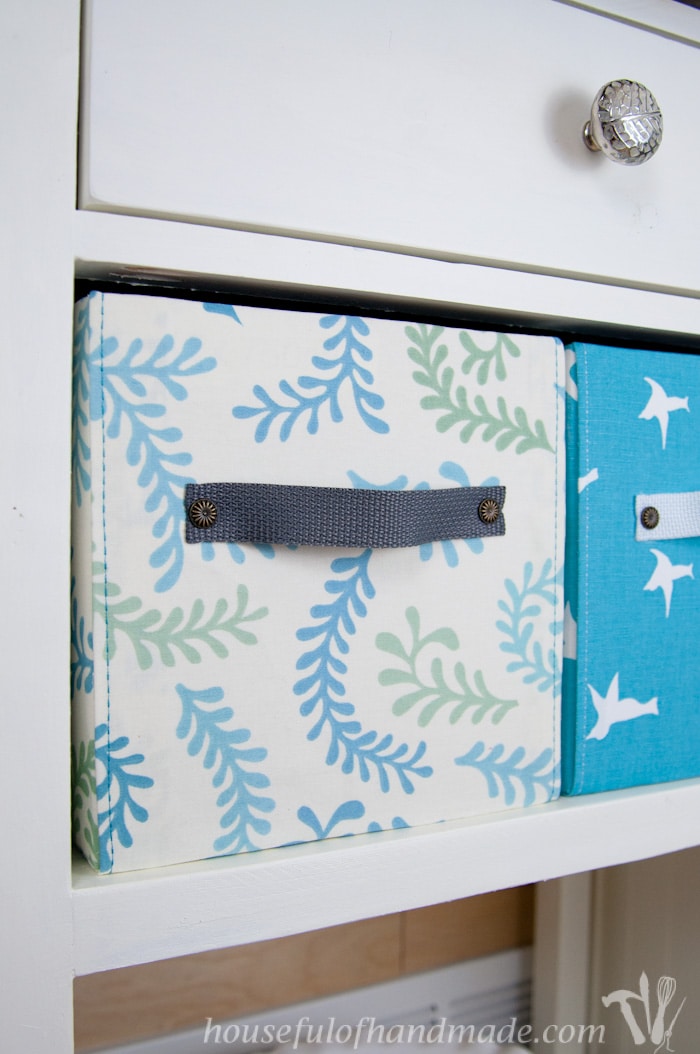 Next, secured the handles. I didn't take pictures since Joanne's tutorial is so great. Make sure to check it out to see how to attach the handles. They look so great and I just love the decorative brads!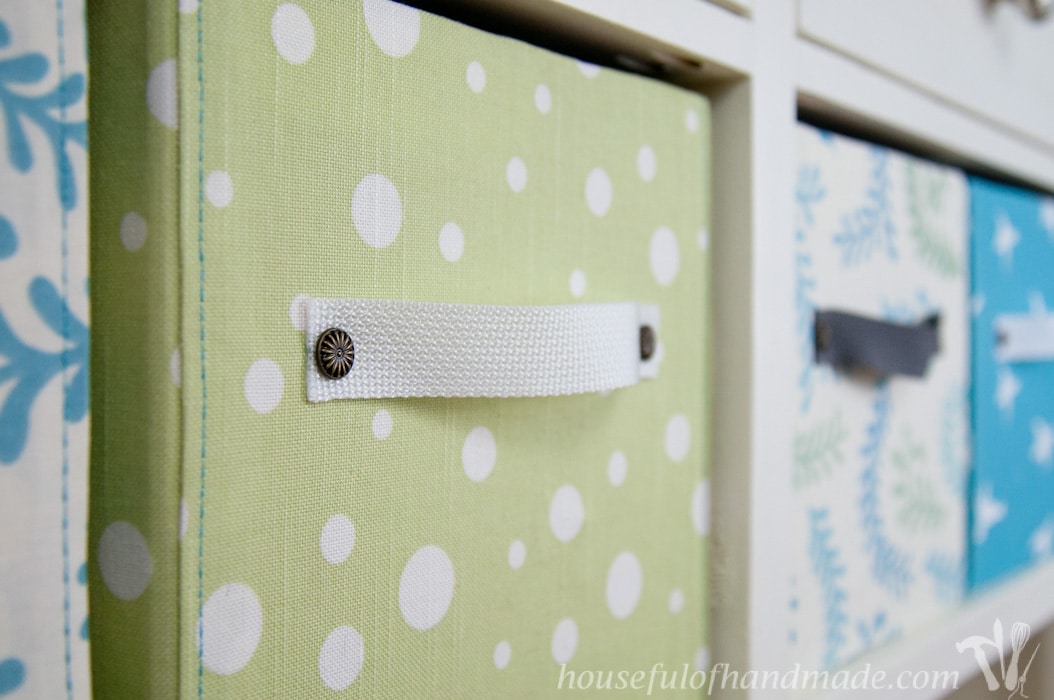 To really make the boxes look fabulous and not homemade, don't skip the step where you cover the unfinished inside edge with a fun ribbon. I couldn't believe the difference it made. The uneven, unfinished edge was instantly hidden and made to look even. I used a 3/8 inch wide ribbon so it was super forgiving. And it makes me smile every time I open a box.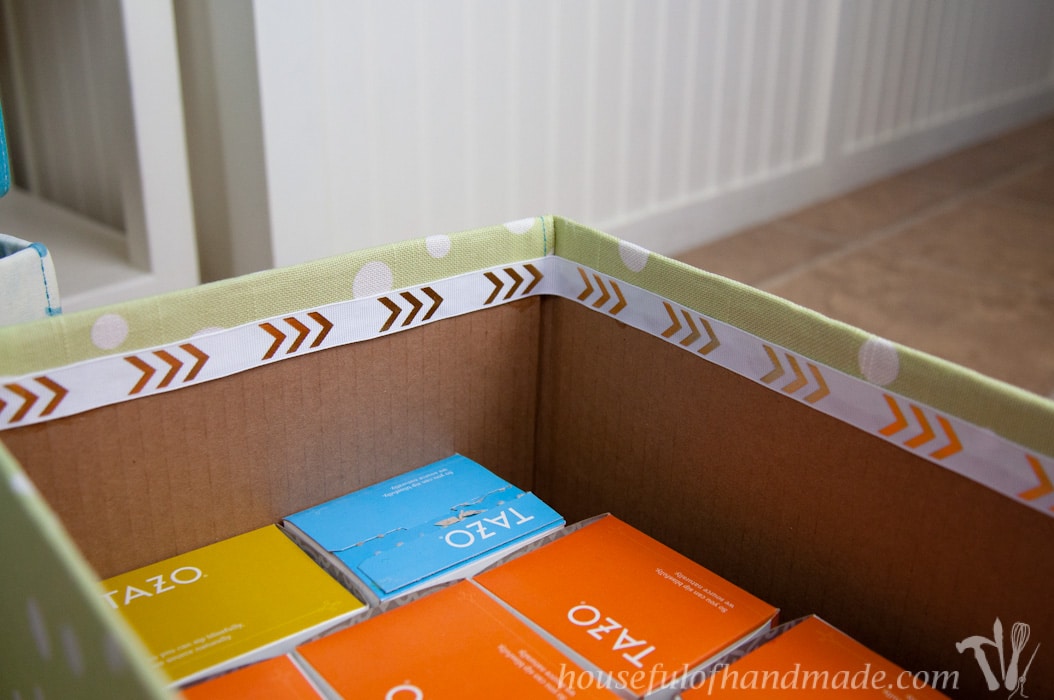 I was able to knock out all 4 boxes in about 4 hours, including the extra sewing! You can whip them up faster than you can binge watch a season of your favorite show on Netflix! And then you can quickly stash all of your unsightly piles and fake a perfectly clean house 🙂
If you like this project, don't forget to sign up for my weekly newsletter where I will continue to share my love of DIY and all the projects in our home.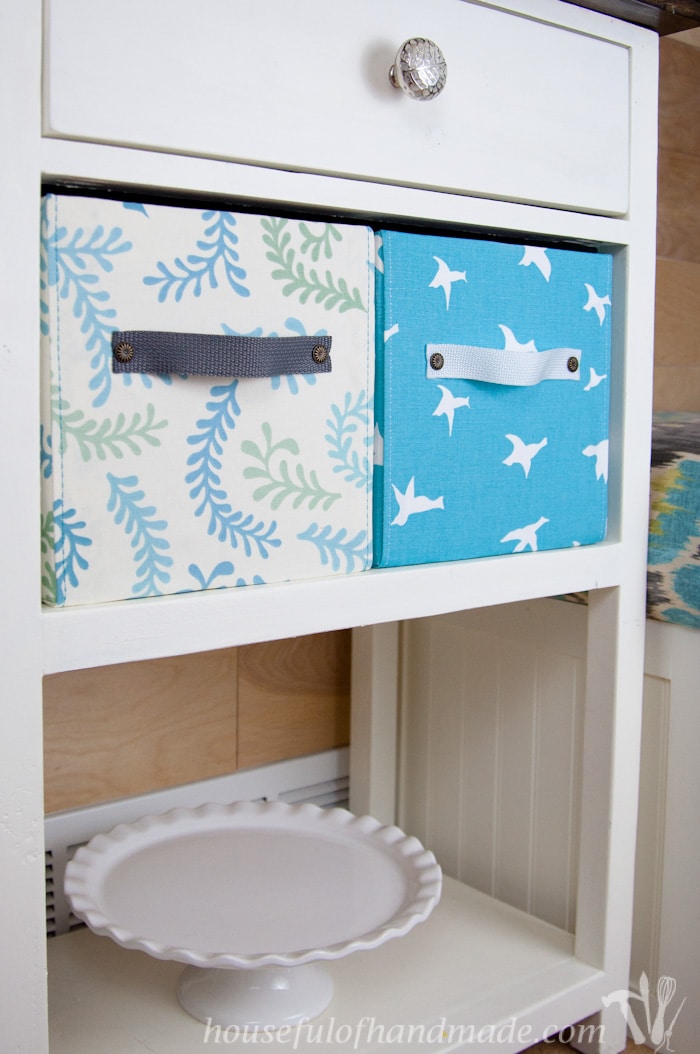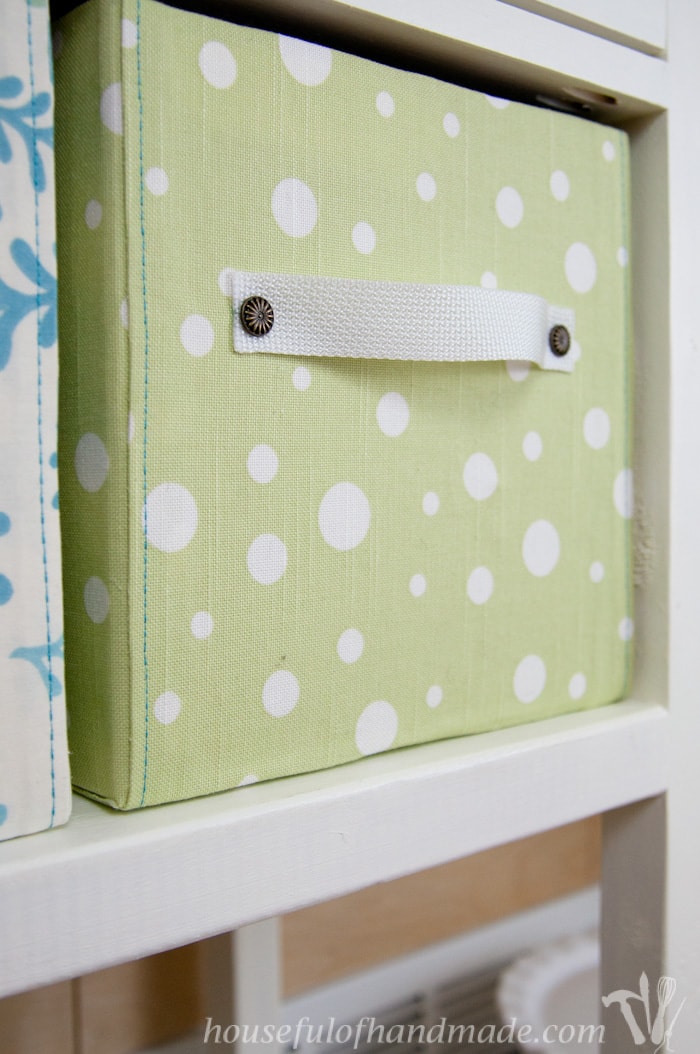 And the colors I chose work with our dining room bench perfectly! The dining room remodel is looking so good (only a couple more things on my to do list).