We go through Greek yogurt faster than we do milk in our house. We use Greek yogurt in our daily green smoothies, I have a pancake recipe that I have started putting Greek yogurt into that is delicious (and the kids love pancakes), we use it in popsicles, cooking, everything!
Seriously, we really love using Greek yogurt, but it can get expensive. I had been buying it at Sam's Club and so I got the 35 oz container of Fage yogurt for around $5.50, but when you are going through at least two of those a week, it starts to put a strain on the grocery budget. So in true DIY addict fashion, I figured I could make it myself. And I can! And it's easy! And it's CHEAP!

If you can believe it, I turn a gallon of skim milk into almost 2 of the 35 oz containers of Greek yogurt! Since I buy the skim milk at Sam's Club for under $2 a gallon, I am saving $4.50 off each container of yogurt. Yeah for that! Now instead of $11 a week in Greek yogurt, we are able to continue to eat all the yogurt we want for $2 a week. Total score 🙂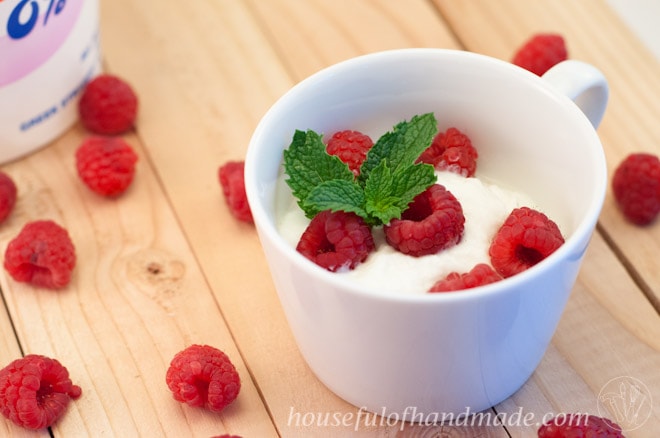 Now I am not going to tell you that making yogurt is fast. It takes a bit of time, but I have finally found a way to make it while not actively having to watch the milk.
I started making yogurt in the crock pot but was heating my milk on the stove. In order to heat a whole gallon of milk to the temp required was about an hour of constant supervision and stirring or it will scorch.
This was a big pain for me because my time was worth more than the savings. So I actually stopped making yogurt for a while. And we stopped eating as much to keep the budget in check. But when we eat healthier, we just love the benefits of the Greek yogurt.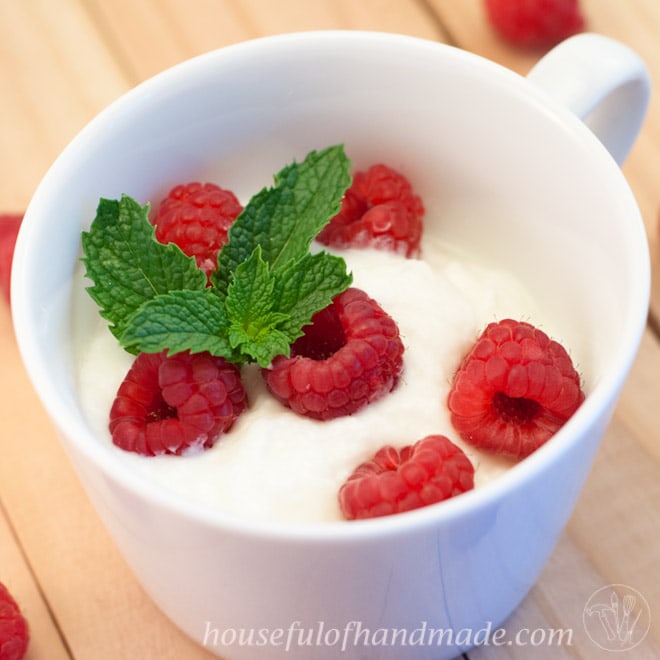 Then one day it hit me… heat the milk in the crockpot!!! Lightbulb! No constant supervision, no scorching, no sitting and stirring for ever. It does take a bit longer to heat the milk in the crockpot, but I don't have to do anything. So I pour the milk in the crockpot when I am working on dinner. A couple hours later it is hot enough for the next step!
So if I have convinced you to try to make your own Greek yogurt, go grab a gallon of milk (I use skim for non-fat yogurt, but any milk will work depending on the amount of fat you want in it).
Pour the gallon of milk into a 6 qt crockpot (it will fill it almost to the top). Set the crockpot to high and the trick to making sure your don't forget about it and burn your milk (it will happen eventually if you let it sit at high for too long, I know, I forgot about it once), is to use a thermometer with a probe that allows you to set an alarm at a specific temperature.
I have this one. Set your timer for 185 degrees, put the lid on and get on with your evening. When the alarm goes off, give it a stir to make sure the entire batch of milk is to temp. You want the milk to get to 185 degrees Fahrenheit.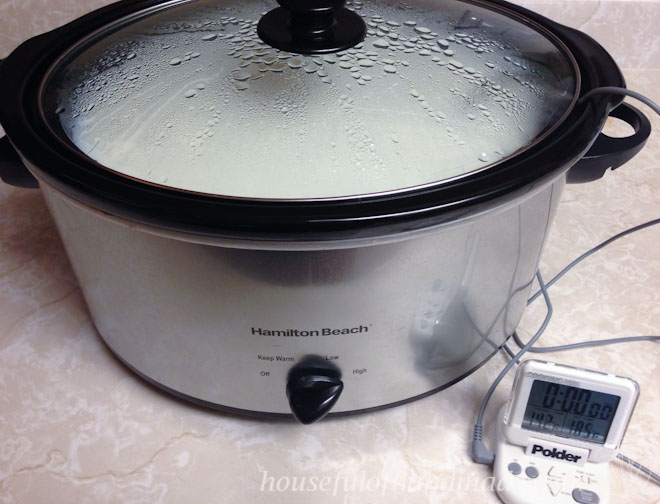 Once you get your milk to temp, you will need to cool it down again. I know, stupid step, but I learned it is necessary. Heating the milk to a high temp will help the proteins in the milk so that you get a thicker, smoother yogurt. If you only heat it to 110 degrees, you will only get barely more than one 35 oz container when you strain out the whey because the yogurt is thinner. I know, I tried to skip this step to see if it mattered. It does.
To cool the milk down to 110 degrees, the easiest way is to put your crock pot bowl in a sink of cold water. You could use ice, but cold tap water works just fine. So fill your sink part way with cold water (not too full or it will spill over into your milk), then carefully place your bowl of hot milk into the sink.
Stir occasionally to cool it evenly. This is one step you don't want to go too far from because your handy little temperature timer will not alarm you when you are cooling. Bummer, if you have one of these temperature timers, I would love to know about it 🙂
You have to cool the yogurt to 110 degrees before adding in your yogurt culture or you will kill it and then you will just have milk that sat out all night. Yuck!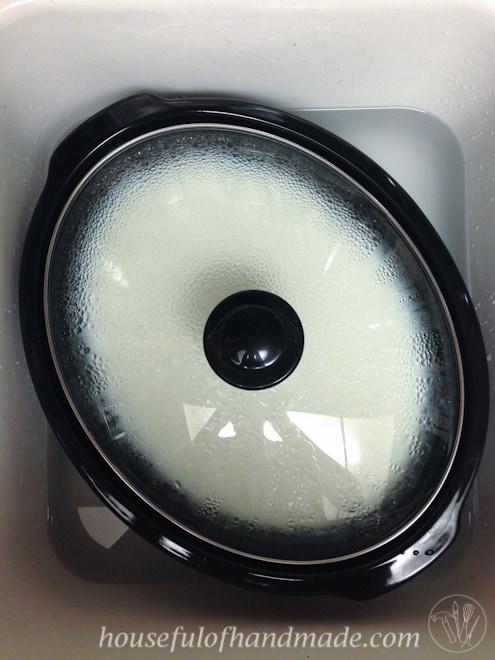 The culture you will need is any yogurt with live active cultures. It will say it on the yogurt container. I use Fage yogurt because it is delicious and has these live active cultures. You will need about 1/2 cup yogurt with cultures for your gallon of milk. I am not super precise when I measure this, just save the last big scoop from the bottom of the carton.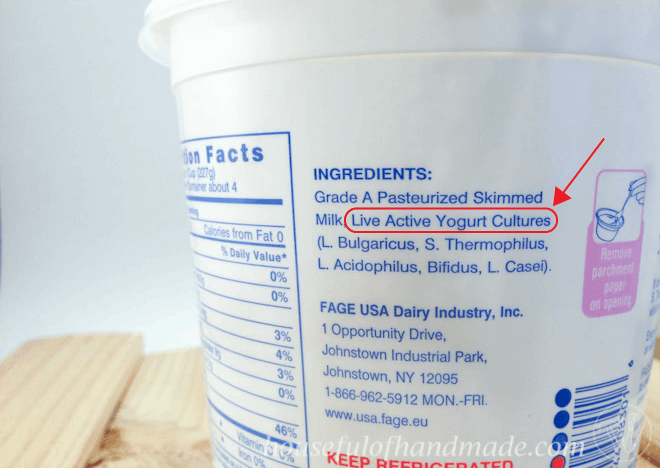 When the milk is cooled, scoop a few ladles of warm milk into the cultures and whisk it until smooth, you don't want any lumps of yogurt left. Then pour that back into the warm milk in your crockpot and give it a good stir. Put it back into your crock pot container and turn it off! You want to place it back into a warm container but you don't want it to still be cooking.
Then you will want to keep the the temp of the yogurt as warm as you can for as long as you can. If you are lucky enough to have an oven that will warm to only 110 degrees, you can just place your yogurt in there and let it sit for 6-8 hours, but I don't have one of those ovens (they are pretty rare) so I wrap my crockpot in a big towel to hold in the heat and go to bed.
Then in the morning (8-10 hours later) I open up the crockpot and find beautiful yogurt. Now this is just regular yogurt, to get the thick, creamy, high protein Greek style yogurt, you will need to strain out the whey.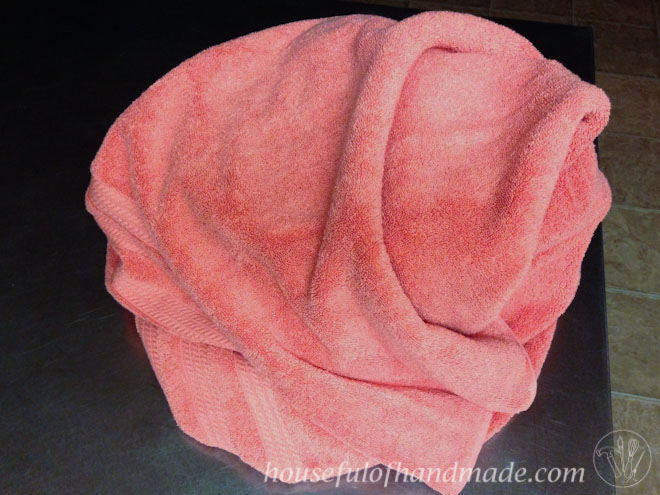 When I first started making yogurt I used 2 layers of cheesecloth to strain it. It worked, but cheesecloth is kinda thin and I had to keep buying more. I have started using a big square of muslin that I wash and reuse and it is perfect! Place the muslin into a large colander and then spoon the yogurt into it. I have to use two colanders to strain all the yogurt from 1 gallon of milk. I tie it up a little on the top after scooping my yogurt inside.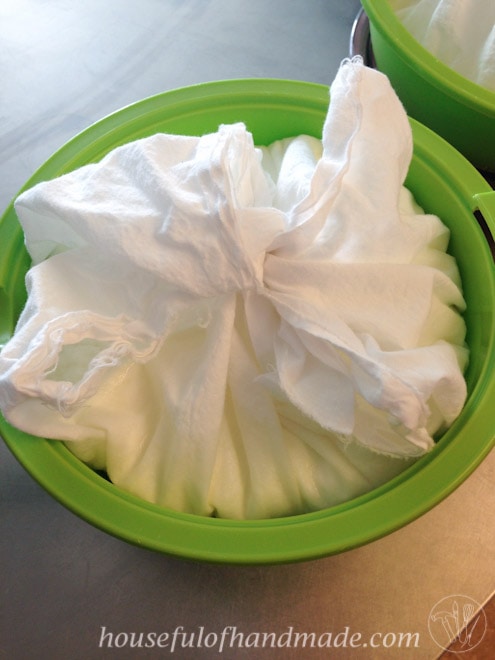 Then let the yogurt drip until the yogurt is the thickness you want. I strain mine for 3-4 hours. Make sure you have a large enough bowl below to hold your whey, I have to empty my containers a couple times during the straining process.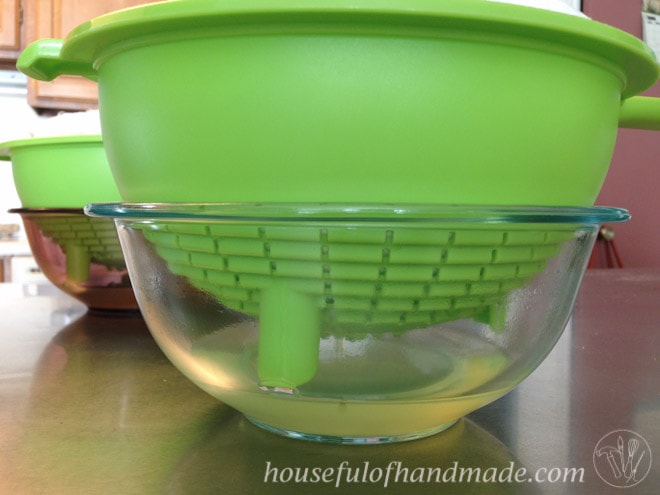 When you are done straining the yogurt, you have made homemade Greek yogurt. Place it into containers for the fridge. I wash and reuse old Fage yogurt containers.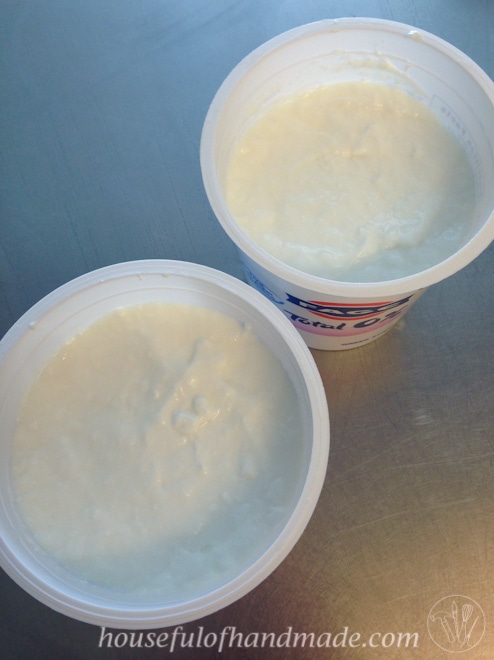 Don't throw out the whey that you drained off the yogurt. It is great to use in cooking. You can use it in place of buttermilk in your baking, in place of the water in your bread, and many other ways. I usually don't use it all up before it is time for the next batch of yogurt and then I toss it to make room for the new batch of whey. But I have heard you can freeze it, I just know I would fill up my freezer too fast.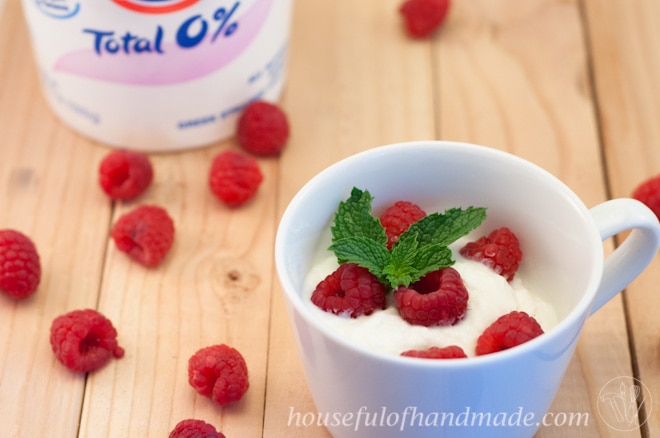 So have I convinced you to try your hand at homemade yogurt? I promise it is worth it!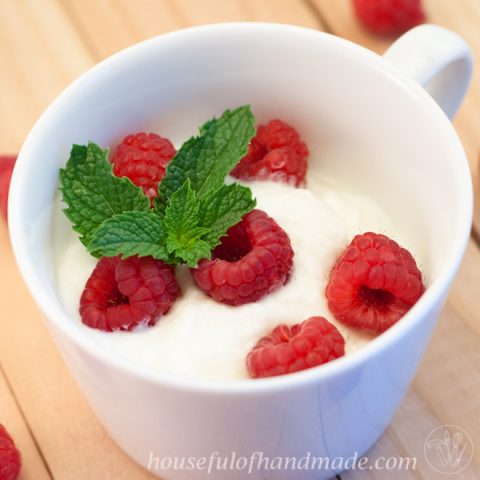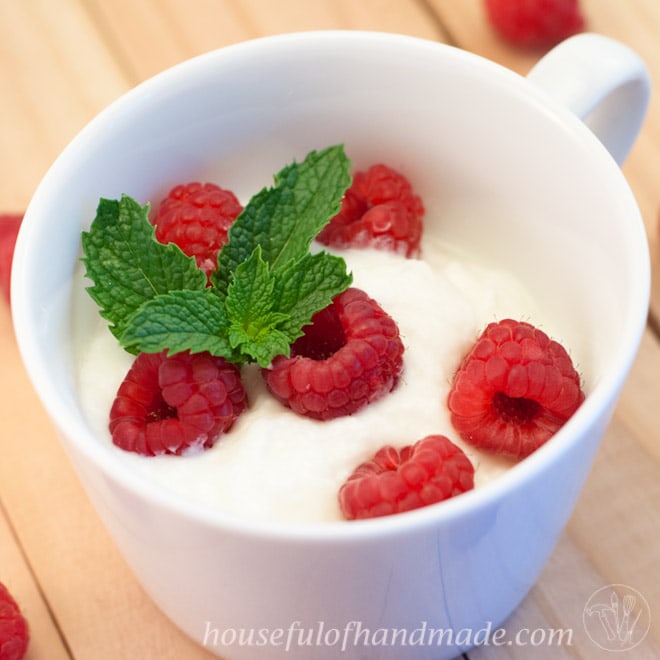 Homemade Greek Yogurt
Yield: ~70 oz

Cook Time: 3 hours

Additional Time: 11 hours

Total Time: 14 hours

Homemade Greek yogurt is delicious and super cheap to make at home.
Ingredients
1 gallon of milk (skim milk for non-fat yogurt, but any milk will do depending on the fat content you want in your yogurt)
1/2 cup yogurt with live active cultures
Instructions
Warm the milk in a 6 quart crockpot on high heat to 185 degrees Fahrenheit. Use a thermometer with a probe and temperature timer to make sure you don't heat your milk too hot and burn it.
After the milk is heated, cool it in a sink of cold water to 110 degrees Fahrenheit. Stir occasionally so it will cool evenly. Remove from sink when cooled.
Ladle a few scoops of the warm milk into a container with the yogurt and whisk until smooth. Pour it back into the warm milk and give it a stir.
Place container of warm milk back into warm crockpot and cover with lid. Make sure the crockpot is turned off. Wrap in a large towel to keep the heat in and then let it sit for 10-12 hours or overnight.
When the yogurt is done, strain it in colanders lined with cheesecloth or washed muslin and allow it to strain for a few hours until desired thickness is reached.
Put in containers and store in the fridge.
Enjoy!