This little craft was not planned. I hadn't planned to do any indoor planting, because I have the thumb of death for all indoor plants.
I know it's crazy, I have been growing a beautiful vegetable garden for 4 years now. I spend hours outside sending my vegetables happy, positive vibes and it seems to work well for me because I always have more vegetables than we can eat and preserve in a year.
And last year I planted by first flower garden in my front yard and it has been thriving! So why is it so hard for me to keep plants alive in my home, where I spend so much time???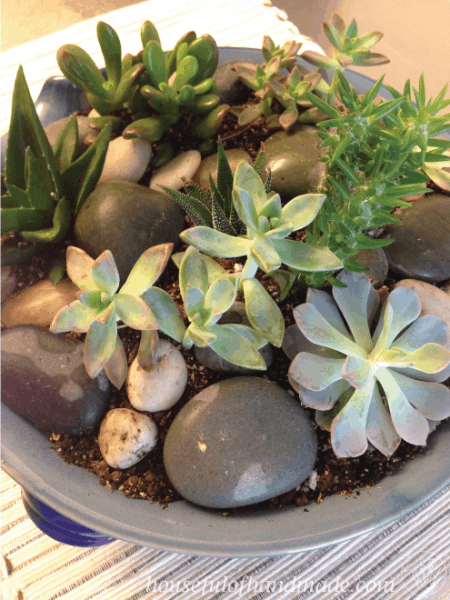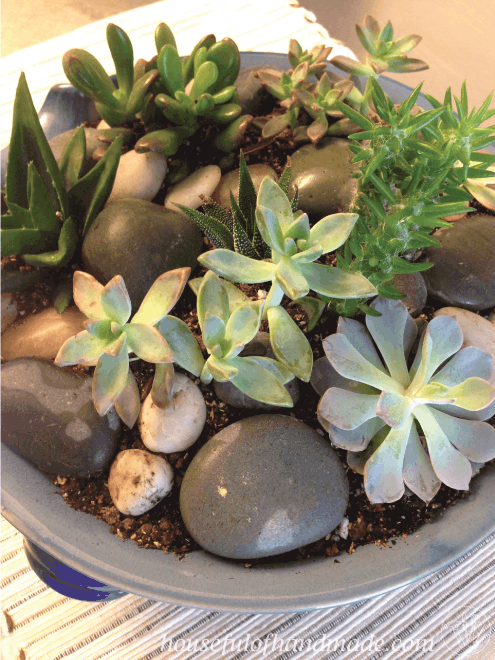 Don't get me wrong, I absolutely love indoor plants. I think they make a room so beautiful. But cut flowers are the best I have been able to do to add life to my indoor space.
So when my son wanted to wander Cactus and Tropicals while we were killing an hour the other day, we got sucked into all the amazing varieties of succulents. My son wouldn't let me leave without a basket full of the happy little succulents and a bag of cactus potting soil! He's a very good wingman when it comes to shopping (he insisted I buy me a new purse the other day too, happy mommy!).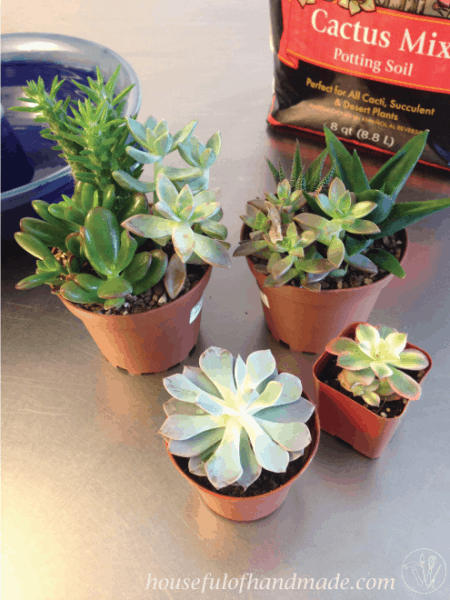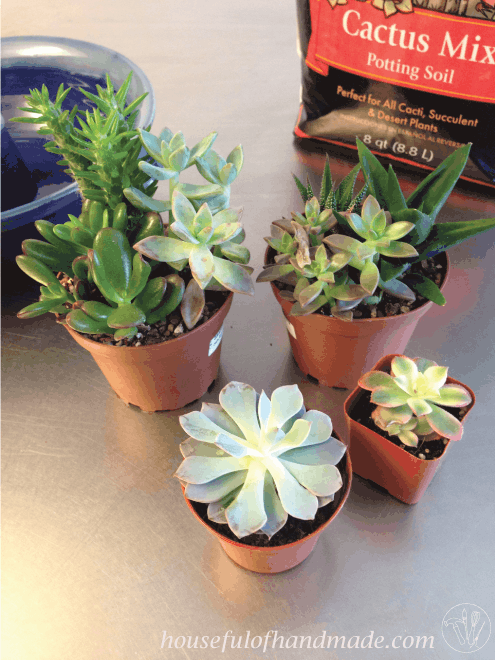 We came home with our selection of succulents, but had no plan for them. They are tropical succulents so they had to be planted indoor. I decided to head to the thrift store to see if I could find some inspiration for a home for them.
That's where I found this little gem! I am pretty sure it is a chicken roaster pan, but it was a beautiful color, has cute little handles and I loved that it is made out of pottery, but the best feature, it cost only $4.99! And it's perfect for indoor planting because there are no drain holes to drip water all over the table.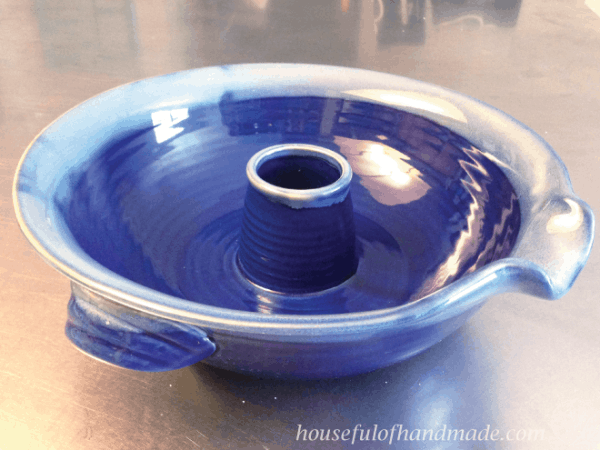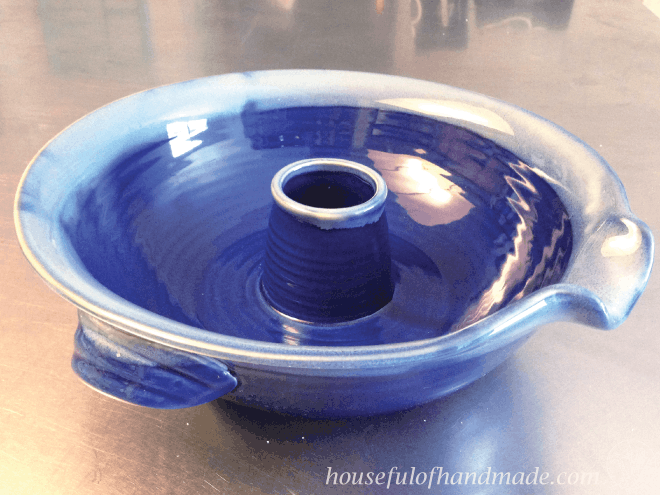 Assembling my succulent rock garden was super easy and took only a few minutes. I filled the pot to the top with the cactus potting soil. The cactus potting soil is great for the succulents because it will not hold too much water in the soil.
This is also important since their are no drain holes, the succulents do not want to be sitting in water. I wanted the garden to mound up a little in the middle so I added a bit extra soil to the middle.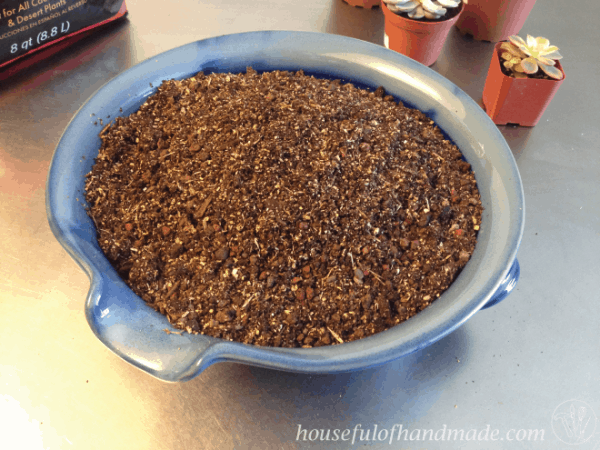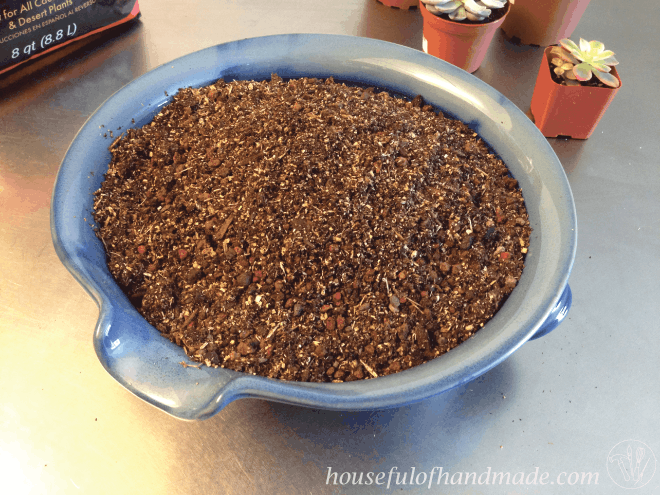 Then I started carefully pulling the succulents out of their little pots, shaking off the soil around their roots, then planting them in their new home. I arranged the taller ones toward the middle and the low ones around the outside.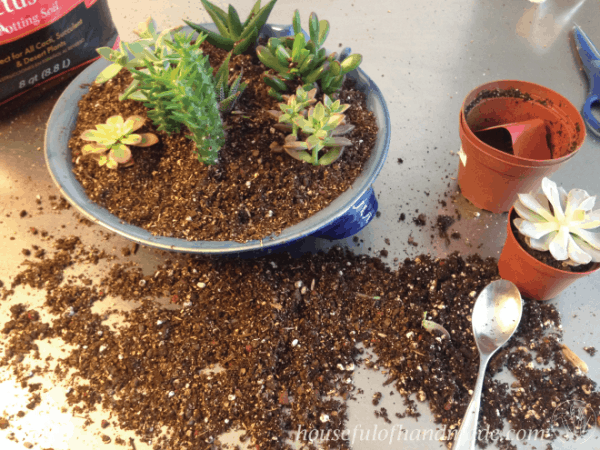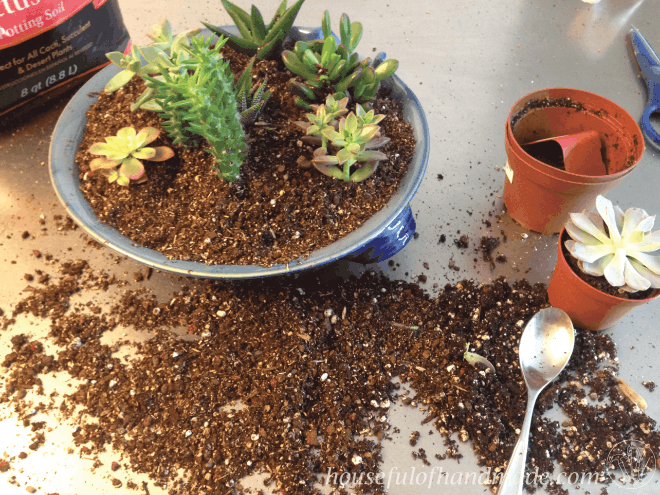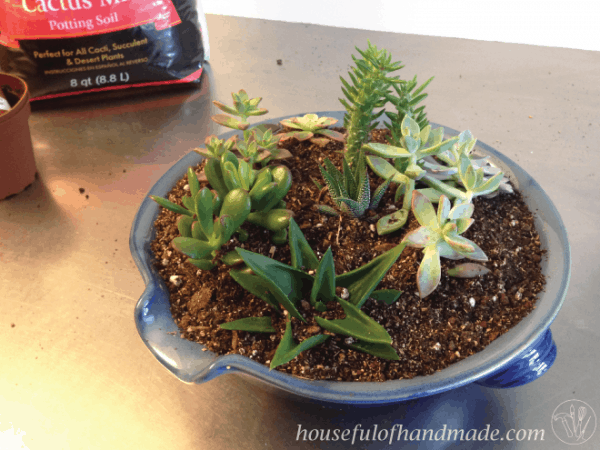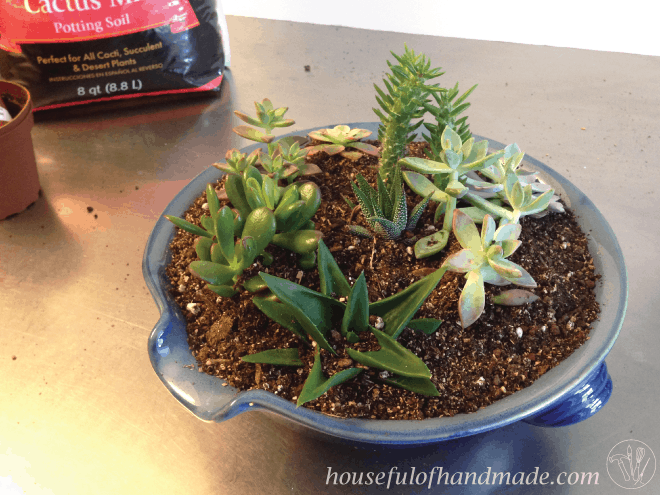 After the succulents were all planted in their new home, I gathered up some pretty river rocks. I had these left over from another project and my kids have been playing with them in their sandbox. Sorry kids!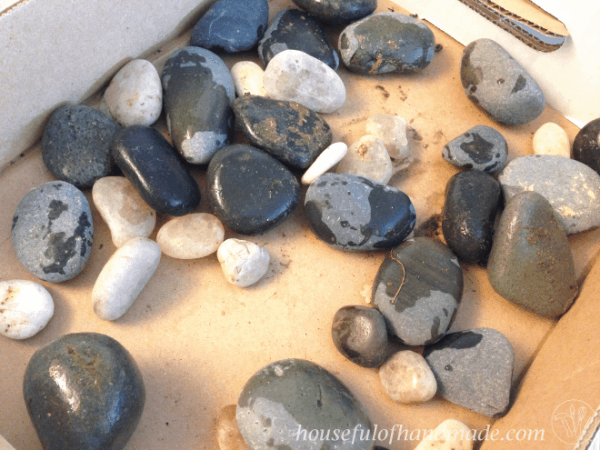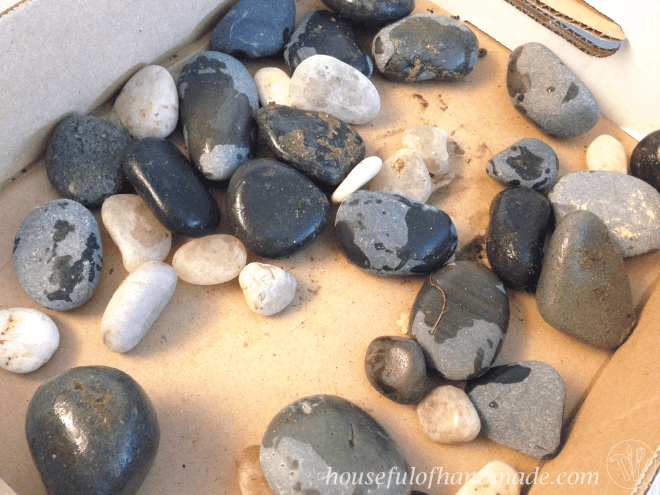 Then I carefully placed the pretty rocks around the succulents. And presto!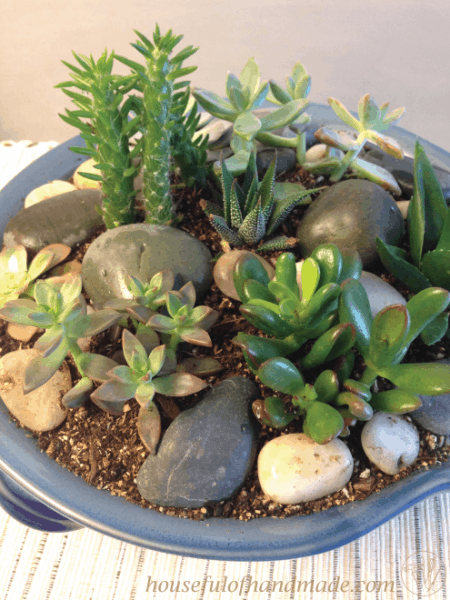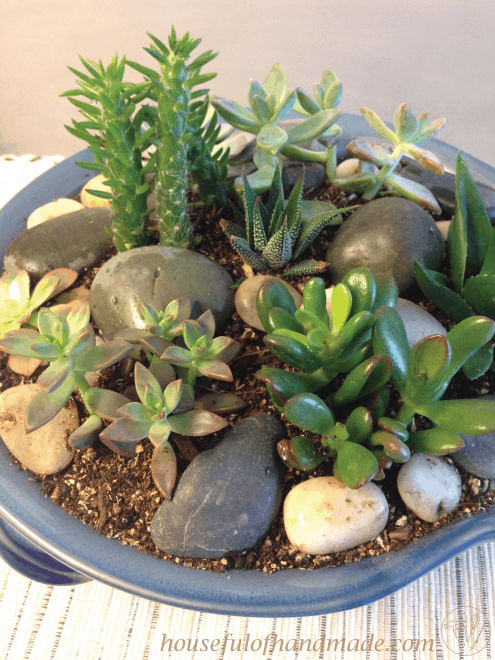 Isn't it so pretty.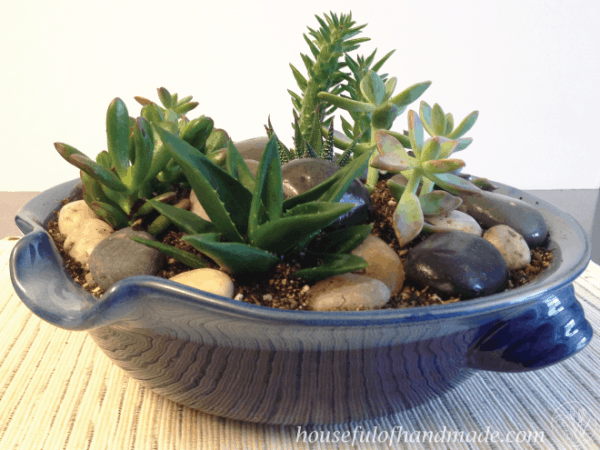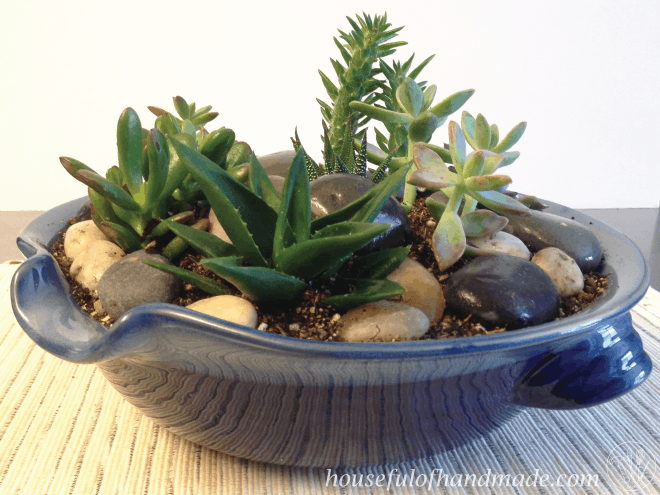 I'm hoping I can keep my fancy new succulent rock garden alive and pretty! If I can manage that, I might have to branch out and try some other indoor plants.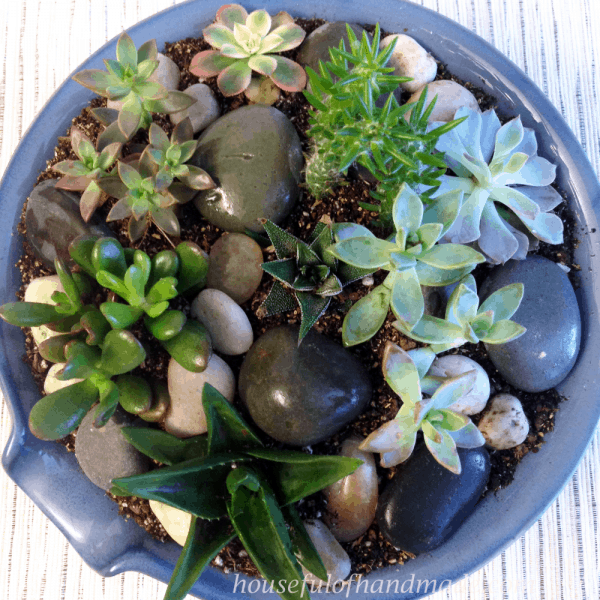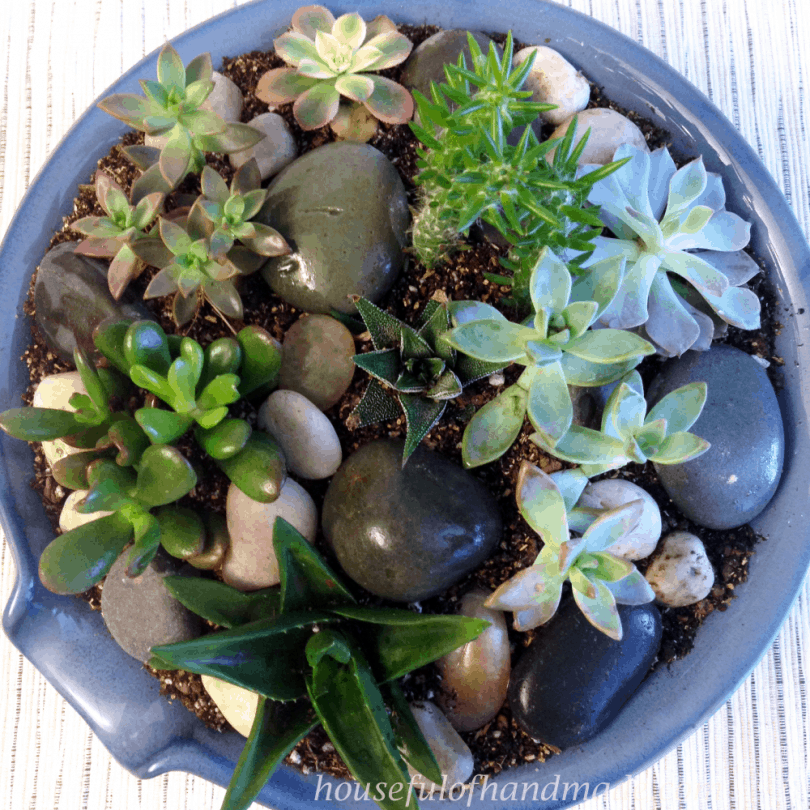 But I'm starting with my pretty succulents. Baby steps!
What kind of plants do you like to grow indoors?