Thanksgiving is right around the corner. Even though we put up the Christmas tree today, I still want to show some more Thanksgiving love. While my living room is sparkling with lights, I can still have a beautiful Thanksgiving centerpiece on my dining table.
I planned to use my new wood and steel serving tray as the base for my centerpiece, but I needed some pumpkins because I haven't used them enough to decorate with this fall 🙂 I bought a handful of those awful orange caravel pumpkins you can find at the dollar store before Halloween, so it was time I made them into something beautiful.
I absolutely love how these easy rustic pumpkins from dollar store pumpkins turned out!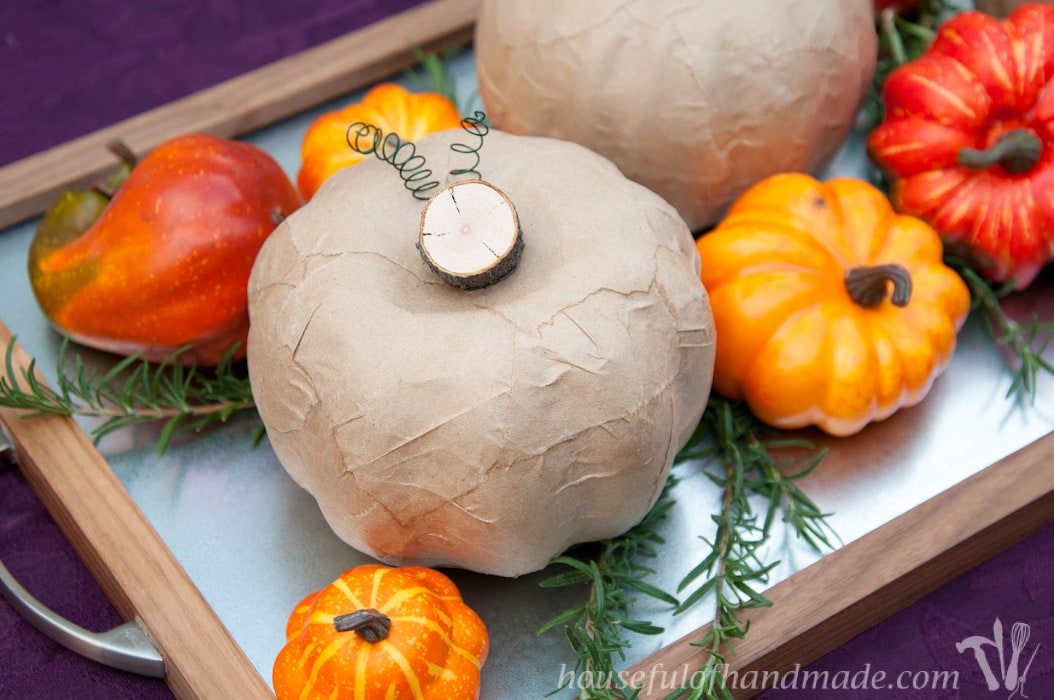 I knew I wanted to go rustic with the dollar store pumpkins, there are a lot of options to cover up the awful orange. I wanted something with a natural texture and color. After rummaging through my piles of craft supplies with no inspiration, I went to put away groceries and had a lightbulb moment! The brown paper bags would be perfect and they're free.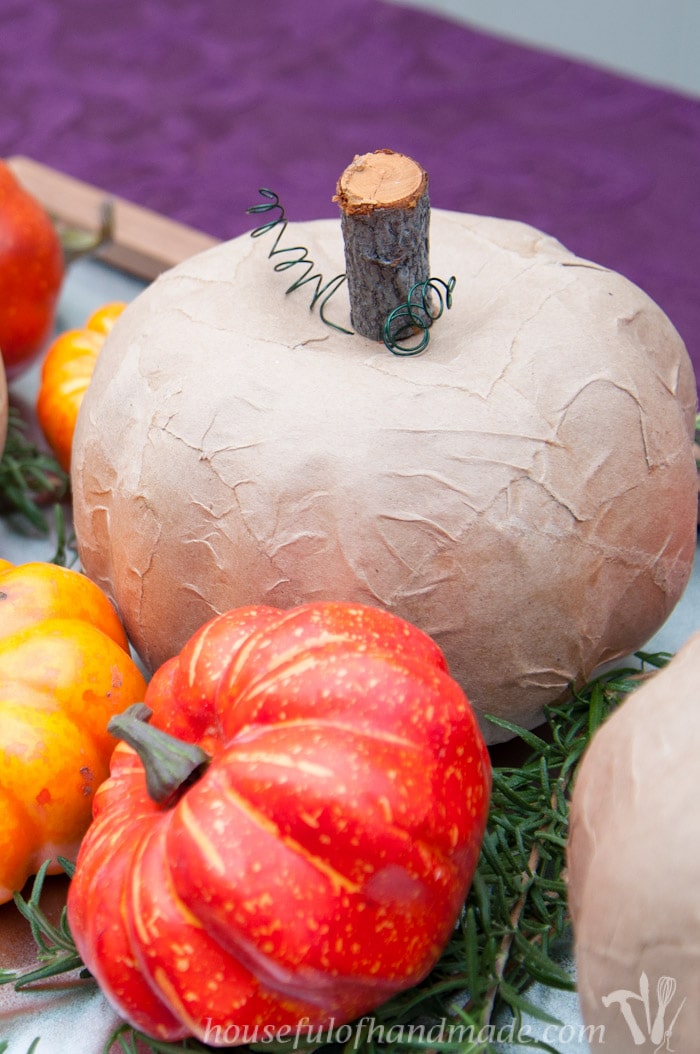 I am a bit of a brown bag hoarder. I just knew that one day they would work for a project. And this is the best kind of project for them. I made 3 pumpkins using dollar store pumpkins, free brown paper bags, Modge Podge (about $0.50 worth of the whole container that cost me $5.50), branches from the yard, and a couple feet of floral wire.
All in all these 3 beautifully rustic pumpkins cost me less than $5! Who says cheap crafts have to look it? These pumpkins look like they cost way more than $5.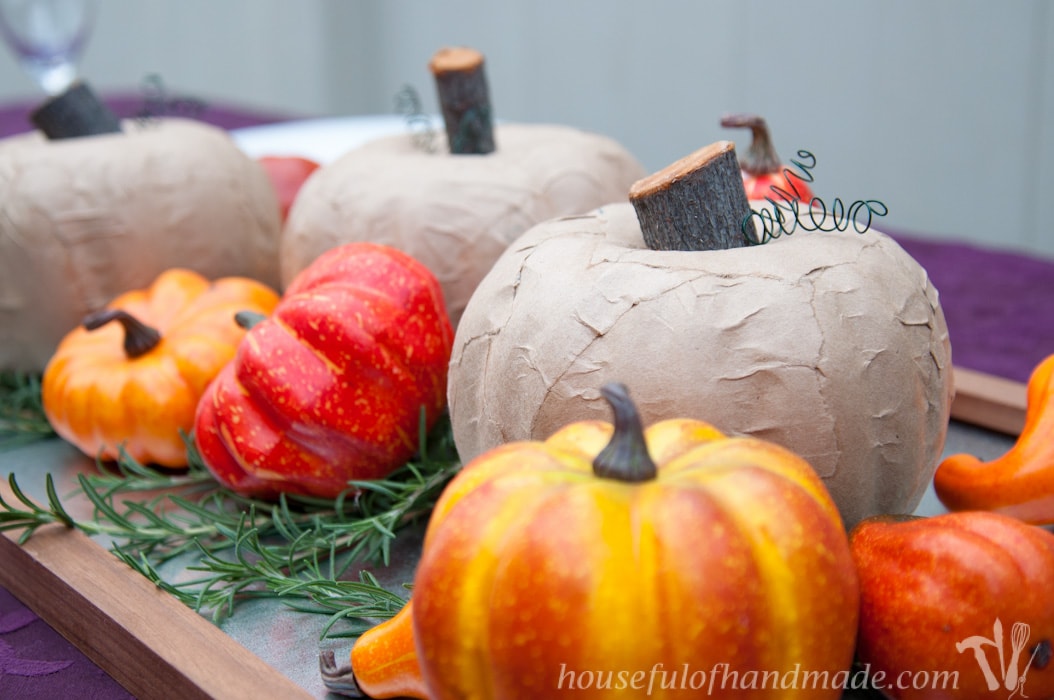 I decided the easiest way to get the paper bags onto the pumpkin was to Modge Podge them on. Sadly, I had to wait a couple days to pretty up my pumpkins. Apparently I have been using too much Modge Podge (if that's possible) and was completely out. So after a quick trip to the craft store, I was ready to begin.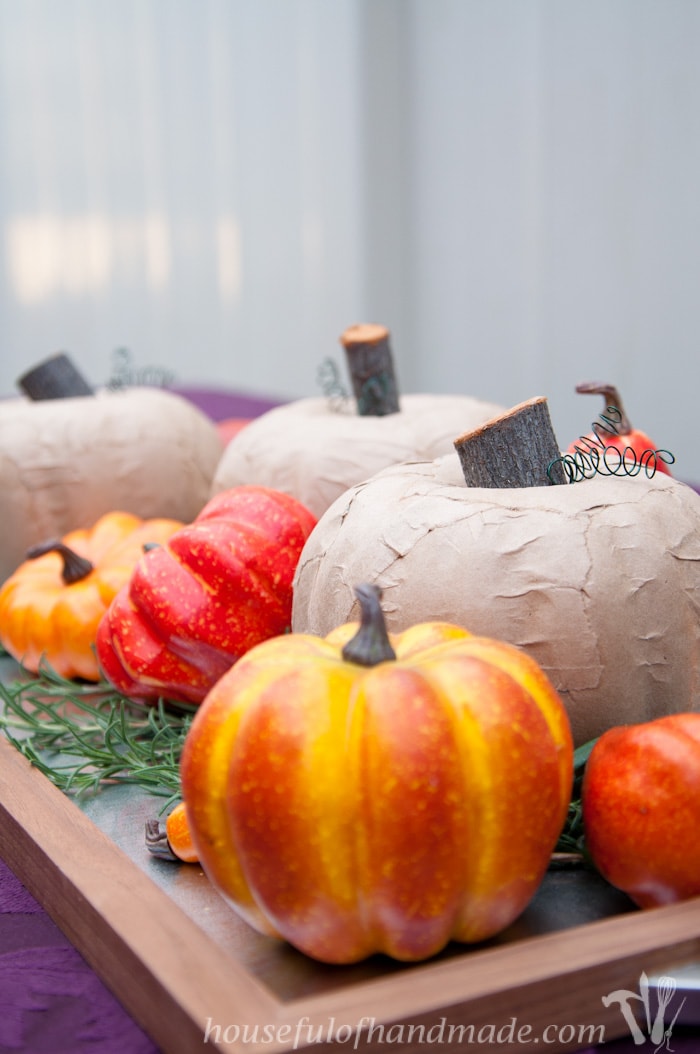 Start by popping the foam stems off the pumpkins, these can be thrown away. Then rip up a brown paper grocery bag into random sized pieces. I like ripping the bag so there is a soft edge to the pieces.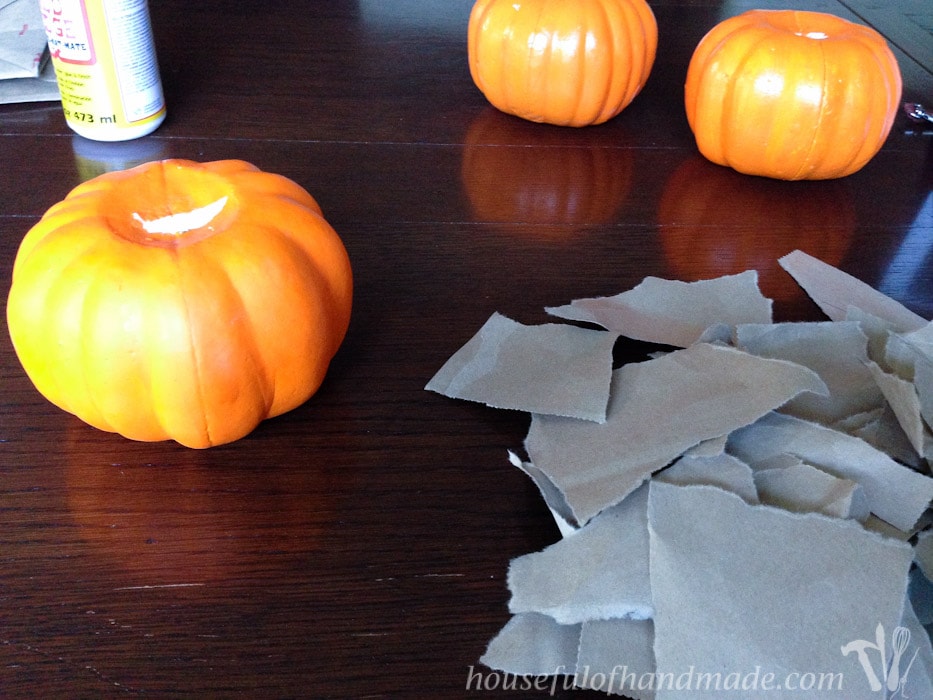 Paint the Modge Podge onto the front side of a piece of paper (the side with any printing on it). Give it a good thick coat of the Modge Podge.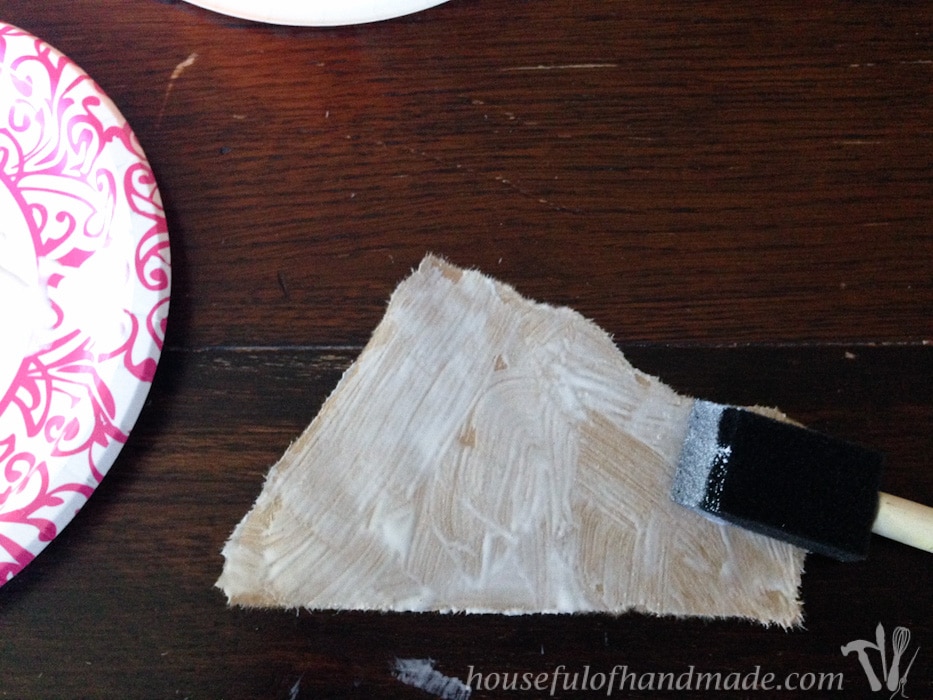 Then press it onto the pumpkin. Use your fingers to press it into the grooves and crease and crinkle the paper to confront to the irregular shape of the pumpkin.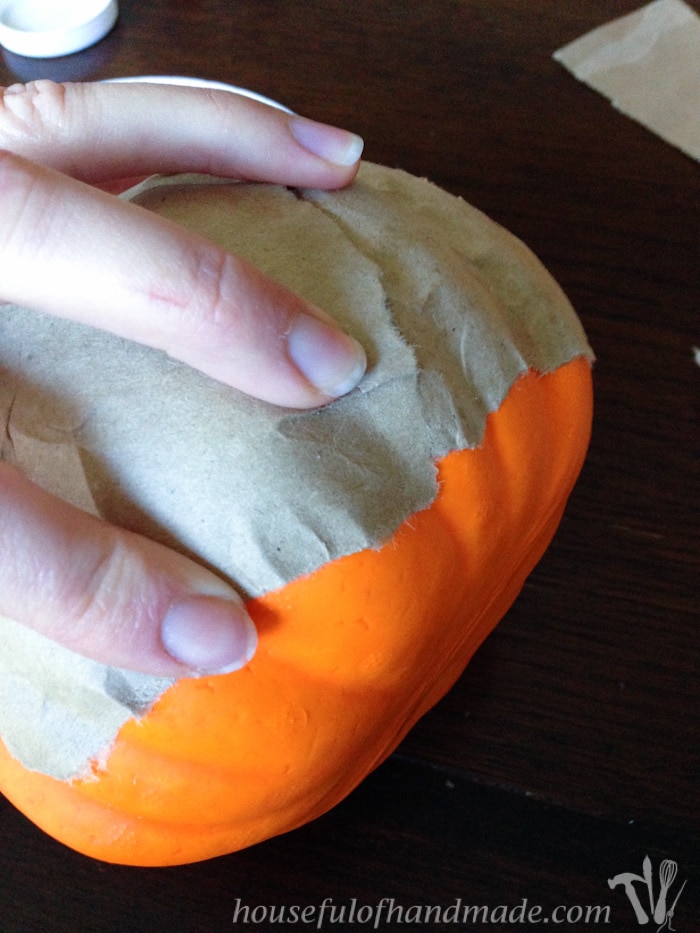 Once it is sufficiently adhered, grab another piece of the paper bag and repeat.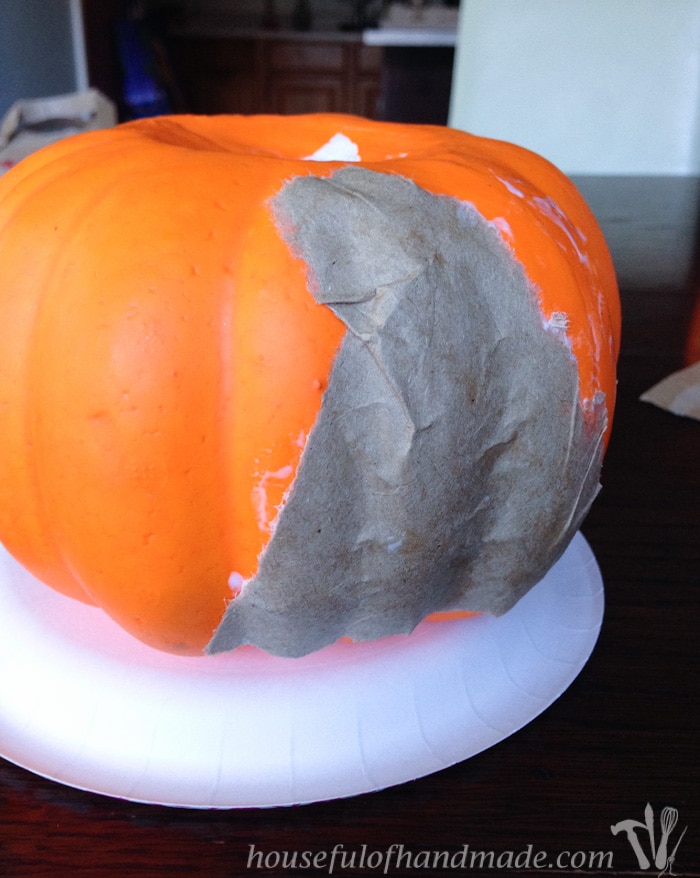 Continue adhering the pieces of paper bag until the pumpkin is completely covered. Then let it dry. I got all three pumpkins done in an hour and with only one grocery sized paper bag.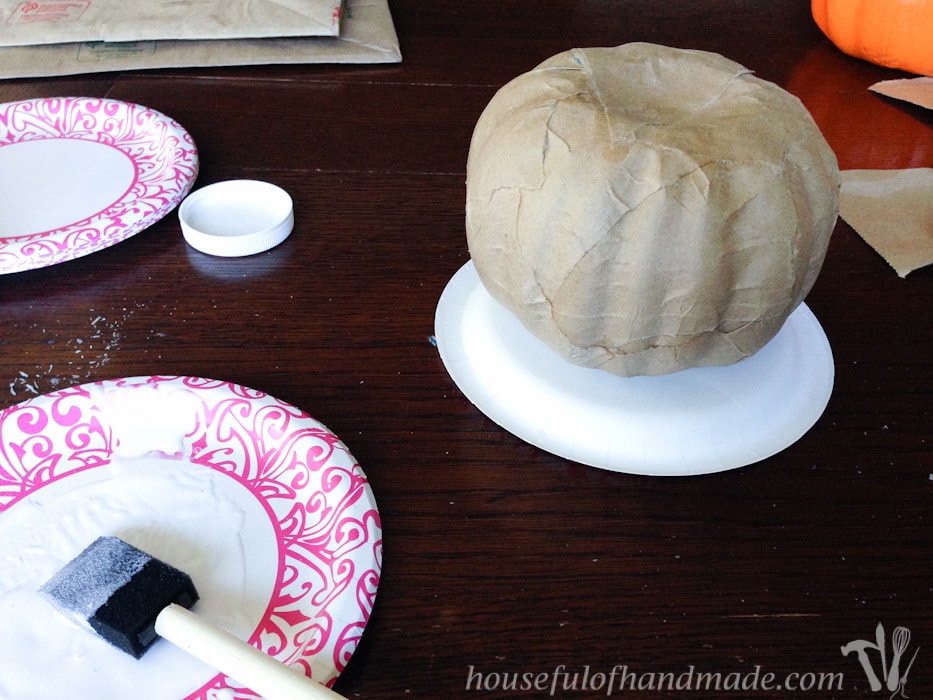 After they were completely dry, it was time to add some appropriately rustic stems and decor. I cut a couple small pieces of wood from some branches trimmed off our trees. Then I glued it into the center of the pumpkin with super glue.
I wanted to add some more pizzaz to the rustic pumpkins, so I made curls out of some green floral wire by wrapping it around a pencil. To attach the curls to the pumpkins, I just stuck the wire into the pumpkin next to the stem. Beautiful!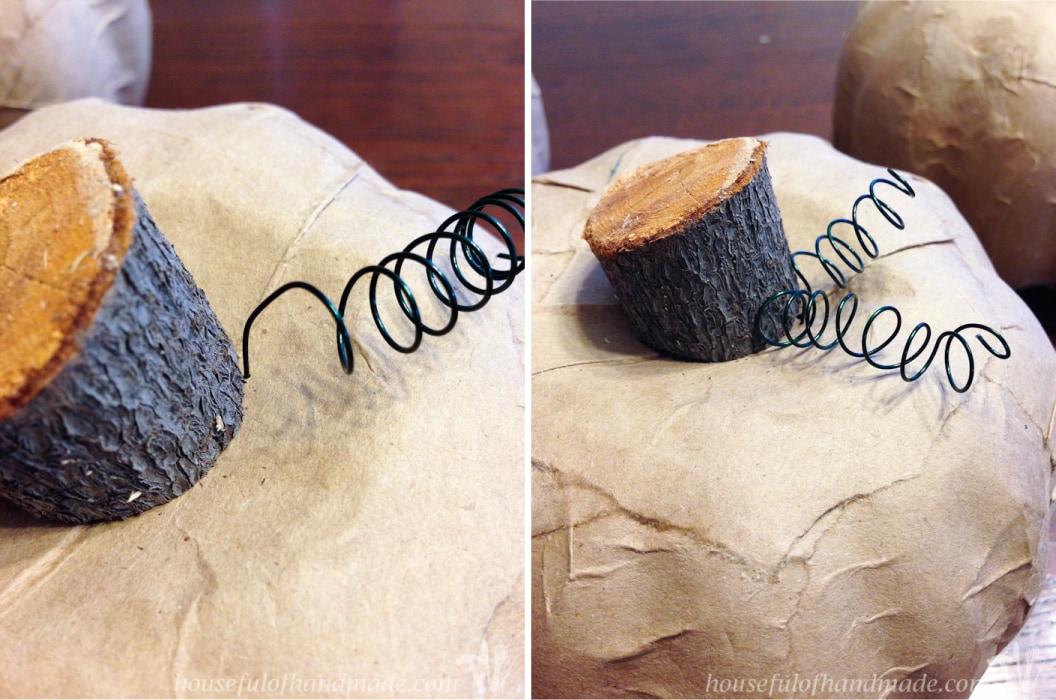 Now it was time to add my beautiful rustic pumpkins to my Thanksgiving centerpiece. I love having the centerpiece on my wood and metal serving tray because I can easily move it around as needed, and it looks great too.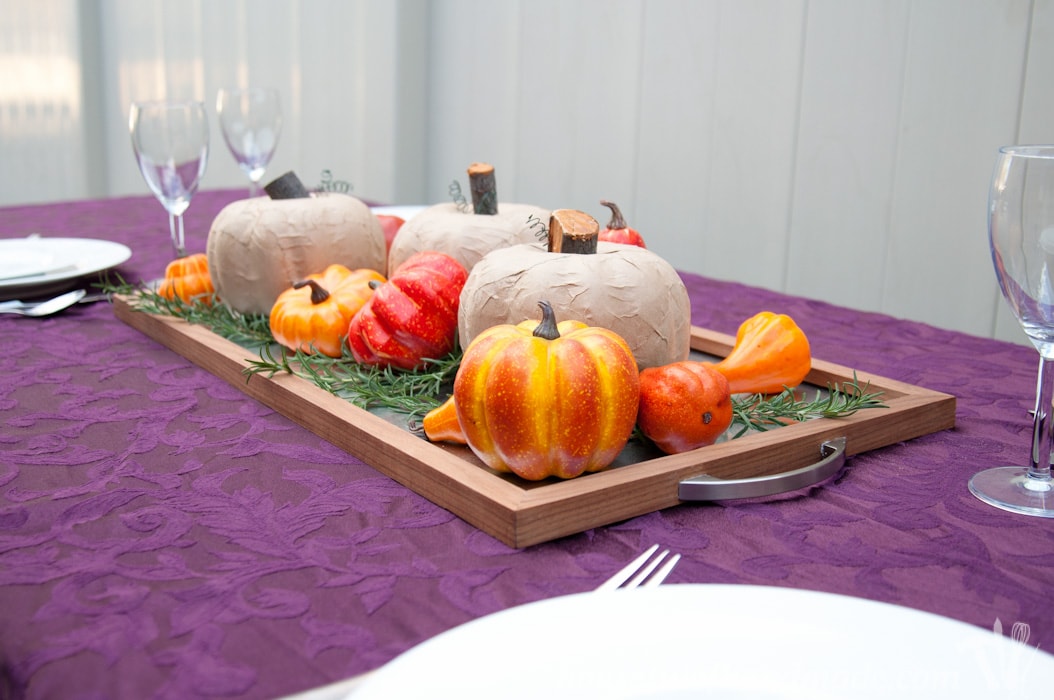 To finish out the centerpiece, I added some small floral pumpkins I bought for a craft a couple years ago. Then I stuck a few springs of rosemary from my herb garden in and around all the pumpkins. It adds a beautiful natural element and smells amazing!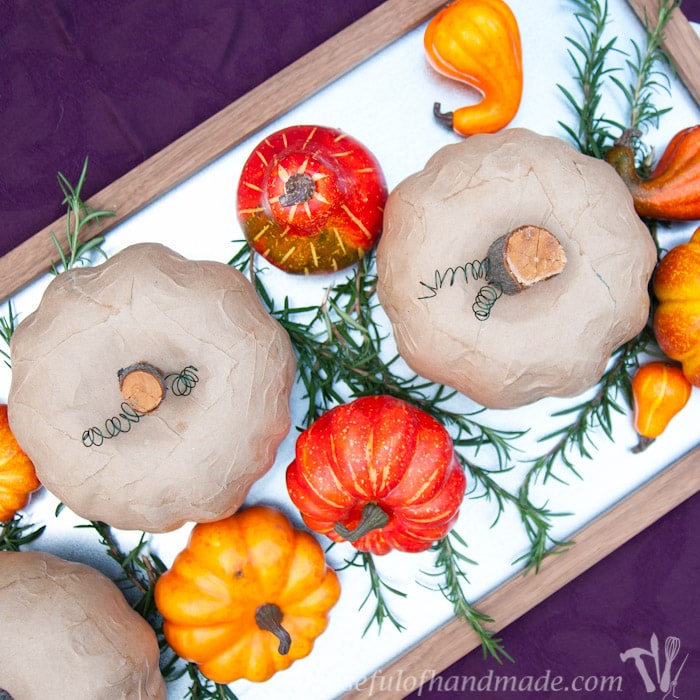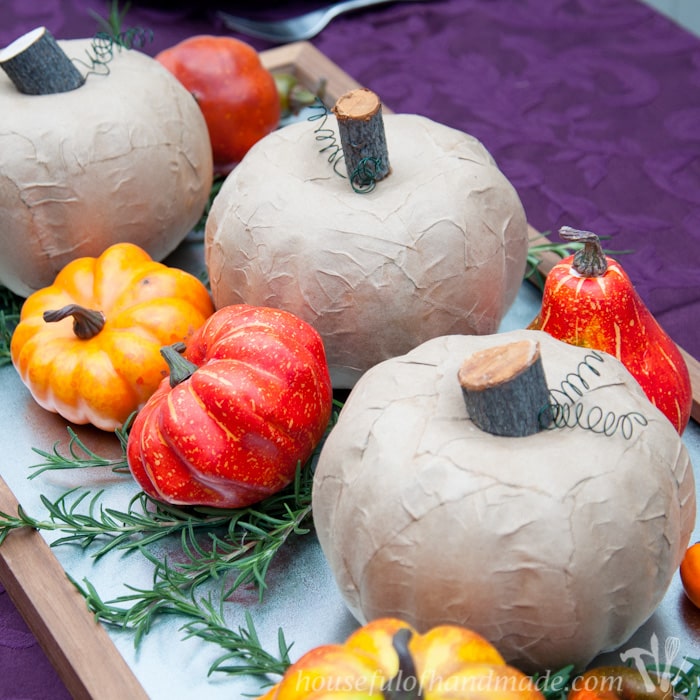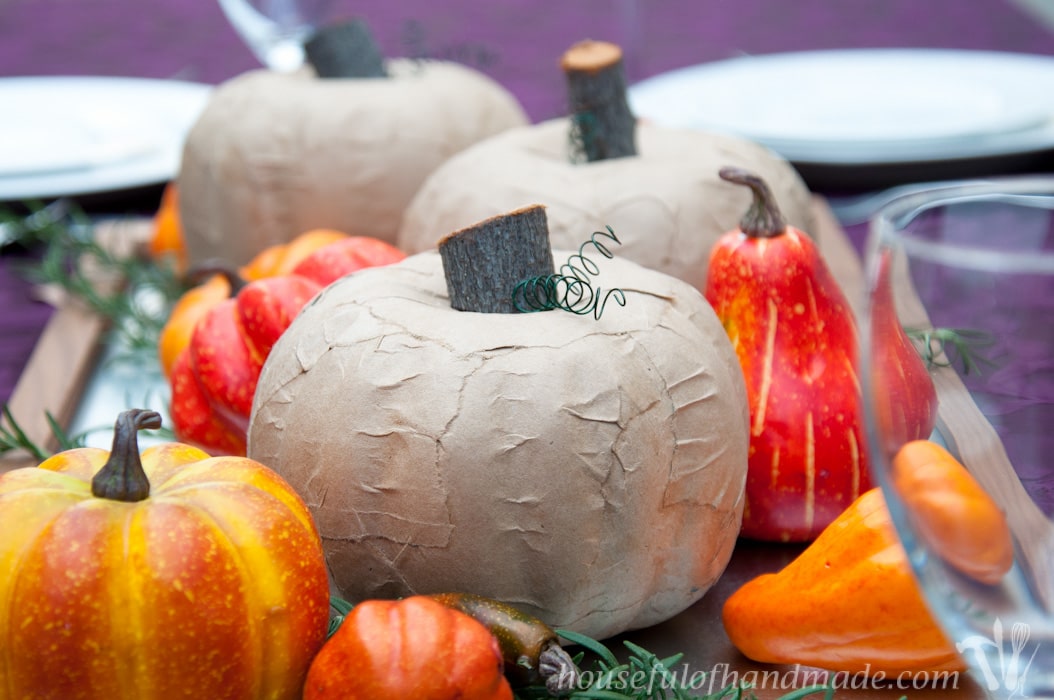 I think I am now officially ready for Thanksgiving. Time to buy a turkey and plan the menu!