Today the weather was abnormally warm for the first day of March so I opened all the windows to let the spring come in. I love the first day it is warm enough to open the windows. Even if I have to wear a sweater because it really isn't 'that' warm, I will tough it out for fresh spring air. And even though I am sitting here with a blanket on my lap, I still have the windows open after dark 🙂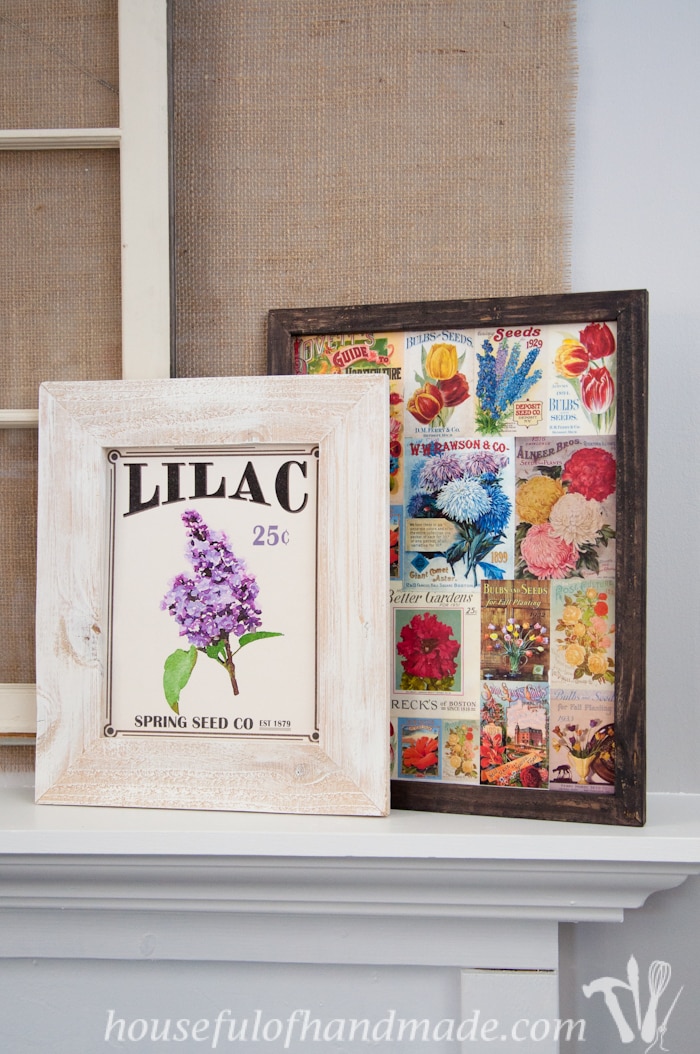 Spring means flowers to me and so I was eager to do some more work on my "plant a flower" themed spring mantle. I already have my Vintage Seed Packed Art printable. I put it in one of the 20 minute rustic picture frames I made last year. That left me with my larger 12×16 picture frame, and I just love using the two as a set so it was time to find something to fill it.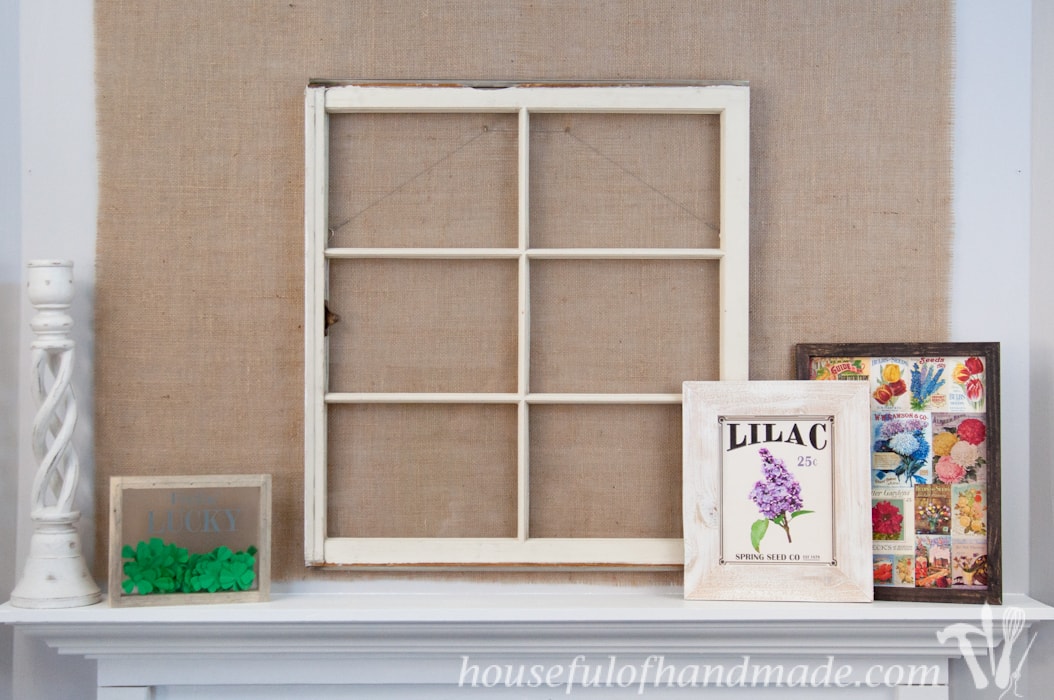 As I was Googling flowers for inspiration for my spring mantle, I came across Vintage Holiday Crafts. Her website is loaded with free vintage clipart including lots of vintage seed packets and seed catalog images. Perfect for my spring mantle! I knew I could make an easy vintage flower collage to fill up my large picture frame.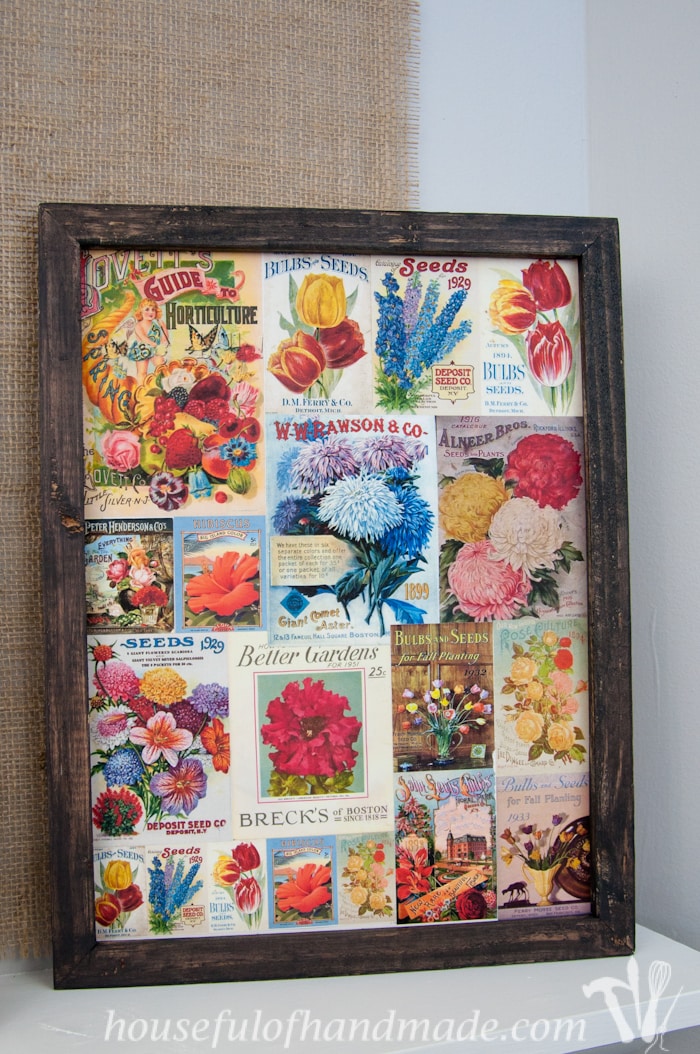 I dowloaded a bunch of pictures from Vintage Holiday Crafts. Then I arranged them into a collage in a photo editing program so I could get an idea of what sizes I needed to print them out. I printed them in a few sections.
I had to do 4 different sections on 3 8×10 pages to fill the whole 12×16 frame. I didn't want to have to cut out each individual image so I kept the images together in larger squares to print out. Then it was as easy as print, cut, and glue!
I used spray adhesive to attach the pictures to a piece of foam core cut to fit in my frame. If you haven't used spray glue before, you have to try it! I got addicted to it when I was in design school and had to make presentation boards.
The spray glue basically turns any piece of paper into a sticker. It puts a perfect layer of glue over the entire piece of paper so all the edges stick down perfectly. The only thing to note is it is permanent pretty much immediately. Once you place the paper, you cannot remove or reposition it. Just make sure you are laying things straight before they stick down.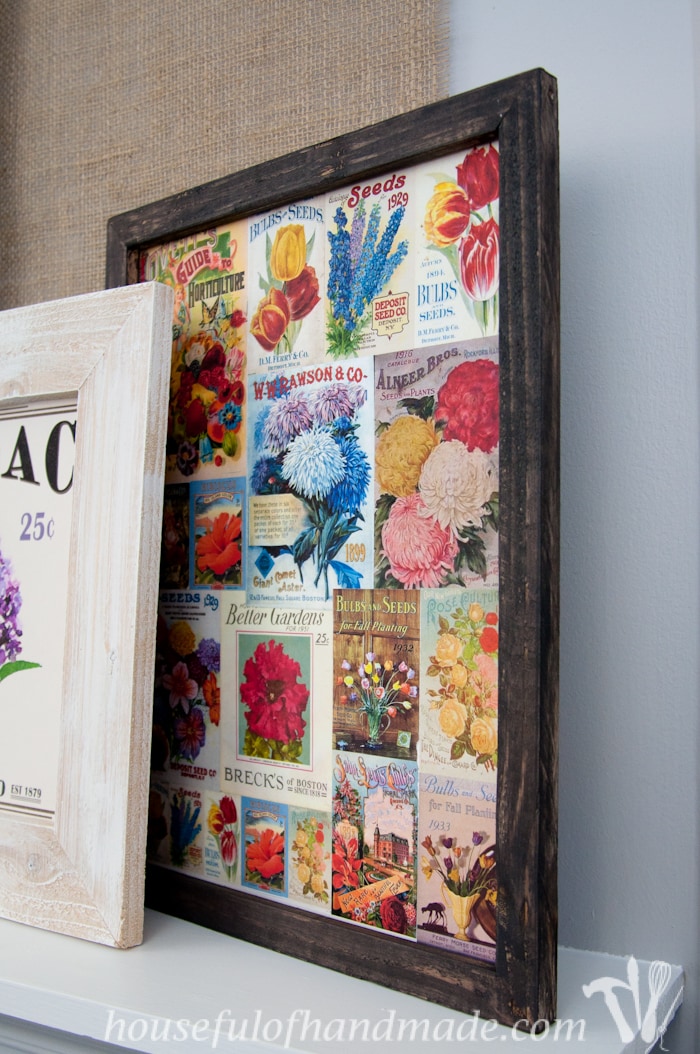 Once it was all glued down smoothly, I placed the foam core into the frame, secured it with a couple pieces of masking tape on the back and it was all done! Only about 15 minutes total and the perfect addition to the spring mantle.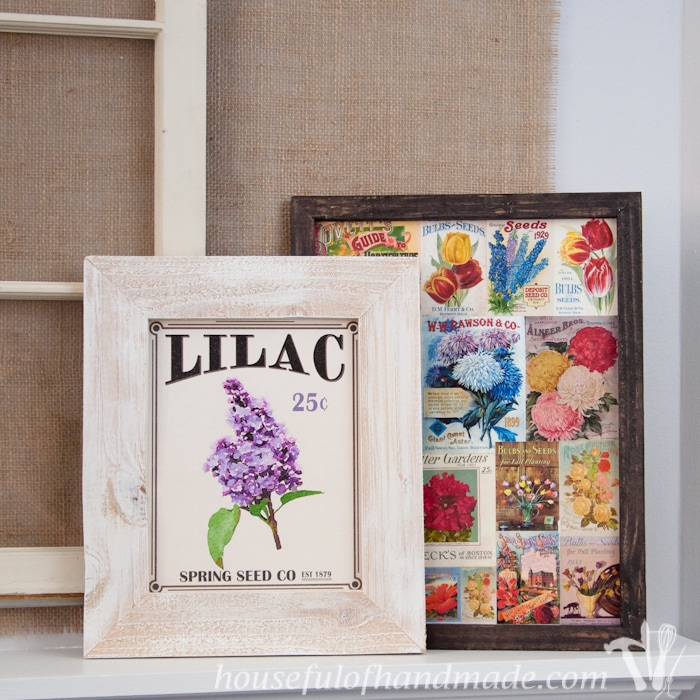 Now I have a good start on the mantle, but I need something to add to the window. I don't know if I want to go bunting or wreath. Any suggestions?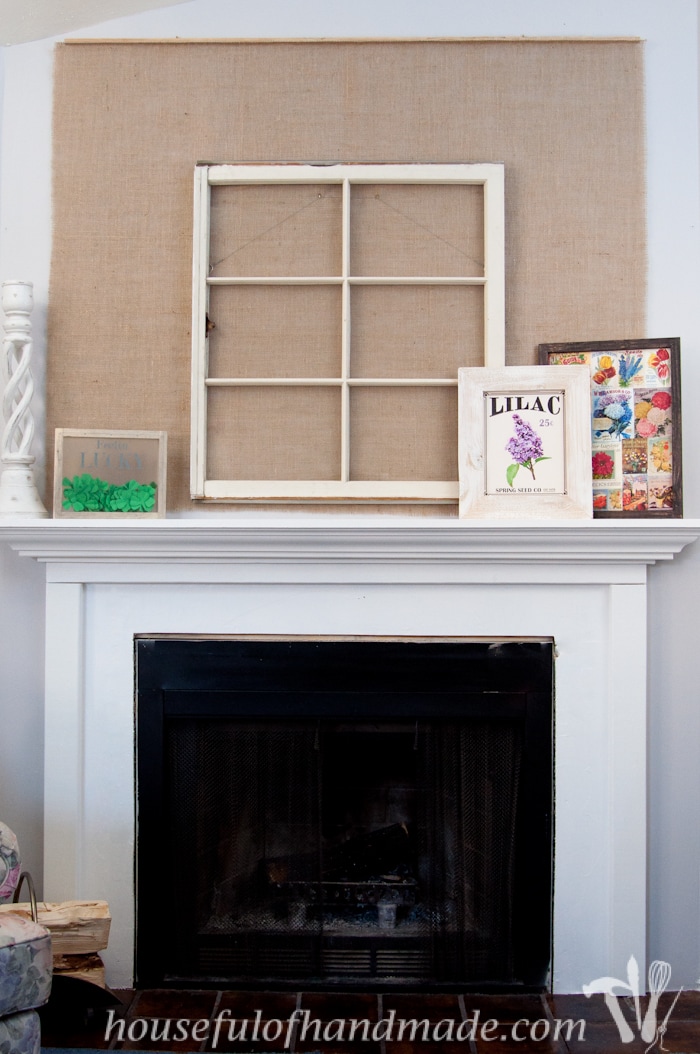 And then after St. Patrick's Day, I will need something to fill in the empty spot left by my St. Patrick's Day shadow box. So I guess I still have a few more projects to finish before my spring mantle is all done!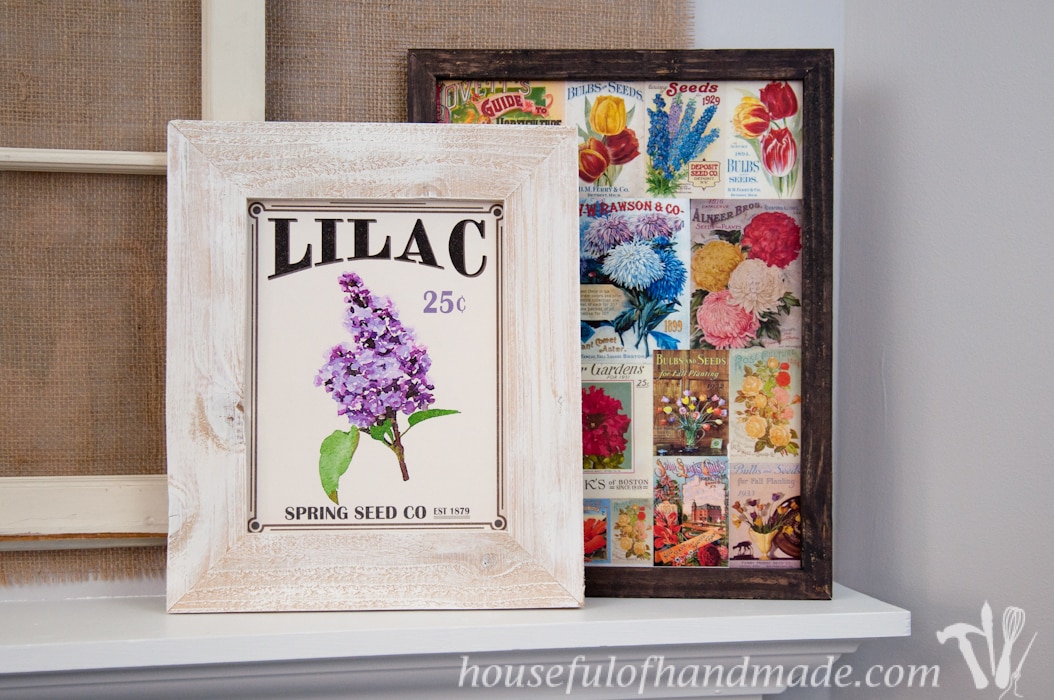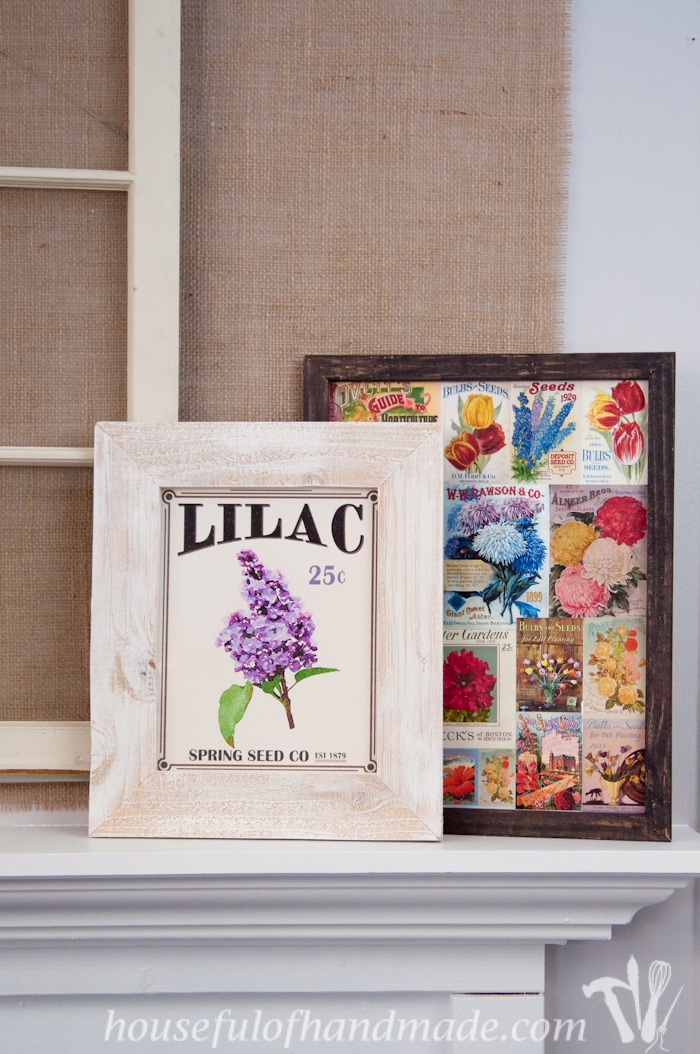 But until then, I will just hope for more warm winter days!