This post contains some affiliate links for your convenience. Clicking these links will help support this blog so I can keep creating things to share with you, but you will never pay more by using an affiliate link. Click here to read my full disclosure policy.
How to Make a Water-Resistant Upcycled Jeans Picnic Blanket
---
Supplies needed:
Old jeans
All purpose thread
Quilter's ruler

I used a 6 1/2″ square ruler to make quick work of cutting all my squares

Sewing machine
If you want to make your own totally awesome picnic blanket, you are going to need a few pair of jeans. Depending on the size and style of jeans (skinny jeans have less fabric than flared or boot cut ones) you can usually get about 10-16 6 1/2 inch squares of fabric from each pair. To make the largest blanket possible to still fit my shower curtain, I used 11 rows of 11 squares so I needed a total of 121 squares of denim. You can get that from 8-12 pair of jeans.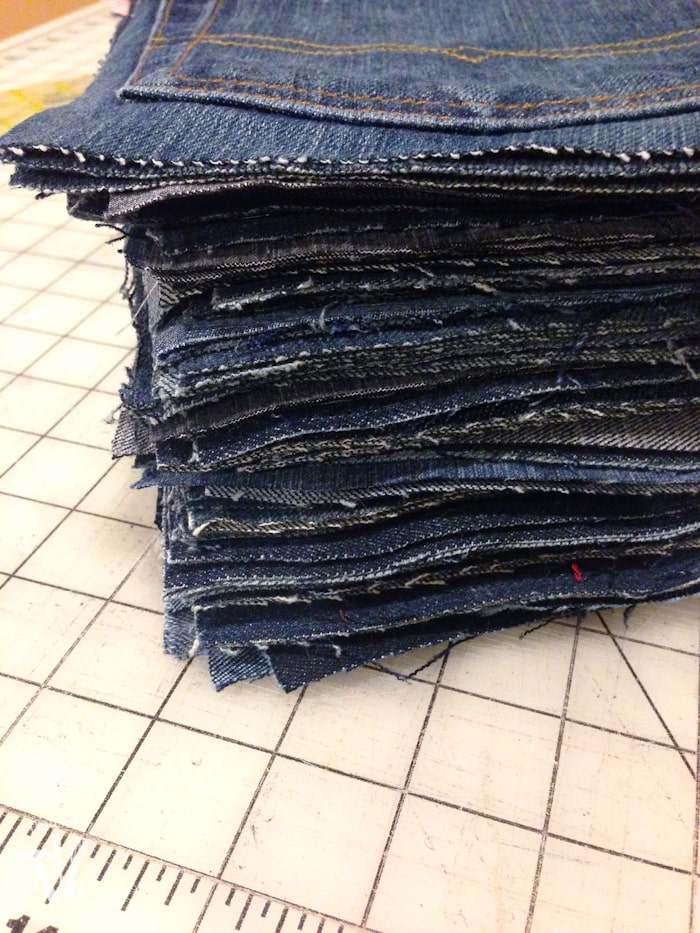 Start by cutting as many 6 1/2 inch squares as you can from each pair of jeans. Make sure to get some pockets. Also, if the leg of your jeans are skinny you can include the side seam in the square. To make cutting easier, use a 6 1/2 inch square quilt ruler and a rotary cutter. Seriously, I love my quilt ruler
 and rotary cutter
and use them ALL THE TIME (even for paper crafts).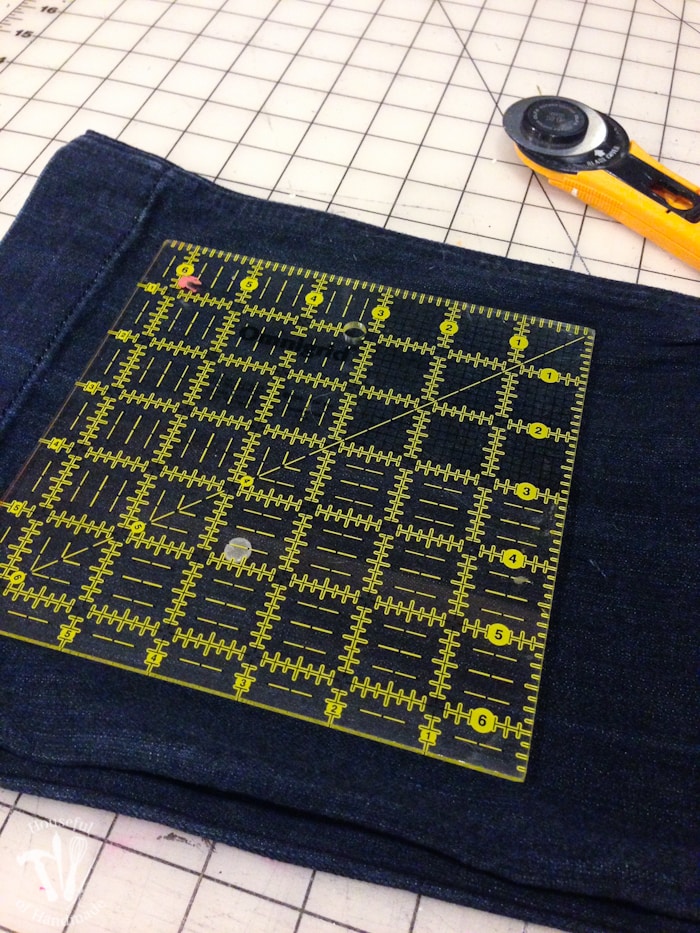 Once you have all your squares cut out, it is time to line up the quilt. Start by lining up 11 pieces to make a row. Make sure to get all different colors and textures of denim spaced around the row.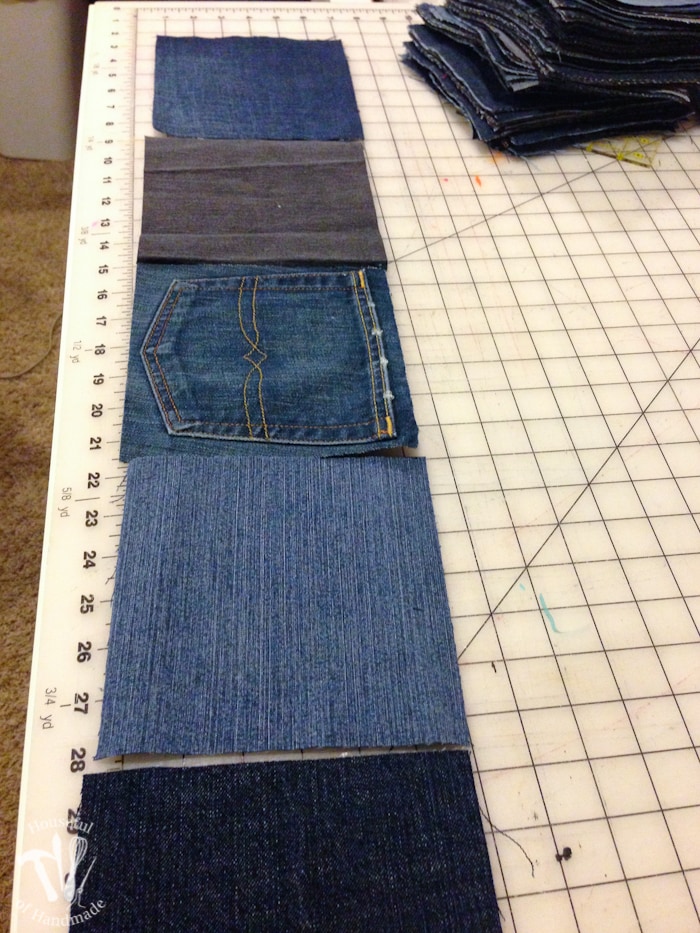 Then start sewing. I used a 1/4 inch seam allowance so I end up with a 6 inch square when all sewn. When sewing a quilt top like this, you don't even have to worry about backstitching because all the seams will be sewn over again in the next step. So save yourself some time and just quickly sew up a straight line connecting all 11 pieces of the row together.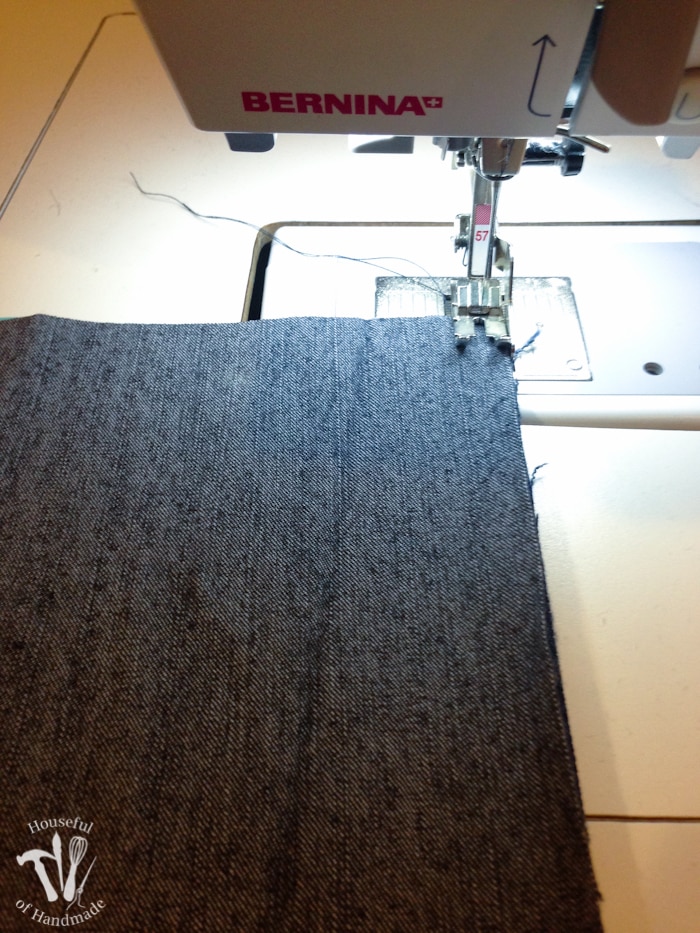 Then iron the seams nice and flat. Flat seams will make your life much easier so don't skip this step! Also, the difference between a project that looks professional vs. home sewn is great pressing/ironing. So make sure to take the time and iron everything you sew.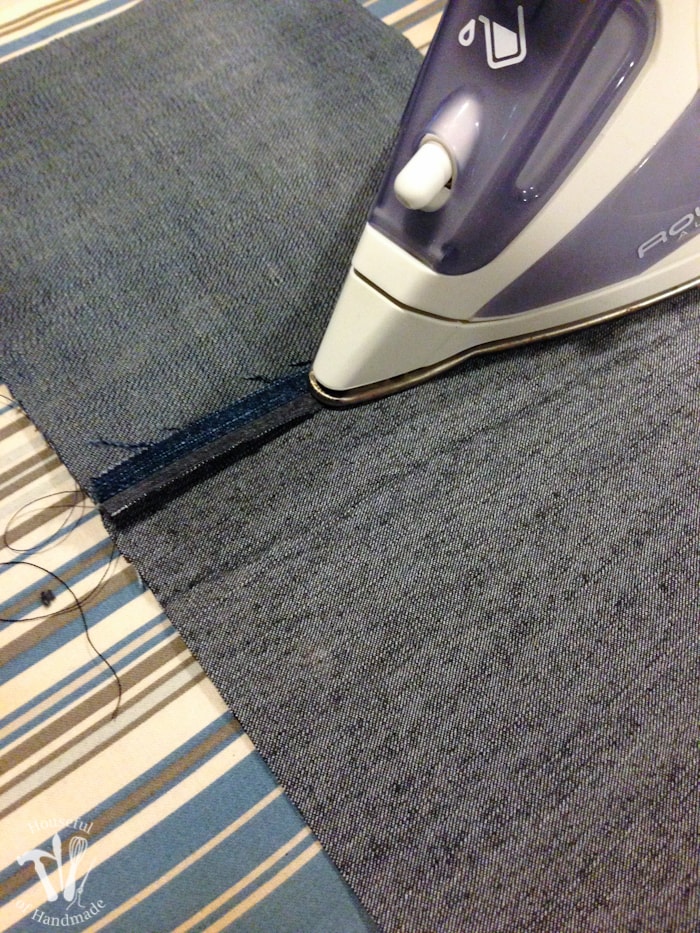 Once the first row is done, lay it down in a large area (like the floor) and lay out the next row making sure you like where the different colors and texture line up. Then sew, then iron. And just keep doing this until all 11 rows are sewn together.
Now sew the rows together. Double check that you like the placement off all the rows. Then sew them together with a 1/4 inch seam allowance. When you line up the rows to sew, put a pin on the corner of each square so they stay lined up during sewing. Then you end up with a much squarer quilt top in the end. Sorry I didn't get a picture of this, it was getting late and I was in the zone.
Make sure to iron the seams of the rows well. Now you have a complete quilt top. Lay it face up on the ground and place the shower curtain liner face down on top of it. Pin it all around the outside and sew it together with a 1/4 inch seam allowance. Leave a 2-3 foot section on one side open so you can turn it right side out. A 2-3 foot section sounds a bit big, but the denim makes a thick quilt top and I left a smaller section and ended up ripping my shower curtain liner.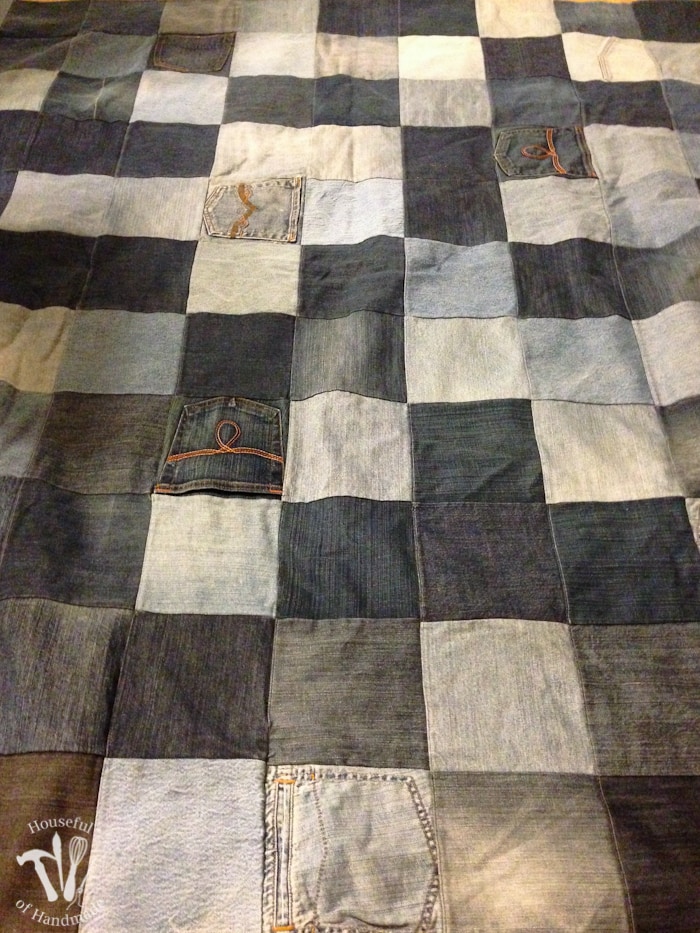 Once you turn the quilt right sides out, you will need to iron the seam, but the shower curtain liner can melt if touched with the hot iron. So iron from the denim side on a lower heat setting and keep the iron moving so you don't melt anything. Now to make the quilt look nice and finished I added a lot of topstitching. Jeans are known for their topstitching. You can use whatever thread you like for your topstitching but I wanted it to look like jeans so I bought some yellowish tan thread. Sew a line around the whole outside of the quilt 1/8 inch in from the outside. This also helps to seal up the 2-3 foot section left open to turn the picnic blanket.
Then sew a line down each row about 1/8 inch to the side of the row seam to help hold the shower curtain liner in place and add more topstitching detail.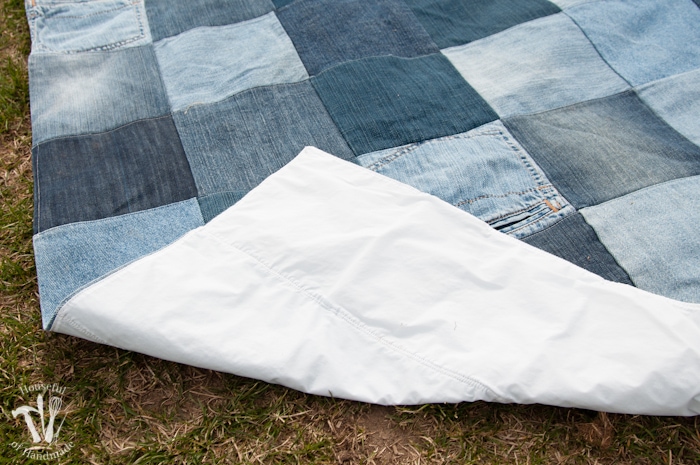 Now it is ready for picnicing! There is no need to put off a day in the sun even if it rained the day before because you have an awesome water-resistant upcycled jeans picnic blanket that will keep you comfy and dry while the kids wear themselves out.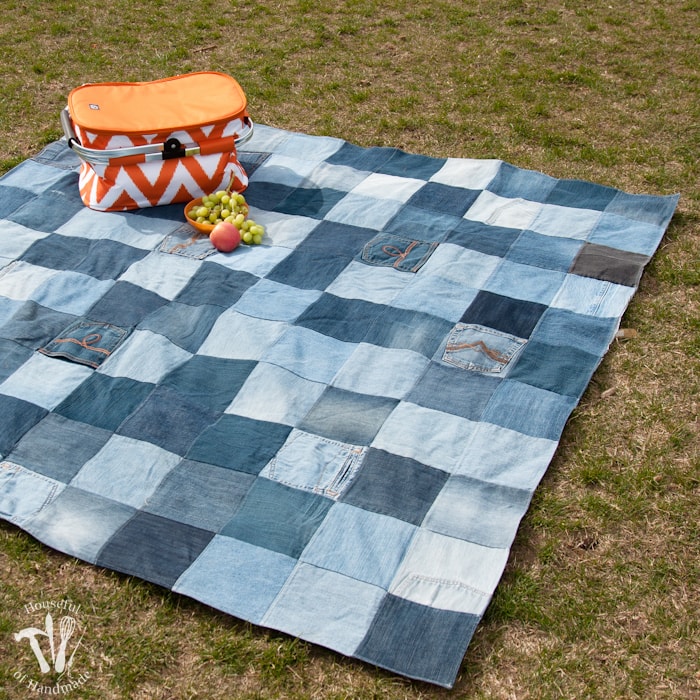 I know we have already put our blanket to use this spring, and we've only had a couple days of sunshine. Now I want to make a second one to keep in the car at all times for those impromptu park trips. And I think this time I'll find a brightly colored or printed shower curtain for the back of the next one. It might cost a bit more than the plain shower curtain liner, but I really like color so it'll be worth it.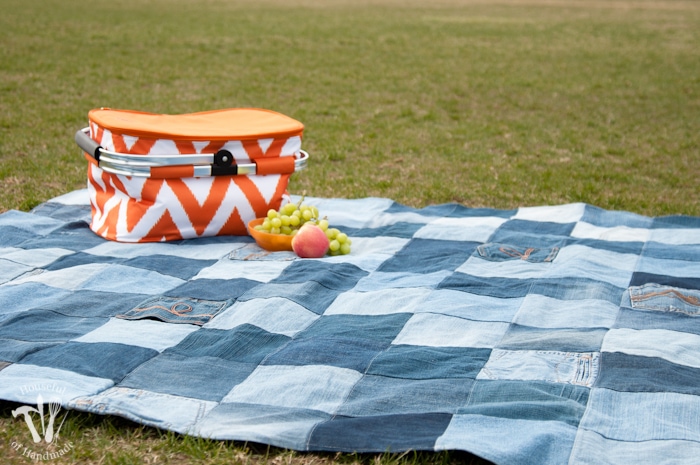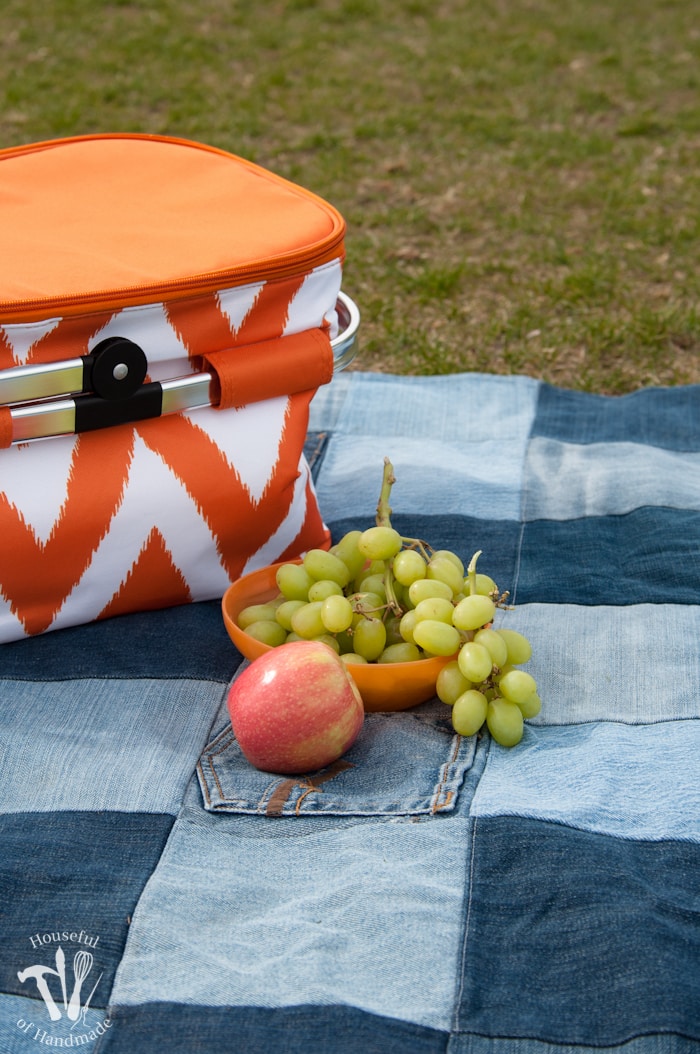 And again, my cute little photography helper just couldn't resist getting in the shot! Those grapes were just too tempting 🙂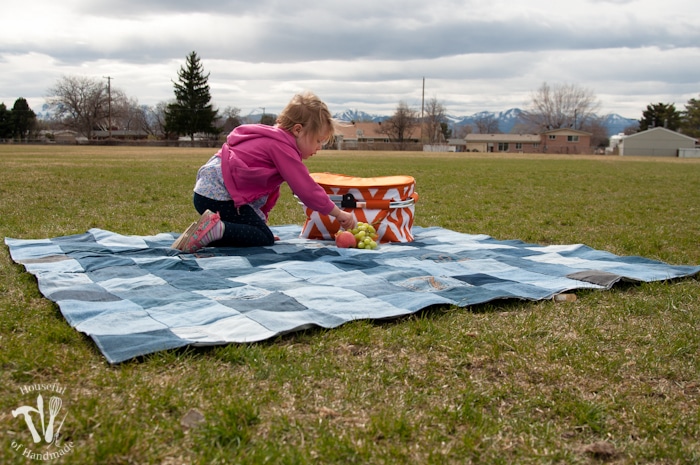 **UPDATE: I have had questions about how big the blanket is all folded up since denim quilts are very bulky. This blanket is not bulky because there is no batting in between the denim and the shower curtain liner. Here is a picture of the quilt folded up in a reusable grocery tote.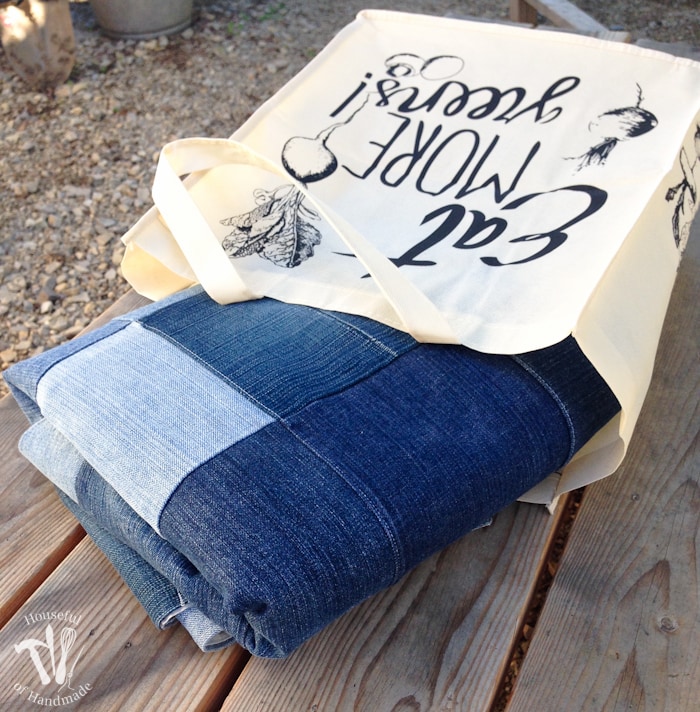 I've also had request to see the back of the quilt. The back of the quilt is pretty boring. Just a plain white shower curtain liner. My liner did have weights in the corners that I removed.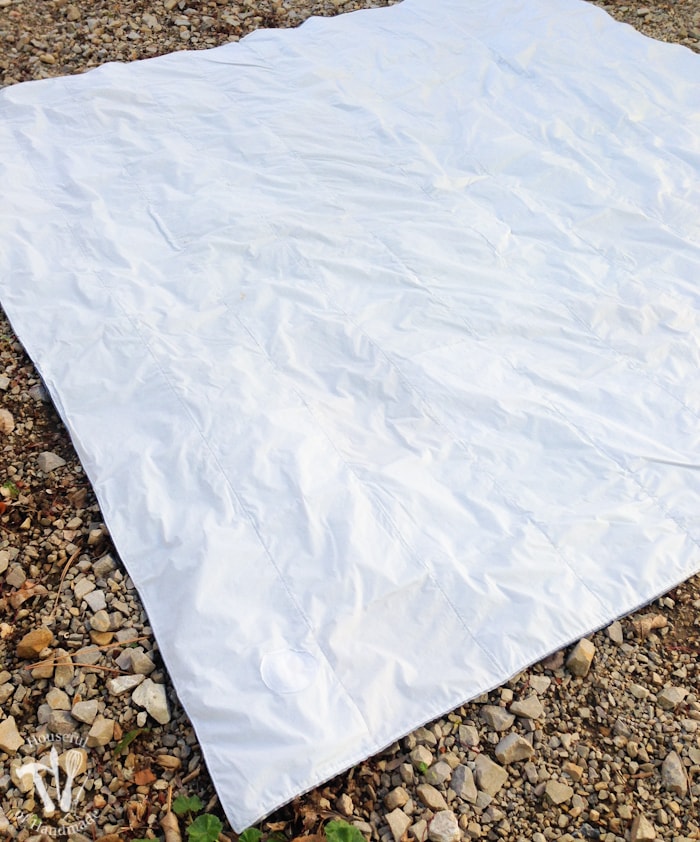 You can see the lines I used to "quilt" the liner to the blanket. I just did straight lines down the rows on the blanket. It works perfectly to keep everything together.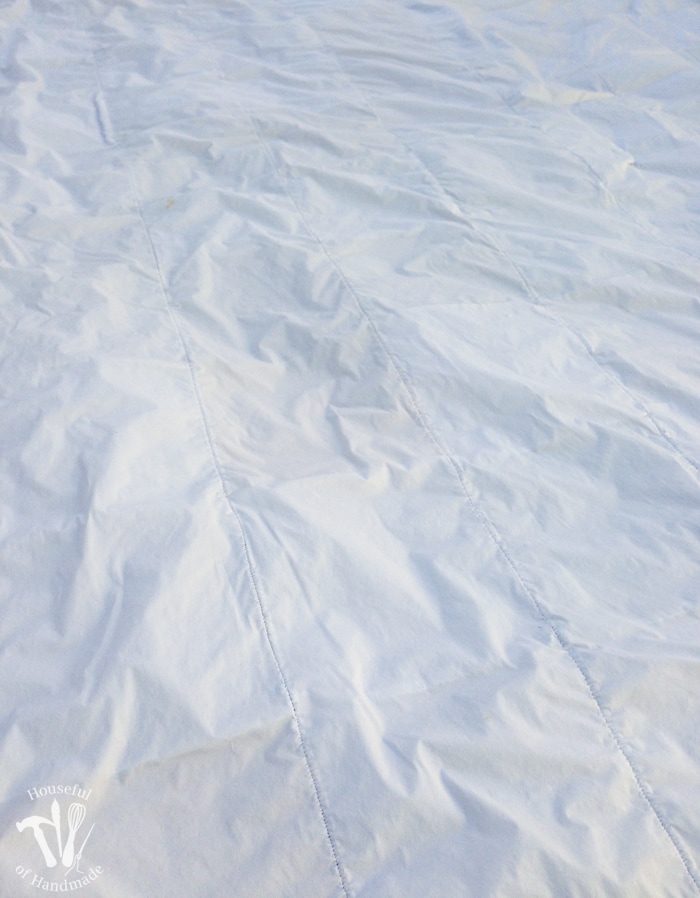 Please feel free to ask any more question! I love hearing all your ideas 🙂 **
[mc4wp_form id="4975″]
Happy spring everyone!

I'm linking up to some of my favorite Link Parties.