I am so excited that my fall mantle is finally done! Yeah! I have been working on all the bits and pieces for a couple weeks. Now I have a beautiful mantle that reflects the still warm days, cooler nights, and fall harvest. All the things that I love 🙂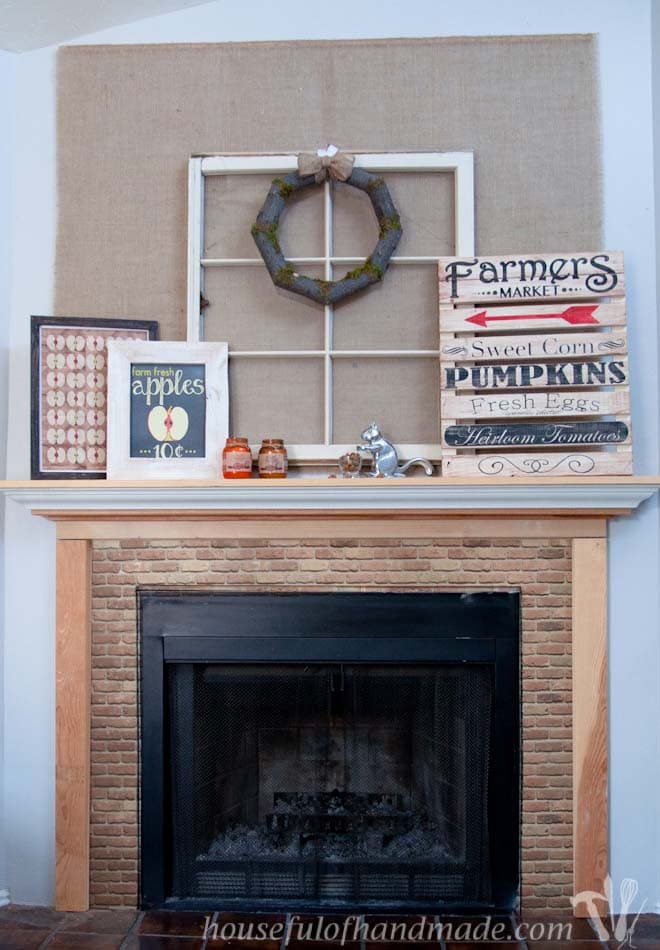 Now I just want to ask for your understanding as you look at my pictures. I built the mantle a couple years ago but haven't got around to painting and finishing it. You know, I really love to build things, but I am less awesome at finishing them. So please enjoy the pictures of my fall decor and pretend that it is on a beautiful white mantle. It's on my short list to finish 🙂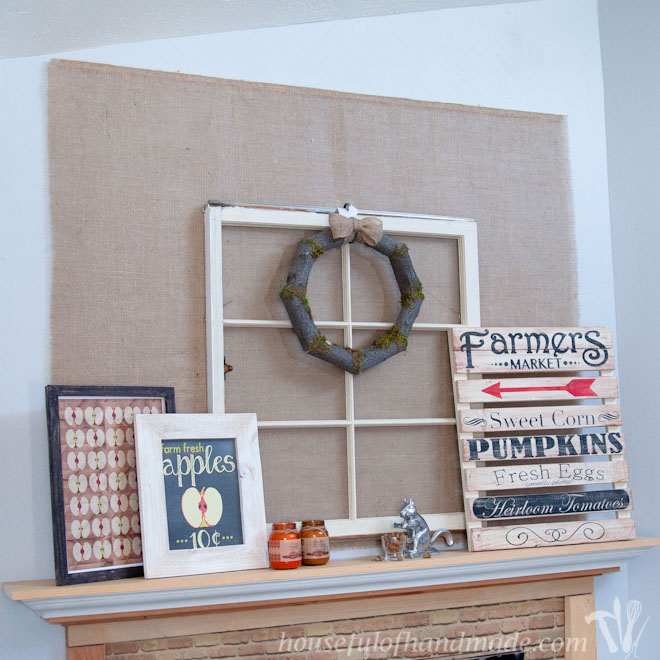 The whole mantle started with my farmer's market mini palette sign. I love that it adds some rustic fall charm to the mantle without having to start with the pumpkins. Now, I need to clarify that I LOVE pumpkins, but I use pumpkins in my Halloween and Thanksgiving decor.
So if I added it to my early fall decor, I would have pumpkin decor in my house for over 3 months. Even I would get bored with that. So I took the farmer's market theme and ran with it!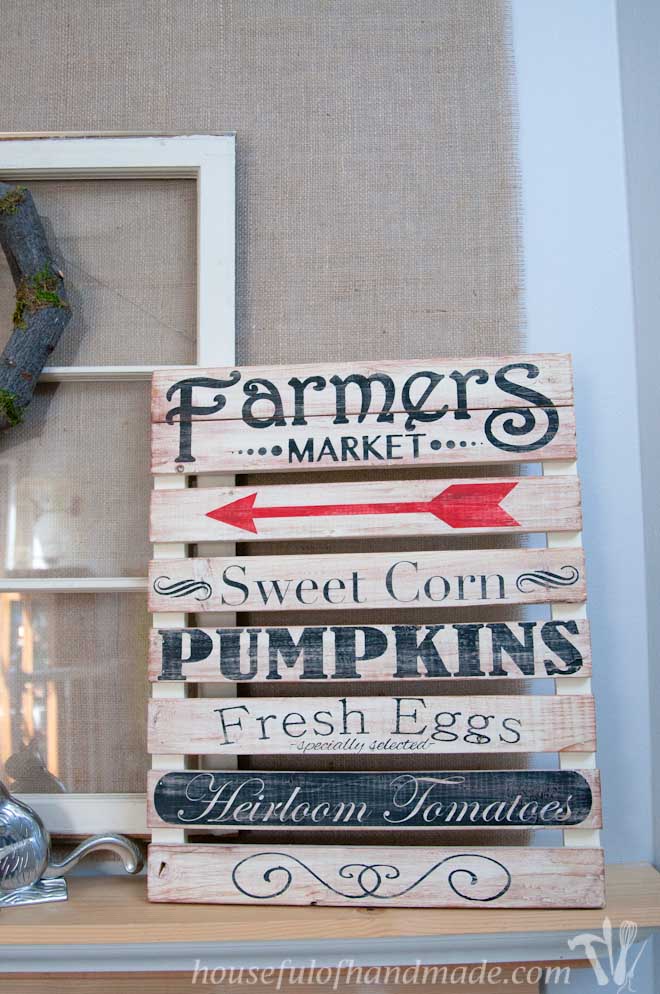 I kept my fall mantle color scheme pretty basic. I have a turquoise, red and yellow color scheme in my living room with light gray walls, and try to make my decorations blend in to that instead of clashing.
I focused on the natural creams and browns, then used a little bit of black for dimension. I added a few sparks of red with the arrow of the palette sign and the apple printables. Easy peasy! And it fits in nicely with the whole space.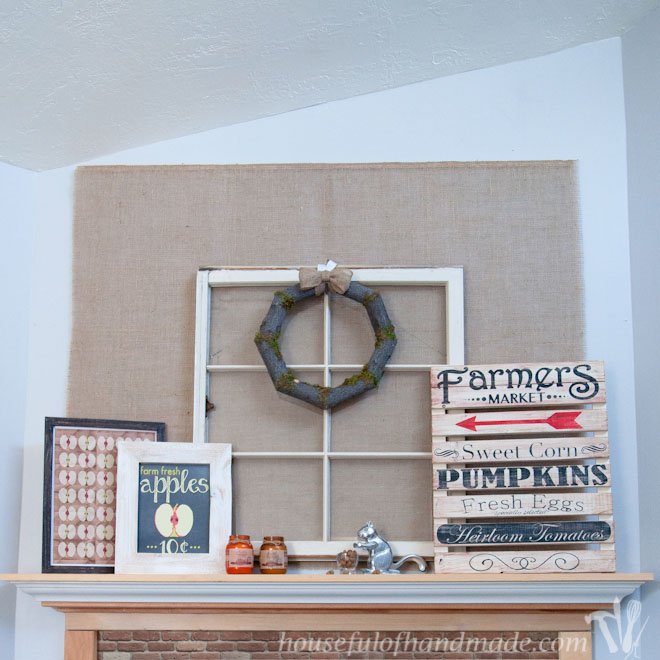 I was so happy with how my printable fall apple sign turned out that I wanted to keep going with the theme. So I made a second coordinating print. I think they work so well together, without being too matchy-matchy. And the 20 minute rustic picture frames that I built make them look so happy on the mantle.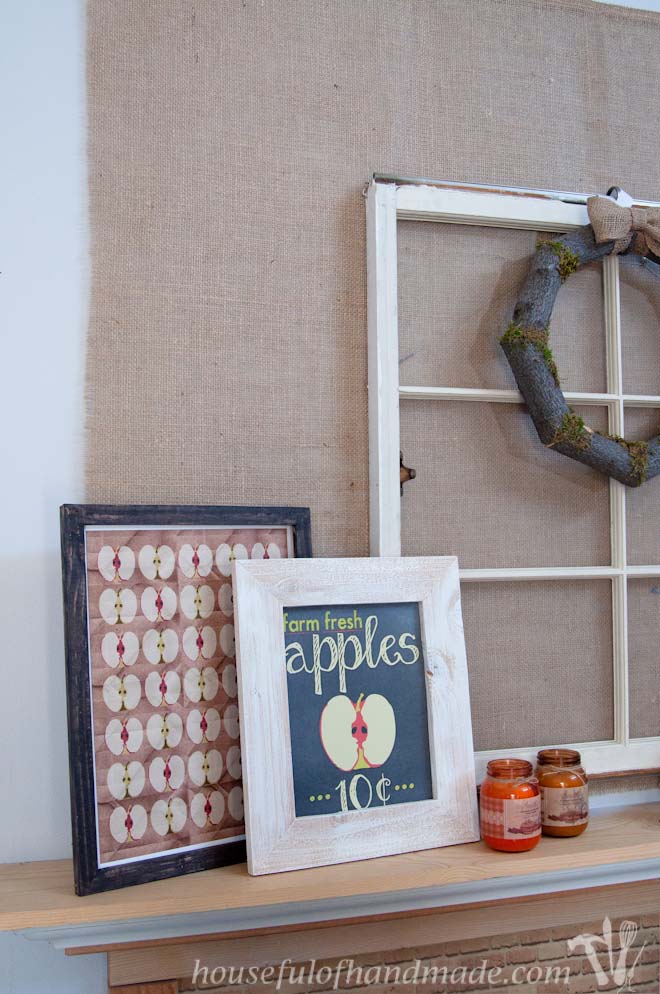 To add some height in the middle I used an old window that I got at a local repurposing/antique type store. I know I will be using this piece as an anchor point in most of my mantles. It's a neutral color and I love the way it looks! Then I hung my woodsy fall log wreath in the middle of the window. Perfection!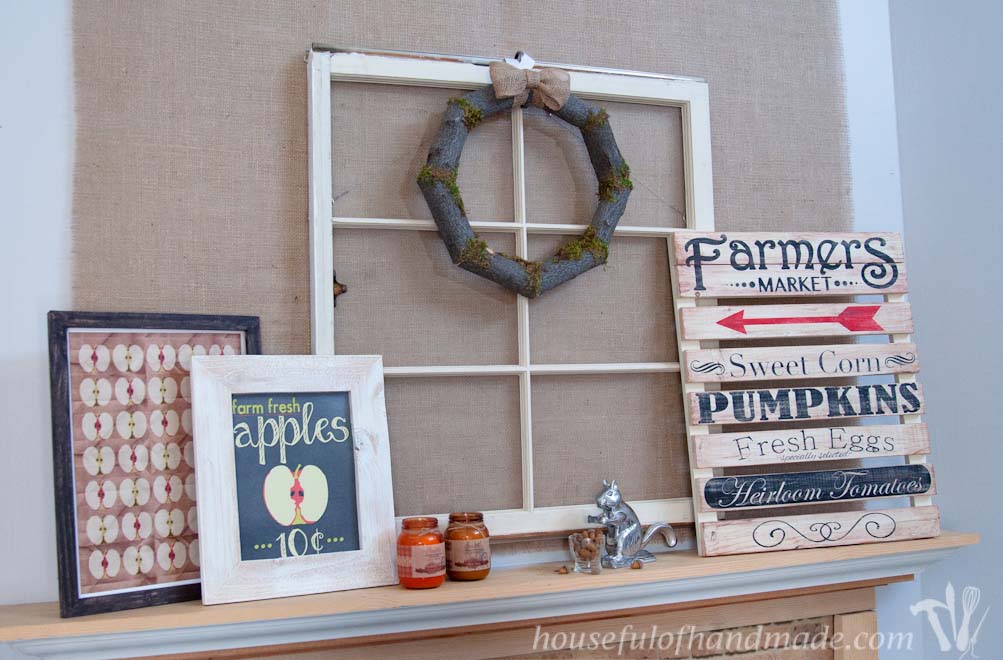 After I got these main piece up, things felt a little funny to me. I have a challenge with the shape of my wall. It is slanted up on the right side (in case you didn't notice, I'm not just taking really wonky pictures). I have ceilings that vault up to one side, not to a peak in the middle.
And the light color of all the creams wasn't standing out against the soft gray of my walls, so I had a moment of brilliance. I would add a burlap background to the mantle! The coloring and rustic feel of the burlap fabric would be perfect.
So I got it all cut out to size, then hot glued it to a strip of wood. I ripped a 3/8 in strip off the side of a spare 1×3 with my table saw, so I ended up with a 3/8 in thick x 3/4 in tall strip that I cut to 5′ which is the width of my burlap background.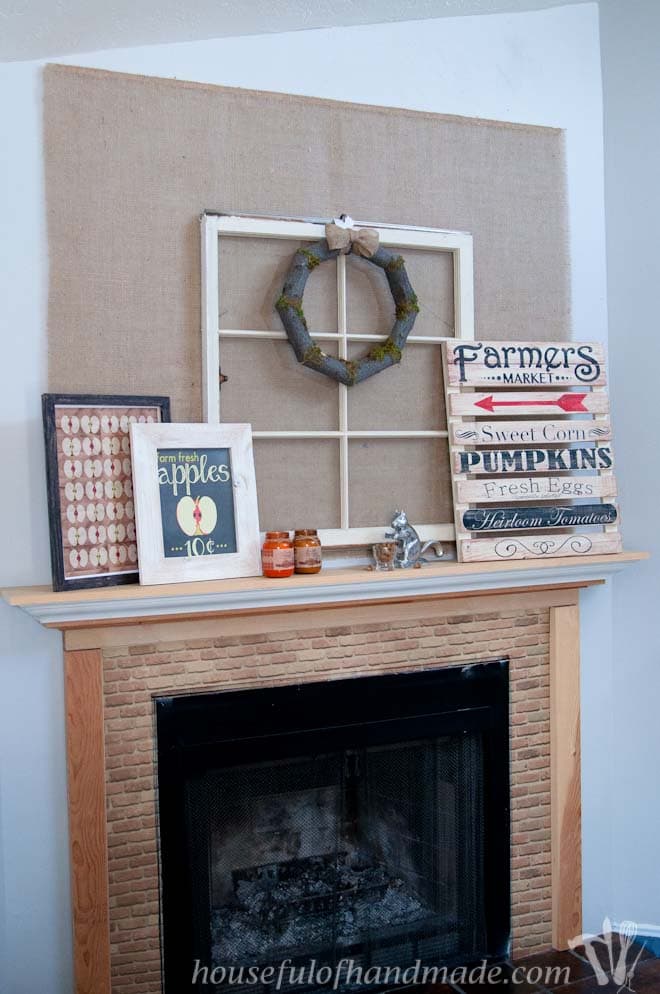 So now the whole mantle just looks balanced and happy, even with the wonky ceiling and light wall color. I added my scary looking squirrel nutcracker with a little bowl of acorns. I found this little guy at World Market last year and he makes me laugh, it looks like he is eternally trying to grab an acorn but just can't get one. Ha ha! I'm so mean 🙂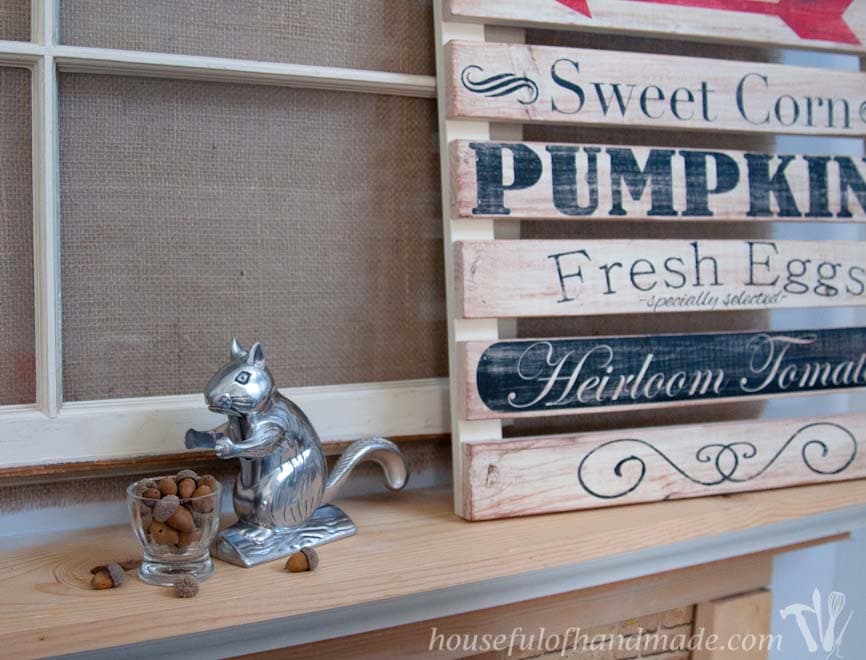 And then I finished it off with a couple sinfully fall scented candles my mom gave me for my birthday last year. They didn't totally survive the hot attic storage debacle, but they still smell amazing and add a little extra touch of fall color to my mantle.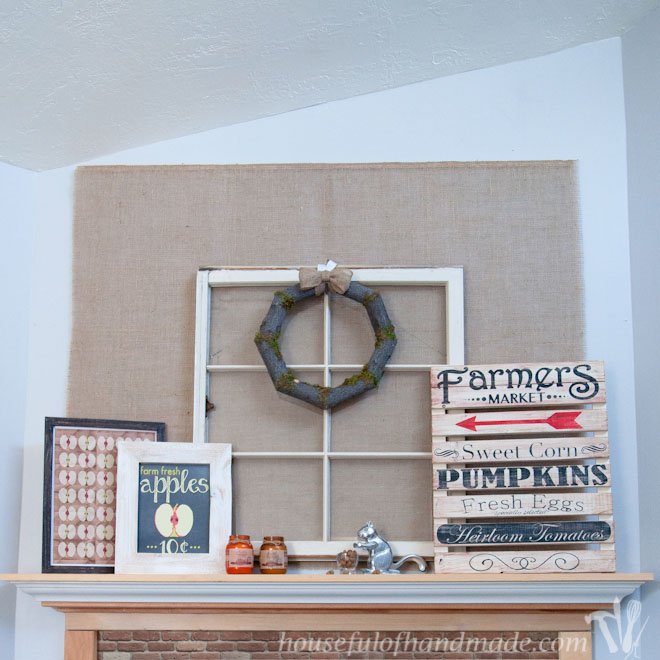 If you missed any of the tutorials for the different elements of my fall mantle, you can find them here: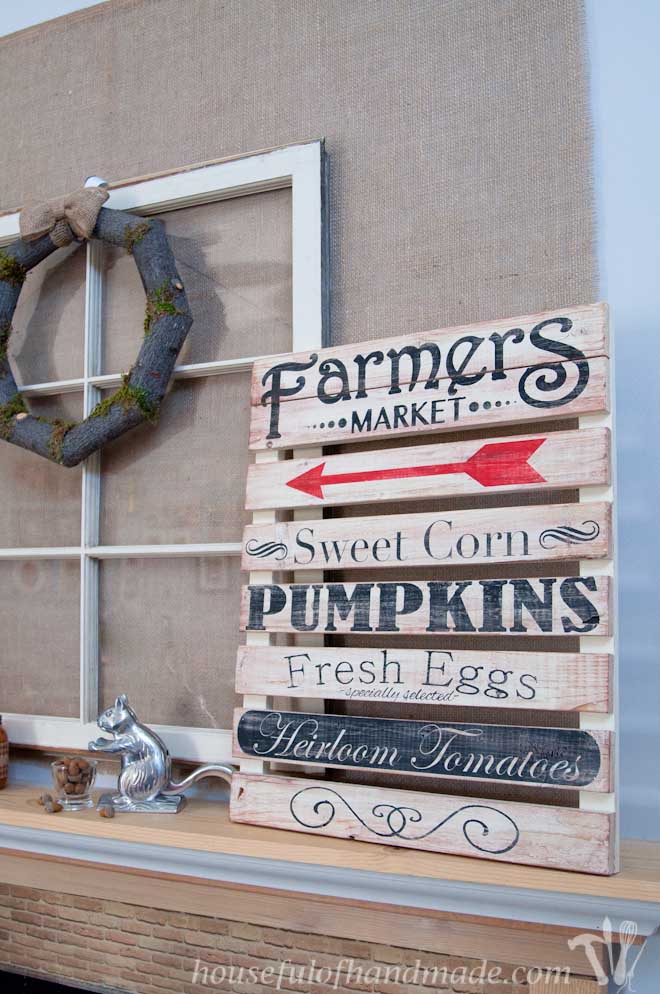 Now I can sit down and enjoy my happy fall space, at least for a few minutes before I start on the next project 😉
Happy fall!