Holy Cow! I can't believe it's APRIL!!! The sun is shining (even though it got a little chilly last night) and the flowers are growing. Spring is definitely in the air!
A couple days ago I decided I needed a break from my dining room remodel. My body was starting to ache, I was running low on energy and I was drinking more coffee than even I like to! And since the sun was shining and the weather was warm, we put some energy into the front flower garden.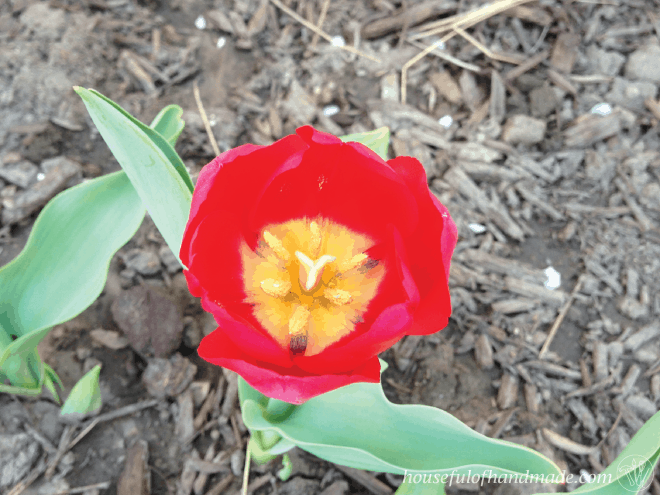 Last year was the first time I have ever planted flowers… I know it's crazy! I'd lived in this house for 9 years and was severely neglecting my curb appeal. Every time I walked to my own front door, I kicked myself for not making it beautiful, but yard work (especially the kind that involves moving lots of dirt) is hard work and time consuming. So last year I decided to just do it! I got all the hard work done in only 1 week of manual work and I'm so glad I did. Now it's just a little work to maintain the flower beds, plant new flowers (which really isn't work at all cause they are so pretty), and keep everything watered! And now I love to spend time out front, and when I find flowers that I like, I have a place to plant them and help them grow.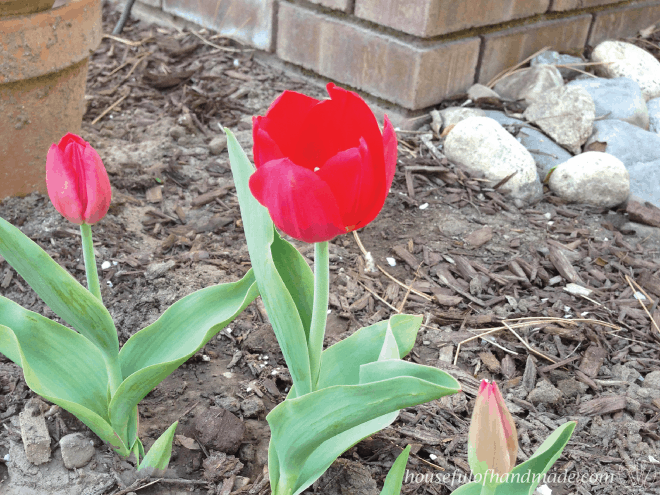 So when I found forced tulip bulbs at Home Depot for only $1.98 per container (they had about 3-5 bulbs per container), I jumped at the chance. Tulips are the definition of Spring for me. I love to see them coming up even when the weather is still chilly, and I even love seeing them growing up through the Spring snow. Now I have them in my flower garden.
We got them planted, and a couple days later, they bloomed. Oh, happy day!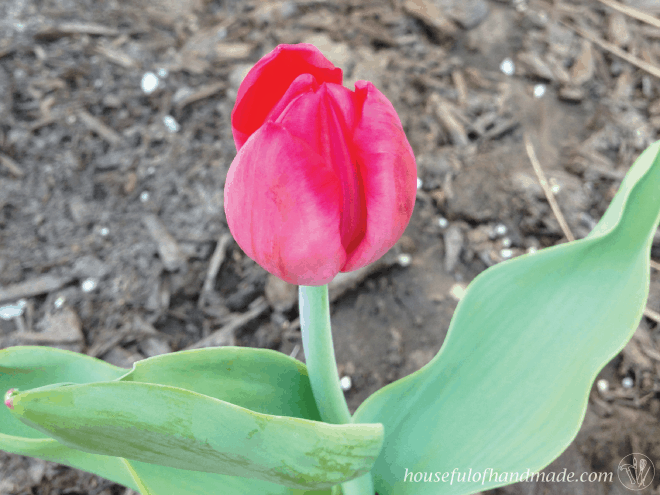 They are so bright and beautiful, I just knew I needed to use them in my surface pattern designs and the rest is history. I have been spending all my free time designing and perfecting a line of 8 patterns inspired by my Spring tulips. I'm working on turning them into digital paper and clipart and I will be sharing them here when I am done, but until then, you can see a little sneak peek of my flower garden with these backgrounds.
A little bit of spring for your computer…
And for your phone too…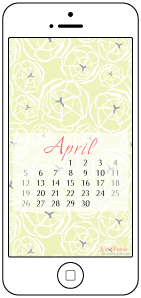 Just click on the links below to download the backgrounds.
What things remind you of Spring?