Easy bunny Easter baskets make the perfect Easter treat!
Hippity hop, the Easter Bunny is on his way… and fast! This year Easter is in March and I've barely started getting ready for it.
Today is as good a day as any for Easter crafting, so let's get started with these adorable printable Bunny Easter Baskets. Their sweet little faces make me so excited for Easter. And if you love this bunny face, you will also love this cute printable bunny art.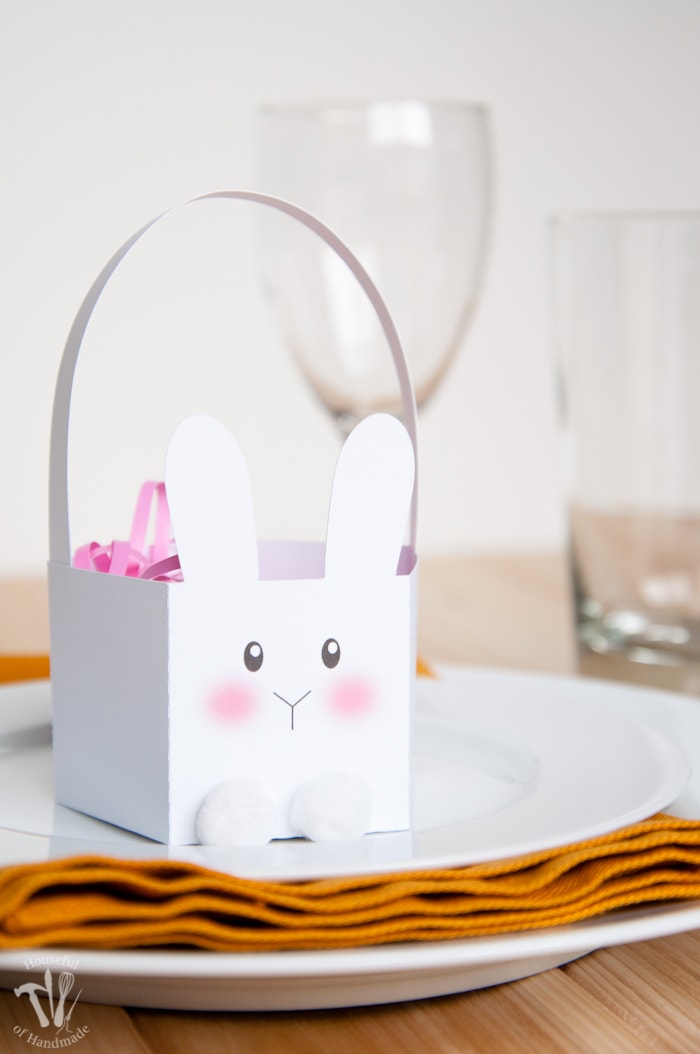 I love cooking for the family. Cooking can be a stress reliever for me, as long as I have a menu planned (I really hate trying to figure out what to cook, I am trying to be better at planning ahead).
But even when I make a big fancy dinner, we eat it on our basic tupperware plates with our water bottles instead of glasses, and usually there are only forks for silverware. We eat good, but keep it simple for the kids!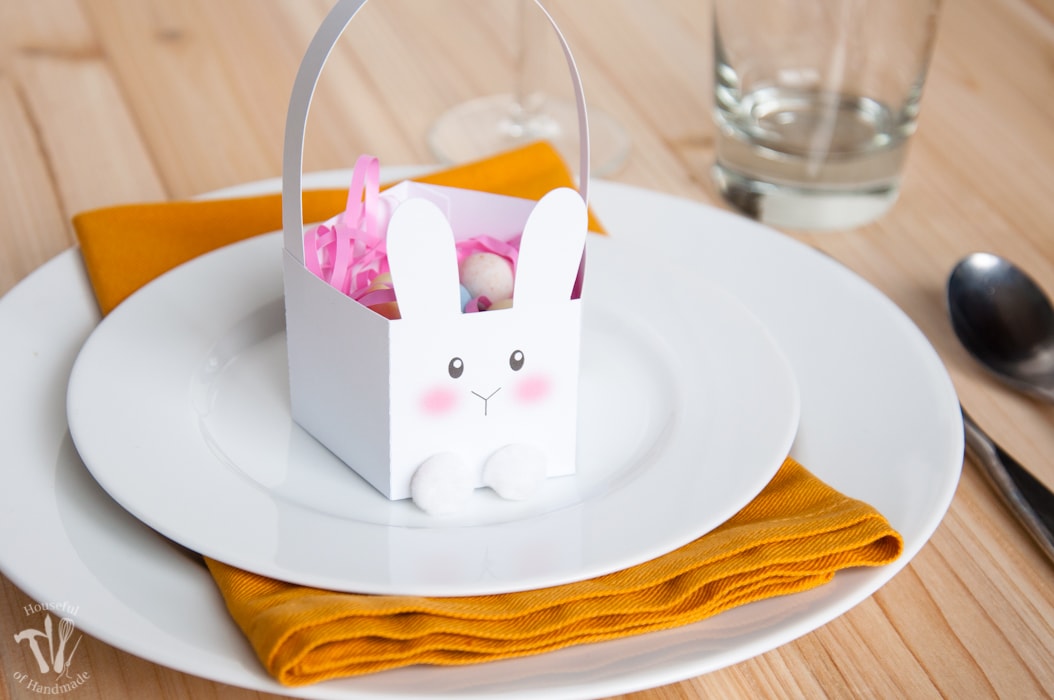 However, a few times a year I love to go all out and set a proper table!
I get out the cloth napkins, add a salad plate and at least 3 pieces of silverware. We get to use a water glass and a wine glass (juice for the kids). Super fancy!
And when I do it for a holiday, I love making cute crafts for each places setting, and even better if they can hold a little appetizer or treat like these adorable bunny Easter baskets.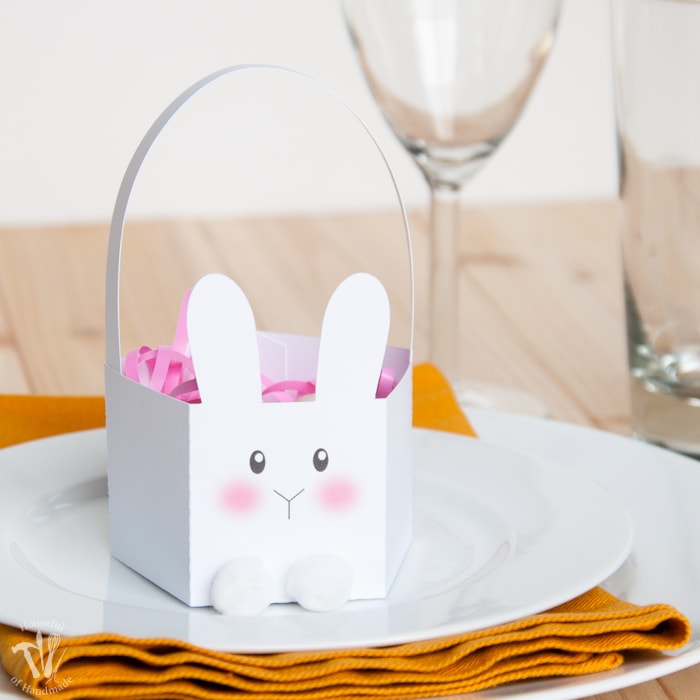 These bunny baskets actually came about because of an error while trying to figure out these printable egg shaped boxes. I miscalculated my geometry (which actually happens a lot, don't tell anyone) and ended up with flat eggs.
But my husband insisted I could turn the mistake into something else. He kept telling me that Post-Its were a mistake turned into a billion dollar industry.
I am not claiming bunny baskets are anywhere near as awesome as Post-Its, but they are super adorable and perfect for Easter.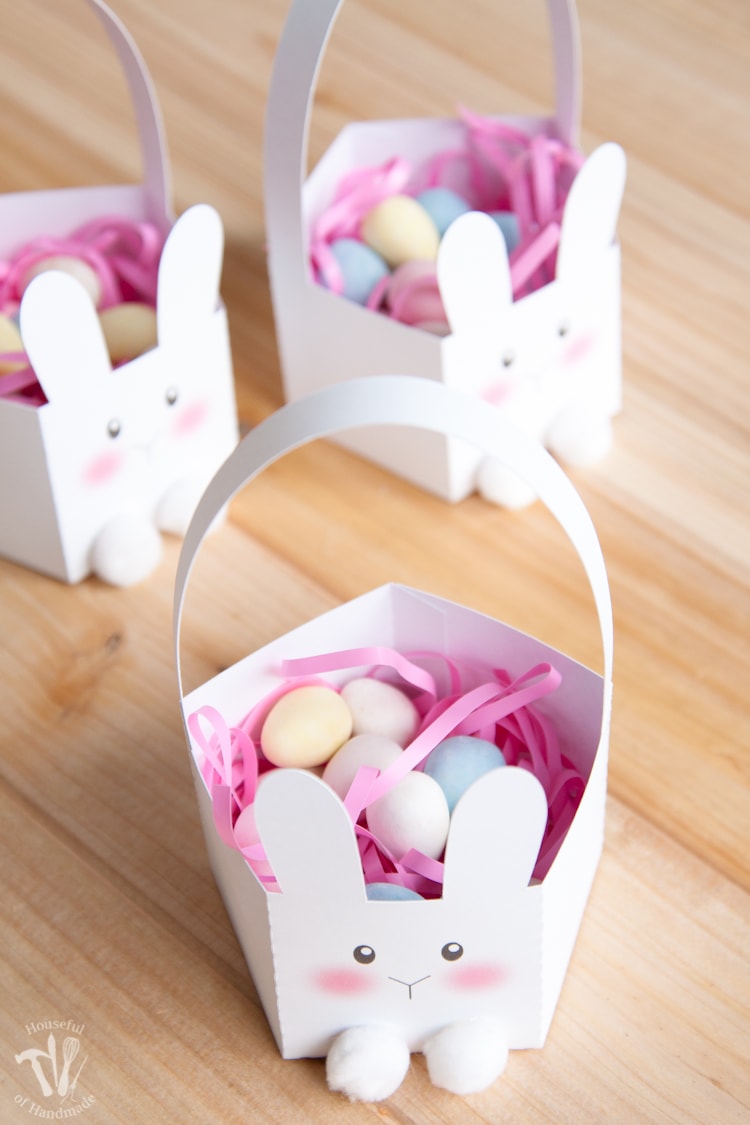 My mistake box sat on my desk, taunting me while I figured out the other boxes. Then it hit me, BUNNIES!
If you want adorable bunnies, without the poop and needing to remember to feed them, these little bunny boxes are the perfect solution. Just look at their sweet little faces.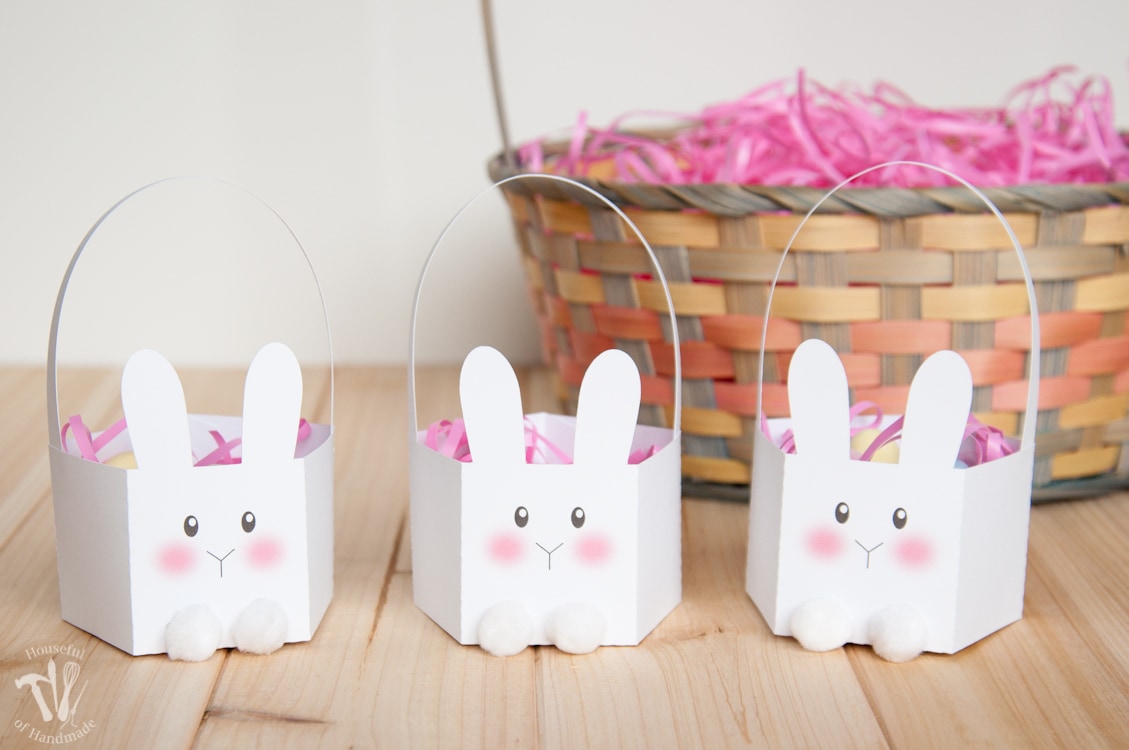 To make them even more adorable, I added little pom pom feet and cotton ball tails. Bunnies need to be fluffy. Now instead of staring at my mistake box on my desk, I have an adorable little bunny smiling at me, and holding a treat (thank heaven for Cadbury Mini Eggs).
How to Make Bunny Easter Baskets
Supplies:
Bunny Easter Basket PDF template
Printer
Hot glue gun
Cotton balls
Easter grass and treats (optional but makes these much yummier).
These bunny boxes are super easy to make. Just print out the PDF and cut along the solid lines. Then score and fold along all the dotted lines.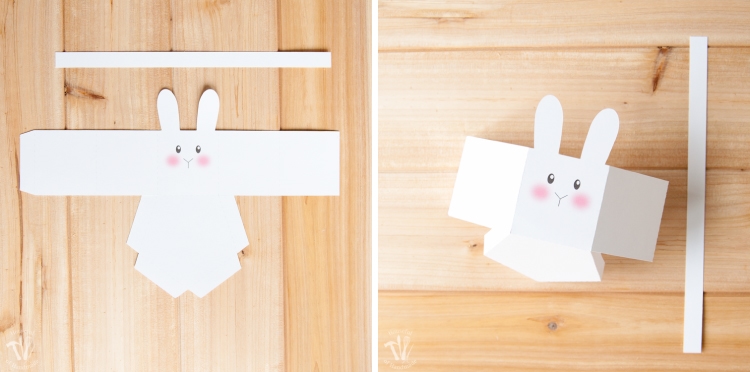 Glue the tabs (I used a regular school glue stick). I started by glueing the tabs on either side of the front, then ended at the back, securing the back tab at the same time as the bottom tabs.
To add the handle, add some glue to the inside of the box just before the side fold. Then do the same on the other side and secure the handle.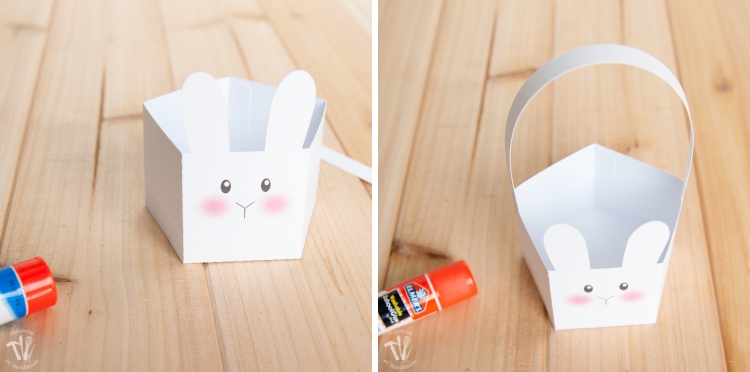 Finish them off by glueing small white pom poms on the bottom front and a cotton ball on the bottom of the back. I used my hot glue gun for this.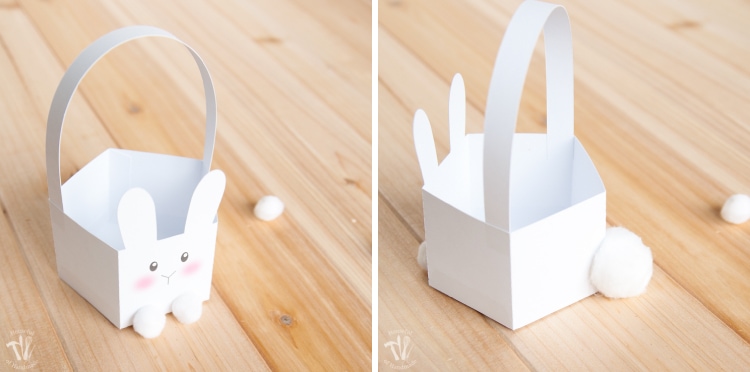 Now fill them with a little Easter grass, then add your favorite treats. I'll probably eat all the Cadbury Mini Eggs and fill them with jelly beans or malted eggs for the kids before Easter, haha!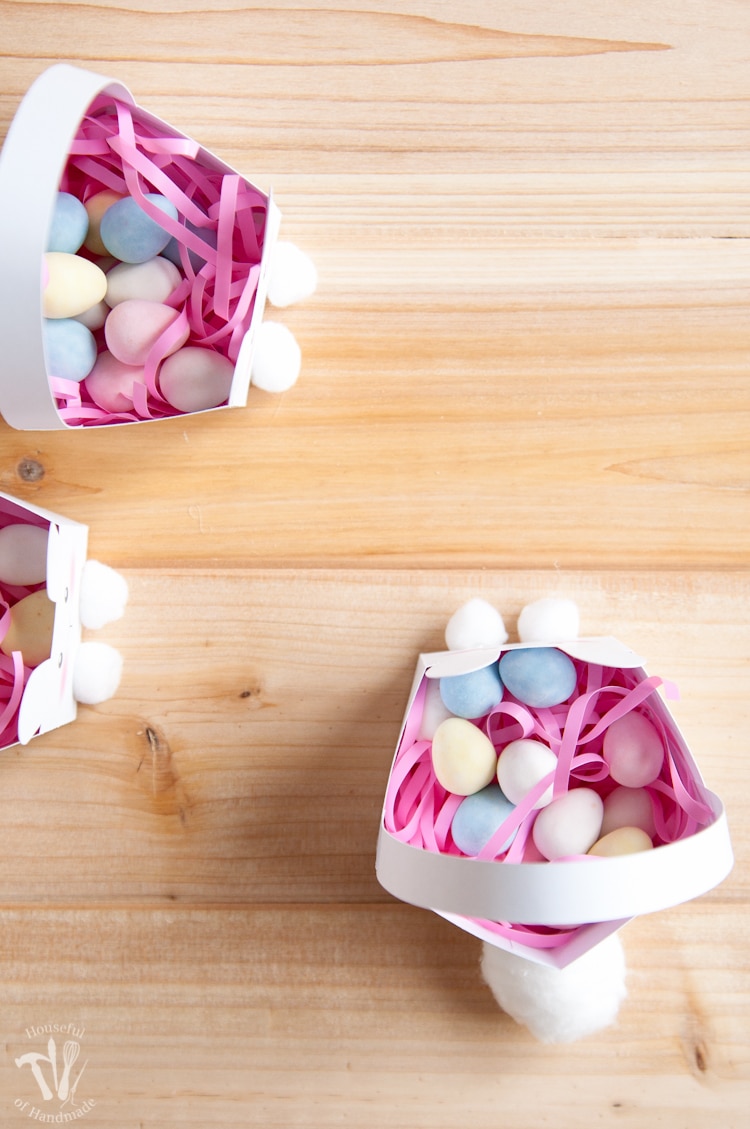 Since I have a few more weeks until Easter, I can create an entire bunny basket army. Little bunnies in every room… sounds perfect to me!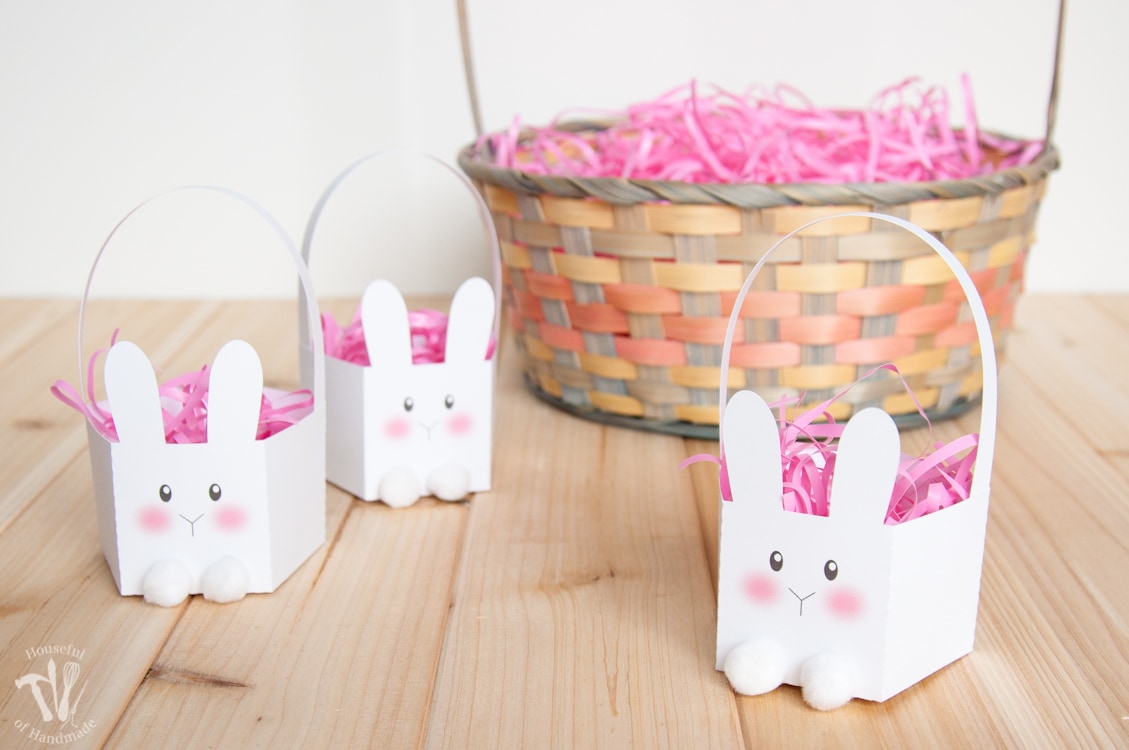 Easy Crafts for Easter
Celebrate Easter with these fun and easy crafts!
Now it's time to go decorate some eggs and fill my house with all things Easter!