Get patriotic with this easy printable stars and stripes banner for the 4th of July.
I wasn't really planning on starting on my summer patriotic mantle, but life happens. This morning, I woke up way too early with intense pain on the right side of my neck when I tried to roll over. I was brutally pulled out of a peaceful sleep in tears. Luckily my husband was home and was able to get me an ice pack and some pain killers because I could barely move. After the ice and drugs kicked in I was able to get out of bed and get the kid off to school (we are so close, but not quite done yet).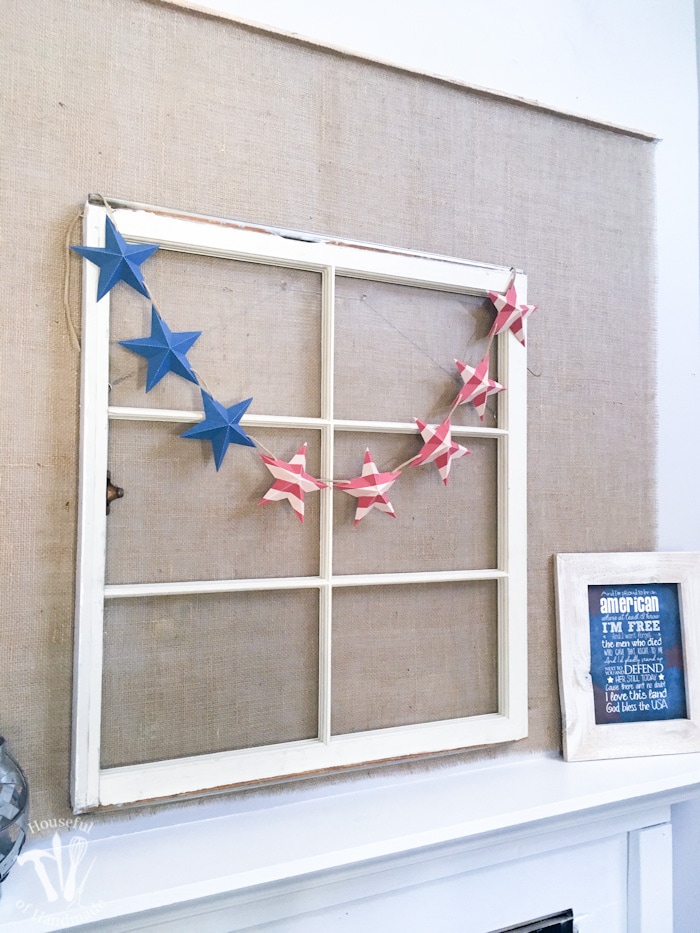 Luckily my chiropractor is really great about squeezing me in when the unexpected happens, and this definitely qualified. He told me a very long, technical-sounding name for the problem, but what it boils down to is a spasm in the neck which they believe occurs from sleeping on it weird.
After some more tears while he adjusted it, I have been on regular pain relievers and lots of ice to help control the pain until it loosens up. So instead of using power tools to finish the fun nautical wreath I have in my plan, I had to find a project that could be done easily and painlessly. This free printable stars and stripes patriotic banner was the perfect project for that!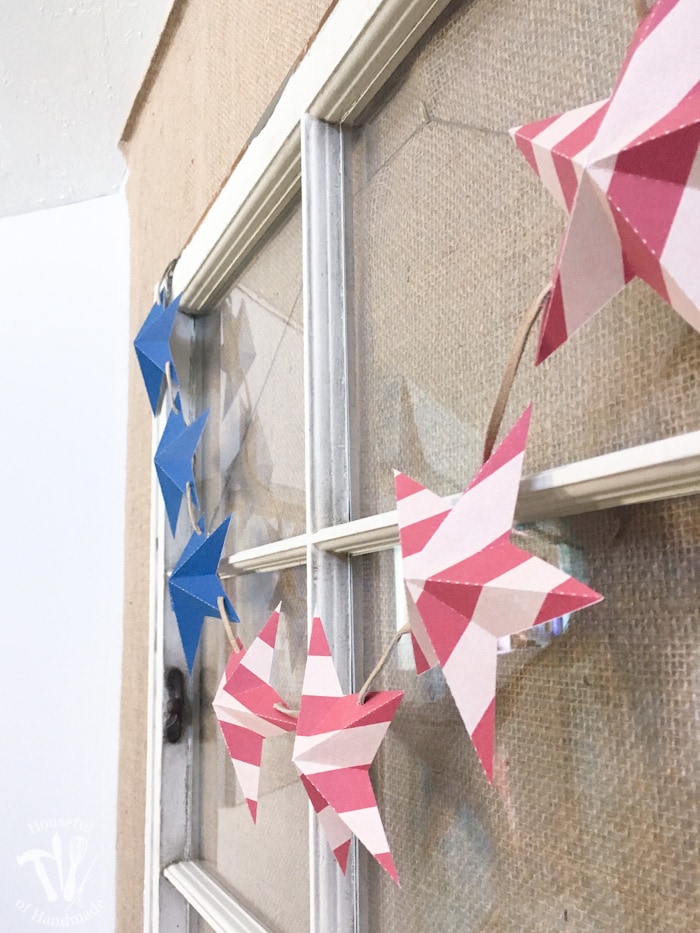 I know a lot of people plan their patriotic mantle to have up for Memorial Day, but I am usually too busy with end of school stuff and in Utah we celebrate Pioneer Day on the 24th of July with all things red, white and blue too so I usually wait so I don't get bored with my decorations. I know I should have a new mantle for every month, I have enough ideas for it, but time and money are another story so I am happy when I manage to get five new mantles done in a year.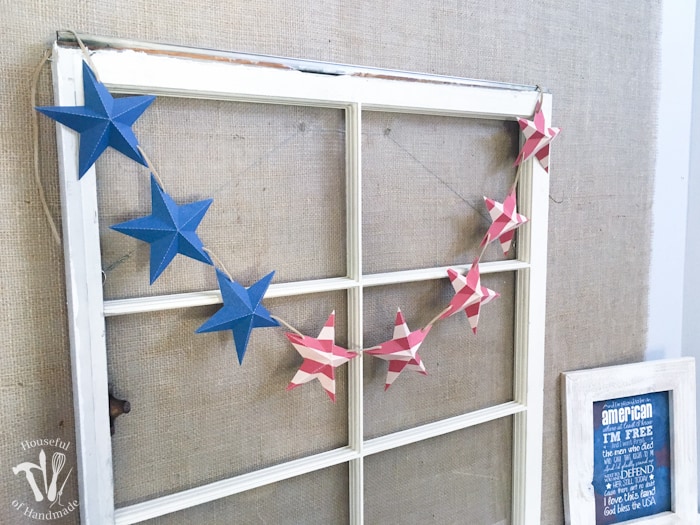 I love having seasonal mantles, but don't want things to clash with the rest of the room too much. Which is honestly pretty ironic to say because everything clashes with the blue carpet, but I just stopped noticing that about 6 years ago (luckily for me we are finally getting new carpet this summer).
And then if you didn't notice the blue carpet, I am sure you would have noticed how the pink floral couch, that I am still planning on reupholstering, really stands out in the room. But again, I just ignore that and try to make my mantles fit in with the perfect picture of my living room that is in my head which means farmhouse style neutrals with a touch of color.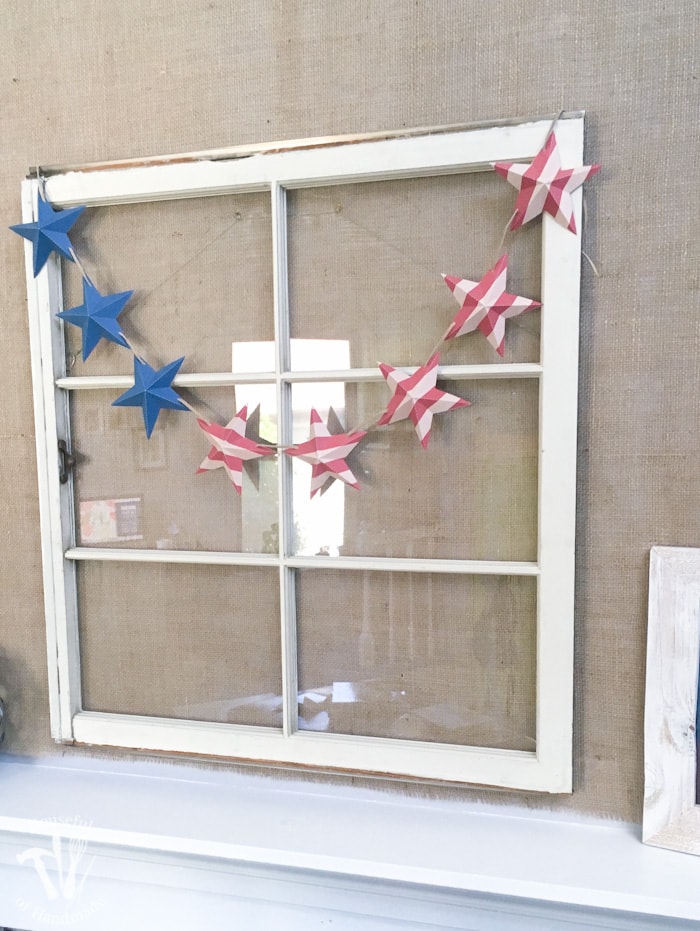 To make my red, white and blue fit in with my vision of my someday living room, I decided to make the colors a bit more vintage. Instead of crayon blue, it's more of a dusty blue, and instead of red and white stripes, they are cranberry and cream colors. They still scream USA, but just a little softer.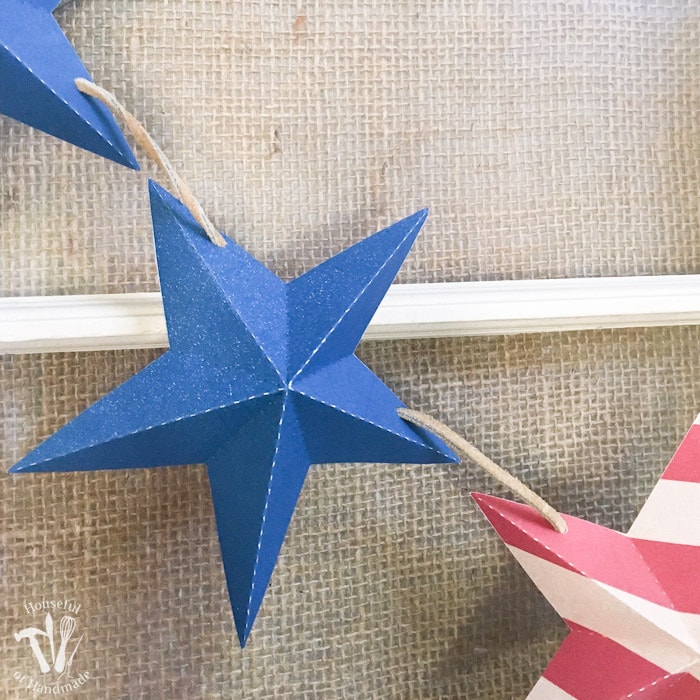 If you made some of the printable 3D paper snowflake ornaments that I posted before Christmas, you will be a pro at making the stars for this patriotic banner. But things are a little different because these are a 5 point star instead of a 6 point star. And I decided to use my Silhouette cutting machine to cut out the stars so I could free up my hands for holding ice on my neck.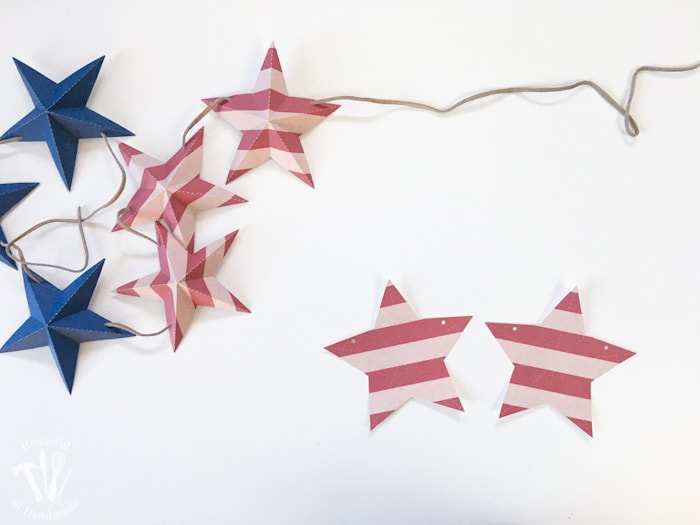 Once I cut out the stars, it was time to start folding. The lines from the center of the star to the tip of the points need to be folded so the ridge is pointing up, like a mountain.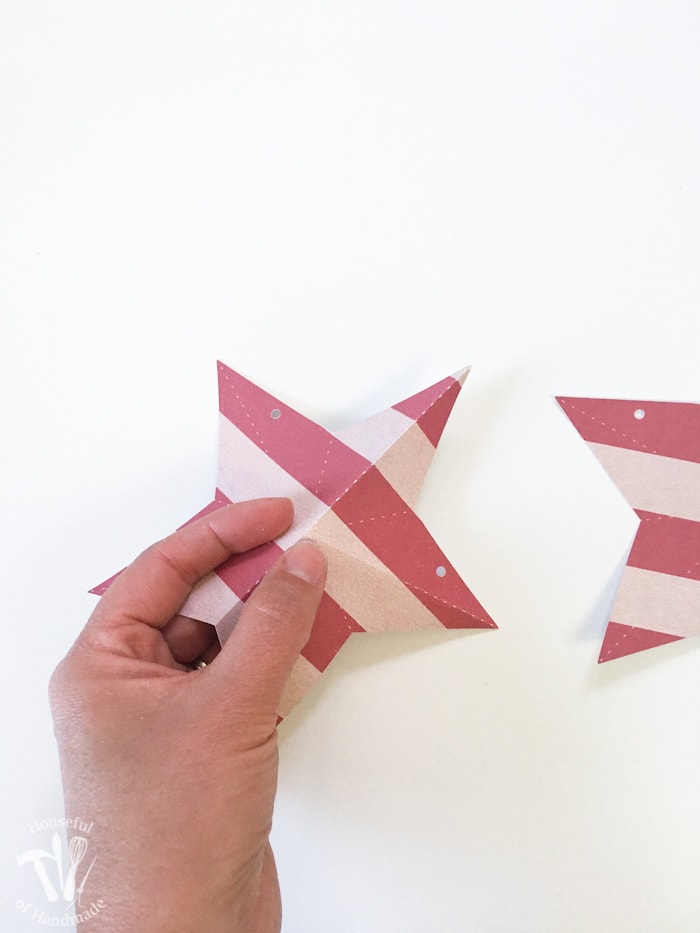 Then you ned to fold the other half of each line so it points down like a valley. To do this I found it easiest to grab two of the mountains and pinch them together. Then grab two more and pinch until all 5 of the valleys are creased.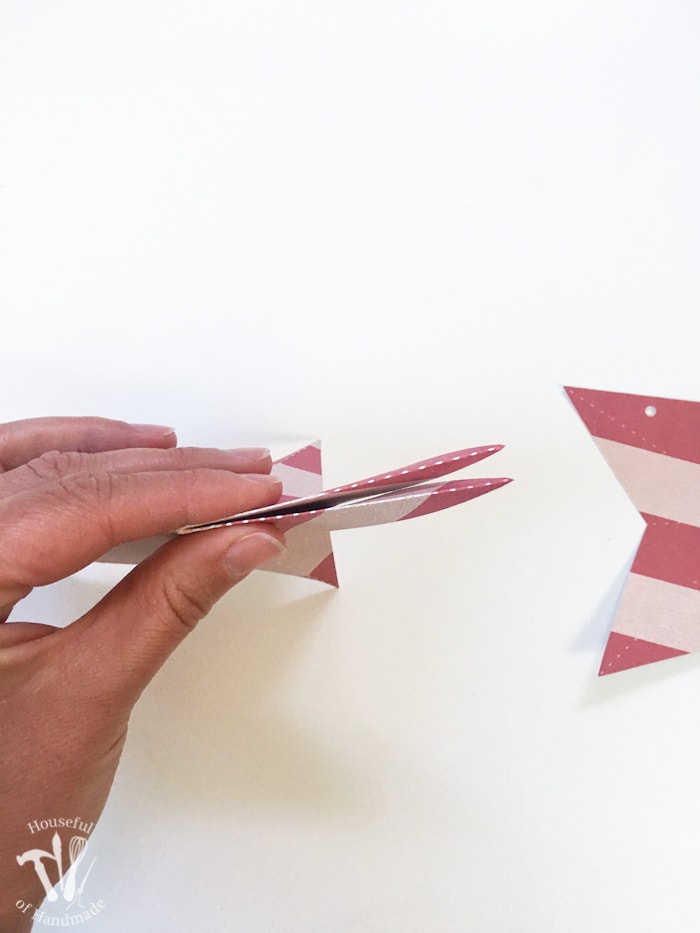 When you have all the folds creased you will end up with a squishy star.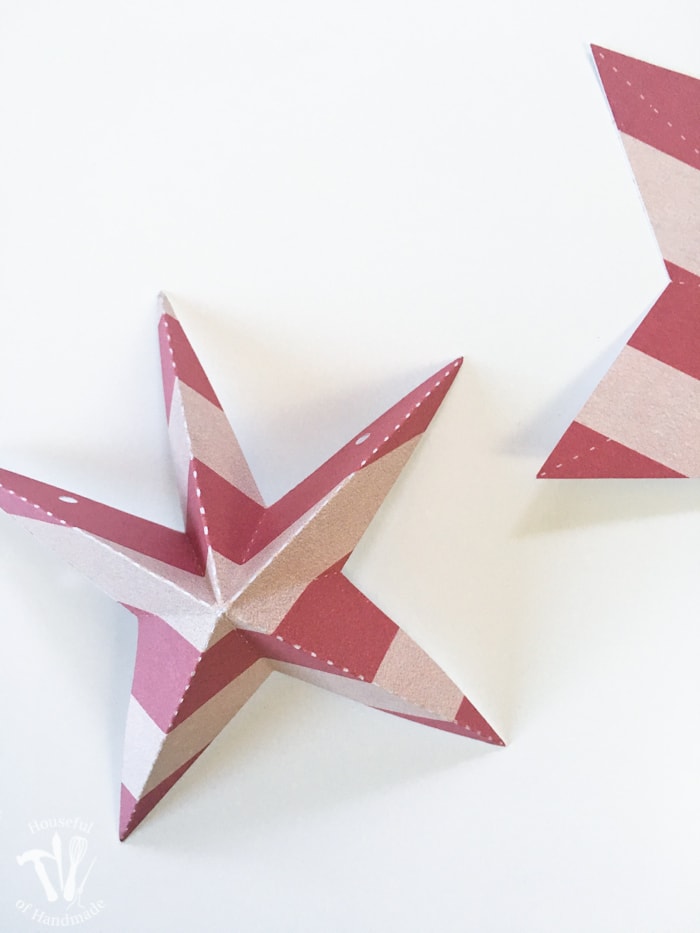 To make it beautiful, press the center of the star and it will flatten a bit out into the beautiful star you want.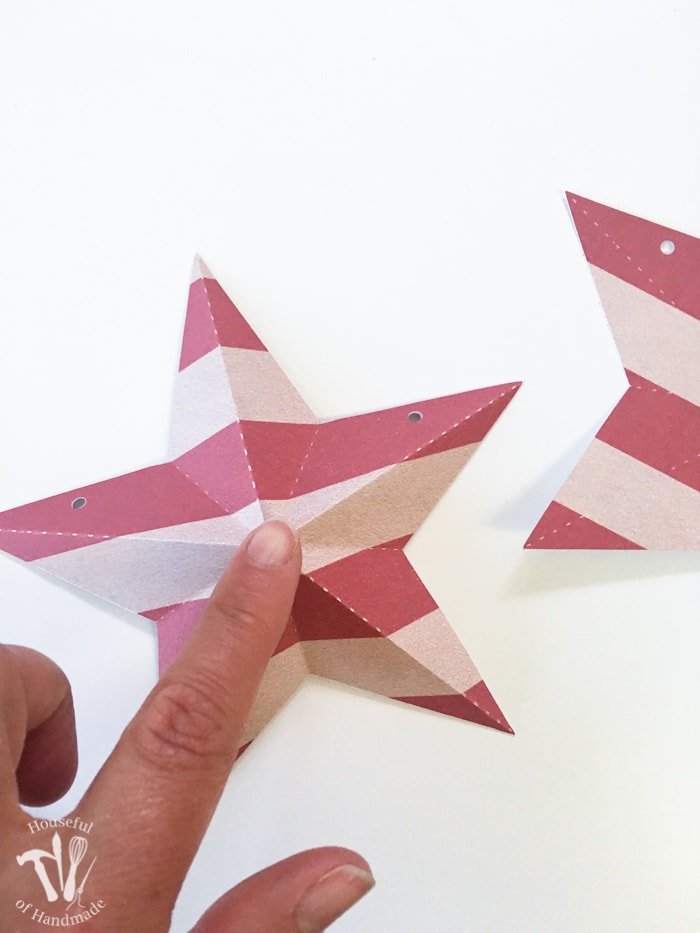 Finish folding all your stars. I chose to do 3 blue stars and 5 striped stars so the banner would resemble a flag with the small stars box.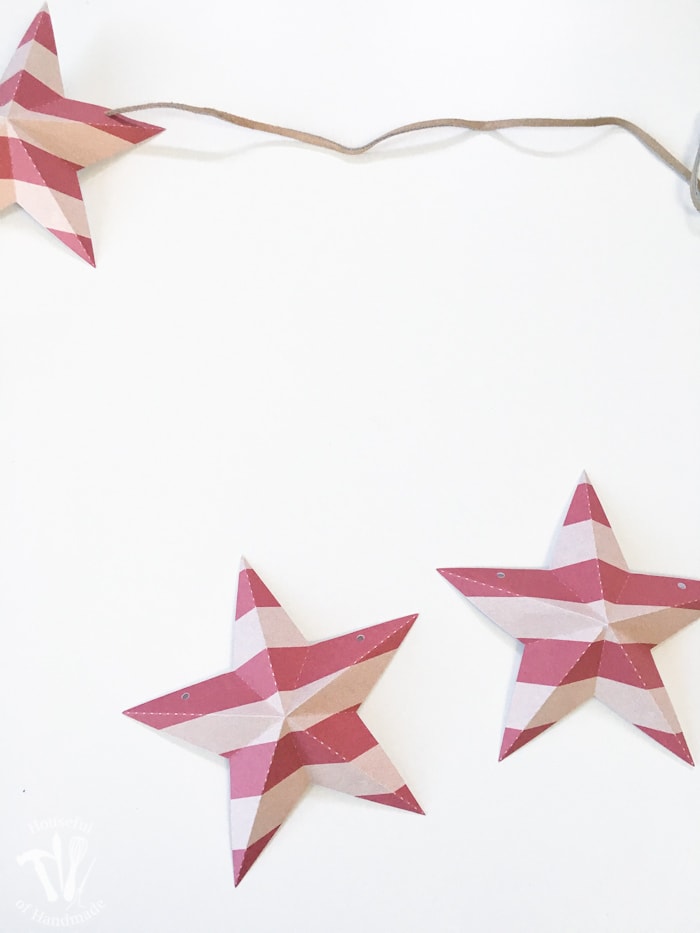 When your stars are all done, string them into your banner. I strung mine onto a piece of leather cording. It was a little tight on the little holes I cut, but it keeps things put when it's hung up.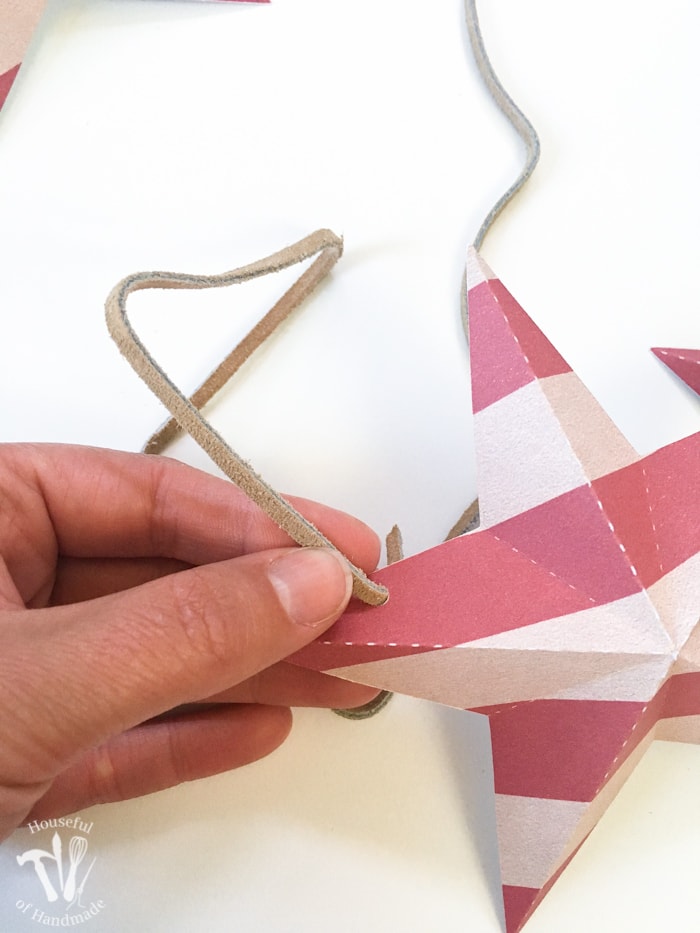 Isn't it so pretty? It was definitely the perfect project for me today!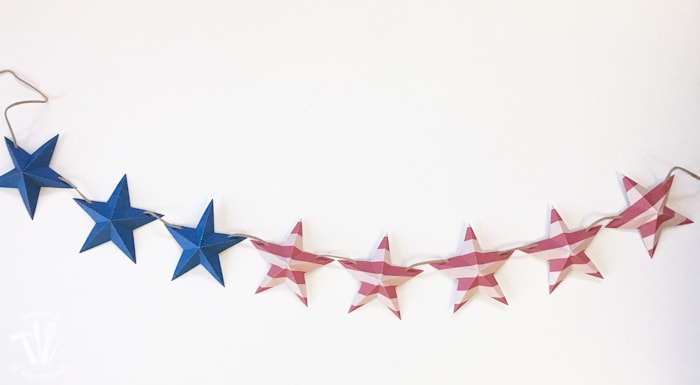 If you've looked at any of my other seasonal mantles, you may notice that I don't switch out too much. I like to keep the background pieces there and just change out the pretty seasonal accents. So I have my background of burlap to help frame my mantle area, then I hung a vintage window on top of that.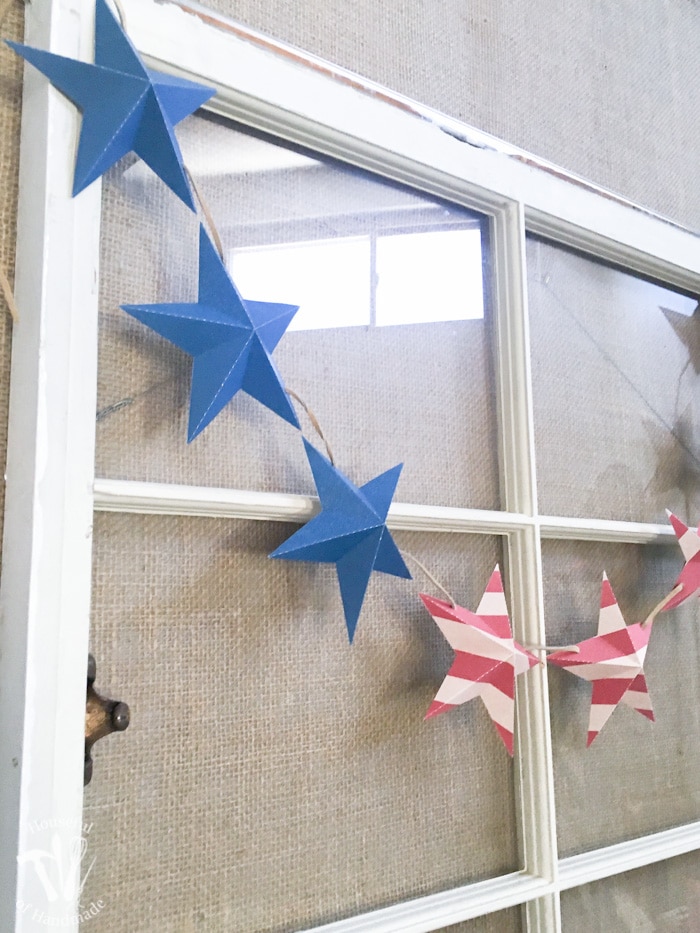 I still use my 20 minute picture frames that I made last year and just swap out the printables inside. I fell in love with these printables from How to Nest for Less so I printed one to start off my mantle. Now I just need to decide what to put in the other one. Then with a few more details, I will have this mantle ready in no time!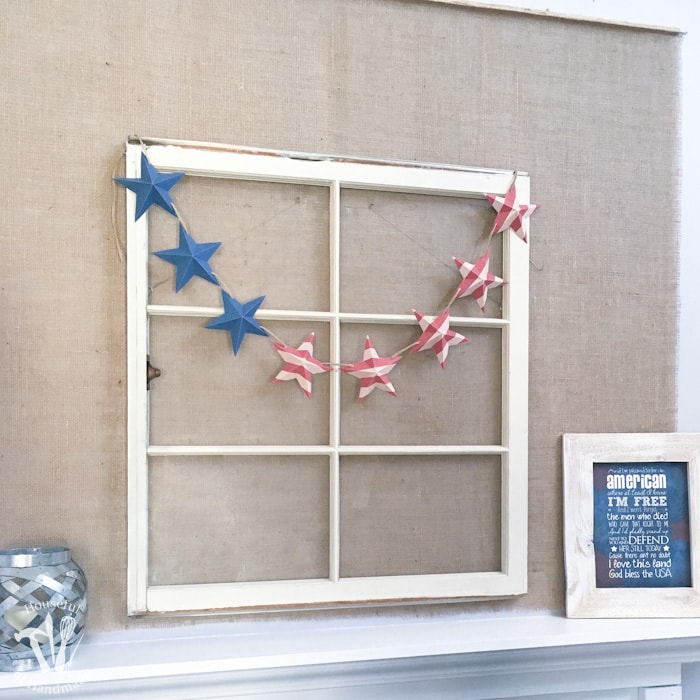 And maybe if I am lucky, this pain in my neck will go away (no I don't mean my children this time) and I can trust myself with some power tools and get around to finishing the nautical wreath I have planned. Maybe I can share it on Saturday since I have done absolutely nothing with the master bathroom remodel this week.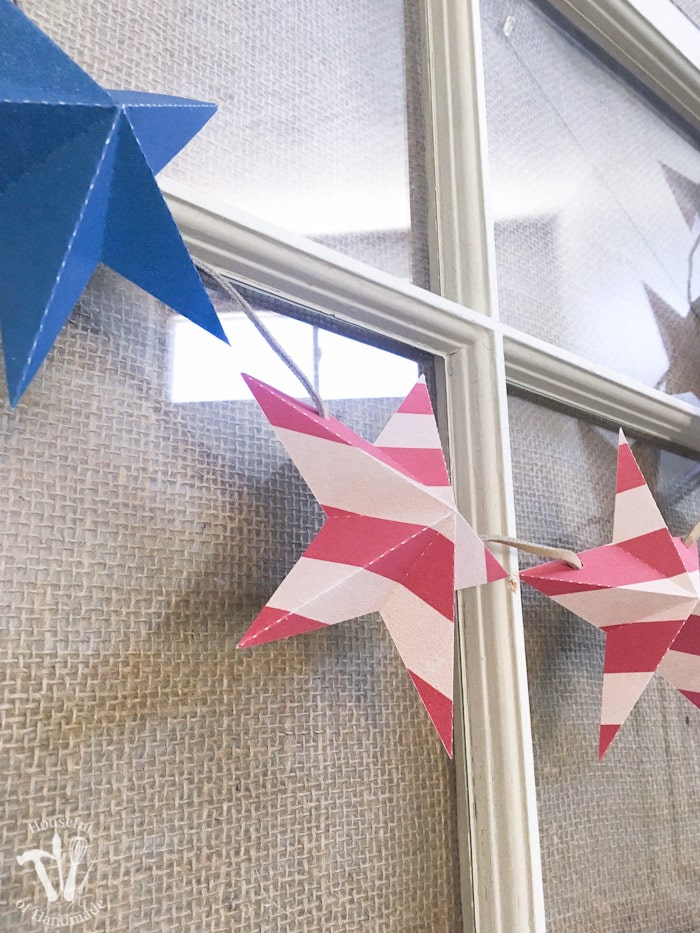 I am sharing the cut files for the stars & stripes banner in my subscriber library. Click here to subscribe to my newsletter and gain access to all the freebies. If you already have your password, click here to download them.
Here's to a better day tomorrow 🙂