It's been just over 1 month since we planted our vegetable garden. Sometimes I just like to go outside and stare at the little plants growing (okay, they are not really growing fast enough for me to watch, but I swear I they feel better knowing I am watching them). Most of my plants are growing very well, for some reason my swiss chard seems to be struggling, but it usually does better for me in the fall. I have even eaten two little cherry tomatoes off my tomato plant. Everything was looking so happy until Monday…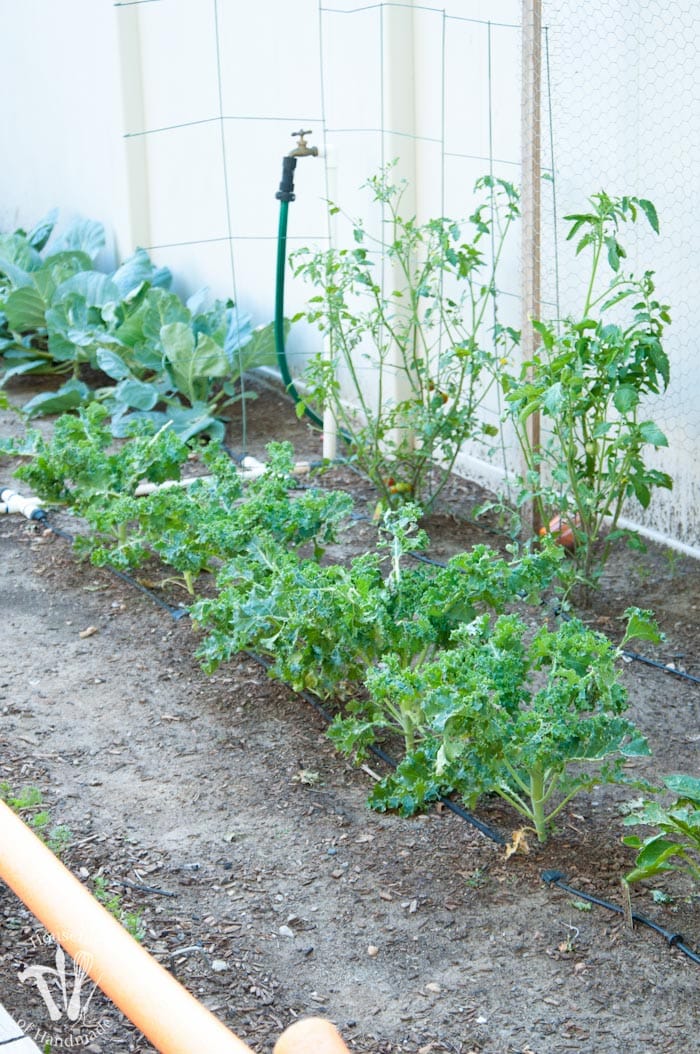 This post contains affiliate links. I receive a small commission on products purchased through these links at no additional cost to you. I am only sharing products that I use and believe in.
If you saw my post for the Wednesday Showcase on Tuesday, you will have heard about our crazy Monday. We went to swim lessons and then ran a couple errands. When we got home I sent the kids outside to play and then I heard the thunder in the distance. The weather forecast said 20% chance of scattered showers, but I could hear the storm coming. I needed to fertilize the garden since I always fertilize at the beginning of each month (it's the only way I can remember to do it). Since you need to water after fertilizing to help it sink into the soil I figured it would be the perfect time to hurry and fertilize so I could take advantage of nature's watering (we live in a desert and need to always be conscious of conserving water).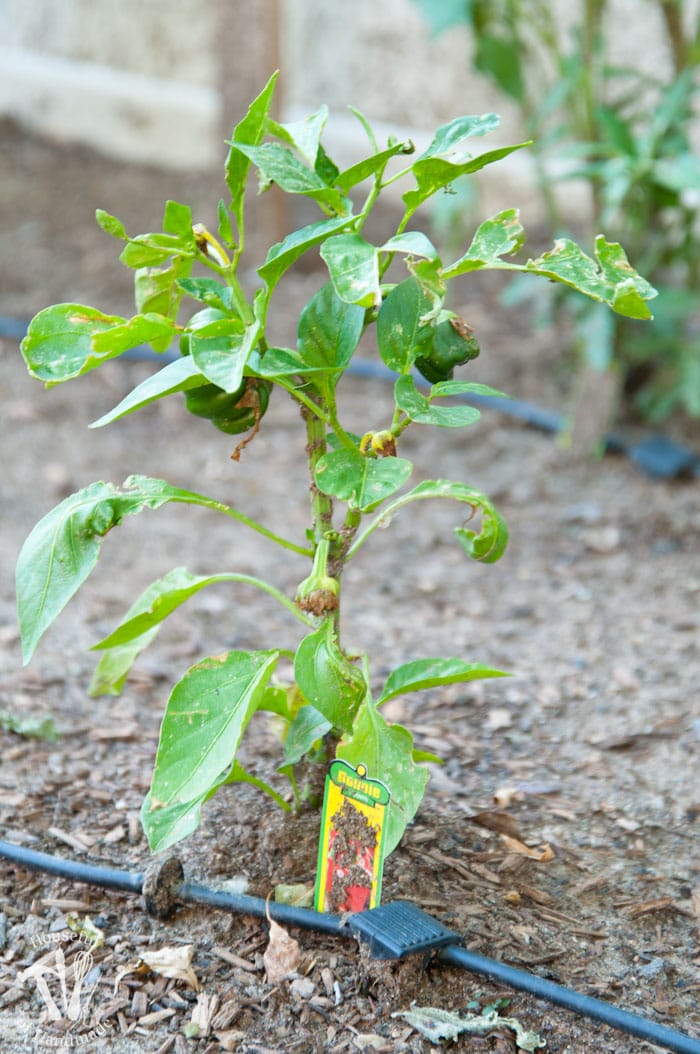 So I ran out to the garden with my favorite fertilizers. I am not a 100% organic gardener, but I like to use organic fertilizers. I have been using the Tomato-tone and Garden-tone organic fertilizers for 3 years now and love them. As I started sprinkling the fertilizer around the plants the thunder was rumbling and the clouds seriously came together so fast I felt like I was in a movie. I hurried so fast to get the fertilizer done so I could go inside. I have never fertilized my garden in less than 30 minutes cause I like to be careful about how much I put around each plant and to not get the fertilizer too close to the roots so I don't burn the plants, but as the thunder was rumbling I was practically throwing it at the base of the plants. I finished the last section as the huge drops started falling on my back.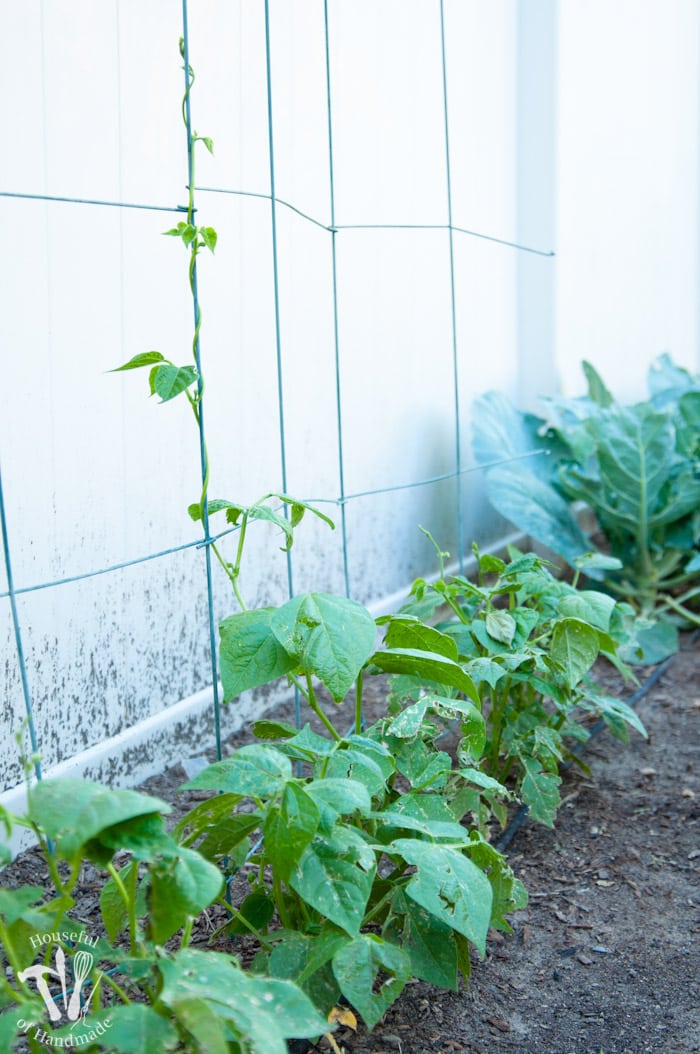 Luckily I made it back inside before the sky opened up and dumped on us! It was so loud, and then I looked outside and saw why… it was not just raining, but hailing huge balls of ice… in June! The kids wanted to go out to play in it, but I wouldn't let them because the hail was coming in so hard and fast that I was worried it would actually hurt them. We usually do not get hail like that in Utah.
It hailed and rained for at least an hour. Never letting up. I was working on the computer in the living room next to our fireplace and the sound of the hail hitting the metal inside the chimney sounded like we were under attack. All the while I was starting to worry about my one month old garden. I was just admiring the kale that morning thinking I finally had enough to pick for a delicious kale salad.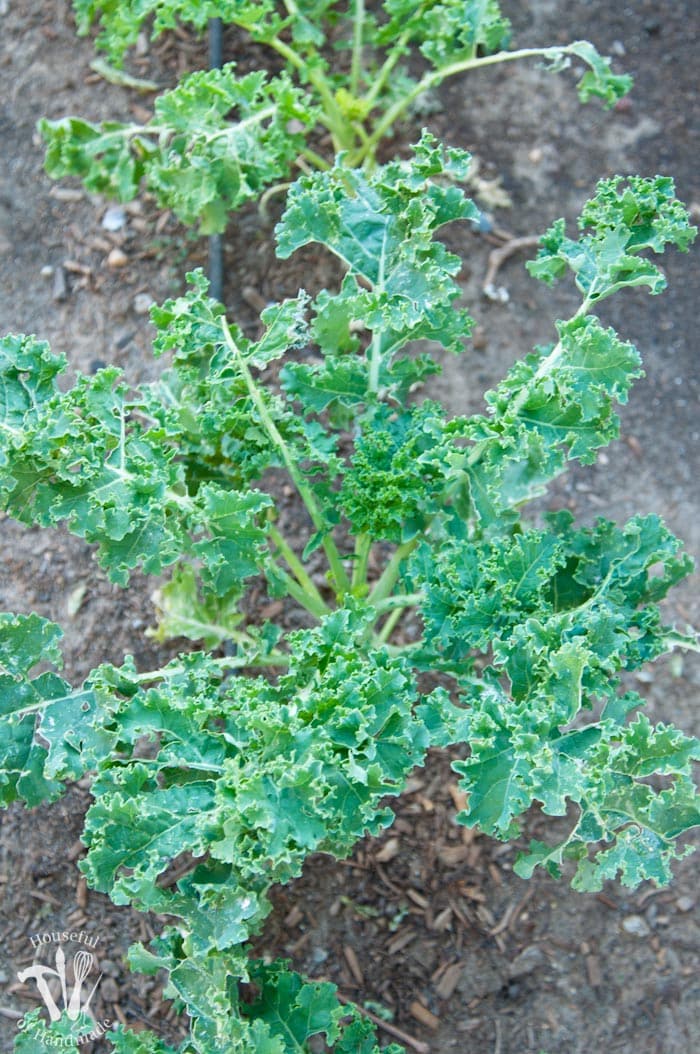 After an hour the hail did stop, but the rain did not. I could not believe how much water was coming, and how fast it was coming. Then after a couple hours the storm started to slow. I went into the garage to put something into our large freezer and was met with a garage full of water. We had gotten so much water so fast that my garage floor had at least 2 inches of water next to the garage door. Luckily the garage slopes back up before entering the house so no water came into our basement, but I did loose some wood and thin set that was on the floor in the garage.
The rain did eventually stop and I went to check on my poor garden. It looked like a lake. There was so much standing water. I don't think I have ever hoped so much for it to get hot and dry things out. I know you can over-water plants (never had to worry about that in Utah though) and I was worried they would not survive. But worse than that, was the bullet holes! Seriously, it looked like someone had taken a BB gun to all my plant leaves. My kale and lettuce was shredded and not in the way I wanted.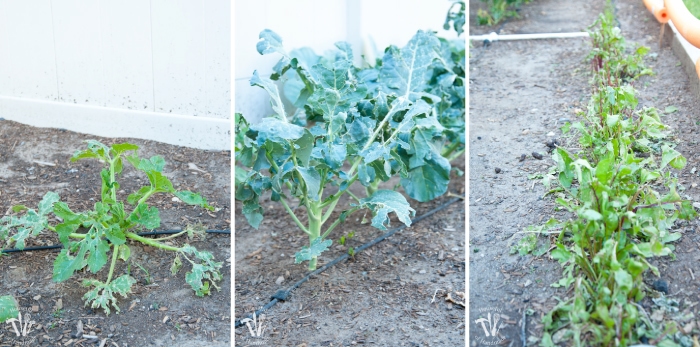 But tonight I am feeling pretty confident that the garden will survive. The kale is making a comeback. I have cute little cabbages in the middle of my cabbage plants. And there is a lot of new growth on the stems of my zucchini, squash and cucumber plants.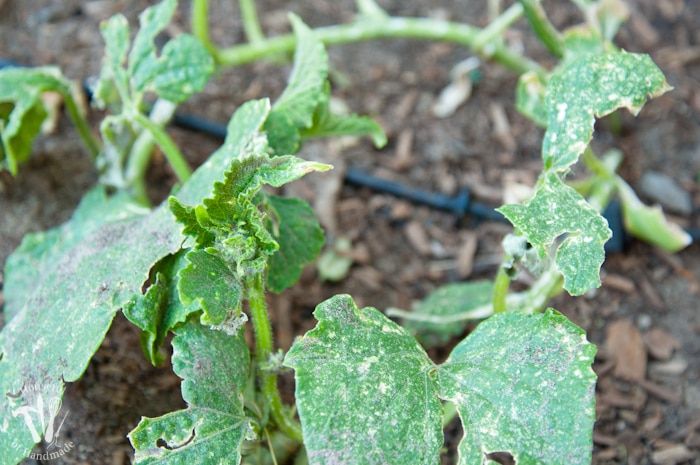 Luckily I had just set up the supports for the tomatoes and tomatillos the day before. The tomato plants were still small enough that the stems were able to support them. I had also given them a little pruning the day before to get rid of some of the unnecessary leaves to encourage the plants to grow and produce more fruit. And I had tied up the delicate tomatillos stems and they weathered the storm very well. I love having the plants tied up along a support of chicken wire nailed to posts. It makes it way easier to harvest the fruit than the traditional tomato cages.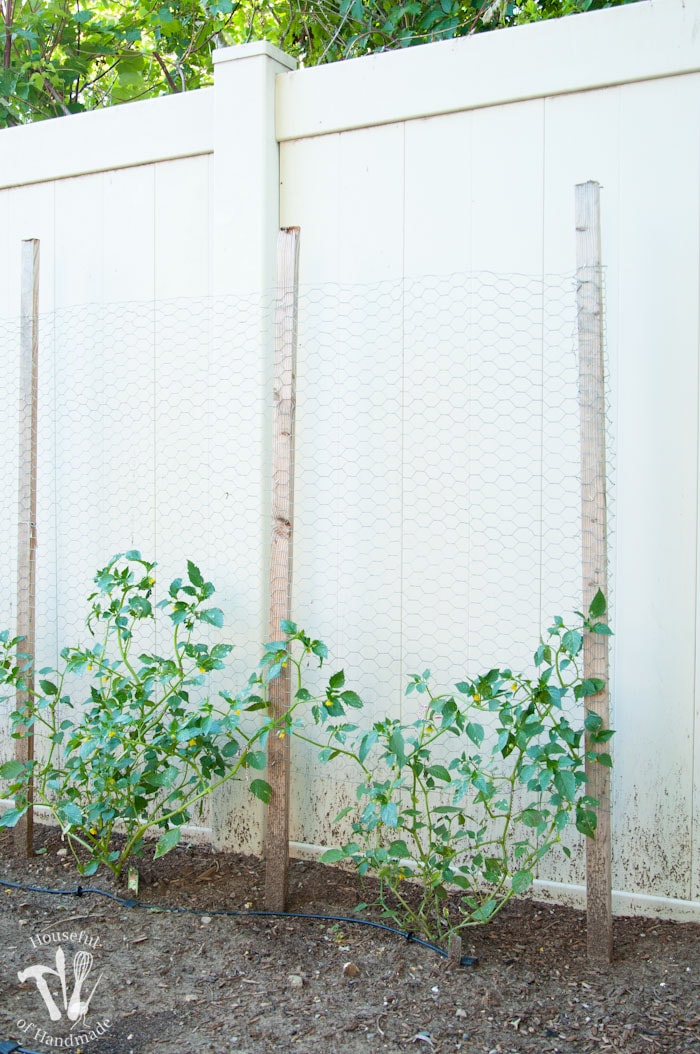 It's exciting to see the results of my hard work were not destroyed by mother nature. I may have to wait an extra week or two before vegetables are ready to harvest because they will need to recover and then grow again, but I am confident that with some love I will have a good garden again this year. If you are still on the fence about planting a garden, you can check out my post last month were I shared the reasons why I love planting a vegetable garden each year. It really is something I look forward to and feel such a sense of pride in.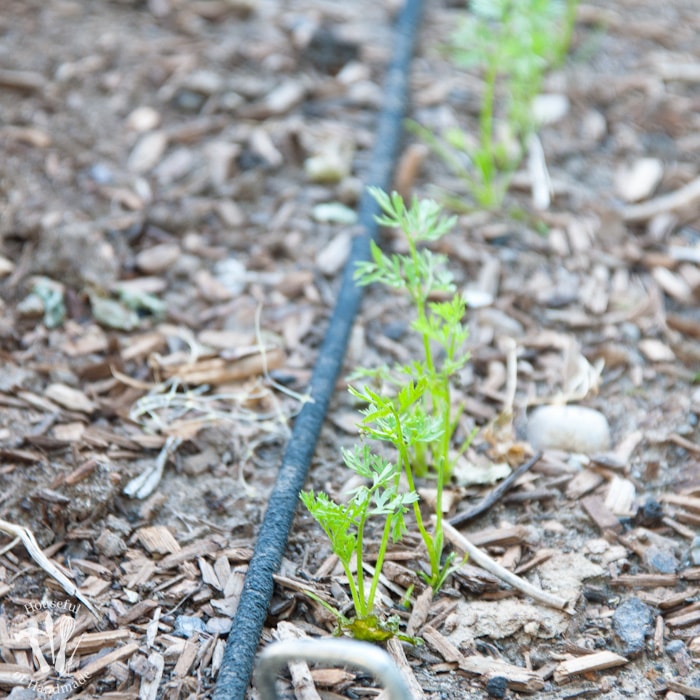 One other fun thing we did this last week was make our garden "fence". This is the first year I have put a fence on our garden. As you can see the garden is along our back fence. I keep my kids very involved in the garden and because of that, they are very careful with it. I rarely have issues with them in the garden (unless they are stealing tomatoes to eat, which they do often in the summer). But my sweet little dog does like to wander into the garden, and sometimes leaves me presents. I am concerned about her stepping or laying on the new plants so we made a very simple "fence" out of dollar store pool noodles and some dowels. Since she is terrified of most the kids toys, I figured this would make a little barrier that she would be afraid to cross. So far it is working!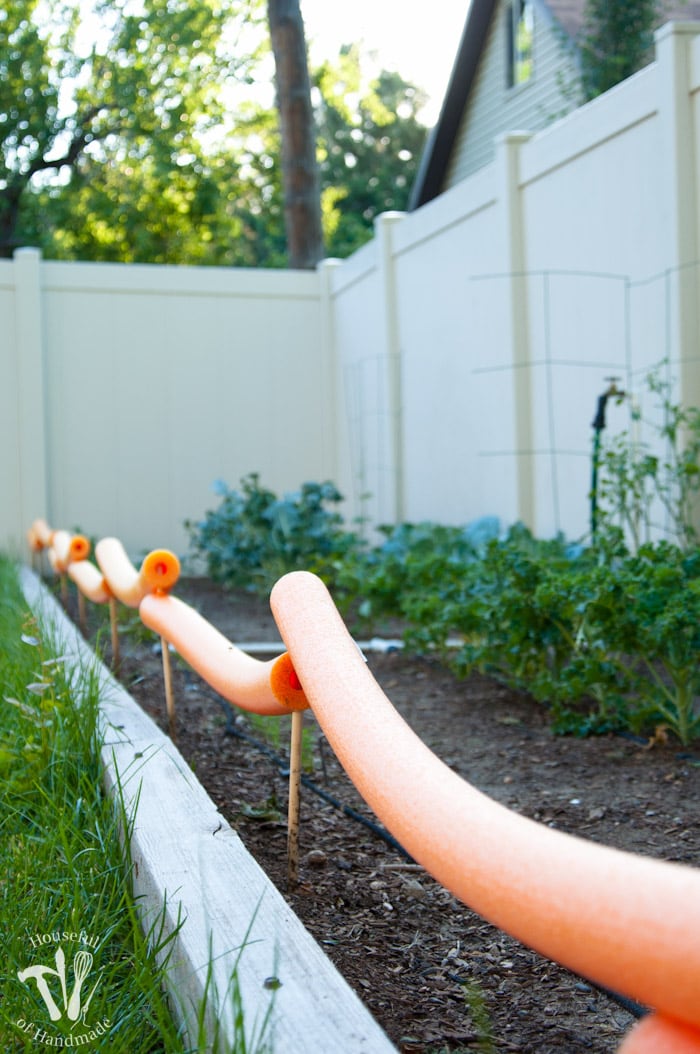 I amy have to give my plants a second fertilizing this month because of the excess rain, but hopefully next month there will be lots of delicious vegetables to harvest and it will make the extra work totally worth it!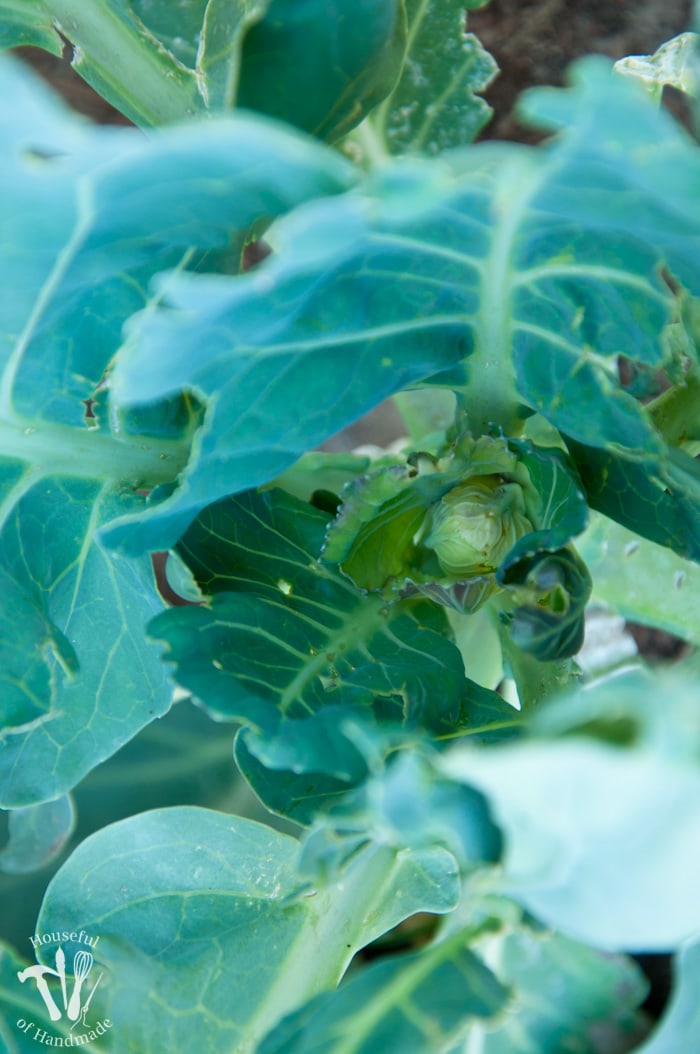 Did you plant a vegetable garden this year? What are your favorite things to grow?

I'm linking up to some of my favorite Link Parties.