I am a crazy gift giver. I want so hard to find something that the gift receiver wants, loves and more importantly uses. Christmas stresses me out so much. Trying to find something for everyone on my list that I truly think they will love, and I hate giving gift cards. My poor husband has to try hard to live up to my standards of gifting. I also really love handmade gifts. To me it says more than "I bought something I thought you would like" but is more like "I took the time to create something I thought you would love".
So when it comes time for teacher gifts, I have a really hard time. I don't know my kids teachers on a personal level, only as a teacher. I know there are many ideas out there, some written by teachers about what they actually want, but I still stress out. This year, I wanted to make something a little unusual. I thought it would be fun to hand-carve some stamps for her to use with her classes in the future. A little something that can be used again, but will remind her of students past.
The process of carving a stamp is really simple, it just takes a little patience and a steady hand.
I used a Speedball carving block and a Speedball Linoleum cutter. You can draw your own design on the stamp, just remember that you need to draw it in reverse. But since I am less than awesome at hand lettering, I made a couple quick designs on my computer using Illustrator, but you can use any program that you want. Then I printed it out onto a sheet of wax paper. It prints normally, but when you lay it on top of the block to transfer the ink, it will be mirrored so it works perfectly for a stamp! Yeah, one less step to think about.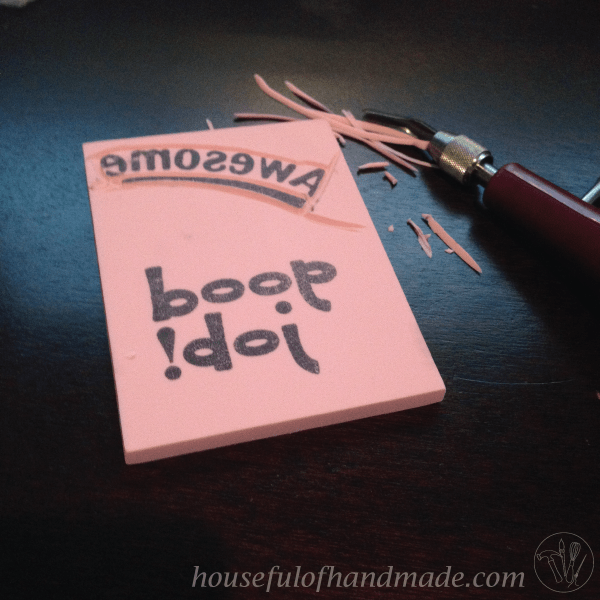 Now that I have a carving block with an image on, it just takes some time and patience to slowing carve out the block around your design.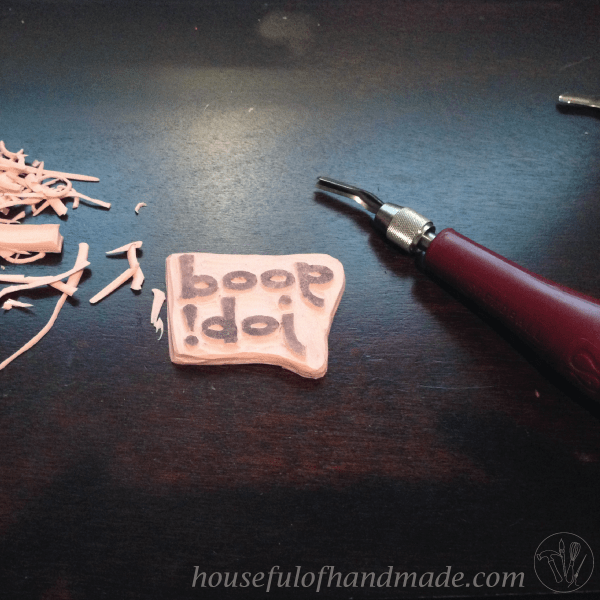 I was so eager to make sure it looked great at this point, so I grabbed a paper and stamp pad and tested my new stamps out!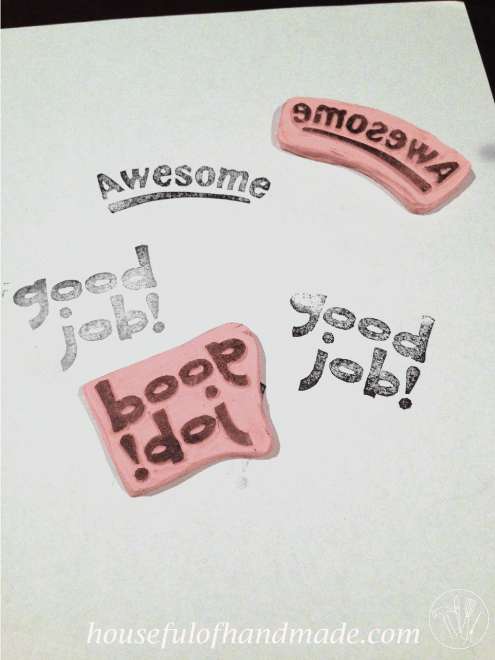 This is the point where you can make any adjustments you need. Then I cut a couple blocks of wood from my scrap pile just a little bit bigger then the stamp.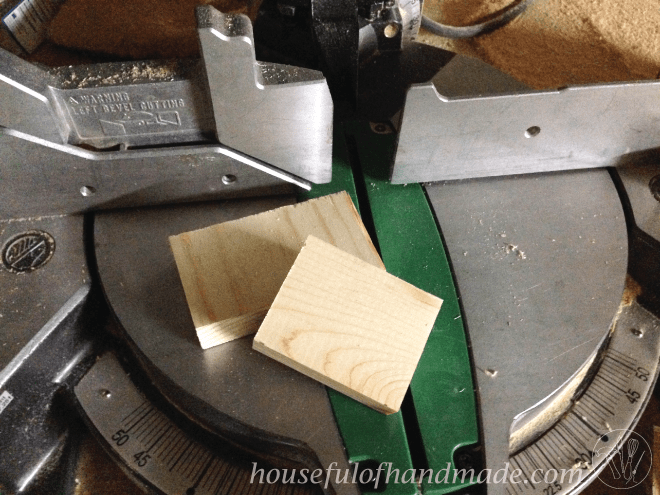 I glued the stamp to the block and let it dry overnight. I glued them on with Fabritac glue (left over from my roman shade project) because it's a permanent, waterproof adhesive and it was close by!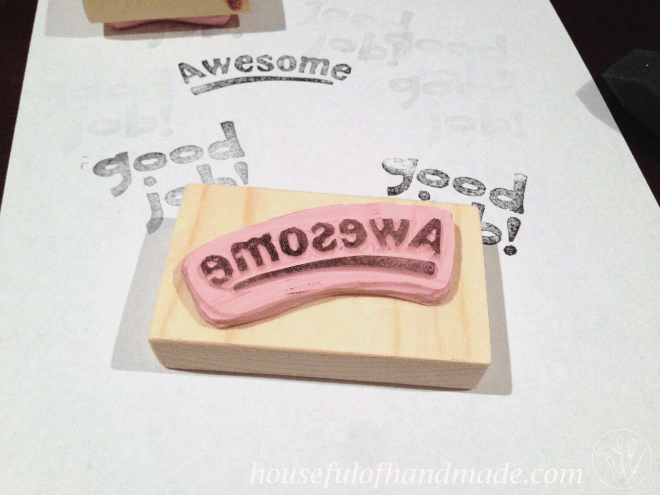 After they were all dry, I had to see how they would look on a students completed paperwork.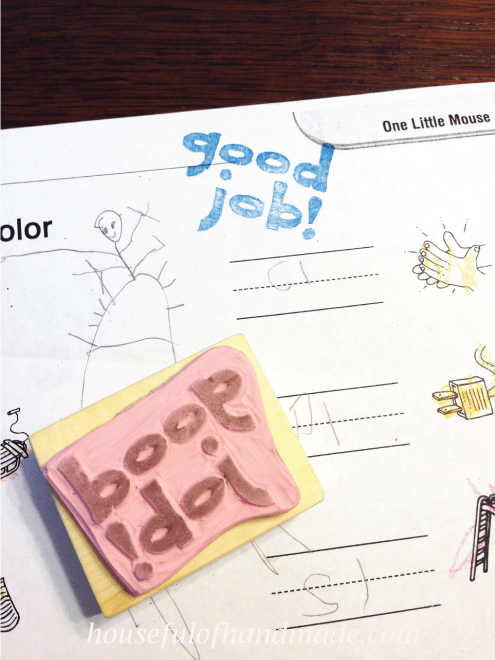 I am so happy with them. I also bought a couple different colored stamp pads for her to use her new hand-carved stamps with.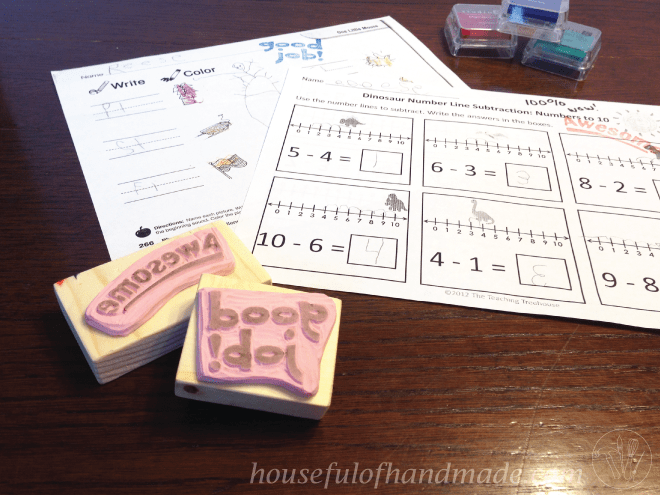 Then I packaged them up in a little box. My son was so excited to give his teacher her new stamps.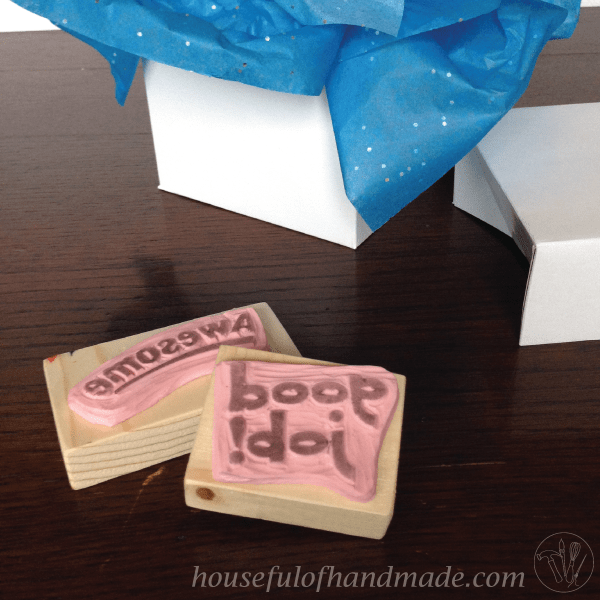 I really hope she loves her gift, and can use them with all her students to come!