I am not a morning person! I am so happy when I get to wake up at 9AM without an alarm, can slowly work my way out of bed, to be greeted with a hot cup of coffee. Then after 30 minutes or so to get my blood moving, I like to make a nice breakfast for the family to enjoy. Oh the perfection of it!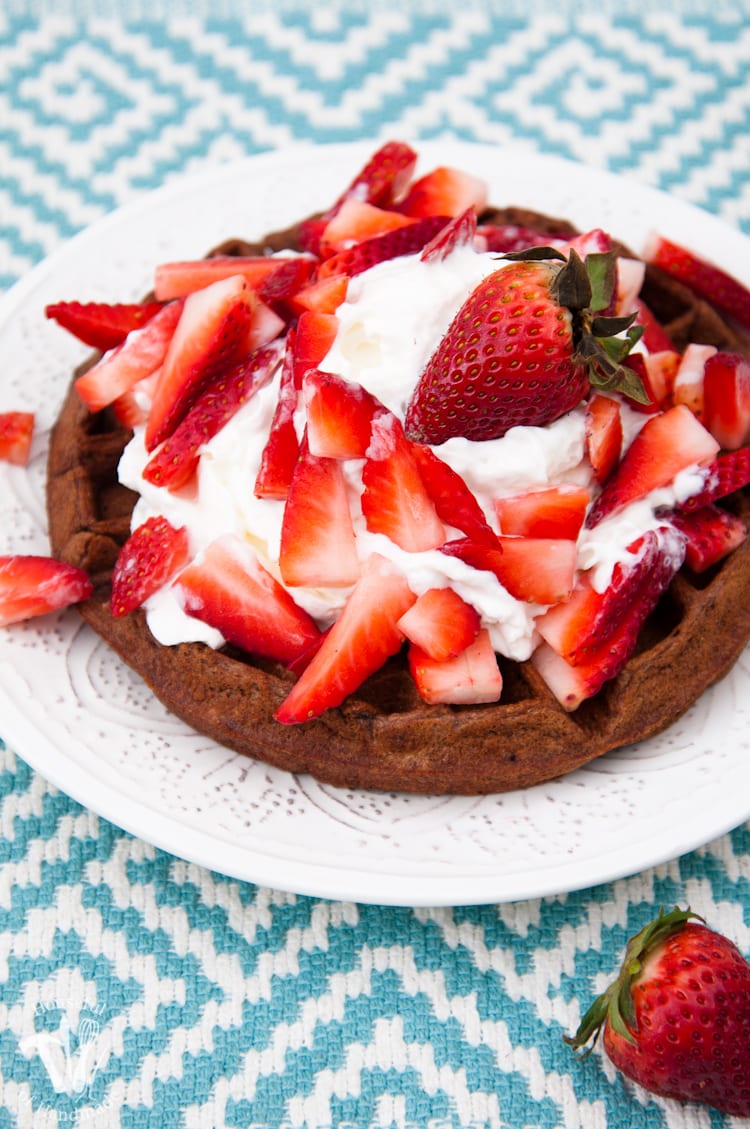 But that is not how most mornings go!!! Usually I am awakened by a screaming alarm or screaming kids about 6:45AM. Yuck! Then they are starving, so I grudgingly throw some cold cereal into a bowl for them while making myself a much needed cup of coffee.
After many tears and fights, I am able to get them dressed and teeth brushed in time to get to school. After which I collapse onto the couch at 8:20AM wishing I could just go back to bed and hope tomorrow will be better.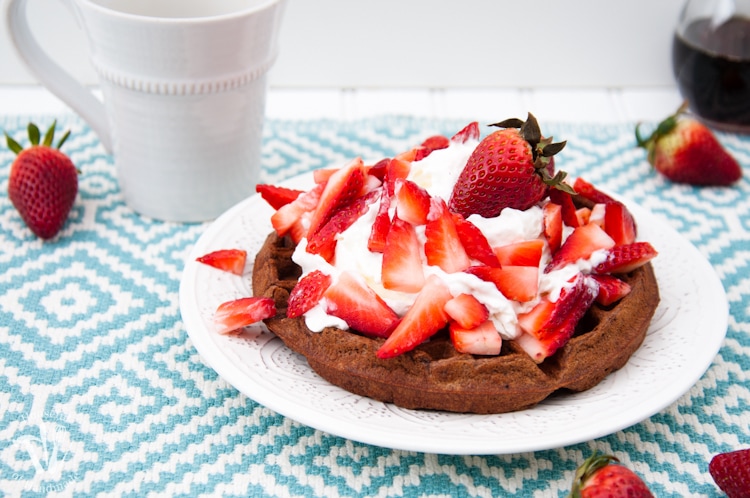 However, on the weekends I insist on at least one morning where I get my perfect morning (or at least close to it). And I insist on the family eating a real breakfast together. A couple weeks ago the kids were asking for chocolate chip pancakes, which (surprisingly) I am not a huge fan of.
I love chocolate, but I don't feel like pancakes can stand up to hot gooey chocolate and they end up too mushy for me. Instead, I tweaked my favorite waffle recipe and came up with these Healthy Chocolate Waffles and we love them!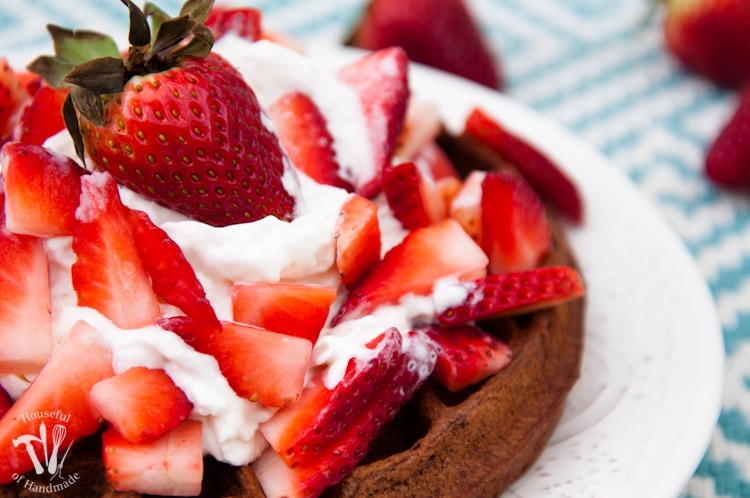 These Healthy Chocolate Waffles are our new favorite weekend breakfast. We cover them with loads of whipped cream and fresh strawberries (gotta get a serving a fruit and some dairy in there). And the kids are happy to wait for me to wake up before making breakfast if they know I am making them!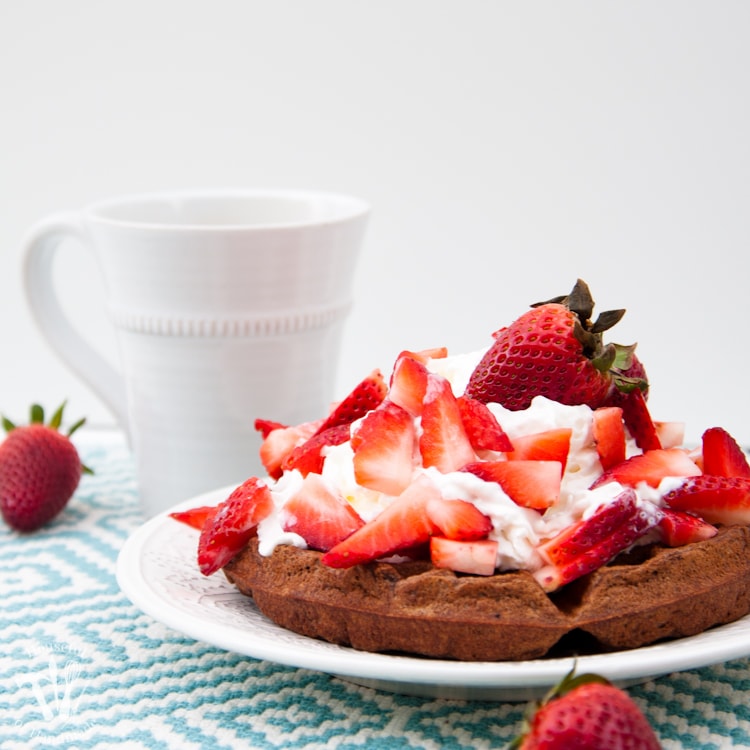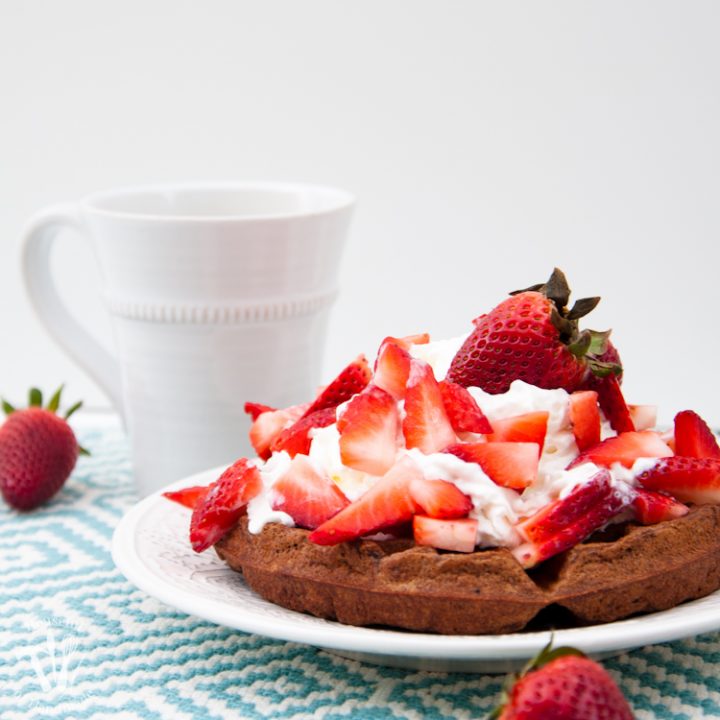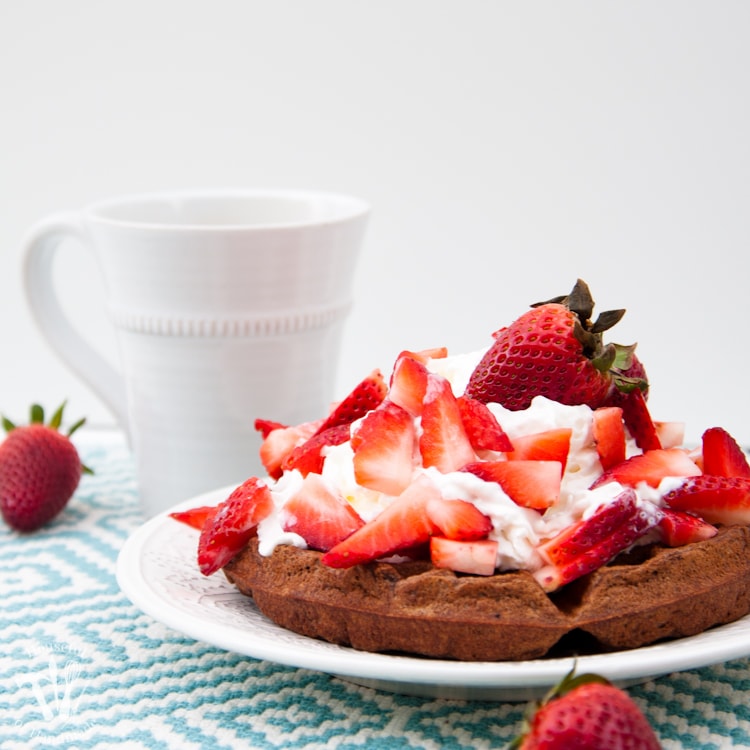 Healthy Chocolate Waffles
Yield: 6-8 waffles

Prep Time: 10 minutes

Cook Time: 20 minutes

Total Time: 30 minutes

Make breakfast something special with these Healthy Chocolate Waffles. All the chocolatey goodness you love, but with a few secret ingredients to pack them full of nutrition for the whole family.
Ingredients
1 cup whole wheat flour
1 cup all purpose flour
1/4 cup cocoa powder
1/4 cup sugar
2 tsp baking powder
1 tsp baking soda
1/2 tsp salt
4 Tbsp melted butter
1 1/4 cup milk
1 cup Greek yogurt
2 eggs, separated
2 Tbsp apple cider vinegar
chopped strawberries and whipped cream, for serving
Instructions
In a large bowl, combine flours, cocoa powder, sugar, baking powder, baking soda and salt. Whisk together and set aside.
In a large glass measuring cup, combine melted butter, milk, Greek yogurt, egg yokes and apple cider vinegar. Whisk together and set aside.
In a medium bowl, beat egg whites until stiff peaks form.
Add milk mixture to flour mixture and whisk together. Carefully fold in egg whites until combined.
Cook on a hot waffle iron according to manufactures directions.
Enjoy!
This recipe was originally shared at Oh My! Creative.
And for more breakfast ideas, don't forget to check out these other delicious recipes:
Have a wonderful weekend!