Breakfast is the most important meal of the day, right? I know it's true, but my kids can wake me up so early that I just want to curl up with a cup of coffee and feed them cereal until I'm fully awake. If only my kids would let me.
I am NOT a morning person! But alas, they are awake and hungry early in the morning. During the school year, my son wants a bowl of cereal or oatmeal. However, in the summer, when we can enjoy the mornings with nowhere to be, we like to have a real breakfast and my kids love pancakes!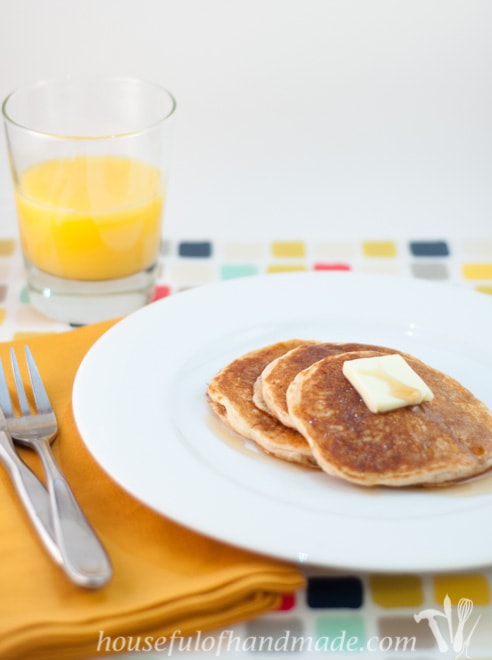 My mother has been using her basic pancake recipe for as long as I can remember and it is a great recipe, but I wanted something I could feel a bit better about serving my family regularly. So I tweaked it until I found a recipe that we love!
I use whole wheat flour, less sugar and oil, and use some high protein Greek yogurt in place of some of the milk. My kids and hubby can't get enough when I make these pancakes. If everyone is hungry, we need a batch and a half (and my kids are 3 and 6, yeah, they can eat a lot)!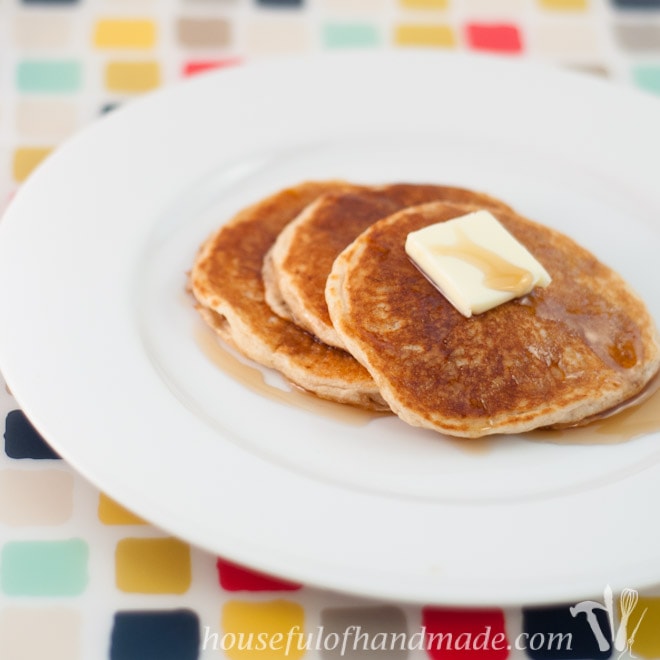 This recipe is so easy to make too. It takes the same amount of time as a pancake mix, but tastes so much better. And the ingredients are real!
To mix them up, start by adding 1 cup whole wheat flour, 1/4 cup white flour (I find the little bit of white flour helps make them extra fluffy, but you can use all whole wheat if you want), 1 Tbsp baking powder, 2 Tbsp sugar, and 1/2 tsp salt in a medium bowl. Whisk together.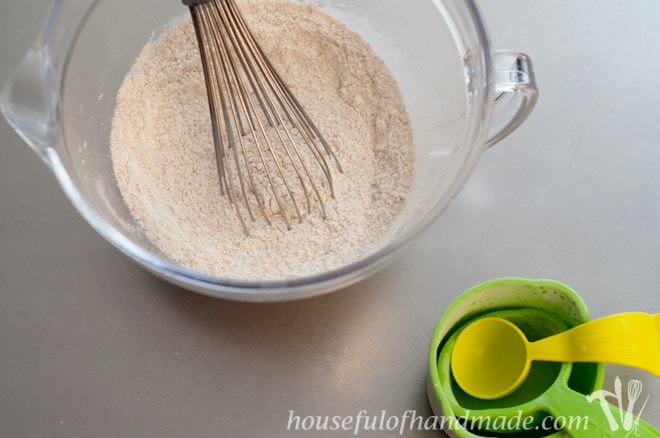 In a 2 cup liquid measuring cup, mix together 3/4 cup milk, 1/2 cup Greek yogurt, 1 egg, 1 tsp vanilla extract and 2 Tbsp oil. Whisk together and pour it into the dry ingredients.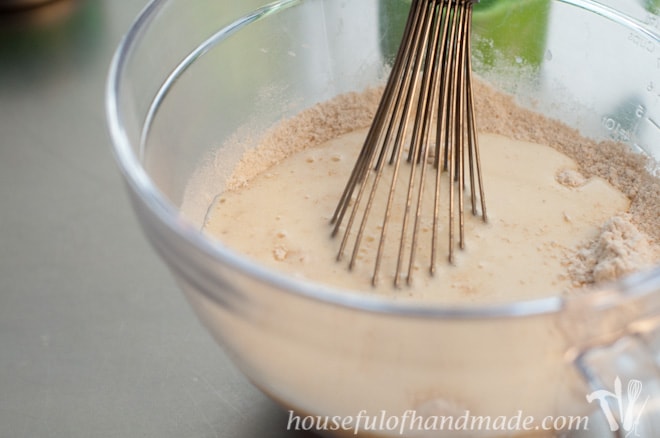 Give it all a quick whisk and you are ready to cook!
Pour the batter onto a hot griddle. My mom always told me you would know your pancakes are ready to flip when there are lots of bubbles that come to the top of the pancakes and pop. This means the batter is cooking enough on the inside so you don't have soggy, uncooked centers! And it works, I always have beautifully cooked pancakes, thanks mom 🙂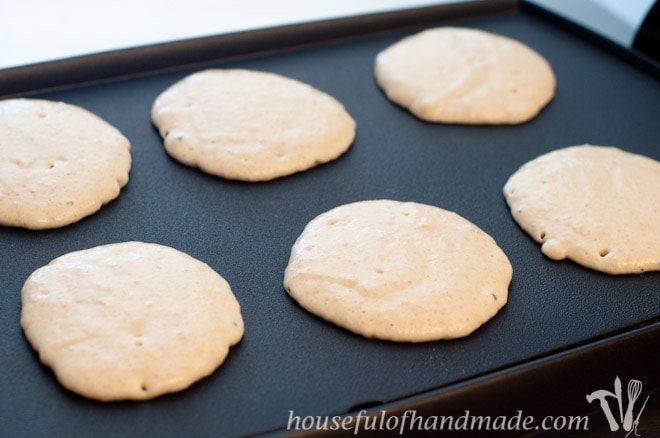 When they are all done, serve your pancakes up hot with butter and syrup… with a side of eggs… or with whipped cream and fresh fruit. That has always been my favorite way to enjoy breakfast.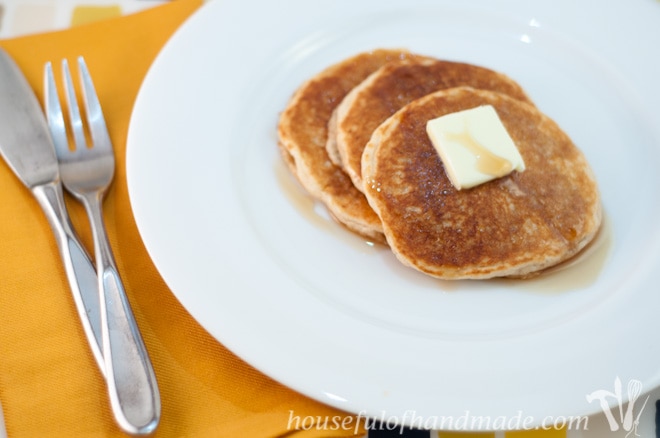 So now I can at least get the kids in front of a hot, healthy breakfast before I curl up in my chair with a cup of coffee until I can wake up!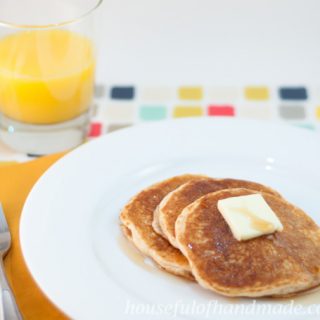 Healthy Everyday Pancakes
Prep Time: 5 minutes

Cook Time: 10 minutes

Total Time: 15 minutes

These pancakes are perfect for everyday. They are made with whole wheat flour and Greek yogurt to make them a healthy choice for the most important meal of the day.
Ingredients
1 cup whole wheat flour
1/4 cup white flour
1 Tbsp baking powder
2 Tbsp sugar
1/2 tsp salt
3/4 cup milk
1/2 cup Greek yogurt
1 egg
1 tsp vanilla extract
2 Tbsp oil
Instructions
Whisk together the dry ingredients in a large bowl.
In a liquid measuring cup, whisk together the wet ingredients.
Add the wet mixture to the dry ingredients and mix together.
Pour dollops of the batter onto a hot griddle and cook a couple minutes on each side until the center is cooked.
Serve hot with your favorite pancake toppings.
Enjoy!