This weekend we went camping. I love camping, but it can be a lot of work, especially with kids. And then we did a lot of hiking while we were there, and my kids can't always hike as far as we want so I did a lot of carrying kids while hiking! So now I am SORE! My muscles ache all over. But I have relief available… a long, hot bath with a couple of these homemade salted bath truffles.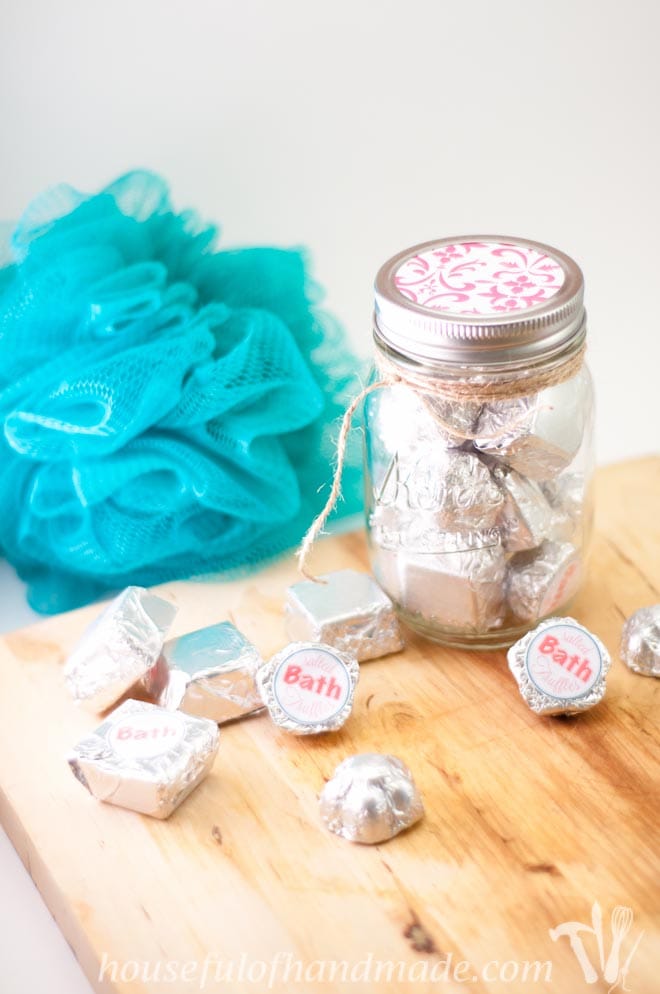 I have always been a huge fan of taking baths. They are my "me" time in a world of craziness. I love to relax in a hot bath with a glass of something delicious and ignore the world around me for an hour or so. The only thing that makes a hot bath even better, is a luxurious bath truffle.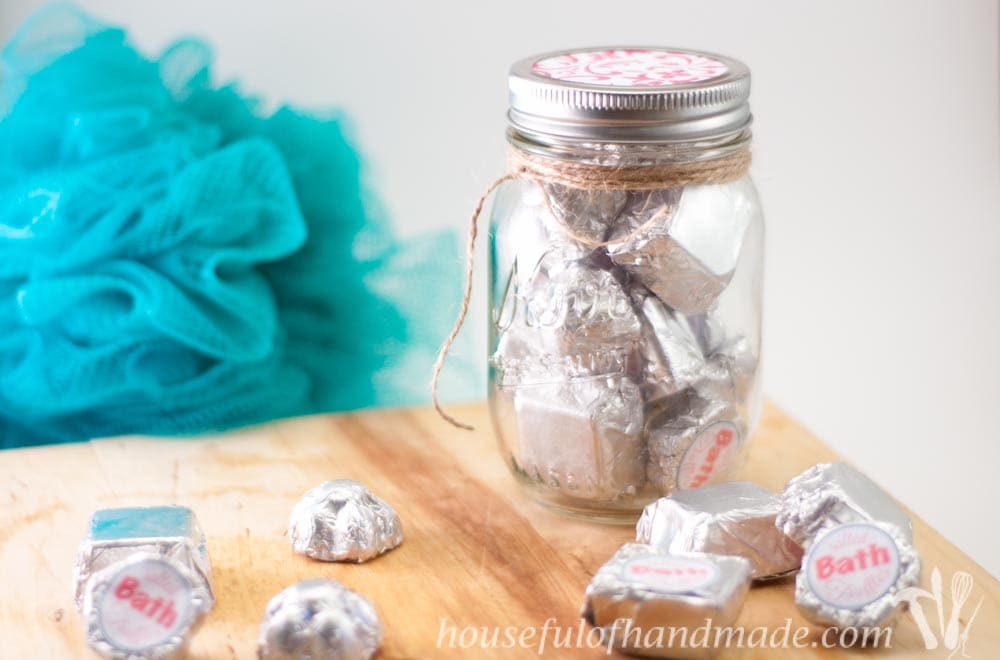 If you don't know what bath truffles are, they are drops of delicious butters that you let melt in your bath to add beautiful scent and moisturizing oil. Shea butter can be used in bath truffles, but more commonly, they are made of cocoa butter! And the rich, chocolatey smell of cocoa butter is perfect for a little "me" time.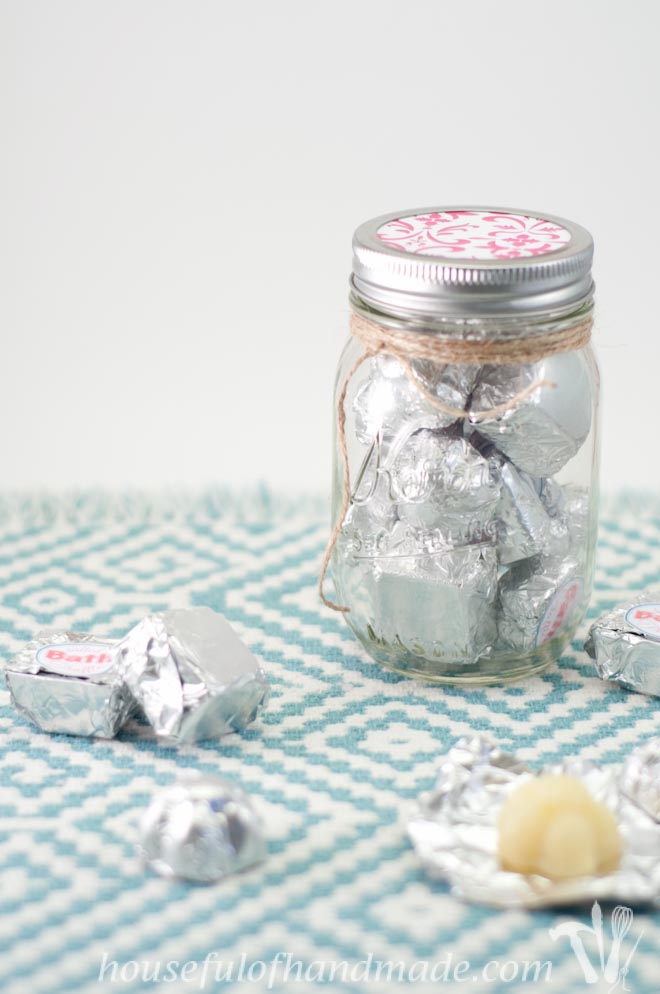 For my bath truffles, I wanted to also add in the healing properties of epsom salts. I started using epsom salts in my baths when I was advised to by my chiropractor. They are really great for soothing sore muscles and reducing inflammation, but they are not luxurious. So I combined the epsom salts with some delicious cocoa butter and a little coconut oil for extra moisturizing and now I have the best of both worlds!
And these are so easy to make. Your next luxurious bath is only a few steps away…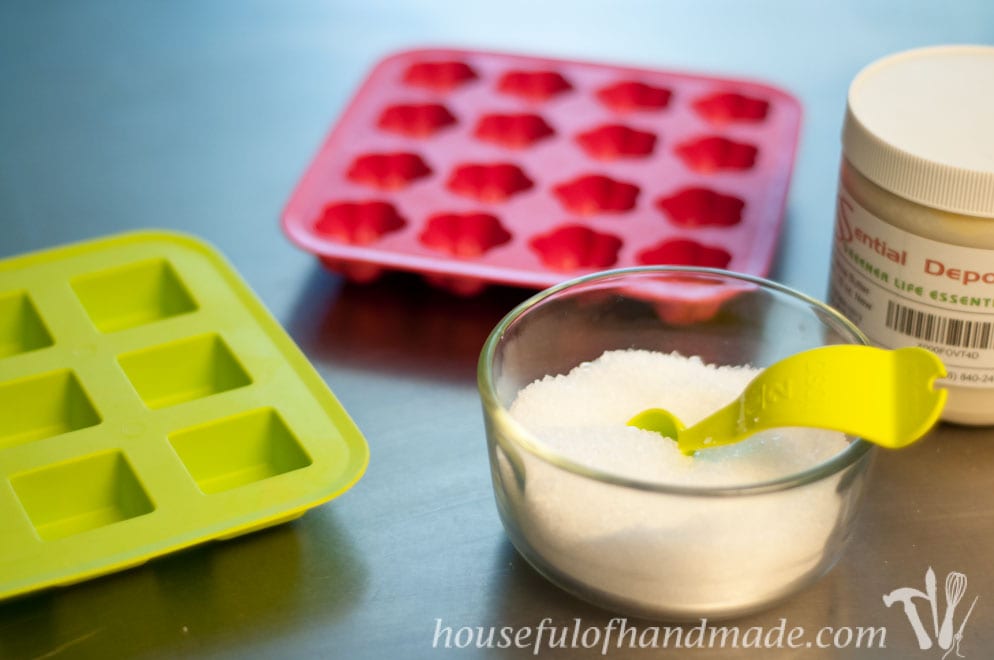 Start by measuring out some cocoa butter and coconut oil by weight. I like to weigh my oils because some of them are solid so measuring out a tablespoon or two is a big pain. I did mine with a ratio of 2:1 cocoa butter to coconut oil. I started with 1 1/2 ounces cocoa butter and 3/4 ounces coconut oil. This worked for one of my molds.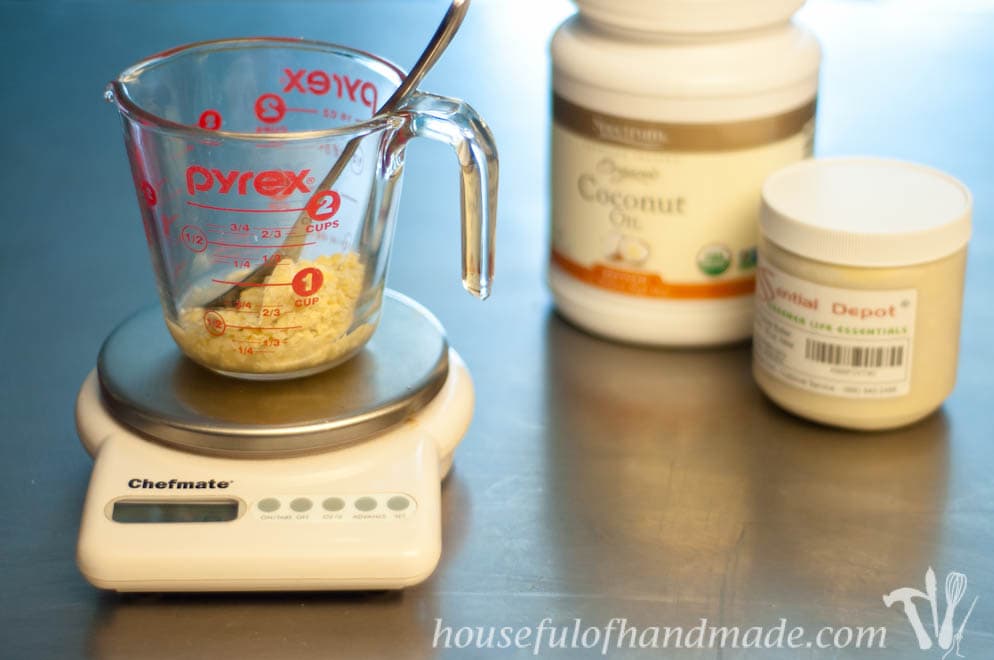 Then melt the oil over a double broiler (or just put the glass measuring cup into a small saucepan of simmering water) until the oils are completely melted. Because it's summer, my coconut oil was already melted and it only took a couple minutes to melt the cocoa butter.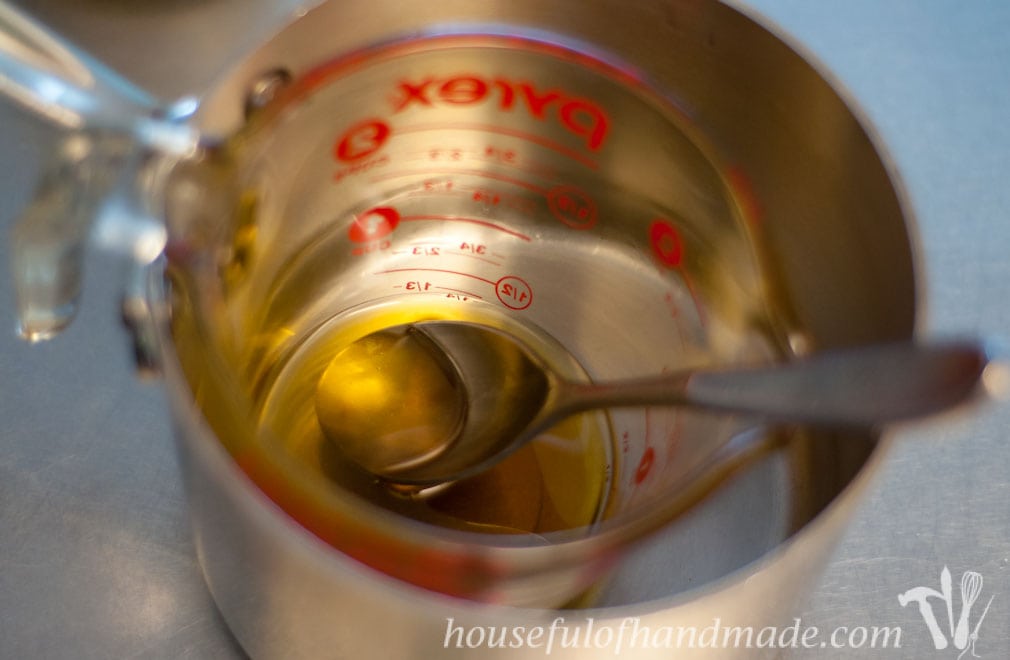 Now fill your molds with epsom salts and the melted oil. I started by filling the molds about 1/3 with the melted oil.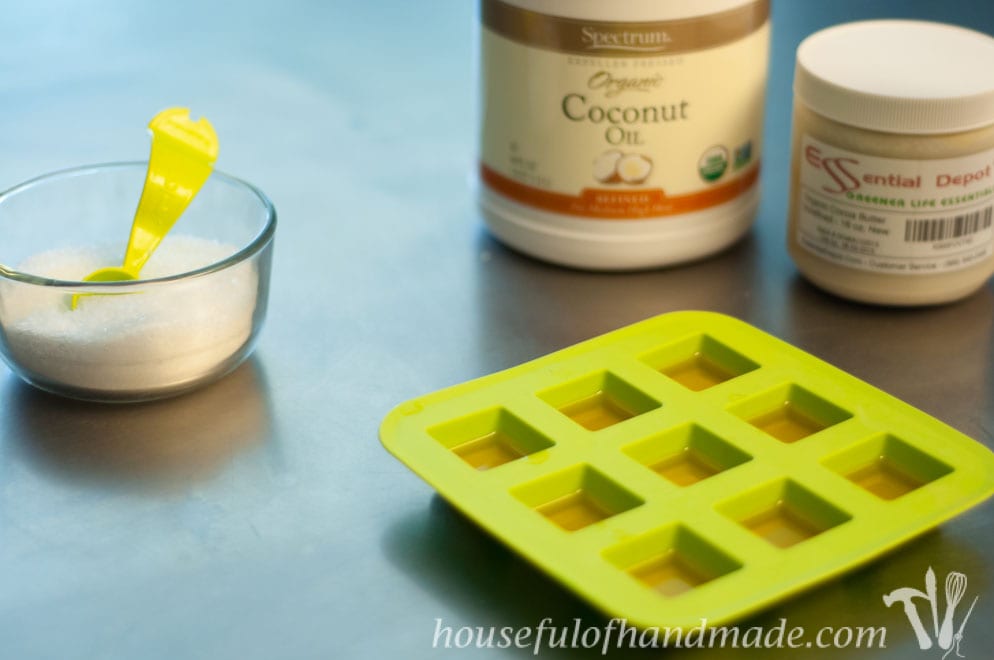 Then added about a tablespoon epsom salts to the top.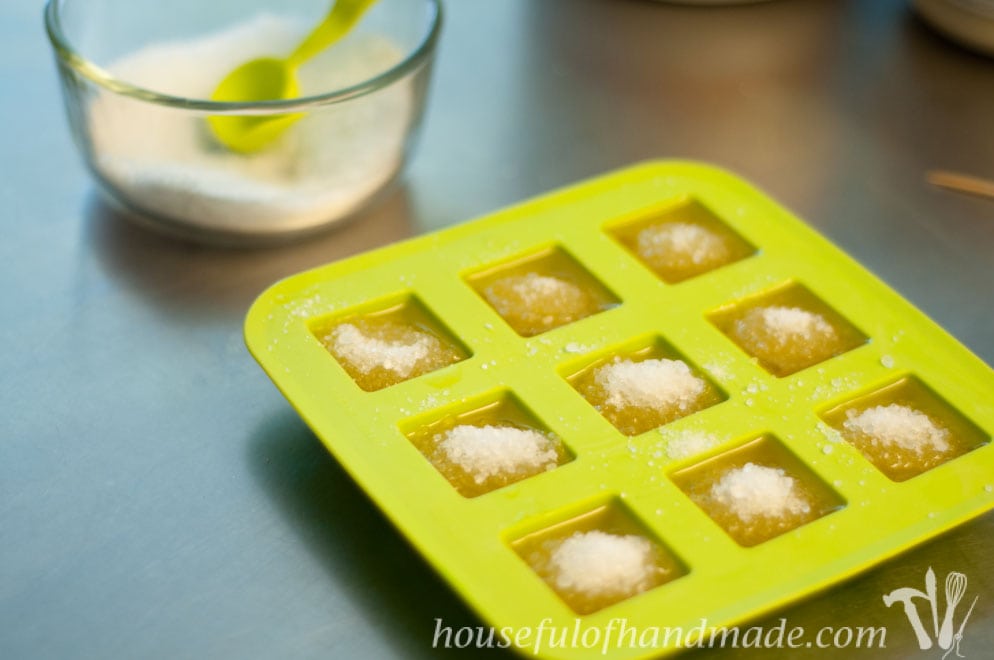 I used a toothpick to even everything out.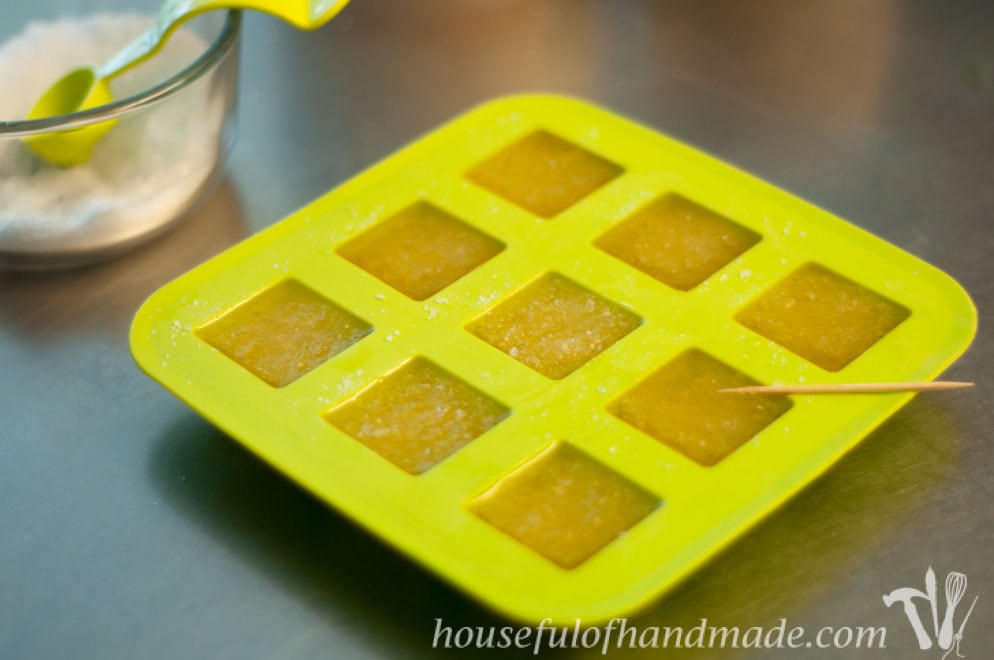 And they were ready to be hardened. See, super easy! Now for my pink mold, I decided to add a couple drops of peppermint essential oil to each salted bath truffle. The cocoa butter and peppermint oil together are heavenly!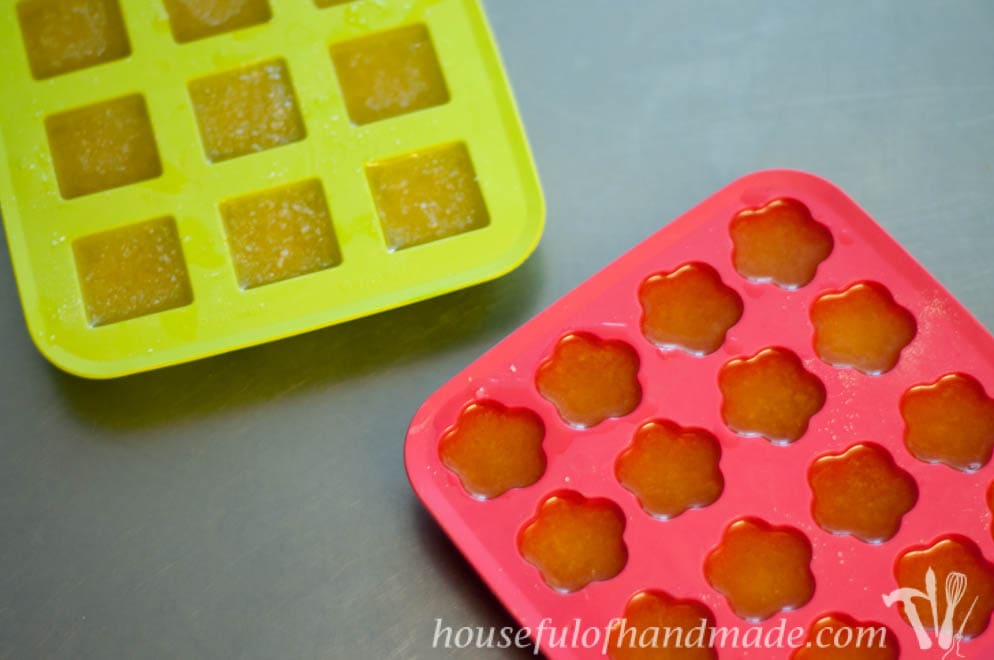 You can let them set up at room temperature, but in the middle of the summer, it will take forever! So I popped them in the fridge and they were all hard in an hour.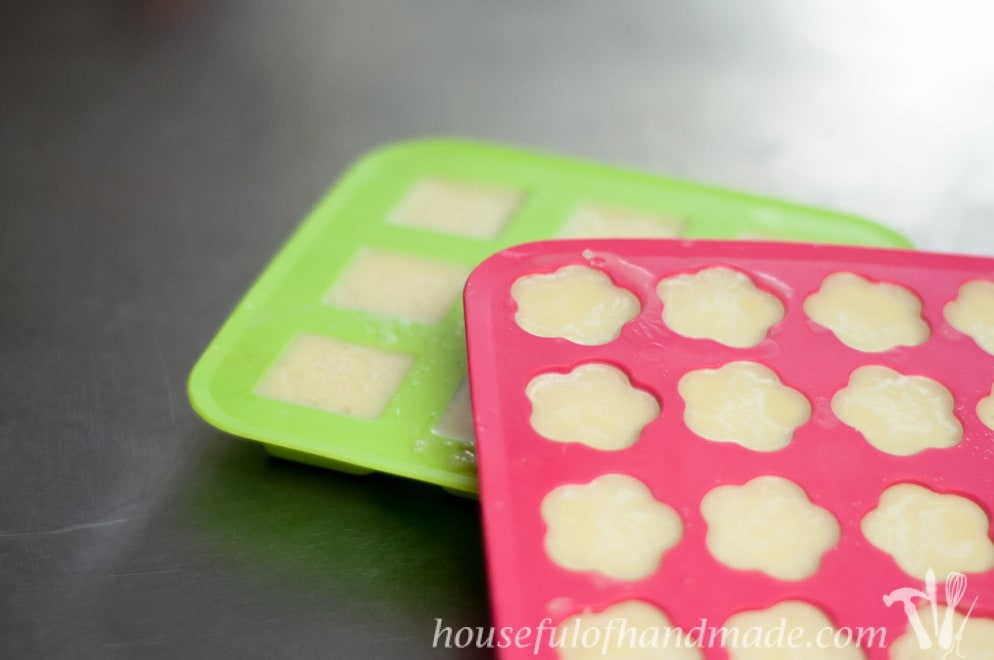 You can fill your tub and drop a couple of these tantalizing salted bath melts into the hot water and just relax. Or you can wrap them up and give them to someone who needs a little "me" time 🙂
If you want to wrap them up, you have to be careful because they will melt on contact of a warm counter top or warm fingers. They are made to melt but with a few extra precautions you can wrap them up while keeping them solid. I filled the lid of my sheet pan with ice, then put my sheet pan on top of it.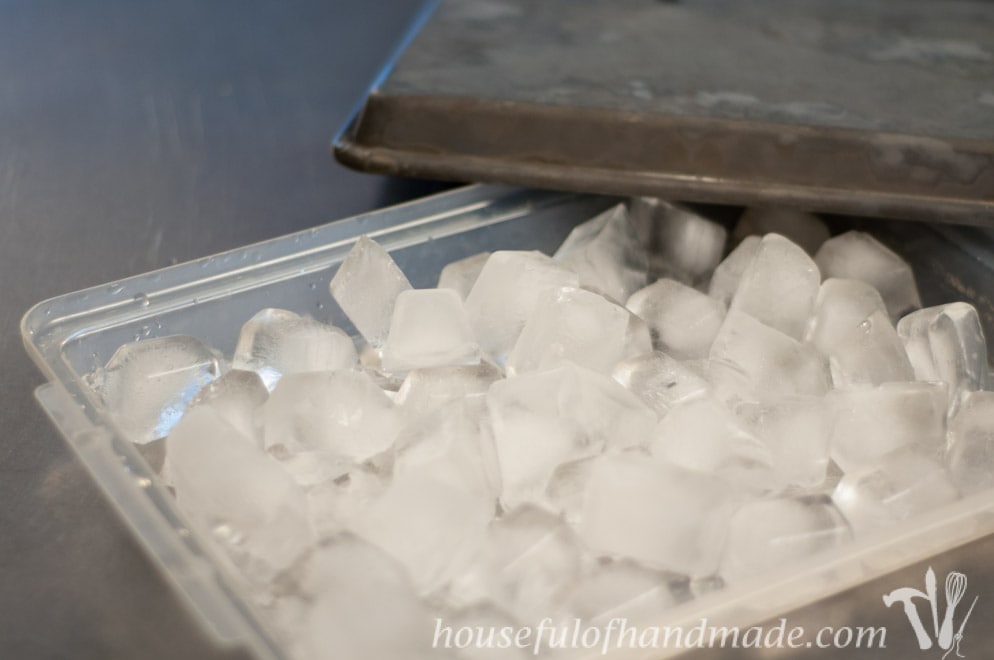 Now I had a cool, stainless steel surface to turn my salted bath truffles out onto. With a little pressure on the back, you can pop them out of their silicone mold.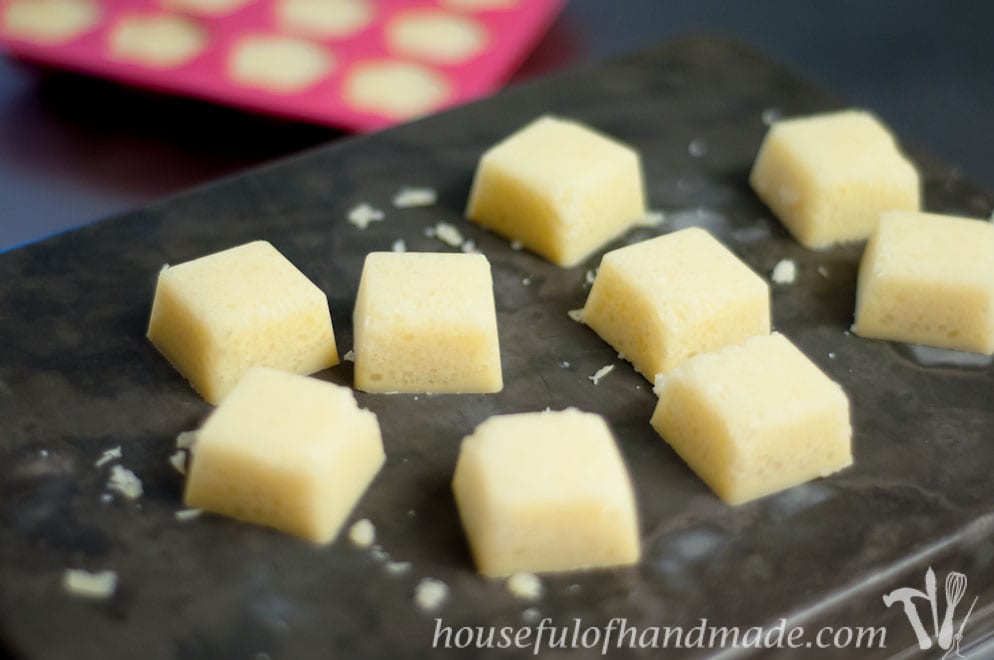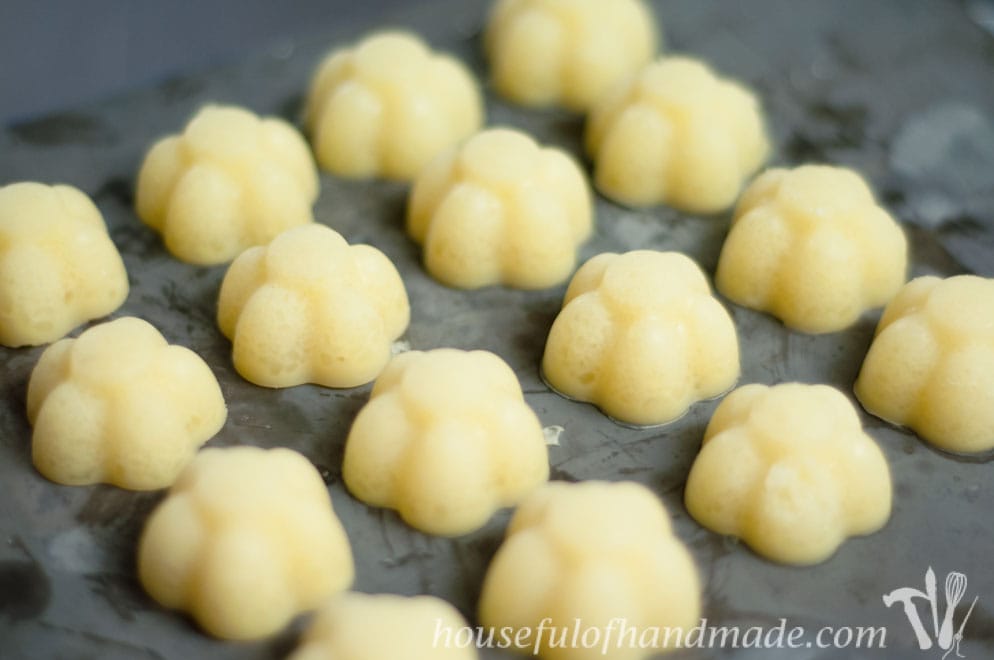 I chose to wrap them up in a little aluminum foil. It's super pliable and can easy wrap the truffles, I had it in the cupboard, and the little silver wrapper looks super cute!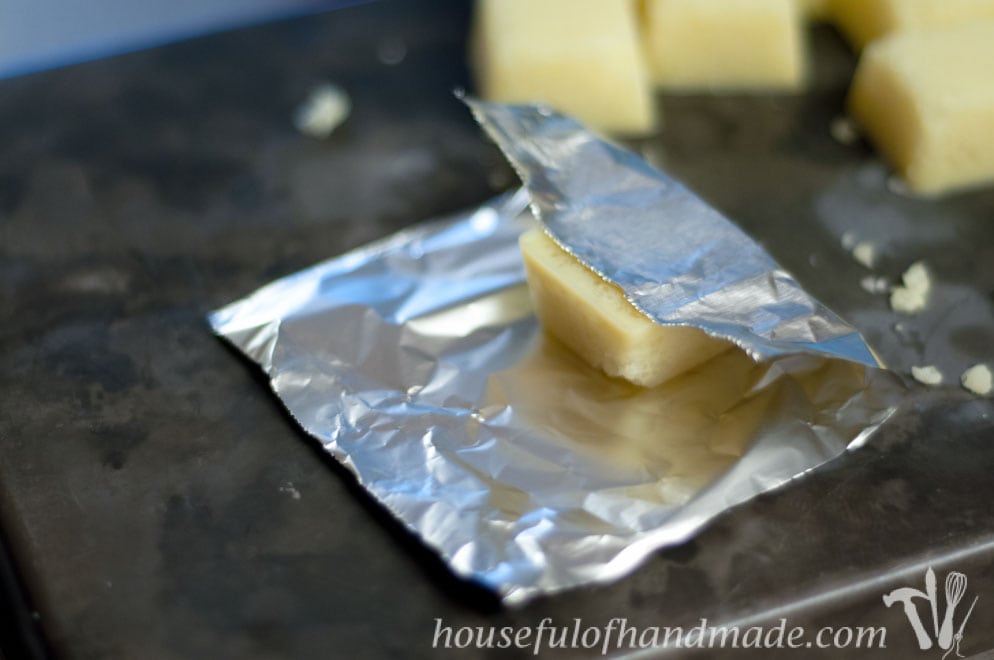 After I wrapped them up, I placed a little sticker on the bottom of the wrapper where all the edges come together.
I made these little 1″ round stickers with my Silhouette. You can download the file here if you want to use them for your salted bath truffles. And I made a PDF you can download here and just cut out with a 1″ circle punch or scissors.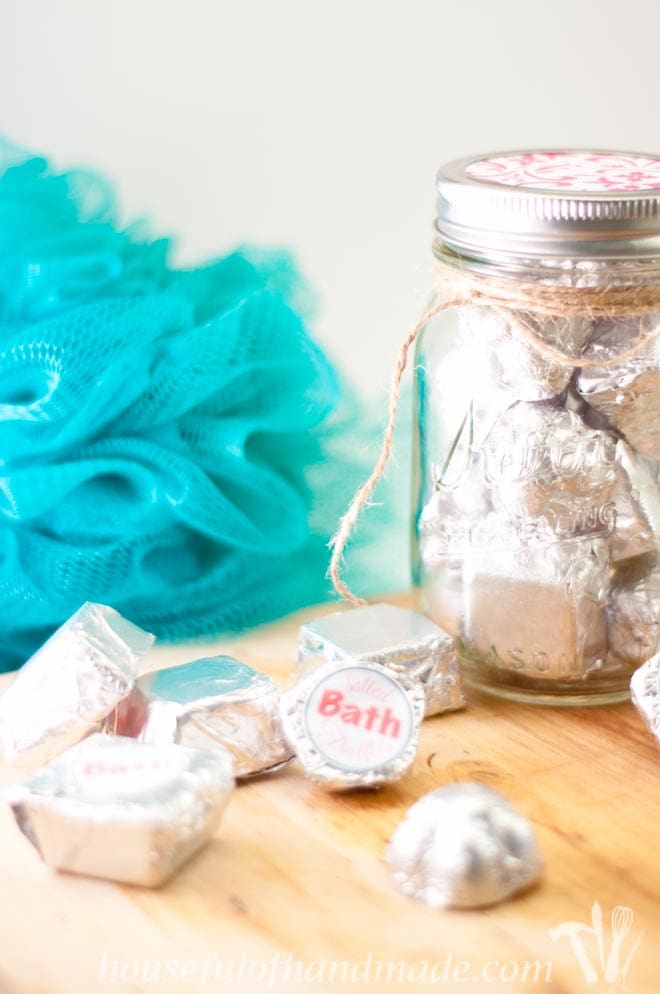 And now you can give a little gift of luxury, or keep them all to yourself 🙂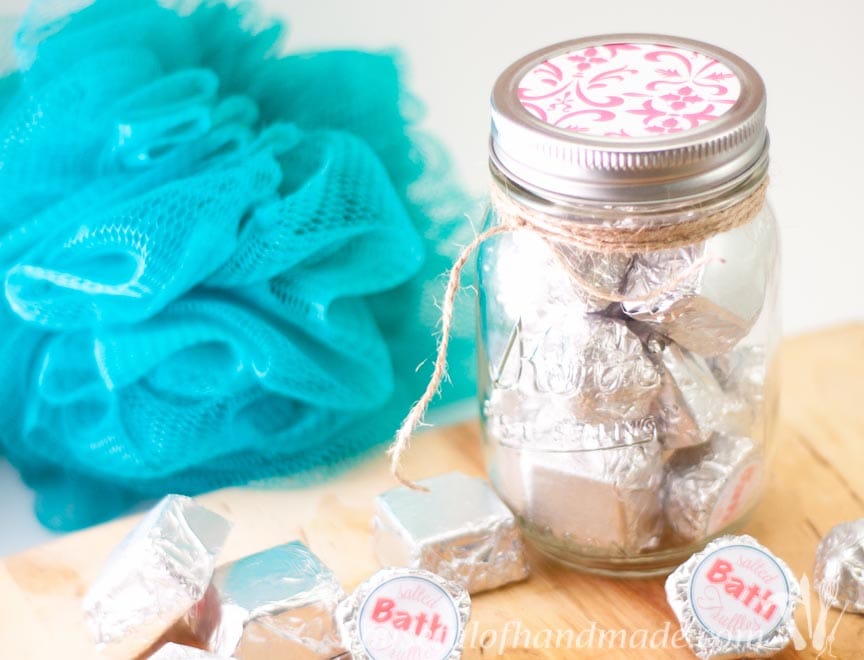 Just make sure to keep your salted bath melts in a cool place during the summer so they stay solid until you are ready for them!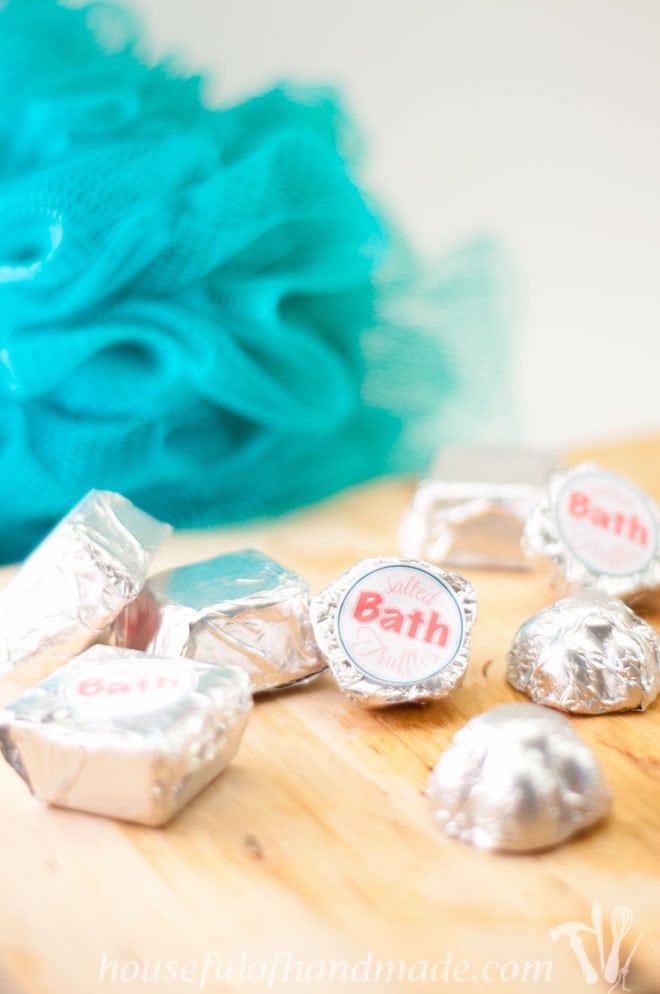 How do you relax and enjoy some "me" time?