Last month we worked hard every day to get a fourth bedroom built in the basement for our daughter. Now both kids have bedrooms downstairs together and they love it! Since I didn't have time to organize in January like I usually do, this month I have been doing my obligatory new year organization. I've tackled the board games, hall closet, all three bathrooms, and now the kitchen! Sadly I have been meaning to organize our kitchen drawers since we got our new kitchen island about 2 years ago. Better late then never, right? And to make sure they stay organized, I added some kitchen utensil drawings from vinyl. There are no more excuses for putting things away wrong!
When Cat from Pocket of Posies told me this month's Silhouette Creator's Challenge was organization, I knew immediately I wanted to use it to finally get our kitchen drawers organized. For something that I use multiple times each day, it is sad it took me so long to get around to organizing them. Thanks for the kick-in-the-butt I needed Cat!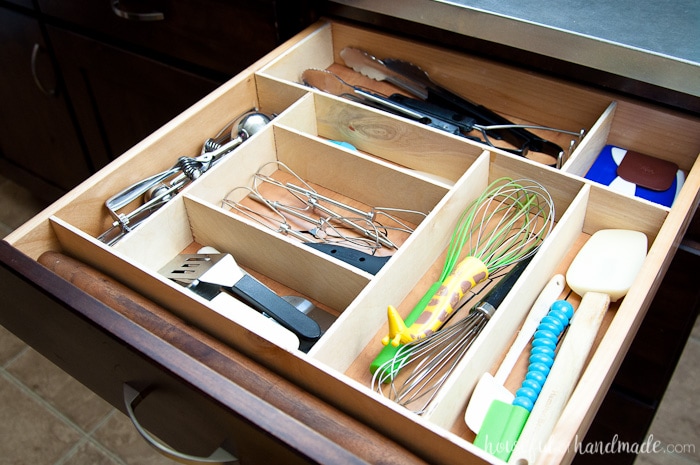 There are many ways to organize your kitchen drawers. I have tried to use store bought drawer organizers, but they never fit right. Maybe it's the "I can make that" attitude, but I always want something customized to work perfectly in my space. So I decided to make these simple drawer organizers that would be totally custom to my drawer.
After I got the drawers beautifully organized though, it was time to take it to the next level! What good is spending time to organize it if the first time the kids clean out the dishwasher they mess it all up? And I am not about to let the kids out of helping house work just because I am a bit obsessive. So I decided to solve the problem by labeling each little compartment with these hand-drawn kitchen utensil drawings. Aren't they so cute?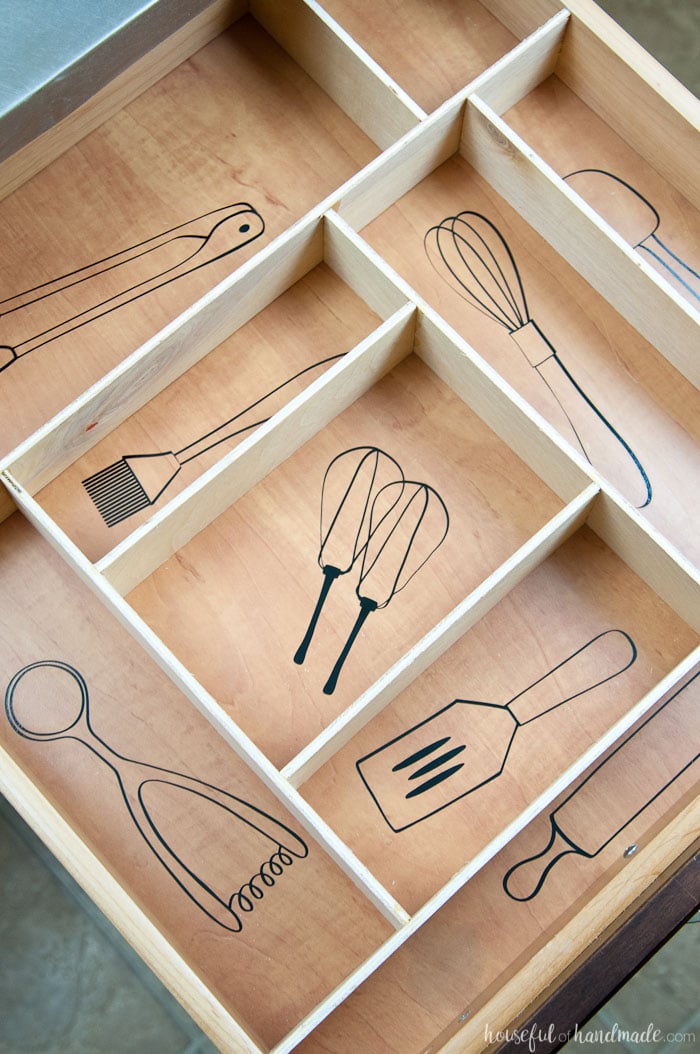 Even though my daughter cannot read, she can still help out in the kitchen. The vinyl kitchen utensil decals will even ensure my husband puts things away properly when he does the dishes. My only question is, would it be too excessive to do this to every drawer and cupboard in the kitchen? I'm kidding… mostly.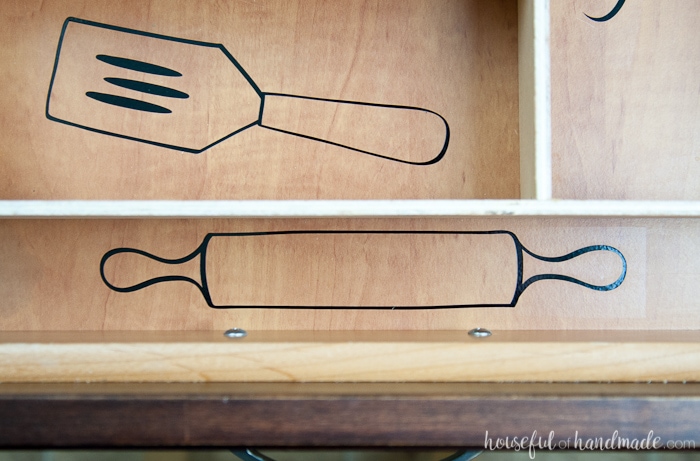 So if you are ready to get super organized this month, click the arrow below for the kitchen drawer organization tutorial with the kitchen utensil drawings. And then don't forget to check out these other amazing ways to organize with you Silhouette!

Dwell Beautiful – DIY Scrapbook Paper Planner Clips
Uncookie Cutter – File Cabinet Makeover
Michelle James Designs – Silhouette Planner Stickers
My Life From Home – DIY Printable No Frill Lables
Pocketful of Posies – DIY Magnetic Binder Dividers
Save