My mint is growing like crazy! And that mean's mint limeade for my kids. They love mint limeade so much, which is fine by me because I love mint limeade too :). But one thing I don't love is the absurd amount of sugar in limeade. Now we do eat our fair share of sugar at our house, but we try to limit it in things we can and I have a perfect trick for making delicious mint limeade with just a little bit of sugar!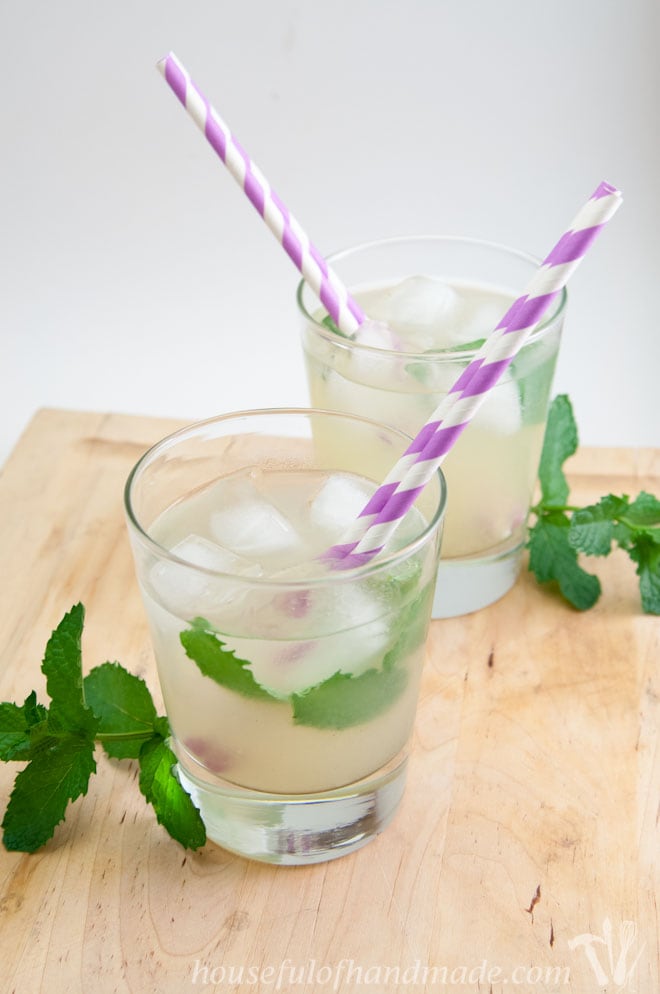 Last year when I went to buy my herbs starts, I found a Stevia plant. I have been using liquid stevia drops in my coffee and tea for a while and really like it, but I have never seen the actual plant. It is a basic looking plant that reminds me of a mix between my mint and sage plants. I decided to give it a go and grabbed one for my herb garden. I am so glad I did! I love using the fresh leaves with the fresh mint to make low sugar mint limeade.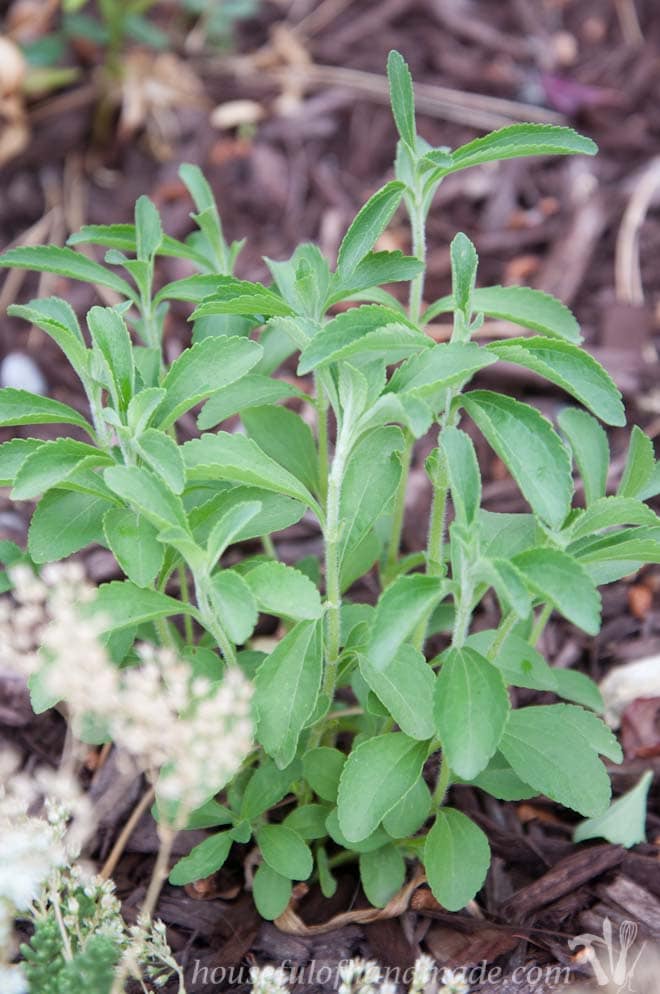 Now you could definitely use more stevia leaves and leave the sugar out all together, but I find the mix of 1/2 cup white sugar and my stevia leaves makes a pitcher full of sweet delicious limeade that no one can tell has only 1/2 cup sugar for approximately 8 servings instead of the regular 1 to 1 1/2 cups sugar.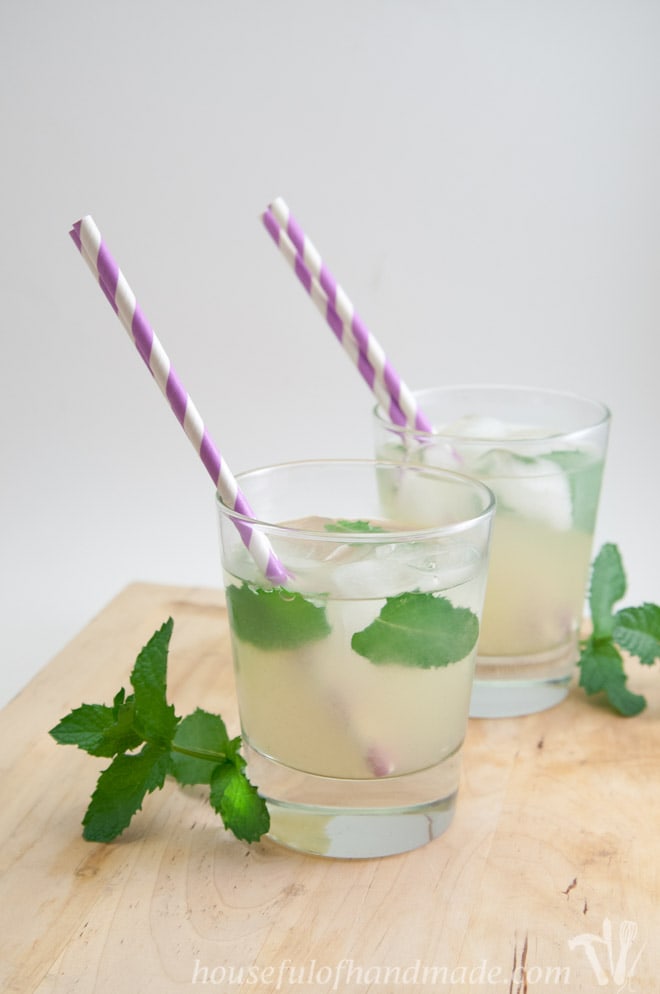 To make my delicious low sugar mint limeade, start by adding 1/2 cup white sugar, 10-12 stevia leaves, and 1 cup packed mint leaves in a 2 cup glass measuring cup. Muddle the leaves into the sugar to help release all the oils.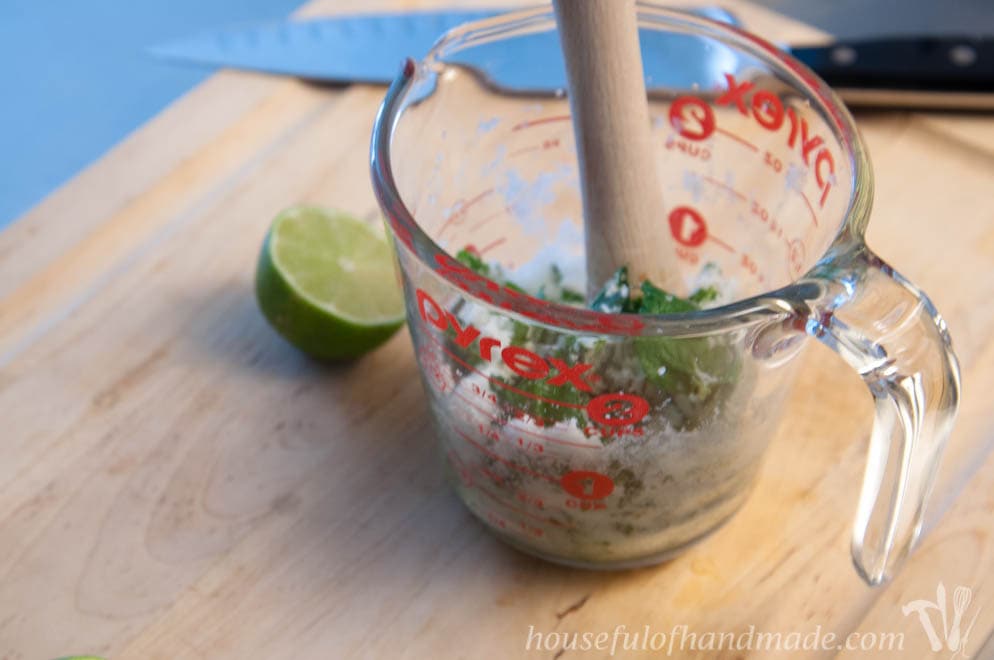 Then pour about 1 1/2 cups boiling water over the top of the leaves/sugar mixture. I just fill the container to the 2 cup line. Then store and let it steep for 5 minutes. I have an electric kettle that I love for boiling water for things like this, tea, and cooking couscous and quinoa. One of my favorite and most used appliances 🙂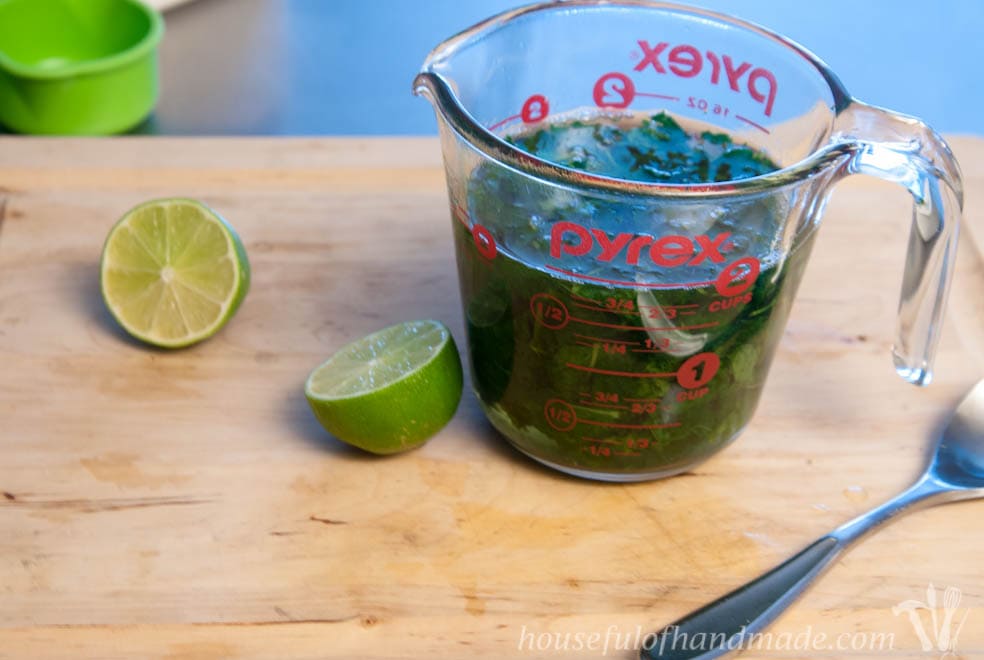 While your mint and stevia steeps, start juicing some limes. You want 1 cup of fresh squeezed juice. I also like to use the pulp you get from squeezing, but I am a high-pulp orange juice kind of girl. You will need about 7-8 limes to get the juice you need depending on the size and juiciness of your limes.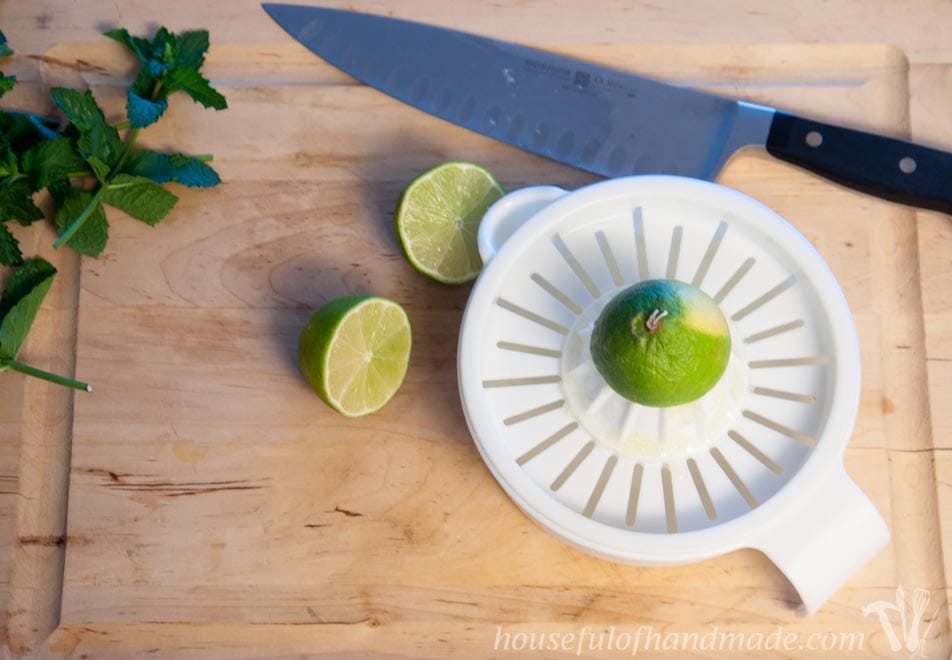 Strain out the leaves from your mint mixture and add the liquid to your pitcher. I have a loose leaf tea strainer that I use for this. It's a perfect little multitasker tool.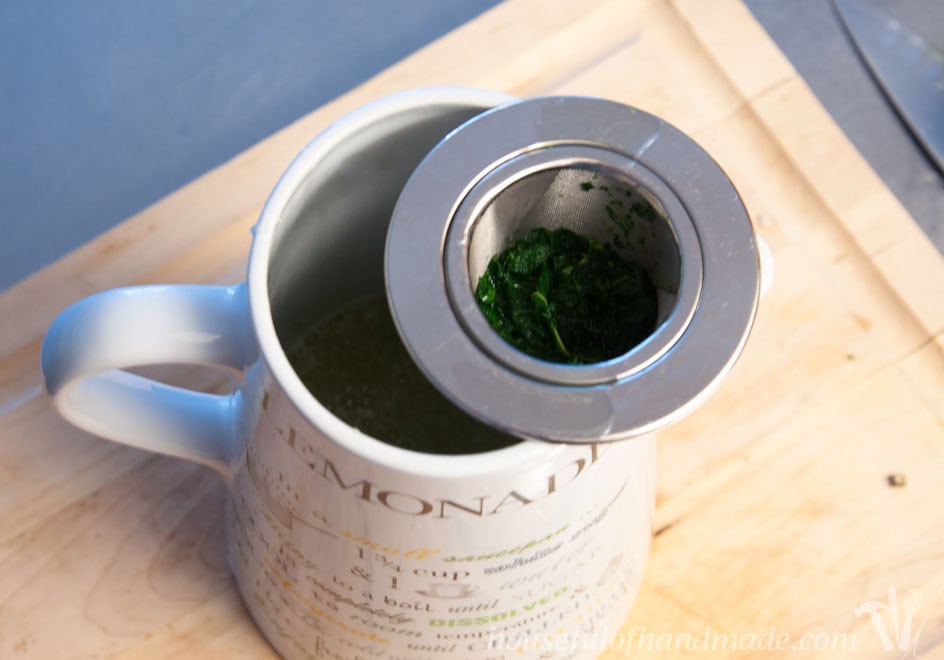 Put the fresh squeezed juice into your pitcher with the mint juice. Then it's time to add your water. You will need to add 4-5 cups of water depending on how strong you like your limeade. If you want to serve your mint limeade immediately, use some ice as part of your water to cool down the hot mint mixture. If not, just add cool tap water, then refrigerate until it's cold.
And there you have it! Delicious low sugar mint limeade.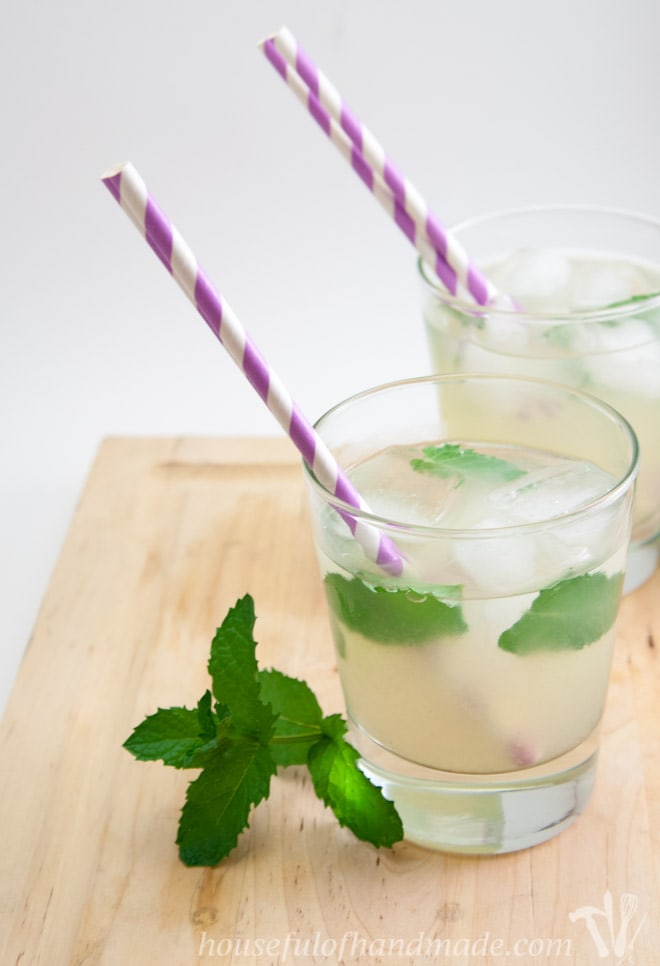 I feel good about letting my kids overindulge on this sweet drink during the summer. Yeah for low-sugar, naturally!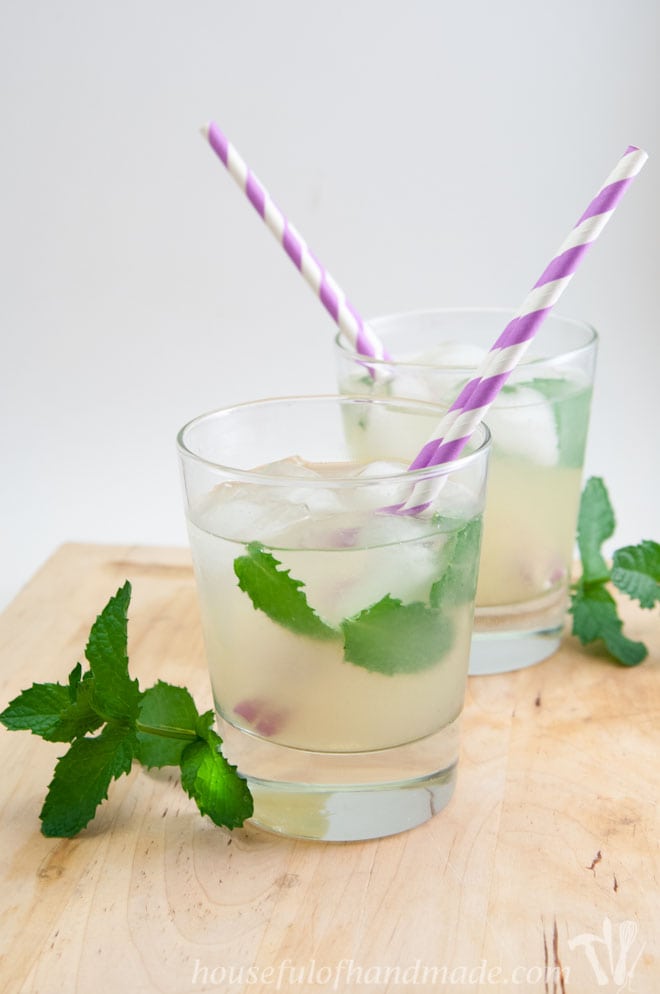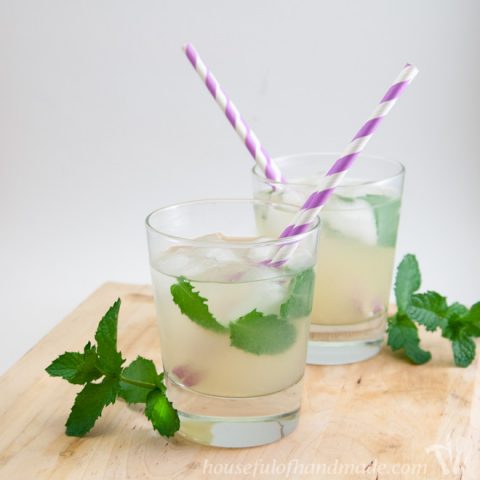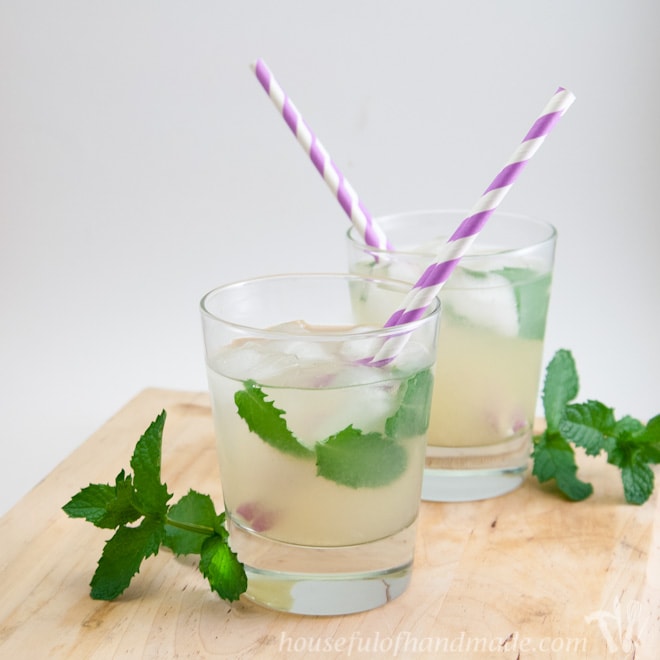 Low Sugar Mint Limeade
Use fresh stevia leaves along with fresh mint leaves to make a delicious, low-sugar mint limeade.
Ingredients
1/2 cup white sugar
10 stevia leaves
1 cup mint leaves
1 1/2 cups boiling water
1 cup fresh lime juice
4-5 cups cold water
Instructions
Put sugar, stevia and mint leaves in a 2 cup glass measuring cup. Muddle the leaves into the sugar to release the oils.
Pour boiling water over the muddled mixture till the measuring cup is filled (approximately 1 1/2 cups). Stir to dissolve the sugar. Then let steep for 5 minutes.
Strain leaves out of mixture and add mint juice to your pitcher along with fresh squeezed lime juice.
Add 4 cups cold water (or a mixture of water and ice to equal 4 cups) and stir. Add more water if you like.
Serve immediately or put in refrigerator till cold.
Enjoy!