Spring is coming! Well, I am pretty sure it is going to come someday. I was so excited to share this fun new Monogrammed Moss Door Hanger with you over the weekend, but I just couldn't get motivated enough to take pictures of spring decor in a hail blizzard with lighting and thunder. Sorry for my laziness, but by the end of February, I am over winter and ready to stop being cold. Luckily we got a day of sunshine this weekend and got some pictures so I can finally share this fun door hanger.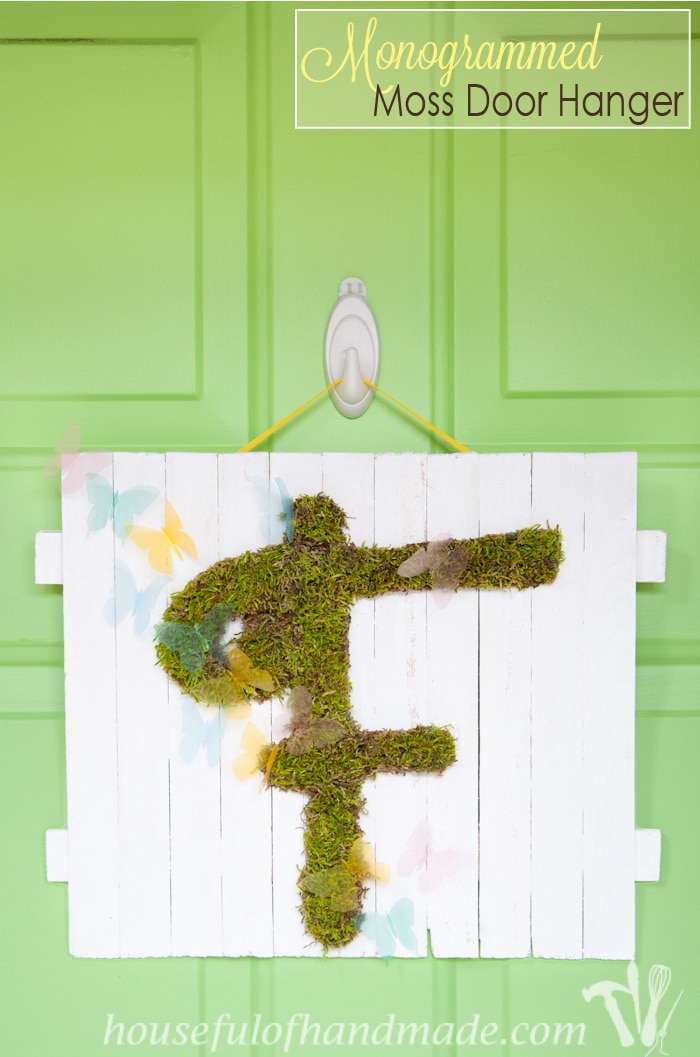 This project is one that I made 2 years ago, but still love and use every year. Sometimes you just fall in love with how a project turns out. I did not come up with the idea of the moss monogram. I found this tutorial from Design Dining and Diapers and fell in love with it. But of course I had to add my own twist. I decided my monogrammed moss door hanger needed butterflies for spring!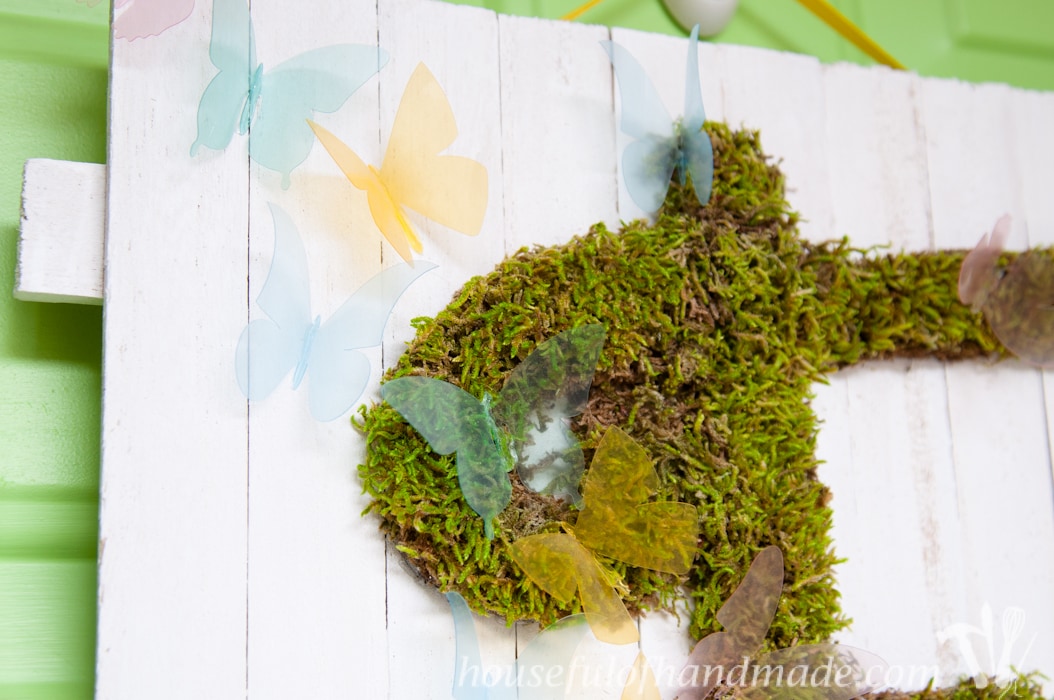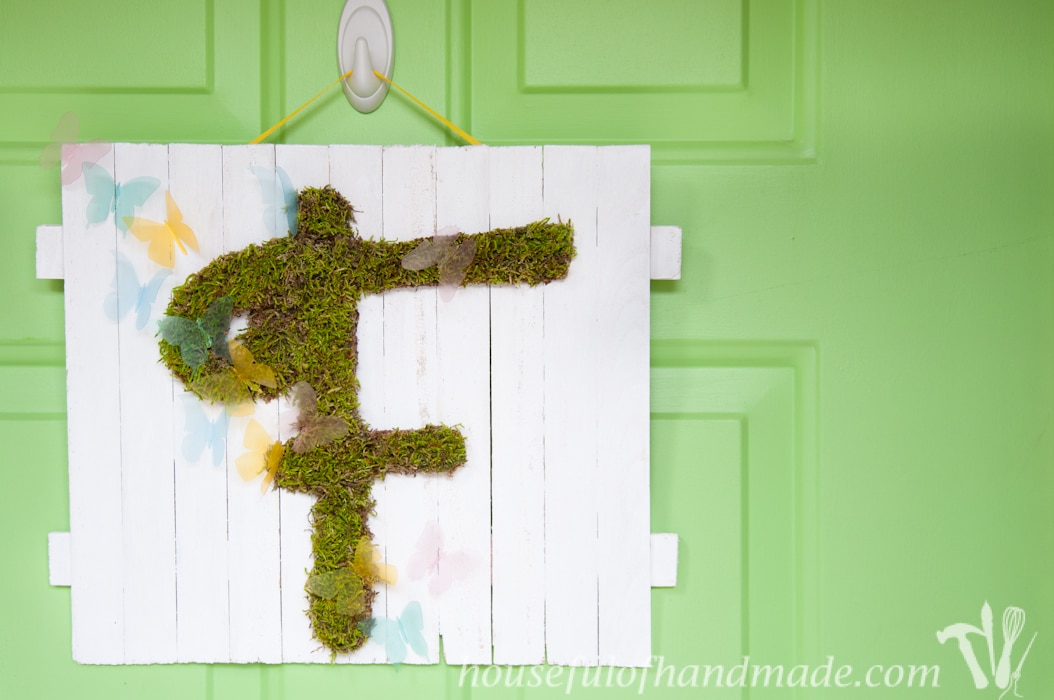 I did make a couple changes when putting together my shim pallet. I wanted the edges to line up so I started by glueing two shims together with the thicker edges on opposite sides so I ended up with one thicker, but not tapered, piece of wood. I did this twice so I had one for the top and bottom of the little pallet.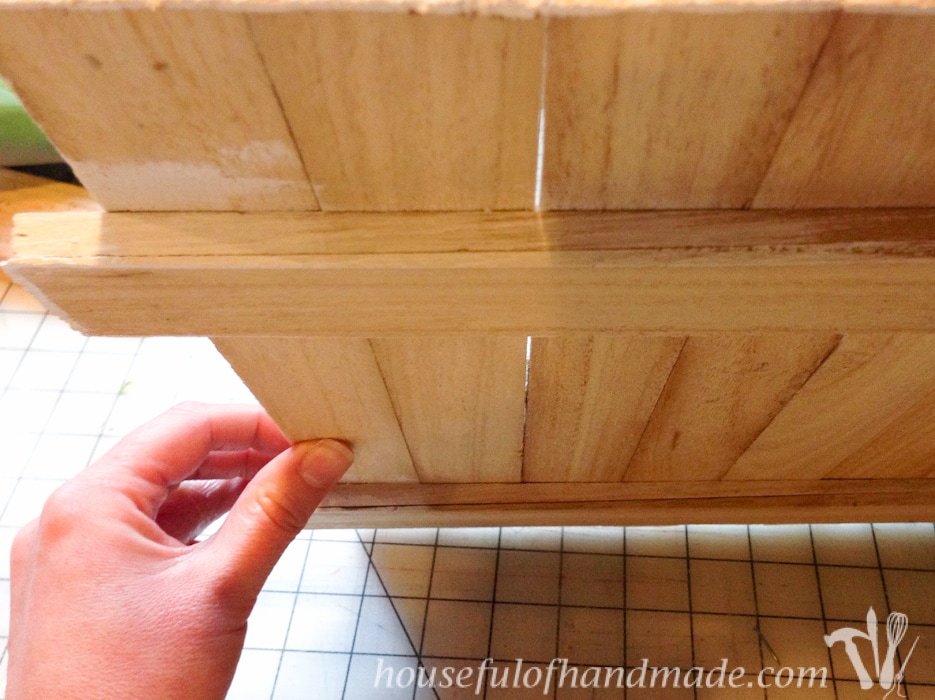 Then I glued the shims on top of these new even pieces with all the thicker edges at the top. I painted it white before adding my moss monogram. I added the moss in the lines of my monogram F with a hot glue gun. The moss was kinda messy, and kinda stinky, but it was really easy to glue it into the shape I wanted with a little patience.
After I got it all done, it was time to add the butterflies. I love trying to cut all different types of material with my Silhouette. Seriously, it can do just about anything I can dream of. I wanted the butterflies to be very dainty so they didn't take over the moss monogram. I happened to have a set of translucent 3 ring binder dividers in my office supplies stash. I used the pink, blue and yellow sheets to make a bunch of butterflies.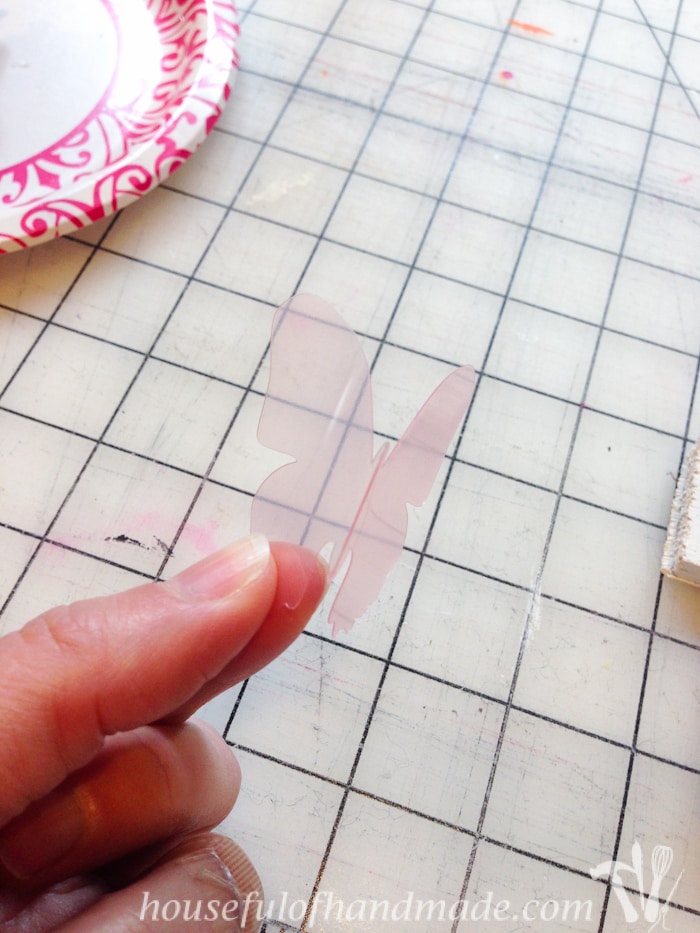 I bought a set of butterflies in the Silhouette store, then added a dashed line down the center of them so I could easily fold them in half to glue to the door hanger. Then I cut them out on a cardstock setting. Fold them in half, then run a bead of hot glue down the fold and attach to the monogrammed moss door hanger.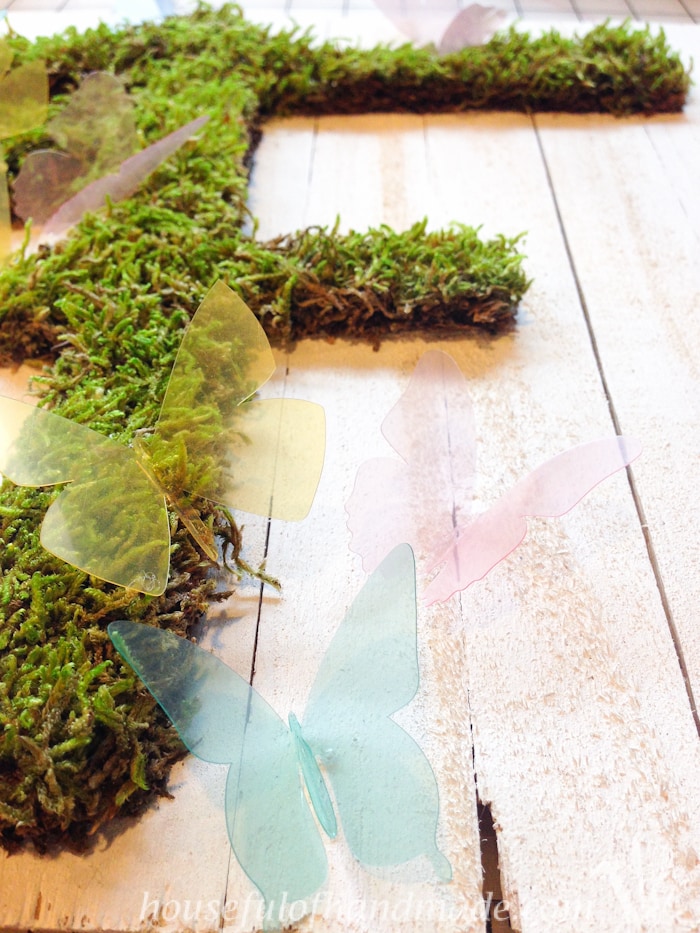 I glued some butterflies onto the moss and some onto the wood. Then it was ready to hang up! The problem… I forgot to attach a way to hang it up. I would highly recommend doing this before adding the moss and the butterflies! But I managed to staple a piece of ribbon onto the back without squishing anything. Nothing too fancy, but it hangs up the door hanger perfectly on our front door. So cute 🙂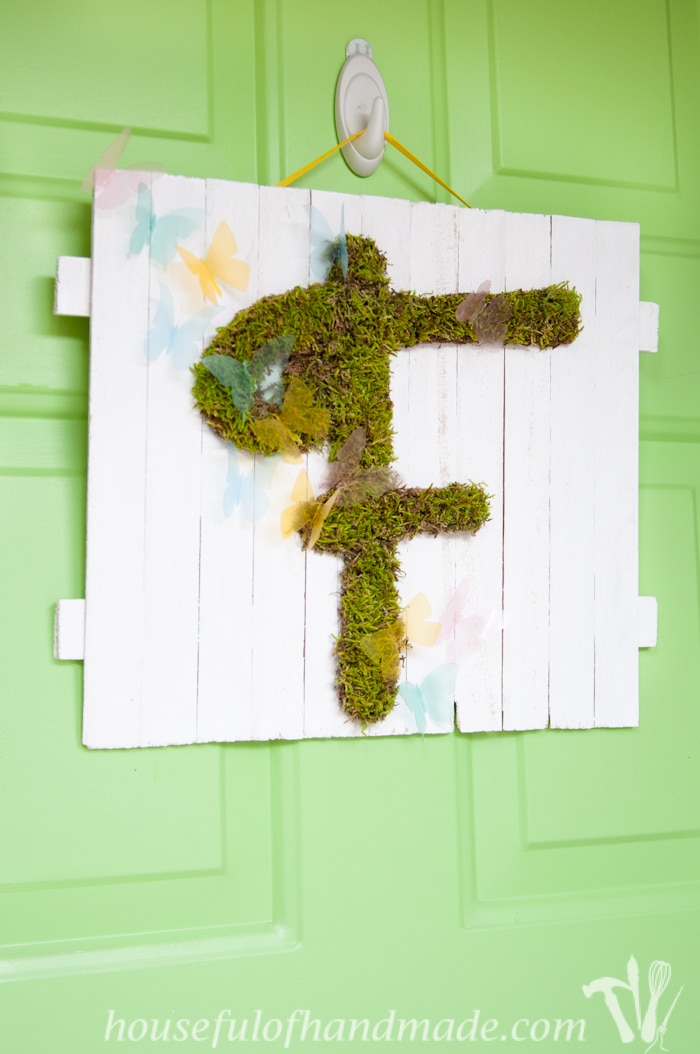 I just love how the moss and butterflies look! Even after 2 years, everything still looks like new.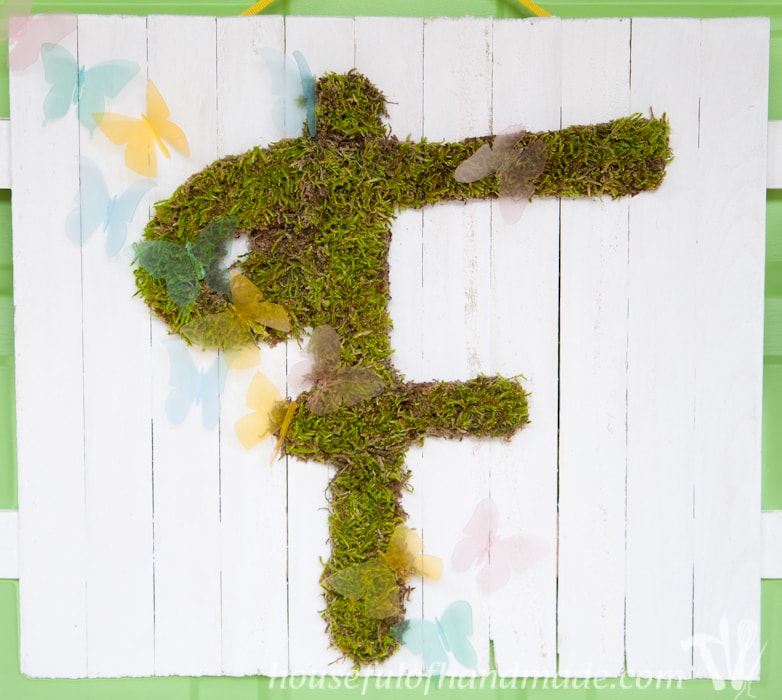 This Monogrammed Moss Door Hanger is a perfect alternative to a wreath, but just as awesome.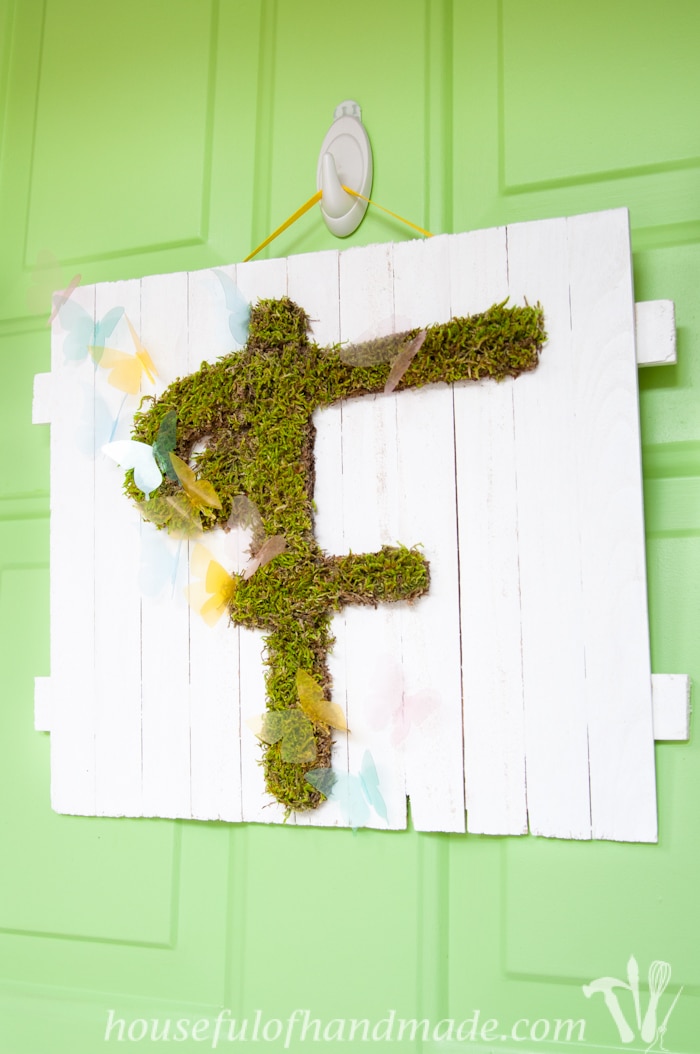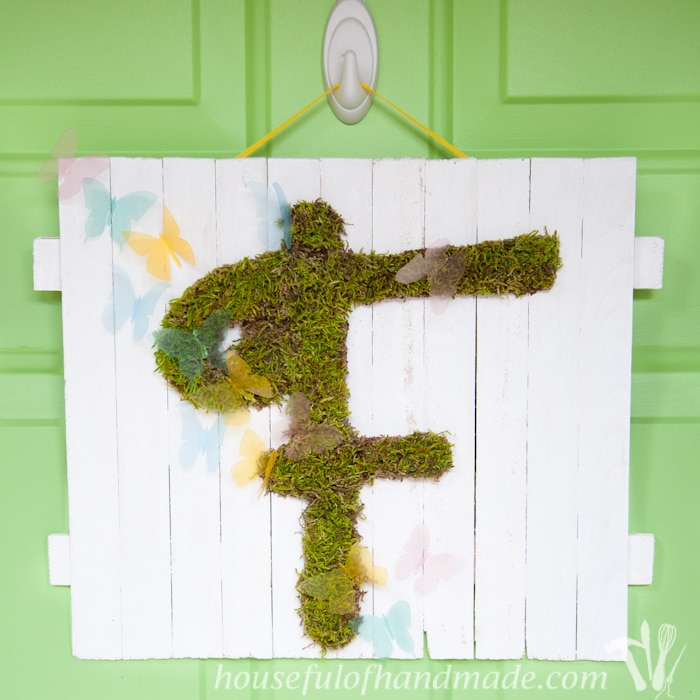 Now even if we have another crazy snow storm, at least my door looks like spring! And someday it will warm up enough for me to plant something.

I'm linking up to some of my favorite Link Parties.