You may remember that I have been (not so speedily) remodeling our dining room. I have done 90% of the room, but I am not so great at finishing the last 10%. My basement still has baseboards that need to be caulked and we remodeled that 10 years ago, it's ready for a redo. But I have been slowly working through the final steps around completing all the fun projects I have been doing for fall and Halloween.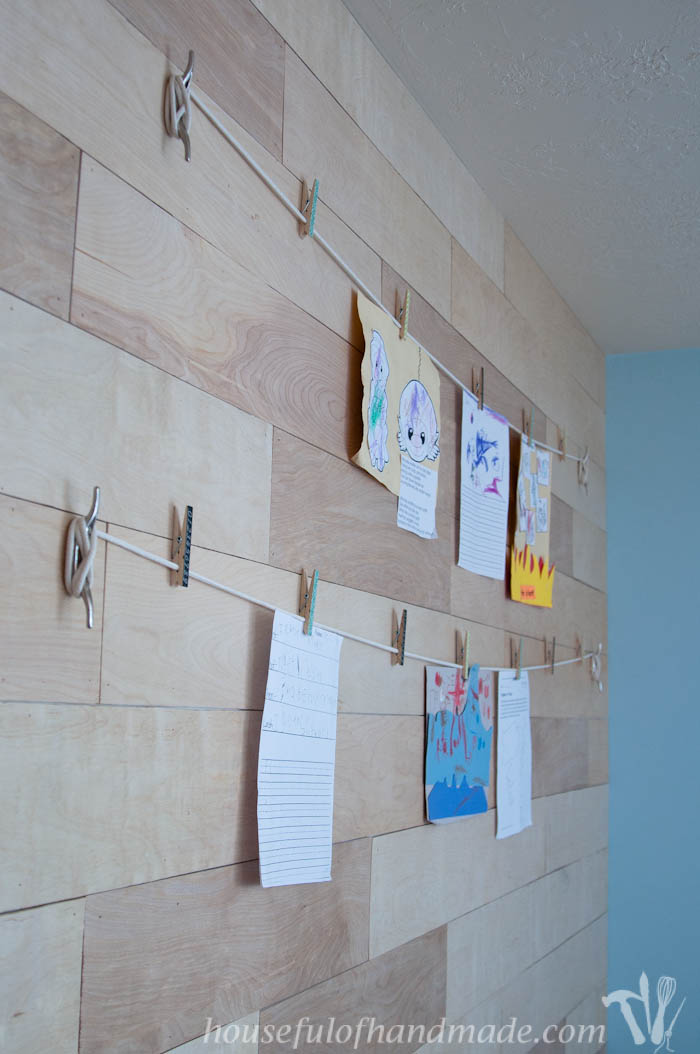 The art display wall was part of my initial plans, they are a necessity when you have little kids. I have been trying to decide what final direction I wanted to go, there are so many great ways to display art. I wanted something easy for our art display wall. I had thought about putting a bunch of empty frames on the wall but after I put up our feature plank wall, I realized I didn't want something chunky to take away from the beautiful wall so I nixed that idea. But now that school is in full swing, and I have a preschooler and 1st grader, I needed somewhere to display all the fun things they bring home, so it was time to make a decision and get an art display area up and running.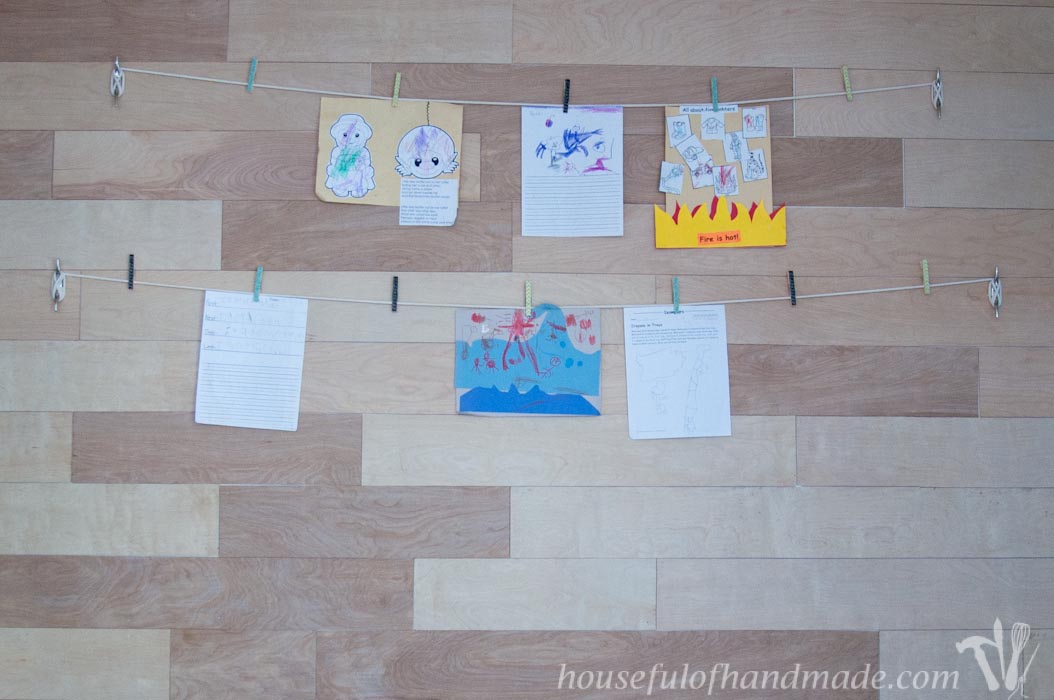 At my parents house last weekend, I went into my mom's craft room and when I saw her art display wall I knew that's exactly what I wanted. So simple to put up, I can easy add or switch out my kids art, it didn't distract from my beautiful plank wall, and it only cost me $15! Yep, this is another idea that I stole from my mom, but hey, she's got great ideas (I told her next time I'm home I'm going to just take lots of pictures of all her cool projects and make a post of all her brilliant ideas).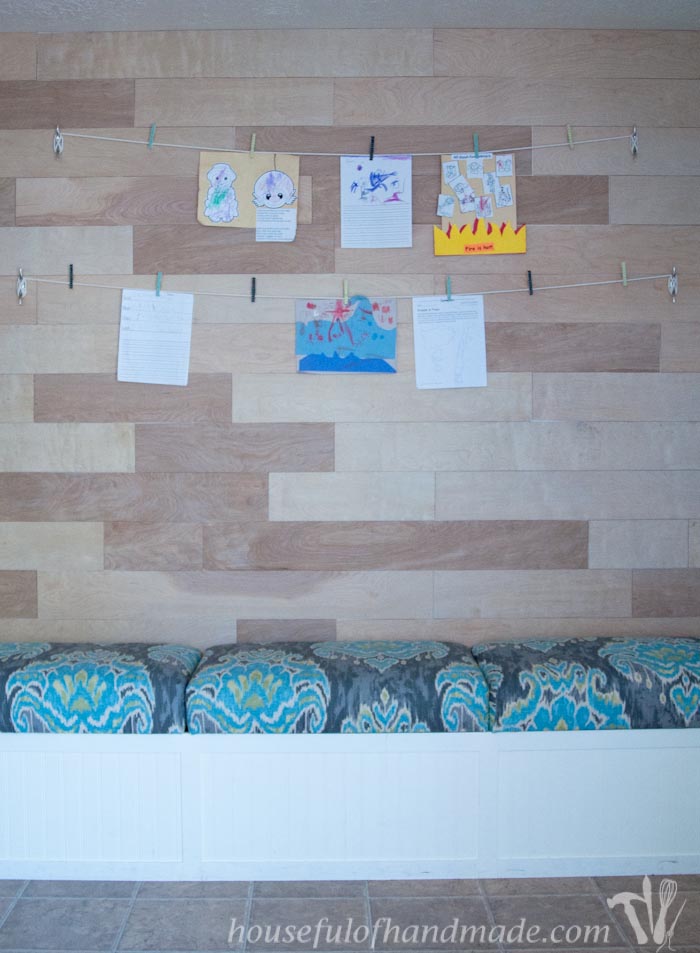 This little project took only a few minutes to put up, my son even helped me (or he spent the whole time weighing the screws on my kitchen scale but did manage to hand me one when I needed it). The only part that took forever was taking both kids to the store to buy clothespins cause apparently I was out.
I used 4 boats cleats with some clothesline strung between them to make a line to hang the artwork on. So easy! I found these boat cleats on Amazon and they are perfect. They did not come with screws, but I had some in my stash that worked, I don't know what they are because they were loose in my bin of random screws.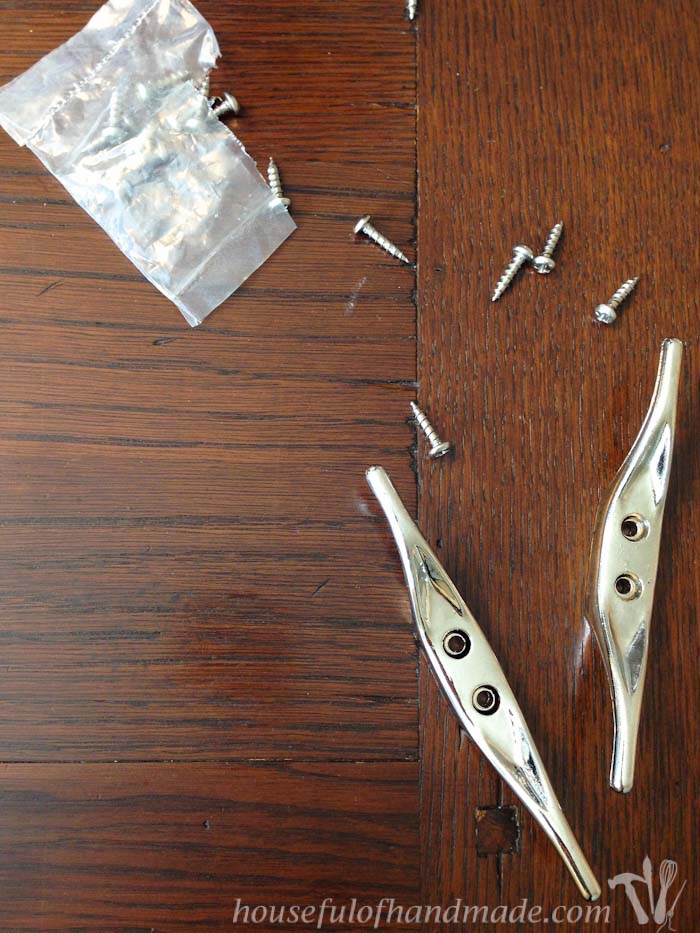 All you have to do is secure the boat cleats on your wall where you want them. Then twist the rope around them. This is how I twisted them so they looked like a nautical knot. I just tucked the cut end under the clothesline as I wrapped it around and it stayed.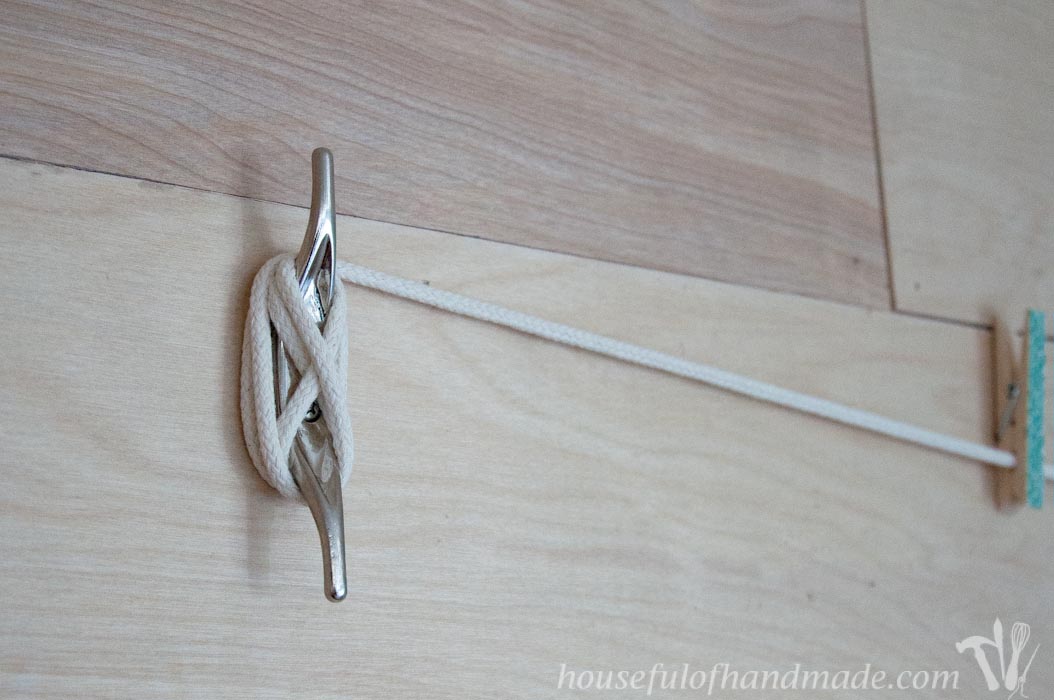 I put the bottom cleats 5″ wider on each side and I love the way it looks.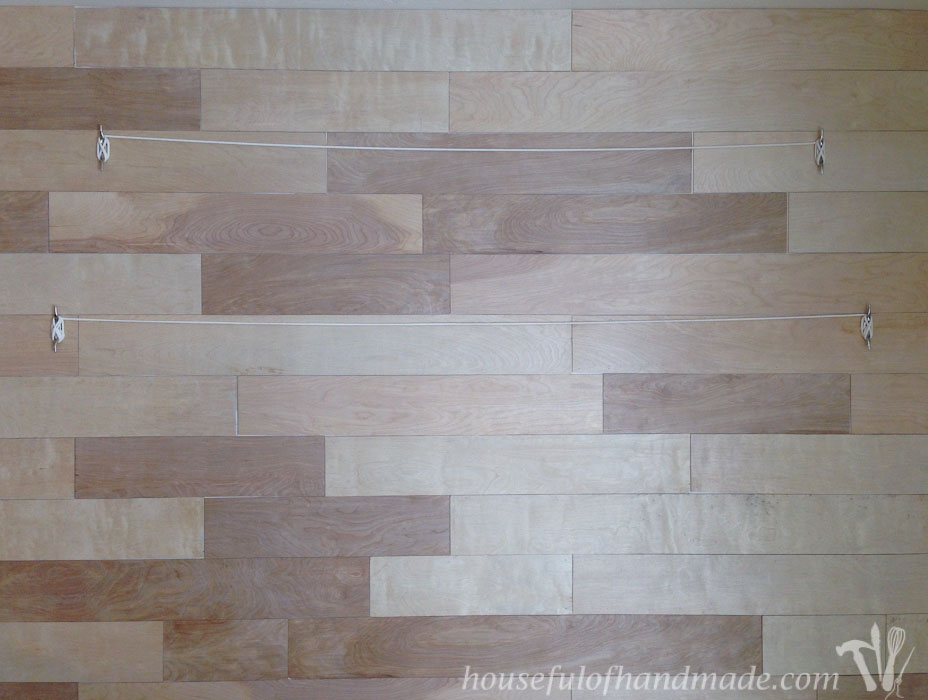 I decided to use some washi tape to embellish the front of each of the clothespins. This is so easy to do and adds some fun decoration and color.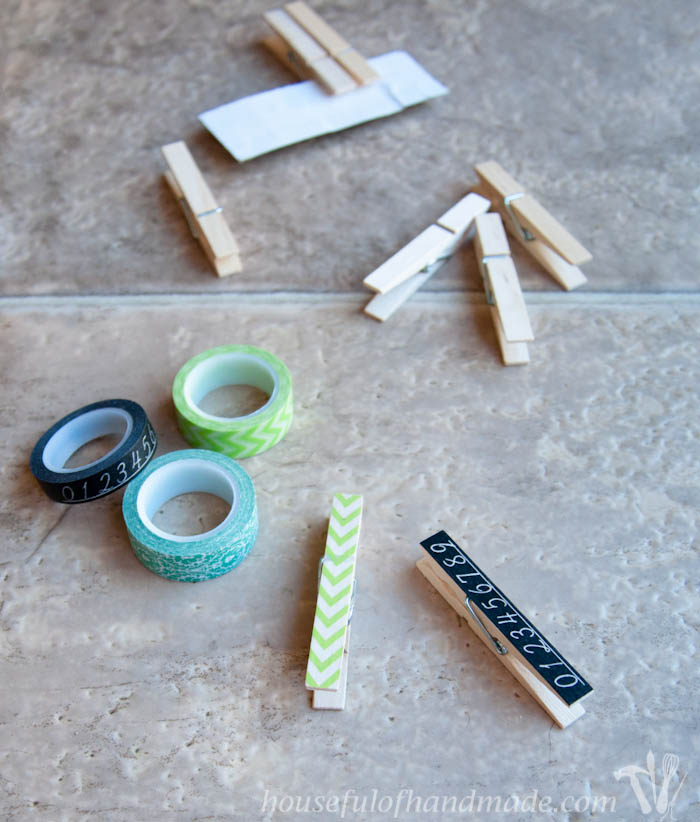 Then it was time to load up the art.
I know I am going to have so many amazing pieces to display on my new art display wall. My kids are always creating!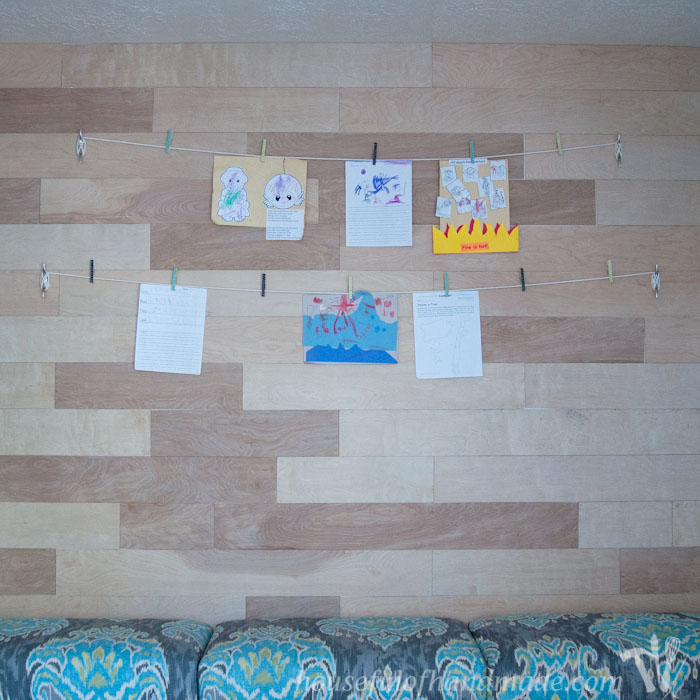 My son brought home the funniest assignment the other day, I just have to laugh every time I see it, so it had to go up on the wall. They were writing about first, next, then, and last. He wrote: First, I eat breakfast. Next, I get dressed. Then, I wake my mom. Last, I go to school. I died! My little man knows how much I appreciate being able to sleep in! Even though it's not "art" I love it too much not to display.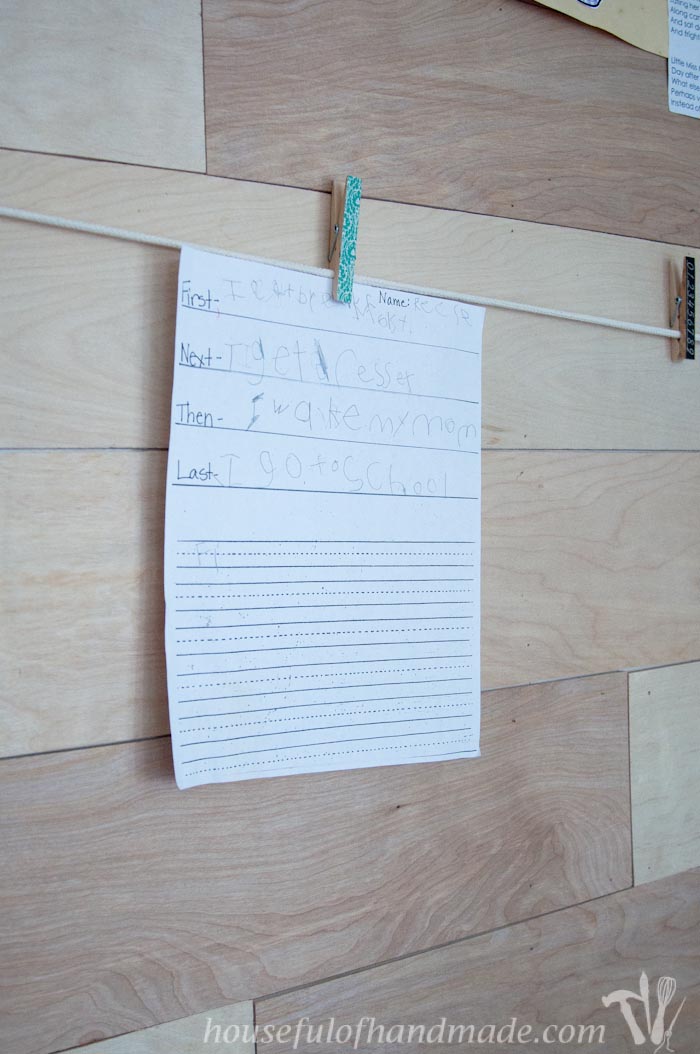 I'm pretty proud of myself for crossing one more thing off my to-do list for the dining room. Pretty soon I will have my coffee console table all finished and can share how I built it. It's pretty awesome, well I think it is, and we love having a coffee station to help us get the day going (helps when the kids have to wake me up to go to school in the morning)!