The New Year is always a great time for a clean start. I love setting resolutions each January. I know, totally cliché. But the feeling of starting fresh after a crazy few months of holidays helps me to get refocused. Also, I feel like October through December I am just running in all directions, so sitting down and setting new goals for the year is super helpful.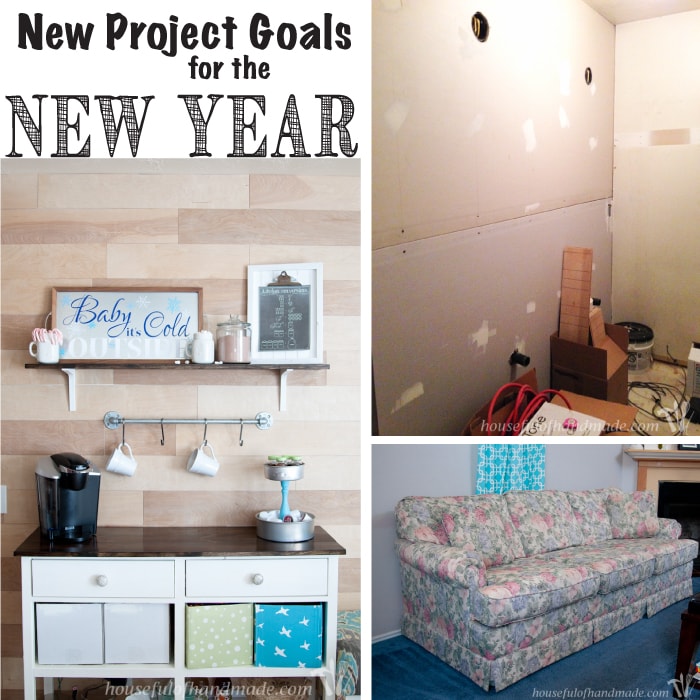 This year along with my personal resolutions, I want to set a resolution for my blog. I started this blog almost a year ago. I needed something to motivate me to finish projects. I was drowning in unfinished projects. It was becoming a big joke that I never finished anything.
I am still trying to finish some of the mostly done projects from 8 years ago! I think the only room that was completely finished is the kids room. But that was because I was on a deadline, totally nesting, and there was no way I was putting my new baby in an unfinished bedroom (it was my first baby, I had high expectations).
During the last four months of the year I had so much fun doing seasonal projects, but the beginning of the year is a great time to knock out some of the home improvement projects I have been putting off.
And the best way to make sure I actually get them finished is to write out my plans so you can help me be accountable! So from now on I will be committing to completing certain bigger projects each month and sharing my plans with you. Then I will try really hard to actually get everything finished and tutorials up on the blog!
Don't worry, I will be sharing loads of smaller projects and free printables with the bigger projects, but I do need to get after some of these things that I have been putting off for too long!
I am going to try to follow the "Eat a frog" method for 2016. I am starting with the project that I have been avoiding for ever: the master bathroom! I love remodeling, but there are steps that I just despise.
The master bathroom is at one of those steps. I need to mud and tape the drywall and get it ready for paint. I don't mind hanging drywall, even with crappy angles and lots of piecing, but taping, mudding, sanding, mudding, sanding… I hate it so much. So I am committing to getting it all done by the end of the month! Yeah, eat the frog and the rest of the year will be amazing.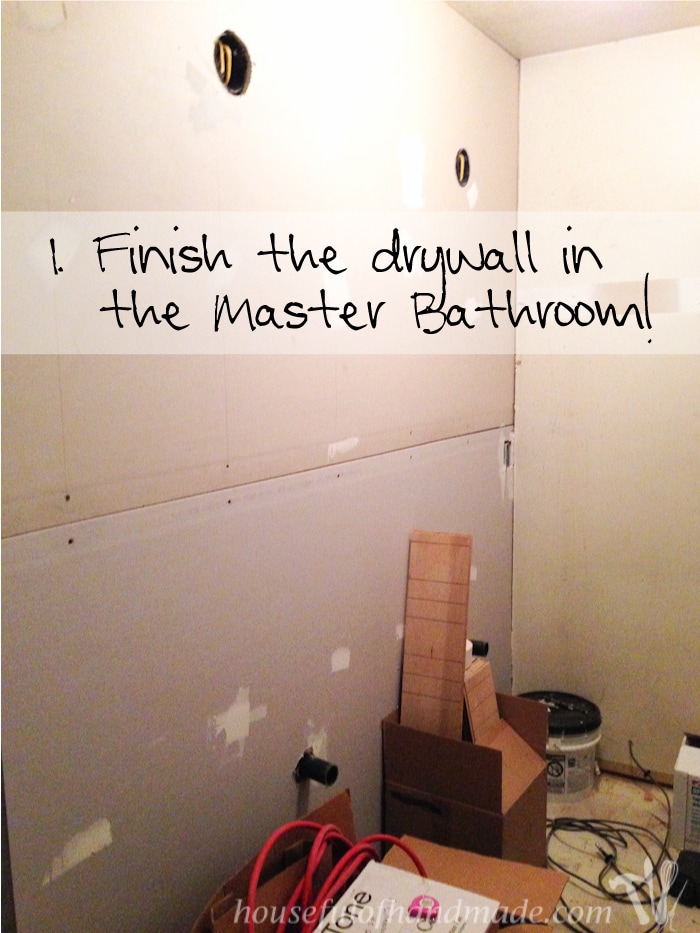 This week I will be working on all the finishing touches on my coffee station (I shared a bit of a teaser in this post). Then I will be sharing the plans to build the console table, my struggle with my first drawers (it wasn't that bad), and all the little projects that make our coffee station my favorite place (especially first thing in the morning). I promise I will start sharing all things coffee very soon.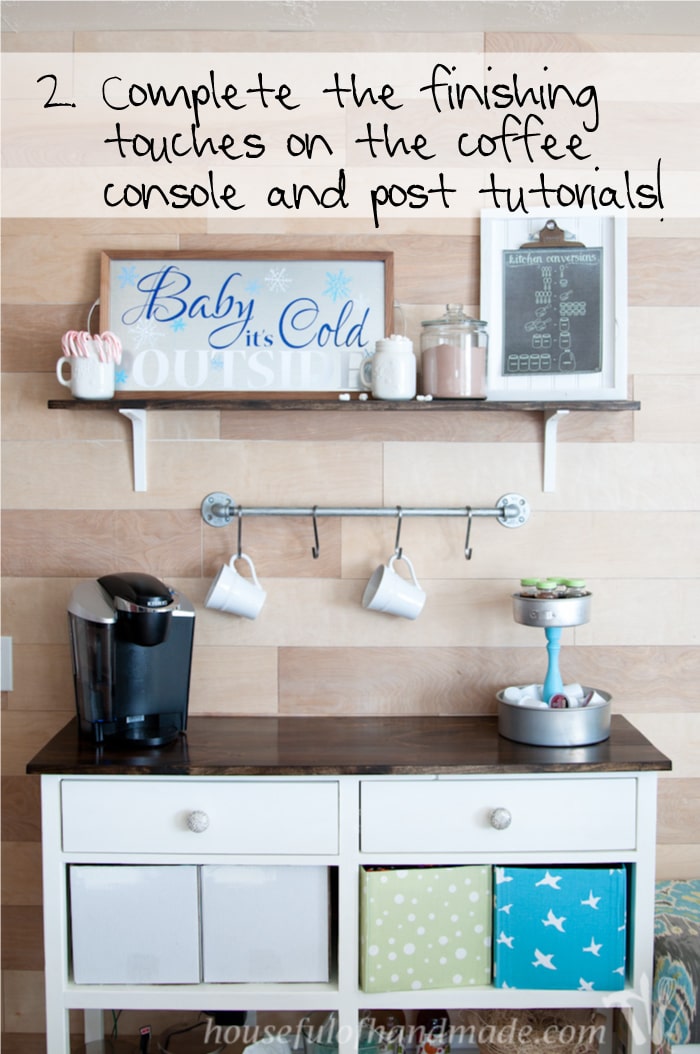 Then after I finish all the drywall in the master bathroom I am going to be trying my hands at reupholstering a sofa. I got a free sofa from my husbands grandparents that were relocating to warmer weather. But the pastel floral print is not working in my red and turquoise living room.
So I am determined to redo it. I have big plans for it: new arms, new pillows and new fabric all over. I will be starting it at the end of the month, but probably won't have it done until later in February because I am being realistic 🙂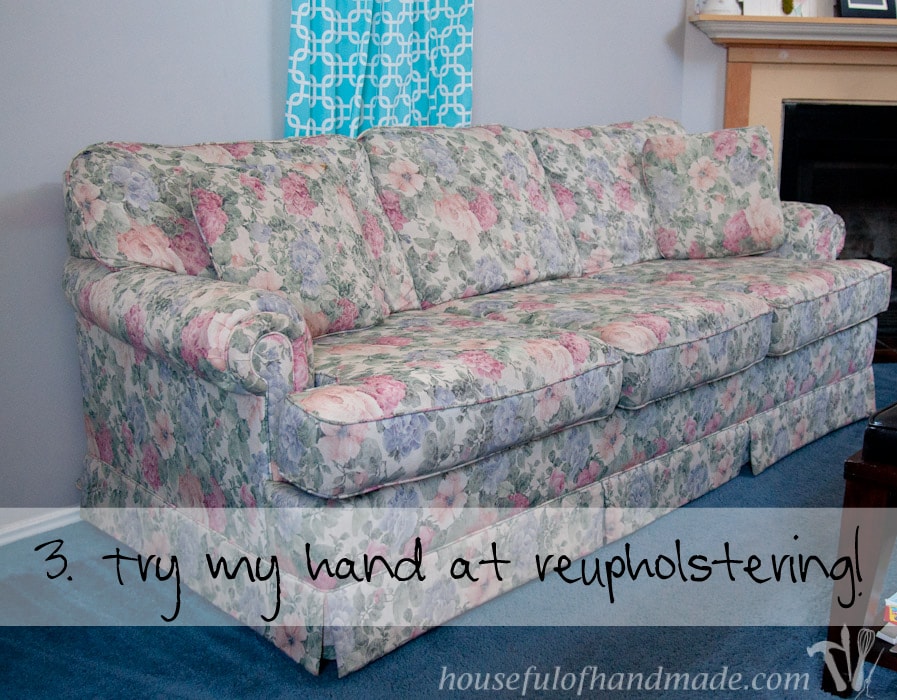 Wow, I really hope I can get it all done this month! I really want to get the master bathroom done so the hubby and I can get ready at the same time. And to finish up the coffee station so the first thing you see when you enter our home is pretty.
Here's to a new year full of projects and fun!