We have been lucky this year, the kids haven't brought home any colds… until this weekend.  The nasty cold thats been going around was brought home from kindergarten.  And I tried my best to avoid getting it, but Sunday evening it settled into my sinuses.  I am kind of a big baby when it comes to head colds when they are in my sinuses.  I can't stand the pressure and I get super cranky.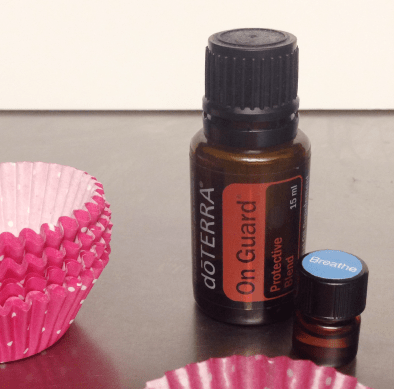 I have seen all the fantastic shower vapor disks all over Pinterest that I knew would be heaven in a long, steamy shower, but the recipes require you to prep the disks ahead of time.  If you are like me, you never think about these things until you are sick.  Then you definitely don't want to make them while feeling like crap!
I was also worried about the essential oils loosing their effectiveness waiting for us to get sick if I prepped them ahead of time.  So I got creative and it worked so well I will never have to worry about prepping for a cold.
I took my essential oils (this time I used a few drops of doTERRA OnGuard and a few drops of doTERRA Breathe, but eucalyptus and peppermint also work well just use what you love) and just dropped them onto a mini cupcake liner.  Then I placed the cupcake liner in the corner of my bathtub so it wasn't directly under the spray of the water and turned on the steam.  Oh heaven, the oils immediately mixed with the hot steam and my sinuses felt so much better.  The oils didn't run down the shower since they were contained in the cupcake liner and they lasted through the entire (very long) shower.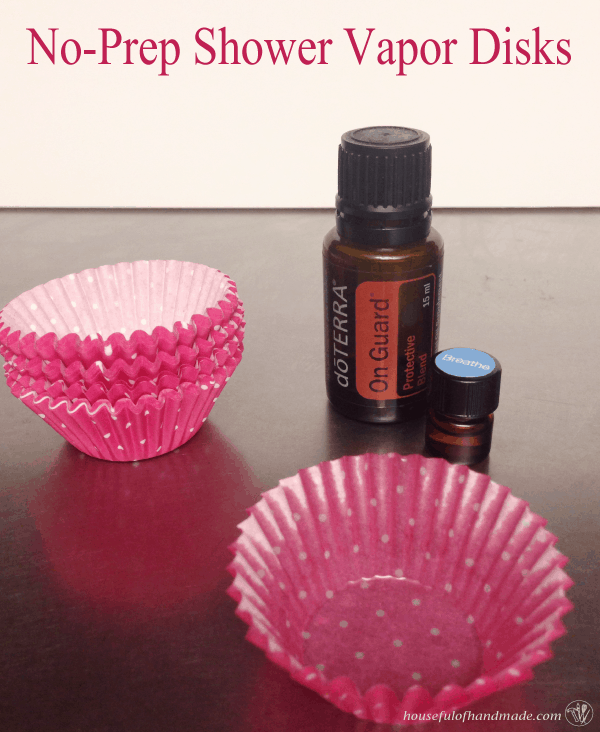 Such an easy way to instantly feel better when you are under the weather.  Do you have any other great ideas for kicking a cold… I am always looking for ways to get rid of them fast?
I'm linking up to some of my favorite Link Parties.