Make a delicious oatmeal berry cheesecake bars recipe using just a few simple ingredients.
I just realized it has been way too long since I shared a recipe with you. I have just been having so much fun playing this summer that I really haven't spent too much time in the kitchen. We are getting ready to head out of town for another long weekend of fun, and I needed to use up some ingredients so I decided to make a new recipe based on what I needed to get out of my fridge.
And guess what? It's awesome so I thought I'd better share this delicious oatmeal berry cheesecake bars recipe (and it helps me find the recipe when I want to make it again).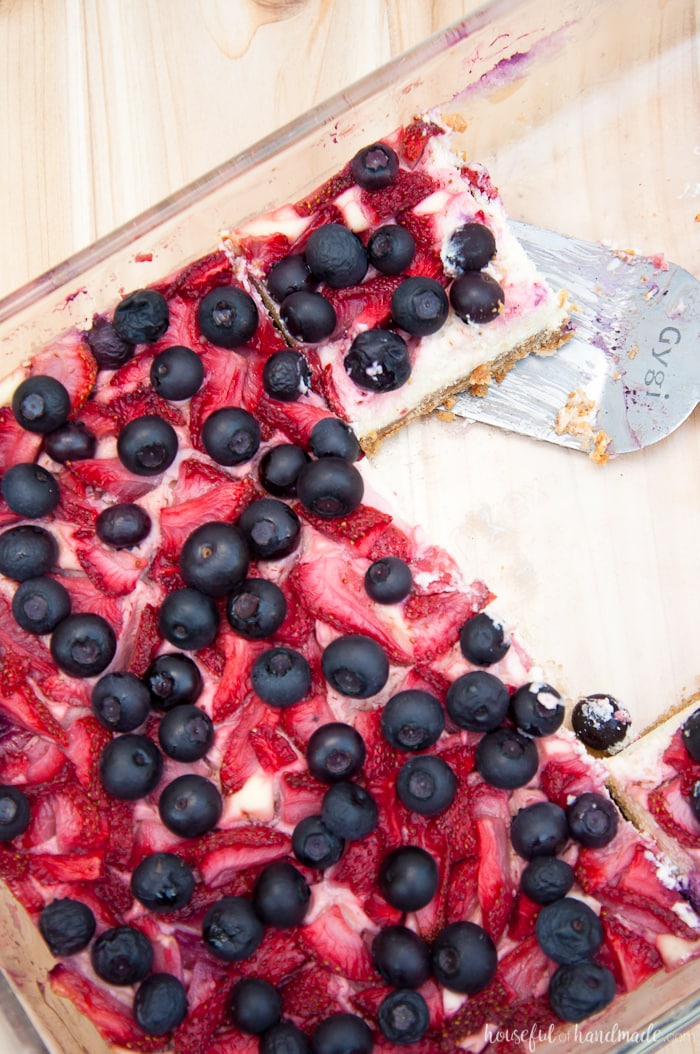 This recipe is a necessity recipe. I was trying to clear out our fridge before leaving on a long weekend trip. I bought a bunch of strawberries and blueberries to go with our yogurt and granola while camping last weekend, but apparently I wasn't the only one with that idea and we ended up having a lot of berries. So unfortunately we came home with a lot of berries.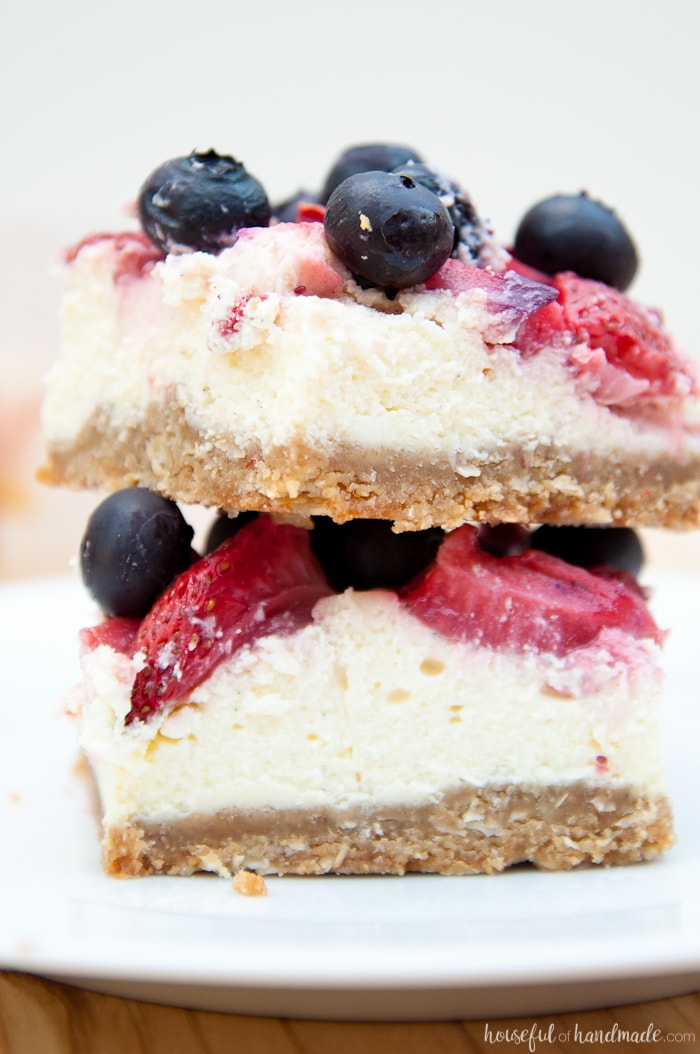 I also had 6 lbs of cream cheese in my fridge! How does one end up with 6 lbs of cream cheese you ask? Well, I sent the hubby to Sam's club for a few other groceries, but I had just made him pumpkin cookies and he wanted cream cheese frosting. The 6 lb cream cheese was only $10 so I told him to just go for it. I was sure I would be able to use it up (famous last words).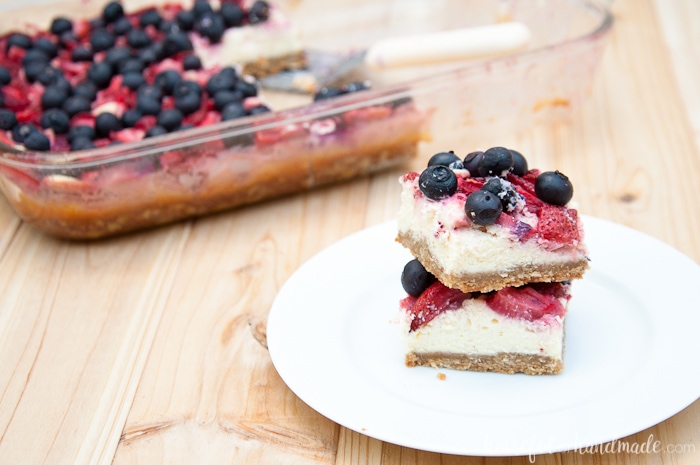 So when you have a fridge full of berries and a giant brick of cream cheese you definitely need cheesecake. And since we are heading out of town for a fun weekend with my family, I figured cheesecake bars were the best way to clear out my fridge for the weekend. I had also just been experimenting with my wheat grinder and grinding up some oat flour, so I figured I would add some oats into the mix too.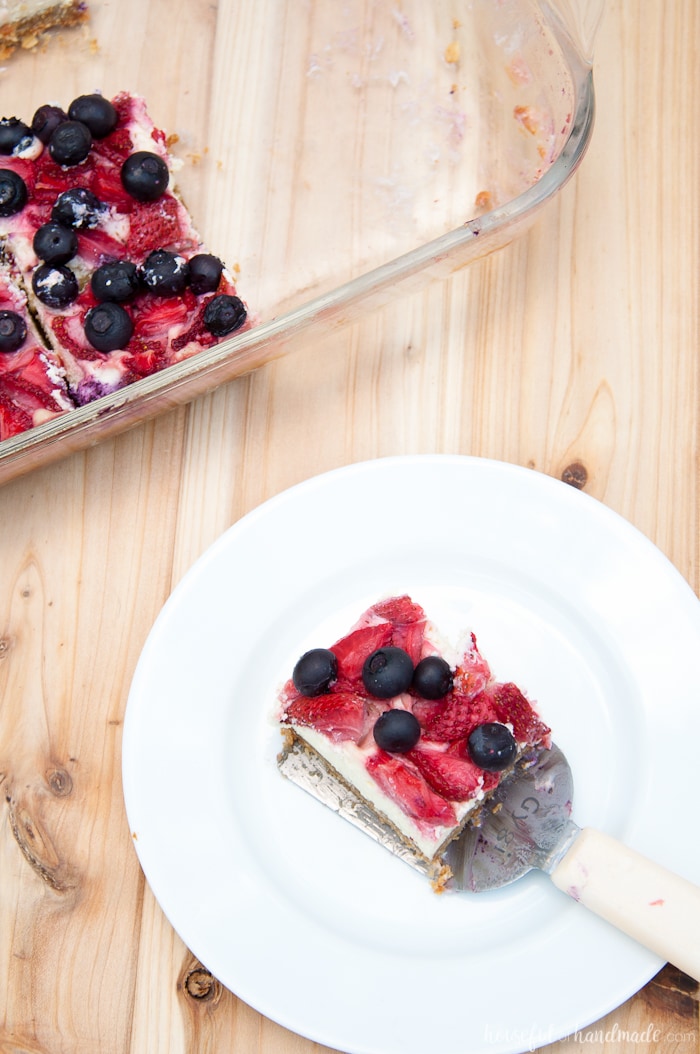 What I ended up with was absolutely delicious! I think I need to try this "What's in the fridge" game more often.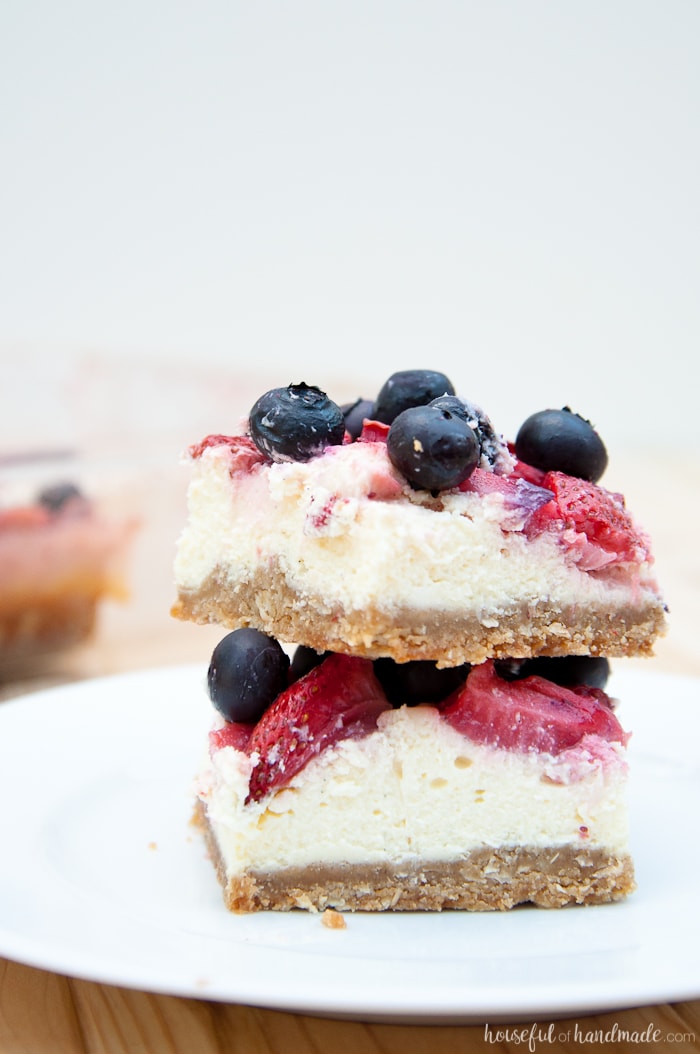 If you need a gluten free option, using gluten free oats and oat flour will make this the perfect gluten free recipe for your summer barbecues. Delicious, full of fresh berries, and gluten free, sign me up!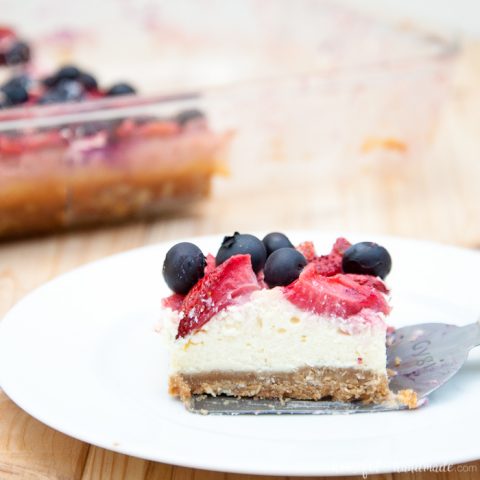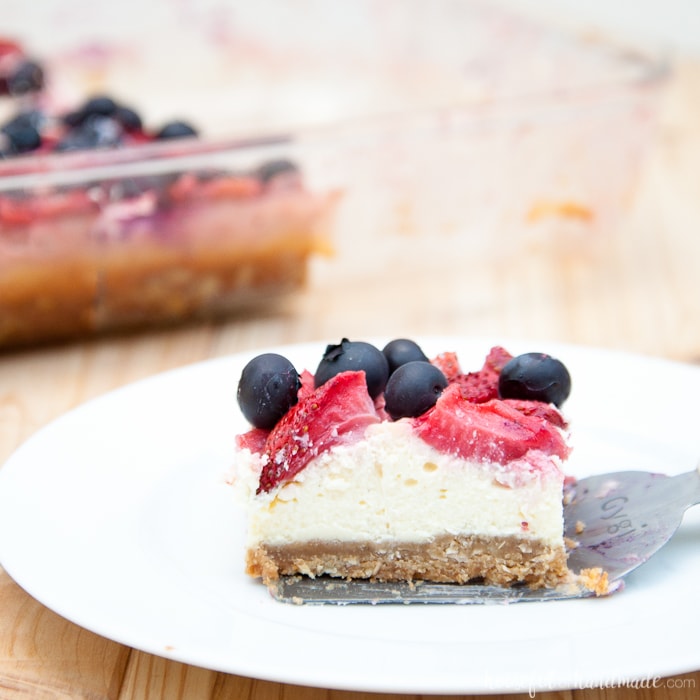 Oatmeal Berry Cheesecake Bars Recipe
Prep Time: 10 minutes

Cook Time: 1 hour 20 minutes

Total Time: 1 hour 30 minutes
Ingredients
For the crust:
2 cups oat flour (you can also grind oats in a blender)
1 cup butter
1/2 cup brown sugar
1 cup rolled oats
For the cheesecake filling:
3 8-oz packages cream cheese, room temperature
1/2 cup granulated sugar
3 large eggs
For the berries:
1 lb fresh strawberries
8 oz fresh blueberries
1/4 cup sugar
Instructions
Preheat oven to 350 degrees.
Cut up the strawberries. Place in a bowl and sprinkle with the sugar. Stir and set aside to let the strawberries get juicy.
Pulse the oat flour, butter and brown sugar in a food processor until crumbly (or you can use a pastry cutter or two forks). Add rolled oats and pulse just until combined.
Press into the bottom of a 9x13 inch baking pan.
Bake until the edges start to brown, about 15-20 minutes.
While the crust is baking, cream together the cream cheese and sugar until fluffy.
Mix in eggs, one at a time, making sure to scrape the sides and paddle well after each egg. Mix in vanilla bean paste.
Pour over hot crust and spread evenly.
Spread strawberries and juice over the top and sprinkle with blueberries.
Bake until the center is firm, about 50-60 minutes.
Remove from oven and allow to cool then refrigerate until set, about 2 hours.
Cut into bars and enjoy!
Happy summer!