I am so excited to be attending my very first blog conference this weekend! Scared, but excited. All week I have been frantically trying to get things done so I am ready to immerse myself in learning and new friends for 3 days. But that also means 3 days without my computer, and I don't know if I will get everything done in time. So today's post is a twofer. I made this Ombre Pineapple Screen Print Tee to wear to one of the parties at the conference and am sharing my cheater screen print tricks with you so I can cross 2 things off my list at once!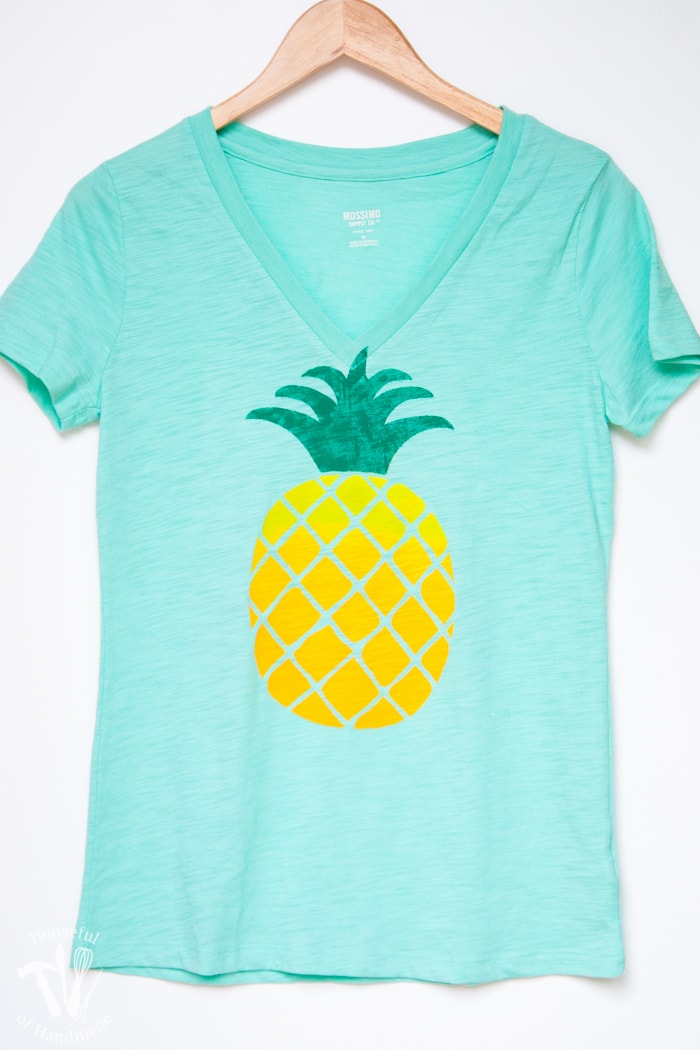 I know I am excited to learn lots of new blogging stuff at SNAP this weekend, but I'm also very excited to have some girl time without kids! It has been a while since I let my hair down and just had some crazy fun with a bunch of girl friends. There are two parties at the conference and each one is themed. One is black, that is way to easy to prepare for, but the other is Palm Springs Pool Party themed. I love the idea of the party, but sadly did not have anything to wear. Well that never stopped me!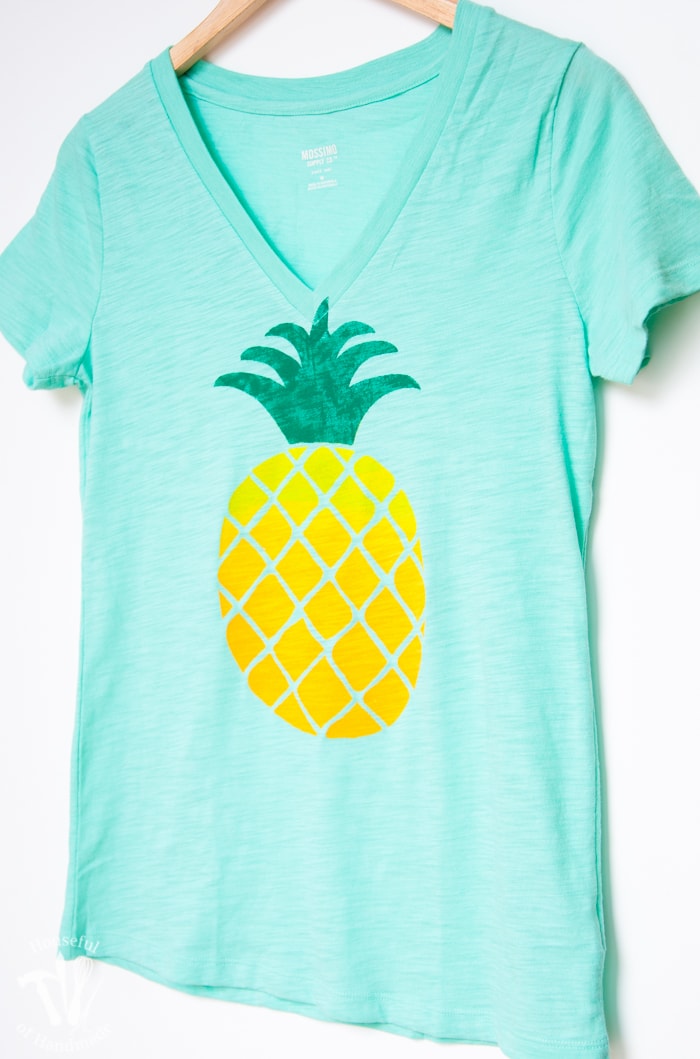 There seems to be two sides to the Palm Springs pool party: pineapples or flamingos. In the conference Facebook group people are preparing for the parties with one or the other. While I love flamingos, and I would definitely use them in my summer decorating, I would have to say I am "Team Pineapple" when it comes to clothes.
So I decided to make a big screened print pineapple on the front of a tee shirt. And for a little more fun, I made it an ombre pineapple!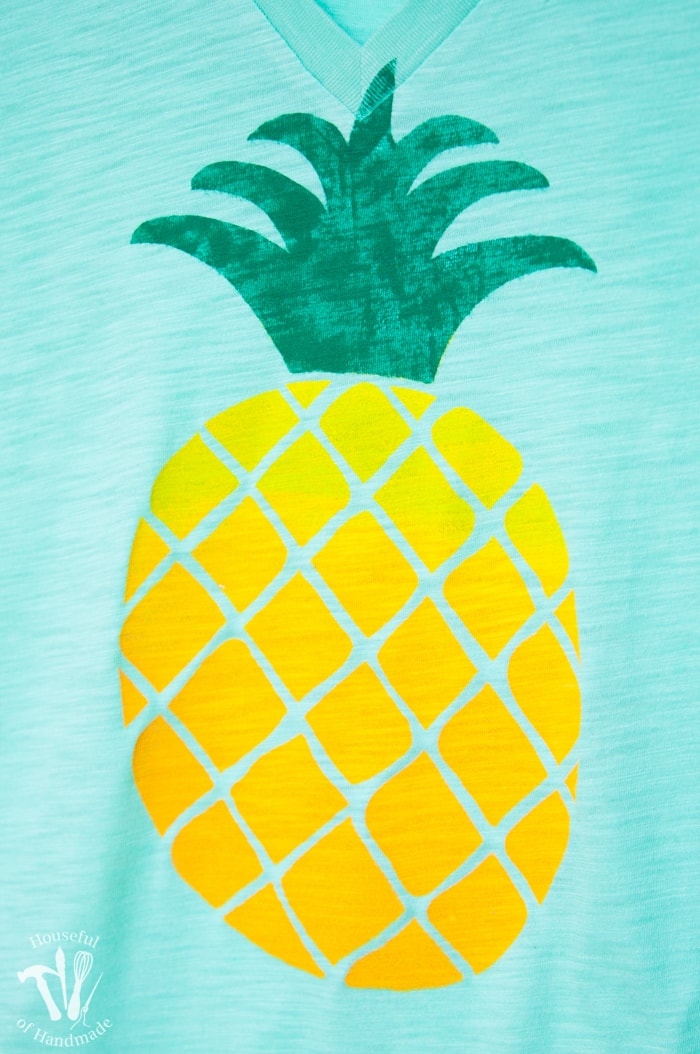 I decided to try my hand at screen printing a few years back. It is so much fun, but I do cheater screen printing. How do you cheat you ask? Vinyl! Now there are two ways to use vinyl to screen print, put the vinyl on the screen or put it on the shirt. There are pros and cons to both ways. But if you are making only one shirt, I would recommend putting the vinyl directly on the shirt. You will have really clean lines with this method, but the ink will go on smooth like a regular screen print.
So lets get crafting!
First I cut out the pineapple design with my Silhouette on vinyl. No need to reverse/mirror anything just cut normal. And any color of vinyl will do cause it is just a stencil. You also want to have quite a bit of left over vinyl around the outside of the design to protect your shirt. Next you want to weed out all the pieces to the pineapple body, do not remove the leaves on top.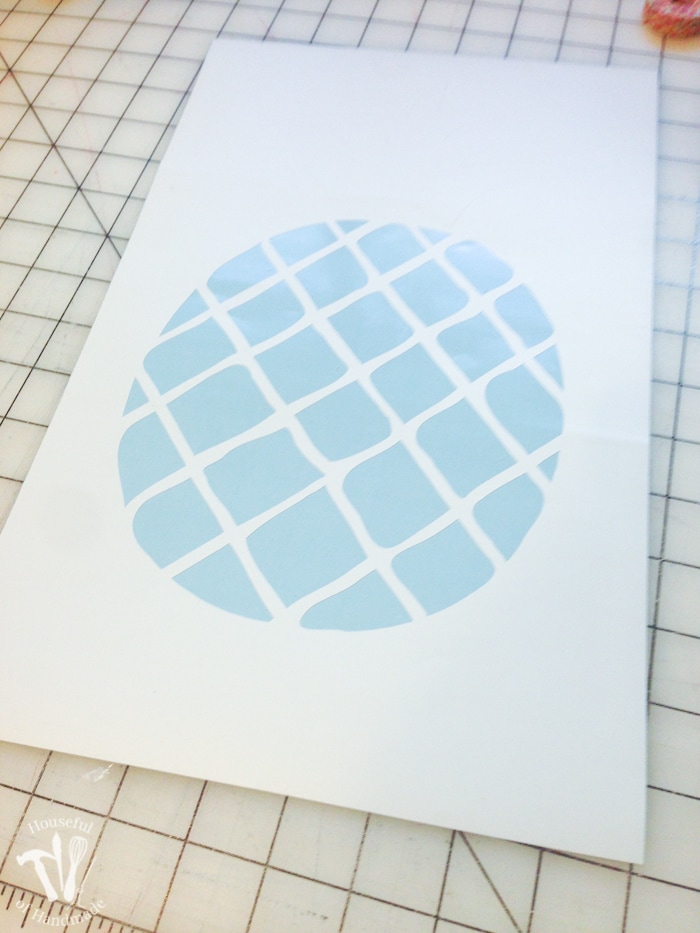 Use a piece of transfer paper to remove the vinyl from the backing. I discovered I am running very low on transfer paper, but luckily I had just enough to cove the pineapple in the center of my vinyl. As long as all the cut parts are covered with the transfer paper you are good to go!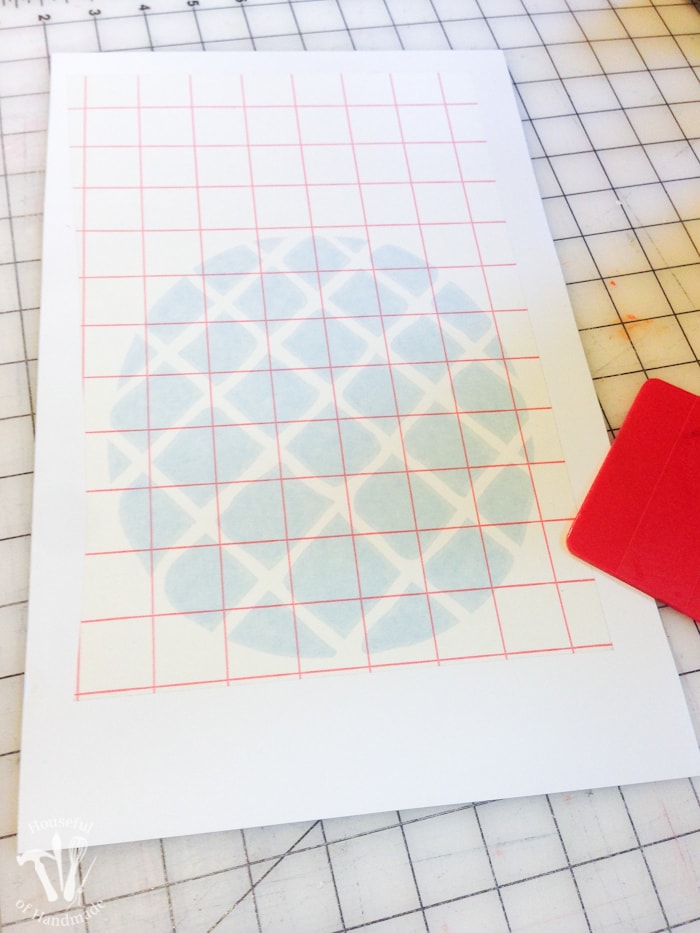 Now prep your shirt for screen printing. You will need a large piece of foam core or cardboard to go inside the shirt. It needs to be big enough to hold the shirt out, but not stretch it. I prefer using foam core because cardboard can leave lines where it is corrugated. Luckily you can buy cheap foam core at the dollar store.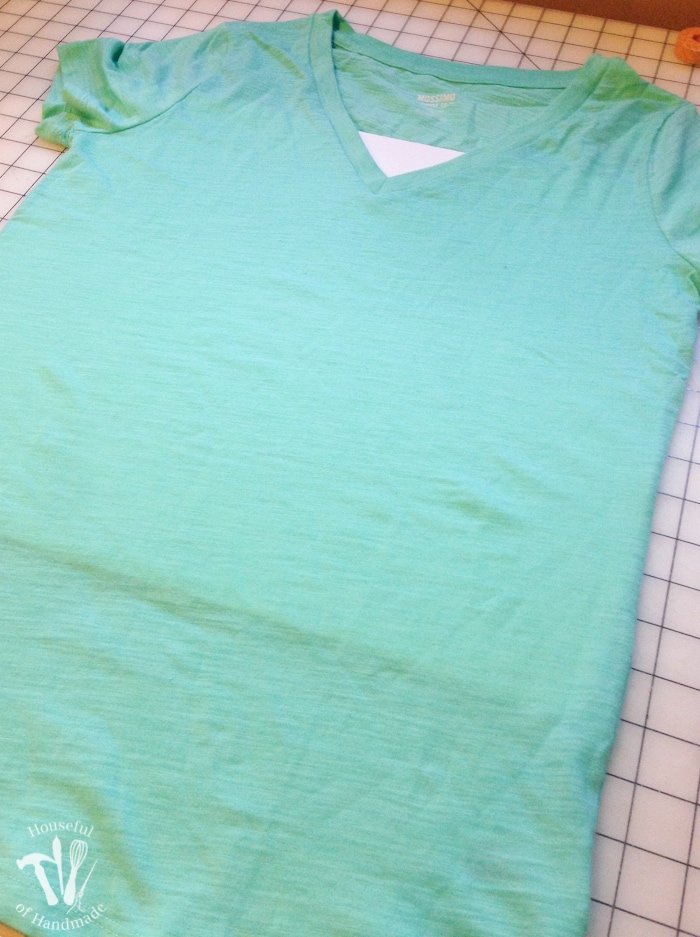 Next center the vinyl on your shirt and press down firmly. I like to use my scraper normally, but on the cloth it can be a pain so just press the lines firmly with your fingers to make sure it's all attached, then remove the transfer paper. Be careful when you are removing the transfer paper over the leaf part that was left in, it will try to come out with the transfer paper but you want it to stay.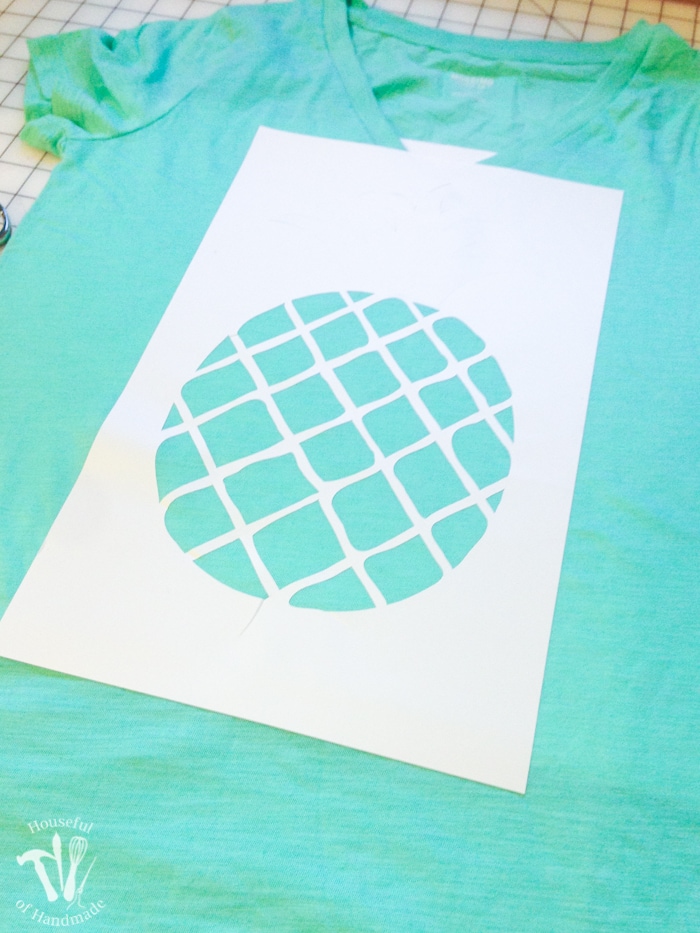 Time for paint! You can use screen print paint or just fabric paint. The screen print paint is made to work with the screens better, but when only doing one shirt I haven't had issues with using other fabric paint. And of course you will need a screen, I got mine at Michael's and they are inexpensive (especially when using a coupon).
To make the ombre pineapple you will need two colors of paint. Place the screen over the vinyl, if there are any parts of the shirt that are visible under the screen but not covered by vinyl you will want to cover them. I used the transfer paper that I just used to put the vinyl on the shirt to cover the sides of the pineapple. Now place a blog of the yellow on the screen at the top left of the pineapple and a blog of orange paint on the screen at the bottom left of the pineapple. Swirl them together in the middle to combine the paints into a line and leaving an ombre effect.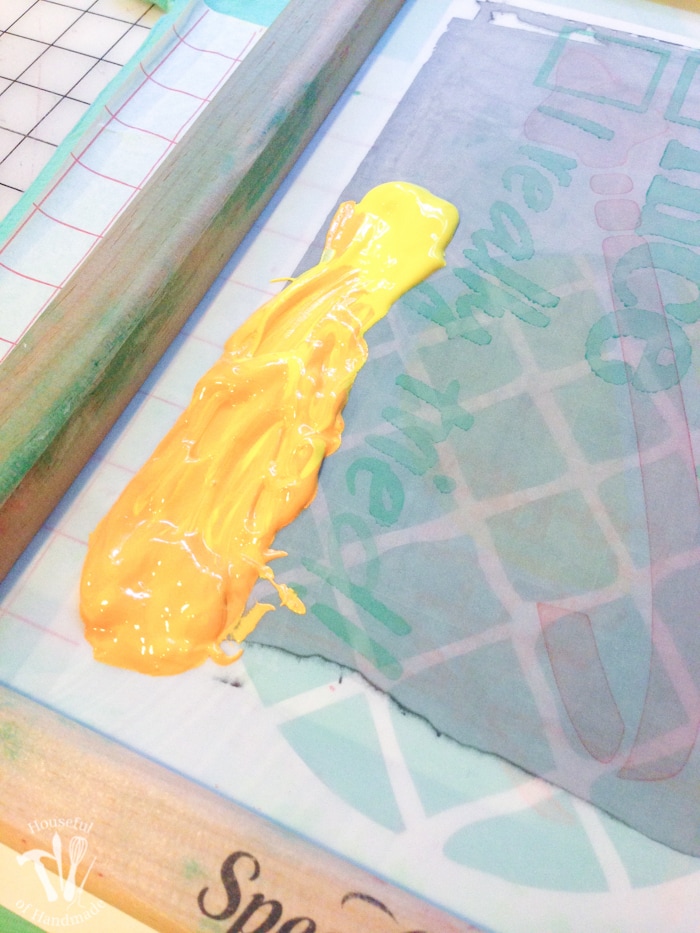 Now it's time to scrape across the screen. You are suppose to prime the screen first by scraping it back and forth a couple times on a scrap fabric/cardboard/paper, but I don't do that. Priming makes sure you have paint in the screen ready to be pressed to the shirt. I usually just prime it right over the shirt I am screen printing on. This probably leaves way to much ink in some spots of the garment but it hasn't bothered me. Prime it you want, or skip and just scrape the paint back and forth across the screen a couple extra times over the vinyl stencil. Go with smooth long strokes side to side, tapping the paint down at each side.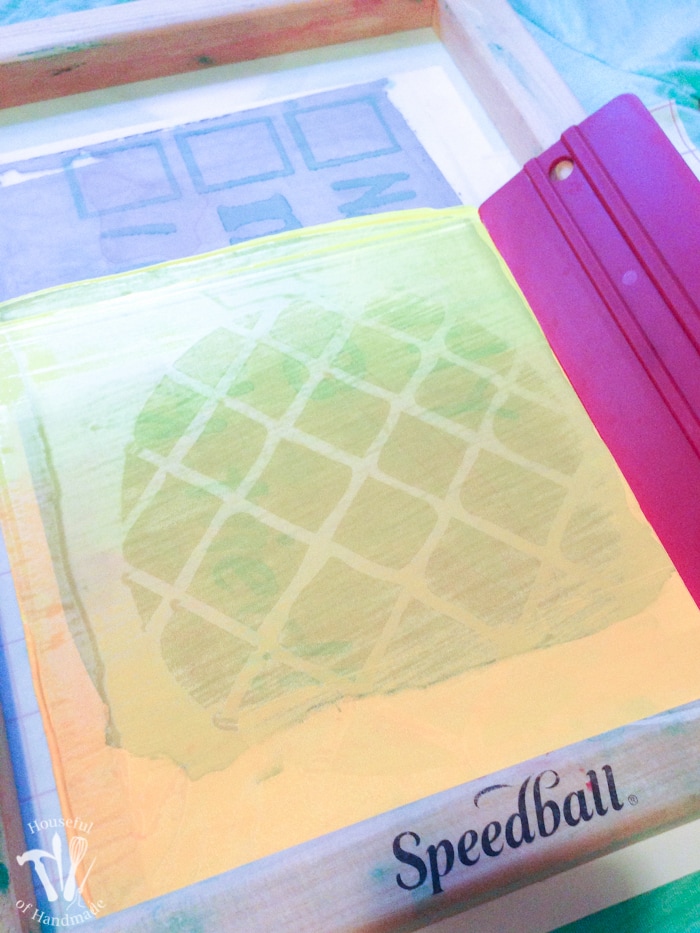 Then lift the screen off and admire your work. If there are any parts that are missing paint, you can carefully place the screen back on top and scrape the paint across again. This is only available to do if you put the vinyl directly on the shirt. If you put it on the screen you will probably never be able to place it perfectly on top and end up with fuzzy or bleeding lines.
Now let it dry. This is the part I am less patient about!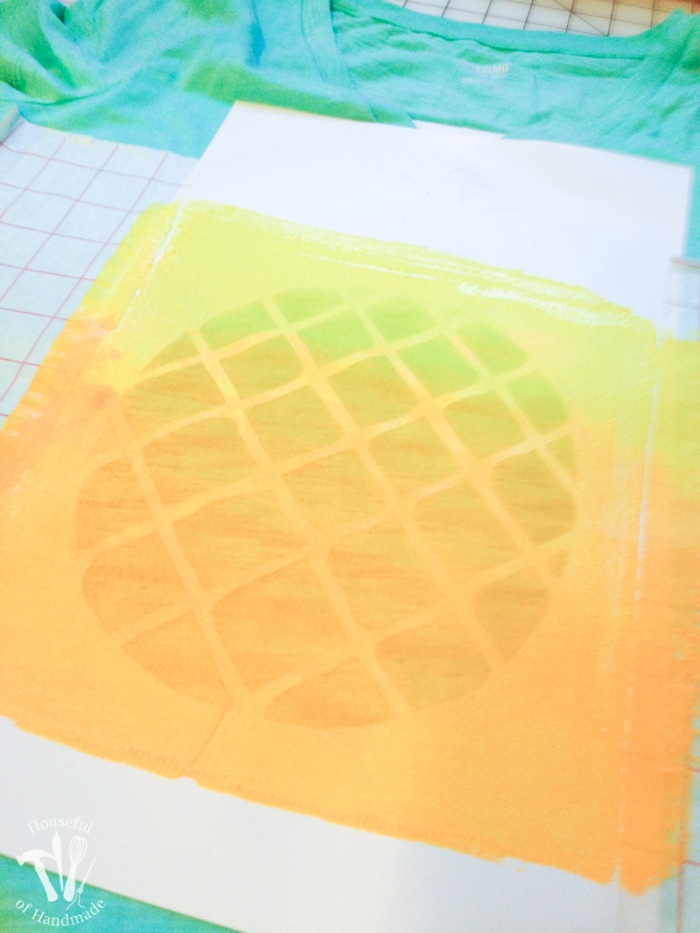 To add the green to the top of the pineapple, I chose to just use a foam brush and paint it on. I didn't want the ombre effect here. If you want to screen print, just make sure to cover up the body of the pineapple so you don't get green paint on it.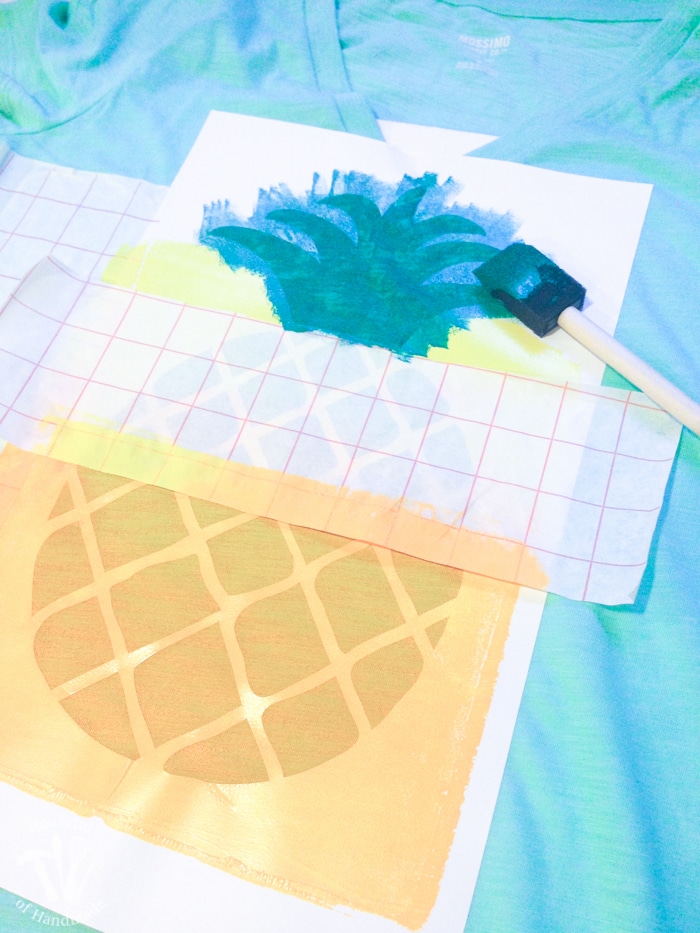 Wait for it to dry, again!
Then you can peel the vinyl off the shirt and give it a good iron with a dry iron and a pressing cloth over it to protect your iron (I use a piece of white cotton fabric/muslin for my pressing cloth). Do not skip the ironing because the heat is what sets the paint so it doesn't wash out.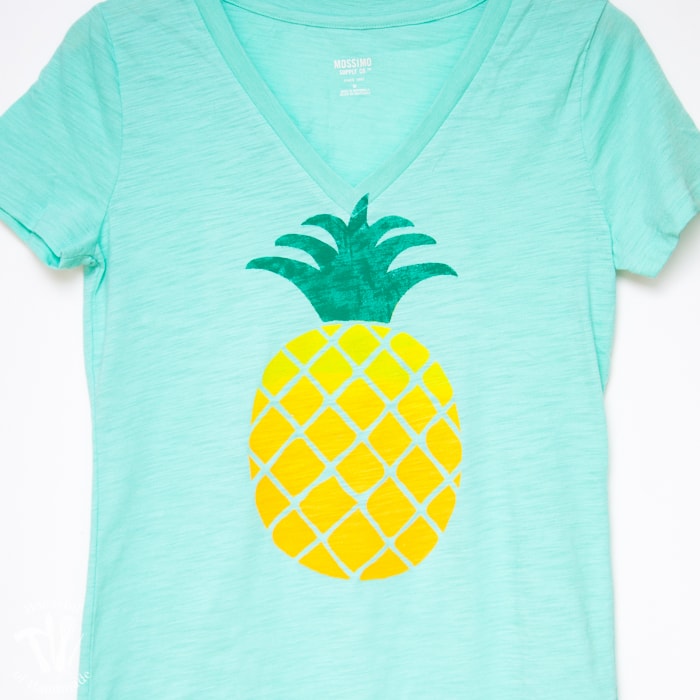 If you want to make your own pineapple shirt, I am sharing the cut file for the pineapple in my subscriber library. Click here to subscribe to my newsletter and gain access to all the freebies. If you already have your password, click here to download them.
ow you can wear your new shirt to a party! Oh man, I can't wait! I guess technically when you are reading this I will already be at the conference. So it would be better if I say, I'm having so much fun (I hope)!