One of the hardest things about remodeling your house slowly, you are ready to remodel the rooms you started with before you are done with all the other rooms! That is how slowly I am working my way through our house 🙂 We started with the basement about 2 years after we moved in.
The basement was "finished" in parts but it was done very poorly. There were wires coming out of the walls (which weren't actual walls but faux wood paneling), no closets, no padding under the awful carpet… the list goes on. So we ripped the whole basement to the studs, reworked the layout and finished the whole thing right! And we love it.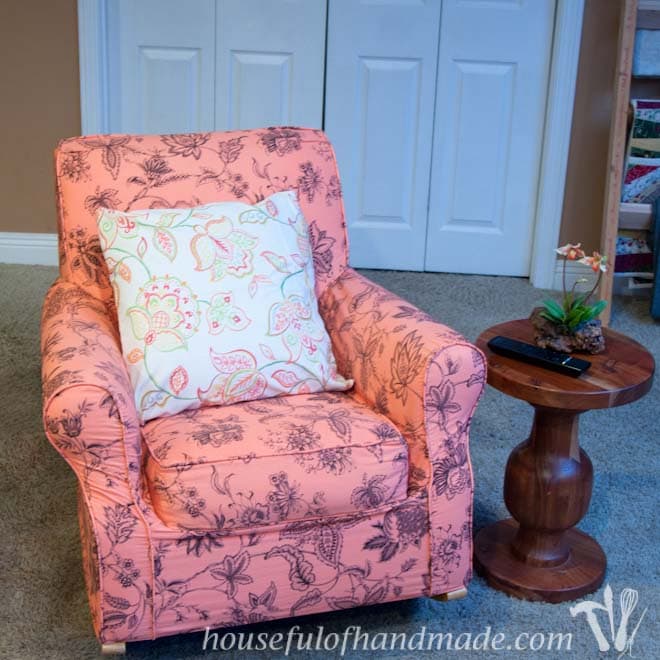 Ok, I "loved" it. I painted the walls a warm brown. The carpet is a neutral beige (which was a horrible choice for the basement but it's what I have). I got a fantastic Z-gallery sofa sectional that is brown leather with brown suede cushions and pillows. I have a dark brown stained entertainment center. Are you seeing the trend here? The entire basement great room was brown! It is very comfortable and warm, but I am over the brown.
I have considered repainting the room, but the basement has lots of nooks and crannies because of the large beam and post, the vents in the lower ceiling, and the weirdness that is a basement. I am not very fond of cutting in around all of that so I am opting to just leave the walls the warm brown, so I am trying to add in brightness and fun color wherever I can.
The first thing I have decided to add color to is an upholstered rocking chair that I bought when I was prego with my second baby. I got it basically for free thanks to some employee spiffs and a great employee discount (best part of working in retail). I knew I would regret the white slip-cover, but I loved the print and the chair and I wasn't shelling out hundreds of dollars for it, so I looked past the whiteness.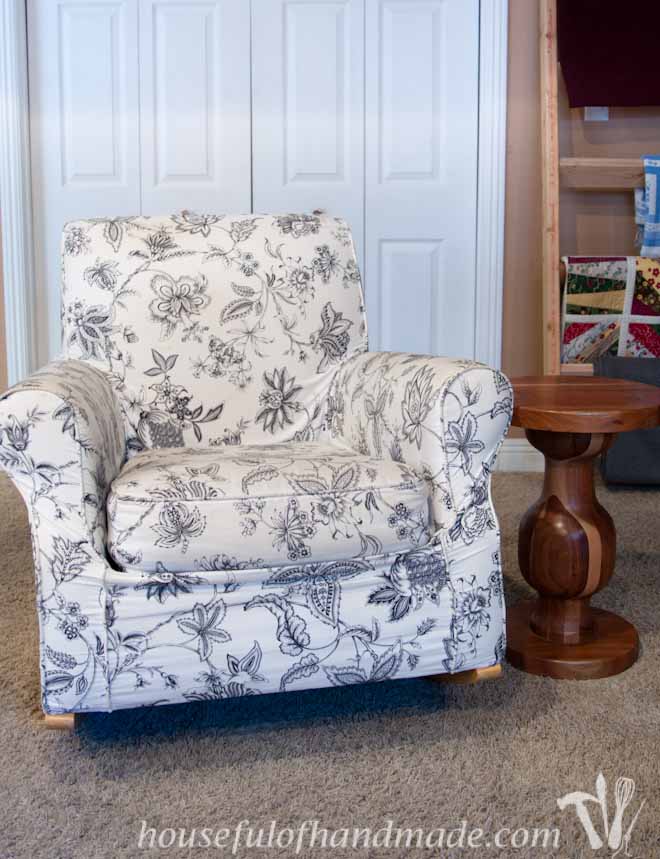 Years later (4 to be exact) and the poor white slipcover is less than awesome. Kids and life and all that have made it less than white. I hate looking too close because it isn't pretty.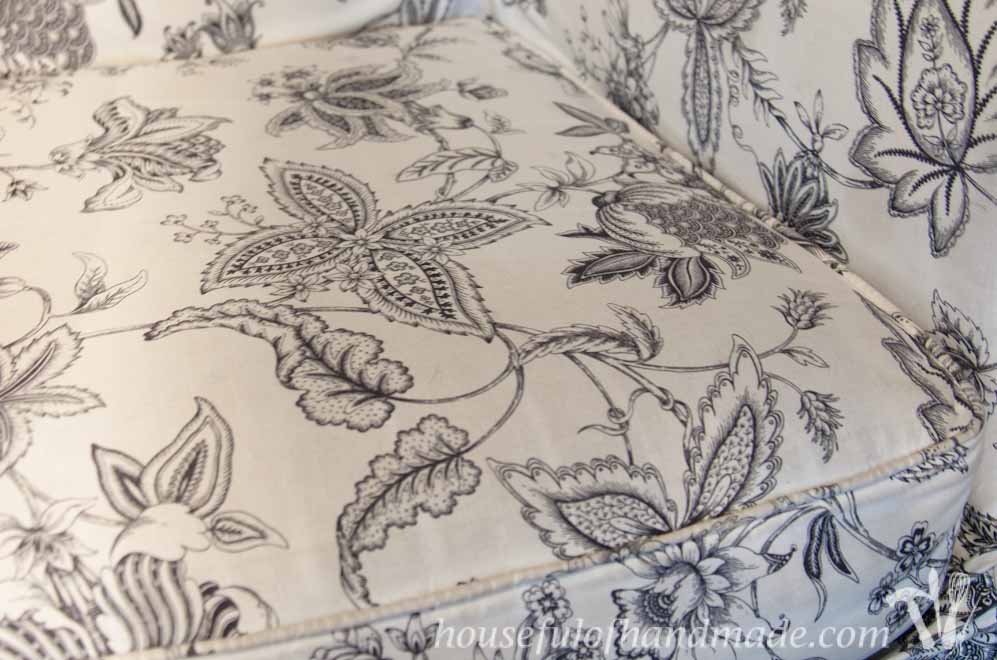 The seat and the edges are very dirty. I cringe whenever a friend comes over and sits on it. I promise, it's clean… but it just doesn't look it.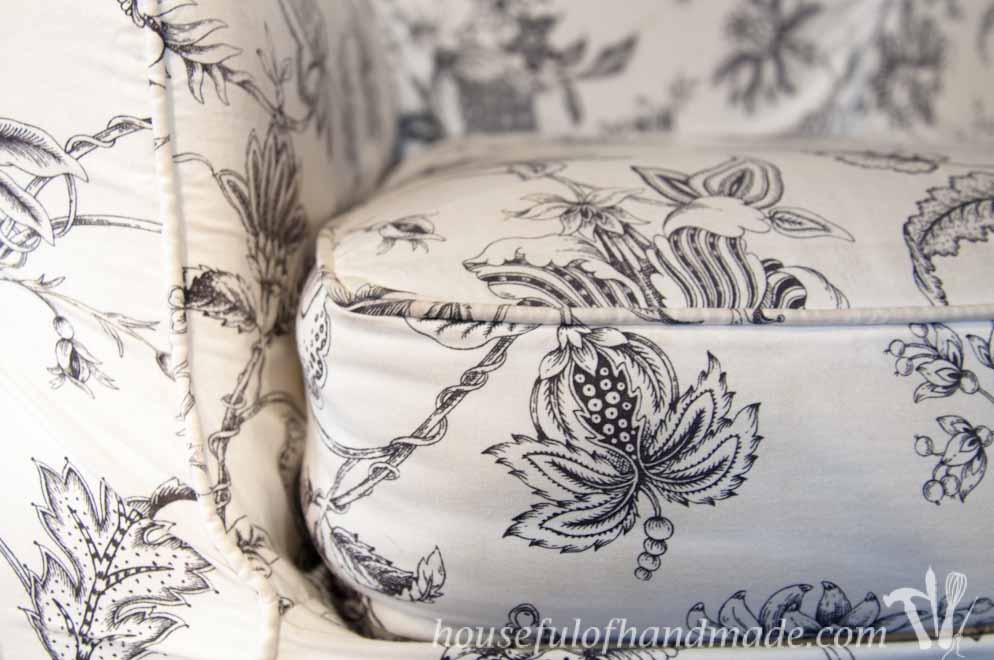 So enough of these awful pictures of my horrible housekeeping (believe me, this is not the only proof of my hatred of cleaning). I want to show you my new room inspiration. Yeah, pretty things! The year before we had our kids, we took a trip to Kona, Hawaii with my sister and parents. It was amazing. We found this little art shop with most amazing clay sculptures of orchids. Every one of the sculptures was AMAZING. They looked just like real orchids.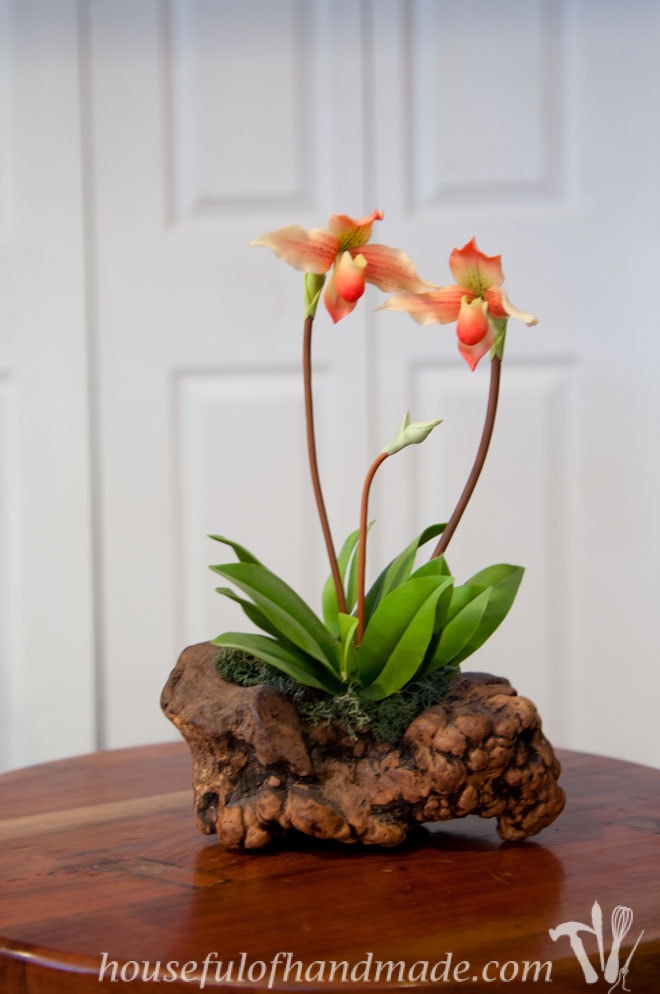 The hubby and I agreed that this would be our souvenir for our trip. It was pricey, but way better than a few cheap things. So after many trips to the shop we finally agreed on one in our price range and happily brought it home.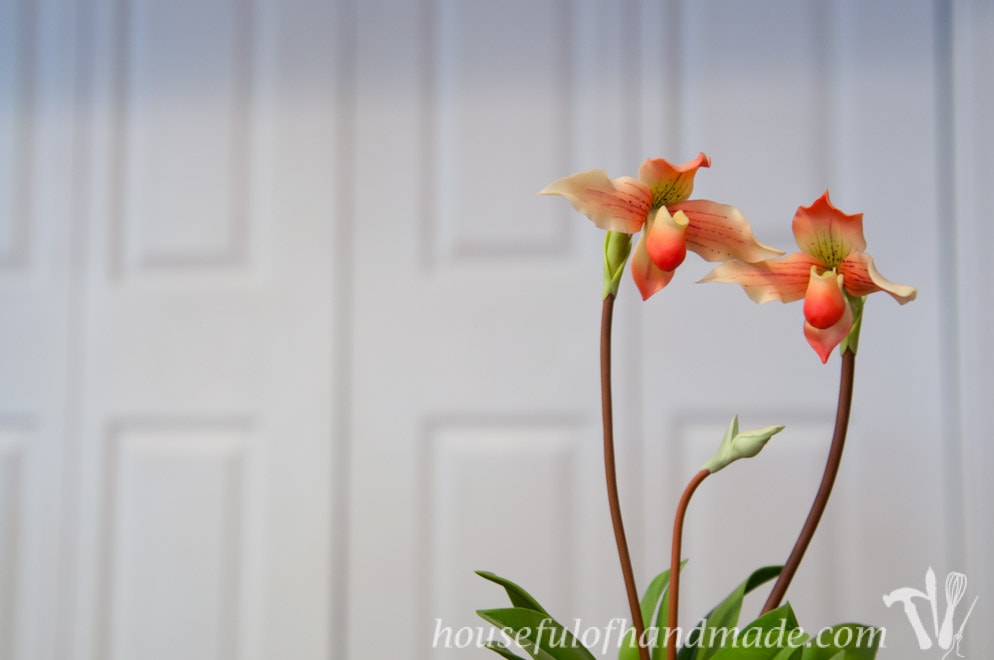 This beautiful piece of art has been in our family room ever since so it made the perfect inspiration for the new mini-remodel of the basement! The coral, yellow and sage colors of the orchids balance the browns of the stems and wood base. And the colors will add some brightness to my dull brown room.
Now that I had my inspiration, I just needed to start adding some color. I plan on making new pillow cases for every single pillow on our sofa sectional (yeah, there are a lot, the pillows are the back of the sofa). I figure that will give me a lot of color and pattern in the room.
I also wanted to get rid of the white on my rocking chair, but I still loved the black floral print on it… so I decided to just dye it! I stripped off that disgusting slip cover and got to work.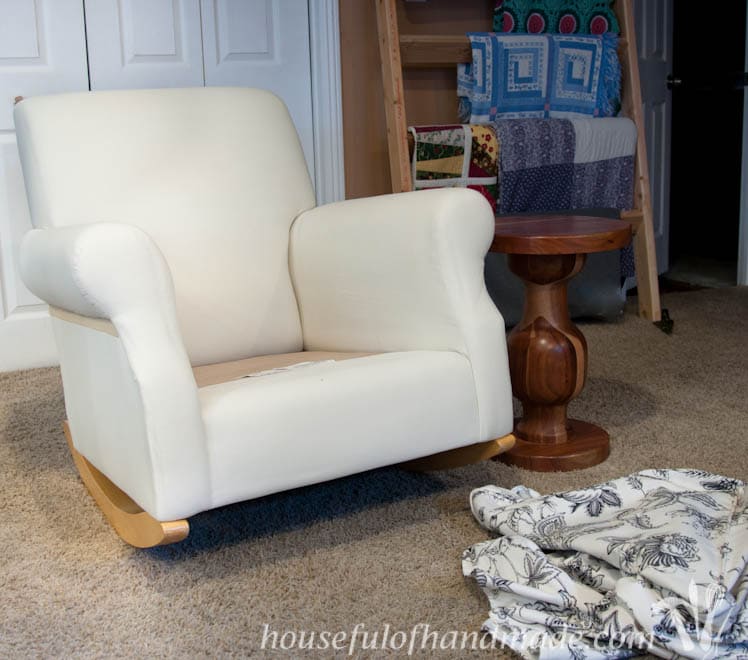 Before dying the slipcover, I needed to get as much of the filth off of it as I could. The best way to get your whites really white again, just soak them in Oxyclean for a few hours to a few days. Oxyclean will not damage the fabric like bleach will when left to soak for extended periods of time.
When I went to grab my Oxyclean, I realized I was completely out! Seriously, this project was starting off on the wrong foot (I should have listened). But I use Oxyclean in my homemade laundry soap, so I just decided to soak it in a hefty couple scoops of that.
I like to soak it in a storage bin so I don't have to waist a lot of water by filling up the whole bathtub. Then I soak it in hot tap water and every now and then I agitate and scrub together the really dirty spots. I could have let it soak overnight or a day or two, but I am impatient when I want a project done (and then I can't call it a 1 day makeover).
Ha ha! So I let it soak while I did the 3 loads of laundry that needed to be done that day. Then I ran it through a cycle in the wash to get it ready for the dye.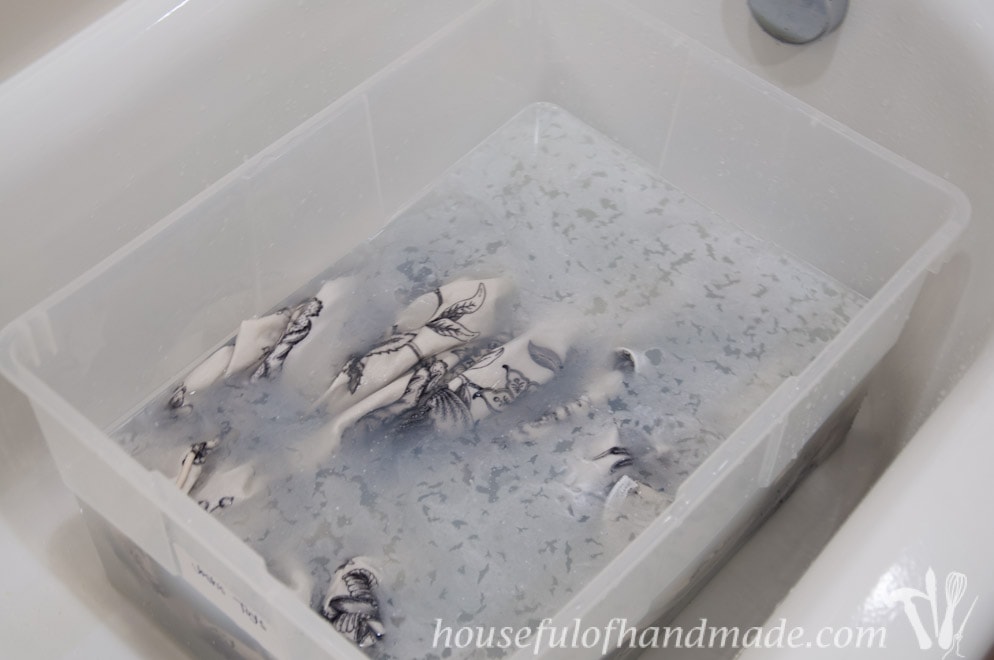 Rit dye is cheap (especially when you buy it at the craft store with a 40% off coupon) and easy to use. If you didn't know, they have a color chart online that tells you how to mix tons of colors with ones they have for sale. So I took a look and was torn between two colors. They were both a combination of the tangerine dye and the scarlet dye. So I grabbed a container of each and got to work!
The orange was a ratio of 6:1 tangerine:scarlet and the warm red was a 2:1 ratio so I decided to go in between with a 3:1 ratio. When I converted the volumes from this recipe, it said I needed 6 cups of the tangerine dye for 6 gallons of water I needed to submerge my slipcover, but on the back of the 8 oz liquid dye container it to mix the whole container (which is 1 cup) in 6 gallons of water.
So I was torn and figured, I'd just jump in and see what happened… maybe not the best idea in hindsight, but it turned out eventually (keep reading and you'll see what I mean).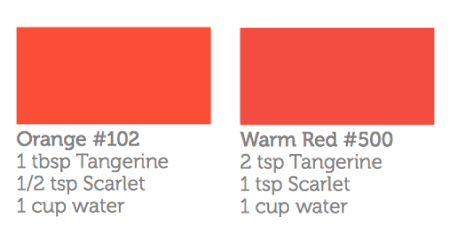 So I filled my tub up with 6 gallons of hot water and then poured in the whole container of tangerine liquid dye. The scarlet dye was a powder, so I dissolved it in 2 cups of boiling water then I threw half of it into the tub and stirred it all up. I added the 1 cup of salt the instructions called for and dumped the damp slipcover in it. It got dark FAST!
The instructions say to agitate it for 30-60 minutes in the dye, but it was instantly darker than I wanted. It was not going to add any brightness to my basement. I left it in for only 5 minutes, then rinsed it out. I hoped it would lighten in the wash so I threw it in. When it came out… it was still pretty dark!
I did the only thing I could do without a trip to the store, I bleached it! I'm not gonna lie, I was scared, but I figured if it was awful I could re-dye it. I filled the bathtub this time cause I wanted lots of room to agitate it so bleach would be even all over.
Tossed in only about 1 1/2 cups of bleach for a very light solution, took a deep breath and threw it in. The bleach pulled out quite a bit of the yellow and lighted it up perfectly!
After another go in the washer… I had a slipcover that was the perfect coral color for my soon to be bright and sunny basement!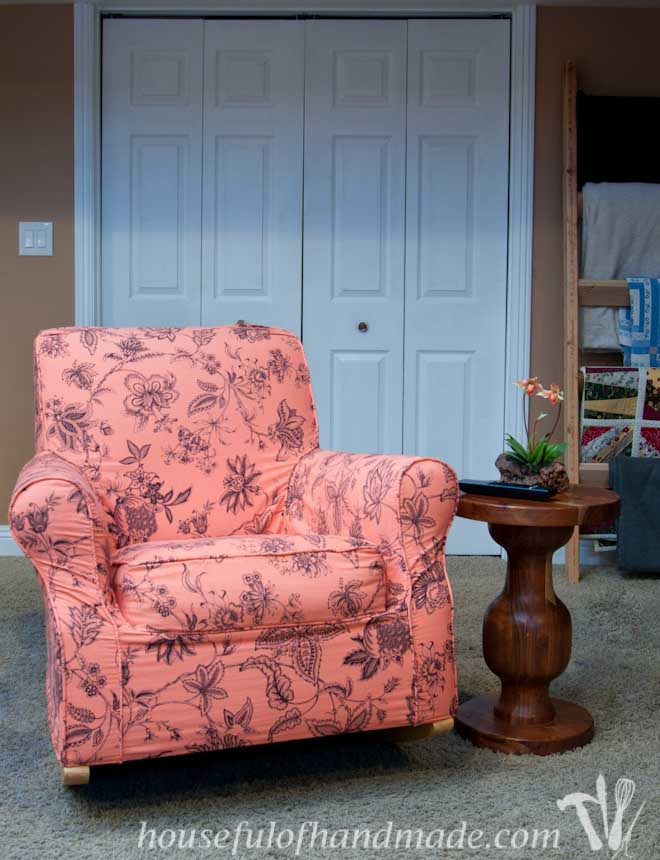 And the best part, it looks so clean and new. See, no more cringing when friends and family come over.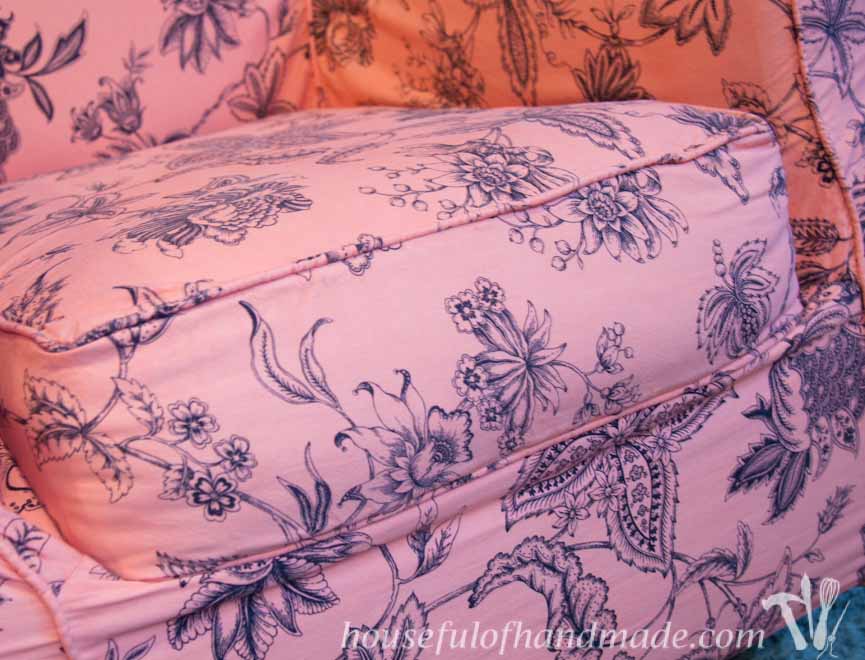 I don't have any pillow covers ready for the sofa yet, but I did buy some fabric for new window covering so I tested it out on the updated chair. And it looks so good together!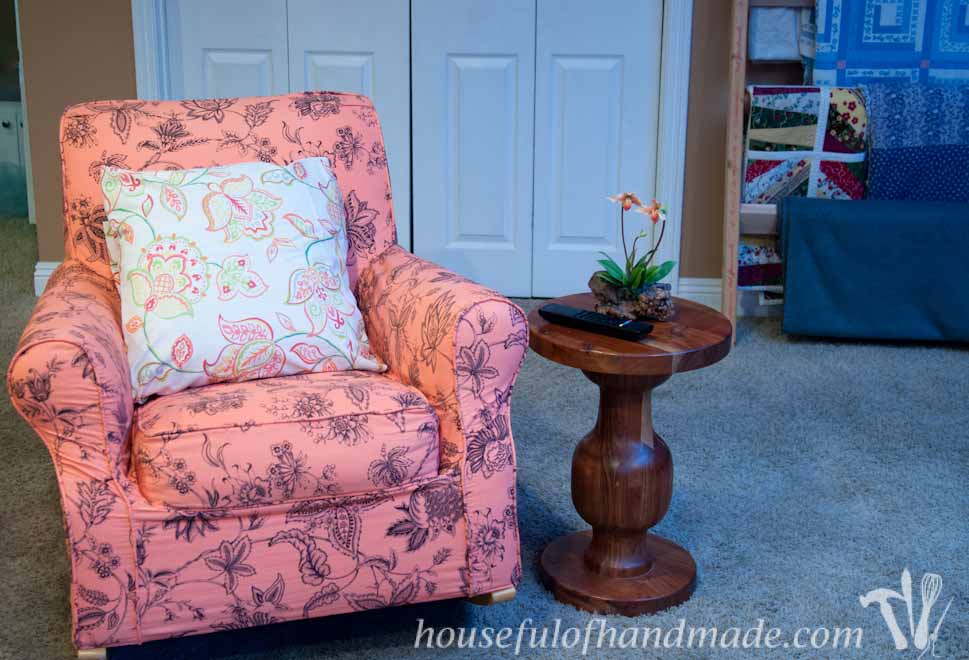 I am so excited to make the basement bright and happy now! The colors are going to lighten up all that brown beautifully. I can see the room starting to look like my inspiration 🙂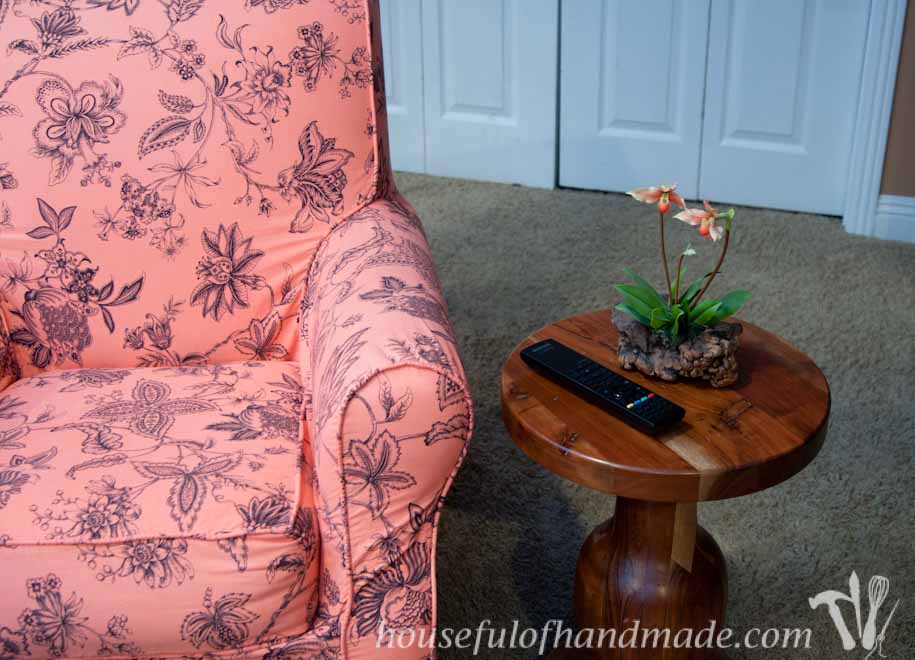 Now you'll probably see a lot of pillow case tutorials coming up as I recover all the brown, light brown and dark brown pillows. I think I am going to knock off this one from Pottery Barn to begin with. I can easily use my colors and I love the brightness of the cream background!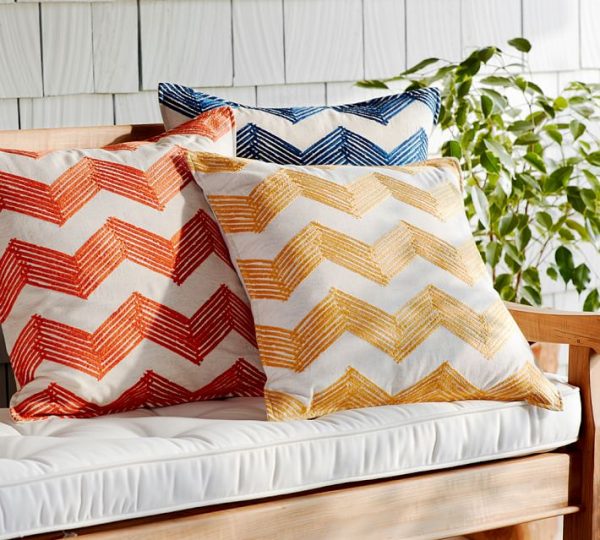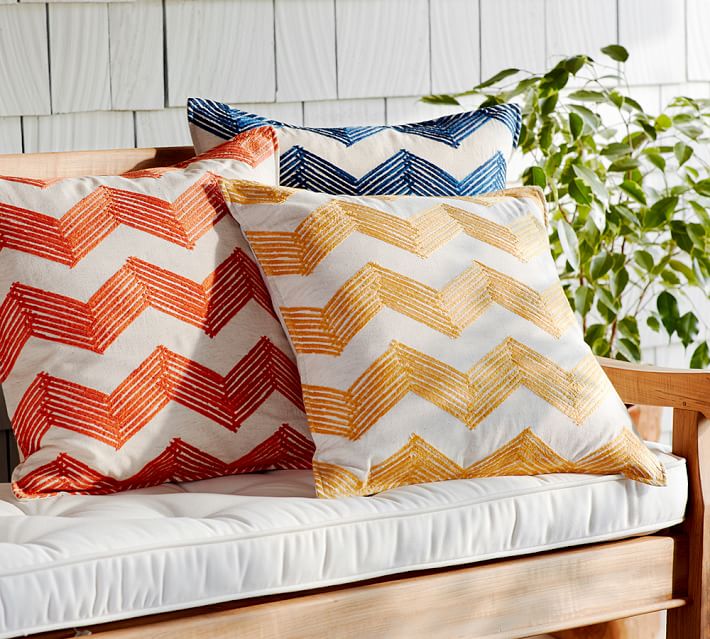 Now I'm ready to run off to the fabric store and finish updating the basement. I know, I still have so many other rooms to finish (like the rest of the dining room) but I promise I am working on those too. I just sometimes need a break, or a simple project that I can finish in a day and feel accomplished!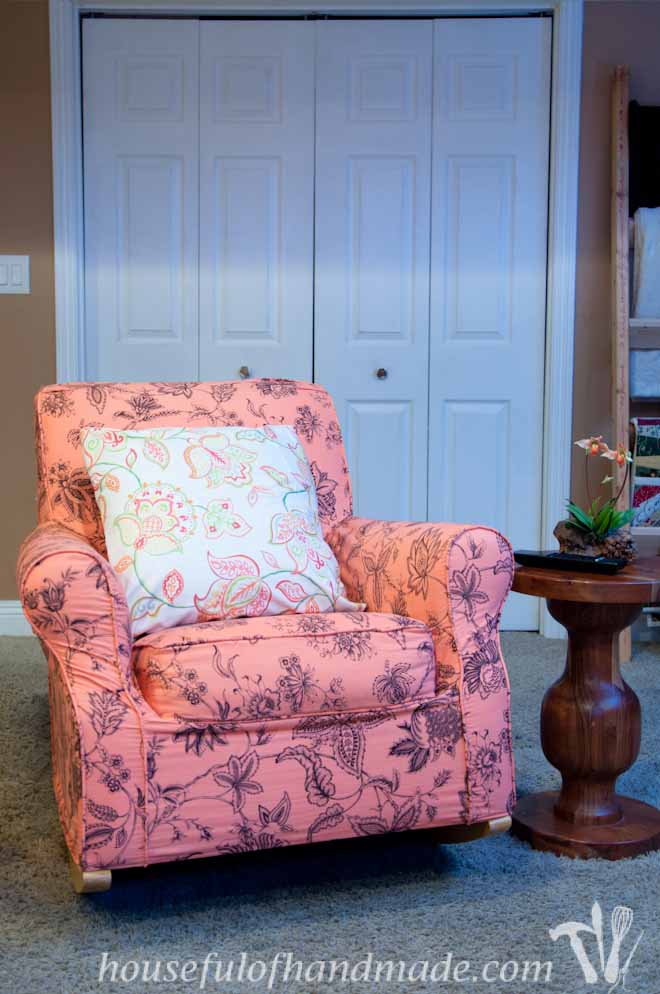 What do you think of my chair makeover? Worth $5 🙂