Saturday was a busy day, but super awesome!!!  I finally got the new kitchen island that I have been dreaming about. This was one project that I didn't DIY  but I am so happy with it.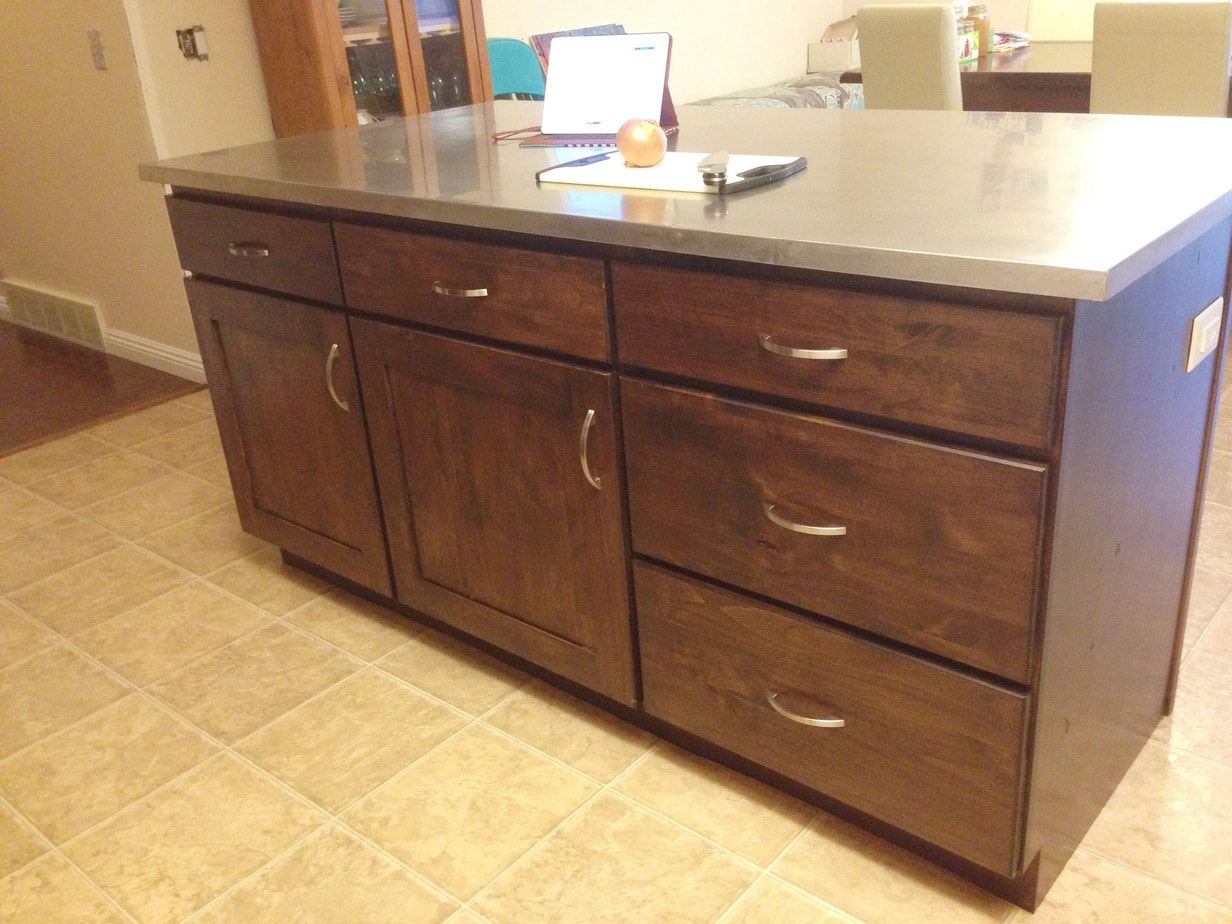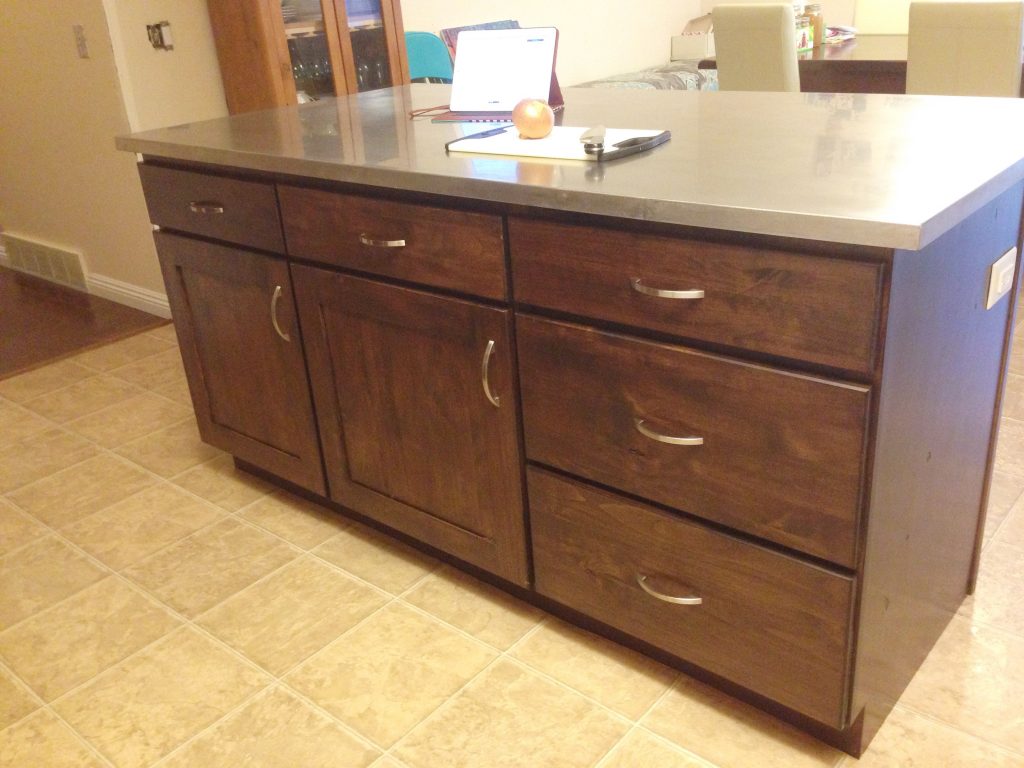 My kitchen cabinets are original to our house that was built in 1979.  They have seen a few good years of use, and are definitely looking their age.  I forgot to get a picture before they started tearing things out, but I did manage to get this picture that shows a little of how bad it was.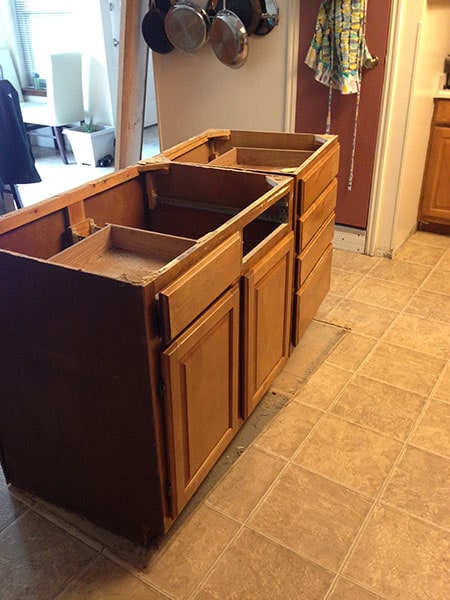 I am hoping that this time next year I will be redoing the rest of the kitchen, but the new kitchen island is making me fall in love with my kitchen again!
Having it completely out was kinda surreal, there was so much space that I almost thought maybe it would be good to have it out permanently.  Luckily that was a fleeting thought.  However, it would have been a great place for dance parties!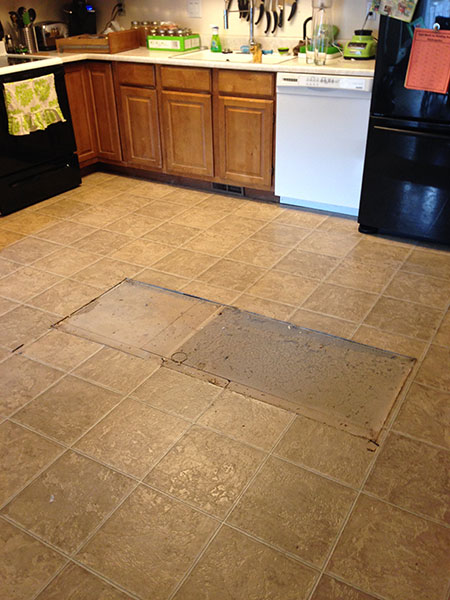 So about 3 years ago I found a great deal on some dining table tops only, they were all missing their legs but I saw their potential.  I picked up 2 stainless steel table tops, knowing that I would use one for my future kitchen island and one for a bbq/outdoor table that is still going to happen, a rustic farm style wooden top for an outdoor dining table still in the works, and a round pedestal top for a game table that will probably wait till I have a game room.  Since they were such a good deal I am okay storing them until the projects can be accomplished :-).  And now I finally got to use one of the table tops, look at how pretty the beautiful stainless steel is.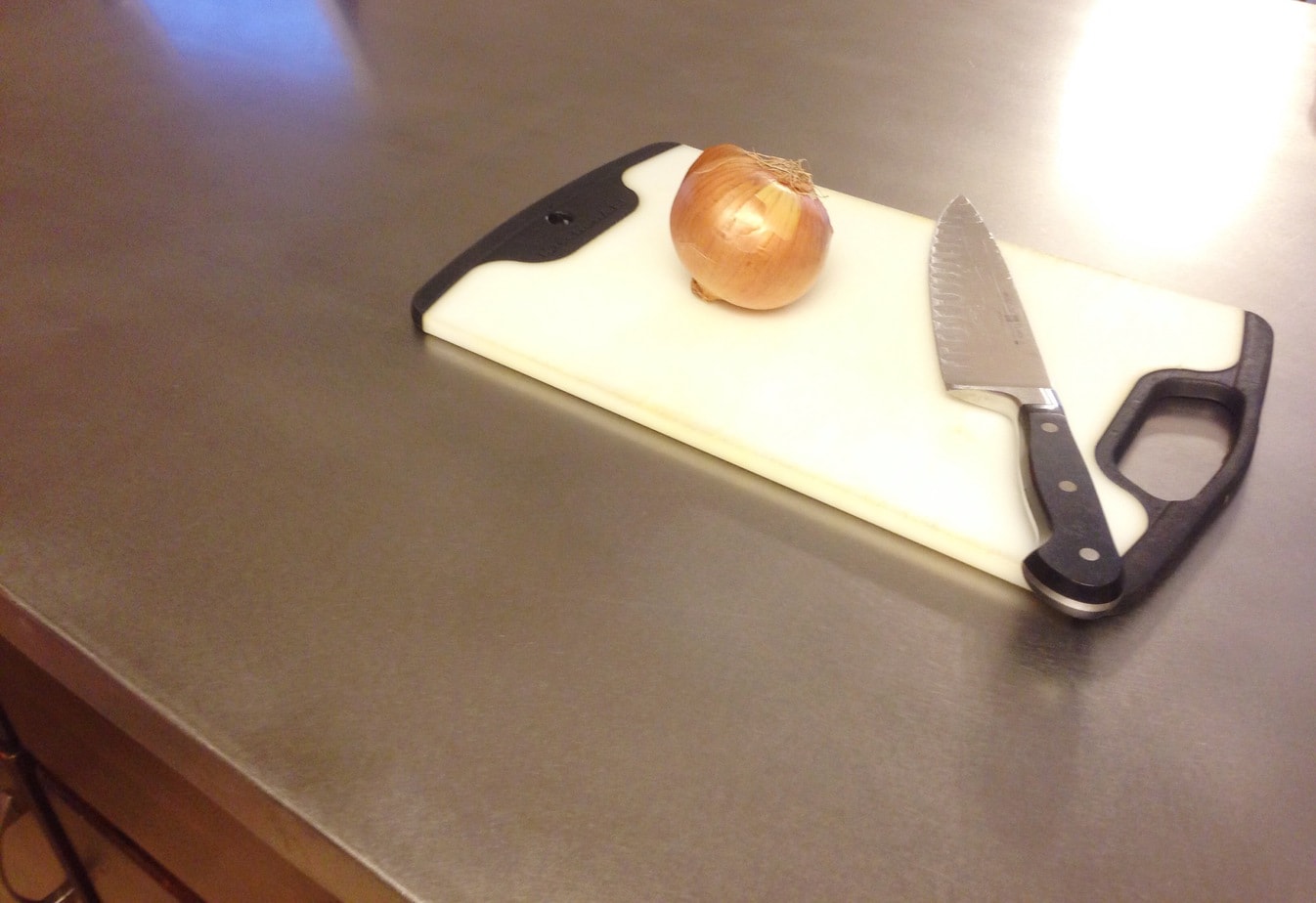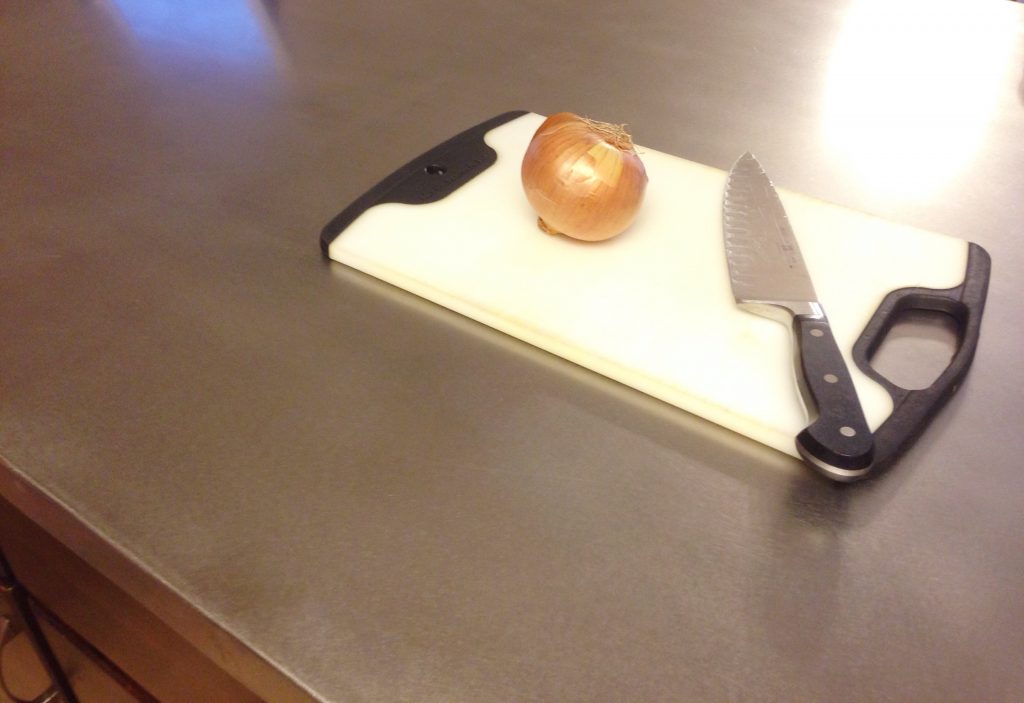 The stainless steel is also so great to cook on.  I am loving the fact that I can take hot pans directly from the stove and place them on the island.  No need to worry about the burning or melting anything!
We were able to increase our cabinet space by about 9 inches to fit the table top, and the overhang on the back of the island for sitting at is deeper and much more comfortable.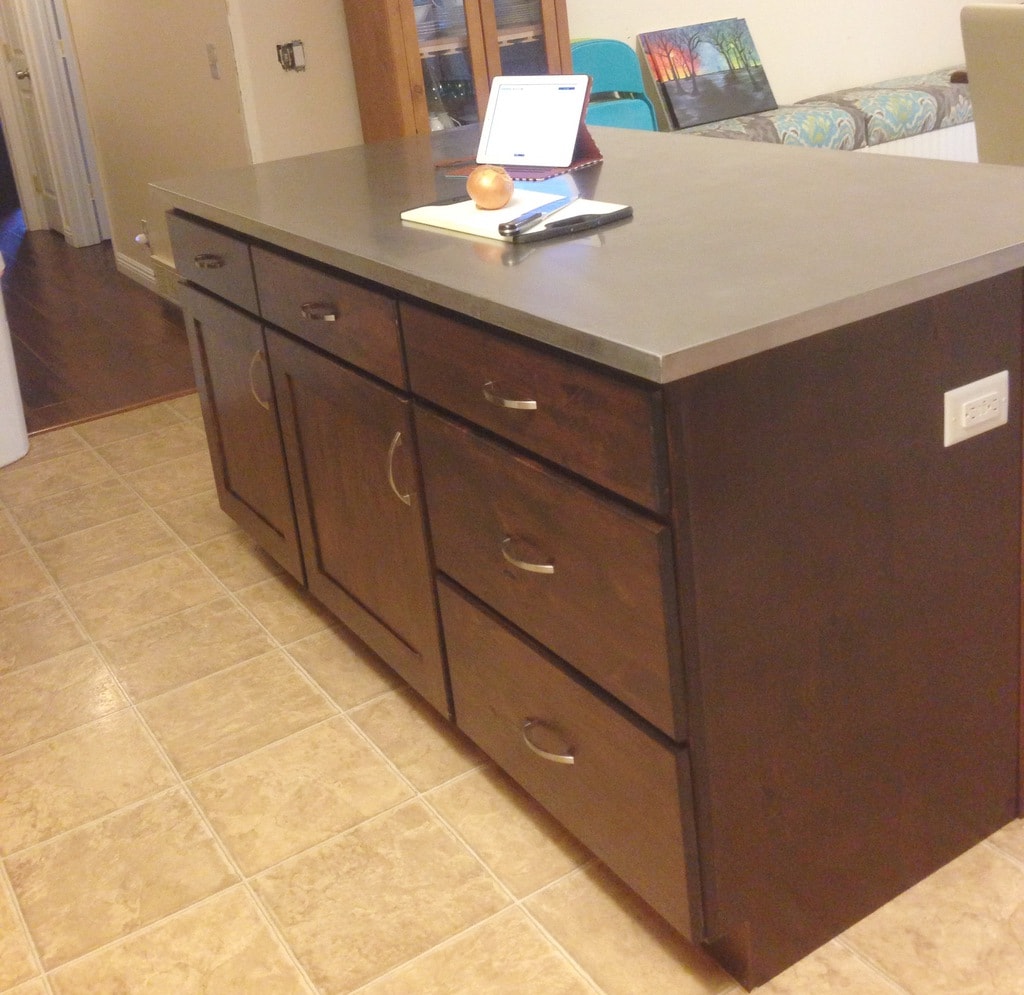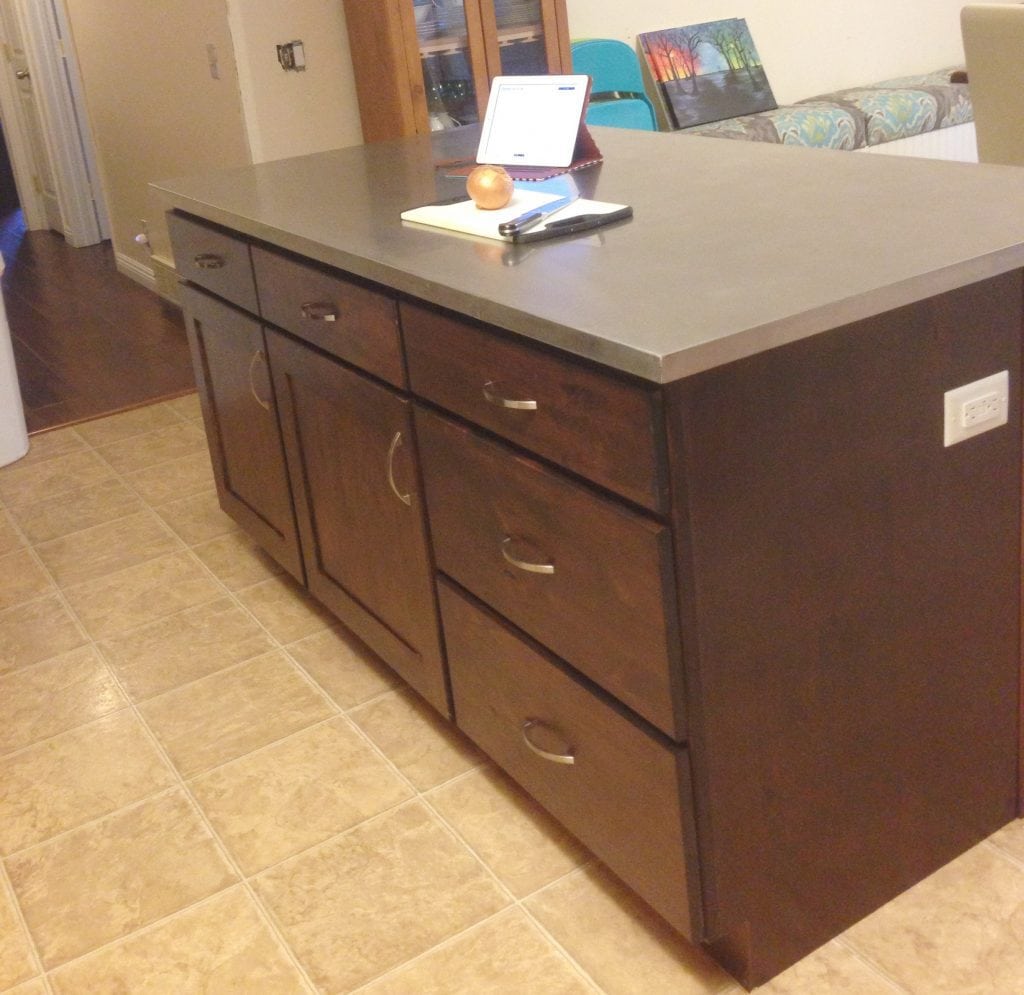 But probably my favorite new addition to our island is the 2 electrical outlets, one on either side.  I didn't have these before and you would find me using extension cords to be able to run my mixer on the island.  Since my kiddos always want to help cook, the counter space by the outlets was too tight of a fit for all 3 of use to squeeze in so I'd have to use the extension cords to pull the power to the island, then I worried about the kids tripping on them, pulling the mixer over, etc.  I just tried to avoid having them help… which isn't really what I wanted either.  Now we all fit so comfortably around the new island and the appliances are plugged in and safe!  Thanks to my daddy for coming up to help me out with this.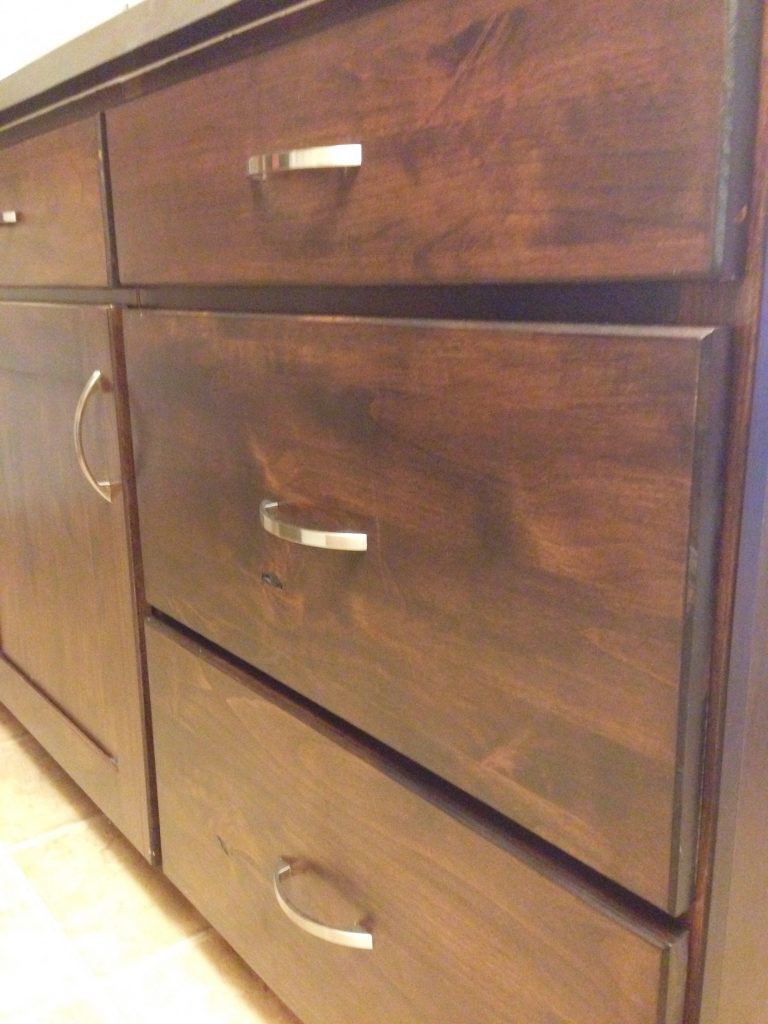 And even though I went from a set of 4 drawers to a set of 3 drawers, I was able to move my table cloths and cloth napkins to the island.  The new drawer construction and drawer slides means the drawers can be wider in the cabinet box and then add onto that full extension slides and I have gained so much space!  I have lots of room to grow.  Now I need to make custom drawer dividers so that everything stays nice and organized.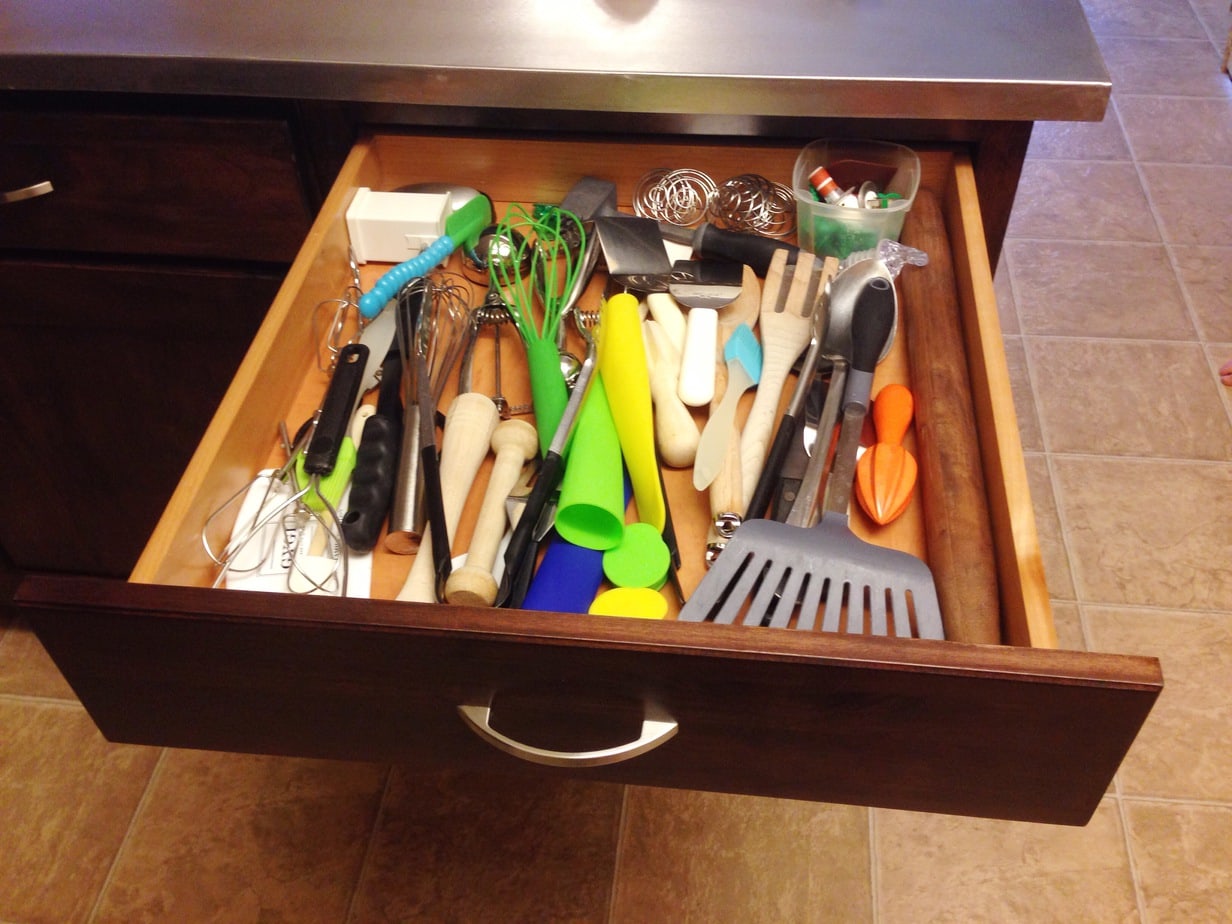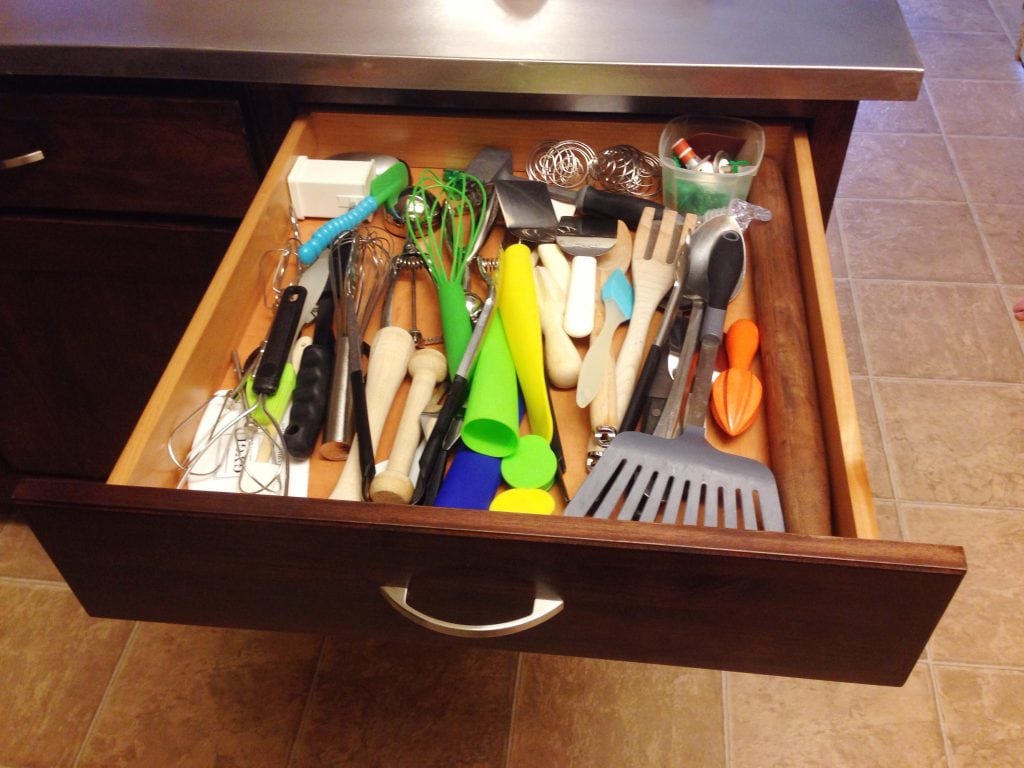 And in true DIY fashion, I had to do something with the old island that was ripped out of the kitchen.  Even though the cabinets are old and worn, they are still useable for a new garage worktable/storage.  I spent Sunday morning fitting the cabinets into my garage and adding some wood I had left over from another project on top to create a great new work space.  I also organized all my tools and stuff into the drawers.  I am sure my projects will be way easier now that I finally have a proper space to build (even though the lighting is kinda sad as you can see by these dark pictures)!