Make delicious peanut butter cup brownie bites with this easy recipe.
This weekend was our family reunion at my parents house. All but one of my sisters and their families were able to get together for a few days of fun and craziness. And when I say sisters, there are 6 of us girls so the craziness is pretty high.
Whenever we get 2 or more of the sisters together, you can expect (1) loud and excited talking and (2) something delicious and chocolatey to eat!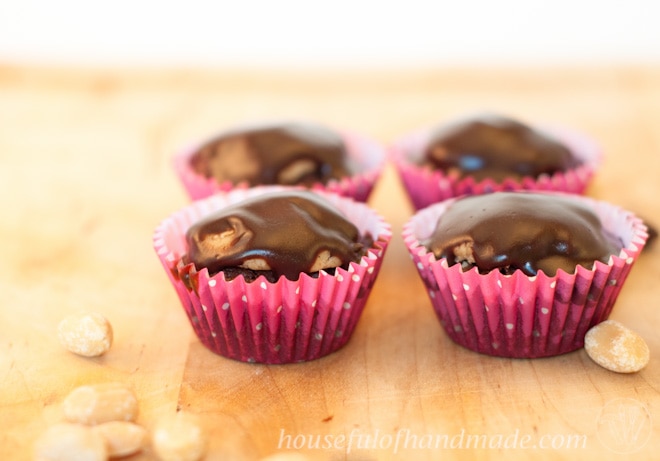 So I had to prepare for our fun weekend by making something not-so-healthy to take with us to eat. I was really good the whole week leading up to our reunion so I could indulge and not feel bad about sitting around eating deliciousness while catching up with mom and the girls!
I created this recipe last year, when I was oh-so-in-love with homemade peanut butter cup filling and needed to find a reason to put it on something else. If you've never made homemade peanut butter cup filling, you should just make up a batch of it and eat it with a spoon!
I promise you will thank me for it. It's so creamy and peanut buttery, and not as sweet as the store bought peanut butter cups.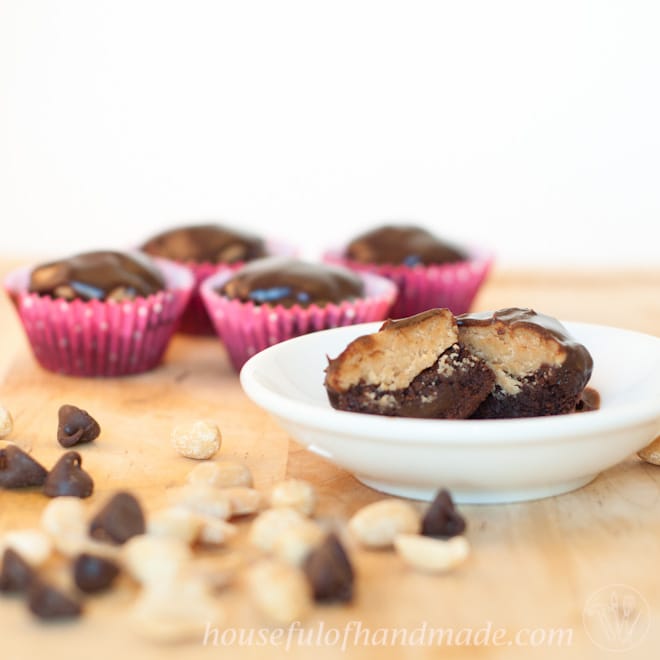 This recipe for Peanut Butter Cup Brownie Bites is easy, don't be fooled by the 3 step process. I actually made these up in between running errands and making dinner. They are pretty forgiving like that.
Start by mixing up the brownie batter. You can use a brownie mix if you don't want to make them from scratch, but this recipe is so easy and you only need a bowl and spoon.
Melt 1/2 cup butter in a large bowl. Then add in 2 eggs, 1 1/4 cup sugar, and 1 tsp vanilla and stir using a spoon (you don't want to over-mix the brownies so they stay gooey).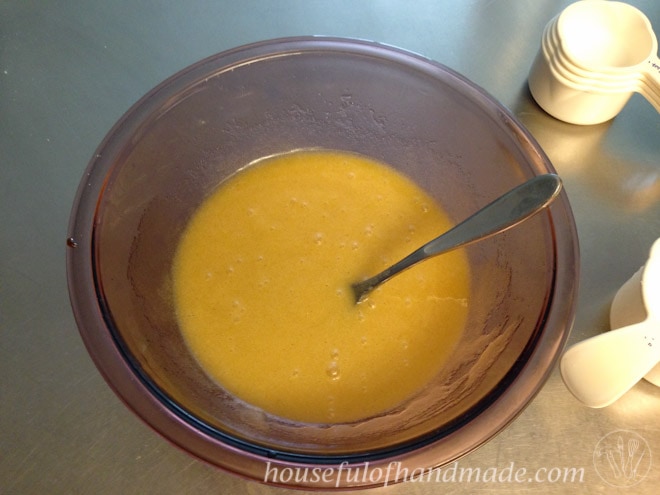 Sift together 3/4 cup cocoa powder, 2/3 cup flour, 1/4 tsp baking powder, and 1/4 tsp salt. I like to just add the ingredients to my sifter sitting on a paper plate, then sift it all to the plate.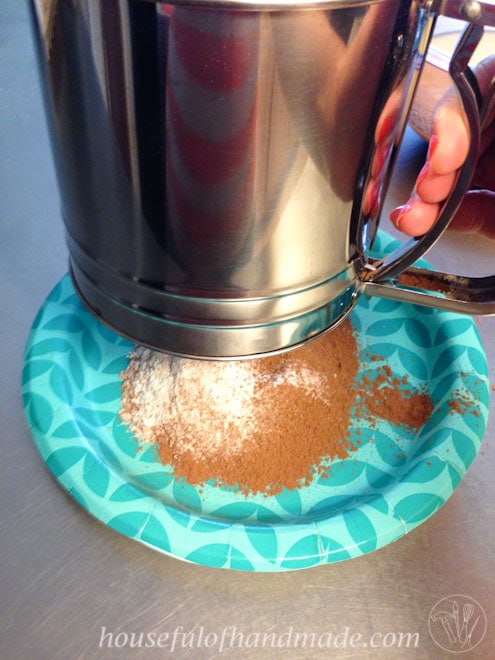 Then you can pinch the plate into a taco shape and slide your sifted flour mixture into the egg mixture.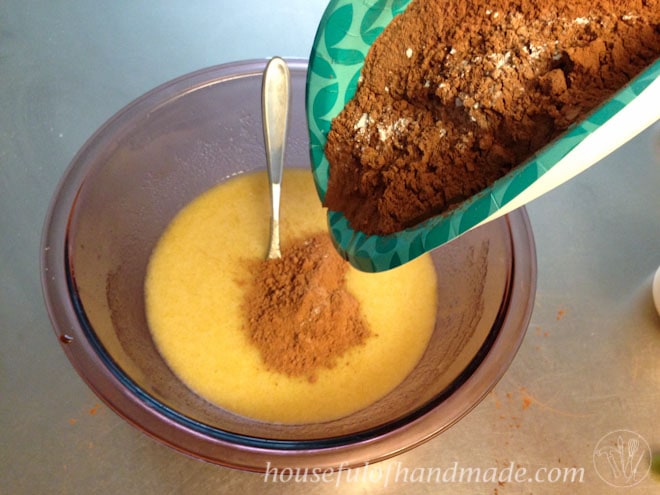 Stir it together with the spoon and you're done! See it's as easy as a brownie mix 🙂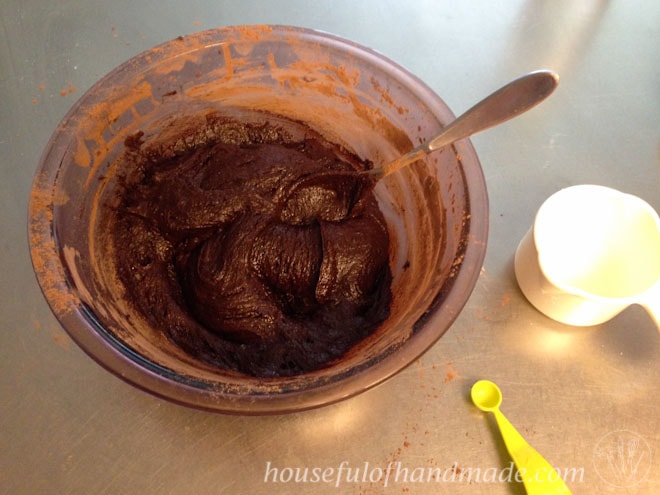 To create cute little bites of peanut buttery goodness, you will need to scoop 1 Tbsp scoops of the brownie batter into the mini muffin cups in a mini muffin pan. I used my #70 cookie scoop to make perfect little brownie bites.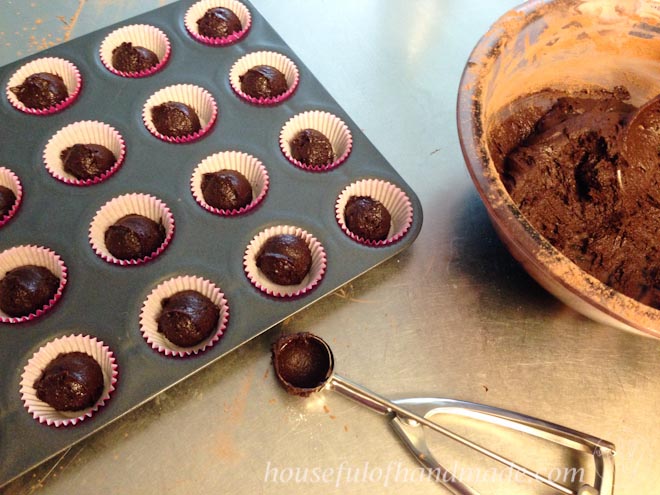 Put these in a 350 F oven for 8-10 minutes. You will want to error on the side of underdone because those little brownies can get dry fast!
While the brownies are baking, mix together your peanut butter cup filling by adding 1 cup powdered sugar, 1/2 cup creamy peanut butter (I use natural peanut butter and it's amazingly delicious), 1 tsp vanilla extract and 2 Tbsp milk together with your mixer. I use my kitchen aid with a paddle attachment.
When the brownies are done cooking and slightly cooled (no need to make sure they are completely cooled, it's not frosting), you will want to take 1/2 Tbsp size balls of the filling and smash them flat.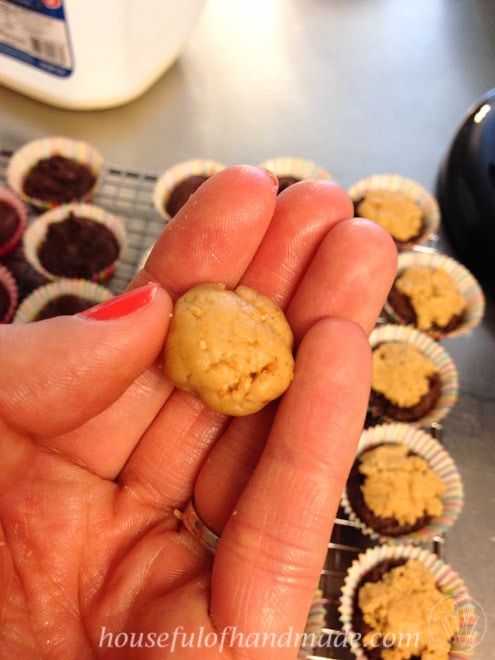 Carefully press the smashed peanut butter filling ball on top of your brownie. They already look so good, but I promise the last step will take them over the top!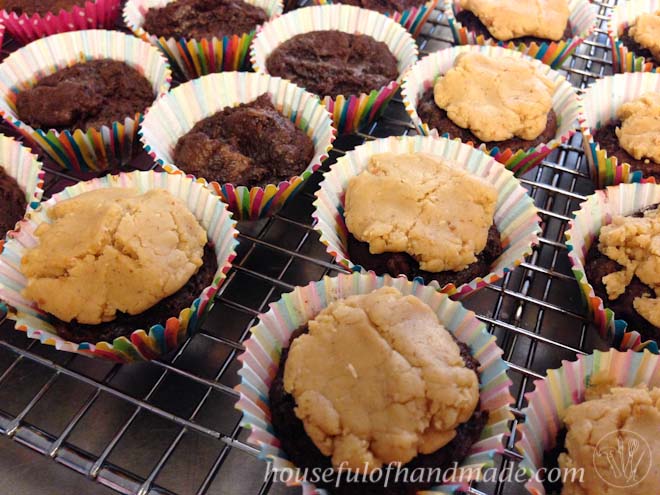 Now it's time to whip up a chocolate ganache. A typical ganache is warmed heavy cream mixed into chocolate, but I usually don't have heavy cream on hand and a little trick I learned is that you can still create a ganache without it.
You just need to add fat to your milk and it will make a creamy delicious ganache. To do this, melt 1 1/2 Tbsp butter into 1/3 cup milk (I use 2%) in a microwave safe bowl for 1-1 1/2 minutes.
You want warm, almost simmering, milk and totally melted butter. Pour that over 4 oz semi-sweet chocolate chips.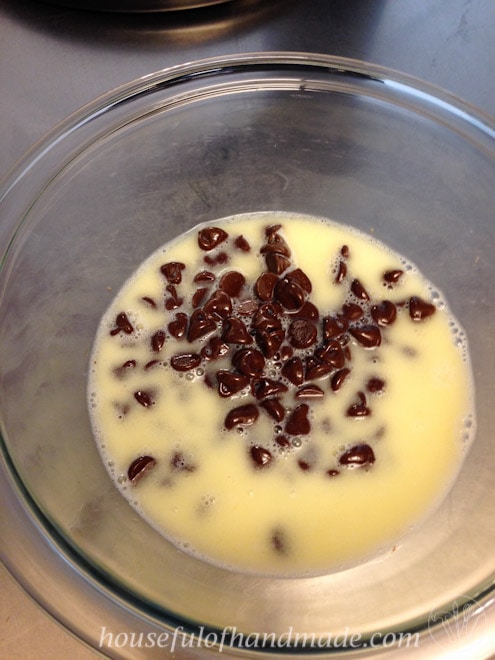 Let it sit for 2 minutes, then whisk it together until you have a smooth, creamy chocolate sauce.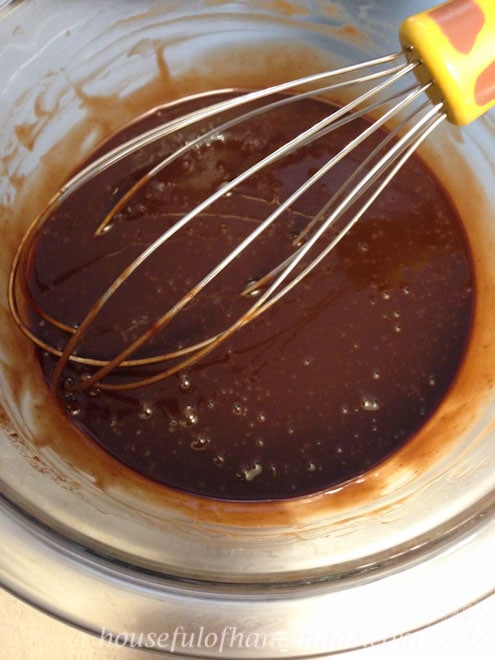 Let the ganache cool until it thickens up a bit. I like to place it in the refrigerator for 5-10 minutes to do this. Then spoon it over the top of the peanut butter filling. Let the ganache set up or just dig right in and get totally messy 🙂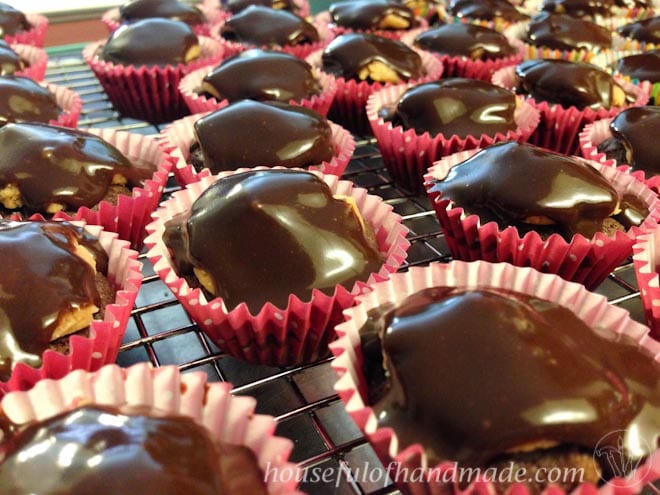 Now you have a fancy peanut butter cup brownie bite that will curb your chocolate cravings. They are perfect to eat while playing games and catching up with your sisters!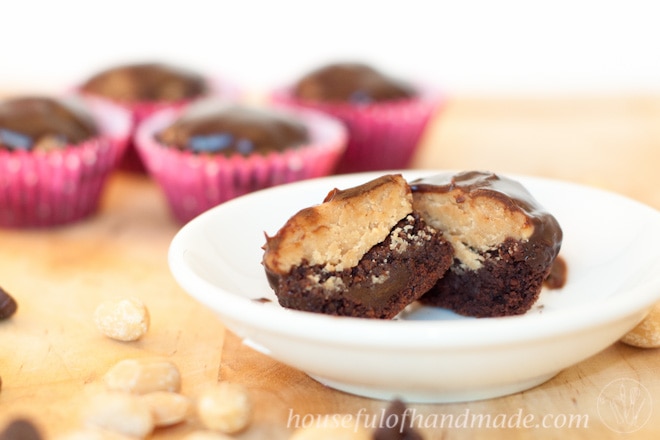 These Peanut Butter Cup Brownie Bites will keep for a few days in an air tight container, if they can last that long! Our's didn't make it to day 2 🙂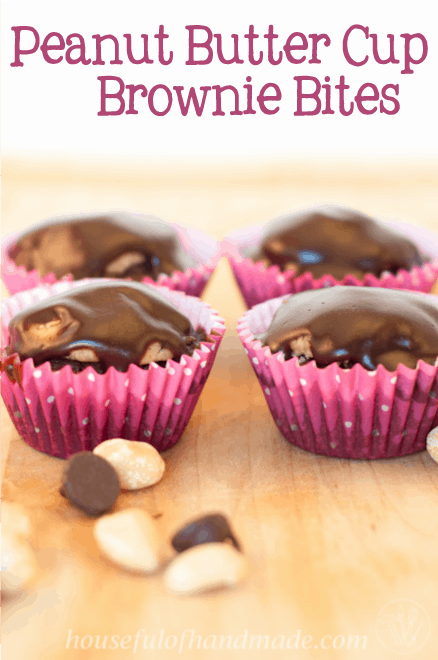 And now I have eaten my weight in chocolate and can be good again this week 😉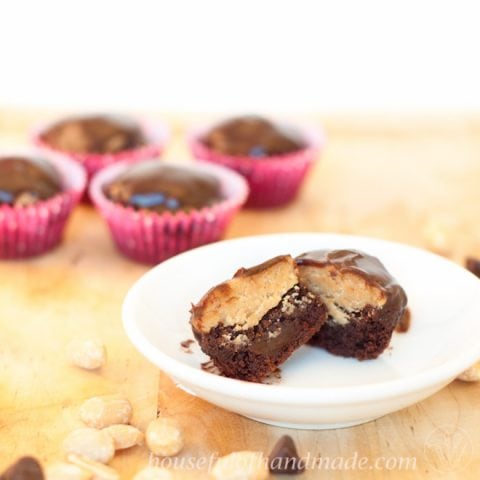 Peanut Butter Cup Brownie Bites
Yield: 48 brownie bites

Prep Time: 35 minutes

Cook Time: 25 minutes

Total Time: 1 hour

Peanut Butter Cup Brownie Bites are a fancier take on a Reese's Peanut Butter cup. A brownie bite is layered with peanut butter cup filling and topped with chocolate ganache.
Ingredients
Brownie Layer
1/2 cup (1 stick) butter
2 eggs
1 1/4 cup sugar
1 tsp vanilla
3/4 cup cocoa powder
2/3 cup flour
1/4 tsp baking soda
1/4 tsp salt
Peanut Butter Filling
1 cup powdered sugar
1/2 cup peanut butter
1 tsp vanilla extract
2 Tbsp milk
Ganache Topping
4 oz (approximately 3/4 cup) semi-sweet chocolate chips
1/3 cup milk
1 1/2 Tbsp butter
Instructions
Preheat oven to 350F.
Melt 1/2 cup butter in large bowl. Mix in eggs, sugar, and vanilla with a spoon (be careful not to overheat them so you get goes brownies).
Sift together cocoa powder, flour, baking soda and salt. Pour into butter mixture and stir until combined.
Place mini muffin liners in a mini muffin pan. Scoop 1 Tbsp mound of brownie batter into each muffin cup. Bake 8-10 minutes. Be careful not to overtake (error on the side of underdone for goofy brownie bites).
While brownies are baking, mix powdered sugar, peanut butter, milk and vanilla extract for peanut butter layer together in the bowl of your stand mixer using the paddle attachment.
Roll 1/2 Tbsp balls of peanut butter filling and then flatten. Place one on the top of each cooled brownie bite.
Make your ganache topping by heating butter and milk in microwave for 1-1 1/2 minutes until butter is melted and milk is not quite simmering.
Pour over chocolate chips and let sit for 2 minutes. Then whisk until smooth.
Let ganache cool in the refrigerator 5-10 minutes until thickened. Spoon ganache over peanut butter filling.
Let ganache cool completely. Store in an airtight container.