Guess what I have been spending all my time doing? Trying to preserve loads of apples! Still… I know! I've been working on these for weeks now. And I am so crazy that I asked my sister to bring me more apples. She brought me 3 more giant boxes.
I spent last weekend juicing apples to can the apple juice. I love having jars of all natural apple juice in my pantry, but the problem with juicing apples, you end up with tons of apple pulp that usually gets thrown out.
I didn't want to throw all that goodness out, so I turned some of it into apple butter and pumpkin apple butter! Yum. This stuff is amazing. But you cannot preserve the pumpkin apple butter for storage in the pantry, and my freezer space is limited, so I had to find a way to use some of it up and these pumpkin apple butter oatmeal crumb bars were perfect.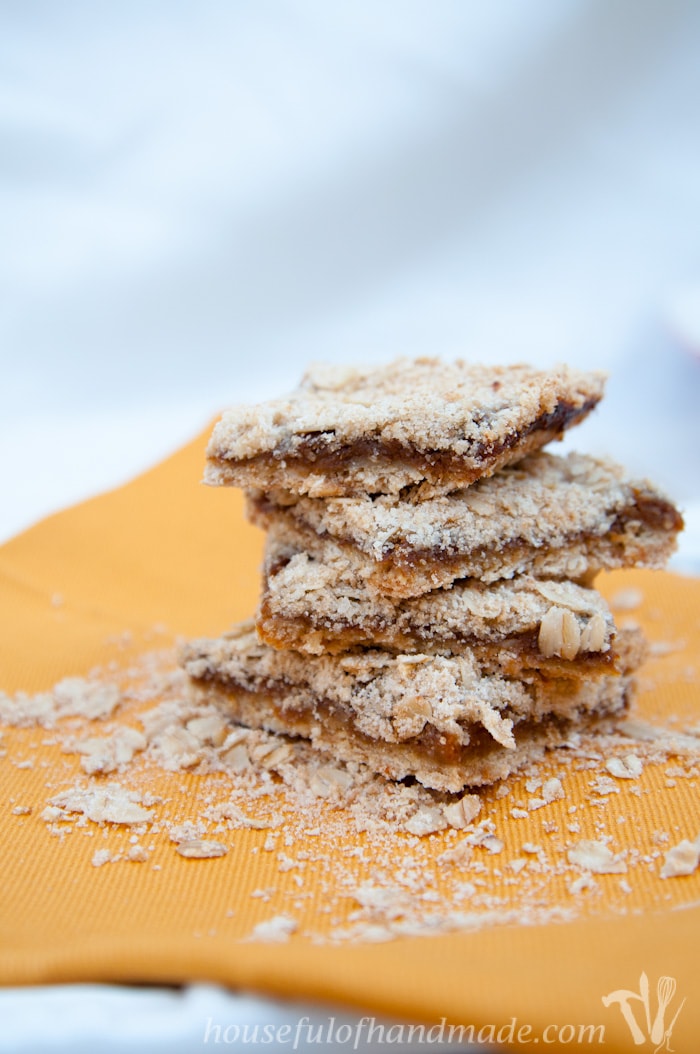 This post contains affiliate links. I receive a small commission on products purchased through these links at no additional cost to you. I am only sharing products that I use and believe in.
I've always been a big fan of the buttery, oatmeal, shortbread-like cookie bars. I usually have made them with some sort of jam, so why not do that same but with the jam of fall, pumpkin apple butter?
The thick creaminess of the fruit butter is perfect against the crisp butteriness of the cookie. I almost reminds me of a fig bar. So good!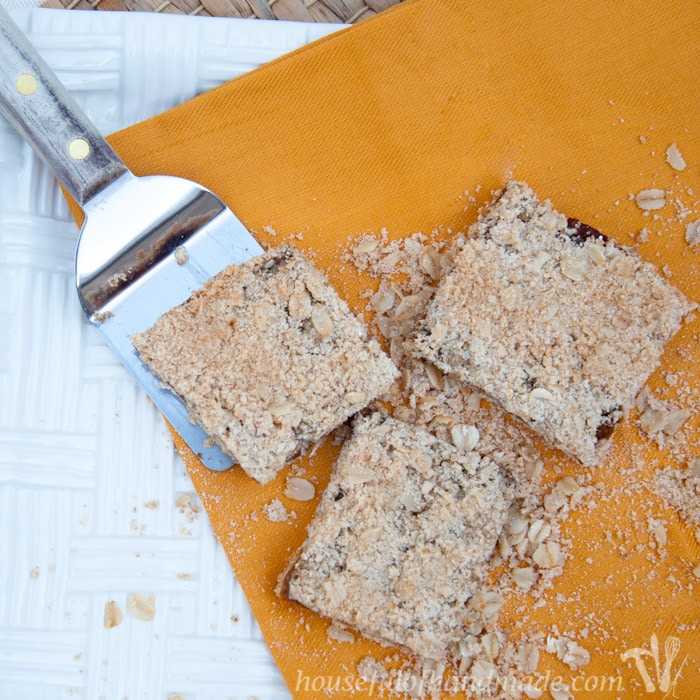 You don't even need to add any spice to the delicious oatmeal crumb because the pumpkin apple butter has so much fall flavor. And these bars are so quick and easy to put together, especially if you have a food processor.
I love my food processor and it makes a quick job of so many recipes. I have the older version of this KitchenAid KFP0922OB 9-Cup Food Processor with Exact Slice System – Onyx Black
and it is well loved.
I got it for Christmas many years ago and still use it all the time! If you don't have a food processor, you can always cut in the butter by hand using a pastry cutter or two forks, a little more work than pushing a button, but still quick.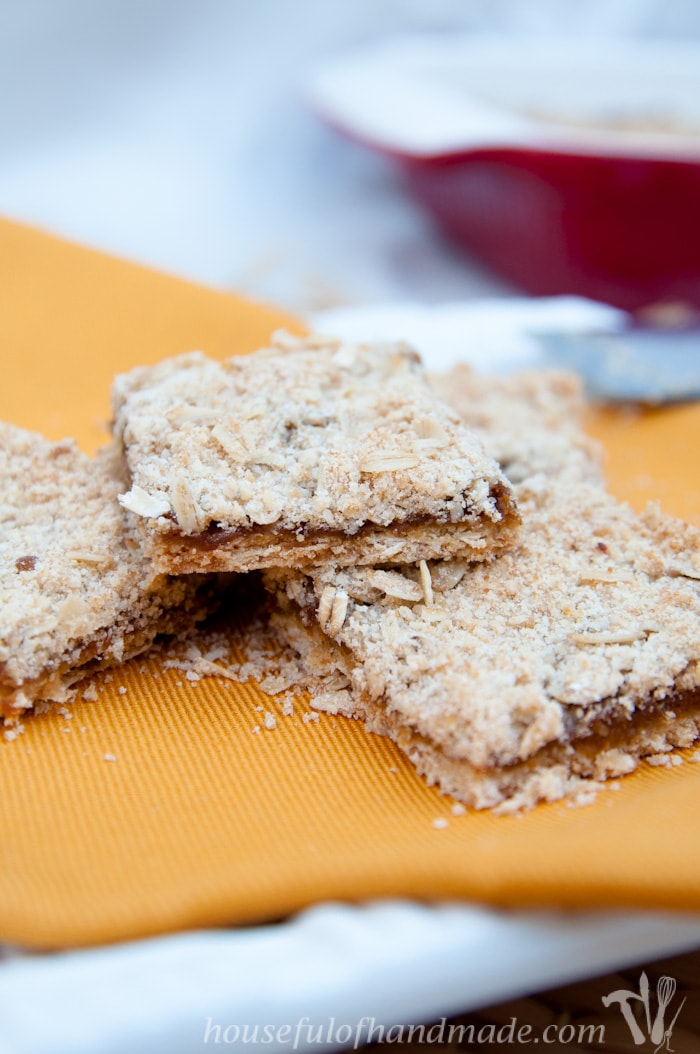 I used homemade pumpkin apple butter. I didn't really use a recipe since I was just working with the left over apple pulp. I threw a bunch of apple pulp into my slow cooker (I'd guess about 8ish cups).
Added about 4ish cups pumpkin puree, 1ish cup of brown sugar, some ground ginger, cloves and nutmeg. Then I let it simmer all night long on low. When I woke up, my house smelled amazing and my slow cooker was full of caramelized pumpkin apple awesomeness!
If you don't want to make your own pumpkin apple butter, you can definitely use a store-bought butter.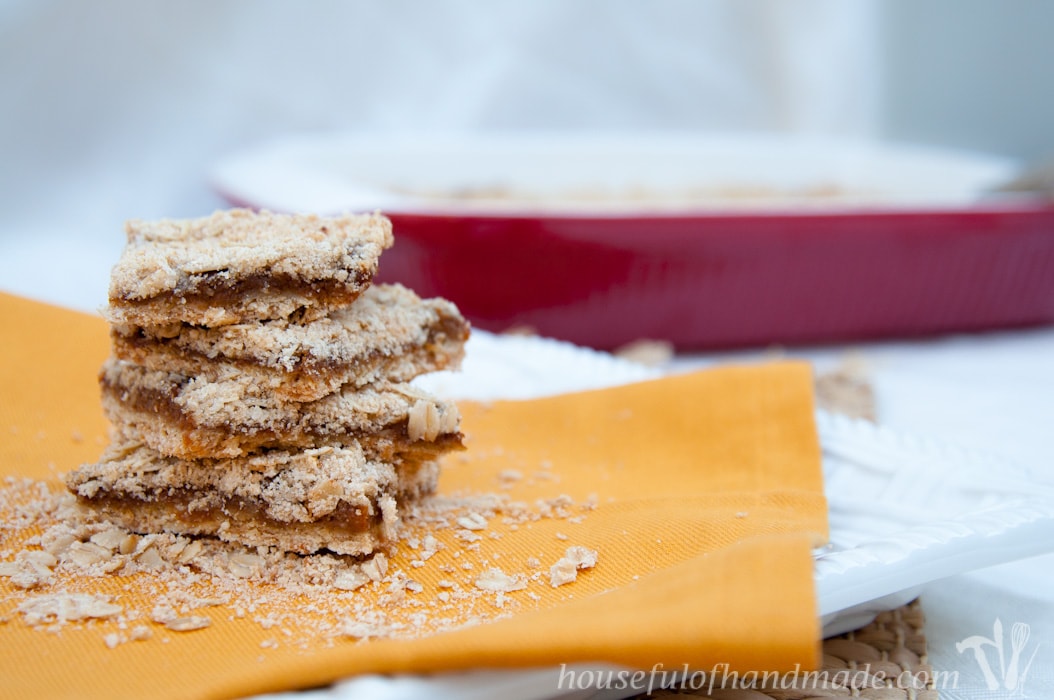 I think one of my favorite things about these pumpkin apple butter oatmeal crumb bars is that they are not too sweet. Just some buttery, fruity goodness without the sugar crash. I think I could eat one of these for breakfast with my coffee and not feel too guilty 🙂
But if you want to jazz them up for a delicious dessert, you could always top them with a scoop of vanilla bean ice cream and a drizzle of caramel. Yum!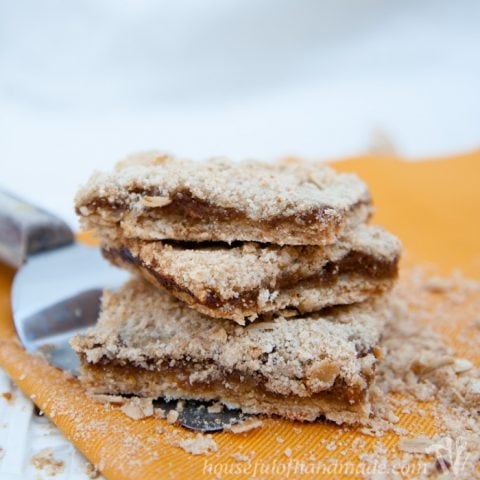 Pumpkin Apple Butter Oatmeal Crumb Bars
Prep Time: 10 minutes

Cook Time: 45 minutes

Total Time: 55 minutes

I love pumpkin apple butter, and these quick and easy pumpkin apple butter oatmeal crumb bars are the perfect treat for fall.
Ingredients
1 1/2 cups all purpose flour
1/2 cup brown sugar
1 tsp baking powder
1/4 tsp salt
1 cup butter, cut into pieces
1 tsp vanilla extract
1 1/2 cups old-fashion rolled oats
2 cups pumpkin apple butter
Instructions
Preheat oven to 350 degrees F.
Combine the flour, brown sugar, baking powder, and salt in the bowl of a food processor. Pulse a couple times to combine. Add the butter pieces and vanilla extract and pulse until crumbly. Stir in the oats.
In a 9x13 baking pan, press 2/3 of the flour/oat mixture in the bottom of the pan. Then spread the pumpkin apple butter over the top of the flour/oat mixture. Sprinkle the remaining 1/3 of the flour/oat mixture on top.
Bake for 40-45 minutes, until top is golden.
Let cool before cutting.
Enjoy!
Did you make this recipe?
Please leave a comment on the blog or share a photo on Instagram

I was planning on sharing my kids Halloween costumes today, but life happens and "shock" they are not done yet! I will share them on Saturday, and they have to be done because we have a Halloween party they need them for!
But at least now, I will have something delicious to munch on while working late into the night sewing and creating!
Until then, have a sweet week 🙂