The sun is shining, the birds are chirping, and the kale in my garden is growing INSANELY well!  We love to grow kale because it grows so fast in the heat, doesn't get bitter like lettuces, and never looks sad and droopy when it gets hot. And it's been getting really hot here.  Like, abnormally hot.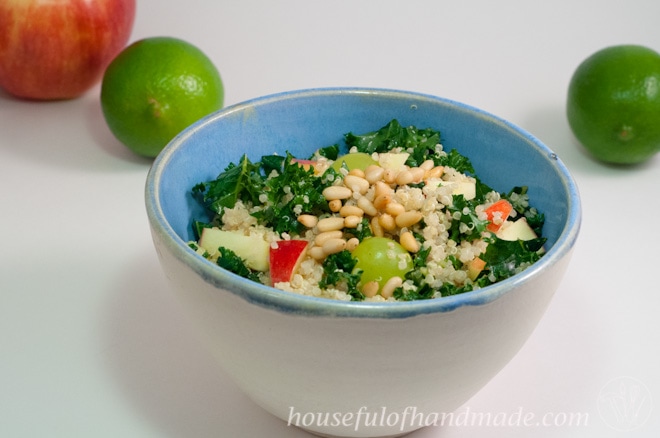 So since my kale is growing so well, I have to keep finding new ways to use it up.  It's going to become my new zucchini.  I'll be leaving kale on my neighbors doorsteps when I can't use it all.  We try to get creative, but we really do love a good massaged kale salad.  It can be dressed up so many ways, and the other day I had the idea to dress up our massaged kale salad with quinoa and some fruit.  It was a success.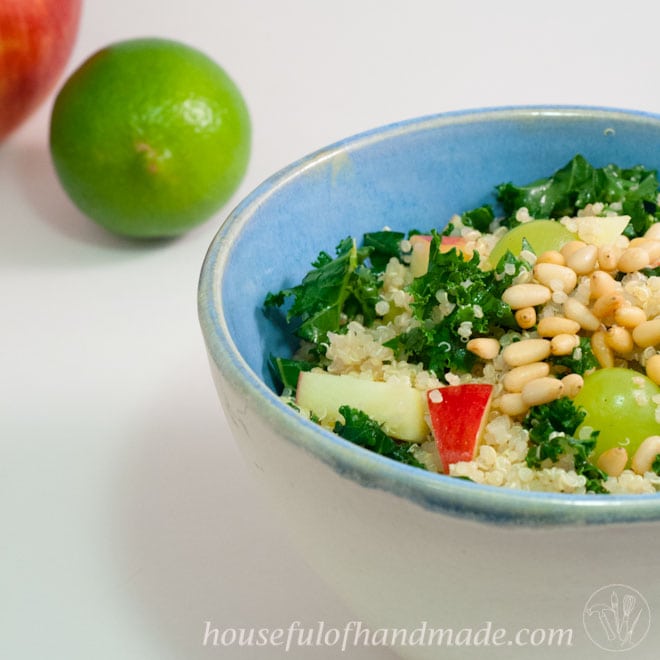 The kale is so strong it can stand up to the lime vinaigrette in this salad.  Not only can it stand up to it, but I massage the kale with the the limey goodness until it absorbs it and every bite has the sweet, tangy lime that I love.
To make the vinaigrette, I use my microplane zester to finely grate 1 clove of garlic then zest the peel of 1 lime into my bottle.  Then just add in 3 Tbsp fresh lime juice, 2 Tbsp olive oil and 1 tsp honey.  Shake well until everything is totally combined and emulsified.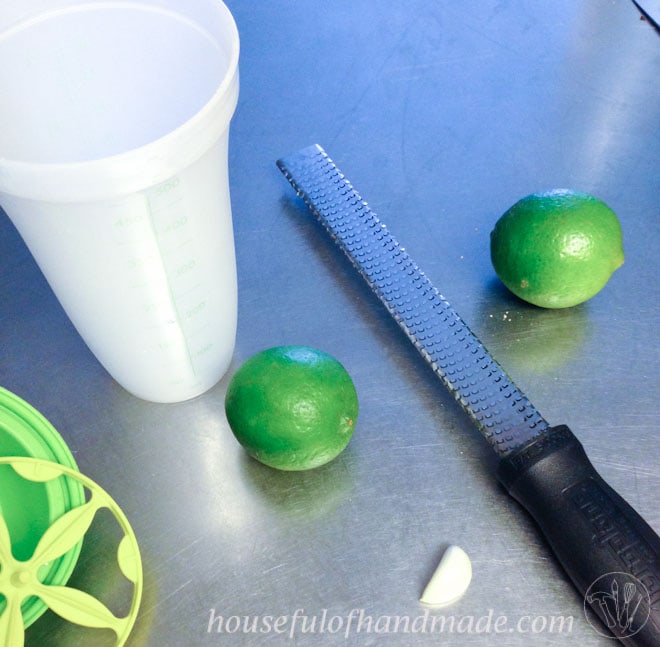 Then it's time to chop up the kale.  I finely chopped 3 cups of kale and put it in a large bowl.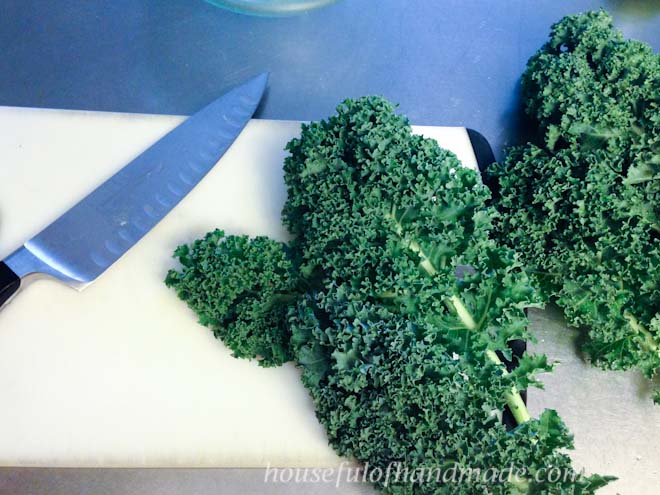 Pour the vinaigrette over the kale, and using your fingers, massage it into the chopped kale.  Massage it until it starts to wilt.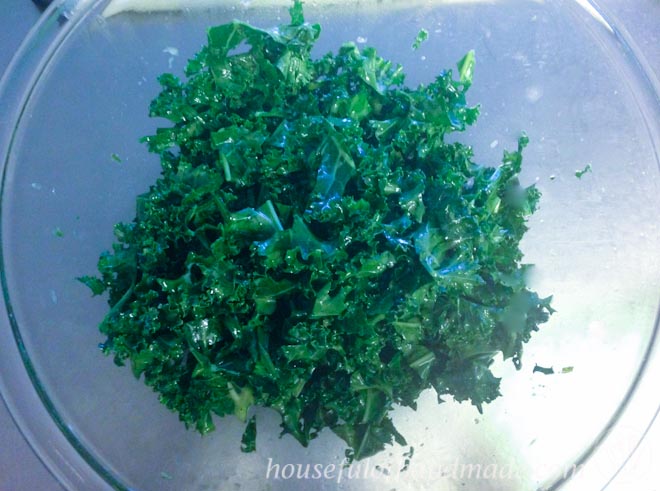 Then add to the bowl 1 diced apple, 1 cup grapes cut in half, 2 cups cooked quinoa, and 2 Tbsp nuts.  You can use any nuts you like, I have used sliced almonds and toasted pine nuts and both were delicious.
Toss it all together and your are done!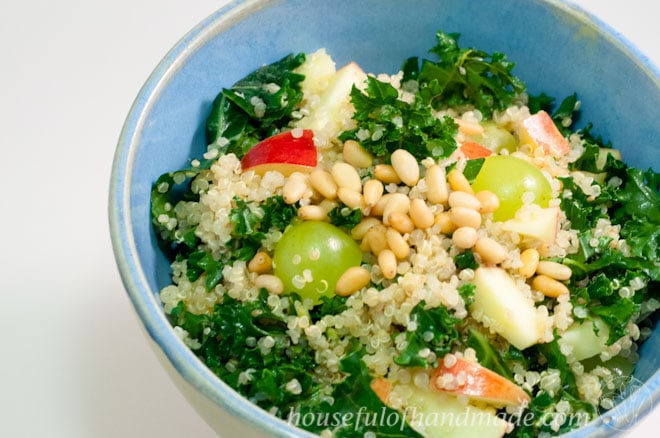 This salad is super light and refreshing.  It is also amazing the second day as well.  Kale doesn't get gross when mixed with dressing and will taste just as delicious for a couple days!  Yeah, you can make it ahead and have it ready for any barbecues you have on your summer schedule.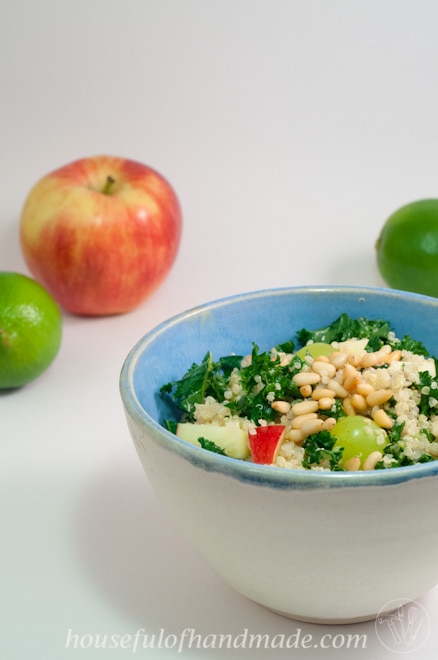 If you don't have any kale in your garden, go quick and plant some!  It grows so fast and you'll be able to challenge yourself to find lots of new ways to use it in your cooking!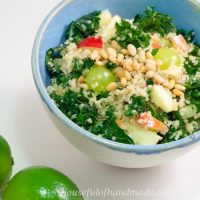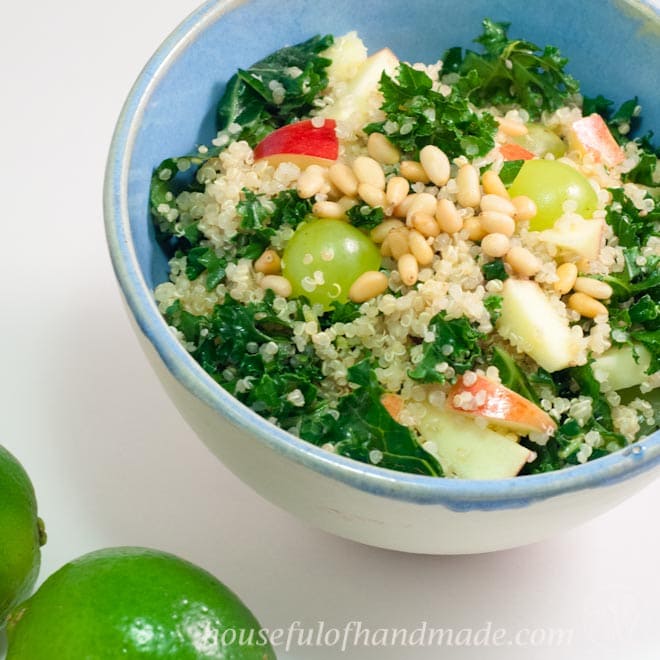 Quinoa Kale Salad with Honey Lime Vinaigrette
This Quinoa Kale Salad with Honey Lime Vinaigrette it the perfect salad for summer. It is big on flavor but light and refreshing. Perfect for summer barbecues and get togethers!
Ingredients
2 cups cooked quinoa (1 cup dry)
3 cups finely chopped kale
1 medium apple
1 cup grapes
2 Tbsp nuts (sliced almonds, toasted pine nuts, or chopped pecans are all good)
For Vinaigrette
1 glove garlic
zest of 1 lime
3 Tbsp fresh lime juice
2 Tbsp olive oil
1 tsp honey
Instructions
Grate garlic into container for dressing, add lime zest, lime juice, olive oil and honey. Shake or whisk until fully combined.
Cut kale into small, bite sized pieces and add to a large bowl. Pour dressing over the top and using your fingers, massage the dressing into the kale until it wilts.
Cut the apple into small pieces and cut grapes in half. Add to your bowl.
Add the cooked quinoa and nuts. Stir well.
Enjoy!