Today was a rough one! I knew I needed to get work done on the railings, I have been putting it off all week, saying tomorrow I would work on it. Well today was the end of my tomorrows for the week so I I decided I better get after it, but I was extremely unmotivated.
Has that every happened to you? Set a goal and just have no desire to work toward it? I think I am getting worn out from these big remodel projects and I just want to do some smaller projects that I can finish without completely destroying the house.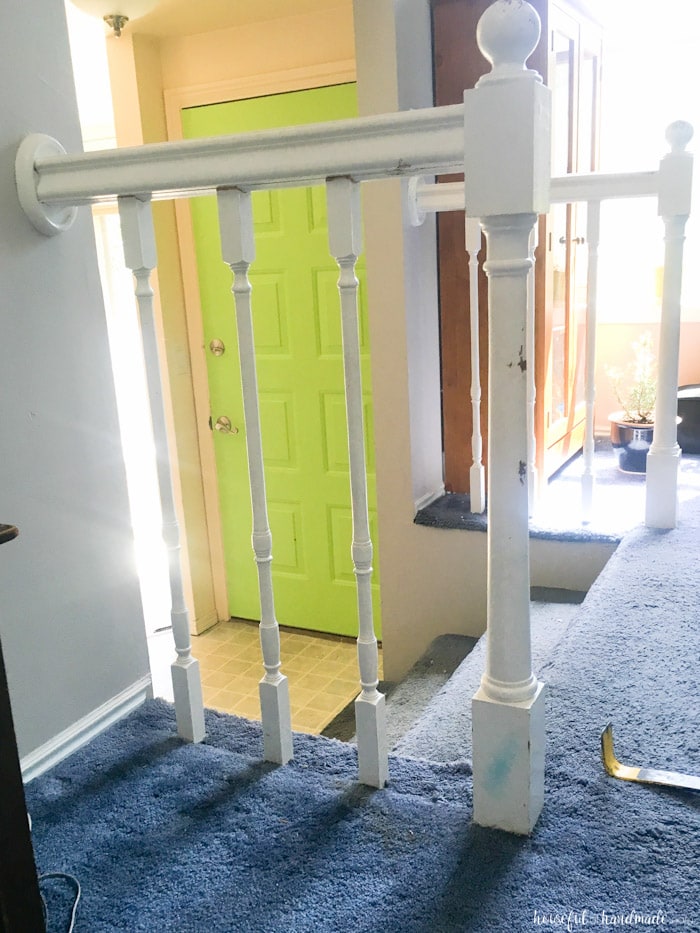 Even though I was unmotivated I did manage to make a little bit of progress on the new railings in the living room. I have wanted new railings in my living room since about the time we moved in.
I tried to paint them white to update them, but the paint didn't hold up to well, so now they are dirty white chippy paint (and not the good kind of chippy) on boring builder railings. And the part I really hated was the spindles between the posts went into the floor so the carpet was wrapped around them.
Vacuuming between those little spindles is a huge pain and the carpet just looks more worn and yucky then the rest of the room.
I have wanted to install new railing that had a board on the bottom floating just above the carpet that held the spindles. I dream of easily vacuuming under it (okay, that is a lie cause I never dream about vacuuming, that would be more of a nightmare, but I do think how much nicer it would be).
So when we decided to FINALLY get new carpet in the living room and staircase, I had to update the railings or forever live with the ones I hated.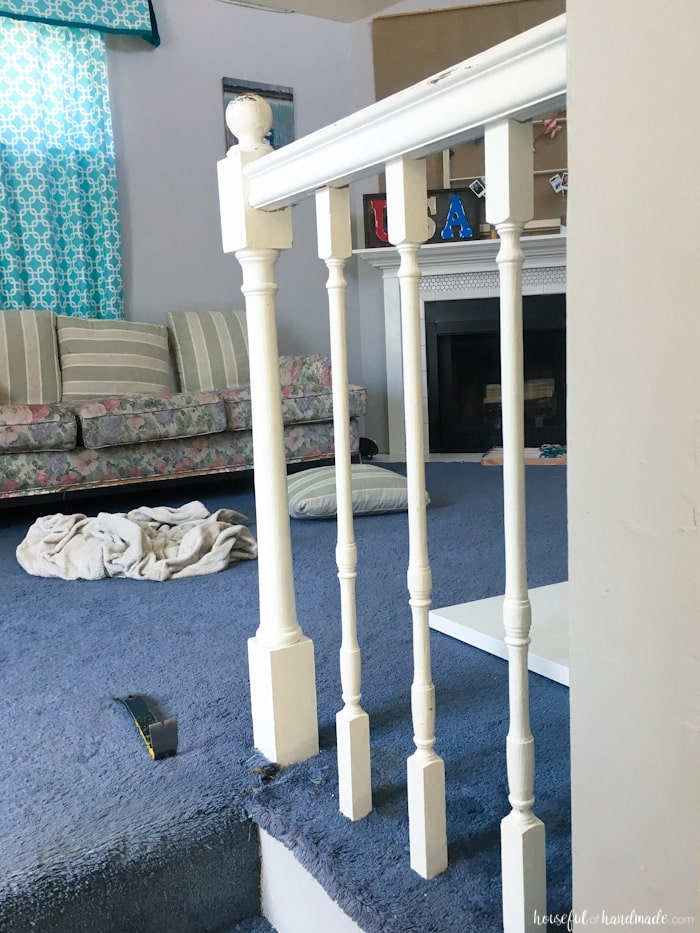 I decided I wanted a simple rustic railing with straight iron balusters. Super simple but with a little bit of character. And easy to build (or so I thought).
Now that the fireplace is all done, the railings and new paint in the stairway are the only things in the way of my new, neutral carpet (goodbye blue). You'd think that would be motivating enough, but apparently not.
Last weekend I let the kids help me tear out the old railings. They had a lot of fun. I may have found my new demo crew 🙂 But as we were ripping things out, I realized how amazingly well the original posts had been installed. I couldn't get them to budge. So I decided to make my life a little easier, I would just wrap my old posts with new wood and they would be the nice rustic posts for my new railing.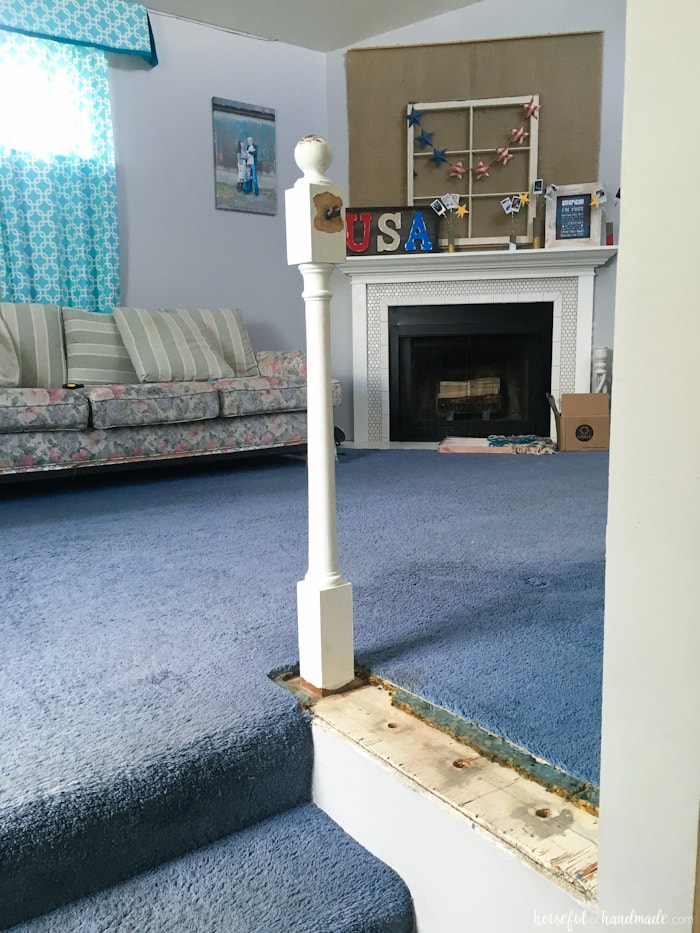 I knew I needed a hard wood for the railings, cheaper soft wood would not withstand the wear they get, but hardwood is so expensive. There is one hard wood that I love that is much more budget friendly, knotty alder. It does have a lot of knots in it, but since I want rustic, knots are good. And for $15 for a 1x6x8′ long board, it was going to be perfect for our new railings.
To wrap my posts I wanted to cut my boards with 45 degree cuts on the edges so they came together beautifully. This was the first time I tried to make angled cuts on my table saw and it was more challenging than I thought.
With the saw at a 45 degree angle, it is harder to figure out exactly what the measurement you will be cutting is. Once I got the measurements figured out, it was easy to rip the 10 boards I needed really fast. But when you are unmotivated, doing math is a huge pain in the butt!
Seriously, it took me all afternoon and I tried to throw in the towel many times, but pushed through. I still am not quite sure I know how I did it, but I did.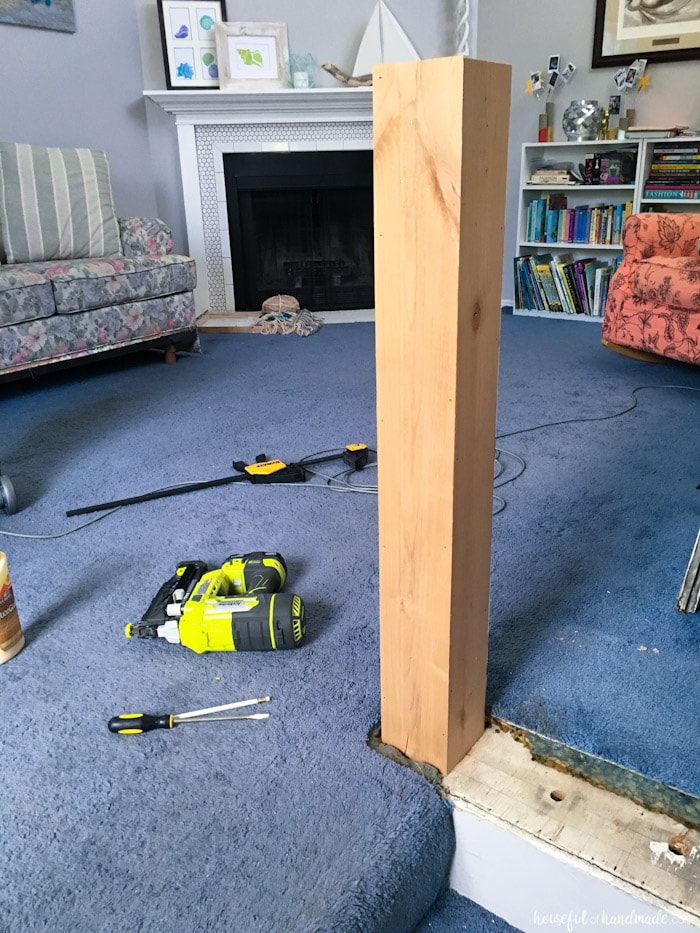 Once the boards were cut, it was easy to glue and nail the boards to the installed posts. Then I needed to put a cap on the top of the posts to finish them off. I cut a piece of the scraps to fit the top and then cut all the edges on a 45 degree angle. More glue and nails and it's starting to look like I'm making progress.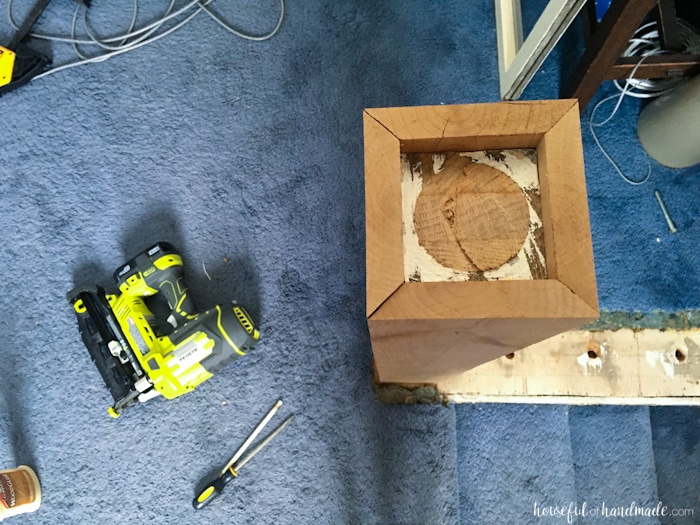 The posts ended up being a bit bulkier than I imagined, my husband says it's because we have been living without any railing for a week so the solid posts look big. Even though they are more of a presence in the room, I am happy with them.
The original railings had a small oval to secure the top of the railings to the wall, but I wanted a second post, just cut in half so it mirrored the other post. To make this happen, I started by ripping down a 2×4 on the table saw so it was 3″ wide (the width of the already installed posts).
Then I used some beefy, 1/2″ x 3 1/2″ long bolts to secure it to the wall, making sure I went into studs. Those things are never going anywhere so I hope the next owners love them too!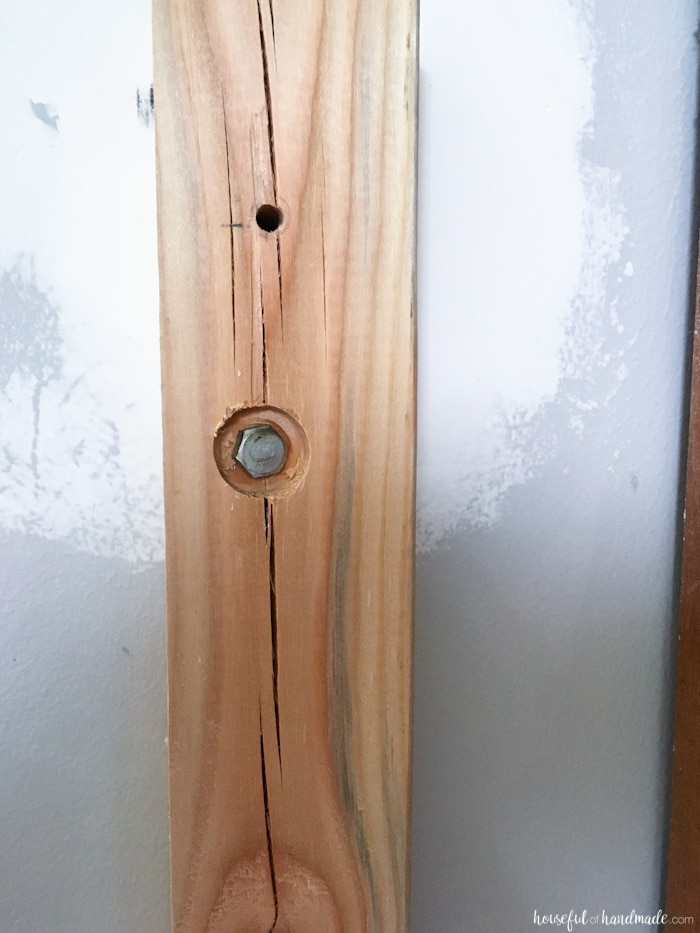 I wrapped these posts with my knotty alder boards too. Then I decided I was officially done! I couldn't actually force myself to do anything else (and it was dinner time so it made a good stopping point).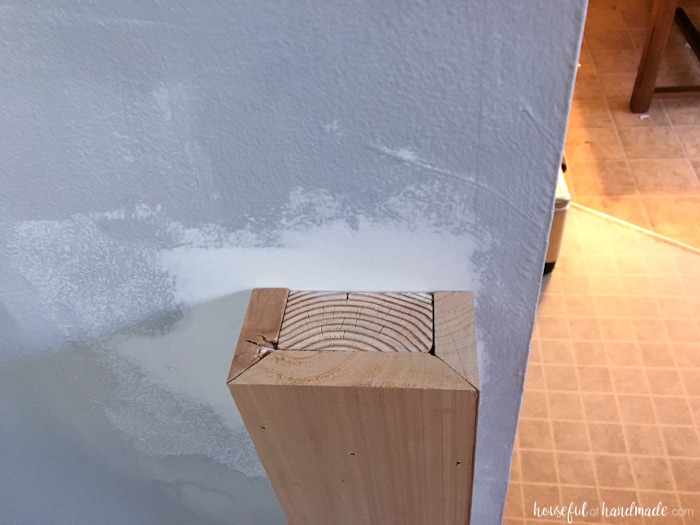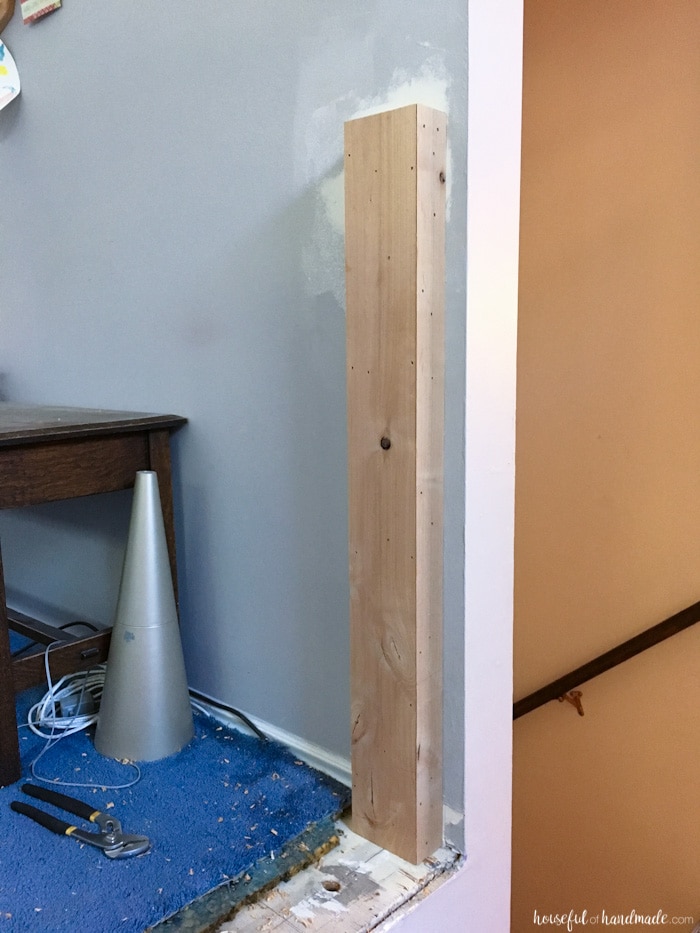 This coming week I hope I will have the motivation to finish the railings. I need to add the top and bottom boards and my iron balusters. Then after I totally destroy my house by sanding the new railings (I am definitely not looking forward to that) I get to decide exactly how I want to stain them. Luckily I have lots of scraps left over so I can test out lots of options.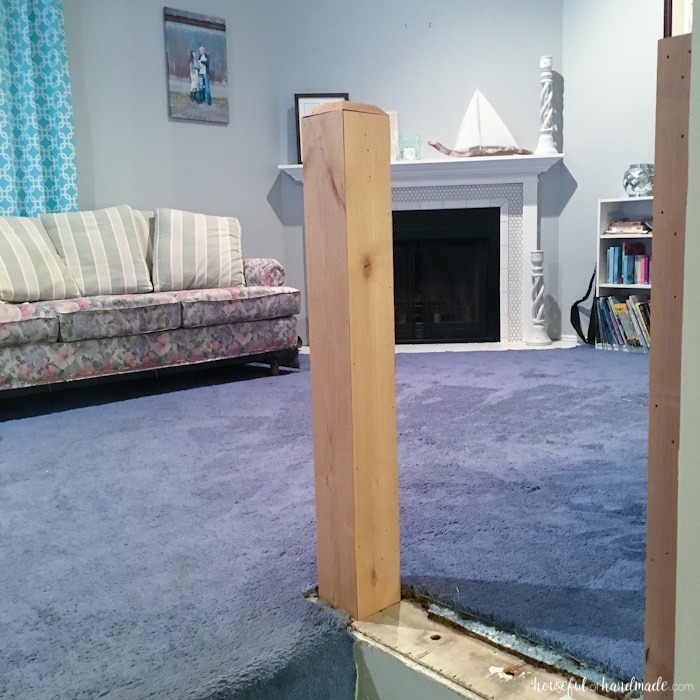 One small step closer to the home of our dreams. At least we are still moving forward.