Make a delicious roasted beet kale salad with this easy recipe.
Even though I want it to be fall, it is still hot during the day. Today, my daughter played at the splash pad it was so hot. And being outside in the heat always makes me want something fresh and light for lunch. And something easy too!
But I want a bit of fall in there. This roasted beet kale salad is the best kind of fresh salad for lunch or as a side to a dinner (I love it next to some grilled chicken or other smokey dinner from the grill). The roasted beets are a great way to add some rustic fall goodness to a bright, fresh salad.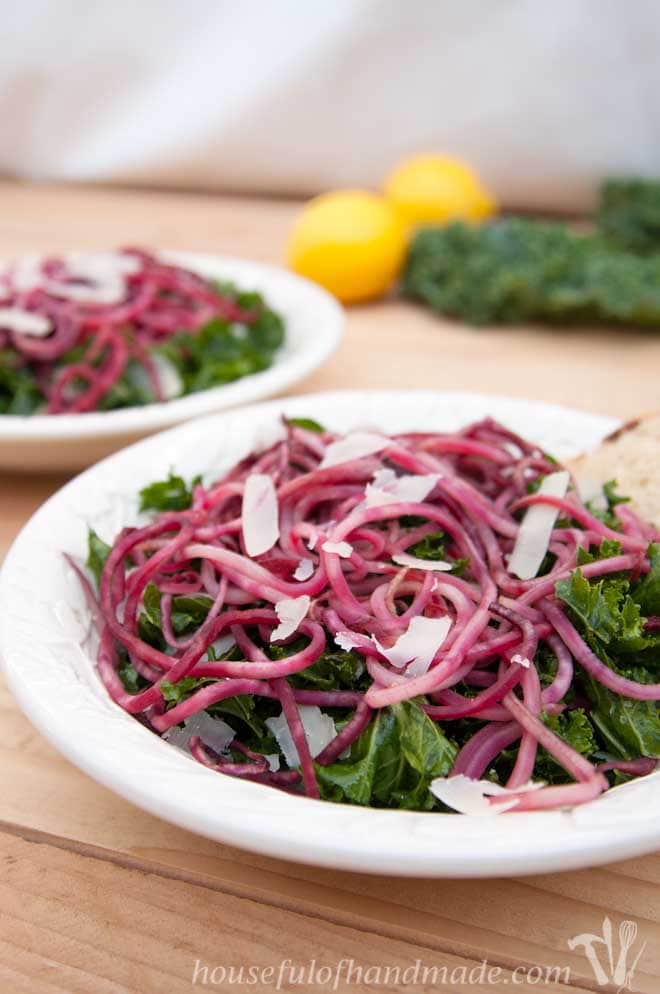 As the hoards of kale are coming out of our garden this year, I am trying all kinds of new ways to use it up, but I always come back to this salad. It is definitely a favorite at our house. My kids love it, especially because I spiralize the beets into noodles before roasting them and that makes it more fun to eat. Once I told my son they were worms, he thought what was disgusting, and awesome!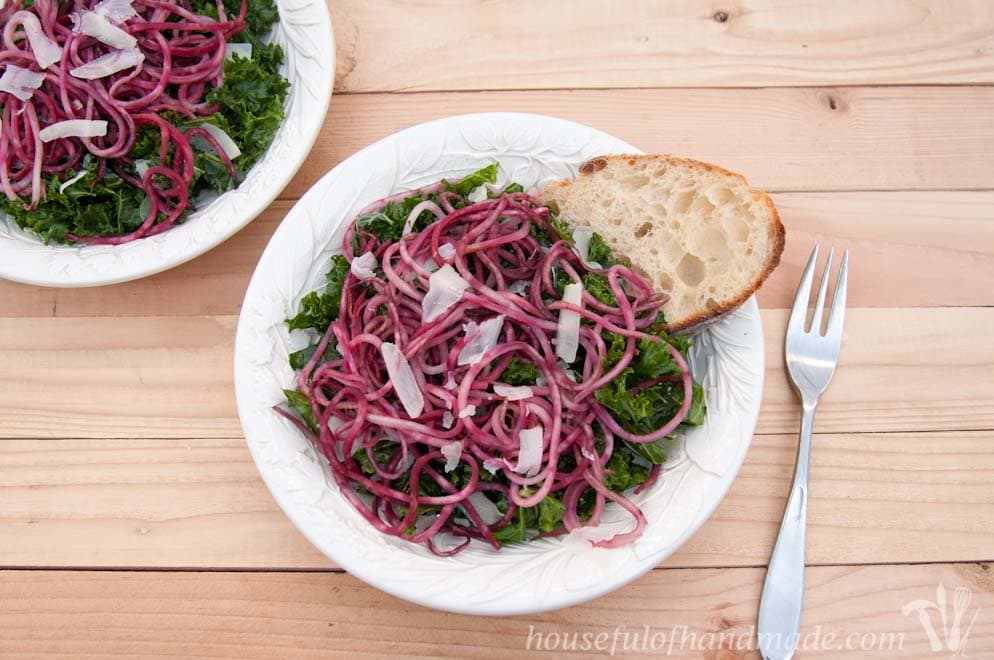 I'm going to keep it simple today (it's been a crazy week) and get right to this easy salad.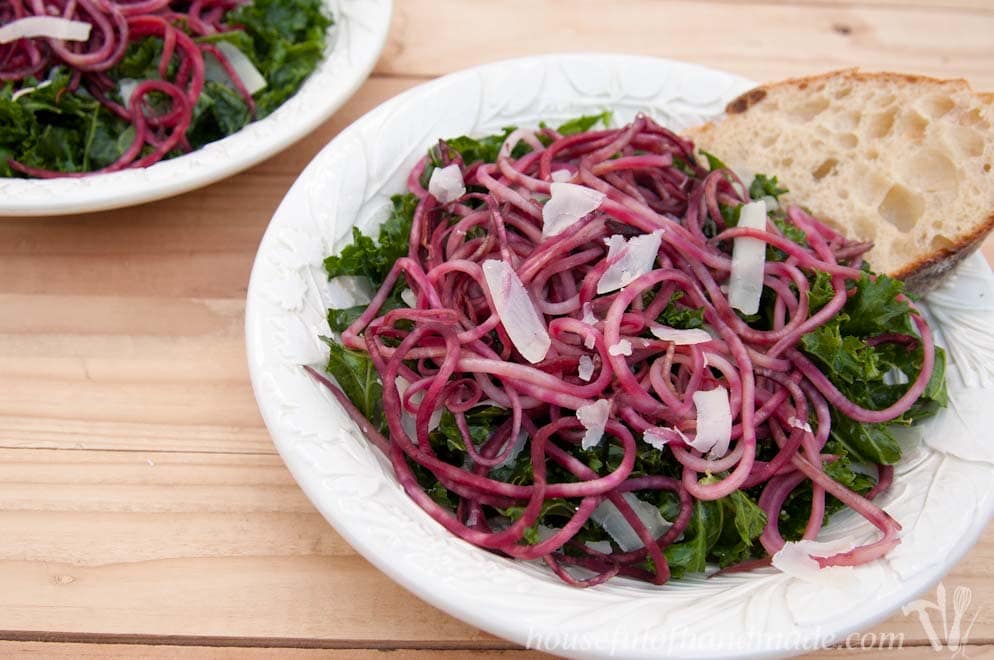 I like to spiralize my beets to make them fun (like I said above) and because they roast so fast. I love roasted beets so much but hate waiting an hour for them, when you spiralize them into the small noodle size, you can roast them in 6-8 minutes. Total score for this mom! If you do not have a spiralizer, go ahead and use chopped roasted beets. If you've been wanting a spiralizer, go get one! You won't be disappointed.
Before you spiralize the beets, you need to chop the top and bottom off so it's mostly flat, then peel them. I do that easily with a potato peeler. I used candy cane beets in this video (that is the kind I planted in my garden this year). You can use any beets, golden beets are great in this salad too!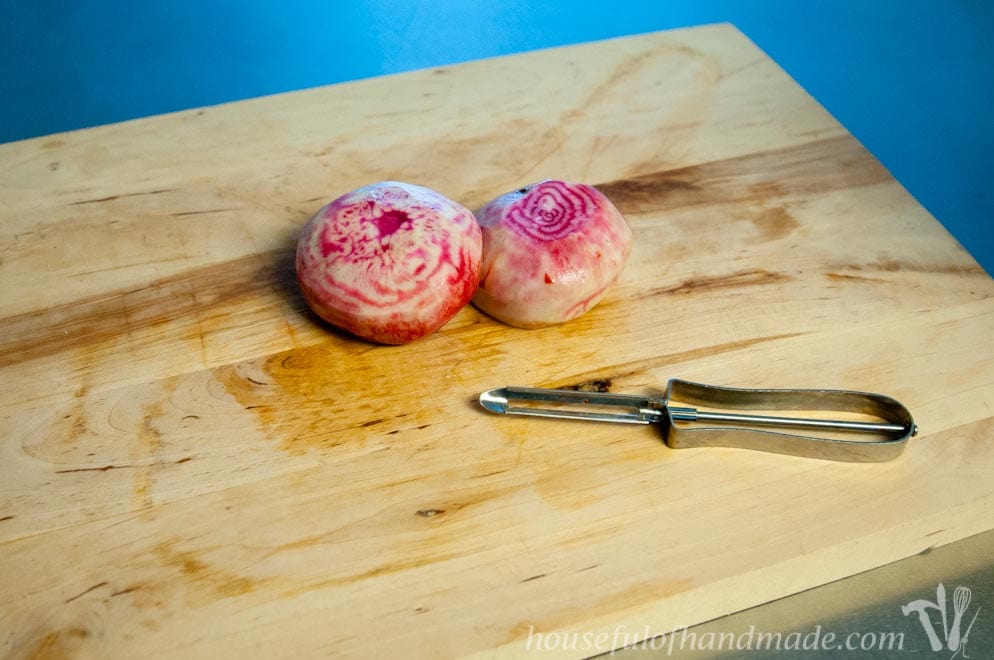 Then quickly run them through the spiralizer. Look at those beautiful beet noodles!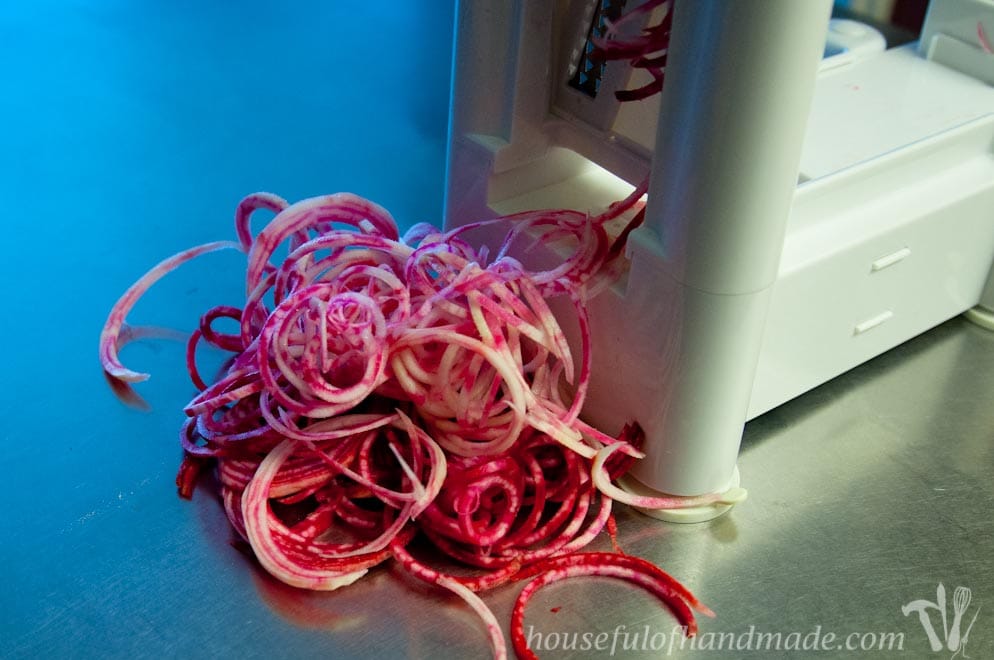 Now put all your beet noodles on a baking tray, add a splash of olive oil (about 1/2 Tbsp) and toss with your fingers. Then roast the beets in a 400 degree oven for 6-8 minutes. I like to keep them a little firmer so I usually go only 6 minutes.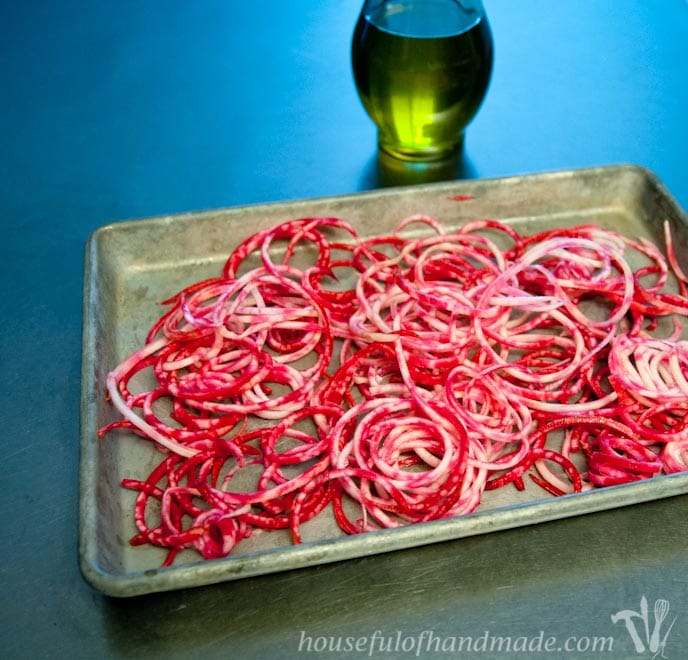 While your beets are roasting, chop or tear up your kale leaves into bit sized pieces.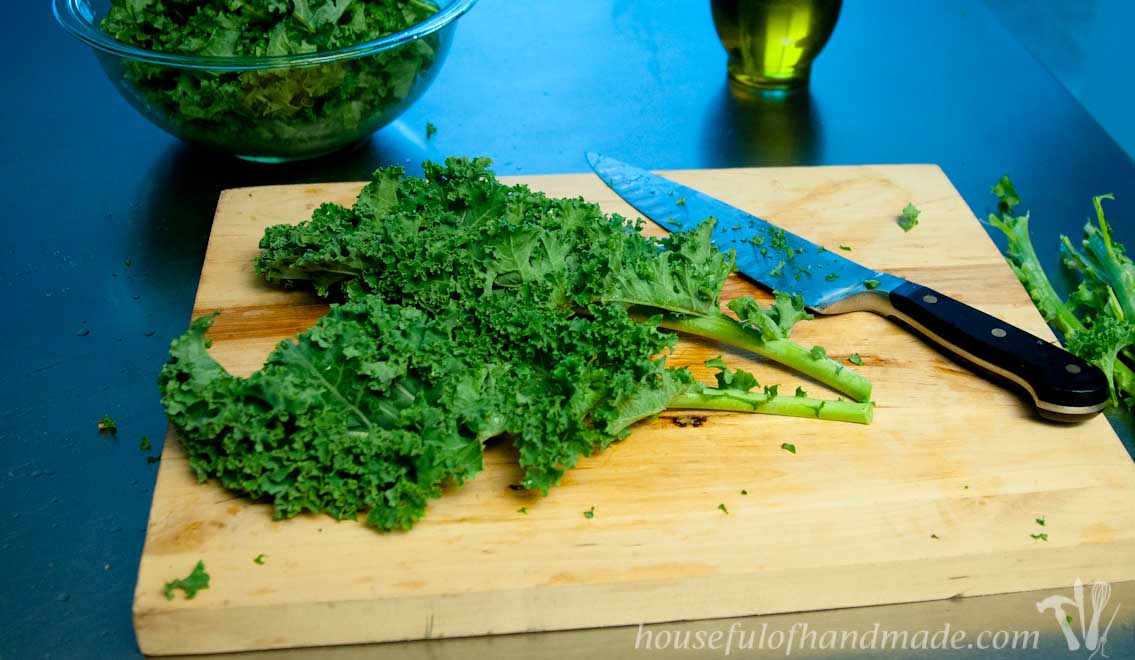 Drizzle lemon juice from 1/2 a lemon and about 1/2 Tbsp of olive oil over your kale leaves.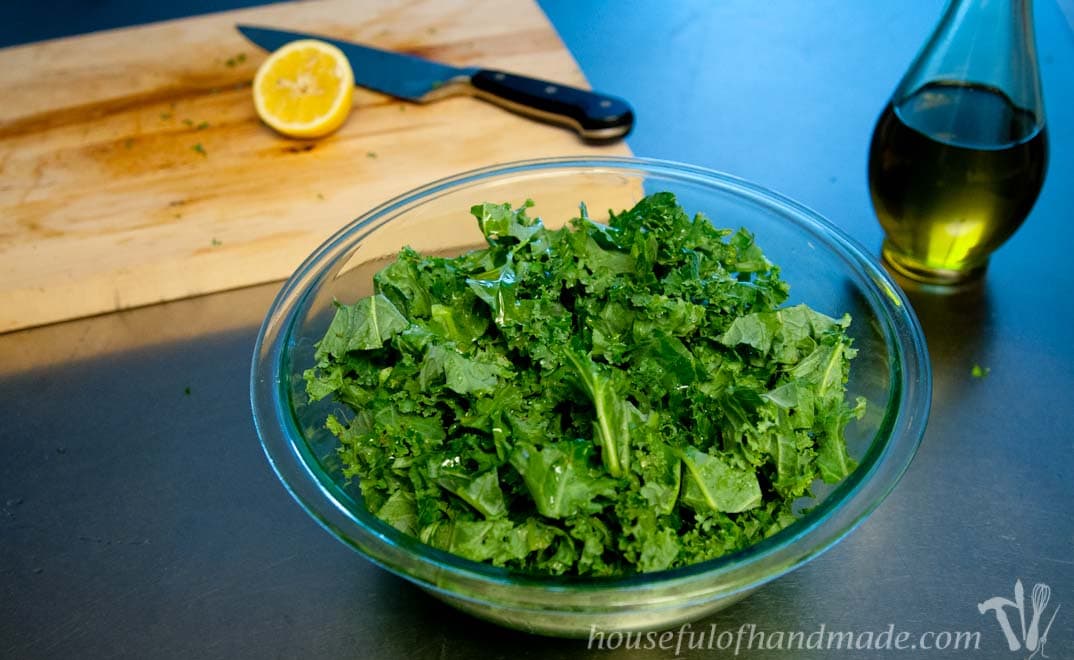 Now massage the lemon juice and olive oil into the kale leaves until they are wilted. This will make a beautiful dressing for your salad and remove the bitterness of the kale.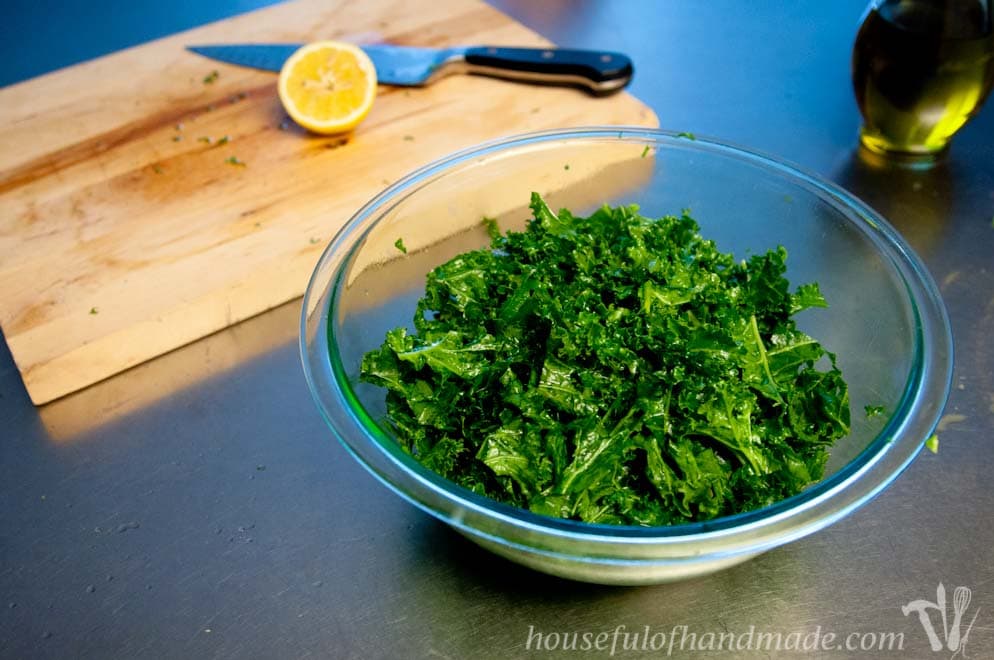 When your beets are done, plate your salad. For a lunch, I split the kale between 2 bowls, for a side for dinner, I just serve it family style in a big bowl. Top with your roasted beet noodles and shaved parmesan cheese and your are ready to eat!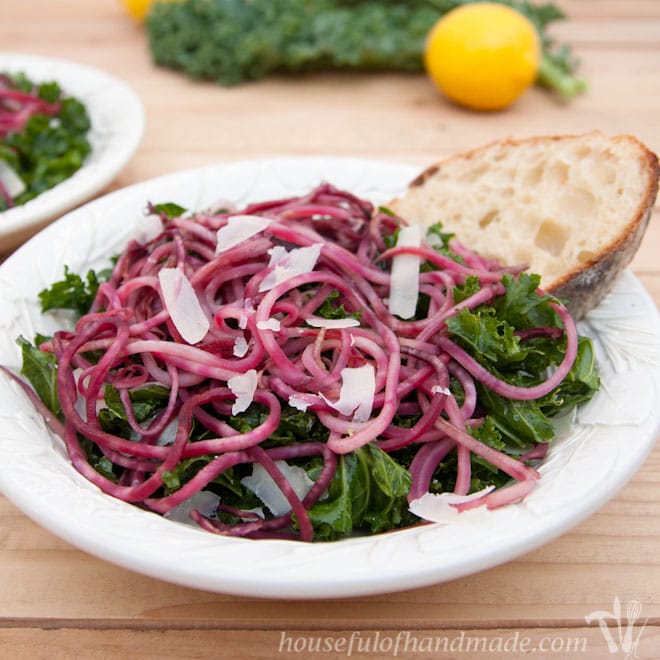 It's such a beautiful salad. I love the bold color of the beets next to the deep green of the kale.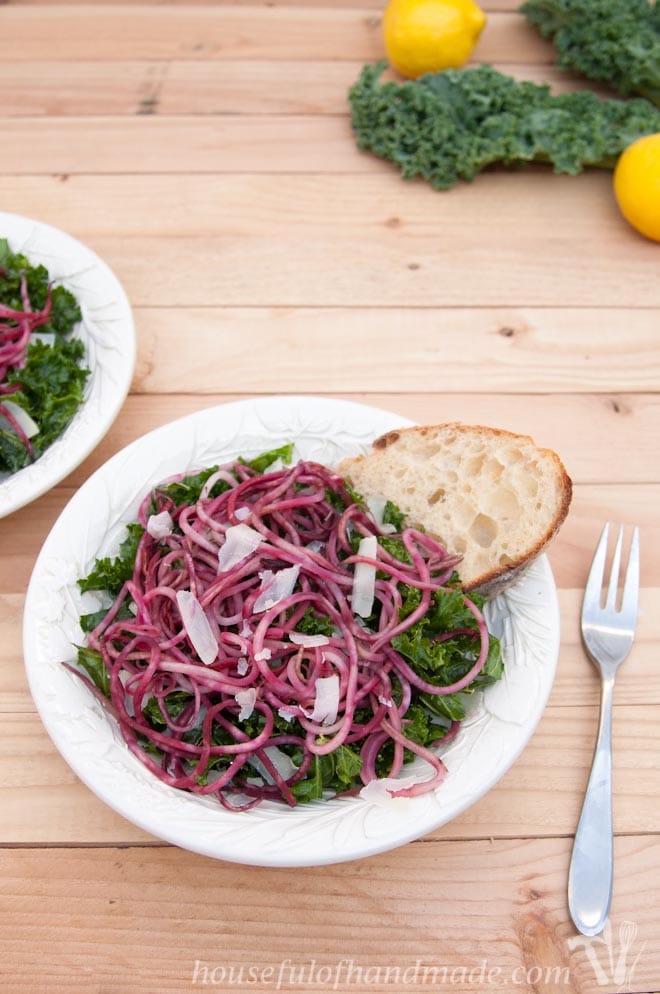 I hope I have lots more kale to use up in delicious salads as the weather cools and the root veggies are harvested. I need to add some spiralized sweet potatoes and carrots to this salad too!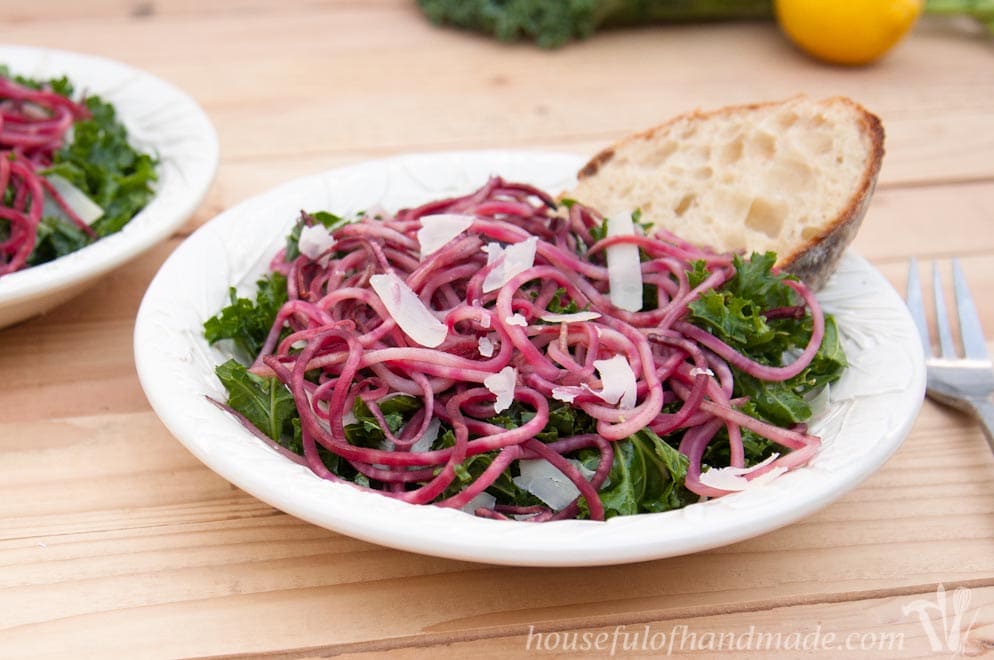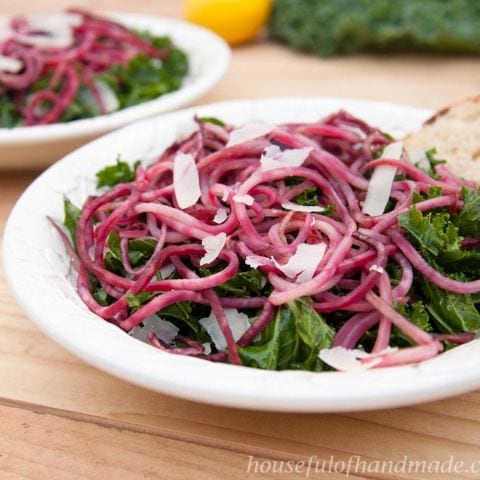 Roasted Beet Kale Salad
This roasted beet kale salad is so fresh and delicious. It is perfect as a light lunch or as a side for dinner.
Ingredients
1 large beet
1 small bunch kale (about 3-4 cups chopped)
1/2 lemon, juiced
1 Tbsp olive oil
shaved parmesan cheese
Instructions
Preheat oven to 400 degrees F.
Cut both ends of your beet and peel with a potato peeler. Spiralize them using the small noodle blade of a spiralizer.
Place the noodles on a sheet pan and drizzle with 1/2 Tbsp olive oil. Toss to evenly coat noodles. Roast in the oven for 6-8 minutes until desired doneness.
Cut or tear kale into bit sized pieces. Drizzle with juice from 1/2 lemon and 1/2 Tbsp olive oil. Massage into kale until leaves are wilted.
Top with roasted beets and shaved parmesan cheese.
Enjoy!